Pro-Gay Lobbyist Named Ohio GOP Director
Jim Burroway
May 23rd, 2012
Sometimes you learn the coolest things on Twitter. The Ohio Republican Party has named Matt Borges their new executive director. Borges had served as the executive director for Gov. John Kasich's inauguration committee. In 2004, he was convicted of a misdemeanor for soliciting illicit campaign contributions and questions surfaced again over his fundraising for Kasich's inauguration, which means that his GOP creds are totally solid. He's also a registered lobbyist at the statehouse. His many clients include Equality Ohio, for whom he is trying to shepherd a non-discrimination bill through a House committee. Borges, being a lobbyist, is simply a hired gun. I have no idea whether he is gay or even pro-gay. Nevertheless, Columbus resident Linda Harvey is "outraged," and Ohio's tea party factions aren't too thrilled either:
"It's why we're so detached from regular operations of the Republican party," said Tom Zawistowski, president of the Ohio Liberty Coalition of tea party groups. "We have some shared goals and work on some of those shared goals, but we certainly don't have shared values."
What's the Downside of Same-Sex Marriage?
Jim Burroway
April 17th, 2012
Scott Lively's answer: "Fire and brimstone raining from heaven."
And it all goes down hill from there.
By the way, blogs around the Internets exploded with reports that someone reportedly shouted, "we will not be silenced by faggots" at the Tea Party rally held on Boston Common, Those reports relied on one lone Tweet as a source, which is why I was reluctant to pick it up and repeat it. Good thing, because in this video at about the 11:00 mark, you can clearly hear Lively shout to the protesters, "We will not be silenced by fascists! We will not be silenced by fascists! Crawl back into your holes!" Not sure that that was any better.
[Via Boston Oberver.]
Counter-Protests Overshadow Boston Tea Party Rally
Jim Burroway
April 16th, 2012
The last thing you want is for the counter-protesters' arrests and reports of "rushing the stage" to become the main story to emerge from an anti-gay rally, as that only serves to feed the persecution complex of anti-gay extremists. The only other story to compete with that meme is that of a photo that was posted on Flickr showing a Boston police officer's hands around a protester's neck. Criticism of the Boston police's handling of the Tea Party rally prompted a statement from a department spokesperson saying that they would investigate, but that due to "the aggressive nature" of the protests (the short statement used the word "aggressive" twice) the department "supports the arrests made by the officers today." The man in the photo was reportedly not among those arrested.
According to the narrative from Boston's primary news outlets, those appear to be the main stories behind yesterday's Mass Tea Party Rally held on Boston Common which featured Scott Lively of Abiding Truth Ministries an SPLC-certified hate group, and Brian Camenker of MassResistance, another certified anti-gay hate group.
Turning back to the rally itself, it's very difficult to learn exactly what was said there. MassResistance posted a headline saying, "Mob of homosexual activists overrun & nearly shut down Boston Common Tea Party event as police look on and do nothing." But if the The Boston Globe and local television reports are any indication, it appears that the rally was neither overrun nor "nearly shut down," nor that the police "did nothing" amid those reports of arrests and apparent abuse. Online accounts of what Lively or Camenker said are sparse. One is from Mike Ball:
Lively came on at the very end to give a benediction. Of course, given his self-righteous bent, it wasn't a blessing at all. It was the eternal-damnation version of Deuteronomy 30. His went beyond the "I have set before you live and death; therefore choose life." It was if you warn someone what they have to believe and they don't do it, they're going to hell. So there.

Some benediction, Scotto.

During his time, the counter-demonstrators kept up their yelling, calling him a murderer, in allusions to his Ugandan politicking. They did shout him down.
Ball said that turnout for the rally on Boston Common was rather small, perhaps about 100 people. About 40 more were counter-protesters. Another account, from Join The Impact MA, puts the number of counter-protests at 20, but they were joined by "100 exuberant protestors from the Occupy movement (who) charged onto the scene." According to that account:
The din became an uproar as Lively took the microphone. In his speech, Lively blasted conservatives who would minimize the importance of social issues. Then he denounced LGBT rights activists as "fascists" who were intent on destroying civilization. Camenker met with similar pushback as he criticized the work of GLSEN for allegedly promoting homosexual recruitment of public school students—in reference to the group's efforts to prevent anti-LGBT bullying. Lively and Camenker were loudly booed, and much of their speech-making was drowned out by Occupy chants and "mic check" counterpoint.

Not all counter-protestors joined the chanting. I (Join the Impact MA's Don Gorton) argued that Lively and Camenker should be allowed to speak, both out of respect for freedom of expression and because they tend to discredit the opposition to LGBT equality when their extremist views are publicized. Yet the passions these two hate group leaders stir are difficult to contain. Tea Party organizers learned that giving a platform to anti-gay bigotry effectively drowns out any other message they may seek to propagate. The Boston Police kept the peace while allowing everyone an opportunity to be heard. By the time anti-government activist Carla Howell took the podium after Camenker, most of the "tea party" attendees had frittered away, the momentum of the rally dissipated.
The Daily Agenda for Sunday, April 15
Jim Burroway
April 15th, 2012
TODAY'S AGENDA (THEIRS):
Family "Research" Council's Values Bus Tour: Westlake and Cuyahoga Falls, OH. The Family "Research" Council, an SPLC-certified hate group, continues its Values Bus Tour of Ohio. Today, the tour goes to the Cleveland suburb of Westlake for morning services at Church on the Rise. The bus will be there from 9:00 a.m. to 12:30 p.m. The bus then departs for an Akron Tea Party "Rescue America Tax Day Rally" at Fall River Square in Cuyahoga Falls. That rally features "Joe the Plumber" (Samuel Wurzelbacher, who is running for Congress to represent the heavily gerrymandered district that stretches from Toledo nearly to Cleveland) and Rep. Jim Renacci (R-OH). That rally goes from 3:00 to 6:00 p.m.
Scott Livley, Brian Camenker, Don Feder Speak at Tea Party Rally: Boston, MA. The SPLC's list of anti-gay hate groups will be well represented at today's Patriots' Day Rally on Boston Commons today, sponsored by the Massachusetts Tea Party. MassResistance's Brian Camenker and Abiding Truth Ministry's Scott Lively, and Don Feder (who once described himself as making Atilla the Hunn look like a "a limousine liberal") are listed as featured speakers. The keynote speaker will be Texas GOP Congressman (and LaBarbara Award winner) Louie Gohmert. Former New Mexico Gov. Gary Johnston had been on the bill as another keynote speaker, but he withdrew on Thursday after learning about Scott Lively's participation. Johnson will be at a competing Worcester Tea Party rally instead. The Boston rally will soil the Boston Common Bandstand from 1:00 to 4:00 p.m.
TODAY'S AGENDA (OURS):
Protest of FRC Values Bus: Westlake and Cuyahoga Falls, OH. GetEqual Ohio and Freedom To Marry Ohio will meet that FRC Values Bus events today with counter-rallies at both locations. The first one at Westlake will take place in front of Church on the Rise, and will go from 8:30 a.m. to 1:30 p.m. The second counter-rally will take in Cuyahoga Falls at Fall River Square from 3:00 to 6:00 p.m.
Pride Celebrations Today: Łódź, Poland; Miami Beach, FL; Piteå, Sweden
AIDS Walks Today: Honolulu, HI and New Haven, CT.
Other Events Today: Women's Fest 2012, Camp Rehoboth, DE and Scandinavian Ski Pride, Hemsedal Norway.
TODAY'S BIRTHDAYS:

Leonardo Da Vinci: 1452. Born in Vinci "at the third hour of the night," Leonardo was apprenticed to the artist Andrea del Verrocchio in Florence at the age of fourteen. Early descriptions indicate that he was tall (at least 5'8″), athletic and extremely handsome. One contemporary described him as "an artist of outstanding physical beauty who displayed infinite grace in everything he did." At the age of twenty-four, Da Vinci was among four people accused of sodomy, a very serious accusation because it carried the death penalty. Those charges were dismissed on the condition that there were no further accusations. When accusations were made again that same year, charges were dismissed again, perhaps because one of those charged may have been linked with the powerful Medici family.
Undoubtedly, those accusations made Da Vinci very cautious, even in Florence where, despite those charges,  homosexuality was somewhat more tolerated than elsewhere (so much so that in Germany, the word Florenzer became slang for homosexual.) While there is no further contemporary mention of Da Vinci's sexuality, it was generally known that the life-long bachelor was particularly fond of and generous with his handsome male pupils, some of whom may have inspired some of Da Vinci's erotic sketches. Later historians mostly assumed that he was gay, an assumption that gained greater currency in the nineteenth century when German, French and British authors began examining the new understanding of what was to be called inversion, uranism, and, finally, homosexuality. Whenever nineteenth century authors sought examples of inverts in history, Da Vinci's name nearly always earned a prominent mention.
Bessie Smith: 1894. "The Empress of the Blues" was born in Chattanooga, the daughter of a laborer and part-time Baptist preacher. He died before she could remember him, and by the time she was nine, she had lost her mother and a brother. Her older brother had joined a Black Vaudeville troupe owned by Moses Stokes, which featured Ma Rainey as blues singer. In 1912, Bessie joined that same troupe, but as a dancer rather than a singer. While it's believed that Rainey didn't teach Smith to sing, (Smith had been singing on the streets of Chattanooga from a very young age), Rainey is credited with teaching Smith about stage presence. By 1913, Smith began singing professionally, and her career exploded in 1923 when she began recording for Columbia Records. By then, she was the highest-paid African-American entertainer in her day.
In 1923, she entered a very stormy marriage with Jack Gee, but he was unable to accommodate her show-biz life or her open bisexuality. They separated but never officially divorced. Meanwhile, she recorded hit after hit for Columbia, including "Downhearted Blues," "St. Louis Blues", "Empty Bed Blues," and the tune she is perhaps best known for today, "Gimme a Pigfoot (And a Bottle of Beer)." By the end of the 1920's, the arrival of the "talkies" meant the end of vaudeville, while the onset of the Great Depression brought about a collapse of the recording industry. Smith continued touring in clubs, but the going was tough. By 1933, she was recording for Okeh records, where she was paid a non-royalty fee of $37.50 for each side. Those were her last recordings. She was critically injured in a car accident in 1937, her right arm nearly severed in the accident. She died the following morning at the G.T. Thomas Afro-American Hospital in Clarksdale, Mississippi. Her funeral in Philadelphia drew 10,000 mourners. Her grave however remained unmarked; her estranged husband kept pocketing the money raised for a tombstone. She finally got her marker in 1970, courtesy of Janis Joplin.
George Platt Lynes: 1907. He first wanted to start a literary career after meeting Gertrude Stein and her circle in Paris. In 1927, he opened a bookstore in Englewood, New Jersey and took up photography so he could take pictures of his friends, and that is where his creative energies went. By 1932 Lynes opened his photography studio in New York and began exhibiting in the city's art galleries. He earned commissions from the New York City Ballet, Saks Fifth Avenue, and Bergdorf Goodmans. After World War II, he moved to Hollywood, where he became chief photographer for Vogue and photographed such illuminaries as Katharine Hepburn, Gloria SWanson, Igor Stravinsky, and Thomas Mann. His work was an artistic success, but a financial failure. He moved back to New York, but was never able to re-establish the success he once had.
The passion he had for his photography can be best seen in the photos that he took which harkened back to his reason for taking up photography in the first place: intimate (usually nude) photos of friends, lovers, performers and models. The artist Paul Cadmus, who posed for Lynes, recalled how he "used flattery to make everyone feel so comfortable." Those male nudes were never published, at least not in his lifetime. In the late 1940s, he transfered many of his negatives to Dr. Alfred Kinsey's Institute for Sexual Research in Bloomington, Indiana, and destroyed much of the rest of his work just before dying of lung cancer in 1955. In 2011, Rizolli published George Platt Lynes: The Male Nudes
, marking the first time many of his beloved nudes appeared in print.
If you know of something that belongs on the agenda, please send it here. Don't forget to include the basics: who, what, when, where, and URL (if available).
And feel free to consider this your open thread for the day. What's happening in your world?
Tea Party Nation Activist Endorses Anti-Gay Bullying
Jim Burroway
June 30th, 2011
Right Wing Watch has the details of a message sent to Tea Party Nation activists from Rich Swier, an activist with TPN and the anti-Muslim group ACT! For America. Swier reacts to an anti-bullying initiative in Florida by declaring that bullying is actually "peer pressure and is healthy." The money quote:
As MassResistance.org reports, "The homosexual movement in the public schools has always been based on lies and deception. But until the mid-1990s, they were still having difficulty getting into the schools. Then they found the key to their huge success — what they call 're-framing the issue'".

…This is not bullying. It is peer pressure and is healthy. There are many bad behaviors such as smoking, under age drinking and drug abuse that are behaviors that cannot be condoned. Homosexuality falls into this category.
MassResistance is one of a small handfull of groups that are so unhinged that they made the  SLPC's official list of anti-gay hate groups.
Tea Party Leader Will Exchange Debt Ceiling for Keeping Gays Out Of Military
Jim Burroway
May 10th, 2011
Tea Party Founding Fathers chairman William Temple addressed a news conference Monday morning warning lawmakers against raising the debt ceiling. Dressed in his trademark colonial garb, Temple warned that any lawmaker who voted for raising the debt ceiling would receive a zero on their scorecard when they rate candidates for 2012. But he was open to compromise:
On the list was keeping the front lines of America's wars as free of openly gay people and women of any sexual leaning as possible. Temple said that "if the House Armed Services Committee and the Pentagon slow down on injecting open homosexuality and females into forward combat roles," tea partiers might be able to put up with their new Republican House voting to ensure American government services are paid for with more borrowed cash.

Temple's line of reasoning:

When the Pentagon's own studies show that military effeminization may have an extremely costly impact on recruiting and retention, when Islamists have shown their willingness to sexually brutalize American female reporters, why would John Boehner's House Republicans be caving to political correctness? Why would House Republicans who know better be fostering inappropriate attractions in the intimacy of tents, bunks, barracks, platoons, subs, tanks, convoys, cockpits, latrines, showers, toilets and locker rooms when we are fighting wars in three Muslim nations?
It's a good thing the Tea Party is only interested in economic matters.
Tea Party Not Interested In Social Issues, ctd.
Jim Burroway
January 16th, 2011
Remember when the tea party tried to sucker LGBT people into their movement by reassuring them that the party was only interested in fiscal issues?
Banning same-sex marriage was the focal point of a conservative tea party rally Saturday afternoon in Council Bluffs. About 35 people gathered at the Mid-America Center to hear speeches from Rep. Kim Pearson, R-Pleasant Hill, and former Republican state representative and current Family Leader lobbyist Danny Carroll.

"I'm a Christian, social, fiscal conservative," Pearson told the crowd to much applause. "The social and fiscal conservative values work."

…"The definition of marriage is between one man and one woman," she said. "God is our ultimate law giver."
AZ GOP Party Officials Resign Over Tea Party Threats
Jim Burroway
January 12th, 2011
More madness in the culture war. The Arizona Republic reports that Arizona Legislative District 20 Chairman Anthony Miller and several others in the Phoenix suburb of Ahwatukee have resigned their party posts hours after Rep. Gabrielle Giffords's shooting over fears for their lives and their families' safety:
Miller, a 43-year-old Ahwatukee Foothills resident and former campaign worker for U.S. Sen. John McCain, was re-elected to a second one-year term last month. He said constant verbal attacks after that election and Internet blog posts by some local members with Tea Party ties made him worry about his family's safety.

In an e-mail sent a few hours after Saturday's massacre in Tucson that killed six and injured 13, including U.S. Rep. Gabrielle Giffords, Miller told state Republican Party Chairman Randy Pullen he was quitting: "Today my wife of 20 yrs ask (sic) me do I think that my PCs (Precinct Committee members) will shoot at our home? So with this being said I am stepping down from LD20GOP Chairman…I will make a full statement on Monday."

…The newly-elected Dist. 20 Republican secretary, Sophia Johnson of Ahwatukee, first vice chairman Roger Dickinson of Tempe and Jeff Kolb, the former district spokesman from Ahwatukee, also quit. "This singular focus on 'getting' Anthony (Miller) was one of the main reasons I chose to resign," Kolb said in an e-mail to another party activist. Kolb confirmed the contents of the e-mail to the Republic.

…a series of accusatory e-mails was exchanged among party members. Some blasted Miller's support of McCain, called him a "McCainiac with a penchant for violating the rules" and a "McCain hack." … 
Miller said he hadn't intended to resign, but changed his mind after Saturday's shooting. "I love the Republican Party," he said, "but I don't want to take a bullet for anyone.
The Tea Party Doesn't Care About Social Issues, Ctd.
Jim Burroway
September 18th, 2010
From Peter at Right Wing Watch, who attended the Values Voters Summit yesterday in Washington, D.C.:
A Tea Party panel brought together three activists who told stories about their own transformations from being moms and conservatives who minded their own business to becoming activists. Activists Katie Abram and Billie Tucker said their Tea Party work was guided by God waking them up early in the morning with instructions, the same way, one said, God does with Glenn Beck. Tucker describes a disagreement among organizers of their local tea party group. When one argued against adding moral issues to the mission, Tucker responded, saying "God did not wake me up for four months at four in the morning to say, 'Billie, we've got a tax issue.' He woke me up because he said my country doesn't love me like it used to love me."
Tea Party Express Leader Denies Social Issues Are Part Of Agenda
Jim Burroway
September 17th, 2010
Tea Party Express chairperson Amy Kremer is attending the Family Research Council's annual Values Voters Summit in Washington, D.C. this weekend, where she will appear as a panelist. While she was there, she sat down with the American Family Association's Bryan Fischer, who pressed her on taking a stand on social issues. Said Kremer, "If we go and allow religion and social issues to become a big part of this movement, this movement is going to fall apart."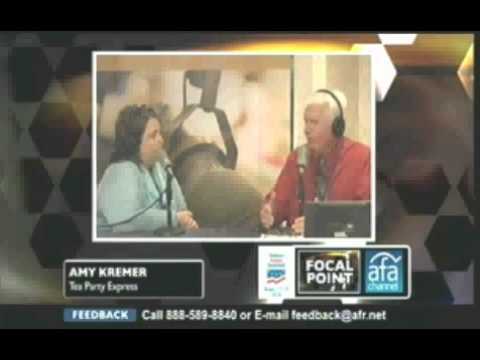 So there you have it. The Tea Party Express has no stake in social issues. Which is why their chairperson is attending a three-day conference dedicated to social issues conducted by the Family Research Council.
Tea Party Express was founded by a Sacramento-based GOP political consulting firm in 2008. Which means it's totally nonpartisan too. Former Tea Party Express chairman Mark Williams, incensed over plans to build an Islamic community center two blocks from New York's Ground Zero, said Muslims worshipped a "monkey-god." Which means they are totally not xenophobic either.
Social Issues Rise In Tea Party Politics
The opinions expressed in this article are those of the author and do not necessarily reflect those of other authors at Box Turtle Bulletin.
Jim Burroway
September 15th, 2010
Last weekend, Dick Armey, Director of FreedomWorks which is the political organization which organized the Tea Party movement nationwide as a disguised "astroturf" campaign of seemingly spontaneous grass-roots organizations, commented at a breakfast organized by the Christian Science Monitor that once their planned takeover of Congress is complete, the Tea Party will switch from economic issues to social issues. Armey rejected the idea that there would be a truce on social issues, saying "these are issues of the heart."
While he claimed that the Tea Party's first priority is economic issues, Armey admitted that social issues, which the Tea Party has been studiously silent on (except when some of them go off script), will also be part of their agenda. ""People are not going to turn their hearts and minds away from things that they have so heartfelt," he said, and he cited abortion as only "one a little example."
And that is why the insurgency of the Tea Party should concern us all. Yesterday, Tea Party-backed Christine O'Donnell won the GOP primary for U.S. Senate in Delaware. In the early 1990's, she was the founder and leader of a group called the Savior's Alliance for Lifting the Truth (SALT), which hired Wade Richards as their ex-gay spokesman. He later abandoned the ex-gay movement while coming out in an article in The Advocate in 2000. In 1996, she launched a campaign against masturbation on MTV.
O'Donnell, who was once the press secretary for "Concerned Women for America," believes in Creationism over evolution, and is against admitting women to military academies. "It's an honor to be a lady, she wrote.  "That's a beautiful part of womanhood is to be ladylike. " She claimed that West Point "has had to lower their standards … in order for men and women to compete." By lowering standards, she added, "we have reduced the effectiveness of our military." One can very easily hear echoes of anti-gay talking points in the current debate over repealing "Don't Ask, Don't Tell" in those remarks.
Tea party leaders have been eager to paint the so-called "spontaneous" movement as being strictly concerned with economic issues. But as the movement pushes the GOP further to the right on economic issues, it will have the effect of pushing it harder to the right on social issues as well, and that will provoke many difficult challenges for the gay community should the Tea Party capture a significant block of seats in Congress. To pretend that the Tea Party's only interest is in economic issues is, as Dick Armey points out in so many words, naive. That idea rests on the fictional belief that Tea Party members have checked their anti-gay animus at the door. They haven't. They've just hidden it in their closets for the time being.
Montana Tea Party Members Back Canned President
Jim Burroway
September 9th, 2010
When the board of Montana's Big Sky Tea Party Association voted to remove president Tim Ravndal over comments he posted on Facebook which appeared to have mocked Matthew Shepard's murder, Tea Party leaders characterized the move as evidence that the Tea Party is not interested in anti-gay issues. But it turns out that grass roots members of Montana's Tea Party are very interested, and are voicing their objection to Ravndal's removal. The the board has now promised to consider reinstating his membership:
[Board member Tom Baird] called the move [to remove Ravndal] "a knee-jerk reaction that cannot be reversed." He abruptly left the meeting, saying he was resigning from the organization. "My worry is that the association will turn tail and run in the opposite direction," he said.

Board member Bobette Madonna abstained from that vote, but joined the group consensus that Ravndal could have been perhaps just reprimanded and removed from leadership, and that the complete ejection was too quick and harsh.

"What happened to Tim is cruel, it's unnecessary," said Madonna. "They're making a fool of people who are responsible and decent."
Kristi Allen-Gailushas, a GOP nominee for state legislator, had resigned her position as the group's secretary and posted a comment on her Facebook page announcing, "The Gay community wants a war….They've got one!!" According to the Helena Independent's account of the Big Sky Tea Party Tuesday night meeting, her post wasn't discussed. In fact, there doesn't even appear to be that much discussion over Ravndal's post either, just the fallout and the need for damage control. Board chairman Roger Nummerdor remarked, "It's such a small comment, but it has big implications. And the implications will hurt us, You know as well as I do they're looking for a target."
Montana Tea Party Removes President Over Anti-Gay "Joke," Group's Secretary Resigns In Protest
Jim Burroway
September 7th, 2010
There has been a lot of talk about the Tea Party's insurgence being a benign development as far as LGBT rights are concerned. When journalists ask national Tea Party officials what the movement's position is concerning LGBT equality, they reliably demur, saying that the only thing they care about is the deficit — and lately, newer wedge issues like immigration and Muslim-Americans. Gays? No problem.
The problem I have with that is that everyone wants to tell you that the Tea Party is not a top-down movement, but a spontaneous uprising from among people who are disturbed that our president is an immigrant Muslim who plunged our nation into debt. Or something like that. So, if it's really a spontaneous grass-roots movement, why is anyone bothering to ask Tea Party leaders? Shouldn't they be talking to the grass roots? Like, say, the Plymouth Rock and South Boston Tea Parties?
Montana's Tea Party, on the other hand, is trying to tilt the lever back away from social issues,  but not generating quite a bit of controversey within its own ranks. In a July facebook posting, Tim Ravndal, the President of Montana's Big Sky Tea Party Association, responded to an ACLU lawsuit over domestic partnerships by writing that he thought marriage should be between a man and a woman. Unfortunately, his comments didn't end there:
Then Ravndal expressed support for a commenter who (in apparent reference to the Matthew Shepard murder) said, "I think fruits are decorative. Hang up where they can be seen and appreciated. Call Wyoming for display instructions."

Answered Ravndal: "Where can I get that Wyoming printed instruction manual?"
To Montana's Big Sky Tea Party's credit, they booted Ravndal from the party following an emergency meeting.
We are extremely disappointed by Mr. Ravndal's commentary," wrote Walker, who could not be reached for this story. "The discussion in that Facebook conversation is entirely outside the position of the Big Sky Tea Party. Even though Mr. Ravndal was having a personal conversation and made no reference to our group, we felt strongly that swift and decisive action was required as we cannot accept that sort of behavior from within our membership, let alone from an officer of the corporation.

"We continually make it known that we will not tolerate bigoted dialog, behavior or messages at our functions, our meetings or within our ranks," Walker continued. "If a person demonstrates bigotry relative to race, sex, ethnicity, etc. they are not welcome in our organization. The Tea Party movement is about standing up for individual freedom for everyone."
In case you were wondering, I think we're supposed to assume that sexual orientation and gender identity and expression are meant to fall under "etc."
Not all Tea Partiers in Montana are on board with that decision. Kristi Allen-Gailushas, secretary of the Big Sky Tea Party Association and Republican nominee for a state legislative seat, announced that she is quitting the group over Ravndal's removal. The Helena Independent Record reports that Allen-GAilushas may have facebook problems of her own. Following Ravandal's removal, Allen-Gailushas posted to her facebook page, "The Gay community wants a war…they've got one!!"
The Montana GOP platform currently calls for "legislation to keep homosexual acts illegal." Apparently the U.S. Supreme Court has no jurisdiction in Montana.
MassResistance Endorses Scott Lively As Write-In Candidate for Governor
Jim Burroway
August 13th, 2010
MassResistance, the most prominent group in Massachusetts that has been fighting a quixotic battle against 'the state's same-sex marriage law since the Goodridge decision, has become increasingly rabid in its anti-gay opposition. So much so, that they are one of only fourteen anti-gay hate groups tracked by the Southern Poverty Law Center. (That's out of 932 active hate groups in the United States the SPLC tracked in 2009.) But to give you an indication of how firmly entrenched they are in the politics of personal vilification, MassResistance has now endorsed holocaust revisionist Scott Lively as write-in candidate for Massachusetts governor in the GOP primary:
Lively is everything that (GOP primary front-runner) Charlie Baker is not. He is principled, pro-family, pro-life, pro-traditional marriage, pro-2nd-amendment, pro-religion, pro-parents' rights, and utterly fearless.

Send a clear message to the RINO establishment

There's nothing quite like voting for someone you actually support, rather than the lesser of two (or three) evils.

And by thousands (we hope!) of people voting for Scott Lively as a write-in candidate in the September 14 Republican Primary, a very strong statement will be made to the RINO Republican establishment, especially since relatively few people vote in most primaries. Don't assume you own us. What you're selling, we're not buying. The people running the Massachusetts Republican Party love to use social conservatives to do the grunt work on campaigns, but they arrogantly see themselves as above "dirtying" themselves with the principled issues that conservatives care about.
Scott Lively is best known as the author of the widely discredited book, The Pink Swastika, in which he claims that the Nazi movement was, at its core, a gay movement, and that the inevitable result of LGBT equality would be the imposition of murderous fascism. He recently argued that repealing "Don't Ask, Don't Tell" would result in a Nazi takeover of the U.S. military, and he told The Daily Show that gay men exhibit absolutely no moral restraint whatsoever.
In March 2009, Lively was one of three American anti-gay activists to deliver what he called his "Nuclear Bomb against the gay agenda" at a conference in Kampala, Uganda which ultimately led to the introduction of the draconian Anti-Homosexuality Bill in Uganda's Parliament. That bill calls for the death penalty against LGBT people under certain circumstances, and virtually criminalizes knowing or providing services to gay people. Lively has called that bill "a step in the right direction" and "the lesser of two evils," although he claims to oppose the death penalty and has falsely claimed on multiple occasions that the death penalty has been removed from the bill. It has not. The bill, while unchanged, now appears stalled in two Parliamentary committees following international outcry.
Scott Lively himself is no stranger to the SPLC's list of anti-gay hate groups. His own Abiding Truth Ministries, now based in Springfield, Massachusets, is also listed as an anti-gay hate group. He has worked closely with the other two Massachusetts-based anti-gay hate groups. He delivered a series of lectures at the School of Christian Activism, which is a ministry of the New Generation Christian Center. New Generation itself is a ministry of Latvia-based pastor Alexey Ledyaev, founder of the New Generation Movement. Lively and Ledyaev co-founded an international anti-gay movement known as Watchmen On the Walls, which is also listed as an anti-gay hate group by the SPLC.
(By the way, here's a trivia note. The picture that MassResistance posted in their endorsement of Scott Lively is a cropped version of my screen-capture from video of Lively speaking on the first day of a Watchmen On the Walls conference in Riga, Latvia. What, they couldn't get a headshot from their good friend?)
Which means, for those of you keeping track, that Lively is now working very closely with four of the fourteen anti-gay hate groups tracked by the SPLC.
Scott Lively's ties with MassResistance are deep. He has appeared on MassResistance's podcast as far back as 2006, and his writings are promoted in MassResistance's web site. Last March, Lively joined Peter LaBarbera to speak at a MassResistance banquet. Last March, Lively joined Peter LaBarbera to speak at a MassResistance banquet.
MassResistance's Brian Camenker spoke at a rally put on by the Plymouth Rock Tea Party last July. This appearance followed the cancellation of another Tea Party rally on the Lexington Battle Green due to controversy over Camenker's participation.  Camenker will also appear at a South Boston Tea Party rally on Aug 22, where the featured speaker will be Don Feder. It should come as no surprise that Feder, who once described himself as being "to the right of Attila the Hun," was also a featured speaker at the Watchmen's Riga conference. Anti-gay extremism forms a very tight little world.
More Tea Partiers not upset about the overturn of DOMA
Timothy Kincaid
July 13th, 2010
Last week the NY Times interviewed leaders of various Tea Party factions, noting that many found Judge Tauro's decision that marriage is a state decision rather than a federal decision to be consistent with their own views. Now the Washington Times has interviewed more and found much the same.
"I do think it's a state's right," said Phillip Dennis, Texas state coordinator for the Tea Party Patriots. The group does not take a position on social issues, he said, but personally, "I believe that if the people in Massachusetts want gay people to get married, then they should allow it, just as people in Utah do not support abortion. They should have the right to vote against that."

Everett Wilkinson, state director for the Florida Tea Party Patriots, agreed: "On the issue [of gay marriage] itself, we have no stance, but any time a state's rights or powers are encouraged over the federal government, it is a good thing."