And Delaware Makes Eleven
Timothy Kincaid
May 7th, 2013
The Delaware Senate voted for marriage equality today. While it was predicted to be a squeaker, the final vote of the 21 member body was 12 to 9. Governor Markell has pledged to sign the bill, so Delaware makes eleven:
2004 Massachusetts
2008 Connecticut
2009 Iowa
2009 Vermont
2010 New Hampshire
2011 New York
2012 Washington
2012 Maryland
2012 Maine
2013 Rhode Island
2013 Delaware
and
2010 District of Columbia
And now over 50 Million Americans live in a state that has full equality.
Update: Gov. Jack Markell signed the bill this evening. Marriage equality goes into effect on July 1.
Delaware Senate Executive Committee votes on Equality tomorrow
Timothy Kincaid
April 30th, 2013
The Delaware Senate Executive Committee will meet on Wednesday, May 1, at 2:30. The only item on the agenda is a vote on House Bill 75, the marriage equality bill. Three of the six committee members are sponsors and another has stated his support for the bill, so it is expected to pass.
Delaware House Passes Marriage Equality Bill
Jim Burroway
April 23rd, 2013
The First State in the nation took its first concrete steps toward providing marriage equality for all of its citizens. The Delaware House of Representatives moved quickly to approve a marriage equality bill in a 23-18 vote. HB 75 was introduced in the Delaware House less than two weeks ago, and last week the House Administrative Committee moved it to the full House floor. The bill now goes to the Senate for its consideration.
The Daily Agenda for Tuesday, April 23
Jim Burroway
April 23rd, 2013
TODAY'S AGENDA:
France's National Assembly To Cast Final Vote on Marriage Equality: Paris. After the French Senate gave its approval to a bill providing marriage and adoption equality for same-sex couples, the bill returned to the lower house to ratify some of the changes made in the Senate after the National Assembly passed its version in February. The National Assembly began debating the final version of the bill last week, and its is expected to complete its work today with a final, final vote. It can't come too soon. Anti-gay opponents to equality have been whipping up a violent backlash in recent weeks, with assaults on gay people being reported in several cities. Opponents have also threatened the life of the National Assembly's president, and warn of "blood" and "civil war" if the bill passes.
Assuming the bill does pass the National Assembly as expected today, its next stop might be a referral to the Constitutional Council in an effort to have the law declared unconstitutional. That would happen if sixty Senators or sixty deputies agree to refer the bill to the Council. If that effort fails or of the Council clears the law, it will then be signed into law by President Hollande and published in the Official Journal.
Delaware House to Vote on Marriage Equality Bill: Dover, DE. Things are moving rather quickly in the First State. It was less than two weeks ago that a bill providing marriage equality was introduced in the Delaware House. Within a week, HB 75 quickly moved from the House Administrative Committee to the House floor. The bill has 17 House co-sponsors out of the 41-member chamber. Rep. Melanie George Smith (D-Bear,) the bill's primary sponsor, believes the House will approve the bill and send it to the Senate.
Rhode Island Senate Committee to Consider Marriage Equality Bill: Providence, RI. The state Senate is made up of 32 Democrats, 5 Republicans, and 1 Independent, so you'd think that a bill granting marriage quality to same-sex couples would be a sure thing, especially considering how easily it passed the House in a 51-19 vote in January. But the Senate is led by Senate President Teresa Paiva-Weed (D-Jamestown, Newport), who opposes legalizing same-sex marriage and in years past vowed to block it from coming to a vote in the Senate. This year, she said that she would a committee to hold hearings on the bill, but she has previously ensured that the selected committee would deep-six any attempts to bring marriage equality to the Senate Floor. The bill today is before the Senate Judiciary Committee, and the Providence Journal is having trouble reading the tea leaves:
 But the committee will vote on bills that are different from those introduced weeks ago. The new versions were posted Monday afternoon.

One bill, S 38, is now identical to its companion bill in the House 5015, Sub B. Both would legalize same-sex marriage and contain expanded protections for religiously affiliated organizations that oppose same-sex marriage.

The third bill, S708, would put the issue before voters. But it no longer includes protections for individual small business owners who oppose same-sex marriage.
TODAY IN HISTORY:
Hate Crimes Statistics Act Signed Into Law: 1990. Following strong support from the Administration and Congress, President George H.W. Bush signed the Hate Crimes Statistics Act into law in a ceremony at the Old Executive Office Building which, for the first time, included LGBT advocates, along with representatives from the ACLU, NAACP, and other groups that had criticized Bush's record on civil rights. The LGBT representatives were invited only after agreeing not to turn the signing ceremony into an opportunity to protest the Bush administration's AIDS policies. The law, which requires the Justice Department to institute a program to systematically collect hate crime statistics based on race, religion, ethnic background and/or sexual orientation, was the first federal law to specifically identify gays, lesbians and bisexuals. The Justice Department and FBI have been issuing annual Hate Crime reports since 1992. All reports from 1995 on are available on the web.
Sen. Rick Santorum's "Man On Dog" Interview: 2003. In an interview printed in USA Today, Sen. Rick Santorum (R-PA) was in the midst of blaming the Catholic Church's sexual abuse scandals on liberals and the "right to privacy lifestyle" (which Santorum made abundantly clear that he did not accept), Santorum then cast his eye toward the pending U.S. Supreme Court case Lawrence v. Texas which would strike down sodomy laws later that summer. Santorum defended sodomy laws and lanched his most infamous polemic against gay families:
AP: OK, without being too gory or graphic, so if somebody is homosexual, you would argue that they should not have sex?

SANTORUM: We have laws in states, like the one at the Supreme Court right now, that has sodomy laws and they were there for a purpose. Because, again, I would argue, they undermine the basic tenets of our society and the family. And if the Supreme Court says that you have the right to consensual sex within your home, then you have the right to bigamy, you have the right to polygamy, you have the right to incest, you have the right to adultery. You have the right to anything. Does that undermine the fabric of our society? I would argue yes, it does. It all comes from, I would argue, this right to privacy that doesn't exist in my opinion in the United States Constitution, this right that was created, it was created in Griswold — Griswold was the contraceptive case — and abortion. And now we're just extending it out. And the further you extend it out, the more you — this freedom actually intervenes and affects the family. You say, well, it's my individual freedom. Yes, but it destroys the basic unit of our society because it condones behavior that's antithetical to strong healthy families. Whether it's polygamy, whether it's adultery, where it's sodomy, all of those things, are antithetical to a healthy, stable, traditional family.

Every society in the history of man has upheld the institution of marriage as a bond between a man and a woman. Why? Because society is based on one thing: that society is based on the future of the society. And that's what? Children. Monogamous relationships. In every society, the definition of marriage has not ever to my knowledge included homosexuality. That's not to pick on homosexuality. It's not, you know, man on child, man on dog, or whatever the case may be. It is one thing. And when you destroy that you have a dramatic impact on the quality —

AP: I'm sorry, I didn't think I was going to talk about "man on dog" with a United States senator, it's sort of freaking me out.
The AP reporter wasn't the only one freaking out. Dan Savage wrote a New York Times op-ed calling Santorum out for his blatant bigotry. Noting that Sen. Trent Lott had lost his post as Senate majority leader over remarks praising staunch segregationist Sen. Stromm Thurmond's (R-SC) 1948 presidential bid, Santorum was assured of escaping this outrage with no sanctions. "Unlike the former majority leader, Mr. Santorum didn't slip up and say something in plain English that every good Republican knows must only be said in code. Unlike Republican appeals to racist voters, Republican appeals to homophobic voters are overt."
But a month later, Santorum's comments were largely forgotten, except among the LGBT community. Lamenting that "the Santorum scandal didn't have legs," a 23-year-old reader of Dan Savage's "Savage Love" column suggested holding a contest to "'include' (Santorum) in our sex lives–by naming a gay sex act after him." Savage agreed, and invited readers to send in their suggestions. By June, the votes were counted, and a definition was promulgated:
Hey, everybody: We have a winner. Savage Love readers, by a wide margin, want Sen. Rick Santorum's name to stand for… THAT FROTHY MIXTURE OF LUBE AND FECAL MATTER THAT IS SOMETIMES THE BYPRODUCT OF ANAL SEX! It was a landslide for that frothy mixture; the runner-up, farting in the face of someone who's rimming you, came in a distant second. So congratulations to WUTSAP, who nominated that frothy mixture, and a big thank you to the thousands who voted.
The definition was created, but it still wasn't obvious that Santorum's name would be equated with the aforementioned byproduct. Four months after Santorum's infamous comments and two months after the definition was created, the neologism was still struggling to catch on. It wasn't until the end of the year when a new web site was created that SpreadingSantorum ended up becoming the most successful Google bomb in history. And with that, a callow comment which almost faded into history has become the name by which Santorum will be known for the rest of his life.
If you know of something that belongs on the agenda, please send it here. Don't forget to include the basics: who, what, when, where, and URL (if available).
And feel free to consider this your open thread for the day. What's happening in your world?
Delaware marriage bill moves to House
Timothy Kincaid
April 17th, 2013
Today a House Committee in Delaware met to review the marriage bill.
The legislation, which Gov. Jack Markell has pledged to sign if passed by lawmakers, was scheduled for discussion Wednesday in the House Administration Committee.
The committee approved the bill by a vote of 4 to 1. It now goes to the House floor.
Remember just a few years ago when a story like this one would be the lead in every newscast in the country?
Delaware marriage bill to be introduced today
Timothy Kincaid
April 11th, 2013
ABC:
Gov. Jack Markell and Attorney General Beau Biden planned to join lawmakers Thursday in Wilmington to announce the filing of the legislation.

Crafting of the bill has been led by members of the gay rights group Equality Delaware.

Markell has pledged to sign the bill if it passes the General Assembly, where it has the support of Democratic leaders in both chambers.
Equality Delaware pushes for marriage.
Timothy Kincaid
January 30th, 2013
Equality Delaware, the advocacy group that won passage of Delaware's same-sex civil unions bill in 2011, this week ramps up its campaign for full marriage equality with meetings in New Castle and Sussex counties.

Hundreds of supporters are expected to attend the 5:30 p.m. gatherings – today at First & Central Presbyterian Church in Wilmington and Thursday at CAMP Rehoboth on Baltimore Avenue in Rehoboth Beach.

"We believe 2013 is the right time for marriage [equality] in Delaware," said Wilmington attorney Lisa Goodman, president of Equality Delaware.
This will likely lead to a bill sometime this spring.
Delaware "Family Values" Candidate Busted on Child Molestation Charges
Jim Burroway
November 1st, 2012
Eric Bodwnweiser, 53, was running for Delaware State Senate in a conservative-leaning district near Rehoboth Beach. He boasted of being a member of the anti-gay Delaware Family Policy Council, which is an official state policy council of Focus On the Family. He was endorsed by former 2010 GOP Senate Candidate, tea party darling and not a witch, Christine O'Donnell. And today, he stands indicted of multuple counts of child molestation:
The indictment includes 113 felony sex charges, including 39 counts of unlawful sexual intercourse — first-degree and 74 counts of unlawful sexual contact — second-degree. Although the indictment doesn't identify the gender of the victim, the Gape Gazette identified the victim as a boy who allegedly was sexually abused by Bodenweiser between Oct. 1, 1987 and Aug. 31, 1990 when he was between the ages of 10 and 13.

Jason Miller, a spokesperson for the Delaware Attorney General's office, which is prosecuting the case, said the victim, who is now in his 30s, has spoken to the media and revealed details not disclosed in the indictment but which are expected to surface at a trial.
Delaware Gov. Signs Civil Unions Bill
Jim Burroway
May 11th, 2011
Governor Mack Markell tonight signed Delaware's civil unions bill into law. The new law gives same-sex couples the same rights and responsibilities at the state level that are granted/imposed on married couples. The bill also recognizes same-sex marriages and civil unions performed in other states. The law takes effect on January 1, 2012.
Delaware House Approves Civil Unions
Jim Burroway
April 14th, 2011
The Delaware House this evening voted 26-15 in favor of a civil unions bill that will provide all of the rights and benefits of marriage under state law to same-sex couples. The Senate approved the same measure last week. Governor Jack A. Markell has said he will host a signing ceremony next month. The law will take effect at 10 a.m. Jan. 1, 2012.
Delaware Senate Passes Civil Unions Bill
Jim Burroway
April 7th, 2011
The vote was 13-6. It now goes on to the House, where it is also expected to pass. The House vote is scheduled for April 13.
Delaware Senate Schedules Vote on Civil Unions
Jim Burroway
April 6th, 2011
Delaware's Senate Administrative Services Committee approved SB 30, which would provide Civil Unions for same-sex couples, after a two hour hearing earlier today. The full Senate has scheduled a vote for tomorrow. According to the Washington Blade:
SB 30 would give gay and lesbian couples access to the responsibilities and rights of marriage; partners in a civil union would be included wherever terms like "dependent," "next of kin" and "family" are used in Delaware regulations, codes and court decisions. If passed, Delaware would also recognize civil unions performed in other states.
If the bill passes the Senate, it would then go on to the House.
Christine O'Donnell Compares DADT Repeal to Adulterous Affairs
Jim Burroway
October 14th, 2010
The Tea Party-backed Republican nominee for U.S. Senate from Delaware, Christine O'Donnell, appeared on a debate yesterday in which she expressed her opinion that the U.S. military is a law unto itself outside of civilian control, and that the courts have no role to play in enforcing the U.S. Constitution. She also said that repealing "Don't Ask, Don't Tell" would be like telling the military that they should endorse adulterous affairs among married personnel.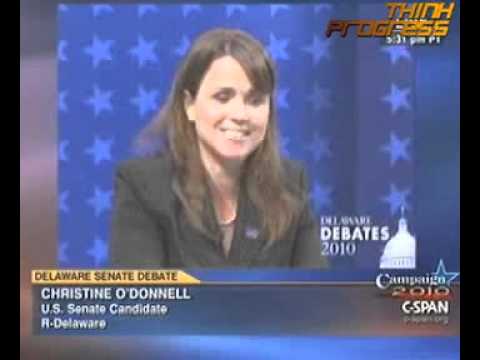 "A federal judge recently ruled that we have to overturn Don't Ask Don't Tell. There are a couple of things we need to say about that. First of all, judges should not be legislating from the bench. Second of all, it's up to the military to set the policy that the military believes is in the best interest of unit cohesiveness and military readiness. The military already regulates personal behavior in that it doesn't allow affairs to go on within your chain of command. It does not allow it you are married to have an adulterous affair within the military. So the military already regulates personal behavior because it feels that it is in the best interest of our military readiness. I don't think that Congress should be forcing a social agenda on to our military. I think we should leave that to the military."
Christine O'Donnell: Gays Suffer From "Identity Disorder"
Jim Burroway
September 21st, 2010
Christine O'Donnell, the Delaware Republican Senatorial candidate whose Tea Party-backed campaign upset the GOP's favorite in the primaries, has parroted the ex-gay line with regard to gay people as recently as 2006. In an interview with the Wilmington News Journal reporter Victor Greto, O'Donnel said:
"People are created in God's image. Homosexuality is an identity adopted through societal factors. It's an identity disorder."
Calling homosexuality an "identity disorder" is a classic feature of the ex-gay lexicon. O'Donnell undoubtedly picked up that line from her own association with the ex-gay movement in the 1990′s, when she ran a ministry called "The Savior's Alliance for Lifting the Truth" (SALT). The ex-gay spokesperson for SALT, Wade Richards was one of the "success stories" to come out of the Memphis-based ex-gay residential program Love In Action. It was also through O'Donnell that Richards also worked with Peter LaBarbera for a while. (Finding out that LaBarbera's office was filled with porn and leather bondage gear, ostensibly for "research", shook him up quite a bit.) Richards finally came to understand that the ex-gay myth was a dead end. He came out in 2000:
"What helped me really come to grips was that [O'Donnell's] sister is an open lesbian and was living in L.A. and was in a long-term relationship and was working with a youth organization," he says. "By hanging out with her, I saw, wow, she has a pretty normal life." Being gay, he started to realize, needn't condemn him to a life of seedy anonymous hookups, drug abuse, and nihilism.
After he came out, he never heard from O'Donnell again:
After that, he says, O'Donnell "totally turned her back on me. I never heard from her ever again. That's been my experience with the Christian community in general. The minute I was struggling and saying, 'Hey, listen, I don't know really where I am with this,' that's when everyone really turned their back on me."
This appears to be a common experience among ex-gay survivors, especially those who had served as spokespersons for the movement. Once they even begin to express doubts, they are completely disowned.
Meanwhile, O'Donnell's vilification of gay people would continue. In 1997, O'Donnell said that the government was spending too much money on AIDS, calling homosexuality "a lifestyle which brings about this disease." In 2000, she told Fox's Hannity & Colmes that gays get away with too much: "They're getting away with nudity! They're getting away with lasciviousness! They're getting away with perversion! …They're getting away with blasphemy!"  And in this year's primary campaign, she engaged in a bit of gay-bating against her Republican opponent, Mike Castle. She hired a firm that released an ad that accused Castle of cheating on his wife with a man, a charge that carried no evidence whatsoever. She also accused Castle of "un-manly tactics" and told him to "put his man-pants on." I predict it won't be long before we start hearing about pedophilia and bestiality as the campaign wears on.
Social Issues Rise In Tea Party Politics
The opinions expressed in this article are those of the author and do not necessarily reflect those of other authors at Box Turtle Bulletin.
Jim Burroway
September 15th, 2010
Last weekend, Dick Armey, Director of FreedomWorks which is the political organization which organized the Tea Party movement nationwide as a disguised "astroturf" campaign of seemingly spontaneous grass-roots organizations, commented at a breakfast organized by the Christian Science Monitor that once their planned takeover of Congress is complete, the Tea Party will switch from economic issues to social issues. Armey rejected the idea that there would be a truce on social issues, saying "these are issues of the heart."
While he claimed that the Tea Party's first priority is economic issues, Armey admitted that social issues, which the Tea Party has been studiously silent on (except when some of them go off script), will also be part of their agenda. ""People are not going to turn their hearts and minds away from things that they have so heartfelt," he said, and he cited abortion as only "one a little example."
And that is why the insurgency of the Tea Party should concern us all. Yesterday, Tea Party-backed Christine O'Donnell won the GOP primary for U.S. Senate in Delaware. In the early 1990′s, she was the founder and leader of a group called the Savior's Alliance for Lifting the Truth (SALT), which hired Wade Richards as their ex-gay spokesman. He later abandoned the ex-gay movement while coming out in an article in The Advocate in 2000. In 1996, she launched a campaign against masturbation on MTV.
O'Donnell, who was once the press secretary for "Concerned Women for America," believes in Creationism over evolution, and is against admitting women to military academies. "It's an honor to be a lady, she wrote.  "That's a beautiful part of womanhood is to be ladylike. " She claimed that West Point "has had to lower their standards … in order for men and women to compete." By lowering standards, she added, "we have reduced the effectiveness of our military." One can very easily hear echoes of anti-gay talking points in the current debate over repealing "Don't Ask, Don't Tell" in those remarks.
Tea party leaders have been eager to paint the so-called "spontaneous" movement as being strictly concerned with economic issues. But as the movement pushes the GOP further to the right on economic issues, it will have the effect of pushing it harder to the right on social issues as well, and that will provoke many difficult challenges for the gay community should the Tea Party capture a significant block of seats in Congress. To pretend that the Tea Party's only interest is in economic issues is, as Dick Armey points out in so many words, naive. That idea rests on the fictional belief that Tea Party members have checked their anti-gay animus at the door. They haven't. They've just hidden it in their closets for the time being.
Nazi's get blamed for the darndest things
Timothy Kincaid
June 18th, 2010
Godwin's rule says ""As an online discussion grows longer, the probability of a comparison involving Nazis or Hitler approaches 1." Well, it appears that Godwin's Law applies to political rhetoric offline as well.
Take for example this very creative take on history from Glen Urquhart, a Republican congressional candidate in Delaware. Mr. Urquhart appears to be explaining why it is that he supports a theocracy.
Urquhart: Do you know where this phrase, "Separation of church and state" comes from? Anybody know?

Unidentified man: I do

I know. But I'm the history teacher.

It was a letter.

Urquhart: Actually, that's exactly not in Jefferson's letter to Dansbury Baptist. He was reassuring them that our government wouldn't transform their religion.

The exact phrase, "Separation of Church and State" came out of Adolph Hitler's mouth. That's where it comes from.

Next time your liberal friends talk about the separation of church and state, ask them why they're Nazis.
Perhaps Urquhart should have listened more closely to the history teacher and less to the AFA's Bryan Fischer. On January 1, 1802, Thomas Jefferson wrote a letter to Danbury Baptist Association in which he included the following now-famous phrase:
I contemplate with sovereign reverence that act of the whole American people which declared that their legislature should "make no law respecting an establishment of religion, or prohibiting the free exercise thereof," thus building a wall of separation between Church & State.
And I'm pretty sure that Thomas Jefferson was not a Nazi.
Delaware Passes Non-Discrimination Bill
Timothy Kincaid
June 25th, 2009
Gays and lesbians in Delaware will have legal protection from discrimination under a bill that passed the General Assembly late Wednesday night, more than a decade after supporters started fighting for it.

The House chamber erupted in applause, cheers and hugs when representatives passed the measure shortly after 8:30 p.m. An hour earlier, the Senate — where previous versions of the legislation always were killed — passed the same bill after a three-hour debate.

The bill now goes to Gov. Jack Markell for his signature. Rep. Pete Schwartzkopf, who helped push the bill through the House, said Markell has expressed support for it.
Discrimination based on sexual orientation is now banned in housing, employment, public works contracting, public accommodations and insurance. The bill passed both houses by large margins with strong bi-partisan support.
Remember when this would have been national front page news? It is still a very important step and good news for Delaware citizens. And we still have many states in which blatant discrimination against gay persons is completely legal.
But it is a measure of how far we have come that these benefits seem ordinary rather than astonishing.
State Marriage Equality Update
Timothy Kincaid
April 9th, 2009
There has been a lot of movement recently in various states on the issue of recognition for same-sex couples. Here is a brief synopsis (I apologize if I missed anything):
Arkansas – on March 27, a bill was killed that would have banned cities and counties from creating domestic partner registries.
California – the State Supreme Court is deliberating on whether Proposition 8 is constitutional and, if so, what impact it has on the 18,000 same-sex couples who married between June and November 2008.
Colorado – at least two initiative drives are underway to either change the constitution to allow for gay marriage or alternately to statutorily create civil unions. The legislature has just passed a Designated Beneficiary Agreement Act, which has been signed by the Governor.
Connecticut – last week codified – with bipartisan support – marriage equality in the state's laws to agree with the decision of the state Supreme Court.
Delaware – proposed constitutional amendment to ban same-sex marriage defeated in the Senate in the last week in March.
Hawaii – Civil Unions bill was tied up in committee. Although the bill has a strong majority of support in the Senate, they voted not to pull it from committee.
Illinois – a bill (HB 0178) has been introduced to legalize same-sex marriage along with a bill (HB 2234) to enact Civil Unions. The marriage bill is resting in the Rules Committee but the Civil Unions bill passed out of committee in March and now faces a House vote.
Iowa – last week the Supreme Court found that the state must recognize same-sex marriage. It will go into effect on April 27. The Governor, the Senate Majority Leader, and the Speaker of the House have all announced that they will oppose efforts to change the Constitution. Iowa has no initiative process so it would require a change in leadership and several years before it would be possible to revoke this right.
Maine – both a marriage bill and a civil unions bill are before the legislature. The Judiciary Committee has scheduled a hearing on April 24. Gov. John Baldacci is "keeping an open mind".
Maryland – on April 7, the State Senate upgraded benefits offered to same-sex couples in domestic partnership relationships but do not allow for official state recognition of those relationships.
Minnesota – there is a bill before the legislature to provide new marriage equality. It is unlikely to pass.
Nevada – a bill to provide Domestic Partnerships with all the rights and obligations of marriage has passed out of committee and is before the Senate.
New Hampshire – at the end of March the House passed a bill to allow for gay marriage. It will be considered by the Senate, where Democrats have a 14-9 advantage (a dozen Republicans in the House supported the bill). Governor John Lynch has not stated whether he will veto the legislation, should it pass.
New Jersey – a commission has found that civil unions are inadequate and polls have found that residents favor gay marriage but a bill before the legislature appears not to be moving.
New Mexico – in March the Senate defeated efforts to enact Domestic Partnerships.
New York – the Governor has announced that he will push for a vote in the Senate on gay marriage. Although marriage equality has passed in the House, without support from some Republicans, the votes do not appear to be there in the Senate.
Rhode Island – a gay marriage bill is unlikely to make it out of committee. A "reciprocal beneficiary agreements" bill, a darling of anti-gays who want to label gay couples as identical to roommates or cousins, has been proposed as a "compromise".
Vermont – this week the legislature overrode the governor's veto to pass marriage equality.
Washington - a bill to upgrade the state's Domestic Partnerships to provide all the rights and obligations of marriage has passed the Senate and will come before the House soon.
West Virginia – last week the House of Delegates defeated a proposed state constitutional amendment that would have banned same-sex marriage.
Wisconsin - the Supreme Court is being asked to review the constitutional ban on marriage. The Governor, in his budget, has proposed Domestic Partnership benefits.
Wyoming – in February the House defeated a constitutional amendment to ban same-sex marriage.
District of Columbia – the Council voted unanimously to recognize out of state marriages. Same-sex marriage bill expected later this year.
Delaware Legislature Affirms Gay Residents
Timothy Kincaid
March 27th, 2009
WBOC is reporting on two bills that would impact gay residents:
The first measure, Senate Bill 27, would have reinforced Delaware's ban on gay marriage. That proposed constitutional amendment failed in the Senate Thursday.

The House though did pass a measure to make it illegal to discriminate against gay people when it comes to everything from employment to buying homes. The bill now goes over to the Senate for consideration. Gov. Jack Markell said Thursday he supports the bill.
At the last minute, the bill was "clarified" to allow for Civil Unions (replaced with SS 1). But that did not gain it enough support.
BWOC's Jeremy Tucker can barely contain his disappointment.
Senate bill 27 failed despite the efforts of hundreds of protestors who gathered at Legislative Hall to support the measure. Supporters argued they wanted to make sure marriage remained between a man and a woman.
…
No word on whether Senate Bill 27 will be re-introduced.
Sorry newsguy, but constitutional amendments require a 2/3 vote of both houses. The Senate rejected this bill by 11 to 9 (with one not voting). If it can't get a simple majority, then it's dead.