Christine O'Donnell Compares DADT Repeal to Adulterous Affairs
Jim Burroway
October 14th, 2010
The Tea Party-backed Republican nominee for U.S. Senate from Delaware, Christine O'Donnell, appeared on a debate yesterday in which she expressed her opinion that the U.S. military is a law unto itself outside of civilian control, and that the courts have no role to play in enforcing the U.S. Constitution. She also said that repealing "Don't Ask, Don't Tell" would be like telling the military that they should endorse adulterous affairs among married personnel.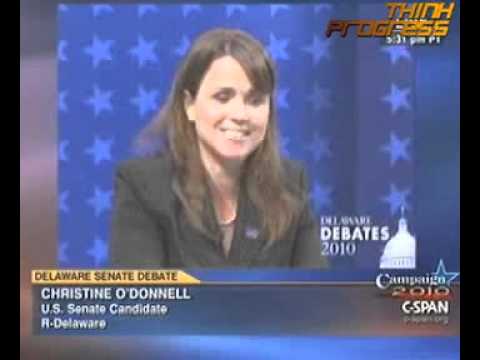 "A federal judge recently ruled that we have to overturn Don't Ask Don't Tell. There are a couple of things we need to say about that. First of all, judges should not be legislating from the bench. Second of all, it's up to the military to set the policy that the military believes is in the best interest of unit cohesiveness and military readiness. The military already regulates personal behavior in that it doesn't allow affairs to go on within your chain of command. It does not allow it you are married to have an adulterous affair within the military. So the military already regulates personal behavior because it feels that it is in the best interest of our military readiness. I don't think that Congress should be forcing a social agenda on to our military. I think we should leave that to the military."
Christine O'Donnell: Gays Suffer From "Identity Disorder"
Jim Burroway
September 21st, 2010
Christine O'Donnell, the Delaware Republican Senatorial candidate whose Tea Party-backed campaign upset the GOP's favorite in the primaries, has parroted the ex-gay line with regard to gay people as recently as 2006. In an interview with the Wilmington News Journal reporter Victor Greto, O'Donnel said:
"People are created in God's image. Homosexuality is an identity adopted through societal factors. It's an identity disorder."
Calling homosexuality an "identity disorder" is a classic feature of the ex-gay lexicon. O'Donnell undoubtedly picked up that line from her own association with the ex-gay movement in the 1990's, when she ran a ministry called "The Savior's Alliance for Lifting the Truth" (SALT). The ex-gay spokesperson for SALT, Wade Richards was one of the "success stories" to come out of the Memphis-based ex-gay residential program Love In Action. It was also through O'Donnell that Richards also worked with Peter LaBarbera for a while. (Finding out that LaBarbera's office was filled with porn and leather bondage gear, ostensibly for "research", shook him up quite a bit.) Richards finally came to understand that the ex-gay myth was a dead end. He came out in 2000:
"What helped me really come to grips was that [O'Donnell's] sister is an open lesbian and was living in L.A. and was in a long-term relationship and was working with a youth organization," he says. "By hanging out with her, I saw, wow, she has a pretty normal life." Being gay, he started to realize, needn't condemn him to a life of seedy anonymous hookups, drug abuse, and nihilism.
After he came out, he never heard from O'Donnell again:
After that, he says, O'Donnell "totally turned her back on me. I never heard from her ever again. That's been my experience with the Christian community in general. The minute I was struggling and saying, 'Hey, listen, I don't know really where I am with this,' that's when everyone really turned their back on me."
This appears to be a common experience among ex-gay survivors, especially those who had served as spokespersons for the movement. Once they even begin to express doubts, they are completely disowned.
Meanwhile, O'Donnell's vilification of gay people would continue. In 1997, O'Donnell said that the government was spending too much money on AIDS, calling homosexuality "a lifestyle which brings about this disease." In 2000, she told Fox's Hannity & Colmes that gays get away with too much: "They're getting away with nudity! They're getting away with lasciviousness! They're getting away with perversion! …They're getting away with blasphemy!"  And in this year's primary campaign, she engaged in a bit of gay-bating against her Republican opponent, Mike Castle. She hired a firm that released an ad that accused Castle of cheating on his wife with a man, a charge that carried no evidence whatsoever. She also accused Castle of "un-manly tactics" and told him to "put his man-pants on." I predict it won't be long before we start hearing about pedophilia and bestiality as the campaign wears on.
Far Right gathers for Value Voters weekend
Timothy Kincaid
September 17th, 2010
Earlier this month we discussed the wackadoodle extravaganza which was the Taking America Back convention. But this weekend, that seminar's cousin the 2010 Value Voters Summit is meeting for roughly the same purpose: rallying the troops to impose their religious beliefs on non-believers by use of governmental force. And while Taking America Back consisted primarily of the delusional, the excitable, and the social misfits, the Family Research Council's Value Voters Summit draws "respectable" activists and recognizable politicians.
But make no mistake, the agenda of the Voter Voters Summit is no less radical or unAmerican than that of its low-rent cousin. And no small part of their obsession is on the extent to which gay people should be disallowed from participating in society.
The plenary session presentations consist of:
* We Still Hold These Truths: Rediscovering Our Principles, Reclaiming Our Future
* 'Don't Ask, Don't Tell' Panel
* We the People: The Tea Party's Place in American Politics
* Parental Choice Education: Beyond One-Size-Fits-All Schools
* Hollywood Panel
Although only one of the five plenary discussions focuses solely on gay issues, it is without question that much of the other sessions will also be dedicated to "opposing the homosexual agenda". That is, after all, the number one complaint that social conservatives have with the schools and Hollywood. And for those who really want to spend their weekend on nothing but "evil sodomites", they can attend Saturday's 3:30 breakout session entitled The falsehood of the inevitability of same-sex "marriage".
The entire event will be filled with speeches and presentations by familiar names in the anti-gay movement. But unlike Taking America Back, most of these have social grace and appearance of sanity. With one notable exception: the American Family Association's Bryan Fischer will be speaking tomorrow morning and is likely to spout things that are so irrational as to confuse even that sympathetic audience.
These conferences are useful; they help us separate political opponents from those who truly are devoted enemies of our lives, freedoms and liberties. Many conservative Republicans hold positions that are unfavorable to us, but do so more from ignorance or distorted principle than out of zealous animus. But those who participate at these conferences do so because the believe that they are authorized by God to destroy our cause and our lives.
This year, perhaps even more than most, participation at the Value Voters Summit is a clear indication of animus towards the gay community. And by going there this year, politicians are making a visible statement that they are not just in disagreement with some of our cause but rather that they see us as a threat and an enemy and that they will do whatever they can to harm us.
Most of these names will not surprise us:
Governor Mike Huckabee
Senator Jim Inhofe (R-OK)
Senator Jim DeMint (R-S.C.)
Representative Michele Bachmann (R-Minn.)
Representative Mike Pence (R-Ind.)
Governor Mitt Romney
Senator Rick Santorum
Christine O'Donnell
Newt Gingrich
Governor Bob McDonnell (R-Va.)
Governor Tim Pawlenty (R-Minn.) (via video)
Representative Gregg Harper (R-Miss.)
Tags:
Anti-Gay Activists
,
Bob McDonnell
,
Christine O'Donnell
,
James Inhofe
,
Jim DeMint
,
Michele Bachmann
,
Mike Huckabee
,
Mitt Romney
,
Newt Gingrich
,
Rick Santorum
,
Tim Pawlenty
,
Values Voters Summit
COMMENTS (3)
|
LINK
Social Issues Rise In Tea Party Politics
The opinions expressed in this article are those of the author and do not necessarily reflect those of other authors at Box Turtle Bulletin.
Jim Burroway
September 15th, 2010
Last weekend, Dick Armey, Director of FreedomWorks which is the political organization which organized the Tea Party movement nationwide as a disguised "astroturf" campaign of seemingly spontaneous grass-roots organizations, commented at a breakfast organized by the Christian Science Monitor that once their planned takeover of Congress is complete, the Tea Party will switch from economic issues to social issues. Armey rejected the idea that there would be a truce on social issues, saying "these are issues of the heart."
While he claimed that the Tea Party's first priority is economic issues, Armey admitted that social issues, which the Tea Party has been studiously silent on (except when some of them go off script), will also be part of their agenda. ""People are not going to turn their hearts and minds away from things that they have so heartfelt," he said, and he cited abortion as only "one a little example."
And that is why the insurgency of the Tea Party should concern us all. Yesterday, Tea Party-backed Christine O'Donnell won the GOP primary for U.S. Senate in Delaware. In the early 1990's, she was the founder and leader of a group called the Savior's Alliance for Lifting the Truth (SALT), which hired Wade Richards as their ex-gay spokesman. He later abandoned the ex-gay movement while coming out in an article in The Advocate in 2000. In 1996, she launched a campaign against masturbation on MTV.
O'Donnell, who was once the press secretary for "Concerned Women for America," believes in Creationism over evolution, and is against admitting women to military academies. "It's an honor to be a lady, she wrote.  "That's a beautiful part of womanhood is to be ladylike. " She claimed that West Point "has had to lower their standards … in order for men and women to compete." By lowering standards, she added, "we have reduced the effectiveness of our military." One can very easily hear echoes of anti-gay talking points in the current debate over repealing "Don't Ask, Don't Tell" in those remarks.
Tea party leaders have been eager to paint the so-called "spontaneous" movement as being strictly concerned with economic issues. But as the movement pushes the GOP further to the right on economic issues, it will have the effect of pushing it harder to the right on social issues as well, and that will provoke many difficult challenges for the gay community should the Tea Party capture a significant block of seats in Congress. To pretend that the Tea Party's only interest is in economic issues is, as Dick Armey points out in so many words, naive. That idea rests on the fictional belief that Tea Party members have checked their anti-gay animus at the door. They haven't. They've just hidden it in their closets for the time being.