Rubio Records Robocall for NOM
Jim Burroway
November 2nd, 2012
GOP Sen. Marco Rubio (R-FL), who has been identified as a rising star in national politics, is making robocalls on behalf of the National Organization for Marriage to voters in Maine, Maryland and Washington state, where marriage equality is on the ballot (Minnesota, which is considering a constitutional amendment to ban same-sex marriage, prohibits robocalls.) And in a sign that marriage is still seen as a wedge issue, those calls are also going out to the swing states of Wisconsin, Ohio and Pennsylvania.
Also making calls for NOM are former Arkansas Gov. Mike Huckabee and Focus on the Family co-founder James Dobson.
Huckabee Thinks GOP Too "Ideologically Pure"
Jim Burroway
July 1st, 2011
Tom McClusky, Vice President for Government Affairs for Family "Research" Council, is furious — furious! that the Republican National Committee has tapped Log Cabin Republicans Executive Director R. Clarke Cooper to serve on its Finance Committee, where, according to an RNC news release "he will be playing a critical role in raising funds for the party's efforts to elect Republicans to the White House and across the country." McClusky is spitting bullets, telling his readers that they "should NEVER donate to the Republican Party" (all CAPS his). American Family Association trots out its concern troll as well.
These developments come on the same day in which Mike Huckabee (!) complained that the GOP has become too focused on ideological purity:
I'm not sure a guy like me can win in the atmosphere of the current Republican party. We've become a party of such fractured purity. It's all or nothing, now or never. It's not whether the government functions, it's whether the government is ideologically pure.
Huckabee Proposes the Re-education of the American Mind
Jim Burroway
March 31st, 2011
Former Arkansas governor and GOP presidential Mike Huckabee spoke at the Rediscover God in America conference in Iowa last weekend. Before launching into his speech, Huckabee gave a shout-out to Christian historical revisionist David Barton. Barton, who is touted as a "historian" at the conference despite having no discernible credentials, holds that America was founded as an explicitly Christian nation and presents what he calls a "holy history" of America. Last October, Barton called on the U.S. government to "regulate homosexuality."
Barton introduced Huckabee at he Rediscover God in America conference. Huckabee thanked Barton for his introduction and said, "I just wish that every single young person in america would be able to be under his tutelage and understand something about who we are as a nation. I almost wish there would be like a simultaneous telecast, and all Americans would be forced — forced, at gunpoint no less — to listen to every David Barton message. And I think our country would be better for it."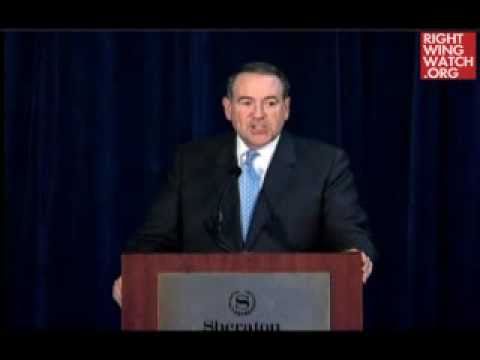 I seem to recall North Vietnam doing something along those lines…
Okay, I know that he appears to be joking — the audience is laughing as though he were. But remember, this is the guy who defended the suggestion that gay men with HIV should have been rounded up and quarantined back in the day. And when he said that, he definitely wasn't joking. In fact, he carefully parsed his message in order to try to make himself clear. So let's just say that I haven't the capacity for giving him even the smallest smidgeon of the benefit of doubt on this one.
Huckabee went on to call for "spiritual warriors" in a battle that "pits good against evil." Among those evils: marriage equality: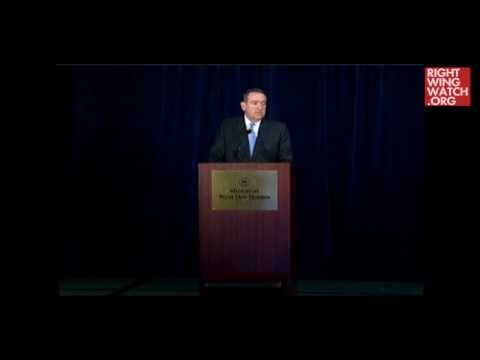 Other possible GOP contenders speaking at the conference included former House speaker Newt Gingrich, Rep. Michele Bachmann (R-MN), and Mississippi governor Haley Barbour.
Newt Gingrich Promises To "Slow Down" Gay Rights Progress
Jim Burroway
March 30th, 2011
New Gingrich is running for President like it's 1996.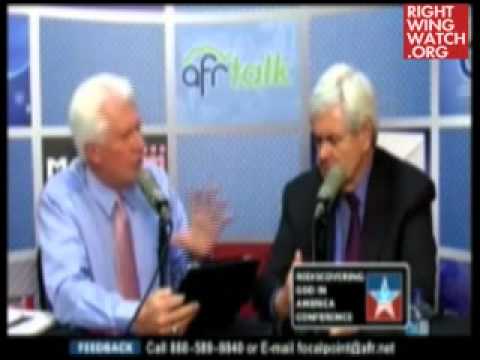 Gingrich is the third major GOP figure running for president to appear on American Family Association's Bryan Fischer's radio program. Fischer has said that LGBT people should be legally disqualified from holding public office because "gay sex is a form of domestic terrorism" and should be declared a felony. And he is attracting a line of GOP presidential hopefuls to his microphone. Warren Throckmorton asks, "Is Bryan Fischer the new GOP Kingmaker?"
Mike Huckabee on Obama's DOMA Decision
Jim Burroway
February 25th, 2011
Obviously, he's not happy with it. He also hints that if he became president, he would re-impose "Don't Ask, Don't Tell."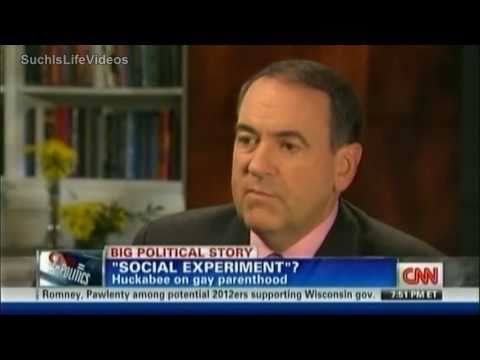 On DOMA, Social Conservatives Howl While Pols Shrug
Jim Burroway
February 25th, 2011
By virtually any measure, the Obama Administration's announcement that they will no longer argue that the so-called "Defense of Marriage Act" is constitutional portends a monumental shift, with repercussions we are all still trying to sort out. Anti-gay activists are, predictably, howling with rage, calling on Congress to intervene. But as we noted, House speaker John Boehner refused to take the bait, and is instead sticking to his promised focus on slashing the budget. The New York Times noticed similarly tepid reactions among many other political conservatives:
In the hours that followed, Sarah Palin's Facebook site was silent. Mitt Romney, the former governor of Massachusetts, was close-mouthed. Tim Pawlenty, the former governor of Minnesota, released a Web video — on the labor union protests in Wisconsin — and waited a day before issuing a marriage statement saying he was "disappointed."

Others, like Newt Gingrich, the former House speaker, and Haley Barbour, the governor of Mississippi, took their time weighing in, and then did so only in the most tepid terms. "The Justice Department is supposed to defend our laws," Mr. Barbour said.

Asked if Mitch Daniels, the Republican governor of Indiana and a possible presidential candidate, had commented on the marriage decision, a spokeswoman said that he "hasn't, and with other things we have going on here right now, he has no plans."
Former Arkansas governor Mike Huckabee, who is also believed to be a presidential contender, is among the few to come out strongly against the Administration's decision, calling children being raised by LGBT parents "our little guinea pigs." Mark McKinnon, a Republican strategist for President Bush's 2004 campaign which deployed marriage as a major wedge issue to turn out conservative voters, may well be right: "The wedge has lost its edge," he told the Times. Of course, there's still plenty of time for that to change between now and 2012.
Anti-Gay Activists React to DOMA Announcement
Jim Burroway
February 23rd, 2011
Brian Brown from National Organization for Marriage lost his already limited capacity for original thought and channels John Paul Jones:
We have not yet begun to fight for marriage," said Brian Brown, president of NOM."The Democrats are responding to their election loss with a series of extraordinary, extra-constitutional end runs around democracy, whether it's fleeing the state in Wisconsin and Indiana to prevent a vote, or unilaterally declaring homosexuals a protected class under our Constitution, as President Obama just did," said Brown. "We call on the House to intervene to protect DOMA, and to tell the Obama administration they have to respect the limits on their power. This fight is not over, it has only begun!"
Maggie Gallagher chimes in:
On the one hand this is a truly shocking extra-constitutional power grab in declaring gay people are a protected class, and it's also a defection of duty on the part of the President Obama," said Maggie Gallagher, Chairman of NOM, "On the other hand, the Obama administration was throwing this case in court anyway. The good news is this now clears the way for the House to intervene and to get lawyers in the court room who actually want to defend the law, and not please their powerful political special interests."
Liberty Counsel's Mat Staver, who charged that allowing same-sex marriages would lead to an epidemic of violent crime, called Obama the most divisive President in US History:
Regardless of President Obama's own ideological agenda, as President, he and his Attorney General have a duty to defend lawfully passed legislation, especially when the essence of the law has been upheld by many courts. Thirty states have passed marriage amendments affirming marriage as one man and one woman. Today President Obama has abandoned his role as President of the United States and transformed his office into the President of the Divided States. He has been the most divisive president in American history. He has today declared war on the American people and the fundamental values that are shared by most Americans. His radicalism resulted in the historical push-back in the 2010 elections. His radicalism today will come back around when the people respond to this betrayal in 2012," said Staver.
Focus On the Family's Tom Minnery wants Congressional Republicans to drop whatever they're doing and pick up the flag:
"We would hope Congress uses the tools at its disposal to counter this decision and defend marriage," Minnery said.
What should Congress do? Family Research Council's Tony Perkins wants Congress to take Holder's bait by dropping their "only interested in the deficit" mantra and reveal what many suspect to be their true colors:
"With this decision the President has thrown down the gauntlet, challenging Congress. It is incumbent upon the Republican leadership to respond by intervening to defend DOMA, or they will become complicit in the President's neglect of duty," concluded Perkins.
American Family Association's Bryan Fischer, who recently said that he would "fight to the last ditch" for marriage discrimination, has Perkins's back:
"I think it's a clear sign that we simply cannot avoid engaging on the social issues," Bryan Fischer, director of issue analysis for the group, told TPM. "Mitch Daniels has called for a truce on social issues and that would be fine if the homosexual lobby was willing to lay down arms, but they're obviously not and this proves it. A truce is nothing more than a surrender."
So far, House Speaker John Boehner is staying on message and has declined to take the bait:
A spokesman for House Speaker John Boehner, R-Ohio, criticized the administration change of position. "While Americans want Washington to focus on creating jobs and cutting spending, the president will have to explain why he thinks now is the appropriate time to stir up a controversial issue that sharply divides the nation," said spokesman Brendan Buck.
Update: Potential GOP Presidential candidate and former Arkansas Governor Mike Huckabee found a clever way to blame gay marriage for increasing the deficit:
Nonetheless, Huckabee opposes gay marriage on the grounds that, according to him, it destroys traditional families.  "There is a quantified impact of broken families," Huckabee said. "[There is a] $300 billion dad deficit in America every year…that's the amount of money that we spend as taxpayers to pick up the pieces because dads are derelict in their duties."
Far Right gathers for Value Voters weekend
Timothy Kincaid
September 17th, 2010
Earlier this month we discussed the wackadoodle extravaganza which was the Taking America Back convention. But this weekend, that seminar's cousin the 2010 Value Voters Summit is meeting for roughly the same purpose: rallying the troops to impose their religious beliefs on non-believers by use of governmental force. And while Taking America Back consisted primarily of the delusional, the excitable, and the social misfits, the Family Research Council's Value Voters Summit draws "respectable" activists and recognizable politicians.
But make no mistake, the agenda of the Voter Voters Summit is no less radical or unAmerican than that of its low-rent cousin. And no small part of their obsession is on the extent to which gay people should be disallowed from participating in society.
The plenary session presentations consist of:
* We Still Hold These Truths: Rediscovering Our Principles, Reclaiming Our Future
* 'Don't Ask, Don't Tell' Panel
* We the People: The Tea Party's Place in American Politics
* Parental Choice Education: Beyond One-Size-Fits-All Schools
* Hollywood Panel
Although only one of the five plenary discussions focuses solely on gay issues, it is without question that much of the other sessions will also be dedicated to "opposing the homosexual agenda". That is, after all, the number one complaint that social conservatives have with the schools and Hollywood. And for those who really want to spend their weekend on nothing but "evil sodomites", they can attend Saturday's 3:30 breakout session entitled The falsehood of the inevitability of same-sex "marriage".
The entire event will be filled with speeches and presentations by familiar names in the anti-gay movement. But unlike Taking America Back, most of these have social grace and appearance of sanity. With one notable exception: the American Family Association's Bryan Fischer will be speaking tomorrow morning and is likely to spout things that are so irrational as to confuse even that sympathetic audience.
These conferences are useful; they help us separate political opponents from those who truly are devoted enemies of our lives, freedoms and liberties. Many conservative Republicans hold positions that are unfavorable to us, but do so more from ignorance or distorted principle than out of zealous animus. But those who participate at these conferences do so because the believe that they are authorized by God to destroy our cause and our lives.
This year, perhaps even more than most, participation at the Value Voters Summit is a clear indication of animus towards the gay community. And by going there this year, politicians are making a visible statement that they are not just in disagreement with some of our cause but rather that they see us as a threat and an enemy and that they will do whatever they can to harm us.
Most of these names will not surprise us:
Governor Mike Huckabee
Senator Jim Inhofe (R-OK)
Senator Jim DeMint (R-S.C.)
Representative Michele Bachmann (R-Minn.)
Representative Mike Pence (R-Ind.)
Governor Mitt Romney
Senator Rick Santorum
Christine O'Donnell
Newt Gingrich
Governor Bob McDonnell (R-Va.)
Governor Tim Pawlenty (R-Minn.) (via video)
Representative Gregg Harper (R-Miss.)
Mike Huckabee wouldn't know integrity if it bit him in the butt
Timothy Kincaid
May 3rd, 2010
Eternal Republican candidate and advocate for having theology dictate legislation Mike Huckabee got together with fellow social conservative Sean Hannity to rag on Rosie O'Donnell and have a good old-fashioned "Christians are victims" jawing. And, it seems, when in friendly company, sometimes Huckabee can just get carried away by victimhood, exaggeration, and hyperbole and say something truly stupid.
Naturally, there was lots of whining about how unfair it is to see his dedication to harming gay people, their lives, their freedoms and their equality and think he must "somehow be bigoted." (Really! what a notion!) And how it is intolerant to not respect his intolerance.
Poor, pitiful him.
Amusingly, just a moment before he had described his desire to not allow Rosie O'Donnell to adopt as being "not a personal thing." She should just get over it, he's already called dibs on the martyr label.
But I digress.
The real moment of surreality, the true wait-there-must-be-a-punchline-coming comment came when he whimpered about how he's not so bad, or no worse than anyone else.
As I tell people, my position on same-sex marriage is the same that Joe Biden, Barack Obama, Hillary Clinton and the voters in 30 states where it's been on the ballot —
Really.
Really?
So Huckabee thinks that his 'position is the same' as those who support civil unions? His 'position is the same' as those who oppose anti-gay amendments? Huckabee's 'positions are the same' as those states which protected the word "marriage" but deliberately chose not to ban relationship recognition.
No, that's not Mike Huckabee's position on same-sex marriage. Nope, that would just be a lie. Huckabee's position on same-sex marriage is:
I can assure you I believe in a constitutional amendment that prohibits same-sex marriages, and I do not believe in civil unions. Never have and never will.
I swear, Mike Huckabee wouldn't recognize honesty and truthfulness if they sidled up and bit him on the butt to get his attention.
All in all, it's probably a good thing changed his previous occupation and ran for office. Politicians do, on whole, have even a slightly worse reputation than preachers so he's right at home.
Polygamy, Incest, Drug Use, and Puppies
Jim Burroway
April 14th, 2010
Former Arkansas Gov. and possible GOP Presidential contender Mike Huckabee is really on a tear:
Mike Huckabee, a possible Republican presidential candidate in 2012, says the effort to allow gays and lesbians to marry is comparable to legalizing incest, polygamy and drug use.

Huckabee also told college journalists last week that gay couples should not be permitted to adopt. "Children are not puppies," he said.

…Huckabee told the interviewer that not every group's interests deserve to be accommodated, if their lifestyle is outside of what he called "the ideal."

"That would be like saying, well there's there are a lot of people who like to use drugs so let's go ahead and accommodate those who want to use drugs. There are some people who believe in incest, so we should accommodate them. There are people who believe in polygamy, should we accommodate them?" he said, according to a transcript of the interview.
Huckabee obviously sees this as a winning path to the GOP nomination as the party lurches farther to the right. But of course, this is no cynical political position; Huckabee believes this to his very core. He has previously compared same-sex marriage to bestiality, and in 1992 advocating quarantining indefinitely everyone who was HIV-positive. During his 2008 run for the GOP nomination, he said that we should "amend the Constitution so it's in God's standards."
With that kind of belief, it should come as no surprise that Huckabee's ties to Christian Reconstructionists run quite deep with longtime associations with Bill Gothard and George Grant, who cowrote Huckabee's 1998 book, Kids Who Kill: Confronting out Culture of Violence. In that book Huckabee and Grant blamed the Columbine and Jonesboro school shootings on a general breakdown in morality on all fronts:
Indeed, it is now difficult to keep track of the vast array of publicly endorsed and institutionally supported aberrations — from homosexuality and pedophilia to sadomasochism and necrophilia. As we refuse to stand for morality, we easily fall into serving immorality.
Huckabee vs. Coulter: "I'm More Anti-Gay Than You"
Jim Burroway
January 12th, 2009
This is what the far right has sunk to: who is more anti-gay?
Is it any wonder that nine out of ten nine-Evangelicals think Christianity is "too anti-homosexual" — and 80% of Christians of all stripes agree?
But this kind of debate is going on as a man who says out loud that being gay is a "compulsion" like kleptomania and likens gays to barnyard animals is running to head the Republican Party. At least he appears to be pulling ahead of Chip "Barack the Magic Negro" Saltsman for the time being. Meanwhile, the Log Cabin Republicans are in serious financial straits, which means that the one Republican voice for gay issues will be weaker in 2009.
The self-destruction of the Grand Old Party continues.
LaBarbera Award: Mike Huckabee
Jim Burroway
November 18th, 2008
Former Arkansas governor Mike Huckabee is our latest LaBarbera Award winner for suggesting that gays haven't been beaten enough to earn the right to marry.
Huckabee appeared on ABC's "The View," where he had this exchange with host Joy Behar about same-sex marriage:
HUCKABEE: It's a different set of rights. People who are homosexuals should have every right in terms of their civil rights, to be employed, to do anything they want. But that's not really the issue. I know you talked about it and I think you got into it a little bit early on. But when we're talking about a redefinition of an institution, that's different than individual civil rights.

BEHAR: Well, segregation was an institution, too, in a way. It was right there on the books.

HUCKABEE: But here is the difference. Bull Connor was hosing people down in the streets of Alabama. John Lewis got his skull cracked on the Selma bridge.
Huckabee appears to suggest that civil rights must meet some sort of minimum violence test. If so, then gays and lesbians certainly meet that test, all too sadly. In the most recent set of hate crime statistics released by the FBI, there were nine murders logged as hate crime incidents in 2007. Of those, five were attributed to sexual orientation, two to race, and two to ethnicity/national origin.
And that toll continues unabated this year with the murders of Lawrence King, Simmie Williams, Jr., Tony Randolph Hunter, and Angie Zapata. Just last Friday Moses "Teish" Cannon was shot and killed with a .22-caliber rifle.
It is beyond outrageous and disgusting for Huckabee to suggest that violence is a determining factor on whether any group deserves equal rights. Which is why he is now a two-time winner of the LaBarbera Award.
It Could Have Been Huckabee
Timothy Kincaid
September 15th, 2008
So far this presidential campaign season has seen a markedly reduced emphasis on cultural issues. Unlike George Bush's efforts to define his distinction from John Kerry by the extent to which he reviled gay couples and sought the restriction of their rights, Sen. John McCain has mostly avoided any reference to gay couples and has, at times, seemed almost apologetic for his views.
But it might not have been this way. Governor Huckabee was considered a credible candidate and could have been the Republican Party's nominee. And Huckabee would have delighted in crafting his campaign around anti-gay activism – oh, pardon me, protection of marriage, family, and (I kid you not) the universe.
Huckabee was in Southern California this weekend to preach sermons about Proposition 8. The Ventura Star reports
The former Arkansas governor and Southern Baptist preacher spoke from the pulpit of Calvary Chapel Thousand Oaks in two services focused on Proposition 8, a state constitutional amendment to ban gay marriage. He told about 1,000 people that marriage was created and defined by God, just as the Mona Lisa was created by Leonardo da Vinci.

"God doesn't want me to take my brush and paint over his masterpiece," he said.
Huckabee may appreciate Da Vinci's work today. But somehow I find it easy to imagine that he would be among those who supported the 1476 prosecution of the artist on sodomy charges.
After all,
Huckabee said he wasn't there to tell people how to vote on Proposition 8. But he told people that laws related to both life and marriage will determine the future of the universe.
And anything can be justified when you're protecting the future of the universe.
Huckabee's Red Meat Strategy
Jim Burroway
January 24th, 2008
What do you do when you're down in the polls so badly observers wonder if you should give up on Florida? If you're Rev. Mike Huckabee, the answer's simple: scare 'em with the gays:
"We've been in Florida every day this week. . .We're spending every night in Florida. We're doing events every day. This nonsense that we pulled out is utterly, utterly, false," the former Arkansas governor insisted.

As for tonight's debate, Huckabee outlined some red-meat conservative Republican stands that he believes will set him apart from his opponents, including his advocacy for gun rights, anti-abortion position, and support for a ban on gay marriage.
Huckabee's Unimaginative Bash
Jim Burroway
January 17th, 2008
It looks like Southern Baptist minister and former Arkansas Governor Mike Hickabee's getting pretty tired with all the campaigning. When its time to bash the gays, he can barely work up the energy:
QUESTIONER: Is it your goal to bring the Constitution into strict conformity with the Bible? Some people would consider that a kind of dangerous undertaking, particularly given the variety of biblical interpretations.

HUCKABEE: Well, I don't think that's a radical view to say we're going to affirm marriage. I think the radical view is to say that we're going to change the definition of marriage so that it can mean two men, two women, a man and three women, a man and a child, a man and animal.
Animal? Thats it? Just animal? Not a "barnyard animal"? No pigs or ducks or dogs? Not even a box turtle? If we're going to elect someone who doesn't like gay Americans, the least we could ask is that they show some imagination about it. Rev. Huckabee, we've been bashed by far better than that.
Defining "Conservative"
Timothy Kincaid
January 16th, 2008
Fred Thompson and Mike Huckabee are fighting for the evangelical conservative vote in South Carolina, the first southern state primary. They recently engaged in a little dispute over who is the real conservative.
While Huckabee is an ardent social conservative with close ties to the Christian Reconstructionist movement, and while he favors amending the Constitution to bring it into alignment with "God's Standards", other Republican nominees and conservative groups have noted that his positions on immigration, taxation, spending, crime, and free-market issues are not at all conservative.
The Wall Street Journal reported a bit about the exchange of words between Thompson and Huckabee.
Mr. Thompson, in a pitched competition with Mr. Huckabee for the evangelical vote in South Carolina, said he's the one with consistent social conservative credentials. Of the former Arkansas governor's record, "liberal would be the word I would apply to it," he said.

Mr. Huckabee said it's "ludicrous" to think he's liberal and pointed out he favors a constitutional amendment to ban gay marriage, and Mr. Thompson doesn't.
And there you have it. In Rev. Huckabee's mind, the difference between liberal and conservative is whether one favors a federal constitutional amendment to ban gay marriage. The rest is all negotiable.
Huckabee: Amend Constitution to "God's Standards"
Jim Burroway
January 15th, 2008
It's unclear whether Southern Baptist minister and former Arkansas governor Mike Huckabee actually agrees with the strict Christian Reconstructionist views of many of his associates (there's a lot of end-times theological differences that Baptists usually don't go for), but there's more evidence that his C.R. friends are at least influencing his political thoughts. Take this, for example, from a speech in Michigan yesterday:
"I have opponents in this race who do not want to change the Constitution," Huckabee told a Michigan audience on Monday. "But I believe it's a lot easier to change the Constitution than it would be to change the word of the living god. And that's what we need to do — to amend the Constitution so it's in God's standards rather than try to change God's standards so it lines up with some contemporary view."
That strange quote even raised some eyebrows at Christianity Today:
A provocative statement, certainly. But what does "amend the Constitution so it's in God's standards" mean? Does it mean that the Constitution does not measure up to God's standards? Is the Constitution anti-God? Would the addition of a human life amendment and a federal marriage amendment would make it measure up to God's standards? And is Huckabee suggesting that those who oppose these amendments, say, because of their views on federalism, are trying "to change God's standards"?

I can see how support for a human life amendment and a federal marriage amendment can win votes among some politically conservative evangelicals. But honestly, I'm thinking that this quote probably cost Huckabee more evangelical votes than it won him.
Rev. Huckabee: "Obey God's Orders"
Jim Burroway
January 7th, 2008
Yesterday, we reviewed Southern Baptist minister and former Arkansas governor Mike Huckabee's deep connections with two key Christian Reconstructionist figures. We ended that post with a question: What does Huckabee believe?
Well, we know that he says that "The winning worldview will dominate public policy, the laws we make, and every other detail of our existence. We also know that he attributes his standing in the polls as being God's work. And today, we learn about a sermon he gave at a very small New Hampshire church about being part of God's army:
"When we become believers, it's as if we have signed up to be part of God's Army, to be soldiers for Christ," Huckabee told the enthusiastic audience.

…"When you give yourself to Christ, some relationships have to go," he said. "It's no longer your life; you've signed it over."

Likening service to God to service in the military, Huckabee said "there is suffering in the conditioning for battle" and "you obey the orders."
No cameras were permitted at the service, which guarantees that this item won't make the evening news.
Huckabee's Christian Reconstructionist Ties Run Deep
Jim Burroway
January 6th, 2008
We reported earlier on Southern Baptist minister and former Arkansas governor Mike Huckabee's fundraising event at the home of Houston multimillionaire Steven Hotze, a well-known Christian Reconstructionist. Pastor Rick Scarborough, who also maintains Reconstructionist beliefs, was there as well. Since then, we've learned that Huckabee's ties go far deeper than mere acquaintances and financial backers. He has a history of working very closely with some very well-known Reconstructionists over the years. In this report, we will examine two of Huckabee's closest Reconstructionist colleagues.
Modern Christian Reconstructionism (sometimes known as Dominionism) was founded by the late R.J. Rushdoony and his son-in-law, Gary North. Rushdoony believed that it was the duty of every Bible-believing Christian to place each and every word of the Bible at the core of that person's life. According to Rushdoony, this meant that the Bible must necessarily replace all civil laws and constitutions with the Old and New Testaments, including the revival of the death penalty for homosexuality, incest, adultery, lying about one's virginity, and apostasy or public blasphemy, among a much longer list of biblical crimes. Rushdoony wrote that Democracy is a heresy and "the great love of the failures and cowards of life."
George Grant
These are core beliefs among several leading figures in Huckabee's circle. One such prominent figure is George Grant, a well-known Reconstructionist who appeared with Rushdoony in the video, God's Law and Society. Grant was the co-author for Huckabee's 1998 book, Kids Who Kill: Confronting Our Culture of Violence. That was the book where Huckabee and Grant lumped homosexuality with pedophilia, sadomasochism and necrophilia as "institutionally supported aberrations."
That line, which Huckabee defended, may well have come from Grant's 1993 book, Legislating Immorality: The Homosexual Movement Comes Out Of The Closet. In that book, Grant compares homosexuality with pedophilia and bestiality. He also calls for the death penalty for gays, saying "[t]here is no such option for homosexual offenses" except capital punishment.
In 1987 George Grant wrote The Changing Of The Guard: Biblical Principles for Political Action, in which he made his call for a theocratic overthrow explicit. On reading these passages, there can be no doubt exactly what Grant is calling for:
Christians have an obligation, a mandate, a commission, a holy responsibility to reclaim the land for Jesus Christ – to have dominion in the civil structures, just as in every other aspect of life and godliness.

But it is dominion that we are after. Not just a voice.

It is dominion we are after. Not just influence.

It is dominion we are after. Not just equal time.

It is dominion we are after.

World conquest. That's what Christ has commissioned us to accomplish. We must win the world with the power of the Gospel. And we must never settle for anything less.

If Jesus Christ is indeed Lord, as the Bible says, and if our commission is to bring the land into subjection to His Lordship, as the Bible says, then all our activities, all our witnessing, all our preaching, all our craftsmanship, all our stewardship, and all our political action will aim at nothing short of that sacred purpose.

Thus, Christian politics has as its primary intent the conquest of the land – of men, families, institutions, bureaucracies, courts, and governments for the Kingdom of Christ. It is to reinstitute the authority of God's Word as supreme over all judgments, over all legislation, over all declarations, constitutions, and confederations. True Christian political action seeks to rein the passions of men and curb the pattern of digression under God's rule. (pp. 50-51)
Grant has attained considerable influence within broader evangelical circles. He once served as executive director for D. James Kennedy's Coral Ridge Ministries, and he has been a vocal advocate for evangelicals withdrawing their children from public schools. Grant operates several educational organizations in Franklin, Tennessee, including a Christian school, and an adult education center. He is "reluctantly" in the process of developing a home-school curriculum.
Bill Gothard

Another strong Reconstructionist tie can be found in Rev. Huckabee's longtime relationship with Bill Gothard. Gothard runs an outfit called the Institute In Basic Life Principles. As part of the teachings at his institute, Gothard has espoused some very radical principles. The evangelical non-profit Personal Freedom Outreach, whose mission is to warn fellow evangelicals about pronouncements which are considered heretical from an Evangelical point of view, criticized several very odd aspects of Gothard's theology:
Take for example Gothard's "Cabbage Patch" flap. In 1986, he taught that the highly popular Cabbage Patch Dolls were causing strange and destructive behavior in children that could only be alleviated when the dolls were removed or destroyed.

In a letter from his organization, his followers were told by representative Ginger Jones that to enter into a written agreement to love a doll was a violation of the First Commandment. The threat as seen by Gothard was that by adopting a doll, children might not want to raise up their own godly children. Children may "love" dolls as they do other toys but this does not mean they worship them.

Testimonials were included with the above letter about the awful effects of the dolls with no allowance made for other environmental and social factors in the homes. The Cabbage Patch doll became a scapegoat.
If only Gothard's teachings were limited to children's toys. Unfortunately, it is just one small and amusing manifestation of Gothard's extremism. Gothard teaches that all of life's problems can be traced to poor "character choices." Those choices result in a large number of societal "ills," including homosexuality, divorce, contraception, crime — even mental illness. In one video, Gothard claims that there is no such thing as mental illnesses, and everything that we call "mental illness" — including schizophrenia — are the direct result of making poor character choices. Among the many unaccredited "training institutes" that Gothard runs is something called "The Medical Training Institute of America," which emphasizes "the Biblical mandate to call for the elders of the church for prayer before receiving medical treatment for a serious illness." He describes the "power of crying out" to cure brain tumors, cancer and infertility.
Gothard insists that families and communities must organize themselves on a strict interpretation of Christian Reconstructionist principles. In addition to Cabbage Patch Dolls, he also forbids dancing, dating, rock music (even Christian rock) and "wrong clothes." Wives must submit to their husbands, adults must submit to their patriarch (the husband's father), and couples must discard all forms of birth control. Families should limit their contact with those who are not "saved," they should lock their misbehaving children into "prayer closets," and they should home-school their children.
To help families with that last injunction, Gothard maintains a home school curriculum, composed of a series of "wisdom booklets" in which "the Bible is the main textbook" for all subjects in the curriculum, including science and mathematics. Gothard's most famous home-school alumnus to date is probably Matthew Murray, the "Colorado Shooter" who killed four people in two separate shooting sprees in Arvada and Colorado Springs. The particularly tragic irony is that there is evidence that Matthew Murray may have been suffering from mental illness — he reportedly heard voices, which is often a symptom of some forms of schizophrenia which Gothard dismissed as a mere character flaw.
While little is known about Gothard outside the evangelical movement, he claims to have built a large following of 2.5 million alumni of his 25-hour basic seminar since 1964. Matthew Murray's parents are reportedly among his alumni. Another alumnus is none other than Rev. Mike Huckabee, who wrote this endorsement of Gothard's prison program, which was implemented in at least one Arkansas state prison:
As a person who has actually been through the Basic Seminar, I am confident that these are some of the best programs available for instilling character into the lives of people.
Huckabee has also Gothard's "Character Cities" program, which is a secular front organization which tries to inject Reconstructionist goals into local politics under the radar. So far, 171 cities, 37 counties and 8 states have adopted resolutions. In 1997, the Ocala Star-Banner reported on a meeting Gothard held in Little Rock with members of Huckabee's administration:
Gothard has described his meeting in Little Rock as the start of something big. He said it laid the groundwork for "the most exciting opportunity I can imagine" to merge the institute's teachings with government programs. In a letter published on the institute's Internet site, Gothard said his organization has been asked to "present a plan and contract to restructure ( Arkansas' ) welfare program, their educational system and their juvenile justice methods." He also claims that Gov. Huckabee's aides "have already begun taking steps" to put the proposal into action.
What Does Rev. Huckabee Believe?
It's hard to know where Huckabee himself stands in all of this since he is coy about addressing how he sees the role of church and state. In his 1997 book, Character Is The Issue: How People With Integrity Can Revolutionize America, Huckabee claimed that he despised "legalism" in the Church as much as liberalism (p. 74). Nevertheless, he casts the struggle between liberalism, which he describes as godless, and his form of Christianity as a political fight in which only one side can emerge victorious:
Here's the bottom line not just for Arkansas and America, but for the world: one worldview will prevail. Either by numbers or persuasion, one side of this polarized culture will defeat the other in setting public policy. When two irreconcilable views emerge, one is going to dominate. Ours will either be a worldview with humans at the center or with God at the center. Standards of right and wrong are either what we establish as human beings (standards which can be changed to suit us), or they are what God has set in motion since the creation of the world.

… The winning worldview will dominate public policy, the laws we make, and every other detail of our existence. (p. 137)
Huckabee clearly believes that his campaign is a part of "what God has set in motion." Those beliefs echoed throughout his address to students at Jerry Falwell's Liberty University, where he explained why he thought his poll numbers were rising:
There's only one explanation for it, and it's not a human one. It's the same power that helped a little boy with two fish and five loaves feed a crowd of five thousand people. (Applause and cheers)

And that's the only way that our campaign could be doing what it's doing. And I'm not being facetious, nor am I trying to be trite. There literally are thousands of people across this country who are praying that a little will become much, and it has. And it defies all explanation. It has confounded the pundants, and I'm enjoying every minute of their trying to figure it out. And until they look at it from a… just experience beyond human, they'll never figure it out. And that's probably just as well. That's honestly why it's happening.
Hat tips: Wayne Besen, Cincinnati Beacon
See also:
Rev. Huckabee: "Obey God's Orders"
The Iowa Republican Caucus – What Does It Mean?
Timothy Kincaid
January 4th, 2008
Mike Huckabee was the clear winner of the Republican caucus process. Considering that most of the anti-gay posturing is from the Republican side and considering that Huckabee has demonstrated a deep antipathy to gay citizens, just what does that mean?
Not much, really.
Iowa is a tiny state with a population of about 2.9 million, about 1.8 million of which are registered to vote. Of the one and a quarter million registered Republicans, less than 120,000 voted in the caucuses. About 40,000 people voted for Mike Huckabee.
Of course pundits will all tell us what the vote means for all the candidates until your ears bleed. But let's take some perspective. It's still a long way to Super Tuesday where about half the delegates will be selected on a single day. After that, we'll probably know who the nominees will be. And I guarantee you'll be sick of hearing about them before November.