Just how batpoop crazy David Barton really is
Timothy Kincaid
September 4th, 2015
I mostly ignore Christian "historian" David Barton. His assertions about the founding of the country, its founders, and their intent is almost without exception unfounded. Frequently they are baldfaced lies.
But just as an example of how completely nutcase are his assertions, listen to him tell Glen Beck the difference between a democracy and a republic. I can't figure out how to post this video, so go listen here.
Sadly, people listen to this and instead of saying, "that's complete nonsense", they think he's telling them some great truth that the media and the liberals are trying to hide from them.
Publisher pulls David Barton's book of lies about Jefferson
Timothy Kincaid
August 9th, 2012
Former Texas Republican Party Co-Chair and evangelical "historian" David Barton is a darling of conservative Christians who believe that America is a Christian Nation and that God hand-selected very devout men to bring about it's creation and that whole "separation of church and state" thing is just a fiction created to exclude Christians from their rightful role in government. He has for several years appeared on Christian television with stories that confirm their beliefs.
Earlier this year he set out to "debunk" the horrible lies that liberals and atheists were saying about revered Founding Father Thomas Jefferson. In his book, The Jefferson Lies: Exposing the Myths You've Always Believed About Thomas Jefferson, Barton bets his reputation on articulating just how and why history backs up his claim that Jefferson was a devout Christian (of Barton's flavor) who opposed slavery, and that the Founding Fathers really set out to enshrine religious principles in the Constitution rather than protect the citizenry from religious coercion.
He just rolled snake eyes.
Evangelical Christian professor and blogger Warren Throckmorton was long been on a campaign of debunking Barton's absurd assertions. In May, he and fellow Grove City College professor Michael Coulter authored Getting Jefferson Right: Fact Checking Claims about Our Third President, in which they use documents (often more complete examples of Barton's snippets) to disprove his revisionist history.
This encouraged others to take a closer look at Barton's historical claims. For example, Greg Forster writing for First Things, a project of The Institute on Religion and Public Life, found his claims about John Locke to be, well, let him say it:
I should note for the record that I'm not only a conservative (both theologically, as an evangelical, and politically, as a Republican) but one with a track record of defending Locke against claims that he was a deist or that his philosophy is antithetical to Christianity. As providence would have it, just over a week ago I published an article on how Locke's Reasonableness helped me come to faith in Jesus Christ.

Yet Barton's attempt to fit Locke into his larger historical narrative forces him into numerous distortions. Moreover, the article contains a number of incidental facutal errors that don't even advance his thesis, indicating that his inability to write reliable history stretches beyond ideological cheerleading and into outright incompetence.
Criticism mounted – much of it from fellow conservative Christians who were offended by the blatancy of the dishonesty. But the final straw was when a coalition of Cincinnati area pastors – including several African-American pastors – threatened to boycott the Christian book publisher that printed Barton's book.
Bishop Dwight Wilkins, president of The Amos Project, said, "We have privately approached Thomas Nelson about our concerns, with no resolution." The pastors/church leaders pointed to four major concerns the group has with The Jefferson Lies:

1. It glosses over Thomas Jefferson's unorthodox and heretical beliefs about Jesus Christ;
2. It minimizes and justifies Thomas Jefferson's racism;
3. It excuses Thomas Jefferson's practice of enslaving African-Americans.
4. The Jefferson Lies is riddled with factual distortions and falsehoods.

Rev. Damon Lynch said, "David Barton falsely claims that Thomas Jefferson was unable to free his slaves." In fact, Jefferson was allowed to free his slave under Virginia law, but failed to do it. The Jefferson Lies glosses over Jefferson's real record on slaveholding, and minimizes Jefferson's racist views.
So today David Barton's publisher, Thomas Nelson, has announced that they will cease publication and distribution of The Jefferson Lies. Because, ironically, it is lies: (World)
Casey Francis Harrell, Thomas Nelson's director of corporate communications, told me the publishing house "was contacted by a number of people expressing concerns about [The Jefferson Lies]." The company began to evaluate the criticisms, Harrell said, and "in the course of our review learned that there were some historical details included in the book that were not adequately supported. Because of these deficiencies we decided that it was in the best interest of our readers to stop the publication and distribution."
Barton stands by his story, asserts that other publishers are ready to take up the book, claims Throckmorton is nuts, and blusters about a room full of PhD's who endorse him but insist on remaining anonymous. But he has taken a serious blow. In the field of history, your credibility is your meal ticket. Once it has been proven that you're a liar, you no longer have much to contribute.
The Daily Agenda for Saturday, October 29
Jim Burroway
October 29th, 2011
TODAY'S AGENDA (OURS):

Go-Go Dancer Appreciation Day: West Hollywood. So declareth the WeHo City Council. "From the Whisky to Micky's, from Voyeur to Club Eleven – Go-Go dancers perform all year long for the delight of both locals and tourists in West Hollywood," said West Hollywood Mayor John J. Duran. "We have more Go-Go dancers per square mile than any other city in America and it's time we celebrated their efforts and hard work!" continued Mayor Duran. We usually don't feature photos of scantily clad men, but we'll do it today in observance of this auspicious occasion.
The Care of Souls: Sexual Diversity, Celibacy, and Ministry in the Catholic Church: Fairfield, CT. The final event of the four-part series entitled "More Than a Monologue: Sexual Diversity and the Catholic Church" will address the roles and responsibilities of LGBT Catholics in the Church's ministries. The focus of today's daylong conference at Fairfield University will be on both lay and ordained Catholics. Speakers include Mark Jordan, Harvard Divinity School and author of The Silence of Sodom: Homosexuality in Modern Catholicism
; Sr. Jeannine Gramick, co-founder of New Ways Ministry and author of Building Bridges: Gay and Lesbian Reality and the Catholic Church
; and Rev. Donald Cozzens, writer-in-residence at John Carroll University and author of Freeing Celibacy
. The conference takes place today at Fairfield University, Dolan School of Business, 1073 North Benson Road, Fairfield, CT, and will be streamed live here.
Silent Vigil for Aeryn Gillern: Vienna, Austria. In 2006, Aeryn was Mr. Gay Austria and 1st  runner up in the International Mr. Gay competition. He was also happily employed by the United Nations Industrial Development Organization (UNIDO). At 6:00 PM, on October 29, 2007, Aeryn signed out at UNIDO and headed to the world-famous, centuries old Kaiserbruendl Sauna. He was never seen again. This evening, his mother will hold her annual silent vigil outside the Franciscan Church across the street from the Kaiserbruendl. It will be the fourth anniversary of Aeryn's disappearance. Anyone interested in participating is encouraged to meet her by the side doorway of the Franciscan Church on Weihburggasse facing the Kaiserbrubdl from 6:50pm  until 8:20pm.
AIDS Walks This Weekend: Washington, D.C.
Pride Celebrations This Weekend: Shanghai, China.
Also This Weekend: Diversity Weekend, Eureka Springs, AR; Hellfest 2011 Rugby Tournament, Dallas, TX; Out In Africa Film Festival, Cape Town and Johannesburg, South Africa; and Glasgay!, Glasgow, UK.
TODAY'S AGENDA (THEIRS):
Georgia Awake!: Augusta, GA. It's like Groundhog Day, isn't it? There was a Georgia Awake conference yesterday outside of Augusta, and today the carnival repeats itself again in Cumming, northeast of Atlanta, where Liberty Counsel is continuing its series of "Awake!" conferences this morning at First redeemer Church. They're doing this because, in case you missed it, "There's a war waging:"
Christianity is under attack in our schools, workplaces, and governments. Silence is a decision to stand with the enemy. Inaction is a deathblow to the God-honoring principles our country was created to allow each citizen to enjoy.
Speaking at tonight's conference will be Liberty Counsel head Mat Staver (who teaches his law students to ignore the law in favor of "God's Law"), and fake "historian" David Barton. It all begins this evening at 10:00 a.m. and runs until noon.
If you know of something that belongs on the agenda, please send it here. Don't forget to include the basics: who, what, when, where, and URL (if available).
And feel free to consider this your open thread for the day. What's happening in your world?
The Daily Agenda for Friday, October 28
Jim Burroway
October 28th, 2011
TODAY'S AGENDA (OURS):
Commonwealth Heads of Government Meeting (CHOGM): Perth, Australia. Leaders of the 53 Commonwealth nations will begin their biennial meeting today, as human rights advocates call on Commonwealth members to scrap their colonial-era anti-gay laws. Forty-one Commonwealth nations, including Uganda, Zimbabwe and Ghana, currently have laws which provide criminal penalties for homosexuality. Those laws, advocates warn, hamper AIDS prevention efforts and deprive millions of citizens around the world of economic, political and social equality. Former Botswana President Festus Mogae has joined the call for worldwide decriminalization, and Zimbabwe Prime Minister Morgan Tsvangirai broke with President Robert Mugabe in what the BBC described as a "U-turn" and declared that gay rights, "to me, it's a human right." Tzvamgirai has been weathering blistering condemnations from Mugabe's allies since then. Commonwealth Secretary General Kamalesh Sharma also backs the proposals. Meanwhile, Uganda has begun efforts to revive its proposal to kill gay people.
AIDS Walks This Weekend: Washington, D.C.
Pride Celebrations This Weekend: Shanghai, China.
Also This Weekend: Diversity Weekend, Eureka Springs, AR; Hellfest 2011 Rugby Tournament, Dallas, TX; Out In Africa Film Festival, Cape Town and Johannesburg, South Africa; and Glasgay!, Glasgow, UK.
TODAY'S AGENDA (THEIRS):
Exodus International North Central Regional Conference: Green Lake, WI. Unlike prior conferences, Exodus hasn't published a list of speakers for this three-day conference that begins today at the Green Lake Conference Center. They do however highlight Christopher Yuan as a guest speaker. Yuan tells the tale of being a gay man with a drug problem who was arrested for possessing"9.1 tons" and served a six year prison. A sad life, but what do any of those destructive decisions have to do with being gay? Well, I'm sure he has an explanation and will tell anyone who forks over from $110 (Saturday only, no meals) to $210 (Standard three-day registration, single adult, including meals and lodging). It begins today at 7:00 p.m. and continues through Sunday morning.
Georgia Awake!: Augusta, GA. The Liberty Counsel is continuing its series of "Awake!" conferences with a meeting this evening at Abilene Baptist Church in Martinez, GA, because, of course, "There's a war waging:"
Christianity is under attack in our schools, workplaces, and governments. Silence is a decision to stand with the enemy. Inaction is a deathblow to the God-honoring principles our country was created to allow each citizen to enjoy.
Speaking at tonight's conference will be Liberty Counsel head Mat Staver (who teaches his law students to ignore the law in favor of "God's Law"), and fake "historian" David Barton. It all begins this evening at 7:00 p.m.
If you know of something that belongs on the agenda, please send it here. Don't forget to include the basics: who, what, when, where, and URL (if available).
And feel free to consider this your open thread for the day. What's happening in your world?
Barton: God Can't Hear Prayers From The Senate Side of the U.S. Capital
Jim Burroway
September 9th, 2011
You know, the evil Democratic side. Bad reception or something. I guess God isn't so omnipotent or omniscient after all: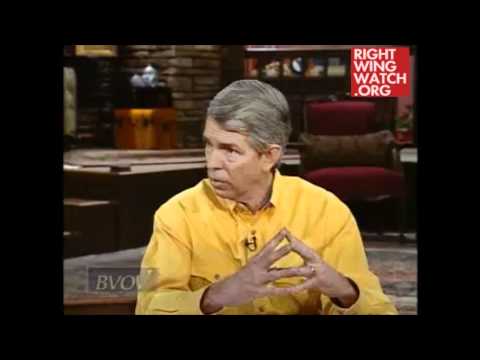 David Barton: I'll tell you one of the things too we'll never get right until we understand this: it is a spiritual battle. We're told in Ephesians it's not flesh and blood.  We're dealing with spirits. And I'll tell you out of Daniel, praying, why did that answer get delayed for twenty-one days? Because the Prince of Persia fought against it. There are principalities that sit over certain areas.

And I can tell this in the U.S. Capitol. When I walk from the House side to the Senate side, I cross the middle line of the Capitol, I can feel a different principality because they have jurisdictions over different things. And there are principalities that sit over the top of government entities that cause them to think really goofy. And you can't get prayers through, they get delayed twenty-one days because the principalities are up there fighting in the Heavenlies.

Because we're not fighting flesh and blood. And if you don't understand this is a spiritual battle, and if you don't understand there are really big principalities and powers sitting over places of power, whether it be banking or education. There's principalities that sit over schools to keep those kids from getting knowledge, there's principalities that sit over financial institutions.

Kenneth Copeland: They sit over households.

Barton: They sit over households. That's why you have principalities and powers, that gradation. You have the corporals, and you have the sergeants, and you have the lieutenants, the captains and the generals. And the generals have a bigger principality and those little corporals may sit over the house but it's a spiritual battle.

Copeland: It's a battle, yeah.

Barton: It's a spiritual battle and we'll never win until we understand that.
[via Right Wing Watch]
Huckabee Proposes the Re-education of the American Mind
Jim Burroway
March 31st, 2011
Former Arkansas governor and GOP presidential Mike Huckabee spoke at the Rediscover God in America conference in Iowa last weekend. Before launching into his speech, Huckabee gave a shout-out to Christian historical revisionist David Barton. Barton, who is touted as a "historian" at the conference despite having no discernible credentials, holds that America was founded as an explicitly Christian nation and presents what he calls a "holy history" of America. Last October, Barton called on the U.S. government to "regulate homosexuality."
Barton introduced Huckabee at he Rediscover God in America conference. Huckabee thanked Barton for his introduction and said, "I just wish that every single young person in america would be able to be under his tutelage and understand something about who we are as a nation. I almost wish there would be like a simultaneous telecast, and all Americans would be forced — forced, at gunpoint no less — to listen to every David Barton message. And I think our country would be better for it."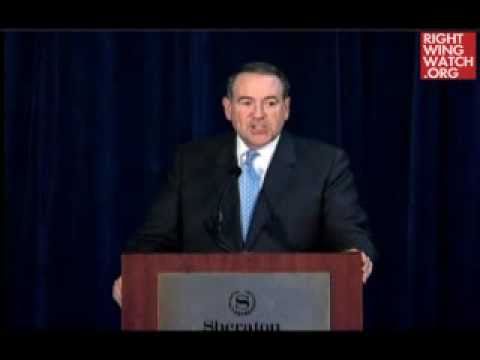 I seem to recall North Vietnam doing something along those lines…
Okay, I know that he appears to be joking — the audience is laughing as though he were. But remember, this is the guy who defended the suggestion that gay men with HIV should have been rounded up and quarantined back in the day. And when he said that, he definitely wasn't joking. In fact, he carefully parsed his message in order to try to make himself clear. So let's just say that I haven't the capacity for giving him even the smallest smidgeon of the benefit of doubt on this one.
Huckabee went on to call for "spiritual warriors" in a battle that "pits good against evil." Among those evils: marriage equality: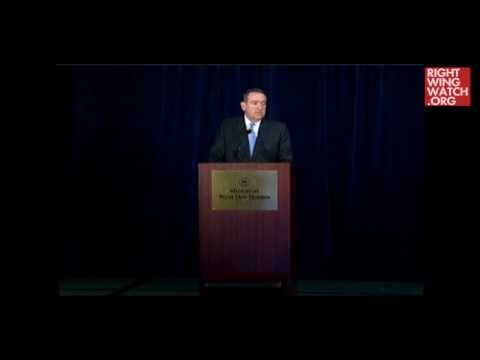 Other possible GOP contenders speaking at the conference included former House speaker Newt Gingrich, Rep. Michele Bachmann (R-MN), and Mississippi governor Haley Barbour.
Appeal fears
Timothy Kincaid
August 16th, 2010
Some of those who were closely watching Perry v. Schwarzenegger are now concerned about the prospect of going to the Supreme Court and possibly losing big. And that fear is not coming only from our community; anti-gays also have some who advise to quit now.
Right Wing Watch has transcript of a conversation between the WallBuilders' David Barton, and the AFA's Tim Wildmon and Marvin Sanders:
Barton: Right now the damage is limited to California only, but if California appeals this to the US Supreme Court, the US Supreme Court with Kennedy will go for California, which means all 31 states will go down in flames, although right now this decision is limited only to California.

So there's an effort underway to say "California, please don't appeal this. I mean, if you appeal this, its bad for you guys but live with it, but don't cause the rest of us to have to go down your path."

Wildom: So you think the better situation here would be California not to appeal …

Barton: Well, I'm telling you that that's what is being argued by a lot of folks now because the other Supreme Court attorney who watched this from afar said "on no, you left too many arguments on the table, you stayed technical." And now, knowing what Kennedy has already done in two similar cases to this and knowing that he's the deciding vote, the odds are 999 out of 1000 that they'll uphold the California decision.

If they do, there's not a marriage amendment in the country that can stand. And so the problem is that instead of California losing its amendment, now 31 states lose their amendment. And that won't happen if California doesn't appeal this decision. It's just California that loses its amendment.
This appeal really is a high stakes game.
Sally Kern: Out of Context? The Complete Transcript
Jim Burroway
March 20th, 2008
Oklahoma State Rep. Sally Kern has claimed that her anti-gay rant was carefully edited and taken out of context. Well now we have her entire talk, in context.
Uh. . .well first, I have gotten some bills passed in to law, and secondly I was talking with Bill Graves once and he said I think you're doing a good job and you kinda took up my program and I said, well Bill, thank you, but I'd like to think that it's somebody bigger than you's program that I'm doing. But anyway, I am thankful to be here today and I am going to share a number of things so I hope your ears are turned on fast because I want to get through this quickly and I do have. . .the teacher in me didn't pass these out in advance because I know you'd look at them and read them and not listen to me and I want you to listen to me but I have some information you want to be sure to get, three handouts over there.

I like to call myself a social conservative, okay, and for me a social conservative is more than just being pro-life, and wanting smaller governments, and spending less. It's whole lot more than that. To me, being a government teacher and a history teacher for about 20 years and loving the beginnings of our nation , I believe being social conservative you have to embrace the principles upon which this nation was founded if you're going to be a true social conservative.

Now I'd like to start by asking you a question and I'm not going to give you time to answer because I'll probably, I'll try to finish before one so if you have any questions you'll have time to ask me. I have no trouble talking being a school teacher and a minister's wife, talking just comes with the territory.

But if I were to ask you what is the one thing that has made America great, that makes us unique, what would it be? And then if I were to ask you what is the one thing that is actually destroying this nation, what would be your answer? Now I'm not going to let you give me an answer, Charlie's already got his hand up. But I'm not going to let you give me an answer, 'cause I'm just going to tell you what I think the one thing is. Actually what made us great and what is destroying is just like a coin, it's a flip side. What made us great is that we were a nation founding on Christian principles. Okay, that's just the bottom line. If you go to the primary sources and read our founding fathers, what they had to say, they gave preferential treatment to Christianity.

They believed, I'm going to share with you in just a minute, five practical benefits of Christianity. So what's destroying this nation, the fact that we're leaving the roots upon which we were founded. We are crumbling from within because of the bankruptcy that we have in the moral fiber of this nation and leaving the principles of our founding fathers. Now I'm going to give away this little book, and I don't know how were going to do it, but you know I'll let Tom figure that out. It's by David Barton, "The Practical Benefits of Christianity". It's awesome.

I'm briefly going to go through the five practical benefits. You see the thing about religion, religion isn't just spiritual, it's practical. What we have in our society today is a dichotomy. If you're a religious person, that's personal beliefs and that's kind like in, you know, private, that's in the upper story. But if you're in government, if you're in school, business, that's where facts are and you don't mix the two. Well, you guys, truth is truth. It doesn't matter what realm of society you are in, truth is truth, there's cold truth. If you've never read the book by Nancy Pearcy called "Cold Truth" you need to read that book. Awesome book. "Cold Truth", Nancy Pearcy. (transcriptionist Note: actually "Total Truth")

But there are practical benefits to Christianity. Our founding fathers knew that and that's why they chose Christianity, the principles of Christianity and most of our founding fathers were believers in Jesus Christ. That's documented, it's not just hearsay. It's documented.

What are the five practical benefits? First is, a civilized society. And civilized, according the Webster's Dictionary, 1828 dictionary, 'civilized' means decent, respectful, moral behavior. That's what civilized means. And we can stop and look at our society today and we don't have a very civilized society because we can see all kinds of depravity all the time. Our founding fathers believed that our government was a self-government and you can only have self-government if you have individual governance in your own life. And the less people are controlled by any restraints the more government you have to have to control them. That's just. . .we see that happening all the time. So they believed that we needed a civilized society. They also believed that Christian principles were the very reason for the way that our society was going to exist is because, and it goes back again to, you have to have self-governance.

One of our first Speakers of the House, and I never can remember his name, but he said men will be governed either by internal restraints or external restraints. Either by the bayonet or by the Bible. So we need to have the principles of Christianity for our society to exist.

Another practical benefit of Christianity is just good citizenship. Good citizens, okay. You know it doesn't matter if we live next door to an atheist, an infidel, or whatever, if they believe in a basic principle of right and wrong, which used to always be the ten commandments, if they're not going to come over and kill me or steal my stuff, or go after my husband and things like that, I can live next to them. No problem. People used to know what was right and what was considered wrong. Today, it's left up to anybody's, you know, discretion and that won't work.

Another practical benefit of Christianity was the elevation of knowledge, of learning, of science, okay, of the arts. They believed, matter of fact, Thomas Payne who wrote "Age of Reason" where he tried to say you don't need religion, you should keep it out of the public sector. Ben Franklin wrote him a letter and Ben Franklin, arguably is one of our lesser considered religious leaders, but he said to Thomas Payne don't write that book, don't publish that book. He said it will do you harm, it will do our nation harm. You know, he believed that we needed to have a society that was based upon Christian principles because elevation of science, elevation of knowledge is very important if you're going to have an informed public. And I believe it was Thomas Payne also said, you know, you can look at a picture and it makes you think of the artist, you can look at some kind of invention and you think of the inventor. Why is it that we look at the creation and we don't think about the creator. You know, we don't do that. And if we really had Christian principles our educational system would not be in the mess it is in today. I could give you lots of quotes about, oh Benjamin Rush and Noah Webster and Fisher Ames who actually penned the first amendment, the things they had to say about the main book in school should be the Bible. There's a lot of stuff about that that's really important and we certainly got away from it.

Another practical benefit, the last one, of Christianity is a cohesive value system. A cohesive value system. We don't have that today. And you know we think, we hear this all the time, we are such a large society today, we have such diversity in all these different religions and ethnic backgrounds and everything, you can't have a cohesive value system. Well, we didn't just have that right now. You can go back read some of the writings of John Adams, and he talks about the diverse society that they had back at the beginning of this nation. So Christian principles are very important in order to have a cohesive value system. So regardless of what your faith is you can live together. We have gotten away from these principles and it is affecting our lives today.

One of the main ways, and this is something I'm going to talk about a lot today, that is affecting our lives, is in the gay agenda. Now I'm not a gay basher, okay. When I taught school three doors down from me was one of the most obnoxious gay people that you can mention. If I named him you probably have seen him. He writes in the paper all the time and everything. But you know, he has the right to practice that life-style if he chooses but he does not have the right to indoctrinate his classes. You know, that's not what education is about. But what we see happening today is the homosexual agenda is destroying this nation. Okay, it's just a fact. If you've never read, here's another book, "The Criminalization of Christianity" by Janet Folger. Every Christian ought to read that book, "The Criminalization of Christianity". It is an awesome book and if that doesn't scare you and motivate you, something's wrong.

And here's the problem, the gay people are motivated. If we as, whether you're a Christian or not, if you're just a good conservative, if we were as motivated as the gay people were, the contest would be over. That's just all there is to it. It would be over. But we aren't motivated. I think we've been suckered by this lie of separation of church and state. But there is a new phenomenon going on, has been going on since the last four years in the gay movement and it's been headed by a gentleman by the name of Tim Gill. He's a software mogul guy who sold his Quark, Q-U-A-R-K, however you say that, he sold it for billions of dollars. He contributed 30 million dollars in '06 to races. He contributed that money to local races, state races and governor races. He gives money, yes to, on the federal level but primarily it's on the local level because his philosophy is this: if we're gonna really make changes, we're going to have to do it locally. And what's the saying we always hear and we know, all politics is local. And he along with a lot of other gay activists are very disappointed in the national democratic party because they've not, you know they say, they promise all this stuff, you know we'll acknowledge gays and etc., etc., but when it comes down to really doing policy in Congress, what's always the first to go? The gay agenda stuff, because those democrats, they don't want to alienate their base. So Tim Gill along with a bunch of other people, some other millionaires, billionaires have decided that the way to handle it is on the local level. And they contributed last year over 30 million dollars to state races. They targeted 13 states. They targeted 70 local politicians. They took out 50 of them. Tim Gill's goal is within 10 years to change the face of politics to make to where there is equality to all people, all lifestyles.

Now, I don't know about you, but the book that I base my life upon is God's word. And it says to love everybody and I try to love everybody but not everybody's lifestyle is equal. Just like not all religions are equal. Okay. All money isn't equal. You know, we have this dumb idea now days, that tolerance means that everything is equal. Well, everything is not equal. We see that in many areas of our lives. You know, all things are not equal. All religions are not equal.

But, uh, let me just read you some things. Tim Gill along with four other, three other people, let me find this here. I've got so much information, there's no way I can get all of this to you today, but I have it for you to read yourself. Along with a woman by the name of, I think it's Pat Stryker, and then her brother John Stryker. . .I know I've got them right here, I'll try to fish them out. . .Pat Stryker, Jared Polis and Rutt Bridges, they all right now are in Colorado and they have changed the face of Colorado. For 40 years Colorado's legislature was in the hands of Republicans in '06 it changed to hands of the Democrats. And the main reason is because they're pushing, these four people, along with other people, and I have a list of them here, the top ones, that you can see, , , and this is important because when you start looking at who's contributing to races, say that particular statewide race we're all concerned about, look for some of these names. They don't give more than a 1000 dollars because they don't want to draw attention, okay, but they will give up to a 1000 dollars and so you start looking for these names. And what they do, their strategy is very under-the-table, very stealth, and their goal is to find state legislatures that are very tight in their, you know, republican/democrat, and if just a few races can make the difference to switch it from republican to democrat, they're going to target that. And their goal is, in doing that, to intimidate republicans.

Now the problem we have, I think it's a problem, we've got some moderate republicans who think it doesn't matter what your lifestyle is, it doesn't matter if you're gay, it doesn't matter if you're for civil unions, you know. And you notice, the goal is, they're pushing civil unions right now. That used to be unheard of, but now that's pretty much acceptable. A lot of republicans are going for civil unions, okay. So you know what's going to happen next, 10 years from now, it's going to be gay marriage. Okay, they're taking little by little, they're taking ground little by little but they're doing it quietly, under-the-table. They're going into states where the races are close; they're putting in lots of money; and not only that, they're putting people on the ground. Let me read you this. Here this was really, I thought really interesting, I just want to read it. The key, this is from a guy by the name of Ted Trimpa, he's kinda like the Karl Rove for Tim Gill. "They key to success is real grassroots, organizing, knocking at the doors, and knock on them again and don't go turn out the gay vote, go knock on the swing doors as well," he says. "Knock on every door and knock day, after day, after day."

They took out in Iowa a guy by the name of Danny Carol who was the speaker pro-temp in the house. He thought his race was safe. He lost, a surprise loss. They put people on the ground, young college kids with their ipods going from door to door. Not just democrats, though, also republicans, trying to find those swing voters but they do it time and time again. They say it's expensive and time consuming but it is the absolute right way to do real grassroots politics, door to door, talking to the voters, having gay people go to them, allies of ours go to each of them, walk them through and you flip votes one by one. It's a strategy that works both in the legislature and in the field. They quote Tim Gill on another aspect of their political strategy. Tim says "you have to turn down the volume of opponent's 'anti' rhetoric. They can't just say and do everything with license. They have to know beforehand that it's going to cost them some votes and some serious money to play like that. It certainly doesn't stop it, but it turns it way down, and then when they do spew any 'anti' rhetoric, they look extreme. You have to create an environment of fear and respect,' said Tim Gill . "The only way to do that is to get aggressive and go out and actually beat them up politically. Sitting there crying and whining about being victims isn't going to get us equality. What is going to get us equality is fighting for it."

What they're trying to do is send a message of intimidation to those people who are taking a stand for traditional marriage and against the homosexual lifestyle. They want to silence us, is what they want to do. And it's happening all over the state. You know, the very fact that I'm talking to you like this, here today, puts me in jeopardy. Okay, and so, so be it. Okay, and I'm not 'anti', I'm not gay bashing, but according to God's word that is not the right kind of lifestyle. It has deadly consequences for those people involved in it. They have more suicides and they're more discouraged, there's more illness, their life spans are shorter. You know, it's not a lifestyle that is good for this nation. Matter of fact, studies show no society that has totally embraced homosexuality has lasted more than, you know, a few decades. So it's the death knell for this country. I honestly think it's the biggest threat even, that our nation has, even more so than terrorism or Islam, which I think is a big threat, okay. Because what's happening now, they're going after, in schools, two year olds. You know what they're trying to get early childhood education? They want to get our young children into the government schools so they can indoctrinate them. I taught school for close to 20 years and we're not teaching facts and knowledge anymore, folks, we're teaching indoctrination. Okay? We're turning out a citizenry who are learners but not thinkers. By that I mean, they take whatever is thrown at them. They don't question it. A thinker listens to what's given to them and then goes and researches and reasons about it and figures out is this right or wrong. We aren't developing students like that today. We're developing students who will do whatever the elites want. That's what we're headed toward and they're going after our young children as young as two years of age to try to teach them that the homosexual lifestyle is an acceptable lifestyle. And there are programs they're going after in school. It just, uh, I'm not going to say anymore about that because I have the material over there. You really need to read this article, seven pages, but read it. It has some interesting stuff in it. It will show you their strategy and we need to be forewarned.

Okay, now, where are the social conservative billionaires? I want to suggest to you that they are few and far between. Okay. We've got some, but they don't give money the way the gay philanthropists are giving their money, okay. And unfortunately I see a lot of our millionaire conservatives are really bought into big business and even big government and they don't support social conservatism. And I think that's a mistake. But in 10 years time our whole landscape, political landscape, could be changed if we don't start giving money, we social conservatives, people who have it, start giving money to candidates who will stand up for what is right, instead of buckling under this. So, it's just happening to us right and left.

You know gays are infiltrating city councils. Did you know, Eureka Springs, anybody been there to the Passion Play? Have you heard that the city council of Eureka Springs is now controlled by gays. Okay. There are some others, Pittsburgh, Pennsylvania, Tacoma, Maryland, Kensington, Maryland, in Vermont, Oregon, West Palm Beach, Florida and a lot of other places in Florida. What's happening? The homosexuals are getting involved politically on the most local level there is, city council, city government and they are winning elections and the first thing they're doing is passing, uh, laws, anti-discrimination laws and hate laws and things like that and, uh, you know, one of the things I deal with in our legislature is, I tried to introduce a bill last year that would notify parents, schools had to let parents know what clubs their students were involved in. And the reason I did that bill, primarily, was this, we have the gay/straight alliance coming into our schools. And we had parents say, if I knew my child was involved in that group I wouldn't let them. Kids are getting involved in these groups, their lives are being ruined, their parents don't know about it. So I introduced a bill that said you have to notify all clubs and things. And one of my colleagues said, 'well you know we don't have a gay problem in my community and that's why I voted against that bill." Well, you know what? To me that is so dumb. If you got cancer or something in your little toe, do you say, well you know, I'm just going to forget about it because the rest of me is just fine. It spreads, and this stuff is deadly and it's spreading and will destroy our young people and it will destroy this nation.

But they're going after city councils, they're influencing schools sex-ed at schools. Respect for differences in human sexuality is a big sex-ed program they're trying to get into all the schools. And basically what is, it's teaching that you have to be tolerant, you have to accept homosexuality.

This brings in our libraries. Okay, you know I believe in the principle as a person thinks, as a man thinks, so is he. That's why we have to be careful about what we read, what we watch, things like that, what music we listen to and stuff because what goes in is what comes out. Garbage in, garbage out. We know that with computers. You know, what you put in is what you get out. Okay. You take our young minds and the garbage that they're reading in our libraries and I mean it's garbage. I should have thought and brought you some excerpts of some of the stuff that, uh, I mean there's no literary value to it at all. It is pure filth. The language, the acts, the things that are going on and yet our kids are reading it, I mean, they are reading in the droves. Okay. Kids go home and I see some high school kids couldn't wait to get out so they could go home and see their favorite soap opera. And I tell them, look, that is not real life. They do anything they want and don't suffer consequences. In real life you got consequences.

So, uh, hate crimes, this leads to hate crimes. If we have hate crimes our free speech will be silenced. Okay. You know I'm not a lawyer, but I think I know enough about this. Law should be dealing with our actions, not with what we are thinking. Nobody can read my mind; nobody can read your mind. Okay. If two little old ladies are both murdered, you know, and one's gay and other isn't, why should the one that was gay, her murderers receive a harsher crime than the one's who murdered the other little old lady? They're both dead. You know, murder is murder. So we've gotta watch; they are coming after these kinds of bills.

Another thing that I'm real big on that is a real detriment to this society is evolution. Evolution undermines Christian principles. Period. That's all there is to it. You either believe there is a creator or you believe there isn't. Some people say well I believe there is a creator and he used evolution. There's a lot of problems there folks. When does sin come in, when does the spirit come in? You know, it's evolution. You read God's word and you will see the word creation all through it, old and new testament. And it undermines people's faith. They have trouble reading or believing the Bible.
See also:
Sally Kern Is a Little Confused
Sally Kern's Economic Fallout
Sally Kern's Meeting with PFLAG on Tape
Exodus' Local Ministry Aligns with Sally Kern
Certified Cameronite: Sally Kern
Kern Speaks to College Republicans
Sally Kern: Out of Context? The Complete Transcript
We Be Jammin'
Muslims and Gays United
OK State Rep. Sally Kern's Son is "Straight and Not Gay"
Sally Kern Exaggerates Death Threats
A Letter to Sally Kern
LaBarbera Award: Oklahoma State Rep. Sally Kern