Anti-Gay OK State Rep Faces Transgender Challenger
Jim Burroway
June 9th, 2010
Oklahoma state representative Sally Kern, who has called gay people more dangerous to the country than terrorists, will face a transgender opponent, attorney Brittany Novotny (pictured), in the general election for the Oklahoma City seat this fall. Novotny, the state's first known transgender candidate, filed papers to run Tuesday.
Both Novotny and Kern say that neither will make Novotny's gender identity a campaign issue. We'll just see how long Kern stays classy.
Oklahoma Baptists: We Don't Need No Stinkin' Ninth Commandment!
Jim Burroway
July 21st, 2009
Last month, Oklahoma State Rep. Sally Kern issued her loopy "Proclamation for Morality" that blamed gays (among others) for our economic crisis and held that the United States was created for Christians and Christians only. That was bad enough, but an Oklahoma-based newspaper, The Baptist Messenger, decided to take it a step further by making it official — or at least official looking:
Yep. The Baptist Messenger — an established weekly newspaper with a paid circulation of over 85,000 — decided to photoshop Governor Henry\'s signature on the embarrassing and archaic "Proclamation for Morality." And to try and make the piece of right wing trash look even more legitimate, they placed the text of proclamation onto Executive Department letterhead and forged the signature of Secretary of State M. Susan Savage next to the state seal of Oklahoma.
The Lost Ogle blog has the complete scan of the proclamation. Having suspended the ninth commandment (or the eight commandment if you use the Catholic/Lutheran method of counting), The Baptist Messenger tried to make amends by offering their non-apology apology with a message from the editor posted to their web site's front page:
In the July 16 Messenger, the graphic representation of the Oklahoma Citizen\'s Proclamation for Morality was misleading, indicating that Oklahoma Gov. Brad Henry and Secretary of State Susan Savage had signed the document. This is not the case, and the Messenger staff apologizes for the oversight and error.
Hunting around for two fraudulent signatures, a fake letterhead and an legible image of seal of the State of Oklahoma, don't accidentally get attached to a loopy proclamation because of an  "oversight and error." Their apology is about as misleading as the Photoshopped proclamation. It's about as credible as well.
Twenty OK Legislators Hate The Sinner
Jim Burroway
February 12th, 2009
They love to say, "Love the sinner, hate the sin." But twenty conservative Oklahoma legislators, including our dear Rep. Sally Kern, demonstrated clearly the utter charade behind that platitude.
Scott Jones, pastor of the Cathedral of Hope-Oklahoma City, was asked to deliver the opening prayer for the Oklahoma House of Representatives on Monday. (The Cathedral of Hope-Oklahoma City was spun off from Dallas' Cathedral of Home, the world's largest gay church and a member of the United Church of Christ.) Rev. Jones was invited to give the prayer by Rep. Al McAffrey, who is openly gay. At the close of business on Monday, Rep. McAffery made a routine motion to have Jones' prayer recorded in the House Journal. A Republican legislator objected, so a roll call was taken:
It was an interesting moment, and rather chaotic. One legislator commented, "We always enter the remarks." Others wanted to read what I had said, and came over to where I was and read my hard copy and kept saying, "What are they objecting too?" Others came over to apologize. One legislator made a point of order to remind colleagues that if they were in the room, they had to vote, at which some of them fled, as some of the colleagues pointed out.
Twenty legislators, including Rep. Kern voted against recording the prayer. Sixty-seven voted in favor. And get this: as many as seventeen fled the room so they could be counted as absent. The prayer wasn't controversial as far as I can tell. The only objection I can discern was the fact that the speaker was gay.
Love the prayer, hate the "pray-er".
[Hat tip: Dallas Voice Blog]
Anti-Gay Campaign Plotted For Oklahoma City
Jim Burroway
December 8th, 2008
The Gossip-Boy web site has uncovered evidence of a major upcoming anti-gay campaign by Oklahoma City Mayor Mick Cornett and a local pastor who advocates court-ordered "education programs" to "cure" gay people.
According to James Miko and Wayne Fuller, Mayor Cornett plans to team up with Olivet Baptist Church pastor Steve Kern (OK State Rep. Sally Kern's husband) to unleash a campaign to "rid the library system of all gay and lesbian materials, as well as those their church-based philosophies find objectionable."
The planned anti-gay drive is reportedly part of Mayor Cornett's longer-term strategy for the 2010 governor's race. According to unnamed insiders, the Mayor hopes that by waging this campaign targeting gays and lesbians, he will gain the good graces of fundamentalist voters and "walk away a hero to certain people":
The insider also stated, "The Mayor is aware that Ernest Istook is returning to Oklahoma to join the governor's race again. Istook has the conservative base locked in, so the Mayor must shake loose Istook supporters if he is to get past the Republican primary. Gays are easy targets for him. He tried to use them in 2006, but it backfired. This round he wants to make it clear he is without a doubt against gay rights."
Miko and Fuller were able to confirm the outlines of the anti-gay plot by calling Pastor Kern while posing as a citizen working with the mayor. The transcript is posted online, in which "GB" (the Gossip Boy reporter) spoke with Steve Kern about a couple of recommendations for the library commission:
GB: Blair, I am familiar with him personally, is a terrific choice. The man will stand his ground and will certainly help keep the faggots in line. He's a pretty big boy. Ha ha.

SK: Ha ha. Very true. Paul won't take a lick of nonsense from the homos. He's been such a blessing to Sally and I. Always supportive and always there for us. Even before this mess with them in March.

GB: Well good for him. He's a real man of God and his service to everyone has not gone unnoticed. We need all the help we can get to make sure the perverts keep their nasty lifestyle out of our city libraries and away from our children. The sickness is spreading into everything.

SK: We have to get rid of that and start curing those sinners. It's past time that this nation stopped placating sin and start putting them in education programs. Courts can force drug offenders into treatment centers and violent people into anger management. There's no reason our courts can't do that with homos. [Emphasis added]
Pro-gay advocates often suspect politicians of cynically expoiting anti-gay sentiment to further their political careers. We rarely have such a smoking gun as this one. And we also rarely get such a clear indication of the kind of "justice" some of our opponents envision if they had their way. To these people, re-education camps aren't out of the question.
Sally Kern Hasn't Changed A Bit
Jim Burroway
October 13th, 2008
Oklahoma State Representative and LaBarbera Award winner Sally Kern still thinks that the homosexuals pose the greatest threat to America. She said so again last Thursday during a debate with her opponent Ron Marlett:
When asked about the biggest threat facing the United States, Marlett said it was dependence on foreign oil. Kern said it was homosexuality.

"While terrorism has killed more than 3,000 people, in the continental United States in the last 15 years, homosexual behavior has killed more than 100,000," she said. "It's a danger to life. It is a danger to health."

"To compare certain members of our community to a cancer that might need to be removed is chilling to me," Marlett said.

"Our county is united pretty much against terrorism, but homosexuality is being promoted in schools and by the government," said Kern.
Kern first gained national ridicule last March when she said that homosexuality was "the biggest threat our nation has, even more so than terrorism or Islam." At least she's consistent.
Sally Kern Interview at the Republican Convention
Jim Burroway
September 9th, 2008
SiriusQ's Michelangelo Signorile caught up with OK Rep. Sally Kern at the RNC last week. You may remember Sally Kern as the Oklahoma legislator who said that homosexuality was worse than terrorism. She was also caught twice carrying a loaded gun into the Oklahoma state capital. In this first clip, Michael asked Kern about the Log Cabin's endorsement of McCain ("I don't have a problem with it. … I'm glad they did!") and the "abomination" of homosexuality.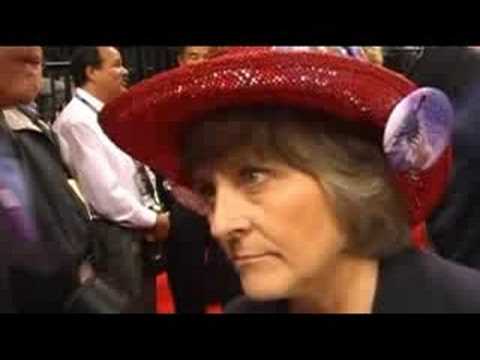 In the second clip we get to hear all about the difference between gluttony and homosexuality. She also gets her facts completely wrong on marriage in Norway.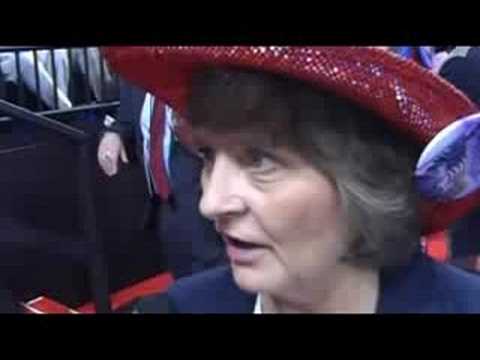 Sally Kern Stopped With Loaded Gun
Jim Burroway
July 23rd, 2008
Oklahoma state Rep. Sally Kern (R-OKC), who made headlines last March for saying that gays were a bigger threat than terrorism, was stopped by state Capital security from bringing a handgun into the building. This is the second time in two months she had a weapon at the Capital. Kern attributed both breaches to "forgetfulness."
Sally Kern Is a Little Confused
Timothy Kincaid
May 14th, 2008
If you are an anti-gay activist, sometimes you have to be careful not to sound like a loon. Sadly, Sally Kern isn't very skilled at that task.
Never one to pass an opportunity to spout a homophobic rant, Sally just had to respond when she heard that Lambda Legal has assigned May 15 as "Clock in for Equality Day" and is encouraging folks to take a pledge to oppose discrimination.
Well, if it's gay folks doing it, Sally objects. Even if that makes her seem a bit confused.
The Oklahoman reports
"Over and over again, the homosexuals say we don't have an agenda. This just shows there is an agenda," Kern said.
But when the agenda is promoting workplace fairness for gays and lesbians, Sally can't just come out and say she's opposed to fairness. So she clarifies.
"There should not be discrimination of anyone. I'm not for discrimination," Kern said. But the attempt to mobilize people on behalf of gays and lesbians is evidence of an organized effort by what Kern described as "radical homosexual rights groups."
OK. So Sally isn't for discrimination, she just doesn't want anyone to organize against it. And she wants people to "become more active in social policy fights" to fight against an agenda with which she finds a common goal.
Poor Sally, she's stuck between two instincts. She wants to be hateful to gay people… but she just doesn't want to sound cruel. So instead she sounds like an idiot.
And this woman votes in the Oklahoma legislature.
See also:
Sally Kern Is a Little Confused
Sally Kern's Economic Fallout
Sally Kern's Meeting with PFLAG on Tape
Exodus' Local Ministry Aligns with Sally Kern
Certified Cameronite: Sally Kern
Kern Speaks to College Republicans
Sally Kern: Out of Context? The Complete Transcript
We Be Jammin'
Muslims and Gays United
OK State Rep. Sally Kern's Son is "Straight and Not Gay"
Sally Kern Exaggerates Death Threats
A Letter to Sally Kern
LaBarbera Award: Oklahoma State Rep. Sally Kern
[Hat tip: Stefano Armanino]
Sally Kern's Economic Fallout
Jim Burroway
April 16th, 2008
In tough economic times, a state needs every advantage it can get to lure jobs. Oklahoma Rep. Sally Kern's recent anti-gay tirades, in which she says that gays are a bigger threat than terrorism, is giving at least one Fortune 500 company second thoughts about locating part of its workforce to Oklahoma:
Tom Maloney, vice president of California-based Staubach Co., would neither confirm nor deny that the 1,000-employee, AAA-rated client company's top executive is a lesbian who expressed concern over Oklahoma Rep. Sally Kern's recent anti-homosexual statements, as has been the topic circulating among local business leaders. …

"He told us straight up … 'I cannot recommend to any of my clients that they should consider Oklahoma City because of that,'" [Roy] Williams [resident of the Greater Oklahoma City Chamber] said. "When you have one of the nation's premier relocation experts making those statements, you should pay attention to that and not dismiss it.
See also:
Sally Kern Is a Little Confused
Sally Kern's Economic Fallout
Sally Kern's Meeting with PFLAG on Tape
Exodus' Local Ministry Aligns with Sally Kern
Certified Cameronite: Sally Kern
Kern Speaks to College Republicans
Sally Kern: Out of Context? The Complete Transcript
We Be Jammin'
Muslims and Gays United
OK State Rep. Sally Kern's Son is "Straight and Not Gay"
Sally Kern Exaggerates Death Threats
A Letter to Sally Kern
LaBarbera Award: Oklahoma State Rep. Sally Kern
Sally Kern's Meeting with PFLAG on Tape
Jim Burroway
April 9th, 2008
On March 27, Oklahoma Rep. Sally Kern agreed to sit down and meet with members of the Oklahoma City chapter of PFLAG. According to PFLAG's version of events, the meeting was cordial, although Rep. Kern did not apologize or back down from her earlier remarks in which she said that homosexuality was "the biggest threat our nation has, even more so than terrorism or Islam." But Kern reportedly told the group that she "agreed with" the idea that gays and lesbians should not be fired from their jobs due to their sexual orientation. She also said that she would consider meeting with a group from PFLAG again.
Kern however was offended by being portrayed as a half-decent human being by PFLAG. Immediately following news of the meeting, she launched a vicious attack against the group, saying that they had "taken my statements and have spun them to make it appear that I am backing off my comments that homosexuality is a sin."
She claimed that PFLAG said she had backed off of her earlier statements (they actually said the opposite), and she claimed that PFLAG said she was in favor of anti-discrimination laws (they said no such thing). And after she told those whoppers about PFLAG's statement, Kern announced that she would not meet with them again. PFLAG was justifiably furious at Kern's slap in the face:
PFLAG applauded Kern for agreeing to the sit-down . . . only to be on the receiving end of a mad Sally slap-down. Kern and her supporters went so far as to refer to the three members of the clergy who took part in the meeting as "false prophets," and attacked the credibility of our Oklahoma PFLAG families. And even though we weighed in with our own fact-check of Sally's allegations, she continued to insist that she did not say what she said.
PFLAG is now defending their version of events. It turns out that PFLAG had recorded the 40-minute meeting — with Rep. Kern's consent, no less — and has posted the entire audio online. In it, we learn:
…Kern said not once (at about 15 minutes and 30 seconds in) that she does not believe GLBT people should be fired from their jobs . . . but she said it twice (again at about 33:15), confirming her stance when Rev. Kelly McCallie recaps the meeting near its end. And, when asked by Rev. Newton-Edwards if she would consider attending future PFLAG meetings to hear from other families in her district, Kern says – almost joyfully – "maybe."

She even says – when asked if she and her husband will join a PFLAG supporter for dinner – "Sure!"
As PFLAG notes, the tape recorder is definitely not her friend. Here's the audio, in five parts: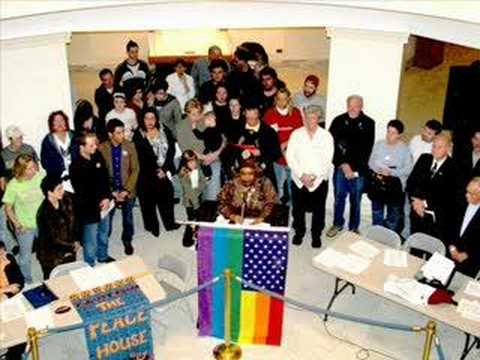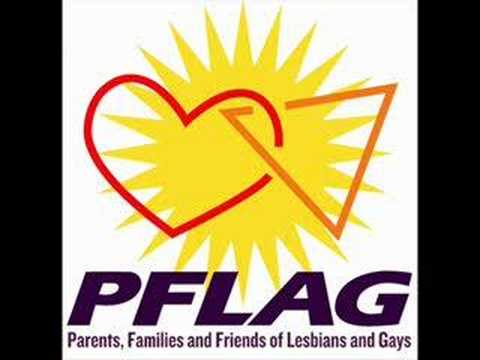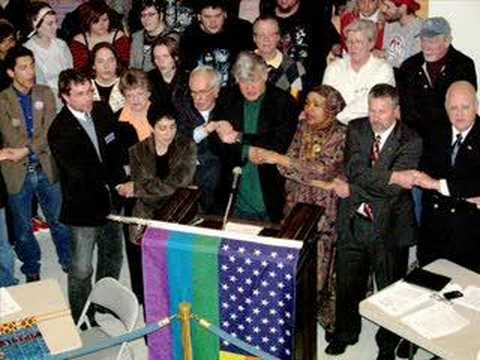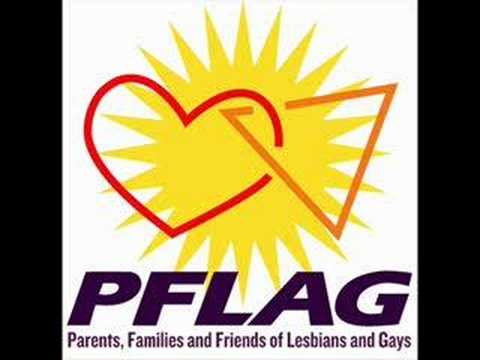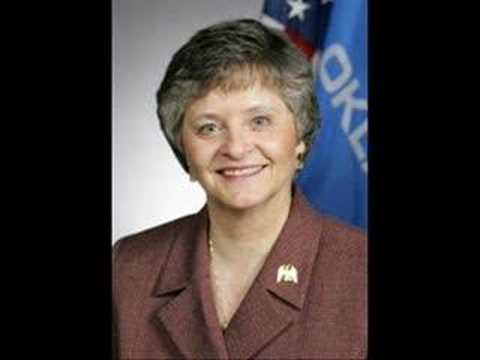 Following last week's rally in support of Rep. Kern, The Oklahoman's editor Ed Kelley posted a video editorial blasting Sally Kern and her message:
What if instead of 1,000 people gathered to praise her, 1,000 people – smart, law-abiding people who really care about Oklahoma and its future – came instead to insist that our state can and must send legislators to the capitol who will focus on real issues that affect Oklahoma. In other words, 1,000 voices that said we've had 100 years of Sally Kern, and 100 years of that is enough…
What if indeed. Oklahomans deserve better, as do the rest of us.
See also:
Sally Kern Is a Little Confused
Sally Kern's Economic Fallout
Sally Kern's Meeting with PFLAG on Tape
Exodus' Local Ministry Aligns with Sally Kern
Certified Cameronite: Sally Kern
Kern Speaks to College Republicans
Sally Kern: Out of Context? The Complete Transcript
We Be Jammin'
Muslims and Gays United
OK State Rep. Sally Kern's Son is "Straight and Not Gay"
Sally Kern Exaggerates Death Threats
A Letter to Sally Kern
LaBarbera Award: Oklahoma State Rep. Sally Kern
Exodus' Local Ministry Aligns with Sally Kern
Timothy Kincaid
April 2nd, 2008
Today over 1,000 people showed up to demonstrate their support for Sally Kern, the OK state legislator who got caught on tape claiming that "the homosexual agenda" was a greater threat to the nation than terrorism. In addition to the usual anti-gays, Kern's homophobic rants received the support and endorsement of the local Exodus International affiliated ministry.
Stephen Black, executive director of First Stone Ministries in Oklahoma City, said he once was gay. His organization, he said, helps men and women overcome homosexuality.

"There is a political agenda and a cultural message about homosexuality (and) that it is destructive to our country," he said.
Black was a speaker at the rally. While First Stone claims to "educate churches and Christians how they may respond biblically, compassionately, and knowledgeably to those impacted by homosexuality", evidently they are more interested in portraying their neighbors as a bigger threat than terrorists and spreading lies about "livestyles" and gays "infiltrating" and "shorter lifespans".
Ironically, First Stone gets its name from the scripture "Let him who is without sin cast the First Stone." Considering that he showed up today to cast stones, Black must think himself sinless.
As for Kern, she's convinced that she's a martyr
Kern said a biblical verse came to her after her comments were posted last month on the Internet. The passage is Philippians 1:12, where the apostle Paul wrote, "I want you to know that what has happened to me has served to the advancement of the gospel."
Exodus has of late been trying to claim that it seeks to reach out to same-sex attracted people, not demonize them. But associating Exodus' Oklahoma City ministry with the blatant and vile homophobia of Sally Kern and her ragtag collection of haters does little to validate such claims.
See also:
Sally Kern Is a Little Confused
Sally Kern's Economic Fallout
Sally Kern's Meeting with PFLAG on Tape
Exodus' Local Ministry Aligns with Sally Kern
Certified Cameronite: Sally Kern
Kern Speaks to College Republicans
Sally Kern: Out of Context? The Complete Transcript
We Be Jammin'
Muslims and Gays United
OK State Rep. Sally Kern's Son is "Straight and Not Gay"
Sally Kern Exaggerates Death Threats
A Letter to Sally Kern
LaBarbera Award: Oklahoma State Rep. Sally Kern
Exodus Ministry Leader Speaks At Sally Kern Rally
Daniel Gonzales
April 2nd, 2008
As a matter of record I wanted to note Stephen Black, executive director of First Stone Ministries in Oklahoma City spoke at a rally today in support of Rep. Sally Kern. Source
Certified Cameronite: Sally Kern
Jim Burroway
March 29th, 2008
One thing you can say about Oklahoma State Rep. Sally Kern is this: She doesn't give up. And the more she talks, the more she embarrasses herself and the good citizens of Oklahoma's District 84. Today, the Bethany Tribune published a letter to the editor (A permanent copy is available here as PDF.) Kern's letter contains the usual misinformation from the usual sources.
Kern's very first paragraph cites a study titled, "The Lifespan of Homosexuals," immediately following a sentence which references the CDC. The way it's written, casual readers may assume that "The Lifespan of Homosexuals" was a CDC study, but they'd be wrong. That so-called "study" is actually from none other than Paul Cameron, the discredited "researcher" who has been censured and/or kicked out of virtually every professional association he's ever been associated with for repeated ethics violations and gross professional misconduct. Most recently, he was censured by the president of the Eastern Psychological Association for misrepresenting his participating at their 2007 conference. In 1999, Paul Cameron wrote "Gays in Nazi Germany," in which he whitewashed the treatment of gays in Nazi concentration camps, and he has advocated similar draconian measures throughout his career here in the U.S.
Sally Kern will reach for anything to demonize gay and lesbian citizens of her district and beyond, including the rantings of a Nazi sympathizer and holocaust revisionist. We first awarded Kern the LaBarbera Award for her outrageous fear-mongering comments, saying that gays were "the biggest threat our nation has, even more so than terrorism or Islam." As a Certified Cameronite, Kern has completed her own evolution to the lowest depths of extremist rhetoric. She now joins the ranks of so many others who care neither for the truth, ethics, or simple human decency in their zeal to render LGBT citizens as second class — or worse.
Hat tip: Alvin McEwen
See also:
Sally Kern Is a Little Confused
Sally Kern's Economic Fallout
Sally Kern's Meeting with PFLAG on Tape
Exodus' Local Ministry Aligns with Sally Kern
Certified Cameronite: Sally Kern
Kern Speaks to College Republicans
Sally Kern: Out of Context? The Complete Transcript
We Be Jammin'
Muslims and Gays United
OK State Rep. Sally Kern's Son is "Straight and Not Gay"
Sally Kern Exaggerates Death Threats
A Letter to Sally Kern
LaBarbera Award: Oklahoma State Rep. Sally Kern
Kern Speaks to College Republicans
Timothy Kincaid
March 28th, 2008

Rep. Sally Kern spoke last night at the Oklahoma City University's University of Central Oklahoma's Nigh Center at the invitation of the College Republicans. While the speech was scheduled well before Mrs. Kern became infamous for her homophobic rant, the leaders of the university's CR's took steps to shield Mrs. Kern from students who may wish to challenge her views. According to the student newspaper,
In the release, which didn't go out to all UCO students, it states that only conservatives and/or College Republicans would be allowed to enter. The release also states that "protestors will not be tolerated."
Well it would appear that either the CR's relented and let in the godless liberals, or else not all College Republicans and conservatives share Mrs. Kern's view that their gay classmates are a greater threat to the nation than terrorists. The Oklahoman reports,
About 40 people attended Kern's speech, many of whom expressed their displeasure with Kern's beliefs.

Kern spent much of her speech explaining why she thought Christianity plays an important role in American government before turning her attention to her previous comments and taking questions from the audience. Most of the questions came from people who disagreed with Kern's views.
But lest we think the national criticism of her extremism and theonomic views have given her any perspective, they also report
If given the chance to do it all over again, state Rep. Sally Kern said she wouldn't change a thing.
See also:
Sally Kern Is a Little Confused
Sally Kern's Economic Fallout
Sally Kern's Meeting with PFLAG on Tape
Exodus' Local Ministry Aligns with Sally Kern
Certified Cameronite: Sally Kern
Kern Speaks to College Republicans
Sally Kern: Out of Context? The Complete Transcript
We Be Jammin'
Muslims and Gays United
OK State Rep. Sally Kern's Son is "Straight and Not Gay"
Sally Kern Exaggerates Death Threats
A Letter to Sally Kern
LaBarbera Award: Oklahoma State Rep. Sally Kern
Sally Kern: Out of Context? The Complete Transcript
Jim Burroway
March 20th, 2008
Oklahoma State Rep. Sally Kern has claimed that her anti-gay rant was carefully edited and taken out of context. Well now we have her entire talk, in context.
Uh. . .well first, I have gotten some bills passed in to law, and secondly I was talking with Bill Graves once and he said I think you're doing a good job and you kinda took up my program and I said, well Bill, thank you, but I'd like to think that it's somebody bigger than you's program that I'm doing. But anyway, I am thankful to be here today and I am going to share a number of things so I hope your ears are turned on fast because I want to get through this quickly and I do have. . .the teacher in me didn't pass these out in advance because I know you'd look at them and read them and not listen to me and I want you to listen to me but I have some information you want to be sure to get, three handouts over there.

I like to call myself a social conservative, okay, and for me a social conservative is more than just being pro-life, and wanting smaller governments, and spending less. It's whole lot more than that. To me, being a government teacher and a history teacher for about 20 years and loving the beginnings of our nation , I believe being social conservative you have to embrace the principles upon which this nation was founded if you're going to be a true social conservative.

Now I'd like to start by asking you a question and I'm not going to give you time to answer because I'll probably, I'll try to finish before one so if you have any questions you'll have time to ask me. I have no trouble talking being a school teacher and a minister's wife, talking just comes with the territory.

But if I were to ask you what is the one thing that has made America great, that makes us unique, what would it be? And then if I were to ask you what is the one thing that is actually destroying this nation, what would be your answer? Now I'm not going to let you give me an answer, Charlie's already got his hand up. But I'm not going to let you give me an answer, 'cause I'm just going to tell you what I think the one thing is. Actually what made us great and what is destroying is just like a coin, it's a flip side. What made us great is that we were a nation founding on Christian principles. Okay, that's just the bottom line. If you go to the primary sources and read our founding fathers, what they had to say, they gave preferential treatment to Christianity.

They believed, I'm going to share with you in just a minute, five practical benefits of Christianity. So what's destroying this nation, the fact that we're leaving the roots upon which we were founded. We are crumbling from within because of the bankruptcy that we have in the moral fiber of this nation and leaving the principles of our founding fathers. Now I'm going to give away this little book, and I don't know how were going to do it, but you know I'll let Tom figure that out. It's by David Barton, "The Practical Benefits of Christianity". It's awesome.

I'm briefly going to go through the five practical benefits. You see the thing about religion, religion isn't just spiritual, it's practical. What we have in our society today is a dichotomy. If you're a religious person, that's personal beliefs and that's kind like in, you know, private, that's in the upper story. But if you're in government, if you're in school, business, that's where facts are and you don't mix the two. Well, you guys, truth is truth. It doesn't matter what realm of society you are in, truth is truth, there's cold truth. If you've never read the book by Nancy Pearcy called "Cold Truth" you need to read that book. Awesome book. "Cold Truth", Nancy Pearcy. (transcriptionist Note: actually "Total Truth")

But there are practical benefits to Christianity. Our founding fathers knew that and that's why they chose Christianity, the principles of Christianity and most of our founding fathers were believers in Jesus Christ. That's documented, it's not just hearsay. It's documented.

What are the five practical benefits? First is, a civilized society. And civilized, according the Webster's Dictionary, 1828 dictionary, 'civilized' means decent, respectful, moral behavior. That's what civilized means. And we can stop and look at our society today and we don't have a very civilized society because we can see all kinds of depravity all the time. Our founding fathers believed that our government was a self-government and you can only have self-government if you have individual governance in your own life. And the less people are controlled by any restraints the more government you have to have to control them. That's just. . .we see that happening all the time. So they believed that we needed a civilized society. They also believed that Christian principles were the very reason for the way that our society was going to exist is because, and it goes back again to, you have to have self-governance.

One of our first Speakers of the House, and I never can remember his name, but he said men will be governed either by internal restraints or external restraints. Either by the bayonet or by the Bible. So we need to have the principles of Christianity for our society to exist.

Another practical benefit of Christianity is just good citizenship. Good citizens, okay. You know it doesn't matter if we live next door to an atheist, an infidel, or whatever, if they believe in a basic principle of right and wrong, which used to always be the ten commandments, if they're not going to come over and kill me or steal my stuff, or go after my husband and things like that, I can live next to them. No problem. People used to know what was right and what was considered wrong. Today, it's left up to anybody's, you know, discretion and that won't work.

Another practical benefit of Christianity was the elevation of knowledge, of learning, of science, okay, of the arts. They believed, matter of fact, Thomas Payne who wrote "Age of Reason" where he tried to say you don't need religion, you should keep it out of the public sector. Ben Franklin wrote him a letter and Ben Franklin, arguably is one of our lesser considered religious leaders, but he said to Thomas Payne don't write that book, don't publish that book. He said it will do you harm, it will do our nation harm. You know, he believed that we needed to have a society that was based upon Christian principles because elevation of science, elevation of knowledge is very important if you're going to have an informed public. And I believe it was Thomas Payne also said, you know, you can look at a picture and it makes you think of the artist, you can look at some kind of invention and you think of the inventor. Why is it that we look at the creation and we don't think about the creator. You know, we don't do that. And if we really had Christian principles our educational system would not be in the mess it is in today. I could give you lots of quotes about, oh Benjamin Rush and Noah Webster and Fisher Ames who actually penned the first amendment, the things they had to say about the main book in school should be the Bible. There's a lot of stuff about that that's really important and we certainly got away from it.

Another practical benefit, the last one, of Christianity is a cohesive value system. A cohesive value system. We don't have that today. And you know we think, we hear this all the time, we are such a large society today, we have such diversity in all these different religions and ethnic backgrounds and everything, you can't have a cohesive value system. Well, we didn't just have that right now. You can go back read some of the writings of John Adams, and he talks about the diverse society that they had back at the beginning of this nation. So Christian principles are very important in order to have a cohesive value system. So regardless of what your faith is you can live together. We have gotten away from these principles and it is affecting our lives today.

One of the main ways, and this is something I'm going to talk about a lot today, that is affecting our lives, is in the gay agenda. Now I'm not a gay basher, okay. When I taught school three doors down from me was one of the most obnoxious gay people that you can mention. If I named him you probably have seen him. He writes in the paper all the time and everything. But you know, he has the right to practice that life-style if he chooses but he does not have the right to indoctrinate his classes. You know, that's not what education is about. But what we see happening today is the homosexual agenda is destroying this nation. Okay, it's just a fact. If you've never read, here's another book, "The Criminalization of Christianity" by Janet Folger. Every Christian ought to read that book, "The Criminalization of Christianity". It is an awesome book and if that doesn't scare you and motivate you, something's wrong.

And here's the problem, the gay people are motivated. If we as, whether you're a Christian or not, if you're just a good conservative, if we were as motivated as the gay people were, the contest would be over. That's just all there is to it. It would be over. But we aren't motivated. I think we've been suckered by this lie of separation of church and state. But there is a new phenomenon going on, has been going on since the last four years in the gay movement and it's been headed by a gentleman by the name of Tim Gill. He's a software mogul guy who sold his Quark, Q-U-A-R-K, however you say that, he sold it for billions of dollars. He contributed 30 million dollars in '06 to races. He contributed that money to local races, state races and governor races. He gives money, yes to, on the federal level but primarily it's on the local level because his philosophy is this: if we're gonna really make changes, we're going to have to do it locally. And what's the saying we always hear and we know, all politics is local. And he along with a lot of other gay activists are very disappointed in the national democratic party because they've not, you know they say, they promise all this stuff, you know we'll acknowledge gays and etc., etc., but when it comes down to really doing policy in Congress, what's always the first to go? The gay agenda stuff, because those democrats, they don't want to alienate their base. So Tim Gill along with a bunch of other people, some other millionaires, billionaires have decided that the way to handle it is on the local level. And they contributed last year over 30 million dollars to state races. They targeted 13 states. They targeted 70 local politicians. They took out 50 of them. Tim Gill's goal is within 10 years to change the face of politics to make to where there is equality to all people, all lifestyles.

Now, I don't know about you, but the book that I base my life upon is God's word. And it says to love everybody and I try to love everybody but not everybody's lifestyle is equal. Just like not all religions are equal. Okay. All money isn't equal. You know, we have this dumb idea now days, that tolerance means that everything is equal. Well, everything is not equal. We see that in many areas of our lives. You know, all things are not equal. All religions are not equal.

But, uh, let me just read you some things. Tim Gill along with four other, three other people, let me find this here. I've got so much information, there's no way I can get all of this to you today, but I have it for you to read yourself. Along with a woman by the name of, I think it's Pat Stryker, and then her brother John Stryker. . .I know I've got them right here, I'll try to fish them out. . .Pat Stryker, Jared Polis and Rutt Bridges, they all right now are in Colorado and they have changed the face of Colorado. For 40 years Colorado's legislature was in the hands of Republicans in '06 it changed to hands of the Democrats. And the main reason is because they're pushing, these four people, along with other people, and I have a list of them here, the top ones, that you can see, , , and this is important because when you start looking at who's contributing to races, say that particular statewide race we're all concerned about, look for some of these names. They don't give more than a 1000 dollars because they don't want to draw attention, okay, but they will give up to a 1000 dollars and so you start looking for these names. And what they do, their strategy is very under-the-table, very stealth, and their goal is to find state legislatures that are very tight in their, you know, republican/democrat, and if just a few races can make the difference to switch it from republican to democrat, they're going to target that. And their goal is, in doing that, to intimidate republicans.

Now the problem we have, I think it's a problem, we've got some moderate republicans who think it doesn't matter what your lifestyle is, it doesn't matter if you're gay, it doesn't matter if you're for civil unions, you know. And you notice, the goal is, they're pushing civil unions right now. That used to be unheard of, but now that's pretty much acceptable. A lot of republicans are going for civil unions, okay. So you know what's going to happen next, 10 years from now, it's going to be gay marriage. Okay, they're taking little by little, they're taking ground little by little but they're doing it quietly, under-the-table. They're going into states where the races are close; they're putting in lots of money; and not only that, they're putting people on the ground. Let me read you this. Here this was really, I thought really interesting, I just want to read it. The key, this is from a guy by the name of Ted Trimpa, he's kinda like the Karl Rove for Tim Gill. "They key to success is real grassroots, organizing, knocking at the doors, and knock on them again and don't go turn out the gay vote, go knock on the swing doors as well," he says. "Knock on every door and knock day, after day, after day."

They took out in Iowa a guy by the name of Danny Carol who was the speaker pro-temp in the house. He thought his race was safe. He lost, a surprise loss. They put people on the ground, young college kids with their ipods going from door to door. Not just democrats, though, also republicans, trying to find those swing voters but they do it time and time again. They say it's expensive and time consuming but it is the absolute right way to do real grassroots politics, door to door, talking to the voters, having gay people go to them, allies of ours go to each of them, walk them through and you flip votes one by one. It's a strategy that works both in the legislature and in the field. They quote Tim Gill on another aspect of their political strategy. Tim says "you have to turn down the volume of opponent's 'anti' rhetoric. They can't just say and do everything with license. They have to know beforehand that it's going to cost them some votes and some serious money to play like that. It certainly doesn't stop it, but it turns it way down, and then when they do spew any 'anti' rhetoric, they look extreme. You have to create an environment of fear and respect,' said Tim Gill . "The only way to do that is to get aggressive and go out and actually beat them up politically. Sitting there crying and whining about being victims isn't going to get us equality. What is going to get us equality is fighting for it."

What they're trying to do is send a message of intimidation to those people who are taking a stand for traditional marriage and against the homosexual lifestyle. They want to silence us, is what they want to do. And it's happening all over the state. You know, the very fact that I'm talking to you like this, here today, puts me in jeopardy. Okay, and so, so be it. Okay, and I'm not 'anti', I'm not gay bashing, but according to God's word that is not the right kind of lifestyle. It has deadly consequences for those people involved in it. They have more suicides and they're more discouraged, there's more illness, their life spans are shorter. You know, it's not a lifestyle that is good for this nation. Matter of fact, studies show no society that has totally embraced homosexuality has lasted more than, you know, a few decades. So it's the death knell for this country. I honestly think it's the biggest threat even, that our nation has, even more so than terrorism or Islam, which I think is a big threat, okay. Because what's happening now, they're going after, in schools, two year olds. You know what they're trying to get early childhood education? They want to get our young children into the government schools so they can indoctrinate them. I taught school for close to 20 years and we're not teaching facts and knowledge anymore, folks, we're teaching indoctrination. Okay? We're turning out a citizenry who are learners but not thinkers. By that I mean, they take whatever is thrown at them. They don't question it. A thinker listens to what's given to them and then goes and researches and reasons about it and figures out is this right or wrong. We aren't developing students like that today. We're developing students who will do whatever the elites want. That's what we're headed toward and they're going after our young children as young as two years of age to try to teach them that the homosexual lifestyle is an acceptable lifestyle. And there are programs they're going after in school. It just, uh, I'm not going to say anymore about that because I have the material over there. You really need to read this article, seven pages, but read it. It has some interesting stuff in it. It will show you their strategy and we need to be forewarned.

Okay, now, where are the social conservative billionaires? I want to suggest to you that they are few and far between. Okay. We've got some, but they don't give money the way the gay philanthropists are giving their money, okay. And unfortunately I see a lot of our millionaire conservatives are really bought into big business and even big government and they don't support social conservatism. And I think that's a mistake. But in 10 years time our whole landscape, political landscape, could be changed if we don't start giving money, we social conservatives, people who have it, start giving money to candidates who will stand up for what is right, instead of buckling under this. So, it's just happening to us right and left.

You know gays are infiltrating city councils. Did you know, Eureka Springs, anybody been there to the Passion Play? Have you heard that the city council of Eureka Springs is now controlled by gays. Okay. There are some others, Pittsburgh, Pennsylvania, Tacoma, Maryland, Kensington, Maryland, in Vermont, Oregon, West Palm Beach, Florida and a lot of other places in Florida. What's happening? The homosexuals are getting involved politically on the most local level there is, city council, city government and they are winning elections and the first thing they're doing is passing, uh, laws, anti-discrimination laws and hate laws and things like that and, uh, you know, one of the things I deal with in our legislature is, I tried to introduce a bill last year that would notify parents, schools had to let parents know what clubs their students were involved in. And the reason I did that bill, primarily, was this, we have the gay/straight alliance coming into our schools. And we had parents say, if I knew my child was involved in that group I wouldn't let them. Kids are getting involved in these groups, their lives are being ruined, their parents don't know about it. So I introduced a bill that said you have to notify all clubs and things. And one of my colleagues said, 'well you know we don't have a gay problem in my community and that's why I voted against that bill." Well, you know what? To me that is so dumb. If you got cancer or something in your little toe, do you say, well you know, I'm just going to forget about it because the rest of me is just fine. It spreads, and this stuff is deadly and it's spreading and will destroy our young people and it will destroy this nation.

But they're going after city councils, they're influencing schools sex-ed at schools. Respect for differences in human sexuality is a big sex-ed program they're trying to get into all the schools. And basically what is, it's teaching that you have to be tolerant, you have to accept homosexuality.

This brings in our libraries. Okay, you know I believe in the principle as a person thinks, as a man thinks, so is he. That's why we have to be careful about what we read, what we watch, things like that, what music we listen to and stuff because what goes in is what comes out. Garbage in, garbage out. We know that with computers. You know, what you put in is what you get out. Okay. You take our young minds and the garbage that they're reading in our libraries and I mean it's garbage. I should have thought and brought you some excerpts of some of the stuff that, uh, I mean there's no literary value to it at all. It is pure filth. The language, the acts, the things that are going on and yet our kids are reading it, I mean, they are reading in the droves. Okay. Kids go home and I see some high school kids couldn't wait to get out so they could go home and see their favorite soap opera. And I tell them, look, that is not real life. They do anything they want and don't suffer consequences. In real life you got consequences.

So, uh, hate crimes, this leads to hate crimes. If we have hate crimes our free speech will be silenced. Okay. You know I'm not a lawyer, but I think I know enough about this. Law should be dealing with our actions, not with what we are thinking. Nobody can read my mind; nobody can read your mind. Okay. If two little old ladies are both murdered, you know, and one's gay and other isn't, why should the one that was gay, her murderers receive a harsher crime than the one's who murdered the other little old lady? They're both dead. You know, murder is murder. So we've gotta watch; they are coming after these kinds of bills.

Another thing that I'm real big on that is a real detriment to this society is evolution. Evolution undermines Christian principles. Period. That's all there is to it. You either believe there is a creator or you believe there isn't. Some people say well I believe there is a creator and he used evolution. There's a lot of problems there folks. When does sin come in, when does the spirit come in? You know, it's evolution. You read God's word and you will see the word creation all through it, old and new testament. And it undermines people's faith. They have trouble reading or believing the Bible.
See also:
Sally Kern Is a Little Confused
Sally Kern's Economic Fallout
Sally Kern's Meeting with PFLAG on Tape
Exodus' Local Ministry Aligns with Sally Kern
Certified Cameronite: Sally Kern
Kern Speaks to College Republicans
Sally Kern: Out of Context? The Complete Transcript
We Be Jammin'
Muslims and Gays United
OK State Rep. Sally Kern's Son is "Straight and Not Gay"
Sally Kern Exaggerates Death Threats
A Letter to Sally Kern
LaBarbera Award: Oklahoma State Rep. Sally Kern