Huckabee Proposes the Re-education of the American Mind
Jim Burroway
March 31st, 2011
Former Arkansas governor and GOP presidential Mike Huckabee spoke at the Rediscover God in America conference in Iowa last weekend. Before launching into his speech, Huckabee gave a shout-out to Christian historical revisionist David Barton. Barton, who is touted as a "historian" at the conference despite having no discernible credentials, holds that America was founded as an explicitly Christian nation and presents what he calls a "holy history" of America. Last October, Barton called on the U.S. government to "regulate homosexuality."
Barton introduced Huckabee at he Rediscover God in America conference. Huckabee thanked Barton for his introduction and said, "I just wish that every single young person in america would be able to be under his tutelage and understand something about who we are as a nation. I almost wish there would be like a simultaneous telecast, and all Americans would be forced — forced, at gunpoint no less — to listen to every David Barton message. And I think our country would be better for it."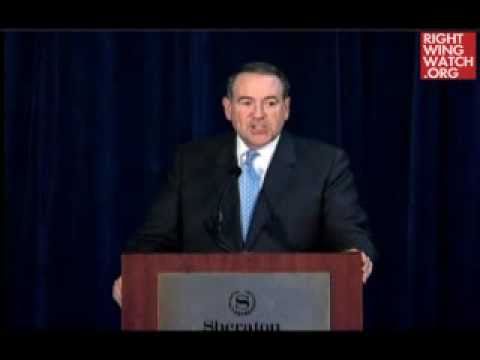 I seem to recall North Vietnam doing something along those lines…
Okay, I know that he appears to be joking — the audience is laughing as though he were. But remember, this is the guy who defended the suggestion that gay men with HIV should have been rounded up and quarantined back in the day. And when he said that, he definitely wasn't joking. In fact, he carefully parsed his message in order to try to make himself clear. So let's just say that I haven't the capacity for giving him even the smallest smidgeon of the benefit of doubt on this one.
Huckabee went on to call for "spiritual warriors" in a battle that "pits good against evil." Among those evils: marriage equality: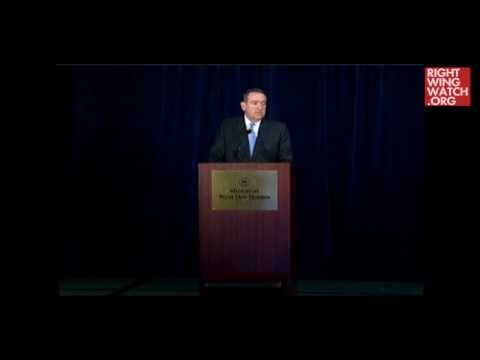 Other possible GOP contenders speaking at the conference included former House speaker Newt Gingrich, Rep. Michele Bachmann (R-MN), and Mississippi governor Haley Barbour.
Comments