Maggie's column retires
A Commentary
Timothy Kincaid
January 3rd, 2013
For seventeen years, Maggie Gallagher has written a bi-weekly column hosted by Universal Uclick on matters of family from a conservative, mostly Catholic perspective. Yesterday was her last.
Gallagher has been a nationally syndicated columnist for over 17 years; Universal Uclick launched her first column in June of 1995. She began publishing a column twice a week, but for the last three years has written a column once a week. Maggie is particularly known for writing about life, sex, babies, marriage, and culture–culture war topics but with a civility and grace that seeks to explain, not denounce.
And, until recently, that's a fair assessment. When I began blogging at BTB, I understood Maggie to be a gracious person motivated by a firm belief that a culture based on the teachings of her church was to the advantage of all. There were, and are, haters aplenty – but Maggie was not someone I considered in that category.
But she was writing at that time for the team that appeared to be winning. All the points on the scoreboard were on her side and its not so hard to be magnanimous to the folks you just stomped all over.
But political will has shifted. Equality is now the presumed eventual winner. It's harder to be nice.
And it's also tough to become the face of the enemy. To be considered Hater-in-Chief when you do not see yourself in those terms at all. Maggie went into the marriage battle believing that she was on good terms with gay people and simply had the opposite side in a civil debate over how best marriage should be constructed. She found herself the most hated woman since Anita Bryant.
And, I believe it got to her. Her speeches picked up tones of bitterness and anger. And as the issue became increasingly personal, Maggie's activism shifted from supporting the existing exclusions in marriage to opposing gay rights generally and, at times, gay people. She became what her critics said she was.
And that is sad. Not only for her but for us.
As the nation moves on the path to fuller inclusion, we are all best served by opposition that is driven by principle rather than animated by animus. Our arguments are best honed on the rebuttal of those who seek not our destruction but simply want what is best for the nation.
And that is what Maggie was at one important point on our journey.
Yes the end of Maggie's column is another victory for equality. It is one more indication that the war is won and now we are just fighting the battles that lead to terms of peace.
But it is also – to me anyway – a sad thing. I think our culture was strengthened by her firm voice and it was, indeed, the presentation of our opponents' best arguments that allowed us this victory. She stated her best case, and spoke with courage and passion, but ultimately the nation heard her clearly and rejected her view.
Maggie will continue writing and speaking. But is is a shadow of her confident period. Now there is defeat in her eyes and desperation in her encouragement. Her time has passed and her voice has been quieted.
Maggie's Freudian slip
Timothy Kincaid
November 7th, 2012
Writing in National Review Online, the National Organization for Marriage's Maggie Gallagher opined with her observations about what drove last night's election results:
The Obama electorate defeated marriage. I'm guessing we lose at least three of tonight's four races, and maybe four of the four. We were outspent eight-to-one — and no one was willing to speak for marriage, while the whole Democratic establishment and Hollywood campaigned for marriage. Last night really is a big loss, no way to spin it.
Catch it?
"…the whole Democratic establishment and Hollywood campaigned for marriage."
Not "campaigned against traditional marriage", not "campaigned for articifical marriage". No, Maggie got it right.
The Democratic establishment and Hollywood (and a whole lot of others) campaigned FOR MARRIAGE, for the integrity and dignity of a treasured institution that it not be sullied by exclusion or animus or smug superiority.
(oh, and someone slip Brian Brown a note about spinning)
The case for Romney
Timothy Kincaid
November 5th, 2012
There aren't many good reasons for a gay person to vote for Mitt Romney this year. But anti-gay activist* Maggie Gallagher presents his best case, such as it is. She, of course, doesn't see it as such: (National Review)
Meanwhile the GOP elites' tactical decision to ignore social issues totally is not helping. The major Romney super PACs are "truce" PACs, refusing to run any social-issue ads at all — except the one saying Romney actually supports abortion in some cases. Pennsylvania, Minnesota, Iowa, Ohio, Virginia, North Carolina — these are all states where, if voters learned how extreme President Obama is on abortion and gay marriage, it would help Romney.

Social conservatives are absent from this election. Their money isn't being used in any visible way to organize voters. If Romney loses, this will be part of the reason why.

If Romney wins — and I think he will — look for an intense effort to finally push social issues out of the party.
I guess that would be the silver lining to hope for. Or, at least, a 'lighter shade of gray' lining
* There was a time when I would have held off on calling Maggie an anti-gay activist. But her rhetoric has, in the past few years, broadened from being opposed to equality due to her concerns about its feared consequences to comments that can only be seen as expressing contempt for, or superiority over, gay people. And NOM has veered into blatant homophobia and gay baiting. It's about a half-step from being a hate group.
Maggie Gallagher: "I Need a Picture… He's Black, He's On Our Side"
Jim Burroway
March 27th, 2012
Louis Marinelli, the National Organization for Marriage's former tour organizer, is updating this post with more emails illustrating NOM's implementation of their previously secret strategy documents pitting African-Americans against fellow LGBT citizens. Those emails seem to show Maggie Gallagher's growing obsession with pictures of black people. One email, titled, "I need a close-up photo of Bishop Battle for the newsletter tomorrow) explains the need in very simple terms: "He's black, he's on our side, he's COGIC (Church of God in Christ)" Another email following a rally in Washington, D.C. has Gallagher giving this direction:
I'm told the rally was two-thirds blacks. All the photos we have up are taken behind white people. Any phot (sic) that shows the crowd as it was. Please send it to me and Eve tushnet (sic) for use in this week's newsletter. I would also like a photo of Faunteroy for the Newsletter.

And think it should go up on the blog. Maggie
Here are two photos from the D.C. rally. It looks like Maggie heard wrong. Marinelli says more revelations are coming.
Understanding Maggie
Timothy Kincaid
February 8th, 2012
Maggie Gallagher doesn't hate you. She doesn't even hate your marriage. Because hate is an emotion, a passionate feeling, and emotion simply doesn't enter into Maggie's approach to her work. Hers is a world of thought, of commitment to an ideal, the concept of marriage, and her analytical approach to affirming its unquestionable attributes and values.
Or so finds Mark Oppenheimer in a new Slate article that seeks to understand the motivations and drives of Maggie Gallagher the author and activist and how that person differs from Maggie Gallagher the mother, wife, and friend. This is a valuable look into Maggie's world, one that each of us should know as we continue our fight for equality.
NOM Manufactures Some Outrage
Rob Tisinai
January 31st, 2012
NOM's blog has a new post up, with its most outrageously outraged headline ever, about NJ Gov. Christie nominating an openly gay man to the state Supreme Court:
Tell Christie to Withdraw Nomination of Pro-SSM Judge For Extremist Views Equating Christianity and Slavery
The basis for their outrage? A letter written by nominee Bruce Harris in 2009 to State Senator Joe Pennacchio about marriage equality:
When I hear someone say that they believe marriage is only between a man and a woman because that's the way it's always been, I think of the many "traditions" that deprived people of their civil rights for centuries: prohibitions on interracial marriage, slavery, (which is even provided for in the Bible), segregation, the subservience of women, to name just a few of these "traditions."

I hope that you consider my request that you re-evaluate your position and, if after viewing the videos, reading Governor Whitman's letter and thinking again about this issue of civil rights you still oppose same-sex marriage on grounds other than religion I would appreciate it if you you'd explain your position to me. And, if the basis of your opposition is religious, then I suggest that you do what the US Constitution mandates—and that is to maintain a separation between the state and religion.
Maggie Gallagher surprised me by calling this letter "intemperate" in the National Review. Really? The only problem mistake I saw was the comma after "slavery" (this is why no one invites me to parties). It wasn't until NOMblog picked up the story that I saw her objection.
But is it valid? Does Harris equate Christianity and slavery? Of course not.
The only link between slavery and Christianity in Harris's letter is a factual parenthetical that is factual which factually points out that the Bible in fact factually provides for slavery. Which is a fact. Harris is just pointing out something that theologians have been grappling with for centuries, including many who created Christian arguments against slavery.  It's no crime merely to point out that these verses exist (or to warn against a glibly literal application of the Book to public policy). In fact, it's anti-Biblical to pretend the verses aren't there.
Harris's letter does three simple things:
It cautions against using tradition as an argument against marriage equality.
It cautions, on Constitutional grounds, against using religion as an argument against marriage equality.
It politely requests information on what other grounds the good Senator might be opposing marriage equality.
Bruce Harris's letter is clear, temperate, factual attempt to point out some truths and open an honest dialog. Maybe that's why Maggie and NOM hate it so.
Maggie's Strategy: Denying Reality
Rob Tisinai
January 27th, 2012
I got a fundraising email from Maggie Gallagher the other day. It's unbelievably long (as in, I can't believe she expects people to read this whole thing). One sentence jumped out at me before I gave up on the piece.
Are two men pledged in a sexual union really a marriage?
Personally I'd answer, No.
Actually, I'd blink twice, tilt my head, squint quizzically, and then answer, No. Mostly because I don't know many men who have pledged to each other in a merely sexual relationship.
On the other hand, suppose Maggie had asked:
Are two men in romantic relationship — who have pledged to have and to hold from this day forward, for better or for worse, for richer, for poorer, in sickness and in health, to love and to cherish, from this day forward until death does them part — in a marriage?
I'd answer, Of course.
But of course, Maggie didn't write that. She knows it would devastate her argument. She knows the only way she can win is to deny that such a commitment is even possible between two men. That's why NOM's website contains this false and dehumanizing assertion:
Love is a great thing. But marriage isn't just any kind of love; it's the special love of husband and wife for each other and their children.
'Cause you see, two men can't feel that kind of love. Not for each other. Not for their kids.
Maggie's key strategy here is denial of reality. We see the same thing in different words from NOM's resident intellectual (God help them) Jennifer Roback Morse, who claims marriage equality will reduce the institution to nothing more than a "registry of friendships."
Again: denial of reality. And it truly is offensive. Compare it to statements like these:
But marriage isn't just any kind of love; it's the special love of two white people for each other and their children.
But marriage isn't just any kind of love; it's the special love of two non-Jews for each other and their children.
But marriage isn't just any kind of love; it's the special love of Gringich and his woman-of-the-moment for each other and their children.
Well, perhaps that last item doesn't belong. But those first two statements are no less offensive than what NOM wrote about gay and lesbian relationships.
Okay, that last bit was kind of a tangent. My real point here is that our opponents resort to this rhetorical strategy all the time. We need to point out that it's not just false, but self-defeating. Not just wrong, but devastating to their own argument. We need to Gingrich ourselves up (rhetorically, not maritally), stop playing defense, and turn their words against them. We need to say:
No. It's not just a sexual union. It's not just a friendship. And if you can't make your case by calling things what they are, then you don't have a case at all.
Maggie Gallagher endorses Rick Santorum
Timothy Kincaid
January 16th, 2012
National Organization for [Catholic] Marriage's Maggie Gallagher has endorse Pope Rick, as was anticipated. In doing so, she had far less to say about his policies or qualifications than she did about the meanies who are mocking the candidate:
They will go after him not just to defeat Rick Santorum, but to smear his good name, to associate it with their own muck, to take a decent and honorable man and try literally to make his name mean mud.
Oh, Maggie, no one is trying to literally make his name mean mud! Even a box of rocks knows that.
The box of rocks is very familiar with mud and considers mud to be a good friend. But it tries to keep a garden hose handy if there is any chance of coming in contact with santorum.
Study confirms Maggie Gallagher's claim
Timothy Kincaid
December 19th, 2011
Maggie Gallagher, the nation's chief opponent to marriage equality, loves to claim that marriage is good for society because those who are married live healthier lives. And a new study appears to confirm that claim.
From the NY Daily News
A report published in the American Journal of Public Health shows that in states where gay marriage is legal, homosexual men visit doctors less and their health costs go down considerably.

"Our results suggest that removing these barriers improves the health of gay and bisexual men," Mark Hatzenbuehler, a Robert Wood Johnson Foundation Health & Society Scholar at Columbia University's Mailman School of Public Health, said in a news release
Of course, Maggie only meant heterosexuals who are married. Alas.
I didn't really need a study to know that those who are in committed relationships take fewer risks, enjoy greater contentment, and have someone there to nag them about their weight. But it's nice to have confirmation… Of sorts.
To be honest, I don't place much faith in this actual study. Comparing one year to another year in one clinic has about as much statistical value as guessing. But I guess it did at least show that enacting equality doesn't lead to increased health costs – as The Peter absurdly likes to imply.
But Maggie and her NOM buddies just love statistically irrelevant studies and if she were consistent she'd see this as evidence in favor of marriage equality.
So does that mean Maggie will switch sides and support marriage? Nope. Even if this were irrefutable proof that marriage equality would improve the health of ever gay person with no negative consequences for anyone gay or straight, Maggie would still fight to keep inequality in place. Because your health is a far far lower priority than having her church get to dictate what law and culture should allow.
Maggie Gallagher Lies. Or Forgets. Or Something.
Rob Tisinai
December 9th, 2011
Maggie Gallagher ought to remember that her opponents know how to Google.
Today, over on NOMblog, she offers us this:
I would like to say personally that nothing in any argument I've ever made on gay marriage, rests on the idea that same-sex couples harm their own children at any higher rates than any other family form.
Really? How about this, from January 28, 2010, in which Maggie reports on a study about child abuse, a study that didn't look at same-sex couples:
Question: What kind of family structure best protects children from child abuse?

Answer: Married biological parents. (see page 5-25).

…

Children living with both their mom and dad united by marriage have one-third the rate of serious child abuse, compared to children in any other family structure.

Here's my question for Ted [Olsen] and David [Boies] as they strive to prove that Science Says same-sex unions are just like opposite-sex ones, when it comes to children.

Perhaps you are right. Perhaps alone of all the family structures science has ever studied, children living with same-sex couples do just as well as children in intact married families…

But does this study, which is one of hundreds with similar results favoring the natural family give Ted Olson and David Boies pause late at night as they assert the scientific irrationality of respect for the natural family at all I wonder? Ted and David, I'm wondering: not even a little bit?
Here we have Maggie arguing that we should think twice about gay marriage because it's possible same-sex couples harm their own children at a higher rate married biological parents do — a possibility she admits is completely unsupported by evidence, even as she couches it in terms that make it sound likely.
Now what did she just claim today?
I would like to say personally that nothing in any argument I've ever made on gay marriage, rests on the idea that same-sex couples harm their own children at any higher rates than any other family form.
Google, Maggie, Google.
Hating the Sin. Not Giving a Damn About the Sinner.
Rob Tisinai
October 26th, 2011
Will is a full-time student with a part-time job. I work for a big company with spectacular benefits. And as of January 1, Will's going to be covered under my medical and dental plans, because my firm has a provision for domestic partners.
Yay.
Our opponents often blast companies for offering such benefits, and are dead-set against having state, local, or federal governments offer such a thing.
Sometimes the objections are foul. It'll cost too much money! It would be awful to let a straight person's spouse die of lingering treatable cancer, but it's just good fiscal sense to strand homos in medical hell.
Sometimes the objections are patently false, like Maggie Gallagher's naive belief that two working spouses will each naturally take care of their own health insurance.
And sometimes the objections are just plain ignorant, as when Maggie claims that not being allowed to marry offers this super-cool benefit: "the ability to walk away from a partner's medical debts."
!
Wait, that's not enough.
!!!!!!!!!!!!!!!!!!!!!!!!!!!!!!!!!!!!
Maggie may be legally correct, but she's morally ignorant.  What makes her think I value this ability to "walk away"?  Will's medical bills — and general welfare — are my responsibility, just as mine are his.  That doesn't change just because we're in a same-sex committed relationship.  Is that so impossible to understand?
Our religious opponents continually claim they hate the "sin" but love the "sinner." But it's this sort of thing — this exact sort of thing — that shows how meagerly our opponents understand us, how little they even care to understand us, and how empty their claim is of sweetly and religiously loving us.
Not so skurrred
Timothy Kincaid
September 22nd, 2011
Once it became evident that Perry v. Schwarzenegger – the Proposition 8 trial – would be followed closely by the public and once it was abundantly clear that those supporting Proposition 8 had nothing to offer in its defense but speculation, tradition, and animus, the Proponents knew they had to do something. So they insisted that the case not be shown to the citizens, going so far as the Supreme Court.
But you can't tell the court (or the public) that your witnesses aren't going to witness because they will look like fools, so the Proponents came up with a unique explanation. Gays are violent threatening people and the witnesses are terrified of repercussions. (Washington Times)
"Brian Brown, executive director of the National Organization for Marriage, which campaigned for Proposition 8 but isn't a party to the case, said he is worried about the safety of witnesses, who could include contributors, campaign staff and volunteers.

'The question is really whether Judge Walker can put people on the stand where they can be threatened,' said Mr. Brown. 'It's a question of people's safety.'
But Brian Brown and his integrity parted ways long ago. In reality, none of the witnesses – indeed, no anti-gay activists – fear gay people. Our community is one which has been welcoming and a safe place for pretty much anyone.
Surely there is no person in this country more singularly associated with the campaign to deny gay people their civil marriage rights than Maggie Gallagher… the same Maggie Gallagher who went alone to a theatrical production this week where she knew that the overwhelming majority of people around her would be gay.
Because she knew she'd be safe.
Confirmed: Maggie Gallagher Steps Down As NOM Board Chair
Jim Burroway
September 22nd, 2011
Following an earlier Tweet from an AP reporter, the National Organization for Marriage has now confirmed that Maggie Gallagher is stepping down as board chair, and that John Eastman has been tapped for the position. According to NOM's press release:
Dr. John Eastman is the former Dean of Chapman University Law School in California and is the Founding Director of the Center for Constitutional Jurisprudence, a public interest law firm associated with the Claremont Institute. He has participated in over 50 cases in our nation's highest courts, including such landmark cases as the Pledge of Allegiance case, the Boy Scouts of America case, the Ohio school vouchers case, the Kelo case involving property takings, and the Partial Birth Abortion Ban Act case. Dr. Eastman is a former clerk to United States Supreme Court Justice Clarence Thomas. He received his J.D. from the University of Chicago and a Ph.D. in government and political philosophy from Claremont Graduate School.

…John Eastman stated, "Marriage has quite correctly been described as a bedrock of civilization. Protecting the institution of marriage is a critically important issue, and I'm honored to join such distinguished company on the Board of such a phenomenally effective organization as the National Organization for Marriage."
The press release also quotes Gallagher:
"I will remain on the NOM board, and continue to work on specific projects for NOM, as well as taking on some additional outside projects I've long deferred, such as finishing my book Debating Same-Sex Marriage¸ which I've been working on for Oxford University Press with Prof. John Corvino," Gallagher added.
Maggie Gallagher Out at NOM?
Jim Burroway
September 22nd, 2011
That's what AP reporter David Crary tweeted:
John Eastman's bio at Chapman University is here. He's an attorney and founding director of the conservative Center for Constitutional Jurisprudence, which is affiliated with the Claremont Institute, dedicated to "restor[ing] the principles of the American founding fathers to their rightful, preeminent authority in our national life. Eastman is also a former law clerk for US Supreme Court Justice Clarance Thomas. We'll have more as this develops.
Maggie Gallagher Attends Staged Reading of "8″ In New York
Jim Burroway
September 20th, 2011
National Organization for Marriage founder Maggie Gallagher was in the balcony of the Eugene O'Neil Theater for the all-star world premiere of Dustin Lance Black's new play "8″, which is based on the trial transcripts of Perry v Schwarzenegger, the federal court case which declared California's Proposition 8 unconstitutional. The play featured all the major courtroom figures, with John Lithgow as Ted Olson, Morgan Freeman as David Boies, Bradley Whitford as Alliance Defense Fund attorney Charles Cooper, and Jayne Houdyshell as Maggie Gallagher. Meanwhile, Gallagher herself was sitting in the balcony, grazing away:
My friends Phil and Ronald sat directly in front of her. You can see Ronald in the top photo. They had a hard time listening to the show because along with her nerve, Ms. Gallagher brought a large plastic bag of loud food, which she rustled and munched throughout the production (she's still got it on the way out). Perhaps she thought it was a popcorn flick she was going to. In any case, someone should have told her that it's rude, perhaps even against the rules, to eat in the theatre.
Much of the play was taken directly from the trial transcripts themselves, interspersed with screenings from the Yes on 8 campaign. The transcripts are part of the public record, although the video recordings taken during the trial are not — yet. The reading was a fundraiser for Americans for Equal Rights, who are backing the Prop 8 litigation on behalf of California couples. Other cast members included Ellen Barkin, Kate Shindle, Stephen Spinella, Matt Bomer, Campbell Brown, Anthony Edwards, Cheyenne Jackson, Larry Kramer, Rob Riener, and many more.
Maggie Gallagher Pines for Pawlenty
Jim Burroway
August 5th, 2011
She also has designs on Perry. National Organization for Marriage's Maggie Gallagher appeared on CBN to discuss NOM's marriage pledge which has already been signed by Minnesota Rep. Michelle Bachman, former Massachusetts Gov. Mitt Romney, and former Pennsylvania Sen. Rick Santorum. The wide-ranging pledge (CBN's interviewer strangely called it "narrowly-written") calls on GOP presidential candidates to:
Support the Federal Marriage Amendment defining marriage as one man and one woman,
Defend the Defense of Marriage Act in court,
Apply a marriage litmus test for judges and the attorney general,
Appoint a presidential commission to investigate so-called "harassment" of traditional marriage supporters,
Demand that marriage be put to a vote in the District of Columbia.
Gallagher expects Texas gov. Rick Perry to sign the pledge one he officially announces his candidacy. But one major holdout,  Minnesota gov. Tim Pawlenty, has Gallagher pleading for his support: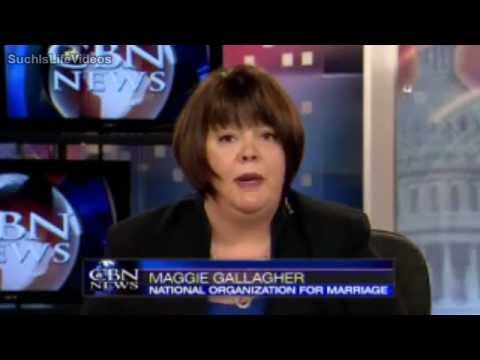 Well we will certainly offer the opportunity to Governor Rick Perry and any other major candidates who step into the race. We understand that before you're declared candidate it would probably not be appropriate to start signing pledges. The big question is what's going to happen with Governor Tim Pawlenty, who explicitly declined to sign NOM's marriage pledge this week. We're hoping the governor changes his mind because we think it's pretty peculiar for governor Pawlenty, who has been a champion for marriage in Minnesota, to refuse to do the same for the people of America.
Gallagher is counting on victories in passing anti-marriage amendments in Minnesota and North Carolina, and expects a rollback on marriage in New Hampshire in January.
Click here to read the full transcript.
Still having fun, Maggie?
Rob Tisinai
July 22nd, 2011
Happiness is when reality exceeds your expectations. Apparently the National Organization "for" Marriage has officially lowered its expectations.
Over on their blog, NOM is happily touting a new poll in a post called, New Quinnipiac Poll: Majority Does NOT Support SSM:
The latest Quinnipiac poll:

Would you support or oppose a law in your state that would allow same-sex couples to get married?
Oppose: 48%
Support: 46%
Don't Know/NA: 6%

Among Republicans:
Oppose: 72%
Support: 24%
Don't Know/NA: 4%
Not so long ago, they'd have despaired at a slim margin like that. But with poll over poll over poll showing majority support for marriage equality, these numbers are the happiest news they can find.
That's almost sad.
Heh, heh, heh.
You have to wonder, though:  How happy should they be? I hate spoiling their fun…but if you insist:
This is not the headline they want.
They wrote the headline, Majority Does Not Support SSM, but they'd much rather have written, Majority Opposes SSM. That's one of their favorite talking points. Guess, they'll have to retire it — even the polls they promote don't let them say it.
So sorry, NOM.
The trend is against them.
They left a bunch of stuff out of their report. For instance, Quinnipiac's comparison of these results to the ones they got two years ago:
Does that look like cause for a big NOM victory party?
So sorry.
They can't even claim with confidence that they're ahead.
Quinnipiac's margin of error is ± 2%. That means the true results are somewhere in the range of 50-46 for NOM or 48-46 against NOM. Let me adjust the graphic to account for this margin of error. The wider lines indicate the 4% range for each result.
See how the lines now overlap? Didn't used to happen.
So sorry.
They're losing support in their base.
NOM gave us the Republican numbers for 2011, but not for 2009. Let me rectify that.
| | | |
| --- | --- | --- |
| Republicans/SSM | April 2009 | July 2011 |
| Oppose | 80% | 72% |
| Support | 17% | 24% |
| Don't Know/NA | 2% | 4% |
NOM, you can't even hold onto your own base.
So sorry.
A solid majority thinks the federal government should recognize same-sex marriage.
| | | |
| --- | --- | --- |
| Federal SSM Recognition? | April 2009 | July 2011 |
| Oppose | 39% | 34% |
| Support | 54% | 59% |
| Don't Know/NA | 6% | 7% |
Oops — NOM, looks like you lost that one a couple years back. And you're losing even worse now.
So sorry.
Did I say happiness is when reality exceeds your expectations? Then I'm happy, because I never expected NOM to view these numbers as good news. NOM has lowered its expectation and revealed it to the world. Maggie Gallagher recently said people should fight same-sex marriage because "Winning is fun." I'm wondering Maggie, was New York fun? Were these numbers fun? Because writing this sure was fun for me.
Oh, I shouldn't gloat.
So sorry.
NOM's "Jesus" Is Crying
Jim Burroway
June 25th, 2011
This is what you'll find on the National Organization for Marriage's facebook page right now.
Also, "vengeance is mine," sayeth Maggie Gallagher.
[Via Alvin McEwen]
Maggie's Minnesota poll mixup
Timothy Kincaid
May 13th, 2011
Maggie Gallagher's National Organization for Marriage put out poll results last week that showed that Minnesotans overwhelmingly support a constitution amendment to ban marriage equality in the state.
56 percent of Minnesotans said only heterosexual marriages should be recognized in Minnesota and 42 percent said they supported same-sex marriage. The poll, by the National Organization for Marriage, Minnesota Family Council and Lawrence Research, also says that 74 percent of Minnesotans want to vote on the marriage amendment.
The Minnesota Independent asked for more details about the poll, the questions asked, and the methodology used. Considering the accuracy of some of Maggie's other polls, this seems reasonable. But it turns out that polling questions and methods are just like images of anti-gay witnesses and the identity of anti-gay donors: super-duper secret.
But now the Star Tribune has put out their Minnesota Poll which finds responses a bit differently than NOM. They also happily provide details about their questions and methodology.
Fifty-five percent of respondents said they oppose adding such an amendment while 39 percent favor a constitutional ban — views that appear to be a sharp reversal of poll results seven years ago.

Opposition to the ban generally cuts across all ages, though support rises gradually with age. Sixty percent of Minnesotans aged 18 to 34 oppose the idea. A slim majority, 51 percent, of Minnesotans older than 65 oppose the constitutional ban.
Now, I'm not calling Maggie a liar. Nor am I suggesting that she wouldn't know the truth if it snuck up and bit her on her prodigious posterior. I'm not even implying that Maggie and her integrity parted long ago on such bad terms that if they find each other in the same room they scowl.
Not at all.
I merely think that Maggie accidentally reversed the "support" and the "oppose" results in her poll.
Anti-Gay Activists React to DOMA Announcement
Jim Burroway
February 23rd, 2011
Brian Brown from National Organization for Marriage lost his already limited capacity for original thought and channels John Paul Jones:
We have not yet begun to fight for marriage," said Brian Brown, president of NOM."The Democrats are responding to their election loss with a series of extraordinary, extra-constitutional end runs around democracy, whether it's fleeing the state in Wisconsin and Indiana to prevent a vote, or unilaterally declaring homosexuals a protected class under our Constitution, as President Obama just did," said Brown. "We call on the House to intervene to protect DOMA, and to tell the Obama administration they have to respect the limits on their power. This fight is not over, it has only begun!"
Maggie Gallagher chimes in:
On the one hand this is a truly shocking extra-constitutional power grab in declaring gay people are a protected class, and it's also a defection of duty on the part of the President Obama," said Maggie Gallagher, Chairman of NOM, "On the other hand, the Obama administration was throwing this case in court anyway. The good news is this now clears the way for the House to intervene and to get lawyers in the court room who actually want to defend the law, and not please their powerful political special interests."
Liberty Counsel's Mat Staver, who charged that allowing same-sex marriages would lead to an epidemic of violent crime, called Obama the most divisive President in US History:
Regardless of President Obama's own ideological agenda, as President, he and his Attorney General have a duty to defend lawfully passed legislation, especially when the essence of the law has been upheld by many courts. Thirty states have passed marriage amendments affirming marriage as one man and one woman. Today President Obama has abandoned his role as President of the United States and transformed his office into the President of the Divided States. He has been the most divisive president in American history. He has today declared war on the American people and the fundamental values that are shared by most Americans. His radicalism resulted in the historical push-back in the 2010 elections. His radicalism today will come back around when the people respond to this betrayal in 2012," said Staver.
Focus On the Family's Tom Minnery wants Congressional Republicans to drop whatever they're doing and pick up the flag:
"We would hope Congress uses the tools at its disposal to counter this decision and defend marriage," Minnery said.
What should Congress do? Family Research Council's Tony Perkins wants Congress to take Holder's bait by dropping their "only interested in the deficit" mantra and reveal what many suspect to be their true colors:
"With this decision the President has thrown down the gauntlet, challenging Congress. It is incumbent upon the Republican leadership to respond by intervening to defend DOMA, or they will become complicit in the President's neglect of duty," concluded Perkins.
American Family Association's Bryan Fischer, who recently said that he would "fight to the last ditch" for marriage discrimination, has Perkins's back:
"I think it's a clear sign that we simply cannot avoid engaging on the social issues," Bryan Fischer, director of issue analysis for the group, told TPM. "Mitch Daniels has called for a truce on social issues and that would be fine if the homosexual lobby was willing to lay down arms, but they're obviously not and this proves it. A truce is nothing more than a surrender."
So far, House Speaker John Boehner is staying on message and has declined to take the bait:
A spokesman for House Speaker John Boehner, R-Ohio, criticized the administration change of position. "While Americans want Washington to focus on creating jobs and cutting spending, the president will have to explain why he thinks now is the appropriate time to stir up a controversial issue that sharply divides the nation," said spokesman Brendan Buck.
Update: Potential GOP Presidential candidate and former Arkansas Governor Mike Huckabee found a clever way to blame gay marriage for increasing the deficit:
Nonetheless, Huckabee opposes gay marriage on the grounds that, according to him, it destroys traditional families.  "There is a quantified impact of broken families," Huckabee said. "[There is a] $300 billion dad deficit in America every year…that's the amount of money that we spend as taxpayers to pick up the pieces because dads are derelict in their duties."