Hating the Sin. Not Giving a Damn About the Sinner.
Rob Tisinai
October 26th, 2011
Will is a full-time student with a part-time job. I work for a big company with spectacular benefits. And as of January 1, Will's going to be covered under my medical and dental plans, because my firm has a provision for domestic partners.
Yay.
Our opponents often blast companies for offering such benefits, and are dead-set against having state, local, or federal governments offer such a thing.
Sometimes the objections are foul. It'll cost too much money! It would be awful to let a straight person's spouse die of lingering treatable cancer, but it's just good fiscal sense to strand homos in medical hell.
Sometimes the objections are patently false, like Maggie Gallagher's naive belief that two working spouses will each naturally take care of their own health insurance.
And sometimes the objections are just plain ignorant, as when Maggie claims that not being allowed to marry offers this super-cool benefit: "the ability to walk away from a partner's medical debts."
!
Wait, that's not enough.
!!!!!!!!!!!!!!!!!!!!!!!!!!!!!!!!!!!!
Maggie may be legally correct, but she's morally ignorant.  What makes her think I value this ability to "walk away"?  Will's medical bills — and general welfare — are my responsibility, just as mine are his.  That doesn't change just because we're in a same-sex committed relationship.  Is that so impossible to understand?
Our religious opponents continually claim they hate the "sin" but love the "sinner." But it's this sort of thing — this exact sort of thing — that shows how meagerly our opponents understand us, how little they even care to understand us, and how empty their claim is of sweetly and religiously loving us.
Not so skurrred
Timothy Kincaid
September 22nd, 2011
Once it became evident that Perry v. Schwarzenegger – the Proposition 8 trial – would be followed closely by the public and once it was abundantly clear that those supporting Proposition 8 had nothing to offer in its defense but speculation, tradition, and animus, the Proponents knew they had to do something. So they insisted that the case not be shown to the citizens, going so far as the Supreme Court.
But you can't tell the court (or the public) that your witnesses aren't going to witness because they will look like fools, so the Proponents came up with a unique explanation. Gays are violent threatening people and the witnesses are terrified of repercussions. (Washington Times)
"Brian Brown, executive director of the National Organization for Marriage, which campaigned for Proposition 8 but isn't a party to the case, said he is worried about the safety of witnesses, who could include contributors, campaign staff and volunteers.

'The question is really whether Judge Walker can put people on the stand where they can be threatened,' said Mr. Brown. 'It's a question of people's safety.'
But Brian Brown and his integrity parted ways long ago. In reality, none of the witnesses – indeed, no anti-gay activists – fear gay people. Our community is one which has been welcoming and a safe place for pretty much anyone.
Surely there is no person in this country more singularly associated with the campaign to deny gay people their civil marriage rights than Maggie Gallagher… the same Maggie Gallagher who went alone to a theatrical production this week where she knew that the overwhelming majority of people around her would be gay.
Because she knew she'd be safe.
Confirmed: Maggie Gallagher Steps Down As NOM Board Chair
Jim Burroway
September 22nd, 2011
Following an earlier Tweet from an AP reporter, the National Organization for Marriage has now confirmed that Maggie Gallagher is stepping down as board chair, and that John Eastman has been tapped for the position. According to NOM's press release:
Dr. John Eastman is the former Dean of Chapman University Law School in California and is the Founding Director of the Center for Constitutional Jurisprudence, a public interest law firm associated with the Claremont Institute. He has participated in over 50 cases in our nation's highest courts, including such landmark cases as the Pledge of Allegiance case, the Boy Scouts of America case, the Ohio school vouchers case, the Kelo case involving property takings, and the Partial Birth Abortion Ban Act case. Dr. Eastman is a former clerk to United States Supreme Court Justice Clarence Thomas. He received his J.D. from the University of Chicago and a Ph.D. in government and political philosophy from Claremont Graduate School.

…John Eastman stated, "Marriage has quite correctly been described as a bedrock of civilization. Protecting the institution of marriage is a critically important issue, and I'm honored to join such distinguished company on the Board of such a phenomenally effective organization as the National Organization for Marriage."
The press release also quotes Gallagher:
"I will remain on the NOM board, and continue to work on specific projects for NOM, as well as taking on some additional outside projects I've long deferred, such as finishing my book Debating Same-Sex Marriage¸ which I've been working on for Oxford University Press with Prof. John Corvino," Gallagher added.
Maggie Gallagher Out at NOM?
Jim Burroway
September 22nd, 2011
That's what AP reporter David Crary tweeted:
John Eastman's bio at Chapman University is here. He's an attorney and founding director of the conservative Center for Constitutional Jurisprudence, which is affiliated with the Claremont Institute, dedicated to "restor[ing] the principles of the American founding fathers to their rightful, preeminent authority in our national life. Eastman is also a former law clerk for US Supreme Court Justice Clarance Thomas. We'll have more as this develops.
Maggie Gallagher Attends Staged Reading of "8" In New York
Jim Burroway
September 20th, 2011
National Organization for Marriage founder Maggie Gallagher was in the balcony of the Eugene O'Neil Theater for the all-star world premiere of Dustin Lance Black's new play "8", which is based on the trial transcripts of Perry v Schwarzenegger, the federal court case which declared California's Proposition 8 unconstitutional. The play featured all the major courtroom figures, with John Lithgow as Ted Olson, Morgan Freeman as David Boies, Bradley Whitford as Alliance Defense Fund attorney Charles Cooper, and Jayne Houdyshell as Maggie Gallagher. Meanwhile, Gallagher herself was sitting in the balcony, grazing away:
My friends Phil and Ronald sat directly in front of her. You can see Ronald in the top photo. They had a hard time listening to the show because along with her nerve, Ms. Gallagher brought a large plastic bag of loud food, which she rustled and munched throughout the production (she's still got it on the way out). Perhaps she thought it was a popcorn flick she was going to. In any case, someone should have told her that it's rude, perhaps even against the rules, to eat in the theatre.
Much of the play was taken directly from the trial transcripts themselves, interspersed with screenings from the Yes on 8 campaign. The transcripts are part of the public record, although the video recordings taken during the trial are not — yet. The reading was a fundraiser for Americans for Equal Rights, who are backing the Prop 8 litigation on behalf of California couples. Other cast members included Ellen Barkin, Kate Shindle, Stephen Spinella, Matt Bomer, Campbell Brown, Anthony Edwards, Cheyenne Jackson, Larry Kramer, Rob Riener, and many more.
Maggie Gallagher Pines for Pawlenty
Jim Burroway
August 5th, 2011
She also has designs on Perry. National Organization for Marriage's Maggie Gallagher appeared on CBN to discuss NOM's marriage pledge which has already been signed by Minnesota Rep. Michelle Bachman, former Massachusetts Gov. Mitt Romney, and former Pennsylvania Sen. Rick Santorum. The wide-ranging pledge (CBN's interviewer strangely called it "narrowly-written") calls on GOP presidential candidates to:
Support the Federal Marriage Amendment defining marriage as one man and one woman,
Defend the Defense of Marriage Act in court,
Apply a marriage litmus test for judges and the attorney general,
Appoint a presidential commission to investigate so-called "harassment" of traditional marriage supporters,
Demand that marriage be put to a vote in the District of Columbia.
Gallagher expects Texas gov. Rick Perry to sign the pledge one he officially announces his candidacy. But one major holdout,  Minnesota gov. Tim Pawlenty, has Gallagher pleading for his support: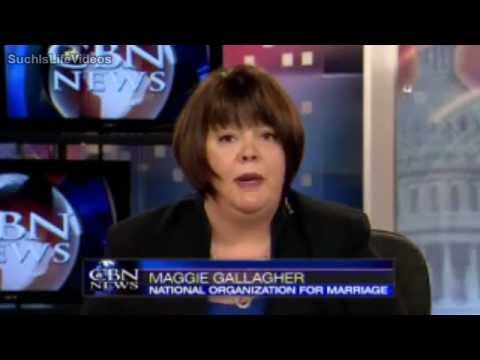 Well we will certainly offer the opportunity to Governor Rick Perry and any other major candidates who step into the race. We understand that before you're declared candidate it would probably not be appropriate to start signing pledges. The big question is what's going to happen with Governor Tim Pawlenty, who explicitly declined to sign NOM's marriage pledge this week. We're hoping the governor changes his mind because we think it's pretty peculiar for governor Pawlenty, who has been a champion for marriage in Minnesota, to refuse to do the same for the people of America.
Gallagher is counting on victories in passing anti-marriage amendments in Minnesota and North Carolina, and expects a rollback on marriage in New Hampshire in January.
Click here to read the full transcript.
Still having fun, Maggie?
Rob Tisinai
July 22nd, 2011
Happiness is when reality exceeds your expectations. Apparently the National Organization "for" Marriage has officially lowered its expectations.
Over on their blog, NOM is happily touting a new poll in a post called, New Quinnipiac Poll: Majority Does NOT Support SSM:
The latest Quinnipiac poll:

Would you support or oppose a law in your state that would allow same-sex couples to get married?
Oppose: 48%
Support: 46%
Don't Know/NA: 6%

Among Republicans:
Oppose: 72%
Support: 24%
Don't Know/NA: 4%
Not so long ago, they'd have despaired at a slim margin like that. But with poll over poll over poll showing majority support for marriage equality, these numbers are the happiest news they can find.
That's almost sad.
Heh, heh, heh.
You have to wonder, though:  How happy should they be? I hate spoiling their fun…but if you insist:
This is not the headline they want.
They wrote the headline, Majority Does Not Support SSM, but they'd much rather have written, Majority Opposes SSM. That's one of their favorite talking points. Guess, they'll have to retire it — even the polls they promote don't let them say it.
So sorry, NOM.
The trend is against them.
They left a bunch of stuff out of their report. For instance, Quinnipiac's comparison of these results to the ones they got two years ago:
Does that look like cause for a big NOM victory party?
So sorry.
They can't even claim with confidence that they're ahead.
Quinnipiac's margin of error is ± 2%. That means the true results are somewhere in the range of 50-46 for NOM or 48-46 against NOM. Let me adjust the graphic to account for this margin of error. The wider lines indicate the 4% range for each result.
See how the lines now overlap? Didn't used to happen.
So sorry.
They're losing support in their base.
NOM gave us the Republican numbers for 2011, but not for 2009. Let me rectify that.
| | | |
| --- | --- | --- |
| Republicans/SSM | April 2009 | July 2011 |
| Oppose | 80% | 72% |
| Support | 17% | 24% |
| Don't Know/NA | 2% | 4% |
NOM, you can't even hold onto your own base.
So sorry.
A solid majority thinks the federal government should recognize same-sex marriage.
| | | |
| --- | --- | --- |
| Federal SSM Recognition? | April 2009 | July 2011 |
| Oppose | 39% | 34% |
| Support | 54% | 59% |
| Don't Know/NA | 6% | 7% |
Oops — NOM, looks like you lost that one a couple years back. And you're losing even worse now.
So sorry.
Did I say happiness is when reality exceeds your expectations? Then I'm happy, because I never expected NOM to view these numbers as good news. NOM has lowered its expectation and revealed it to the world. Maggie Gallagher recently said people should fight same-sex marriage because "Winning is fun." I'm wondering Maggie, was New York fun? Were these numbers fun? Because writing this sure was fun for me.
Oh, I shouldn't gloat.
So sorry.
NOM's "Jesus" Is Crying
Jim Burroway
June 25th, 2011
This is what you'll find on the National Organization for Marriage's facebook page right now.
Also, "vengeance is mine," sayeth Maggie Gallagher.
[Via Alvin McEwen]
Maggie's Minnesota poll mixup
Timothy Kincaid
May 13th, 2011
Maggie Gallagher's National Organization for Marriage put out poll results last week that showed that Minnesotans overwhelmingly support a constitution amendment to ban marriage equality in the state.
56 percent of Minnesotans said only heterosexual marriages should be recognized in Minnesota and 42 percent said they supported same-sex marriage. The poll, by the National Organization for Marriage, Minnesota Family Council and Lawrence Research, also says that 74 percent of Minnesotans want to vote on the marriage amendment.
The Minnesota Independent asked for more details about the poll, the questions asked, and the methodology used. Considering the accuracy of some of Maggie's other polls, this seems reasonable. But it turns out that polling questions and methods are just like images of anti-gay witnesses and the identity of anti-gay donors: super-duper secret.
But now the Star Tribune has put out their Minnesota Poll which finds responses a bit differently than NOM. They also happily provide details about their questions and methodology.
Fifty-five percent of respondents said they oppose adding such an amendment while 39 percent favor a constitutional ban — views that appear to be a sharp reversal of poll results seven years ago.

Opposition to the ban generally cuts across all ages, though support rises gradually with age. Sixty percent of Minnesotans aged 18 to 34 oppose the idea. A slim majority, 51 percent, of Minnesotans older than 65 oppose the constitutional ban.
Now, I'm not calling Maggie a liar. Nor am I suggesting that she wouldn't know the truth if it snuck up and bit her on her prodigious posterior. I'm not even implying that Maggie and her integrity parted long ago on such bad terms that if they find each other in the same room they scowl.
Not at all.
I merely think that Maggie accidentally reversed the "support" and the "oppose" results in her poll.
Anti-Gay Activists React to DOMA Announcement
Jim Burroway
February 23rd, 2011
Brian Brown from National Organization for Marriage lost his already limited capacity for original thought and channels John Paul Jones:
We have not yet begun to fight for marriage," said Brian Brown, president of NOM."The Democrats are responding to their election loss with a series of extraordinary, extra-constitutional end runs around democracy, whether it's fleeing the state in Wisconsin and Indiana to prevent a vote, or unilaterally declaring homosexuals a protected class under our Constitution, as President Obama just did," said Brown. "We call on the House to intervene to protect DOMA, and to tell the Obama administration they have to respect the limits on their power. This fight is not over, it has only begun!"
Maggie Gallagher chimes in:
On the one hand this is a truly shocking extra-constitutional power grab in declaring gay people are a protected class, and it's also a defection of duty on the part of the President Obama," said Maggie Gallagher, Chairman of NOM, "On the other hand, the Obama administration was throwing this case in court anyway. The good news is this now clears the way for the House to intervene and to get lawyers in the court room who actually want to defend the law, and not please their powerful political special interests."
Liberty Counsel's Mat Staver, who charged that allowing same-sex marriages would lead to an epidemic of violent crime, called Obama the most divisive President in US History:
Regardless of President Obama's own ideological agenda, as President, he and his Attorney General have a duty to defend lawfully passed legislation, especially when the essence of the law has been upheld by many courts. Thirty states have passed marriage amendments affirming marriage as one man and one woman. Today President Obama has abandoned his role as President of the United States and transformed his office into the President of the Divided States. He has been the most divisive president in American history. He has today declared war on the American people and the fundamental values that are shared by most Americans. His radicalism resulted in the historical push-back in the 2010 elections. His radicalism today will come back around when the people respond to this betrayal in 2012," said Staver.
Focus On the Family's Tom Minnery wants Congressional Republicans to drop whatever they're doing and pick up the flag:
"We would hope Congress uses the tools at its disposal to counter this decision and defend marriage," Minnery said.
What should Congress do? Family Research Council's Tony Perkins wants Congress to take Holder's bait by dropping their "only interested in the deficit" mantra and reveal what many suspect to be their true colors:
"With this decision the President has thrown down the gauntlet, challenging Congress. It is incumbent upon the Republican leadership to respond by intervening to defend DOMA, or they will become complicit in the President's neglect of duty," concluded Perkins.
American Family Association's Bryan Fischer, who recently said that he would "fight to the last ditch" for marriage discrimination, has Perkins's back:
"I think it's a clear sign that we simply cannot avoid engaging on the social issues," Bryan Fischer, director of issue analysis for the group, told TPM. "Mitch Daniels has called for a truce on social issues and that would be fine if the homosexual lobby was willing to lay down arms, but they're obviously not and this proves it. A truce is nothing more than a surrender."
So far, House Speaker John Boehner is staying on message and has declined to take the bait:
A spokesman for House Speaker John Boehner, R-Ohio, criticized the administration change of position. "While Americans want Washington to focus on creating jobs and cutting spending, the president will have to explain why he thinks now is the appropriate time to stir up a controversial issue that sharply divides the nation," said spokesman Brendan Buck.
Update: Potential GOP Presidential candidate and former Arkansas Governor Mike Huckabee found a clever way to blame gay marriage for increasing the deficit:
Nonetheless, Huckabee opposes gay marriage on the grounds that, according to him, it destroys traditional families.  "There is a quantified impact of broken families," Huckabee said. "[There is a] $300 billion dad deficit in America every year…that's the amount of money that we spend as taxpayers to pick up the pieces because dads are derelict in their duties."
If you don't like it, you gotta ban it?
Rob Tisinai
February 19th, 2011
NOM is trumpeting a new Maryland poll about same-sex marriage:
By a 54-37 margin, Maryland voters believe that marriage should only be between a man and a woman, according to a new poll released today by Lawrence Research.
And here's the question they asked:
As far as you personally are concerned, should marriage be between a man and a woman, or should it also be available to same-sex couples.
Emphasis added, for one simple reason: This is not an either/or question!
People could say, without contradicting themselves:
Yes, I believe marriage should be between a man and a woman, and yes, it should also be available to same-sex couples.
Just as they could say:
I believe everyone should abstain from alcohol, and I think it should be available to adults.
or
I believe birth control is wrong, and I think people should have the option of deciding that for themselves.
So much for Live and let live.  So much for letting people make their own decisions. So much for any conception of liberty.  If, "as far as you personally are concerned," you disapprove of something, it never occurs to NOM that your respect for freedom might keep you from trying to control your neighbor's life.
Nope, according to NOM, if you think something is wrong, then you want impose that belief on everyone.
This attitude pops up again and again.  Remember Miss America contestant Carrie Prejean?
Well I think it's great that Americans are able to choose one way or the other. We live in a land where you can choose same-sex marriage or opposite marriage. And, you know what, in my country, in my family, I think that, I believe that marriage should be between a man and a woman, no offense to anybody out there. But that's how I was raised and I believe that it should be between a man and a woman.
Taken literally, she's offering support for marriage equality even as she expresses her personal belief that it's wrong. That's not what she intended, but it's what she said, without even realizing it.
Obama's just as guilty:
I'm a Christian. And so, although I try not to have my religious beliefs dominate or determine my political views on this issue, I do believe that tradition, and my religious beliefs say that marriage is something sanctified between a man and a woman.
If he's offering this to explain why he opposes legalizing same-sex marriage, he's failed.  He can believe exactly what he said and still support marriage equality.
I suppose, then, it's not fair to single out NOM for this. They're just the latest perpetrators.
My hunch is that NOM is so blind to their own assumptions, they didn't even realize they weren't asking an either/or question.  Another possibility, though, is that they knew exactly what they were doing.
Look at the opening phrase: As far as you personally are concerned, should marriage be between a man and a woman…
It's almost as if they added "As far as you personally are concerned" as a deliberate attempt to distract people from the issue of legalizing same-sex marriage.  As if NOM knew the wording would let them dishonestly claim for their own side those respondents with a live-and-let-live attitude, those who think it should be legal despite their own personal disapproval.
As if they knew they could then distort these results to understate Maryland's support for legal equality.
So which is it? A careless mistake or a conscious manipulation of the question?  I bet the answer depends on whose mind you're looking into:  that of Maggie Gallagher (a canny operator) or Brian Brown (a blundering bull).
Ultimately, I see one lesson take away from this. We need to add another weapon to our rhetorical arsenal this one for people who are more comfortable with liberty than with homosexuality:
You can disapprove of something and still think it should be legal!
Maggie Gallagher opposes anal sex
Timothy Kincaid
January 28th, 2011
"Defenders of traditional marriage" like to pretend that their objections to marriage equality are based in procreation or what's best for children or religious freedom or culture or something, anything, other that bias, animus, or a desire to harm gay people. But sometimes their real motivates leak through the front they present to the world.
Take, for example, this portion of an essay by the National Organization for Marriage's Maggie Gallagher:
Anal sex is painful, unsanitary, unsatisfying for women, and creates unique risks for serious physical diseases (if you doubt me, go read the Wikipedia entry on the subject) because the anus is not designed for sexual intercourse, increasing the risk of torn flesh and the intermingling of bodily fluids — blood, semen, fecal matter — that can spread an astonishing variety of diseases. The female partner is far more at risk than the man in these encounters. This should be a feminist issue.
Now, of course, Maggie is directing this rant to women. So it has nothing, no nothing at all, nope not whatsoever, to do with her views about homosexuality. And as some gay men don't engage in anal sex and few lesbians as well, well then obviously this say nothing, no nothing at all, about Maggie's perspectives of gay people in general. Right?
Except that Maggie isn't just condemning heterosexual anal sex. In fact, that isn't her target at all.
In the minds of anti-gay activists and others to whom Maggie directs her essays, homosexuality is inextricably linked with anal sex (lesbians exist as an after-thought). When a preacher rants, "it's not natural," and you know he's thinking anal sex. Hear a politician declare, "that's not how the body was created," and it's anal sex he's discussion. See an erudite talking head with crisply parted hair and wire-frame glasses espousing his views on "complimentarity" and guess what he means? Anal sex.
So when Maggie attacks anal sex with imagery of "torn flesh" and blood and fecal matter and "astonishing variety of diseases," it really isn't about young women at all. Sure, she'd rather they engage only in vaginal intercourse with their lawfully married husband, but that isn't her point. Rather, Maggie sees this as "dirty" and "icky" and, let's be real, a homosexual practice that godly heterosexuals should have nothing to do with.
Maggie is generally pretty good at hiding her personal contempt for gay people. But sometimes, like this time, it seeps around the edges.
Reinhardt to NOMmies: women have their own minds
Timothy Kincaid
January 5th, 2011
The National Organization for Marriage's Maggie Gallagher was not happy when Justice Reinhardt was selected as part of the panel to hear the Perry v. Schwarzenegger appeal. She insisted that he recuse himself because his wife, Ramona Ripston, heads the ACLU in Southern California and supports marriage equality:
The entity that Ripston heads took part as counsel to an amicus in this very case in the district court.
According to media reports including those in the Los Angeles Times and respected legal blog Volokh.com, Reinhardt has a policy of recusing himself from cases involving the ACLU of Southern California.

In addition to the clear legal reasons that Judge Reinhardt is required to disqualify himself from this case, there are other circumstances that clearly call his impartiality into question:

· Ripston, Reinhardt's wife, contributed money to the NO on Proposition 8 campaign. It is not known if these funds were joint or separate funds.
· Ripston publicly cheered the decision by the District Court to declare Proposition 8 unconstitutional. In a media statement, she said, "We rejoice at today's decision but there's a long road ahead toward establishing true marriage equality for same-sex couples."
Reinhardt declined. And yesterday he clarified his reasoning:
My wife's views, public or private, as to any issues that may come before this court, constitutional or otherwise, are of no consequence. She is a strong, independent woman who has long fought for the principle, among others, that women should be evaluated on their own merits and not judged in any way by the deeds or position in life of their husbands (and vice versa). I share that view and, in my opinion, it reflects the status of the law generally, as well as the law of recusal, regardless of whether the spouse or the judge is the male or the female.
Gosh, I guess the Little Lady has views of her own.
Naturally, conservatives like Ed Whelan don't find Reinhardt's explanations to be adequate. For me, I'll wait until the case reaches the Supreme Court to judge the integrity of Whelan's complaint. Should he demand that Scalia recuse himself due to his son's advocacy on this issue then I'll believe that Whelan is a man of integrity; otherwise this is but more results-driven posturing masquerading as principle.
The ever klassy Maggie Gallagher
Timothy Kincaid
September 30th, 2010
In the worldview of the National Organization for Marriage's Maggie Gallagher, those who side with equality do not do so out of principle or a sense of decency or even from the clear "any person" language of the Constitution. Nope. Those who disagree with Maggie have ulterior motives.
Here's how Maggie intuited the reasons for Judge Walker's announced retirement from the court
Kathryn, I didn't expect it either, but it kind of explains a lot, doesn't it? How could Judge Walker exhibit such gross bias and deliver such an injudicious opinion? The answer appears to be, in part, that it was his swan song. He'll leave the bench famous, a hero in his hometown, and a hot commodity in whatever private venture he moves into.
Oh she's a klassy act, that Maggie. Klassy as hot pink stretch pants at a funeral.
NOM blatantly appeals to homophobia
Timothy Kincaid
August 30th, 2010
The National Organization for Marriage has now officially become part of the wackadoodle extremist end of the anti-gay religious right. While Maggie Gallagher was officially at the helm, they managed to carry a pretense of civility and wore the mask of being issue driven rather than just acting out of animus and contempt.
But now that Brian Brown is the name on the masthead, the mask has come off. NOM no longer pretends to be civil, but instead now is openly using the tactics and language of those who seek not just to "protect traditional marriage" but to demonize gay people themselves and stir up hatred towards them.
No longer content with scare tactics such as "Mommy, I can grow up to marry a princess", NOM is now spreading fear about radical homosexual activists and putting "gay marriage" in scare quotes. NOM has now become indistinguishable from Peter LaBarbera or Brain Camenker or Eugene Delguadio.
When the District of Columbia voted for marriage equality, NOM has become infuriated. And so they have involved themselves in the Washington DC councilman race.
Ward 5 Councilman Harry Thomas voted for marriage equality in the nation's capital, so NOM has declared him to be an enemy and has funded a mailer for his opponent, Delano Hunter. It is as disgusting a piece of blatant nastiness as one would expect to find coming from MassResistance or the Traditional Values Coalition:
Thousands of dollars from homosexual activists outside Ward 5 are attacking Delano Hunter become he supports our right to vote on whether the District legalizes "gay marriage."

Radical, gay marriage activists are flooding Ward 5 with money to defeat Delano Hunter, not because they don't like his plan to improve our community, but only because the supports the Biblical definition of marriage.

The outside gay activists don't care about our right to home rule and right to vote on gay marriage. They only care about their agenda to redefine marriage. Don't let them target Delano Hunter.
There is, of course, no explanation of why the Sister is in the picture. We don't need one; we know exactly why that picture was selected. The Sisters are "scary" and for those who don't know better she makes a good illustration of just what a radical homosexual looks like.
And, of course, since it's NOM, the claim is a complete lie. Not a cent has been given to Thomas from "militant gay activists" in San Francisco or New York.
NOM's Maggie Gallagher loves nothing more than to complain that mean gay marriage supporters are calling her names. "They call us bigots," she whines at every opportunity.
At BTB we seldom engage in slinging slurs like "bigot" or "homophobe" or "liar" at those who oppose our equality. It serves no purpose and tends to shut down any possible hope for dialogue. And the truth is that most of those who don't favor equality actually aren't motivated by hatred or animus. Prejudice, presumption, and apathy are probably more to blame.
But while I am not calling Brian or Maggie names or accusing them of being bigots or homophobes, this particular mailer seeks to do nothing other than to appeal to hatred and fear. This mailer is, without question, bigoted and homophobic.