LaBarbera Award: Mat Staver
Jim Burroway
February 27th, 2009
Liberty Counsel chairman Mat Staver spoke before the Conservative Political Action Conference (CPAC) where he charged that allowing same-sex marriage would lead to an epidemic of criminality:
Same-sex marriage sets forth a fatherless policy. It will deprive children of ever having the opportunity of being raised in an environment where mom and dad are present. You don't have to read thousands of sociological research studies to know that marriage matters and moms and dads and genders do matter to the well-being of children. You can go to any violent jail or crime area within the jail or a prison, and go to the men's section of the prison or the jail and ask where the violent offenders are housed. And when you go there, ask them one question. And the one question is this: what was your relationship with your father? Universally, the answer will come back "I had no father." There is a correlation between fatherlessness and and why these young men are behind bars for committing violent crimes.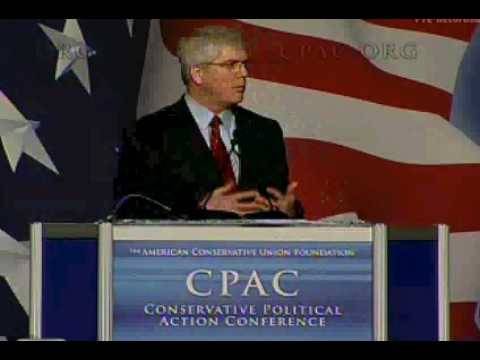 If that were true, then I guess we shouldn't allow lesbians to marry. But men on the other hand, who would provide two fathers, would double-inoculate their children against criminality.
But of course, this is nonsense. Staver says "you don't have to read thousands of sociological research studies," but he should perhaps read a few of them rather than remain in willful ignorance. Because none of those studies comparing families comprising of two lesbian parents or two gay men as parents to families headed by two heterosexual parents have been able to discern any measurable differences in the general outcome of children — and most certainly not in the criminality of children.
In fact, the American Academy of Pediatrics — who know a thing or two about children — conducted a wide ranging review of the vast professional research literature, and they concluded that:
A growing body of scientific literature demonstrates that children who grow up with 1 or 2 gay and/or lesbian parents fare as well in emotional, cognitive, social, and sexual functioning as do children whose parents are heterosexual. Children's optimal development seems to be influenced more by the nature of the relationships and interactions within the family unit than by the particular structural form it takes.
In other words, good parents, very broadly speaking, make for good children. Inadequate parental relationships or adverse family dynamics lead to a greater risk for negative outcomes. And that's true regardless of the parental makeup.
So we award this latest LaBarbera Award to Mat Staver, because no one needs to remain mired in willful ignorance rather than acknowledging what the research actually says.
Comments