Contrasting Huckabee's and Giuliani's "Sin" Remarks
An Opinion
Timothy Kincaid
January 3rd, 2008
Republican presidential candidate Mike Huckabee made some remarks about the sinfulness of homosexuality on Meet the Press on December 30. Some have found them similar to those made by Rudy Giuliani on December 9. (Transcripts below)
At a first glance it would appear that both candidates agree: homosexual acts are sinful. And all people sin.
But a closer look may illustrate why these two people, Mike Huckabee and Rudy Giuliani, are saying very different things. And to understand the difference we have to look at difference between "sin" and "sinful".
Orthodox Christian theology includes the notion that certain behaviors are "sins" and that God forgives sins of those who ask Him. Both Huckabee's Southern Baptist and Giuliani's Catholic faith observe that doctrine.
While "sin" literally means failing to live up to God's expectations and can include anything from murder to lying about your weight, not all "sins" are seen as equal. Both politicians are speaking from a consistent place when they say that all people fail in their lives, but clearly they do not see eye to eye on what "degree" of sin would best describe homosexuality.
The key is seen in the use of the word "sinful". Unlike a sin, which can quickly be forgiven and forgotten, sinful describes a state of being. Generally, that which is sinful is willfully rejecting God's direction and rebelliously flaunting that which is right.
While Huckabee acknowledges that others sin, heterosexual sex outside marriage – which too is sinful and falling short of the mark – is not "aberrant" or "unnatural". Nor is it similar to pedophilia, sadomasochism and necrophilia in being outside "the traditional concept of sexual behavior".
When Huckabee proclaims, "I feel homosexuality is an aberrant, unnatural and sinful lifestyle" he includes all persons who identify as gay or engage in sex, regardless of whether it is in the context of a committed relationship or anonymously at a bathhouse. All of those who are openly gay – i.e. live this aberrant, unnatural and sinful lifestyle – are deserving of treatment different from those who do not. This notion of deserving blame and condemnation is readily evident in the way in which Huckabee discusses orientation and behavior.
People who are gay say that they're born that way. But one thing I know, that the behavior one practices is a choice. We may have certain tendencies, but how we behave and how we carry out our behavior … [sentence unfinished]
Giuliani, on the other hand, believes that the way "that somebody leads their life is not—isn't sinful." In other words, they are not living in a condition of rebellion against God.
"My, my, my—no, I don't believe it's sinful."
They may sin, as all do, and that means they need to seek redemption through their faith, but they are not viewed as willfully rejecting God.
This is a very strong distinction. And this difference can also be seen in the way in which the two politicians define their own relationship to sin.
Huckabee says he misses the mark every day. Even married couples do. But it is quite clear that Huckabee's "missed marks" are not in any way similar to the aberrant, unnatural, sinful "missed marks" of homosexuals. When Huckabee talks about his imperfections, he's not talking about sexual sins or faults.
Giuliani, on the other hand, seems to feel as though his "sins" are similar to those of gay persons.
Which includes me, by the way. I mean, you know, unfortunately, I've had my own sins that I've had to confess and had to deal with and try to overcome and so I'm very, very empathetic with people, and that we're all, we're all imperfect human beings struggling to, to try to be better.
This may not be readily evident to others, and some may disagree with my conclusion, but I think the distinction is that Huckabee thinks of "them who live a sinful lifestyle" while Giuliani thinks of "us who live a sinful lifestyle". Perhaps this is because Huckabee's Southern Baptist denomination holds him in high regard while Giuliani, on his third marriage and an enemy of his church on a number of social issues, is not strongly lauded by the Catholic Church.
Some within the gay community – especially those with no firm faith affiliation – may find any association of homosexuality with sin as being strongly offensive. Yet few candidates from any party could speak consistently from their own denomination's position and honestly state that "homosexuality is not sin" (Barack Obama, as a member of the United Church of Christ, may be the only one who could do so).
Some tie Giuliani's comments to those of Huckabee for partisan reasons, and some simply out of ignorance of Christian theology. But the important issue is not whether Huckabee or Giuliani or Clinton or Obama or Edwards or Romney or McCain think that homosexual acts are sin. This is, after all, the default theological position in Christian America. What matters is what they plan to do about it.
We know that Huckabee would be an active enemy of gay people in all facets of their lives. We will watch closer to see whether we can determine what the other candidates will do.
The full transcript of the relevant portions of the interviews can be found after the break
From the transcript of the Huckabee interview
MR. RUSSERT: Peggy Noonan, a woman of faith who writes for The Wall Street Journal, said that sometimes it appears your philosophy is "This is what God wants," and that doesn't encourage discussion, it squelches it. And, and this is what you wrote in your book, "Kids Who Kill," in 1998: "It is now difficult to keep track of the vast array of publicly endorsed and institutionally supported aberrations–from homosexuality and pedophilia to sadomasochism and necrophilia." Why would you link homosexuality with sadomasochism, pedophilia and necrophilia?
GOV. HUCKABEE: Well, what I was pointing out is all of these are deviations from what has been the traditional concept of sexual behavior and men and women having children, raising those children in the context of a, of a traditional marriage and family. And, again, taken out of the larger context of that book, speaking about how so many of our social institutions have been broken down.
MR. RUSSERT: But do you think homosexuality is equivalent to pedophilia…
GOV. HUCKABEE: Oh, of course not.
MR. RUSSERT: …or sadomasochism?
GOV. HUCKABEE: No, of course not. I didn't say…
MR. RUSSERT: But this is what concerns people. This, this is what you did say about homosexuality: "I feel homosexuality is an aberrant, unnatural and sinful lifestyle." That's millions of Americans.
GOV. HUCKABEE: Tim, understand, when a Christian speaks of sin, a Christian says all of us are sinners. I'm a sinner, everybody's a sinner. What one's sin is, means it's missing the mark. It's missing the bull's eye, the perfect point. I miss it every day; we all do. The perfection of God is seen in a marriage in which one man, one woman live together as a couple committed to each other as life partners. Now, even married couples don't do that perfectly, so sin is not some act of equating people with being murderers or rapists…
MR. RUSSERT: But when you say aberrant or unnatural, do you believe you're born gay or you choose to be gay?
GOV. HUCKABEE: I don't know whether people are born that way. People who are gay say that they're born that way. But one thing I know, that the behavior one practices is a choice. We may have certain tendencies, but how we behave and how we carry out our behavior–but the important issue that I want to address, because I think when you bring up the faith question, Tim, I've been asked more about my faith than any person running for president. I'm OK with that. I hope I've answered these questions very candidly and very honestly. I think it's important for us to talk about it. But the most important thing is to find out, does our faith influence our public policy and how? I've never tried to rewrite science textbooks. I've never tried to come out with some way of imposing a doctrinaire Christian perspective in a way that is really against the Constitution. I've never done that.
From the transcripts of the Giuliani interview
MR. RUSSERT: And we're back. Our remaining minutes with Rudy Giuliani.
Mike Huckabee, leading the field in Iowa, told the Associated Press back in the '90s that AIDS patients should be quarantined and that "homosexuality was aberrant, unnatural and a sinful lifestyle." What's your reaction?
MR. GIULIANI: My reaction is that I haven't seen—on the second of that, I haven't seen Mike's comment. The first one I think he says that he didn't have the information, that he's changed his mind about it, it's not his current position. Look, I got enough of my own statements and issues, as we've seen, that I have to deal with. I think Mike has to…
MR. RUSSERT: But you don't believe homosexuality is aberrant…
MR. GIULIANI: Oh, no, no, no.
MR. RUSSERT: …unnatural or sinful.
MR. GIULIANI: My, my, my—no, I don't believe it's sinful. My, my moral views on this come from the, you know, from the Catholic Church, and I believe that homosexuality, heterosexuality as a, as a way that somebody leads their life is not—isn't sinful. It's the acts, it's the various acts that people perform that are sinful, not the—not the orientation that they have.
MR. RUSSERT: The Congress is discussing and…
MR. GIULIANI: Which includes me, by the way. I mean, you know, unfortunately, I've had my own sins that I've had to confess and had to deal with and try to overcome and so I'm very, very empathetic with people, and that we're all, we're all imperfect human beings struggling to, to try to be better.
Mike Huckabee and the Christian Reconstructionists
Jim Burroway
December 20th, 2007
It's been widely reported that former Arkansas governor and GOP presidential candidate Mike Huckabee flew down to Houston earlier this week for a fundraiser hosted by Steven Hotze. In today's column, Robert Novak identified Steven Hotze as "a leader in the highly conservative Christian Reconstruction movement." According to Novak, that fundraiser's host committee had an unusual make-up:
State Rep. Debbie Riddle was the only elected official on the host committee, most of whose members were not familiar names in Texas politics. David Welch is executive director of the Houston Area Pastor Council. Jack Tompkins heads a firm providing Internet services to the Christian community. Entrepreneur J. Keet Lewis is an active Southern Baptist.

A better-known committee member was Baptist minister Rick Scarborough, founder of Vision America. In endorsing Huckabee on Nov. 1, Scarborough said, "I acknowledge that Huckabee is not the perfect candidate" but one "who will listen to wise counsel."
According to Novak — who is not exactly a flaming liberal himself — until Huckabee's problems with his fellow Southern Baptists had been that they didn't think he was conservative enough! A pretty amazing assessment given his many statements on AIDS and homosexuality which have come to light recently (and which Huckabee has refused to back away from, a move which earned him a LaBarbera Award). But as strident as his pronouncements may be, they hadn't been orthodox enough to fully satisfy the Christian Reconstructionists. But now that he's receiving donations from them, it looks like things have changed between them.
For those who don't know, Christian Reconstructionists are the guys who want to replace civil law with Biblical law, which makes them the Christian equivalent to Muslims who advocate for Sharia law. To give you an idea of what these people are about, the Cato Institute posted a snippet of a 1986 statement that was signed by Steven Holtze:
We affirm that the Bible is not only God's statements to us regarding religion, salvation, eternity, and righteousness, but also the final measurement and depository of certain fundamental facts of reality and basic principles that God wants all mankind to know in the sphere of law, government, economics, business, education, arts and communication, medicine, psychology, and science. All theories and practices of these spheres of life are only true, right, and realistic to the degree that they agree with the Bible.
This statement is virtually identical to some of the messages presented by American pastors at the most recent Watchmen On the Walls conference last November. Other signatories to the statement include D. James Kennedy, Tim LaHaye, George Rekers, Don Wildmon, and R.J. Rushdoony.
Rushdoony is considered the father of Christian Reconstructionism. His 1973 book, The Institutes of Biblical Law, serves as a foundational document for Christian Reconstructionists. In the Institutes, Rushdoony called for the replacement of civil law with Biblical Law, including the legalization of slavery (because the Bible approves of it) stoning as punishment for a long list of Biblical offenses including homosexuality (because the Bible calls for it). Rushdoony defended these beliefs right up until his death in 2001. Scarborough recently declared that his is neither a Republican nor a Democrat, but "a Christocrat."
Huckabee recently told an audience at Liberty University that God was responsible for his recent rise in the polls. And we've noted before that Huckabee has been voicing a rather strange theology lately. Does that theology now include theonomy and the Christian Reconstructionist theology of those whose support he's seeking?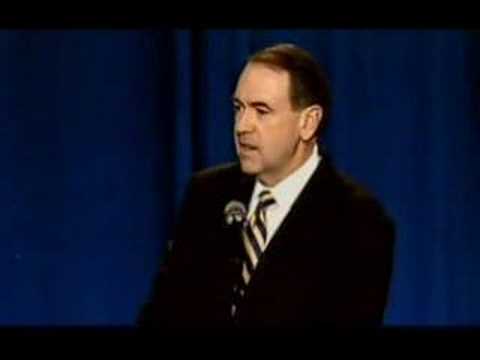 LaBarbera Award: Mike Huckabee
Jim Burroway
December 19th, 2007
We reported earlier on former Arkansas governor and GOP presidential candidate Mike Huckabee's 1992 remarks on AIDS, in which he called for the "isolation" (thus avoiding the "q" word) of "AIDS carriers" — presumably all 253,448 people with AIDS known to exist in 1992. When asked about those remarks last week, Huckabee refused to back down. That storm barely had time to blow over before other outrageous anti-gay comments began to emerge. Some of these comments border on the harmlessly ill-informed, like this one from the New York Times:
The governor regards 1968 as the dawning of ''the age of the birth-control pill, free love, gay sex, the drug culture and reckless disregard for standards.'' The Rolling Stones album ''Their Satanic Majesties Request'' provided the soundtrack for that annus terribilis. But Mike Huckabee wanted me to know that he believes in the separation of church and stage.
But others, like his AIDS comment earlier, have a ring of menace to them. David Corn at Mother Jones found this gem in Huckabee's 1998 book, Kids Who Kill:
In lamenting the "cultural conflicts" besetting the country, he wrote, "Abortion, environmentalism, AIDS, pornography, drug abuse, and homosexual activism have fragmented and polarized our communities."
Why was he lumping environmentalism with activities he considered sinful? He did not explain further. A few pages later, Huckabee complained, "It is now difficult to keep track of the vast array of publicly endorsed and institutionally supported aberrations—from homosexuality and pedophilia to sadomasochism and necrophilia."
Institutionally supported pedophilia and sadomasochism? Institutionally suppored necrophilia? What "institional support" could he possibly be talking about?
Huckabee said his views on AIDS haven't changed much since 1992. What about his lumping homosexuality with pedephilia and necrophilia? Joe Carter, Huckabee's director of research, tried to clarify Huckabee's remarks:
"He's not equating homosexuality with necrophilia," Carter told us. "He's saying there's a range of aberrant behavior. He considers homosexuality aberrant, but that's at one end of the spectrum. Necrophilia is at the other end."
So homosexuality is in the same class as necrophilia, but we're just not as bad. As with his AIDS comment, Huckabee stands by this one too. And for that, Gov. Mike Huckabee is today's LaBarbera Award winner.
Huckabee's Strange Theology
Timothy Kincaid
December 11th, 2007
When asked questions about his hostile comments on homosexuality, Republican presidential candidate Mike Huckabee responded:
"Let's understand what sin means — sin means missing the mark," he responded. "Missing the mark can mean missing the mark in any area. We've all missed the mark. … How we miss the mark is less important than we all miss the mark. The mark is that we have marriage — men and women, they marry, they create children, and they train their replacements and you have a future generation then that creates their replacements and trains them. That's the mark. If we didn't have that as the ideal, we wouldn't have a civilization that was able to perpetuate."
Now the way I read that, Huckabee is saying that sin is missing the mark and that the mark is heterosexual marriage and children. Huckabee is literally saying that not to marry and have children is sin.
This is nonsense and not the teaching of ANY known Christian denomination, even Huckabee's Southern Baptists. This is, in fact, in clear contradiction to the teachings of the Apostle Paul who set celibacy as a Christian's goal and marriage as a lesser option for those unable to control their lust.
It would appear to me that Rev. Huckabee might place his animosity to his gay neighbors at a higher premium than he does his doctrinal beliefs.
Huckabee's "Isolation" vs. Quarantine: What's The Difference?
Jim Burroway
December 9th, 2007
Former Arkansas governor and GOP presidential candidate Mike Huckabee appeared on Fox News Sunday with Chris Wallace to deny that he said we should quarantine all AIDS patients. But he stood by his statements calling for isolating "the carriers" of AIDS.
Here is my quick transcript:
Chris, I didn't say that we should quarantine. I said it was the first time in public health protocols that when we had an infectious disease and we didn't really know just how extensive and how dramatic it could be and the impact of it, that we didn't isolate the carrier. Now the headlines yesterday started saying that that I called for quarantines, which, if you go back and read my comments, I did not.

I simply made the point, and I still believe this today, that in the late eighties and early nineties when we didn't know as much that we do now about AIDS, we were acting more out of political correctness than we were out of the normal public health protocols that we would have acted as we have recently, for example, with Avian Flu…
Chris Wallace called him on that, noting that as far back as in 1985, the Centers for Disease Control and Prevention had already established that AIDS could not be spread by casual contact. This was seven years before Huckabee's statement. Huckabee didn't back down:
Would I say things a little differently in 2007? Probably so, but I'm not going to recant or retract from the statement that I did make, because, again, the point was not saying we ought to lock people up who have HIV/AIDS. I knew people who had AIDS. I had a close friend who had died of it in the 1980′s. He was a hemophiliac; he had contracted it through a blood transfusion. I had other friends of mine, one of whom passed away, he was in fact homosexual.

But my point is, I was trying to talk about different public health protocols we were dealing with. I think what it really does show though is that when people are digging back into everything I have ever said and done — and I understand that, it's part of the political process. But what I'm not going to do is to go back and now try to change every story that I've ever had. I'm going to simply say that is exactly what I said, I don't run from it, don't recant from it. Would I say it a little differently today? Sure, in light of fifteen years of additional knowledge and understanding I would.
Huckabee opened his statement saying "Chris, I didn't say that we should quarantine." Here is what he wrote to the Associated Press in 1992. What do you think?
If the federal government is truly serious about doing something with the AIDS virus, we need to take steps that would isolate the carriers of this plague.

It is difficult to understand the public policy towards AIDS. It is the first time in the history of civilization in which the carriers of a genuine plague have not been isolated from the general population, and in which this deadly disease for which there is no cure is being treated as a civil rights issue instead of the true health crisis it represents.
The CDC's 1992 AIDS Surveillance Report (PDF: 1.2MB/23 pages) counted 253,448 people with AIDS, with unknown numbers more infected with HIV at the time. With those figures documented as of 1992, I'm hard-pressed to understand what the distinction is supposed to be between calling for a quarantine and "isolating the carriers" from the general population. Princeton University's Wordnet can't seem to find a distinction either:
Noun

S: (n) quarantine (enforced isolation of patients suffering from a contagious disease in order to prevent the spread of disease)
S: (n) quarantine (isolation to prevent the spread of infectious disease)

Verb

S: (v) quarantine (place into enforced isolation, as for medical reasons) "My dog was quarantined before he could live in England"
And neither can the folks at Merk:
quarantine (quar·an·tine) (kwor´ən-tēn, kwahr´ən-tēn) [Ital. quarantina, from L. quadraginta forty] 1. restriction of freedom of movement of apparently well individuals who have been exposed to infectious disease, which is imposed for the usual maximal incubation period of the disease (quarantine period). Cf. surveillance (def. 2). 2. a period (originally of 40 days' duration) of detention of vessels, vehicles, or travelers coming from infected or suspected ports or places. 3. the place where persons are detained for inspection. 4. to detain or isolate on account of suspected contagion.
HIV has an incubation period of six to twelve years before the onset of AIDS. AIDS is treatable but not curable. Given those facts which were also known in 1992, how long would Huckabee's proposed "isolation" have been enforced? A lifetime?
Huckabee: 1992 AIDS Quarantine Story "Just Politics"
Jim Burroway
December 8th, 2007
The Associated Press has reported that GOP presidential candidate Mike Huckabee once advocated quarantining everyone with AIDS during a run for the U.S. Senate in 1992:
"If the federal government is truly serious about doing something with the AIDS virus, we need to take steps that would isolate the carriers of this plague," Huckabee wrote.

"It is difficult to understand the public policy towards AIDS. It is the first time in the history of civilization in which the carriers of a genuine plague have not been isolated from the general population, and in which this deadly disease for which there is no cure is being treated as a civil rights issue instead of the true health crisis it represents."
He also wrote that Hollywood celebrities should fund AIDS research from their own pockets rather than federal health agencies. And he said this about homosexuality in 1992:
"I feel homosexuality is an aberrant, unnatural, and sinful lifestyle, and we now know it can pose a dangerous public health risk."
When asked about his 1992 statements, refused to address the question directly, but he did respond this way:
Many of you know that I'm a human being that's going to make a whole lot of mistakes, in fact you're going to hear that I am a human being that's made a lot of mistakes. In fact, if you don't know that yet, just keep reading all the press releases from my opponents. And when they can't find enough, they'll make some up."

"And that's politics," he added.
Huckabee is being touted as a gentleman's social conservative. But he sees his campaign in somewhat grander terms. Here's the explanation he gave before Jerry Falwell's Liberty University for why his poll numbers have been rising lately:
There's only one explanation for it, and it's not a human one. It's the same power that helped a little boy with two fish and five loaves feed a crowd of five thousand people. (Applause and cheers)

And that's the only way that our campaign could be doing what it's doing. And I'm not being facetious, nor am I trying to be trite. There literally are thousands of people across this country who are praying that a little will become much, and it has. And it defies all explanation. It has confounded the pundants, and I'm enjoying every minute of their trying to figure it out. And until they look at it from a… just experience beyond human, they'll never figure it out. And that's probably just as well. That's honestly why it's happening.
See also:
Huckabee Denies Advocating Quarantine
FRC's Charmaine Yoest Joins Mike Huckabee's Campaign
Jim Burroway
December 5th, 2007
The Family Research Council sent out this notice that Charmaine Yoest, the FRC's vice president of Communications and frequent guest on several national news programs, is taking a leave of absense to join Gov. Mike Huckabee's presidential campaign:
I am pleased to welcome Dr. Yoest to our team," said Governor Huckabee. "She brings with her an in-depth knowledge of the issues and policy expertise, as well as over two decades of experience in the conservative movement. Her addition represents increased strength both substantively and organizationally. She joins us at an important juncture as we are working to communicate our policy agenda for the future.
The various leaders and organizations which make up what we often call the "religious right" have had a great deal of difficulty coalescing around a single candidate for the GOP nomination. While many of them were sympathetic to Gov. Huckabee's platform, few of them were willing to spend much political capital on a candidate who wasn't seen as viable. But recent polls in Iowa have placed Huckabee's campaign into serious play and the religious right appear to be re-evaluating their earlier assessment of his chances of winning the GOP nomination, and many are beginning to come on board. With this latest announcement, I suspect that trend will accelerate.
Republican Candidates Support "Don't Ask, Don't Tell"
Jim Burroway
November 29th, 2007
In last night's Republican CNN/YouTube debate, there were two questions about gay issues.
The first question came from Brigadier Gen. Keith Kerr (Ret.), who has been openly gay since his retirement. He asked about "Don't Ask, Don't Tell." The second question was about whether the candidates would accept support from the Log Cabin Republicans.
Here is the transcript from that debate:
Anderson Cooper: All right, let's get back to the debate. Another question from a YouTube viewer. Let's watch.
Brigadier Gen. Keith Kerr (Ret.): My name's Keith Kerr, from Santa Rosa, California. I'm a retired brigadier general with 43 years of service. And I'm a graduate of the Special Forces Officer Course, the Commanding General Staff Course and the Army War College. And I'm an openly gay man.
I want to know why you think that American men and women in uniform are not professional enough to serve with gays and lesbians.
Cooper: I want to point out that Brigadier General Keith Kerr is here with us tonight. I'm glad you're here.
(Applause)
Again, the question to Congressman Hunter.
Hunter: General, thanks for your service, but I believe in what Colin Powell said when he said that having openly homosexual people serving in the ranks would be bad for unit cohesion.
The reason for that, even though people point to the Israelis and point to the Brits and point to other people as having homosexuals serve, is that most Americans, most kids who leave that breakfast table and go out and serve in the military and make that corporate decision with their family, most of them are conservatives.
They have conservative values, and they have Judeo-Christian values. To force those people to work in a small tight unit with somebody who is openly homosexual goes against what they believe to be their principles, and it is their principles, is I think a disservice to them. I agree with Colin Powell that it would be bad for unit cohesion.
Cooper: I want to direct this to Governor Huckabee.
Thirty seconds.
Huckabee: The Uniform Code of Military Justice is probably the best rule, and it has to do with conduct. People have a right to have whatever feelings, whatever attitudes they wish, but when their conduct could put at risk the morale, or put at risk even the cohesion that Duncan Hunter spoke of, I think that's what is at issue. And that's why our policy is what it is.
Cooper: Governor Romney, you said in 1994 that you looked forward to the day when gays and lesbians could serve, and I quote, "openly and honestly in our nation's military." Do you stand by that?
Romney: This isn't that time. This is not that time. We're in the middle of a war. The people who have…
Cooper: Do you look forward to that time, though, one day?
Romney: I'm going to listen to the people who run the military to see what the circumstances are like. And my view is that, at this stage, this is not the time for us to make that kind of…
Cooper: Is that a change in your position…
Romney: Yes, I didn't think it would work. I didn't think "don't ask/don't tell" would work. That was my — I didn't think that would work. I thought that was a policy, when I heard about it, I laughed. I said that doesn't make any sense to me.
And you know what? It's been there now for, what, 15 years? It seems to have worked.
Cooper: So, just so I'm clear, at this point, do you still look forward to a day when gays can serve openly in the military or no longer?
Romney: I look forward to hearing from the military exactly what they believe is the right way to have the right kind of cohesion and support in our troops and I listen to what they have to say.
(Audience booing)
Cooper: All right. General Kerr is — as I said — is here.
Please stand up, General. Thank you very much for being with us.
Did you feel you got an answer to your question?
Kerr: With all due respect, I did not get an answer from the candidates.
(Applause)
Cooper: What do you feel you did not…
Kerr: American men and women in the military are professional enough to serve with gays and lesbians.
For 42 years, I wore the army uniform on active duty, in the Reserve, and also for the state of California. I revealed I was a gay man after I retired.
Today, "don't ask/don't tell" is destructive to our military policy.
Every day, the Department of Defense discharges two people, not for misconduct, not for the unit cohesion…
Cooper: Wait, the mike is — you've lost me. Is the microphone not working? Please, just finish your — what is your question?
Kerr: Not for the unit cohesion that Congressman Hunter is talking about, but simply because they happen to be gay.
Cooper: OK. Senator McCain …
Kerr: And we're talking about doctors, nurses, pilots, and the surgeon who sews somebody up when they're taken from the battlefield.
Cooper: I appreciate your comments.
Senator McCain, I want to give you 30 seconds. You served in the military.
McCain: General, I thank you for your service to our nation. I respect it. All the time, I talk to our military leaders, beginning with our joint chiefs of staff and the leaders in the field, such as General Petraeus and General Odierno and others who are designated leaders with the responsibility of the safety of the men and women under their command and their security and protect them as best they can.
Almost unanimously, they tell me that this present policy is working, that we have the best military in history, that we have the bravest, most professional, best prepared, and that this policy ought to be continued because it's working.
Cooper: All right. We've got another question. Let's listen.
David Cercone: Hi, my name is David Cercone. I'd like to ask all the candidates if they accept the support of the Log Cabin Republicans, and why should the Log Cabin Republicans support their candidacy?
Cooper: Governor Huckabee, would you support — would you allow support from the Log Cabin Republicans, a group of gay Republicans?
Huckabee: You know, in my position in this entire election, I need the support of anybody and everybody I can get.
(Applause)
(Crosstalk)
Huckabee: Sure, they should. I disagree with them, strongly disagree with them on the idea of same-sex marriage, but in a democracy we can have disagreements over some policies and still agree on the greater things that make us Republicans.
So would I accept their support? Of course. Would I change my position on same-sex marriage? No, I wouldn't. But if they're willing to support me, I'll be their president. I'll be anybody's president, but I'll be true to my convictions, and I think that's what Americans look for — not someone they're going to agree with on everything, but somebody who at least has some convictions, sticks with them, can explain them, and can at least have respect for people who have different ones.
(Applause)
Ex-Gay Gadfly Stephen Bennett Asks Question at Values Voters Debate
Timothy Kincaid
September 17th, 2007
The "values voters" seem (so far) to be obsessed about homosexuality. And the candidates that showed up to pander are playing right along. They all weighed in on how to oppose "the homosexual agenda" with only Ron Paul hedging his anti-gay attitudes in terms of libertarianism.
Every single candidate present would veto ENDA, would support a federal marriage amendment, and would support healthcare policies that would reward a "moral" lifestyle.
So it's not too surprising that Stephen Bennett was trotted out to ask the following question:
Would you support legislation ensuring that schools would lose federal funding if they exposed children to homosexual indoctrination?
They all said yes.
UPDATE: Peter LaBarbera appeared to ask a "question" to Mitt Romney… who wasn't there to answer. What miniscule credibility this circus of the extreme had was completely abolished by allowing questions to non-present candidates. Those candidates that showed up should be ashamed.
Mat Staver "asked a question" of Fred Thompson comparing gay marriage to slavery.
UPDATE: A straw poll took place following the debate in which this slick bar-graph declared Mike Huckabee the winner. Janet Folger (left) gesticulated wildly.
GOP Top Tier Ignore the "Values Voters"
Timothy Kincaid
September 17th, 2007
The great circus of extremism known as the Values Voters Debate is being held today, and the Republican front runners will not be there. NBC6 is reporting that Rudy Giuliani, Mitt Romney, John McCain and Fred Thompson all have "scheduling conflicts" and wouldn't be caught dead at the event.
One can hardly blame them. The debate is moderated by WorldNetDaily's Joseph Farah and will host questions from "the American Family Association, Liberty Counsel, Creation Studies Institute and the like", including the brother of Terri Schiavo.
But though Janet Folger is terribly disappointed (and predicting dire results for those who are skipping the lunacy), there are some candidates so extreme (or so desperate) that they are willing to publically tie their wagons to young earthers, Ford boycotters, xenophobes, and homophobes.
Tonight's forum, which will be moderated by Joseph Farah, the editor of WorldNetDaily, will feature Senator Sam Brownback (R-Kansas), former Arkansas Governor Mike Huckabee, Congressmen Duncan Hunter (California), Ron Paul (Texas), and Tom Tancredo (Colorado), John Cox — and former U.S. Ambassador Alan Keyes, who announced his candidacy over the weekend.
Those with nothing to do (and I truly mean nothing to do) can tune in to watch the also-rans claim to each be more extreme than the other.
The Prostitute and the Pharisees
Jim Burroway
March 20th, 2007
Note: This post began as a comment I left on Warren Throckmorton's web site.
Rev. Karen Booth, Executive Director of Transforming Congregations, an Exodus-affiliated ex-gay ministry based in Delaware, left this comment more than a week ago describing her ministry:
My "organization" is not politically involved, so we don't have the goal of squelching equal rights. In fact, we're also connected to the United Methodist Church, which takes a strong stand on the rights of the LGBT community.
But then, last Friday Rev. Booth left a comment in a free-wheeling thread on Warren Throckmorton's web site that led me to look around a little. That's when I found this on Transforming Congregations' web site:
TED HAGGARD MASSAGE TABLE ON EBAY

I recently discovered that Mike Jones, the gay prostitute that "outed" Rev. Ted Haggard, is selling his massage table on eBay… Even though Jones claims the proceeds will go to an AIDS charity, this act is reprehensible.

It is very difficult to register a complaint with eBay, and almost impossible to do so through their website… I have sent a message (which follows at the end of this report) that can be used as a model for you to fax eBay with your concerns…
So if Rev. Booth's ministry is not political, why is she encouraging her supporters to engage in a political act? What exactly does interfering with a charity auction have to do with "equipping the local church" to "meet the needs of confused, trapped and hurting people"?
Later in that same thread on Warren's site, she returned to taunt everyone there:
BTW – Mike Jones eBay auction was cancelled by eBay. I'm really glad, and hope they got a ton of complaints. Interesting that I didn't see any criticism of Mike's action (who was also on the Montel show) in this thread. But then, it's so much easier to just keep bashing Alan [Chambers].
I spent the rest of the weekend wondering why nobody — myself included — rushed to Mike Jones' defense. And I guess we all know why, really. He's a former prostitute.
Sure, it's salacious and in poor taste for Mike Jones to put his massage table up on eBay for charity. The proceeds of the auction were to go to Project Angel Heart, which "promotes the health, dignity and self-sufficiency of people living with HIV/AIDS, cancer and other life-threatening illnesses by providing nutritious, home-delivered meals with care and compassion."
Yes, putting the "Ted Haggard massage table" on eBay is in extremely poor taste. Also in poor taste? How about the Sisters of Perpetual Indulgence, who organized some of the first safe-sex messages when official health departments were afraid to touch the subject? They also raised money for home AIDS care, food and housing when nobody else would.
And don't forget all those leather daddies, also in extremely poor taste and a terrible influence, many of them. They also have a reputation for being among the most generous donors of time, money and talent towards AIDS care at the height of the crisis.
And we cannot forget the Dykes on Bikes, who cleaned apartments, cooked meals and walked the dogs. You get my drift…
Now don't get me wrong. The Sisters of Perpetual Indulgence deeply offend my Catholic sensibilities. Leather daddies are not my scene — in fact, I find all public displays of sexual fetishes offensive. As for the Dykes on Bikes, I have nothing against them — they just scare the bejeezus out of me.
But Sunday evening, Chris and I had several friends over for dinner, including two gentlemen who had lived in New York City during the early '80's, just as the AIDS epidemic was getting started. They reminded us of the abject fear they felt of not knowing what was happening, the feeling that nobody anywhere in the country cared about what was going on, and of course, of attending memorials two or three times a week. Alan said, "it was simply exhausting."
And I can tell you right now that if you had been in my home Sunday evening, you would have heard nothing but gratitude for everyone — no matter who they were or where they came from — who worked hard and tried to make a difference. You would have heard words of immense gratitude for the Sisters, the Dykes, the daddies, the drag queens — every blessed one of them. They were among the more prominent groups who were key to establishing and funding many of the AIDS service organizations that exist today, organizations which continue to do the hard work that nobody else is interested in. They all did this because nobody else would.
And where was the church during all that? Well, I think we don't really have re-hash all of that, do we? Everyone knows the answer. Ex-gay author and counselor Joe Dallas gave a powerful, emotional talk at Love Won Out on the church's shameful failure. He listed the church's sins of omission as well as its sins of commission. And he concluded that portion of his talk in a thunderous voice, "And they [they gay community] will never forget it!" By the tone of his voice and the look in his eye, he left unspoken the words "… and who can blame them?" He left that part unspoken, but I think everyone there understood it that way anyway.
Rev. Booth, if you really want to know why many in the gay community are not willing to condemn Mike Jones or any of the other "salacious" groups, it's because when the chips are down, there are still today — twenty-five years later — only two responses: thunderous condemnations or silence on the one hand, or rolling up your sleeves and getting to work on the other.
So today, we have Mike Jones, a prostitute. I'm not going to defend his profession. Not by a long shot. But the folks at New Life Church made the brave decision to embrace him and forgive him. No, not forgive him, thank him for revealing what Ted Haggard was doing.
And if he wants to raise money for a worthwhile AIDS charity, nobody's going to hear any protest out of me. I'd rather follow Christ's example and choose the prostitutes over the Pharisees any day.
Update: Rev. Booth responds in the comments. I reply to Rev. Booth at Ex-Gay Watch.
Update: The auction is back up and Rev. Booth has a partial change of heart.