Mike Huckabee and the Christian Reconstructionists
Jim Burroway
December 20th, 2007
It's been widely reported that former Arkansas governor and GOP presidential candidate Mike Huckabee flew down to Houston earlier this week for a fundraiser hosted by Steven Hotze. In today's column, Robert Novak identified Steven Hotze as "a leader in the highly conservative Christian Reconstruction movement." According to Novak, that fundraiser's host committee had an unusual make-up:
State Rep. Debbie Riddle was the only elected official on the host committee, most of whose members were not familiar names in Texas politics. David Welch is executive director of the Houston Area Pastor Council. Jack Tompkins heads a firm providing Internet services to the Christian community. Entrepreneur J. Keet Lewis is an active Southern Baptist.

A better-known committee member was Baptist minister Rick Scarborough, founder of Vision America. In endorsing Huckabee on Nov. 1, Scarborough said, "I acknowledge that Huckabee is not the perfect candidate" but one "who will listen to wise counsel."
According to Novak — who is not exactly a flaming liberal himself — until Huckabee's problems with his fellow Southern Baptists had been that they didn't think he was conservative enough! A pretty amazing assessment given his many statements on AIDS and homosexuality which have come to light recently (and which Huckabee has refused to back away from, a move which earned him a LaBarbera Award). But as strident as his pronouncements may be, they hadn't been orthodox enough to fully satisfy the Christian Reconstructionists. But now that he's receiving donations from them, it looks like things have changed between them.
For those who don't know, Christian Reconstructionists are the guys who want to replace civil law with Biblical law, which makes them the Christian equivalent to Muslims who advocate for Sharia law. To give you an idea of what these people are about, the Cato Institute posted a snippet of a 1986 statement that was signed by Steven Holtze:
We affirm that the Bible is not only God's statements to us regarding religion, salvation, eternity, and righteousness, but also the final measurement and depository of certain fundamental facts of reality and basic principles that God wants all mankind to know in the sphere of law, government, economics, business, education, arts and communication, medicine, psychology, and science. All theories and practices of these spheres of life are only true, right, and realistic to the degree that they agree with the Bible.
This statement is virtually identical to some of the messages presented by American pastors at the most recent Watchmen On the Walls conference last November. Other signatories to the statement include D. James Kennedy, Tim LaHaye, George Rekers, Don Wildmon, and R.J. Rushdoony.
Rushdoony is considered the father of Christian Reconstructionism. His 1973 book, The Institutes of Biblical Law, serves as a foundational document for Christian Reconstructionists. In the Institutes, Rushdoony called for the replacement of civil law with Biblical Law, including the legalization of slavery (because the Bible approves of it) stoning as punishment for a long list of Biblical offenses including homosexuality (because the Bible calls for it). Rushdoony defended these beliefs right up until his death in 2001. Scarborough recently declared that his is neither a Republican nor a Democrat, but "a Christocrat."
Huckabee recently told an audience at Liberty University that God was responsible for his recent rise in the polls. And we've noted before that Huckabee has been voicing a rather strange theology lately. Does that theology now include theonomy and the Christian Reconstructionist theology of those whose support he's seeking?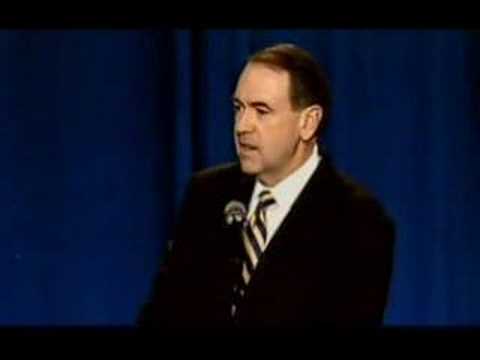 Comments