The Daily Agenda for Saturday, October 8
Jim Burroway
October 8th, 2011
TODAY'S AGENDA (OURS):

First Openly Gay Ordination for the Presbyterian Church, USA: Madison, WI. Last May, the Presbyterian Church USA became the fourth mainline Protestant Church to allow the ordination of openly gay clergy. Today, that promise becomes a reality as Scott Anderson is ordained at Covenant Presbyterian Church in Madison, Wisconsin. The Princeton Theological Seminary graduate had served as Co-Moderator of More Light Presbyterians before moving to Madison to become the Executive Director of the Wisconsin Council of Churches.
Anderson's ordination will mark his return to a ministry he was forced to abandon twenty-one years ago. In 1990, while working as a parish minister in Sacramento, he was threatened with exposure by a couple who wanted him to help raise money for a cause they were advancing that he disagreed with. Rather than submit to the couple's threats, he outed himself instead, and in keeping with the church's rules he stepped down as minister and embarked on the long process of working to change the church's stance toward ordination of openly gay people. Anderson will be supported by his partner of twenty-one years at today's ordination. Anderson is being ordained by the John Knox Presbytery, which consists of 60 congregations in Iowa, Minnesota, and Wisconsin.
AIDS Walks This Weekend: Columbus, OH; Indianapolis, IN and Kent/Sussex, DE.
Pride Celebrations This Weekend: Atlanta, GA; Orlando, FL; Rio de Janeiro, Brazil and Tucson, AZ.
Also This Weekend: Iris Prize Film Festival, Cardiff, UK.
TODAY'S AGENDA (THEIRS):
Values Voter Summit: Washington, D.C. Whenever the Family "Research" Council and the American Family Association team up to put on their annual Values Voter Summit, you can pretty much guarantee that they will more than live up to their reputation for being on the Southern Poverty Law Center's list of anti-gay hate groups. Yesterday, we saw GOP presidential candidate Sen. Rick Santorum give his most bizarre qualification yet for the presidency, when he told the conference that voters should "look at who they lay down with at night and what they believe." That will be hard to top, although Liberty Counsel's Mat Staver gave it his best shot by saying that gay equality will lead to the destruction of Western Civilization.
Today's lineup will be about as crazy as yesterday's. The AFA's Bryan Fischer, whose sheer lunacy knows no bounds, will be a featured speaker, along with FRC's Tom McClusky and Tony Perkins, National Organization for Marriage's Brian Brown, American Values' Gary Bauer, AFA's Ed Vitagliano, Alliance Defense Fund's Alan Sears, Eagle Forum's Phyllis Schlafly, Glenn Beck and Bishop Harry Jackson, among many others. GOP Presidential candidates speaking today will be Texas Rep. Ron Paul and former Massachusetts Gov. Mitt Romney.
If you know of something that belongs on the agenda, please send it here. Don't forget to include the basics: who, what, when, where, and URL (if available).
And feel free to consider this your open thread for the day. What's happening in your world?
Tags:
Alan Sears
,
American Family Association
,
Bryan Fischer
,
Ed Vitagliano
,
Family Research Council
,
Gary Bauer
,
Glenn Beck
,
Harry Jackson Jr
,
Mitt Romney
,
Phyllis Schlafly
,
Presbyterian (USA)
,
Ron Paul
,
Tom McClusky
,
Tony Perkins
,
Values Voters Summit
COMMENTS (3)
|
LINK
Harry Jackson: Marriage Equality "Is A Satanic Plot to Destroy Our Seed"
Jim Burroway
April 18th, 2011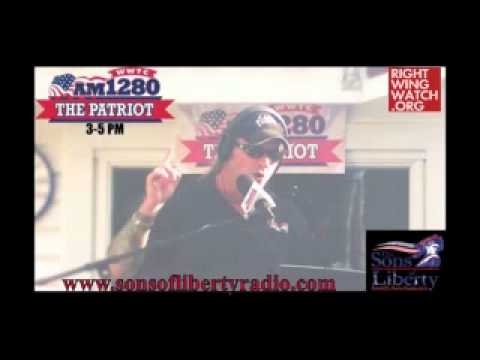 Via Right Wing Watch comes this audio of an interview between Bradlee Dean of the You Can Run But You Cannot Hide Ministry and Bishop Harry Jackson, Jr., discussing his fight against marriage equality in Washington, DC.
Bradlee Dean: The bond that men have when they are persecuted for rightesousness' sake, those are brothers. And it doesn't matter what color. We're all one blood. What I like about what's going on here with you is you're the one taking the forefront on the gay issue here, you're reaping it from let me say the wicked, let me say from those that want to overthrow righteousness, overthrow law. This is the homosexual agenda that's going on in D.C. and the capital of the United States right now from some of these people…

Harry Jackson: They're playing hardball…

Dean: They are, big time.

Jackson: I'm an African-American, and I especially believe that what we're dealing with is a satanic plot to destroy our seed. I think that where we are now is that there is an issue of justice that is being perverted, and we have a minority group, in a sense, that has decided that they are going to impose their will on the culture and…

Dean: By force

Jackson: … by force, and redefine God's law and not care whether a whole generation of people are so confused that they don't even remember the role of a mother and a father. And men did not create the concept of femininity or masculinity. It is in the heart of God. Where we are is an interesting period of time. I believe that a great awakening is about to come forth…

Dean: Amen.

Jackson: …I believe you're a part of it. I believe those who are hearing the sound of your voice are called to be revolutionaries that rise up and interact. We're not going to take up guns in terms of fighting with those kind of weapons. The weapons of our warfare are not carnal but are mighty through God to the pulling down the strongholds. We're going to turn America around as we contend lawfully for our sacred rights.
According to Jackson, contending "lawfully" includes lying about where his legal residence is.
DC marriage appeal rejected by SCOTUS
Timothy Kincaid
January 18th, 2011
For a case to be heard by the US Supreme Court, four of the nine justices must have an interest in discussing the constitutionality of the case. The challenge to the District of Columbia's denial of a referendum on marriage equality did not reach that standard. (AP)
The court did not comment Tuesday in turning away a challenge from a Maryland pastor and others who are trying to get a measure on the ballot to allow Washingtonians to vote on a measure that defines marriage as between a man and a woman.

Bishop Harry Jackson led a lawsuit against the district's Board of Elections and Ethics after it refused to put that initiative on the ballot. The board ruled that the ballot question would in effect authorize discrimination.
The facts are interesting.
After the DC Council voted to enact marriage equality, Bishop Harry Jackson (a Maryland preacher) got signatures to put a referendum on the ballot. But the District has a provision which disallows referenda on civil rights issues and the Board of Elections and Ethics deemed an anti-gay marriage vote to be just such a vote.
When the courts did not overturn this decision, Jackson appealed to the Supreme Court and asked for a stay. In March, Justice Roberts declined the stay. Now the case is settled.
We cannot extrapolate too much from this decision. However, the following seems to be true:
There are not four anti-gay activist justices on the Supreme Court who are willing to take whatever steps are necessary to oppose equality.
The idea that gay marriage is, indeed, a civil rights issue – or can legitimately be seen as such by an Elections Board – is acceptable to at least six of the nine justices.
Star Parker, JC Watts and Bishop Harry Jackson file amicus brief for Prop 8 Proponents
Timothy Kincaid
September 23rd, 2010
Three organizations (consisting primarily of three individuals) which represent socially conservative African-Americans have provided an amicus brief to the Ninth Circuit for their consideration in the appeal to Judge Walker's finding in Perry v. Schwarzenegger that Proposition 8 is a violation of the US Constitution. All three have long been opponents of equality for gay people.
The High Impact Leadership Coalition (Bishop Harry Jackson, Jr.), The Center for for Urban Renewal and Education (Star Parker), and the terribly misnamed Frederick Douglass Foundation, Inc. (former Congressman JC Watts, R-OK) weighed in to argue that "civil rights of parties to same-sex relationships are not advanced by reliance on legal principles that otherwise have served to further the civil rights of African-Americans."
The history of marriage in the constitutions and laws in America clearly demonstrates that the American people, their elected representatives, and their legal charters flatly reject any assertion that racially segregated marriage (as in Loving) is somehow comparable to sexually integrated marriage of a man and a woman.
Miscegenation laws were based on Supremacy and invidious discrimination, you see. Ummmm….
And besides, as not all states had miscegenation laws, then the core purpose of marriage wasn't tied to race like it is to gender. To make their point, they offer a numbers exercise.
To begin, of the thirteen States that never had antimiscegenation laws, ten now protect man-woman marriage by positive law or interpretation of statute. Four of the thirteen also protect man-woman marriage by constitutional amendment, which requires approval by at least a majority vote of the people of the State.

Seven States once had antimiscegenation laws but repealed them before Perez v. Sharp, 32 Cal.2d 711, 198 P.2d 17 (Cal. 1948). Today, five of those states expressly protect the institution of man-woman marriage, using both statutes and constitutional amendments.

Fourteen States repealed their antimiscegenation laws after Perez and before Loving. Today, all of those States protect man-woman marriage, most of them with both statutes and constitutional amendments.
So obviously, marriage as a fundamental right only applies to black people and not to gay people.
They go on to rant about the procreative aspect of marriage (citing cased from the 1880s and 1920s) never realizing that their quotes about individuals having the right "to marry, establish a home and bring up children" or about marriage being "the foundation of the family and of society" actually serve to further our argument rather than their own.
Operating under the presumption that family=heterosexual, they only reveal their bias and that it is presumption of heterosexual superiority that is behind every anti-gay marriage argument.
And they go on and on about the intents and appropriateness of the Loving decision, never noting that Mildred Loving herself saw her fight to marry the person she loved as comparable to the fight of gay men and women to marry the person they love.
This fundamental distinction lies at the heart of the point that Yale Law Professor Stephen L. Carter made on the thirtieth anniversary of Loving. He wrote: "One of the beauties of Loving v. Virginia was precisely that it was very easy to see how these were people trying to do a very ordinary thing, and got in trouble for it."

That distinguishes Loving from the position of advocates of same-sex marriage who are trying to do a very extraordinary thing—to redefine the institution of marriage.
In their conclusion, they claim that using Loving v. Virginia as support for the fundamental right to marry, is just another example of "an illegitimate attempt to appropriate a valuable cultural icon for political purposes." They don't note the irony.
NOM's Tour of Mostly-Empty City Plaza rolls to a stop
Timothy Kincaid
August 15th, 2010
Today the National Organization for Marriage held the final rally of their Summer for Marriage Tour, a 19 state, 23 city tour to rally opposition to marriage equality that can best be summed up as disastrous. Only a few cities drew crowds over 100, and in several stops less than two dozen locals turned up to support NOM's efforts.
But for their big finale, NOM chose Washington D.C., a locality that only this year enacted marriage equality. In a divergence from the usual, all of the speakers at today's rally – other than Brian Brown – were African-Americans. And as one speaker, Bishop Neaville Coles of the local Church of God in Christ, brought his congregation, the audience had a sizable African-American presence as well. Although polls and public presumption assume that blacks and Hispanics are strongly opposed to same-sex marriage, until today NOM's rallies have been mostly absent of anyone other than mostly-elderly Caucasians.
NOM also drew a larger crowd than usual for their final stop. Although neither NOM nor the Trial Tracker provide a complete estimate, there were at least 60 and maybe up to 100 supporters [ed: reader Karen says more, maybe 200]. About 50 protesters stayed across the street while another 250 met at a pro-marriage equality rally a few blocks away.
From all accounts NOM's rally did not present any original thought. Mostly cliches and astonishingly lacking in historical perspective – though there did seem to be a fair amount of unintended irony.
The old standby of "Adam and Eve, not Adam and Steve" drew applause. (Some day I'm going to show up with a sign that says "Adam and Yves").
Bishop Coles thundered, "What God has joined let no man put asunder!" Ummm, Bishop? You may want to think through the logical conclusion of that one before you try to reverse the marriages of the United Church of Christ.
Dr. Fauntroy seemed both defeatist and delusional. I'm not sure why the fellow thinks it may cost him his friends and his life, but like a true NOMartyr, he lamented:
I am determined to go all the way through. If it costs my life, I am determined, because I've got heaven in my view. If it means I have got to stand alone, if it means my friends be few, I am not worried about what people say. I've got heaven on my mind.
But, then again, he also said that our founding fathers promised healthcare so I'll just give the elder statesman the privilege of age and its encumbrances.
But no one seemed to be less aware of his own words than Bishop Harry Jackson who spent his time railing against minority rights.
What is happening is a minority — just like we're hearing now — is attempting to impose its will on the majority… I believe where we are today is the same situation [as the African-American civil rights struggle]. A minority is imposing its will.
Now I've heard language like that before, and it too was in context of racial tensions. But those screaming about "minorities imposing their will" were not on the side of civil rights or equality. But come to think of it, neither is Bishop Jackson.
Where The Money To Overturn Same-Sex Marriage in DC Coming From?
Jim Burroway
February 2nd, 2010
Hint: None of it is coming from within Washington, D.C.. Rev. Harry Jackson's three groups to wage three different ballot fights against DC's new marriage equality law have raised a total of $199,000 so far. Of that, $102,192 came from Rev. Jackson's MAryland-based High Impact Leadership Coalition. That sum is followed by $40,000 from Focus On the Family, $32,130 from the National Organization for Marriage, and $25,000 from the Family Research Council. None of the donations are from DC residents.
Case against DC marriages thrown out
Timothy Kincaid
January 14th, 2010
A motion for summary judgment is when you tell the court that the law is so obviously on your side that a trial would be a waste of time and request that you be declared the victor up front. Litigants on both sides of an issue often request summary judgment just as a matter of practicality, but it is generally only granted if there is little question as to the outcome of a case.
The coalition of anti-gay religious leaders headed by Bishop Harry Jackson seeking to force a referendum to oppose marriage equality filed a motion for summary judgment. So did the District of Columbia.
Today Judge Judity N. Macaluso found for the District (pdf):
ACCORDINGLY, for the reasons stated above, it is this 14th day of January 2010, hereby

ORDERED, that "Petitioners\' Motion for Summary Judgment," filed November 20, 2009, is DENIED. It is further

ORDERED, that Petitioners\' request for a writ in the nature of mandamus is DENIED. It is further

ORDERED, that "District of Columbia\'s Motion to Dismiss, or in the Alternative, for Summary Judgment," filed December 18, 2009, is GRANTED. It is further

ORDERED, that Summary Judgment is entered in favor of the District of Columbia Board of Elections and Ethics and the District of Columbia.
A review of the Manhattan Declaration
This commentary is the opinion of the author and does not necessarily reflect that of other authors at Box Turtle Bulletin.
Timothy Kincaid
November 20th, 2009
A group of conservative Christians released today their manifesto of their agreement across lines of faith and tradition. Entitled Manhattan Declaration: A Call of Christian Conscience, this document lays out areas in which the signatories declare commonality of purpose.
Who they are
First, let us say what this document is not. It is not, as the NY Times described it, a situation in which "Christian Leaders Unite on Political Issues". Indeed, this is but a segment of Christian thought, claiming the mantle of Christian history and tradition but excluding broad segments of the faith.
One need only glance at the signatories to know the nature of the alliance. Present are some who are well known names in the political culture wars who have long striven to impose their religious views by force of law on the unbelievers: Dr. James Dobson, Chuck Colson, Gary Bauer, and Tony Perkins. Some are religious leaders who have been recently shifting their realm of influence away from faith towards secular domination: Ravi Zacharias, Dr. Albert Mohler, and Jonathan Falwell.
But this is not just broadly social conservatives. There is, instead, a concentration of those who focus on "opposing the homosexual agenda". There are a few religious activists who seem dedicated and committed (obsessed, one might think) to fighting equality for gay people: Ken Hutcherson, Bishop Harry Jackson, and Jim Garlow. And then, inexplicably, some who are not religious leaders at all but social activists whose primary occupation is in seeking the political institutionalizing of inequality to gay people: Maggie Gallagher, Frank Schubert, and William Donohue.
Perhaps the most difficult to explain, and by far the most troubling name present, is The Most Rev. Peter J. Akinola, Primate, Anglican Church of Nigeria.
There is no explanation provided as to what relevance Akinola has on what is a uniquely American collection. But his participation is not accidental. And, as I will discuss momentarily, his is perhaps the key that explains the true nature of this manifesto.
This could be seen as nothing more that "the usual suspects", a rehashing of the Moral Majority or the Christian Coalition or any other of the loose groupings of religious authoritarians, were it not for one import inclusion. There are nine Catholic Archbishops who signed on to this document.
Ideologically as dissimilar as possible, these two Christian extremes – one whose doctrine is based in tradition, liturgy, and hierarchy, the other whose doctrine is based in reform, spirit-led worship, and direct divine revelation – have set aside ancient hostilities and theological beliefs that doubt the other's right to be considered "Christian" and have now joined in a common purpose: denying your rights.
But as important as who is present, is who is absent.
Among the signatories I was unable to find any members of the United Church of Christ, Episcopal Church, Presbyterian Church (USA), Friends (Quaker), Disciples of Christ, Unitarian Universalists or American Baptists. There was one United Methodist minister.
In short, a whole branch of Christianity, Mainline Christianity, was missing, including many who no doubt would agree with the goals of banning abortion and forbidding same-sex marriage. This exclusion is, I believe, integral to understanding the true purpose of this manifesto.
The agreed upon issues
While this alliance is one that does not reflect the face of Christianity, it also is not a declaration of a new-found position of agreement based on shared Christian teaching and ideology. There is no mention of shared faith in creeds or teachings, no virgin birth, no resurrection, no divine redemption.
Rather, this is a statement of political purpose by an alliance of socially conservative activist who oppose abortion and marriage equality. Indeed, although the document speaks in lofty terms of Christian tradition and religious freedom, the only commitments it makes are to oppose legal abortion (some day down the road) and the immediate attack on the ability of gay people to avail themselves of civil equality.
This is, in short a political alliance. It is a pact and a threat.
What it means
While on the face of it, this manifesto purports to be a rededication to fight two specific political issues, I think that this is but surface dressing for a deeper meaning.
This is not a war over civil marriage definition – nor, indeed, has that ever been the real motivation behind anti-gay marriage drives. Rather, this is a war over religious domination, a fight over who is "really a Christian" and an effort on the part of a long-suffering religious subset to spite those who have long had what they coveted.
Political power in the United States had long been in the hands of what is now called Mainline Christianity. Our presidents have included over a dozen Episcopalians (as is the National Cathedral), about ten Presbyterians, with most of the rest being Methodists, Unitarians, Disciples of Christ, and Quakers.
There has been exactly one Catholic. There have been four Baptists, of whom the two Southern Baptists were Jimmy Carter and Bill Clinton. There have been no Pentecostals and no members of mega-Churches. In fact, though some Republican presidents have been religious and conservative, there has never been a President of the United States that was both denominationally and ideologically within the fold represented by the signatories of this Manhattan Declaration.
And now they want theirs. And, not content at the rise of their own political power, they will not be happy unless they can diminish those denominations whom they seek to replace.
Note the presence of the second signatory, Peter Akinola? He is the Nigerian Anglican who has been missionizing the United States in an effort to hurt the Episcopal Church. His inclusion is a very clear message sent to the EC that they are a target for the Catholic Church and the evangelical churches who will use whatever political power they may wield in the future to thwart her position in the nation.
This manifesto is, I believe, less a declaration of war on gay people and those with unplanned pregnancies than it is a declaration of war on other Christian faiths.
One absence that seems to confirm this alliance is a denomination that one might have expected to be quick to affirm its commitment to the right to life and protection of the family. But there are no representatives from the Church of Jesus Christ of Latter Day Saints (the Mormons). The exclusion of this church, considered by most conservatives to be "NOT Christian", suggest that this manifesto has less to do with social goals and more to do with Christian definition.
This manifesto says, in effect, "We are the Christians. We are the 'heirs of a 2,000-year tradition of proclaiming God's word', and we alone will speak for the faith."
What the manifesto reveals
In addition to highlighting the division in the Christian body, there are also some clues as to future items on the agenda of this newly affirmed political alliance. Here is how I translate some of their declarations.
we note with sadness that pro-abortion ideology prevails today in our government … truly Christian answer to problem pregnancies is for all of us to love and care for mother and child alike
Only lip service will be paid to the shared objection to abortion. Little time, money, or political capital will be spent on this already lost goal. However, should opportunity ever swing in their direction, they will stop at nothing short of a full ban on all abortions without any consideration of rape, quality of life, or the life of the mother.
But absent the abortion issue, these allies have but one other shared issue: attacking you and your life.
Around the globe … take steps necessary to halt the spread of preventable diseases like AIDS
The situations in Nigeria and Uganda are not accidental nor unrelated to the efforts of conservative Americans. Although virtually all of the spread of AIDS in Africa is related to heterosexuality, this will be an excuse to pass draconian laws seeking to repress, incarcerate, or execute gay men and women.
In addition to being a slam against the Episcopal Church, the inclusion of Akinola announces that pogroms against gay Africans will have the endorsement of both the Catholic Church and conservative evangelical churches.
We should not expect the calls for criminal prosecution of gay people to be limited to foreign soil. Should such a fervor be fostered internationally, it is unquestionable that this will lend support to efforts to reinstate or bolster oppression here.
It is no longer a matter of curiosity that the Catholic Church has not spoken out against the Kill Gays bill in Uganda. Nor had Dr. Mohler or Dr. Dobson. Nor, indeed, has any signatory of this document.
The impulse to redefine marriage in order to recognize same-sex and multiple partner relationships … there are those who are disposed towards homosexual and polyamorous conduct and relationships … Some who enter into same-sex and polyamorous relationships no doubt regard their unions as truly marital … the assumption that the legal status of one set of marriage relationships affects no other would not only argue for same sex partnerships; it could be asserted with equal validity for polyamorous partnerships, polygamous households, even adult brothers, sisters, or brothers and sisters living in incestuous relationships
The Manhattan document does not in any place refer to same-sex relationships without simultaneously mentioning multiple-party relationships. This will no doubt translate to a new commitment on the part of the signatories to try and tie the two together in their political campaigns.
Frankly, I wish them godspeed in that decision. Americans have, I believe, moved beyond the point in which gay couples are viewed as identical to polygamists.
as Christ was willing, out of love, to give Himself up for the church in a complete sacrifice, we are willing, lovingly, to make whatever sacrifices are required of us for the sake of the inestimable treasure that is marriage.
This probably tells us nothing but the extent to which these people are self-righteous and truly deeply smarmy. They are willing, lovingly, to sacrifice your life and freedom and equality, not their own. Oh how loving. Oh how Christ-like.
Because we honor justice and the common good, we will not comply with any edict that purports to compel our institutions to participate in abortions, embryo-destructive research, assisted suicide and euthanasia, or any other anti-life act; nor will we bend to any rule purporting to force us to bless immoral sexual partnerships, treat them as marriages or the equivalent, or refrain from proclaiming the truth, as we know it, about morality and immorality and marriage and the family.
There are, as we all know, no requirements for any churches or ministers to act contrary to their faith. We have long since debunked their claims of oppression and shown them to be nothing more than a retraction of special privilege when the religious groups in question wanted to use taxpayer dollars to discriminate against gay taxpayers. There are no instances in their recitation in which religious groups were forced to compromise in any areas of faith in the administration of their own funds or time.
That is of no consequence. Liars lie. We expect the morally bankrupt to behave without integrity.
But what I think we can anticipate, based on their conclusion, is a concerted effort at political stuntery. A dedication to dishonesty. And an ongoing campaign of lies.
As a Christian, it distresses me to see the name of my faith and the mantle of its history usurped by those who have no respect for its greater principles but instead gleefully glom onto its darker bloody history. Rather than exalt in the liberties that have evolved from Christian thought, they seek to equate the faith with its most prejudicial, superstitious, exclusionary and dictatorial moments.
But perhaps something good may come of this.
It is possible that out of this declaration of war, the moderate and liberal branches of the faith may find common cause, if nothing else in defense of their own good name. Perhaps they will decide that they have a purpose and meaning in modern America and will let go of residual guilt and angst and take up the mantle of protector of the oppressed and champion of justice and mercy.
Let us hope and pray that they do.
Tags:
Albert Mohler
,
Chuck Colson
,
Gary Bauer
,
Harry Jackson Jr
,
James Dobson
,
Jim Garlow
,
Ken Hutcherson
,
Maggie Gallagher
,
Manhattan Declaration
,
Peter Akinola
,
Tony Perkins
COMMENTS (33)
|
LINK
Bishop Jackson is Back to Fighting Marriage in D.C.
Timothy Kincaid
September 1st, 2009
In July Bishop Harry Jackson of Maryland lost his battle to stop the District of Columbia from recognizing same-sex marriages conducted in states where they are legal. The D.C. Board of Elections & Ethics ruled that such a referndom was in violation of the city\'s election code because it was not consistent with the District's Human Rights Act.
Now he's back with a request for a ballot initiative. (Washington Post)
The one-sentence initiative reads, "only marriage between a man and a woman is valid and recognized in the District of Columbia."
The legislature of the District has already indicated that it will propose and pass legislation legalizing same-sex marriage in the nation's capital. Jackson hopes this will stall the process.
Why Does Focus Fear the Snakeywolves?
Timothy Kincaid
January 23rd, 2008

This spring, Soulforce will follow their successful campaign to bring awareness to conservative campuses with a campaign to bring Good News to evangelical mega-churches. They have identified six pastors and churches that they wish to approach and seek dialog:
• Rev. Joel Osteen and the Lakewood Church in Houston, Texas
• Bishop T.D. Jakes and The Potter's House in Dallas, Texas
• Bishop Harry Jackson, Jr. and Hope Christian Church in Beltsville, Maryland
• Bishop Eddie Long and New Birth Missionary Baptist Church in Lithonia, Georgia
• Rev. Bill Hybels and Willow Creek Community Church in South Barrington, Illinois
• Dr. Rick Warren and Saddleback Church in Lake Forest, California
They have sent letters to each of these pastors
The letters inform each pastor that a delegation of families with two moms and two dads, as well as supportive heterosexual-parent and single-parent families, plans to visit each church. The letters invite their congregations to collaborate in creating opportunities for meaningful conversations. Over the next several weeks, staff from Soulforce, UFMCC, NBJC, and COLAGE will negotiate peaceful forums with members from each of the congregations.
Some might think that such efforts are futile, but history shows us that it if we don't speak to those who oppose us we cannot have any hope of influencing them. And we have also seen some who have been willing to allow God to shift their thinking on issues surrounding sexual orientation.
Polls have also shown that those who are familiar with gay people are far more likely to support gay civil equality. We also know that it is far easier to condemn the person whom you don't know than it is to look someone in the face and offer them cruelty.
Perhaps it is the potential for true communication that has frightened Focus on the Family. FOTF's Caleb Price has sent out a warning against the churches meeting with or listening to Soulforce. And Price expresses his concerns in the most fearful and demonizing of ways.
"As with any temptation to disregard God's clear word on any given matter, this attempt by Soulforce and their allies is a classic example of what we see in Genesis Chapter 3, when the serpent tempts Eve by [asking] 'Did God really say …?'" says Price. "And I think perhaps the biggest lesson we can take from that account is it's best not to talk to snakes. Scripture clearly teaches that there will be a great falling away in the last days and there will be wolves in sheep's clothing who will try to enter into the fold and deceive even the elect."
Portraying Soulforce as snakes and wolves (or perhaps snakeywolves), Price seeks to keep churches from seeing Soulforce's members as human, as children of God. Accusing them of being tempters to a false doctrine, Price aligns Soulforce with forces of evil.
"These churches that have been targeted by Soulforce need to be clear about the real agenda behind these staged actions," he says. "It's not for dialogue and greater understanding — it's to tempt them to embrace a false doctrine, which will keep many from the gospel message of hope and transformation for those who are trapped in homosexuality."
However, there is hope that with such obvious and blatant fear-mongering, Price's efforts may not be effective. We have faith to believe that some within the mega-churches will be able see beyond snakeywolves and emissaries of Satan and will hear the message brought by sincere and devout Christians seeking to spread the Good News of a loving and inclusive God.