The Daily Agenda for Saturday, October 8
Jim Burroway
October 8th, 2011
TODAY'S AGENDA (OURS):

First Openly Gay Ordination for the Presbyterian Church, USA: Madison, WI. Last May, the Presbyterian Church USA became the fourth mainline Protestant Church to allow the ordination of openly gay clergy. Today, that promise becomes a reality as Scott Anderson is ordained at Covenant Presbyterian Church in Madison, Wisconsin. The Princeton Theological Seminary graduate had served as Co-Moderator of More Light Presbyterians before moving to Madison to become the Executive Director of the Wisconsin Council of Churches.
Anderson's ordination will mark his return to a ministry he was forced to abandon twenty-one years ago. In 1990, while working as a parish minister in Sacramento, he was threatened with exposure by a couple who wanted him to help raise money for a cause they were advancing that he disagreed with. Rather than submit to the couple's threats, he outed himself instead, and in keeping with the church's rules he stepped down as minister and embarked on the long process of working to change the church's stance toward ordination of openly gay people. Anderson will be supported by his partner of twenty-one years at today's ordination. Anderson is being ordained by the John Knox Presbytery, which consists of 60 congregations in Iowa, Minnesota, and Wisconsin.
AIDS Walks This Weekend: Columbus, OH; Indianapolis, IN and Kent/Sussex, DE.
Pride Celebrations This Weekend: Atlanta, GA; Orlando, FL; Rio de Janeiro, Brazil and Tucson, AZ.
Also This Weekend: Iris Prize Film Festival, Cardiff, UK.
TODAY'S AGENDA (THEIRS):
Values Voter Summit: Washington, D.C. Whenever the Family "Research" Council and the American Family Association team up to put on their annual Values Voter Summit, you can pretty much guarantee that they will more than live up to their reputation for being on the Southern Poverty Law Center's list of anti-gay hate groups. Yesterday, we saw GOP presidential candidate Sen. Rick Santorum give his most bizarre qualification yet for the presidency, when he told the conference that voters should "look at who they lay down with at night and what they believe." That will be hard to top, although Liberty Counsel's Mat Staver gave it his best shot by saying that gay equality will lead to the destruction of Western Civilization.
Today's lineup will be about as crazy as yesterday's. The AFA's Bryan Fischer, whose sheer lunacy knows no bounds, will be a featured speaker, along with FRC's Tom McClusky and Tony Perkins, National Organization for Marriage's Brian Brown, American Values' Gary Bauer, AFA's Ed Vitagliano, Alliance Defense Fund's Alan Sears, Eagle Forum's Phyllis Schlafly, Glenn Beck and Bishop Harry Jackson, among many others. GOP Presidential candidates speaking today will be Texas Rep. Ron Paul and former Massachusetts Gov. Mitt Romney.
If you know of something that belongs on the agenda, please send it here. Don't forget to include the basics: who, what, when, where, and URL (if available).
And feel free to consider this your open thread for the day. What's happening in your world?
Tags:
Alan Sears
,
American Family Association
,
Bryan Fischer
,
Ed Vitagliano
,
Family Research Council
,
Gary Bauer
,
Glenn Beck
,
Harry Jackson Jr
,
Mitt Romney
,
Phyllis Schlafly
,
Presbyterian (USA)
,
Ron Paul
,
Tom McClusky
,
Tony Perkins
,
Values Voters Summit
COMMENTS (3)
|
LINK
Glenn Beck — Yes, That Glenn Beck — Says Marriage Equality Not A Threat
Jim Burroway
August 12th, 2010
As more evidence that many social conservatives have found other groups more attractive as wedge issues, Fox News' Glenn Beck told Bill O'Reilly yesterday that same-sex marriage is not a threat to the country:
Honestly, I think we have bigger fish to fry. You can argue about abortion or gay marriage or whatever all you want. The country is burning down…I don't think marriage, that the government actually has anything to do with…that is a religious right…I believe that Thomas Jefferson said, "If it neither breaks my leg nor picks my pocket, what difference is it to me?"
But not everyone has moved on. Reps. Lamar Smith (R-TX), Steve King (R-IA), Michele Bachmann (R-MN) and John Fleming (R-LA) introduced a resolution in the House of representatives condemning Judge Vaughn Walker of failing "to conduct himself in an impartial manner before striking down California's popularly enacted Proposition 8."
Update: Last year, Glenn Beck had a very different view of same-sex marriage: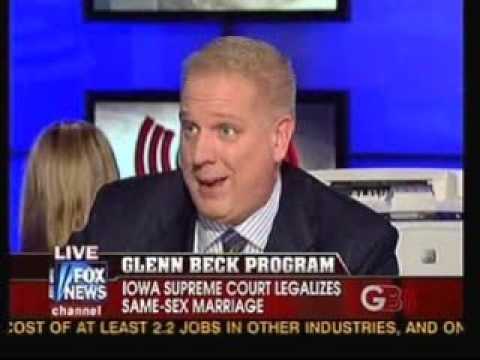 California Wildfires Bring Out The Crazies
Jim Burroway
October 23rd, 2007
San Diego ex-gay "Christian" activist and gadfly James Hartline knows why California's burning:
They shook their fists at God and said, "We don't care what God says, we will issue our legal brief to support gay marriage in San Diego!" Then Mayor Jerry Sanders mocked the Christian vote and signed off on this rebellious legal document to support same-sex marriage. And then the streets of La Jolla under the Mt. Soledad Cross began to cave in.

They shook their fists at God and said, "We don't care what the Bible says, We want the California school children indoctrinated into homosexuality!" And then Governor Schwarzenegger signed into law the heinous SB777 which bans the use of "mom" and "dad" in the text books and promotes homosexuality to all school children in California.

And then the wildfires of Southern California engulfed the land like a raging judgment against the radicalized anti-christian California rebels.
Yes, Harline's a crazy old coot. That why the only attention he gets is accompanied with laughter. Unlike CNN's Glenn Beck:
I think there is a handful of people who hate America. Unfortunately for them, a lot of them are losing their homes in a forest fire today.