CO Civil Unions Defeated In House Committee
Jim Burroway
April 1st, 2011
The crazies came out again in Colorado last night to defeat the Senate Bill 172, which would have provided Civil Unions and other protections for LGBT Coloradans. The bill died in the committee on a 6-5 strict party-line vote. All Republicans voted no, including Rep. Brian DelGrosso (R-Loveland) whose uncle is gay. "It was tough," said DelGrosso. As tough as it is for his uncle?
Rep. B.J. Nikkel (also R-Loveland), after voting no herself, thanked members of the committee and the bill's sponsor for "a very thoughtful, civil dialogue about the issue of civil unions." That "civil dialogue" not only included the "anus lady," but last night featured the testimony of Paul Cameron.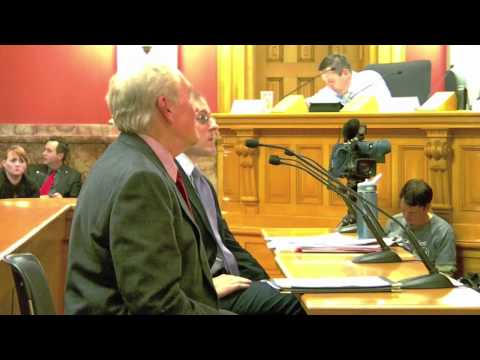 To give you some perspective about where Cameron gets these crazy ideas, as recently as five years ago, the head of the Eastern Psychological Association publicly denounced Cameron for fraudulently passing off a paper he wrote as having been presented before the assembled association at a meeting in Philadelphia. Cameron has been removed from the rolls of the American Psychological Association for ethical violations in his fraudulent "research", and his he has also been denounced by the Nebraska Psychological Association, the American Sociological Association (twice), and the Canadian Psychological Association, all for consistently misinterpreting and misrepresenting research on sexuality, sexual orientation, and the gay community.
You would think that were bad enough, but it gets worse. In a March 1999 edition of his newsletter, Cameron wrote glowingly of how the Nazis "handled" homosexuality. Specifically singling out the policies of Rudolf Höss, the mastermind behind Auschwitz. This echoes what Cameron said in 1985 at a CPAC conference, in which he proclaimed, "Unless we get medically lucky, in three or four years, one of the options discussed will be the extermination of homosexuals." Cameron's manifesto calls for the recriminalization of homosexuality and the denial of private domestic partner benefits to anyone who is HIV-positive. He would ban LGBT people from teaching or working at schools or day care centers, and mandate that all course material present homosexuality as "a public health hazard."
To the shame of Coloradans everywhere, arguments like Cameron's carried the day.
Update: ThinkProgress has more audio.
Comments