Putin's Thug State
Jim Burroway
August 12th, 2013
Scott Long dug into Russia's social media to uncover the story behind the stories of neo-Nazi gangs abusing (and perhaps killing) young gay men and posting their videos on VK, Russia's version of Facebook.
Maxim Martsinkevich is probably the place to begin. Nothing about the 29-year-old would-be architect's page at VK, Russia's answer to Facebook, suggests a particularly distinctive skinhead. He goes by his nickname, "Tesak," variously translated "machete," "cleaver," or — my favorite — "slasher." He likes steroids, protein shakes, pointless displays of masculinity (three videos show him having a tooth pulled minus anesthetic), and Adolf Hitler. Yet he's quite innovative as Nazis go. Early in the Putin years, he was the driving force behind Format18, a violent group that called itself the "armed wing" of Russia's National Socialist party.

Format18 regularly assaulted immigrants and dark people. Its creativity lay in deciding that visibility — movie cameras coupled with social media — was not its enemy, but its friend. It filmed the attacks, turning them into imitation music videos that went viral on YouTube and VK. Google "Format18" and "funny" and you'll figure out why: their savage sense of humor. "Lol, I love those videos," one European neo-Nazi says. "It's funny when they beat people up then burn their passports." Some of the videos showed murders.
The neo-Nazi's call themselves "Occupy Pedophilia," in accordance with the mindset that equates homosexuality with pedophilia. While many of the victims in these videos are in twenties to fifties, some of those so-called "pedophiles" appear to be quite young. In fact, the thugs really don't care about the distinction, but they're happy to play up the confusion. It's all a trope to stir hatred against pretty much everyone:
In Kamensk, the online news source Lenta.ru interviewed Occupy Pedophilia members. "Homosexuals are almost sacred in this country," one leader complained. "We are against pedophiles, but we also do not like homosexuals. I don't know why homosexuals protect pedophiles." He added:

Some representatives of homosexuals came to my home recently … They said we mock people. They asked why we hate them. They said they feel oppressed. It just happened that they both somehow jumped into the garbage cans.

"If you see two young men walking down the street and holding hands, what would you do?" the reporter asks. The answer: "Interrogation. And then it all depends on them."

That slippage between gays and predators is a common enough prejudice, in Russia as elsewhere. On the other hand, when Western activists redefine the men simply as "gay" victims, they should be aware they're just reinforcing a widespread Russian belief that gays are identical to pedophiles. They need to note the nuance and stress the difference, not just confirm the belief.
Some may argue that these neo-Nazi groups are criminal fringe groups and in no way represent Putin's Russia. But that argument evaporates when we see Dmitri Kisilev, the anchor Vesti, the most popular news program on state-owned Russia 1, say that the "gay propaganda law doesn't go far enough: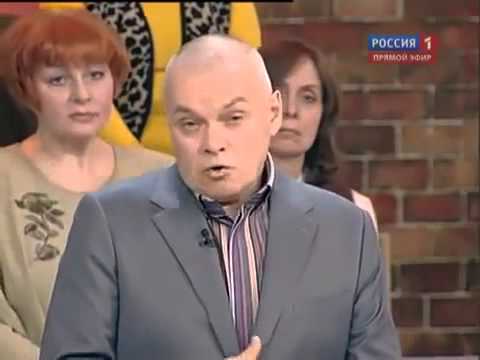 "I think that just imposing fines on gays for homosexual propaganda among teenagers is not enough. They should be banned from donating blood, sperm. And their hearts, in case of the automobile accident, should be buried in the ground or burned as unsuitable for the continuation of life."
Comments