Masked Men Attack Moscow Gay Bar on "Coming Out Day"
Jim Burroway
October 12th, 2012
About 50 people were celebrating Coming Out Day in Moscow's 7Freedays club when about twenty young men entered the club, attacked patrons, and generally rampaged through the place. Several people were injured, with three hospitalized. According to The Moscow News:
Never before in my life, have I experienced such horror," Elias Regul, who witnessed the gang ransacking the club and called the police, told the Moscow News. Regul and his friend were talking outside the club, when at about 9:25 p.m. they heard the sounds of a fleeing crowd. "It happened very quickly, in a closed space," Regul said. "It dawned on me, that they are coming to kill us."

Someone from the group of men, with hoods over their heads and medical masks over their faces, pushed him and the other person away from the entrance, and both of them used this moment to flee the site. Regul reported the case to a traffic policeman on duty at a nearby station and called the police. By the time he returned to the club with the officer, the assailants were running away from the club. "What we saw inside was complete chaos," he said. The club was in ruins and blood was everywhere, he recalled.
Andrei Obolensky, who organized the event at the club, told reporters that the assailants aimed at people's faces and heads with fists and bottles. Most of those attending the event were women. RIA Novosti has a few more details:
"They pulled a gun on the bouncers as they entered the club. Then they shouted 'You wanted a show?'" Obolensky told RIA Novosti. "People were bleeding; they had been hit in the head with bottles."

Two of the three people hospitalized for the injuries they sustained in the attack have now been released from hospital. One girl, who suffered a serious eye injury, is still being treated.
7Freedays bulls itself as the "first GL-friendly bar in Russia." Police are reportedly edamining video footage from security cameras inside and outside of the club. Observers say that this is the seventh known attack against gays in Moscow this year. The actual number of attacks are likely higher since many go unreported.
Earlier this week, the People's Council, a nationalist Russian Orthodox group, issued a statement demanding the closure of all gay bars in Moscow. The group also is pressing Moscow's city government to adopt an "anti-propaganda" law similar to the one passed in St. Petersburg and other Russian regions. Portions of that law were upheld by Russia's Supreme Court last month.
Moscow Police Break Up Pride March, 40 Arrested
Jim Burroway
May 27th, 2012
LGBT advocates attempted two Pride demonstrations in Moscow today. The first outside a city council building was blocked by Russian Orthodox opponents and broken up by police.  The second demonstration by city hall was also broken up by police, who arrested about 40 LGBT advocates and a small number of Orthodox opponents. According to the Washington Post:
Gay activist Galina Kaptur criticized city authorities for treating homosexuality as a contagious disease that would be spread through society if gays were allowed to hold a parade.

"It's as if they thought that if all left-handed people held a parade, then afterward everyone would become left-handed," Kaptur said. "This is wrong."

Among the opponents of gay rights was Dmitry Tsarionov, who spoke to the crowd in front of a sign that said "Moscow is not Sodom."

"I will not allow perverts to bring the wrath of God onto our city," he said. "I want our children to live in a country where a sin that so awfully distorts human nature is not preached in schools."
Gay rights advocate Nicolai Alexeyev was among those arrested.
Russian Cities Weigh Laws Banning LGBT Advocacy
Jim Burroway
November 23rd, 2011
Two Russian regions have already passed laws prohibiting all forms of LGBT advocacy, and now the city governments of St. Petersburg and Moscow are considering similar measures.
Earlier this year, Ryazan and Arkhangelsk oblasts passed laws banning what they call "gay propaganda," which include public speech and advocacy on behalf of gay and transgender people. The St. Petersburg proposal includes a fine of up to $1,600 for organizations engaging in "public actions aimed at propaganda of pederasty, lesbianism, bisexuality, and transgenderism among minors." The fine for individuals would be about $100.The bill doesn't define what constitutes "public actions," leaving LGBT advocates concerned that the law would be yet another tool for police to use to crack down on gay pride events. The bill has a separate but identical provision banning advocacy for pedophilia, thus equating it with homosexuality in the public debate. The bill, which is backed by the ruling United Russia party, passed the first of three required readings last week with a 27-1 vote, with one abstention.
Shortly after the bill passed its first reading in St. Petersburg, a Moscow-based newspaper reports that a similar bill is in the works in the Moscow Duma. There is also talk that Russian state legislators may take up similar measures. One delegate says the proposal however would not go far enough:
If this [law against gay propaganda] is meant for our state's security, this is all good. Only the people who break that law should not be fined;instead, they need to receive punishment under the criminal code", said deputy Ekaterina Lahova.
Russia decriminalized homosexuality in 1993 under President Boris Yeltsin.
European Court on Human Rights Rules That Moscow Gays Have Right To Pride
Jim Burroway
October 21st, 2010
In a historic ruling today in the case of Nikolai Alexeev v. Russia, the European Court of Human Rights ruled that Russia violated the European Convention on Human Rights with the banning of the 2006, 2007 and 2008 Moscow Prides. The court awarded 12,000 euros in damages to Moscow gay rights advocate and Pride organizer Nikolai Alexeev and a further 17,500 euros in costs.
Alexeev told Moscow News, "This is the first ever decision of the European Court of Human Rights which concerns freedom of assembly in Russia. It guarantees everyone freedom of expression without special permission."
In a statement released earlier this morning, Alexeev hailed today's verdict as cause for celebration. "We declare October 21, the Russian LGBT Liberation Day and we will celebrate it every year from now on with public demonstrations," he said.
The European Court ruled that Russian authorities violated three specific articles of the European Convention, namely Article 11 (freedom of assembly and association), Article 13 (right to an effective remedy) and Article 14 (prohibition of discrimination). Of the last violation, the court wrote:
It has been established above that the main reason for the ban imposed on the events organised by the applicant was the authorities' disapproval of demonstrations which they considered to promote homosexuality. In particular, the Court cannot disregard the strong personal opinions publicly expressed by the mayor of Moscow and the undeniable link between these statements and the ban. In the light of these findings the Court also considers it established that the applicant suffered discrimination on the grounds of his sexual orientation and that of other participants in the proposed events. It further considers that the Government did not provide any justification showing that the impugned distinction was compatible with the standards of the Convention.
On the issue of freedom of assembly, the court took a particular slap at former Moscow Mayor Yuri Luzhkov:
The mayor of Moscow, whose statements were essentially reiterated in the Government's observations, considered it necessary to confine every mention of homosexuality to the private sphere and to force gay men and lesbians out of the public eye, implying that homosexuality was a result of a conscious, and antisocial, choice. However, they were unable to provide justification for such exclusion. There is no scientific evidence or sociological data at the Court's disposal suggesting that the mere mention of homosexuality, or open public debate about sexual minorities' social status, would adversely affect children or "vulnerable adults". On the contrary, it is only through fair and public debate that society may address such complex issues as the one raised in the present case. Such debate, backed up by academic research, would benefit social cohesion by ensuring that representatives of all views are heard, including the individuals concerned. It would also clarify some common points of confusion, such as whether a person may be educated or enticed into or out of homosexuality, or opt into or out of it voluntarily. This was exactly the kind of debate that the applicant in the present case attempted to launch, and it could not be replaced by the officials spontaneously expressing uninformed views which they considered popular. In the circumstances of the present case the Court cannot but conclude that the authorities' decisions to ban the events in question were not based on an acceptable assessment of the relevant facts.

The foregoing considerations are sufficient to enable the Court to conclude that the ban on the events organised by the applicant did not correspond to a pressing social need and was thus not necessary in a democratic society.
The Moscow Times also notes that this ruling comes on the first day in which Moscow's new mayor, Sergei Sobyanin, replaced outgoing mayor Yuri Luzhkov, who was fired last month by Russian President Dmitry Medvedev. Luzhkov had previously denounced Gay Pride parades as "Satanic" and vowed that he would never allow one to take place during his administration.
Russian Court Rules St. Petersburg Must Allow Pride Marches
Jim Burroway
October 13th, 2010
A court in St. Petersburg ruled this week that Russia's second largest city cannot prohibit Gay Pride marches.
St. Petersburg city officials, like those in Moscow, had repeatedly banned Pride marches. When city officials refused to allow a march to go ahead last June, organizers took the city to court. The court ruling gave city officials until November 1st to change its direction and allow organizers to conduct a march.  City officials say they will comply with the order.
Moscow LGBT advocate Nikolai Alekseev said that they had already experienced one small victory in Moscow last week, when they held the first city-sanctioned gay rally with police protection following the firing of Moscow's anti-gay mayor Yuri Luhzkov by Russian President Dmitry Medvedev. On Thursday, a Moscow Appeals Court is expected to hold a hearing on the ban on this year's Moscow Pride, and the European Court of Human Rights is also expected to issue a ruling on the Moscow ban soon.
Russian LGBT Activist Arrested Again, This Time At Moscow Rally
Jim Burroway
September 22nd, 2010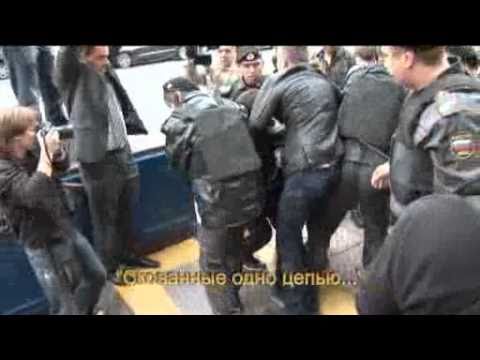 LGBT Activist Nikolai Alekseev has had a busy week this week. He was among eleven activists who were arrested yesterday during a banned protest outside of Moscow City Hall. All eleven activists have been subsequently released. The activists were protesting against Moscow mayor Yuri Luzhkov, whose recent remarks about "faggots" were ruled by a Moscow court as not being hate speech. The protesters had chained themselves to a railing outside of city hall.
Luzhkov abruptly left Moscow to "vacation" at a home in Austria. He is under widespread pressure to resign his post amid widespread allegations of corruption and incompetence. Independent observers believe that some in Russia's central government see Luzhkov's power base in Moscow city government as potential threat.
Alekseev has recently been released following a bizarre kidnapping by Russian security forces at week at Moscow's Domodedovo International Airport as he was about to board a flight to Geneva. He was held for two days as his captors demanded that he withdraw his lawsuits against Russia lodged at the European Court of Human Rights. They also demanded that he cancel yesterday's protest at city hall. At one point, his captors used his mobile phone to put out false text messages that Alekseev had fled to Belarus and demanded political asylum. You can read about Alekseev's account of his ordeal here.
Russian Activist Recounts His Abduction By Russian Security
Jim Burroway
September 18th, 2010
Russian activist Nikolai Alekseev has posted to his personal Livejournal blog his account of what happened since he was seized by Russian authorities on Wednesday as he was about to board a Swiss Air flight to Geneva from Moscow's Domodedovo airport. The post is in Russian, but you can read a rough translation as provided by Google Translate here. Andy Hardy at UK Gay News has spoken directly with Nikolai and confirms that the blog post is genuine.
According to Nikolai's account, he had already passed through Russia's customs control and security, and was in the International business-class lounge at Domodedovo when security pulled him aside and put him into a separate room. Nikolai protested that his passport had already been stamped and that legally he was no longer in Russia anymore, but those protests were ignored. At that time, he was able to get some messages out to the Russian news service Interfax and the still-independent Radio Echo in Moscow. He was then taken by plainclothes officials through some back hallways and put into a car, and driven to an apparently abandoned police station in the provincial city of Kashira, about sixty miles to the south. (He says he was able to determine this by using his iPad when he was left alone at the station.)
Nikolai then recounts what he describes as "psychological torture" to try to force him to withdraw his lawsuits lodged at the European Court of Human Rights over Moscow's bans on successive Gay Pride parades and other demonstrations between 2006 and 2010. A paper had already been drawn up to withdraw the lawsuits, which Nikolai refused to sign despite warning against "clashing" with authorities. His captors also pressed him to drop a planned demonstration for September 21 against Moscow mayor Yuri Luzhkov, which he also refused to do.
Nikolai describes some very difficult conditions during his confinement. He was held in an apparently abandoned building and was not allowed to rest or sleep. He was persistently abused over his sexuality throughout the interrogations. He was given glasses of water which he believes was tampered with; he describes losing his concentration and emotional responsiveness during this time. He called for an ambulance but was refused. He demanded to see an attorney and have his detention officially reported, but those requests were denied also.
On Thursday night, Nikolai was taken via dark backroads to the city of Tula, a little over 100 miles south of Moscow. It was here that he was able to learn of the news reports about him, and figured out that his captors had been sending text messages from his phone that he was supposedly in Minsk where he allegedly asked for asylum and withdrew his cases before the European Court. Nikolai remarked that he could never imagine asking for asylum in Belarus, and of course neither could anyone else who understood the situation. It was that development that was the most troubling to all of us who were following the saga.
On Friday evening, Nikolai was taken by car and dumped outside the city of Tula. He made his way back to town, but because his passport had been stamped saying that he was out of the country, he knew he would not be able to take the train back to Moscow. So he ended up taking a bus for the long trip home.
In the end, it's good to know that Nikolai is safe and back in Moscow, and that he's just as feisty and determined as ever. His immediate-term plans are to get the GayRussia.ru web site back up, and to participate in the planned demonstration against mayor Luzhkof on Tuesday. He also said that he intends to sue Domodedovo Airport and its security services for his unlawful detention while legally outside of Russia, and he intends to sue Swiss Air in Switzerland as he believes that his contract between himself and the airline was violated under Swiss law. If anything, it would appear that this ordeal accomplished nothing except to make Nikolai more determined to stand up for LGBT equality in Russia and around the world.
Nikolai Alekseev Confirmed Free and In Moscow
Jim Burroway
September 18th, 2010
Andy Hardy at UK Gay News has received personal confirmation that Russian activist Nikolai Alekseev is safe, free, and back in Moscow. He has met personally with organizers of Moscow Gay Pride, apparently briefly, and is resting up from his ordeal after unknown authorities seized him at Moscow's Domodedovo International Airport as he was about to board a Swiss Air flight to Geneva on Wednesday. Early this morning Moscow time, he left the following message on facebook:
My dear friends, I just entered Moscow. Thank you to all of you for support. All I want now is to brush my teeth and to shave. I will try to describe all that happened tonight! I never thought so many people care for me, it brings tears to my eyes.
French Report: Nikolai Alekseev En Route To Moscow
Jim Burroway
September 17th, 2010
Here is an awkwardly Google-translated report from the French LGBT web site yagg.com:
According to Sophie Lichten, Vice-Chair of IDAHO (International Day Against Homophobia), Nikolai Alekseev said in a telephone call on his way to Moscow, "where it will in the coming hours and will relate what has happened over the last 48 hours. He was surprised by the rumor that he was in Minsk, and said that his phone was taken from him two days."

…"I am delighted that we finally have official confirmation that my counterpart [Nikolai Alekseev is also vice-president of the IDAHO] is always there," said Sophie in Yagga Lichten.
According to this Wikipedia profile, Nikolai became Secretary of the Paris-based IDAHO Committee in 2006, and was appointed vice-president in 2008.
While we should be cautious about any reports we receive until we are able to see and hear Nikolai himself, this may be a positive development. Meanwhile as of this writing, GayRussia.ru, the web site founded by Nikolai, is still down:
In other developments, the BBC's Russian language service reports that the French Foreign Minister Bernard Kouchner on Friday intends to discuss Alekseev's disappearance at a meeting with Russian Foreign Minister Sergei Lavrov. "We ask the Russian authorities to respect the right to freedom of association and freedom of speech and freedom of movement guaranteed Alekseev," said Kouchner.
So the French government is rightly concerned about this ham-handed Soviet-style abduction of a principled political dissident. What about Secretary of State Hillary Clinton?
Update: Andy Hardy at UK Gay News has further confirmation that Alekseev is not in Minsk:
"I never was in Minsk … My phone was taken from me two days ago …"  These are the actual – and remarkable – words of Nikolai Alekseev, the gay Russian activist and chief organiser of Moscow Pride, who has surfaced somewhere in Russia.

Mr. Alekseev was speaking this evening to a close friend, who is known to UK Gay News from Moscow Gay Pride in May – and who is reliable.

The close friend, who does not want to be identified as he fears for his safety, said he was certain that it was Nikolai Alekseev speaking.

"Nikolai used my nickname when he sent me a SMS, so I was pretty sure it was him," the friend said.  "Then I asked a question that only he could answer – and the answer was correct, so I called the number."
Alekseev is reportedly about 500 km from Moscow and was on his way back to the capital. He hopes to return on Saturday when he can explain what happened.
[Hat tips: Rex Wockner, UK Gay News]
Where Is Nikolai Alekseev?
Jim Burroway
September 17th, 2010
A recent news dispatch from Interfax Belarus is raising alarm bells over the well-being of Russian LGBT advocate Nikolai Alekseev. A Google translation of that dispatch reads:
The organizer of Moscow gay pride parades Nikolai Alexeev said that he intends to seek political asylum in Belarus.

"At present I am in Minsk and intends to ask the authorities for political asylum in Belarus", – said Nikolai Alexeev Interfax through short SMS-messages.

According to him, he also decided to withdraw all claims of the European Court of Human Rights (ECHR) on the prohibition of shares of sexual minorities in Moscow, 2006, 2007 and 2008. "Due to the pressure exerted on me I decided to withdraw the complaint on the Moscow authorities ban gay pride parades in 2006, 2007 and 2008 from the European court," – he said.
Reports that we, UK Gay News, Interfax and others have relayed so far have reportedly originated from SMS text messages from Nikolai's phone. But if Nikolai is in the custody of Russian authorities, then his phone is also. A few other reports have originated from email messages that several LGBT activists and bloggers around the world (including BTB) have received from Nikolai's email account. But as we noted yesterday, those messages, too, are suspect; Nikolai had his laptop with him when he was seized at Moscow's Domodedovo International Airport as he was about to board a Swiss Air flight to Geneva.
Late yesterday, we received an apparently confirmation email from someone who is not Nikolai (the email speaks of Nikolai in the third person) from Nikolai's email account saying that Nikolai was free and in Minsk. There is no indication of how he got there, and this is extremely critical. As one astute BTB commenter noted, Belarus, unlike Russia, is not a member of  the Council of Europe, which means it is not subject to the rulings of the European Court of Human Rights. And yet it is a very close Russian ally, as well as an anti-gay dictatorship that has been ruled with an iron fist by Alexander Lukashenko since 1994. Virtually nothing in Belarus has changed since the days of the Soviet Union.
Which means that as long as Nikolai is in Belarus, he remains in an even more repressive state than Russia with no legal recourse for the protection of his human rights. And yet because Belarus is such a close ally of Russia (there has been talk of a re-union between the two countries), Nikolai remains subject to the whims of Russian authorities. If one were to seek asylum from Russia, Belarus would be the very last place one would go to.
Further, if he is in Belarus, there is no indication whatsoever that he is free. UK Gay News reports that their contact in Minsk's gay community say that no one there has seen or heard from Nilolai, who has extensive contacts in the Belorussian capital — he helped to organize a pride conference and march there last October. But no one has heard from him in person.
But the most worrying indication that Nikolai may still be in personal danger is Interfax Belarus' report that he supposedly withdrew his complaints against Moscow city authorities before the European Court of Human Rights. This is is not the least bit consistent with a man the world has come to know and admire for his personal courage. He bravery earned him the title of "Global Pride Warrior" in an Advocate article in July, 2009. To acquiesce on the case before the European court is completely outside of his character.
[Update: Another LGBT advocate in Russia, Alexei Davydov, wrote a blog post at Anti-Dogma saying he received an SMS text message from Nikolai saying he had signed the papers to withdraw his complaints from the European Court. The activist responded with a question that only he and Nikolai knew the answer to. At that point, "the connection was lost." He also notes that another Russian activist, Anna Komarova, experienced the same thing. This means that all messages purportedly from Nikolai are suspect.]
We echo this call from Andy Harley of UK Gay News, who is a personal friend of Nikolai's: "Until Mr. Alekseev actually contacts someone by "voice" telephone and says where he is – and that he is a free man, concerns will remain.  But at the present time, there are serious doubts."
Russian LGBT Advocate Reportedly Deported to Belarus
Jim Burroway
September 16th, 2010
We are recieving multiple reports, including this one from Interfax, that Russian LGBT activist Nikolai Alekseev was taken to Minsk, the capital of Belarus. Interfax quotes Alexeev as saying that he was seized at Moscow's Domodedovo International Airport as he was about to board a Swiss Air flight to Geneva.
According to Interfax, Alekseev reportedly said that he was driven to a provincial location and questioned by authorities (it's unclear which authorities at this point) who apparently had two demands. They demanded that he cancel a planned protest against Moscow mayor Yuri Luzhkof slated for next Tuesday, which happens to be Luzhkof's birthday. His captors also demanded that he drop a lawsuit lodged in the European Court of Human Rights over the banning of Moscow Gay Prides over the past five years.
Whether Alekseev is free to move about in Minsk is unclear, but in messages sent to friends and the media, he insists that he will do his best to be back in Moscow in time for next week's protest. "It is a matter of principle," Interfax quoted him as saying. In a separate email sent from Alekseev's account, the writer (who refers to Alekseev in the third person) adds, "The picket against the Moscow Mayor planned in Moscow for Sept 21 is maintained irrespectively of the decision of the authorities to allow it or not."
IGLA-Europe has issued a statement demanding Alekseev's immediate release.
Meanwhile, a planned Queer Culture Festival in St. Petersburg was forced to move its venue moments before it was due to open at the Exhibit Centre at the St. Petersburg Artists Union. The venue's director told Interfax that the Committee on Culture ordered the closing. The festival will open instead at Club Vega. The festival is scheduled to continue through Sept 25 with a concert by Swedish singer Jay-Jay Johanson. A parents organization in St. Petersburg is petitioning the city authorities to shut down the festival altogether.
Nikolai Alekseev Believed Held By Russia's Secret Police
Jim Burroway
September 15th, 2010
In an update to our earlier report concerning Russian LGBT-advocate Nikolai Alekseev's detention, the following notice was posted on GayRussia.Ru's web site:
Nikolai Alekseev was arrested tonight at the Domodedovo Airport in Moscow where he was supposed to board the flight LX 1337 from Swiss Air Lines to Geneva.

His arrest took place right after the passport control. The border police asked Swiss Air Lines to cancel his boarding pass and to offload his luggage from the plane.

He had time to call a friend as well as the news agency Interfax. Reports of his arrest have been republished in the evening through the Russian media.

As he told his friends and the media, no explanation was given to him on the motive of his arrest.
Airport security and Moscow police both deny holding Alekseev. One office told Alekseev's friends that Alekseev may have been held by FSB agents (the successor to the former Soviet-era KGB) for interrogation at its headquarters in Lubyanka in central Moscow.
Activists at GayRussica applied for a permit yesterday to hold a demonstration on Sept 21 on under the title of "Luzhkov — Gomiki." That is in reference to Moscow mayor Yuri Luzhkov, who has consistently denied the group permission to hold Gay Pride rallies for the past several years. "Gomiki" is the Russian word that translates roughly as "faggot." Russia's officially controlled news channels have lately accused Luzhkov of corruption, leading to speculation that he may be forced to step down.
This latest development with Alekseev's detention is worrying. According to GayRussia.Ru, the Russian government recently passed a law reviving FSB detention practices that had been routine during the KGB era. The FSB has reportedly declined to comment on whether they are detaining Alekseev.
Moscow Pride Elude Police, Pride March Goes Ahead Undisturbed
Jim Burroway
May 29th, 2010
In defiance of yet another ban against holding a Gay Pride march by Moscow city authorities, and in yet another display of LGBT activists' incredible organizing abilities, a march by LGBT advocates and allies took place this afternoon on Moscow's main Leningradsky Avenue undisturbed. Pride organizer Nikolai Alexeyev pulled off this feat after luring hundreds of riot police and undercover officers to a different location:
"We want to show that the peaceful march of gays and lesbians in this city is possible," Alexeyev told AFP after the protest. "You saw we didn't disrupt any traffic, we didn't disrupt any rights of other citizens."

"Unfortunately we are obliged to do some kind of military operation to make sure that this event takes place."

A single police car arrived ten minutes after the protest ended and no-one was arrested.

Organisers had changed the location at the last minute and bussed reporters on a twisting two-hour route to evade a heavy police presence in central Moscow.

In a diversion tactic, Alexeyev on Wednesday told journalists the protest would be held outside the European Commission's office in central Moscow. Police and riot police gathered at the announced location, organisers said.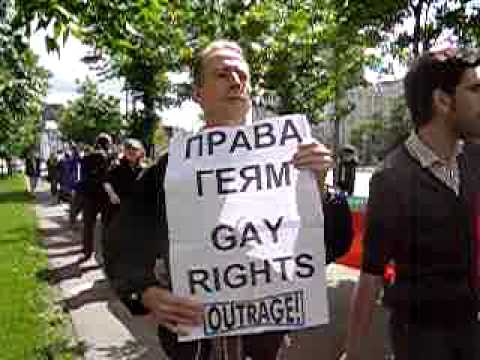 Two Views On Moscow Court Hearing on Marriage Case; European Court Seeks Answers on Pride Bans
Jim Burroway
October 9th, 2009
In the post about the Moscow court that denied a marriage license to a Russian lesbian couple, I neglected to give a hat tip to Russian LGBT activist Nikolai Alekseev. In an email, he offered two interesting insights into the goings-on in the court building that day, in the chambers and outside:
During the hearing, the Judge asked Irina S. "Are you husband or are you wife?" which already showed at the time that she was not neutral. But perhaps the biggest surprise came later while we were waiting for the decision: A Court employee came to talk with us and told us that he simply could not understand why the couple was not allowed to marry.
He also notes that the case has received widespread notice in Russian media, much of it relatively positive.
On another note, the European Court of Human Rights has given Russia until January 20 to answer for the bans of the 2006, 2007 and 2008 Moscow Pride marches. This action results from a complaint filed before the court by human rights activists following the bans on some 163 different LGBT events. Alekseev, who is one of the plaintiffs and chief organizer for Moscow Pride, hopes that a decision comes down before the next scheduled Moscow Pride on May 29, 2010.
Moscow Court Denies Marriage Bid
Jim Burroway
October 8th, 2009
Last May, Irina Fedotova-Fet and Irina Shipitko strode into a Moscow registry office and sought a marriage license. The office director denied their request, saying that Russian law only recognizes a marriage between a man and a woman. The couple took their case to court, which this week upheld the registrar's ruling:
Irina Fet and Irina Shipitko had asked the Tverskoi district court to overrule a decision by a registry office which refused to endorse their marriage in May. It quoted Russian laws which describes a marriage as a "union between a woman and a man."

"The judge refused their request," spokeswoman Alexandra Berezina said without giving further details.
According to Moscow LGBT activist Nikolai Alekseev, who served as their attorney, the couple plan to fight the ruling. They also plan to go go Canada later this month and marry there.
Moscow Protest By LGBT Advocates Called Off
Jim Burroway
July 6th, 2009
Russian gay activists have cancelled a planned July 7 protest in Moscow which was intended to coincide with a visit by President Barack Obama. Moscow authorities banned the protest in front of the U.S. Embassy, but that's not why organizers called it off. Organizer Nikolai Alekseev cited increased security and safety fears as factors:
He said: "In the context of another unlawful ban by the authorities on a public event as well as the special measures taken in the Russian capital during the visit by U.S. President Barack Obama, we have decided to cancel the event due to concerns over the safety of our members."
Moscow had banned an earlier Pride march that was set to coincide with the Eurovision Song Contest taking place in Moscow in May. That peaceful Pride march went ahead, but was quickly broken up within minutes by riot police.
Russian LGBT Advocates To Picket Obama In Moscow
Jim Burroway
June 9th, 2009
Nikolail Alekseev, organizer of Moscow's Gay Pride events, has announced that they plan to stage a protest in front of the U.S. Embassy in Moscow on July 7 during a state visit of U.S. President Barack Obama. They plan to press Obama on same-sex marriage:
"We want to express our solidarity with US gay activists who are planning similar protests in Washington DC, Chicago and other cities in the coming months," he said.
Andy Thayer of Chicago's Gay Liberation Network commended the Russian protest. ""This international support for our equal rights is particularly commendable in light of the fact that most LGBT groups in the U.S. continue to fail to help LGBTs outside of the U.S," he told a Russian LGBT web site. Thayer participated in last month's Slavic Pride which was broken up by Russian riot police.
Alekseev will apply for permission with Moscow authorities to hold the picket in front of the embassy. He characterizes the likelihood of receiving the proper permits "highly unlikely," and doesn't say what he will do if the permits are denied.
Russian Riot Police Break Up Slavic Pride
Jim Burroway
May 16th, 2009
Police in riot gear swept in and forcibly broke up an attempted Slavic Pride march near Moscow State University shortly after noon today just as the march was getting underway. Between twenty and forty people were arrested in all.
The march had only been underway for about a minute when OMON rushed in and began hauling off marchers to waiting buses. Riot police then began detaining other gay activists who appeared shortly after and were speaking with media. They were arrested even though they hadn't participated in the march itself. There are reports that as police hauled away Ksenia Prilebskaya, they ripped off her shirt and bra and roughly pushed her into a police bus.
Moscow authorities had earlier denied permission to hold the march, and they vowed to break up any attempt by activists to march without permission. Moscow mayor Yuri Luzhkov has described Pride marches as "satanic," and his spokesman yesterday said the march sought to "destroy the moral foundations of our society."
Among those in custody are Slavic Pride organizer Nikolai Alekseev and Chicago LGBT activist Andy Theyer. Alekseev and another activist were were at an adjacent park popular with newlyweds dressed as a groom and bride while giving interviews with media when police spotted and arrested them. Alekseev was held down by five riot police as he was arrested. British activist Peter Tatchell was arrested but has since been released. One activist has already been taken before a judge who pronounced him innocent, but he still remains in police custody.
There is currently no word from Alekseev since his arrest. He has reportedly been segregated from the other arrested activists and his cell phone has been confiscated.
The detentions come as Moscow prepares to host the final round of the Eurovision Song Contest, Europe's most prestigious pop music event. Russia had reportedly spent some 24 million euros on the contest in an attempt to bolster its international image. Some singers had threatened to boycott the wildly popular world event if the Slavic Pride march was broken up. Today's arrests are highly embarrassing for the Eurovision organizers, which has a big gay following across Europe. According to the U.K.'s Telegraph:
Advance questions about the march drew embarrassed silence from Graham Norton, the BBC's commentator for the competition, and Andrew Lloyd Weber, who co-wrote the song for Britain's contestant, Jade Ewen. Both men claimed not to have heard of the protest, while Lord Lloyd Weber suggested that it might have been banned to avoid traffic congestion.
A few hours earlier, Russian Orthodox nationalists held a counterdemonstration against Slavic Pride. That counterdemonstration was held with the approval of Moscow city authorities. Demonstrators there chanted "Glory to Christ! Death to the Antichrist!."
UK Gay News continues to provide hour-by-hour updates on the situation.
Russian Police Vow To Break Up Tommorow's Slavic Pride March
Jim Burroway
May 15th, 2009
Moscow authorities have vowed to clamp down on any gay pride march which LGBT advocates try to hold on Saturday. Organizers of Slavic Gay Pride had planned on holding a march on Saturday to coincide with the high visibility of this year's Eurovision Song Contest, which is being held in Moscow. The Dutch contestants have already threatened to boycott the Eurovision Finals if the Gay Pride march is not allowed to go ahead. the French Eurovision delegation have announced their intent to join the march while displaying their Eurovision credentials. U.K. LGBT activist Peter Tatchell has also arrived in Moscow to participate in Pride activities.
According to continually-updated reports at UK Gay News, Slavic Gay Pride organizers have gone into hiding as police try to track them down and arrest them. One Moscow daily has reported that police are planning to arrest Moscow Pride leader Nikolai Alekseev. For his part, Alekseev isn't deterred. Speaking from his secret location, he declared:
"Everyone is very excited about tomorrow and more than ever ready to go in the street despite the threats reported by the Moscow police tonight. It is just hard to believe that despite we are organizing the action for the 4th time, we have this year 55 activists from several regions of Russia and Belarus who checked in for the event and who since Thursday are just working on it and who more than everything want to march tomorrow.  For the forth time, we are just showing to Russian that gays and lesbians are not cowards and that they are not scared to march for their rights. And looking at the high number of reports in the Russian media, the message is delivered!"
The situation is getting very tense. The Foreign and Commonwealth Office in UK has issued a "travel advisory" for LGBT visitors in Moscow. Russian Nationalists have already announced their own brand of an "ex-gay cure":
Russian nationists are threatening to "cure" anyone who takes part in Saturday's Slavic Gay Pride Parade in Moscow. "We will cure them for sure. We will help them to the hospital to be treated by the doctors. They are ill people," Alexei Samsonov, a right-wing activist, told Reuters.
Last year's Moscow Pride was conducted in a similarly clandestine manner, as Alekseev and other activists pulled off several different Pride activities while Moscow police scampered like Keystone cops. In 2007, an unauthorized march ended in violence and massive arrests.
Moscow Mayor Promises Further LGBT Suppression
Jim Burroway
December 4th, 2008
While speaking at an AIDS conference (no less!), Moscow Mayor Yuri Luzhkov said that the city would continue to ban gay rights marches and other "propaganda":
"So-called democrats consider that sexual minorities can be the main indicator and main symbol of democracy, but we will in future continue to ban propaganda of the views of sexual minorities. Of course, we will be criticised by all democrats in the world but in each society there are own views on that."
The mayor reportedly blamed gays for the spread of AIDS in Russia, and said that condoms should not be a part of an HIV-prevention program because, he said, "contemporary science" claims that they are not 100% safe. Mayor Luzhkov has previously referred to gays as "satanic."
For the past several years, local gay rights organizations have been denied permits to hold Pride marches in Moscow. Two years ago, an attempted Pride parade was broken up by police and local thugs. Last year, Pride organizers were able to outsmart Moscow police and hold two visible and public events before authorities were able to shut them down. This occurred despite Russian President Dmitry Medvedev's order that local authorities authorize the march.
Next year, Moscow Pride organisers plan to take advantage of increased visibility surrounding the next May's Eurovision Song Contest in Moscow to hold a coinciding Pride celebration.