Russian LGBT Activist Arrested Again, This Time At Moscow Rally
Jim Burroway
September 22nd, 2010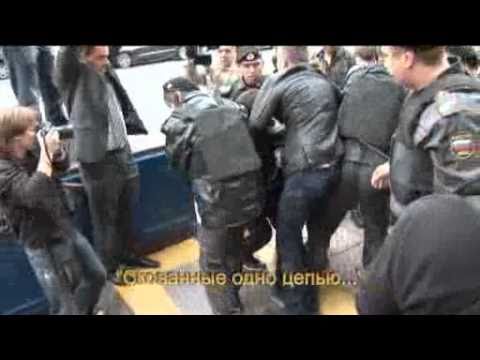 LGBT Activist Nikolai Alekseev has had a busy week this week. He was among eleven activists who were arrested yesterday during a banned protest outside of Moscow City Hall. All eleven activists have been subsequently released. The activists were protesting against Moscow mayor Yuri Luzhkov, whose recent remarks about "faggots" were ruled by a Moscow court as not being hate speech. The protesters had chained themselves to a railing outside of city hall.
Luzhkov abruptly left Moscow to "vacation" at a home in Austria. He is under widespread pressure to resign his post amid widespread allegations of corruption and incompetence. Independent observers believe that some in Russia's central government see Luzhkov's power base in Moscow city government as potential threat.
Alekseev has recently been released following a bizarre kidnapping by Russian security forces at week at Moscow's Domodedovo International Airport as he was about to board a flight to Geneva. He was held for two days as his captors demanded that he withdraw his lawsuits against Russia lodged at the European Court of Human Rights. They also demanded that he cancel yesterday's protest at city hall. At one point, his captors used his mobile phone to put out false text messages that Alekseev had fled to Belarus and demanded political asylum. You can read about Alekseev's account of his ordeal here.
Comments