Moscow Pride Elude Police, Pride March Goes Ahead Undisturbed
Jim Burroway
May 29th, 2010
In defiance of yet another ban against holding a Gay Pride march by Moscow city authorities, and in yet another display of LGBT activists' incredible organizing abilities, a march by LGBT advocates and allies took place this afternoon on Moscow's main Leningradsky Avenue undisturbed. Pride organizer Nikolai Alexeyev pulled off this feat after luring hundreds of riot police and undercover officers to a different location:
"We want to show that the peaceful march of gays and lesbians in this city is possible," Alexeyev told AFP after the protest. "You saw we didn't disrupt any traffic, we didn't disrupt any rights of other citizens."

"Unfortunately we are obliged to do some kind of military operation to make sure that this event takes place."

A single police car arrived ten minutes after the protest ended and no-one was arrested.

Organisers had changed the location at the last minute and bussed reporters on a twisting two-hour route to evade a heavy police presence in central Moscow.

In a diversion tactic, Alexeyev on Wednesday told journalists the protest would be held outside the European Commission's office in central Moscow. Police and riot police gathered at the announced location, organisers said.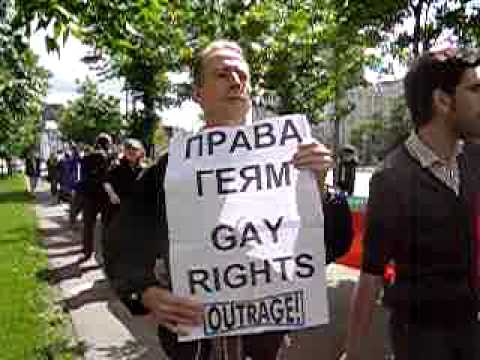 Comments