Pride in Russia, Putin Style
Randy Potts
May 29th, 2013
Last Saturday in Russia, activist Nikolai Alekseev and a small group of compatriots held yet another banned Pride event in Moscow in front of the State Duma. Two days before the announced (but banned) event, the police visited Nikolai's home to warn him from carrying out the protest and published their warning in the paper.
Amazingly, today Nikolai and his team have released a video made from several small cameras pinned to activist's clothing showing what "Pride" looks like in Putin's Russia — one big, homophobic mess, complete with Orthodox onlookers praying and what appears to have been a punch thrown at Nikolai as he was dragged to the police van.
According to the video, 39 activists were arrested. With my extremely weak college Russian and the help of Google, some of the signs protesters held up said things like the following —
"Homophobia – cover for dictatorship!"
"Homophobia is killing!"
"Discriminating against the minority is oppression of the majority."
"We don't need homophobic legislation. Children need nurseries, kindergarten, education."
That last sign refers to recent legislation, passed in state after state within Russia, banning homosexual "propaganda" from minors. Recent polls indicate that over 70% of the Russian population favors the ban — much like, say, the U.S. in the 1950s. Nikolai has been called the Russian Harvey Milk but he reminds me more of Frank Kameny, for whom announcing "gay is good" was a bold and brash thing to do.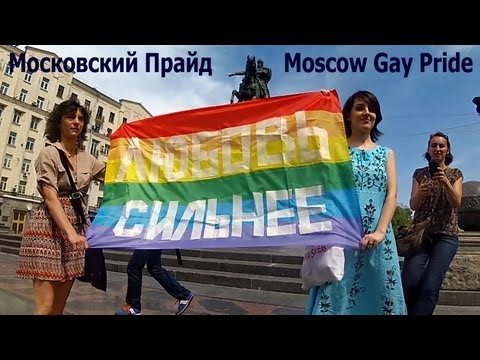 I was really struck by the two young women in the video shown holding up this rainbow flag which reads "Lyubov' sil'neye" or "love is stronger than." They were arrested moments later.
Comments