NOM's mininalist definition of victory
Timothy Kincaid
March 21st, 2012
CNN's Thomas Roberts (who is gay) interviewed Brian Brown, the National Organization for Marriage's President, and Craig Stowell, the Republican co-chair of Stand Up for New Hampshire Families (our side), about the expected vote today in the New Hampshire House of Representatives.
Brown gave his usual posturing and nonsense.
(Segue alert: don't you get tired of talking heads saying the same nonsense over and over regardless of the situation? I laughed out loud this week when Brooke on Dancing With the Has-Beens asked Martina Navratalova about her scores. Instead of the standard "we are really pleased, we went out and gave it our best and had a lot of fun, so we hope America votes for us" that every other contestant said, Navratalova said, "oh, it was the same score we got in rehearsals so I guess it is what it is." Back to the topic.)
He laughably ranted about "special interest groups from out of state" (leaving the New Hampshirite the opportunity to point out that Brian isn't a local boy) and claimed that 119 legislators were "booted out because they took it upon themselves to redefine marriage" (a notion scoffed at by the Republican leaders who ignored the issue for a year and a half because "we were elected to address the economy").
But here's the sentence you need to pay attention to.
"We're looking forward to the vote today. I expect we're going to have a majority here. I think it's going to be historic to have a state vote and have a majority vote say, "this was wrong, we made a tragic mistake two years ago and we're going to right that wrong" and I expect that we're going to see a victory today."
NOM's definition of success is "a majority". And, mind you, this for a bill that would simply revert to full civil union protections.
In terms of actual impact, if NOM eeks out "a majority", we win. Governor Lynch will veto the bill (assuming it survives the Senate) and NOM will scramble to try and find enough votes to overturn the veto.
Keep in mind that Republicans have a veto-proof majority. If this is a party-line vote, then marriage equality would be reversed in that state. But Brown has conceded that NOM isn't expecting a veto-proof majority. They aren't expecting to win, they are just laying the framework to argue that a vote in which they lose all Democrats and a large number of Republicans and which will never become law is "historic".
The vote has not yet happened. And in politics anything can happen. But NOM's admission suggests that the vote today will be good news.
I can feel pity for Brian Brown. Surely it cuts at one's sense of being to constantly spin and lie and pretend. When one goes into quiet contemplation, surely "winning" seems little consolation for giving up your integrity, and when you aren't winning it must seem like an unfair trade. If you sell your soul, shouldn't you at least get something for it?
As Thomas asked him,
Brian… what the National Organization of Marriage does to try and stand against the tide of equality, isn't it exhausting?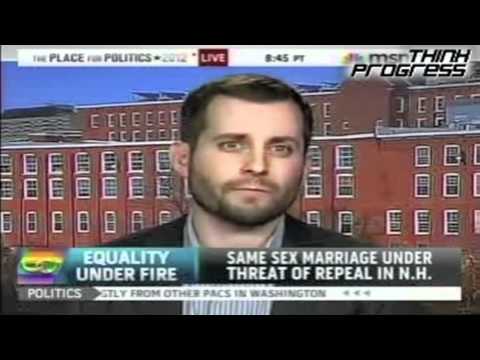 Comments