Alabama ban overturned
Timothy Kincaid
January 23rd, 2015
This just in:
If anything, Alabama's prohibition of same-sex marriage detracts from its goal of promoting optimal environments for children. Those children currently being raised by same-sex parents in Alabama are just as worthy of protection and recognition by the State as are the children being raised by opposite-sex parents. Yet Alabama's Sanctity laws harms the children of same-sex couples for the same reasons that the Supreme Court found that the Defense of Marriage Act harmed the children of same-sex couples. Such a law "humiliates [ ] thousands of children now being raised by same-sex couples. The law in question makes it even more difficult for the children to understand the integrity and closeness of their own family and its concord with other families in their community and in their daily lives." Windsor, 133 S.Ct. at 2694. Alabama's prohibition and non-recognition of same-sex marriage "also brings financial harm to children of same-sex couples." id. at 2695, because it denies the families of these children a panoply of benefits that the State and the federal government offer to families who are legally wed. Additionally, these laws further injures those children of all couples who are themselves gay or lesbian, and who will grow up knowing that Alabama does not believe they are as capable of creating a family as their heterosexual friends.

For all of these reasons, the court finds that Alabama's marriage laws violate the Due Process Clause and Equal Protection Clause of the Fourteenth Amendment to the United States Constitution.
As yet, there doesn't appear to be a stay on the ruling.
UPDATE: Wikipedia has the following:
On the recommendation of Senators Jeff Sessions and Richard Shelby, Granade was nominated to the United States District Court for the Southern District of Alabama by President George W. Bush on September 4. 2001 to a seat vacated Alex T. Howard, Jr. retired from Federal Judicial Service in senior status. Granade was confirmed by the Senate on February 4, and received her commission on February 12, 2002.
Yum! That irony is deeeeelicious!
Thanks for clarifying
Timothy Kincaid
September 10th, 2014
The opponents of equality have vociferously insisted that they hold no animus to gay people in their efforts to deny marriage to same-sex couples. No, it's for the children, to encourage heterosexual marriage, to send a message of paternal bonding, to encourage parentage of accidental babies, and to channel procreation into socially advantageous structures but never, ever, ever is it animus towards gay people.
No sirree.
Except, of course, that absolutely everyone knows that the primary motivation for the opposition to same-sex marriage is an objection to same-sex couples being perceived or recognized as socially, legally, or morally equivalent to opposite-sex couples. It is, and always has been, based in a desire to hold heterosexuals out as superior to homosexuals and to firmly continue that message and social position.
And perhaps nothing makes so honest an admission of that motivation than an amicus brief filed in support of the state of Utah in it's appeal to the decision by the Tenth Circuit Court of Appeals that their anti-gay marriage laws violate the US Constitution.
But first the back-story.
David Fancher and Paul Hard met in Montgomery, Alabama, in 2004. Six years later, in May 2011, they married on a beach in Massachusetts. Less than three months later Fancher was dead, the consequence of a traffic accident caused by an overturned truck.
Fancher and Hard had tried to protect their family with such wills and other legal documents as they could. Nevertheless, Hard was subjected to indignity at the hospital and later at the funeral home. But no indignity mattered so much as Alabama state law which disallows anyone who isn't "next of kin" to receive compensation from a wrongful death. And the state of Alabama specifically disallowed David Fancher's husband from being next of kin.
Earlier this year, Hard sued the state and asserted that the ban on recognizing same-sex marriages legally conducted in another state were in violation of several provisions of the US Constitution and that he is legally entitled to half of the settlement. However, his mother-in-law, Pat Fancher, contacted Judge Roy Moore's Foundation for Moral Law to defend her claim on the money.
But, it's not just all about the money. And though Alabama is in the Eleventh Circuit, the Foundation for Moral Law has filed a brief arguing just why it is that Utah's anti-gay laws (and thus Alabama's) should be vindicated by the Supreme Court.
The Foundation has an interest in this case because it believes that this nation's laws should reflect the moral basis upon which the nation was founded, and that the ancient roots of the common law, the pronouncements of the legal philosophers from whom this nation's Founders derived their view of law, the views of the Founders themselves, and the views of the American people as a whole from the beginning of American history at least until very recently, have held that homosexual conduct is immoral and should not be sanctioned by giving it the official state sanction of marriage.
Well, thanks for clarifying that for us.
Yes, we've always knows that your objections to equality have no real rational reason or purpose. We've always understood that it is your religious beliefs that have justified truly vile behavior to others. We've been clear from the start that this has nothing to do with the smoke screens thrown up by state and advocacy group attorneys and everything to do with punishing gay people for their own existence.
But it's nice to see it there so starkly in print.
Can I mark it "none of the above"?
Timothy Kincaid
October 22nd, 2012
Ain't 'bama grand? Where else can you have an elected official implying that even though he's the (newly re-partied) Democrat, he's a better candidate because he's only a raging homophobe and not one of them there homoSEXshulls himself. From the Facebook page of Alabama State Rep. Daniel Boman (D-Sulligent):
Who would you vote for on Novemeber 6, 2012 between the following two candidates:

1) A republican who is a homosexual who has a voting record of voting AGAINST ALL homosexual legislation. Further, this particular homosexual congressman has ALL homosexuals working on his congressional staff

OR

2) A democrat who is a straight male, but has no voting record for or against homosexual legislation.
And, though he don't come right out and say so, I assume that good-ol'-boy Boman ain't got him no homoSEXshulls on his staff, no sirreee bob.
Now Boman's claims that it's all hypothetical and he's not trying to imply anything about his opponent, Rep. Robert Aderholt (R-Haleyville). So if you want to know if Aderholt is a homoSEXshull, call him and ask him. And while Aderholt's record is about what you'd expect from an Alabama Republican (vile), he did at least have a good come-back: (AL.com)
Contacted for a response to Boman's tactics, Aderholt's campaign offered only this: "When someone is making a fool of himself, we hate to interrupt," said Aderholt campaign spokesman Brian Rell today.
But don't you go thinking Boman's a hater. No, no. He thinks that being one of them homoSEXshulls should disqualify a person from holding public office, but only if they are conservative. Ya know, cuz that not just homoSEXshullism, that's not just an office full of them there homoSEXshulls for your staff, that's downright homoSEXshull hypocrisy. Lordy!
But back to the question.
Who would I vote for? Neither. Or maybe I'd just mark the ballot "the biggest homophobic asshat in the race" and let them argue over which one I meant.
Third, Y'all
Jim Burroway
March 14th, 2012
My favorite headline of the day came from the Associated Press yesterday morning: "Voting in Alabama, Mississippi could clarify race." As if. If anything's clear, it's that Republican voters don't want anybody to win the nomination, and it looks like they just might get their way.
| | AL | MS | HI |
| --- | --- | --- | --- |
| Santorum | 35% | 33% | 25% |
| Gingrich | 29% | 31% | 11% |
| Romney | 29% | 30% | 45% |
| Paul | 5% | 4% | 18% |
The man with the money, the candidate with not only every issued covered but every position for each issue, the establishment's favorite who who came in second in the race for the 2008 nomination and is therefore "next" — that's who came in third in Alabama and Mississippi. Third! That's, you know, after second. Ronmey managed to pull in a first place showing in the Hawaii caucuses, and he also captured all nine delegates in the American Samoan caucuses.
In this race, every delegate counts. The delegate count, which is always an approximation, looks like this according to CNN.
| | Delegates |
| --- | --- |
| Romney | 489 |
| Santorum | 234 |
| Gingrich | 139 |
| Paul | 66 |
A total of 1,144 delegates are needed to win the nomination. It's hard to see Romney getting there before the convention. According to the CNN count, there are still 1,356 delegates, including superdelegates, up for grabs. Romney needs to win 48% of all the remaining delegates to capture the nomination. The next big prize is Illinois, which if Michigan and Ohio are any indication, means that Romney will probably split that state. Whether its enough to make up for the loss he's likely to receive in Louisiana and the Missouri caucuses, it's hard to say. April will be kinder to Romney, with Deleware, Maryland, D.C., New York, Connecticut, and Rhode Island coming up, but Santorum is likely to win Pennsylvania. Wisconsin may end up a tie like Ohio. But the primaries go south, literally, in May, with contests in Nebraska, Arkansas, Kentucky, West Virginia, North Carolina, and Texas. That will be rough territory for Romney.
The only way he can win is for the superdelegates to step in and throw their weight behind Romney. That is a very real possibility. Romney's picked up some powerful endorsements in the party, but those endorsement's haven't meant much when it comes to votes. Santorum  or Gingrich won despite major establishment endorsements for Romney in Tennessee (Gov. Bill Haslam), Oklahoma (Sen. Tom Coburn), South Carolina (Gov. Nikki Haley), Minnesota (former Gov. Tim Pawlenty) and Kansas (former Sen. Bob Dole)
But as hard is it will be for Romney to wrap up the nomination, it'll be even harder for anyone else to catch up and surpass him. If Gingrich's ego were to somehow deflate like a popped balloon and all of his delegates went to Santorum, he'd only increase his haul to 373. (And there's no way Paul's giving up his delegates.) In the unlikely event that happens, Santorum would still have to pick up 57% of the delegates outstanding. Without it, he needs to win 67% of those remaining. Gingrich needs to pick up 74% and Paul needs 79%. So it means that when the Republicans hit Tampa this summer, there will still probably be a lot of horse trading going on.
Times Are Changing, Even In Red States
Jim Burroway
May 8th, 2008
Pam Spaulding is passing on some very good news this morning. She learned that the Alabama House of Representatives passed the Hate Crimes Bill by a vote of 46 to 44, mostly along party lines. Similar legislation was defeated last year. Also passed unanimously was an anti-bullying measure.
The ultimate fate of these two bills remains uncertain as they now go to the Senate. But as Pam notes, this is huge progress.
It's Not Just Birmingham
Jim Burroway
April 28th, 2008
While you're not likely to have 911 called on you in most cities, there are very few places in the world where gay couples can feel comfortable with themselves to the same degree as straight people.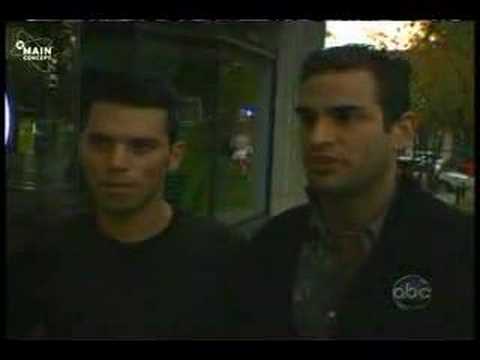 Expressions of violence (at the 3:30 mark) however, are especially chilling and not as uncommon as we'd like to think.
Also, notice the difference in reactions when it's two women kissing. But even there, it's not always safe in every community.
Scottsboro, AL Gay Couple Attend Prom
Jim Burroway
March 30th, 2008
Chelsea Overstreet and Lauren Martin were like many other Scottsboro High School girls Saturday afternoon, both nervous and excited about going to their first prom in a only a few hours.

But unlike the others, they went to the dance as a gay couple, something the Scottsboro City Board of Education tried unsuccessfully to stop.
A last-minute court order from Circuit Judge John Graham citing two federal court rulings prohibited the board from barring the girls from last night's junior-senior prom. He cited one U.S. Supreme Court ruling which said that "states and their agencies … cannot set-out homosexuals for special treatment…" Another ruling "prohibits publicly-funded schools … from barring same-sex couples from school functions." Judge John Graham's injunction came down at 10:15 am yesterday.
I find it tremendously inspiring to see the bravery on the part of so many of our young people, especially given the social circumstances of living in small towns and rural communities. The youth truly are our future