Full Page Ad Reminds Voters Who's Behind "Values Voter Summit"
Jim Burroway
October 7th, 2011
The Southern Poverty Law Center has taken out a full page ad in the Washington Post reminding readers why the two organization's sponsoring the event, the Family "Research" Council and the American Family Association, have been included in their very short list of anti-gay hate groups. The ad reads:
Just whose values are represented at the Values Voter Summit?Prominent public figures will attend the Values Voter Summit in DC this weekend.

But what values are they promoting?

The summit is hosted by the Family Research Council and co-sponsored by the American Family Association — organizations that have mounted a long-running campaign of falsehoods that demonize the LGBT community.

They portray gay people as child molesters, deviants, public health threats and more. Their outrageous claims have been thoroughly debunked by numerous scientific authorities and respected professional associations such as the American Psychological Association and the American Academy of Pediatrics.

Their words have consequences: Gay men, lesbians, bisexuals and transgender people are far more likely than any other group to be victimized by violent hate crimes. Many have been driven by relentless demonization to seek a "cure" for their sexual orientation through dangerous therapeutic practices. Many have been driven to suicide by relentless bullying in our schools.

Whose values are these?

Is bearing false witness a "family" value? Is bigotry?
The ad goes on to list several quotes from the FRC and AFA equating homosexuality with pedophilia, criminality, Nazi's, and Adolf Hitler. The SPLC and Wayne Besen's Truth Wins Out held a joint press conference this morning to release a report on the AFA and FRC's "false propaganda that demonizes the LGBT community." FRC's Tony Perkins is furious, and equates the SPLC's exercise of free speech:
Perkins said the SPLC news conference reflected an attempt to prevent free discussion of ideas and noted that he doesn't show up at SPLC events to protest the civil rights organization's beliefs.

"Southern Poverty Law Center is obviously desperate to try to shut down public debate," he said.
Conservative churches welcome homosexuals
Timothy Kincaid
August 18th, 2011
Tony Perkins, lead anti-gay activist at Family Research Council tweeted the following
And he's right.
As long as you are a "homosexual" – as Tony and fellow believers define the term – the church doors are open wide. To them, a homosexual is someone who engages in sex with persons of the same sex, and has nothing whatsoever to do with attractions, instincts, love, or family. If you show up looking to be delivered from a sinful homosexual lifestyle then you are not only welcomed but celebrated.
Church members will joyously go online to leave comments on the Militant Homosexual Activist Blogsites reporting that the saving grace of Jesus healed a broken and wounded soul right that very morning. Of course, they don't actually want to associate with that person, "do you know what he's done? And he's so very, well, flamboyant still", but nevertheless they are happy to report deliverance.
Yes indeed, homosexuals are welcome.
Ah, but as for conservative churches welcoming gay people? The folks that do not believe that their orientation – that immutable, natural, and powerful force – is inherently evil? Those folk?
Yeah, not so much.

(hat tip: Joe My God)
Anti-Gay Activists React to DOMA Announcement
Jim Burroway
February 23rd, 2011
Brian Brown from National Organization for Marriage lost his already limited capacity for original thought and channels John Paul Jones:
We have not yet begun to fight for marriage," said Brian Brown, president of NOM."The Democrats are responding to their election loss with a series of extraordinary, extra-constitutional end runs around democracy, whether it's fleeing the state in Wisconsin and Indiana to prevent a vote, or unilaterally declaring homosexuals a protected class under our Constitution, as President Obama just did," said Brown. "We call on the House to intervene to protect DOMA, and to tell the Obama administration they have to respect the limits on their power. This fight is not over, it has only begun!"
Maggie Gallagher chimes in:
On the one hand this is a truly shocking extra-constitutional power grab in declaring gay people are a protected class, and it's also a defection of duty on the part of the President Obama," said Maggie Gallagher, Chairman of NOM, "On the other hand, the Obama administration was throwing this case in court anyway. The good news is this now clears the way for the House to intervene and to get lawyers in the court room who actually want to defend the law, and not please their powerful political special interests."
Liberty Counsel's Mat Staver, who charged that allowing same-sex marriages would lead to an epidemic of violent crime, called Obama the most divisive President in US History:
Regardless of President Obama's own ideological agenda, as President, he and his Attorney General have a duty to defend lawfully passed legislation, especially when the essence of the law has been upheld by many courts. Thirty states have passed marriage amendments affirming marriage as one man and one woman. Today President Obama has abandoned his role as President of the United States and transformed his office into the President of the Divided States. He has been the most divisive president in American history. He has today declared war on the American people and the fundamental values that are shared by most Americans. His radicalism resulted in the historical push-back in the 2010 elections. His radicalism today will come back around when the people respond to this betrayal in 2012," said Staver.
Focus On the Family's Tom Minnery wants Congressional Republicans to drop whatever they're doing and pick up the flag:
"We would hope Congress uses the tools at its disposal to counter this decision and defend marriage," Minnery said.
What should Congress do? Family Research Council's Tony Perkins wants Congress to take Holder's bait by dropping their "only interested in the deficit" mantra and reveal what many suspect to be their true colors:
"With this decision the President has thrown down the gauntlet, challenging Congress. It is incumbent upon the Republican leadership to respond by intervening to defend DOMA, or they will become complicit in the President's neglect of duty," concluded Perkins.
American Family Association's Bryan Fischer, who recently said that he would "fight to the last ditch" for marriage discrimination, has Perkins's back:
"I think it's a clear sign that we simply cannot avoid engaging on the social issues," Bryan Fischer, director of issue analysis for the group, told TPM. "Mitch Daniels has called for a truce on social issues and that would be fine if the homosexual lobby was willing to lay down arms, but they're obviously not and this proves it. A truce is nothing more than a surrender."
So far, House Speaker John Boehner is staying on message and has declined to take the bait:
A spokesman for House Speaker John Boehner, R-Ohio, criticized the administration change of position. "While Americans want Washington to focus on creating jobs and cutting spending, the president will have to explain why he thinks now is the appropriate time to stir up a controversial issue that sharply divides the nation," said spokesman Brendan Buck.
Update: Potential GOP Presidential candidate and former Arkansas Governor Mike Huckabee found a clever way to blame gay marriage for increasing the deficit:
Nonetheless, Huckabee opposes gay marriage on the grounds that, according to him, it destroys traditional families.  "There is a quantified impact of broken families," Huckabee said. "[There is a] $300 billion dad deficit in America every year…that's the amount of money that we spend as taxpayers to pick up the pieces because dads are derelict in their duties."
David Boies: Junk Science, Fear and Prejudice Were Put On Trial and Lost
Jim Burroway
August 9th, 2010
David Boies, one of plaintiff's lawyers for the gay couples successfully challenging the constitutionality of California's Prop 8 in Federal District Court, was on CBS's Face The Nation yesterday morning, where he eviscerated the Family Research Council's Tony Perkins on their "junk science."
It's easy to sit around in debate and throw around opinions and appeal to people's fear and prejudice, cite studies that either don't exist or don't say what you say they do. In a court of law, you've got to come in and you've got to support those opinions. You've got to stand up under oath and cross examination.

And what we saw at trial is that it's very easy for people who want to deprive gay and lesbian citizens the right to vote [sic]  make all sorts of statements in campaign literature or in debates where they can't be cross examined. But when they come into court and they have to support those opinions, and they have to defend those opinions under oath and cross examination, those opinions just melt away.

And that's what happened here. There simply wasn't any evidence. There weren't any of "those studies." There weren't any empirical studies. That's just made up. That's just junk science. And it's easy to say that on television, but the witness stand is a lonely place to lie. And when you come into court, you can't do that. And that's what we proved. We put fear and prejudice on trial, and fear and prejudice lost.
Meanwhile, Ted Olson was on Fox New Sunday defending Judge Vaughn Walker against claims of "judicial activism." Olson deftly defined "judicial activism" this way: "Most people use the term judicial activism to explain decisions they don't like."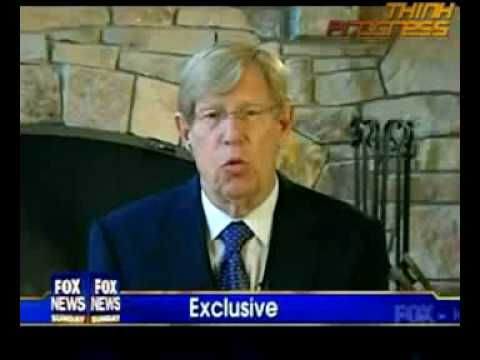 Olson cited the case of Reitman v. Mulkey, in which the U.S. Supreme Court struck down California's Prop 14 of 1963 because it violated the U.S. Constitution due to its racial discrimination, despite the fact that Californians overwhelmingly supported it at the ballot box. Money quote: "Would you like Fox News' right to free press put up to a vote?"
Also this, on conservative values: "We believe that a conservative value is stable relationships and stable community and loving individuals coming together and forming a basis that is a building block of our society, which includes marriage."
Prop 8 Supporters React
Jim Burroway
August 4th, 2010
First, we go to Andy Pugno, general counsel for the Alliance Defense Fund, which represented the losing side in today's decision:
"Today's ruling is clearly a disappointment. The judge's invalidation of the votes of over seven million Californians violates binding legal precedent and short-circuits the democratic process. But this is not the end of our fight to uphold the will of the people for traditional marriage, as we now begin an appeal to the Ninth Circuit Court of Appeals.

"It is disturbing that the trial court, in order to strike down Prop 8, has literally accused the majority of California voters of having ill and discriminatory intent when casting their votes for Prop 8.

"But the reality is that Prop 8 was simply about restoring and strengthening the traditional definition of marriage as the unique relationship of a man and a woman, for the benefit of children, families and society.

"At trial we built a solid record to show that marriage has served as the foundation of the family and society as a whole, has universal functions and features attributable only to unions between a man and woman, has been defined in both law and language as a union between a man and a woman, and acts as the predominate relationship in which to create and support children.

"We are confident that the trial court record we built will help us ultimately prevail on appeal and reverse today's ruling.
Newt Gingrich, who believes in the sanctity of marriage between on man and three consecutive women, warns that this should be another knock against confirming Elena Kagan to the Supreme Court:
"Judge Walker's ruling overturning Prop 8 is an outrageous disrespect for our Constitution and for the majority of people of the United States who believe marriage is the union of husband and wife. In every state of the union from California to Maine to Georgia, where the people have had a chance to vote they've affirmed that marriage is the union of one man and one woman. Congress now has the responsibility to act immediately to reaffirm marriage as a union of one man and one woman as our national policy. Today's notorious decision also underscores the importance of the Senate vote tomorrow on the nomination of Elena Kagan to the Supreme Court because judges who oppose the American people are a growing threat to our society."
Wendy Wright, Concerned Women for America stomps her foot and demands that the decision be overturned immediately:
Judge Walker's decision goes far beyond homosexual 'marriage' to strike at the heart of our representative democracy. Judge Walker has declared, in effect, that his opinion is supreme and 'We the People' are no longer free to govern ourselves. The ruling should be appealed and overturned immediately.

"Marriage is not a political toy. It is too important to treat as a means for already powerful people to gain preferred status or acceptance. Marriage between one man and one woman undergirds a stable society and cannot be replaced by any other living arrangement.
Robert George of the American Principles Project, sees this as ensuring "additional decades fo social dissension and polarization":
Another flagrant and inexcusable exercise of 'raw judicial power' threatens to enflame and prolong the culture war ignited by the courts in the 1973 case of Roe v. Wade," said Dr. Robert P. George, Founder of the American Principles Project. "In striking down California's conjugal marriage law, Judge Walker has arrogated to himself a decision of profound social importance—the definition and meaning of marriage itself—that is left by the Constitution to the people and their elected representatives."

"As a decision lacking any warrant in the text, logic, structure, or original understanding of the Constitution, it abuses and dishonors the very charter in whose name Judge Walker declares to be acting. This usurpation of democratic authority must not be permitted to stand."

…"The claim that this case is about equal protection or discrimination is simply false," George said. "It is about the nature of marriage as an institution that serves the interests of children—and society as a whole—by uniting men and women in a relationship whose meaning is shaped by its wonderful and, indeed, unique aptness for the begetting and rearing of children.

…"Judge Walker has abandoned his role as an impartial umpire and jumped into the competition between those who believe in marriage as the union of husband and wife and those who seek to advance still further the ideology of the sexual revolution. Were his decision to stand, it would ensure additional decades of social dissension and polarization. Pro-marriage Americans are not going to yield to sexual revolutionary ideology or to judges who abandon their impartiality to advance it. We will work as hard as we can for as long as it takes to defend the institution of marriage and to restore the principle of democratic self-government," concluded Dr. George.
Focus On the Family's Judicial Analyst Bruce Hasknecht (he apparently didn't get layed off last week) warns that this could have repurcussions for the other 49 states in the union:
"Judge Walker's ruling raises a shocking notion that a single federal judge can nullify the votes of more than 7 million California voters, binding Supreme Court precedent, and several millennia-worth of evidence that children need both a mom and a dad.

"During these legal proceedings, the millions of California residents who supported Prop 8 have been wrongfully accused of being bigots and haters. Nothing could be further from the truth. Rather, they are concerned citizens, moms and dads who simply wanted to restore to California the long-standing understanding that marriage is between one woman and one man – a common-sense position that was taken away by the actions of another out-of-control state court in May 2008.

"Fortunately for them, who make up the majority of Californians, this disturbing decision is not the last word.

…"We do want Americans to understand the seriousness of this decision, however. If this judge's decision is not overturned, it will most likely force all 50 states to recognize same-sex marriage. This would be a profound and fundamental change to the social and legal fabric of this country.
Tony Perkins at the Family Research COuncil anticipates that the decisionwill be upheld by the Ninth Circuit Court of Appeals ("the most liberal appeals court in America"), and will only make the anti-gay rhetoric "more volatile":
"This lawsuit, should it be upheld on appeal and in the Supreme Court, would become the 'Roe v. Wade' of same-sex 'marriage,' overturning the marriage laws of 45 states. As with abortion, the Supreme Court's involvement would only make the issue more volatile. It's time for the far Left to stop insisting that judges redefine our most fundamental social institution and using liberal courts to obtain a political goal they cannot obtain at the ballot box.

"Marriage is recognized as a public institution, rather than a purely private one, because of its role in bringing together men and women for the reproduction of the human race and keeping them together to raise the children produced by their union. The fact that homosexuals prefer not to enter into marriages as historically defined does not give them a right to change the definition of what a 'marriage' is.

"Marriage as the union between one man and one woman has been the universally-recognized understanding of marriage not only since America's founding but for millennia. To hold that the Founders created a constitutional right that none of them could even have conceived of is, quite simply, wrong.

"FRC has always fought to protect marriage in America and will continue to do so by working with our allies to appeal this dangerous decision. Even if this decision is upheld by the Ninth Circuit Court of Appeals-the most liberal appeals court in America-Family Research Council is confident that we can help win this case before the U.S. Supreme Court."
Randy Thomasson, of Save California thinks the oath of office should be updated to force judges to only issue conservative rulings:
"Natural marriage, voter rights, the Constitution, and our republic called the United States of America have all been dealt a terrible blow. Judge Walker has ignored the written words of the Constitution, which he swore to support and defend and be impartially faithful to, and has instead imposed his own homosexual agenda upon the voters, the parents, and the children of California. This is a blatantly unconstitutional ruling because marriage isn't in the U.S. Constitution. The Constitution guarantees that state policies be by the people, not by the judges, and also supports states' rights, thus making marriage a state jurisdiction. It is high time for the oath of office to be updated to require judicial nominees to swear to judge only according to the written words of the Constitution and the original, documented intent of its framers. As a Californian and an American, I am angry that this biased homosexual judge, in step with other judicial activists, has trampled the written Constitution, grossly misused his authority, and imposed his own agenda, which the Constitution does not allow and which both the people of California and California state authorities should by no means respect."
Tim Wildmon of the American Family Association goes further, and calls for Judge Walker's impeachement:
"This is a tyrannical, abusive and utterly unconstitutional display of judicial arrogance. Judge Walker has turned 'We the People' into 'I the Judge.'

"It's inexcusable for him to deprive the citizens of California of their right to govern themselves, and cavalierly trash the will of over seven million voters. This case never should even have entered his courtroom. The federal constitution nowhere establishes marriage policy, which means under the 10th Amendment that issue is reserved for the states.

"It's also extremely problematic that Judge Walker is a practicing homosexual himself. He should have recused himself from this case, because his judgment is clearly compromised by his own sexual proclivity. The fundamental issue here is whether homosexual conduct, with all its physical and psychological risks, should be promoted and endorsed by society. That's why the people and elected officials accountable to the people should be setting marriage policy, not a black-robed tyrant whose own lifestyle choices make it impossible to believe he could be impartial.

"His situation is no different than a judge who owns a porn studio being asked to rule on an anti-pornography statute. He'd have to recuse himself on conflict of interest grounds, and Judge Walker should have done that.

"The Constitution says judges hold office 'during good Behavior.' Well, this ruling is bad behavior – in fact, it's very, very bad behavior – and we call on all members of the House of Representatives who respect the Constitution to launch impeachment proceedings against this judge."
Richard Land demands the revival of the Federal Marriagae Amendment
"This is a grievously serious crisis in how the American people will choose to be governed. The people of our most populous state—a state broadly indicative of the nation at large demographically—voted to define marriage as being between one man and one woman, thus excluding same-sex and polygamous relationships from being defined as marriage.

"Now, an unelected federal judge has chosen to override the will of the people of California and to redefine an institution the federal government did not create and that predates the founding of America. Indeed, 'marriage' goes back to the Garden of Eden, where God defined His institution of marriage as being between one man and one woman.

"This case will clearly make its way to the 9th Circuit Court of Appeals and then to the Supreme Court of the United States, where unfortunately, the outcome is far from certain. There are clearly four votes who will disagree with this judge—Roberts, Thomas, Scalia, and Alito. The supreme question is: Will there be a fifth? Having surveyed Justice Kennedy's record on this issue, I have no confidence that he will uphold the will of the people of California.

"If and when the Supreme Court agrees with the lower court, then the American people will have to decide whether they will insist on continuing to have a government of the people, by the people and for the people, or whether they're going to live under the serfdom of government by the judges, of the judges and for the judges. Our forefathers have given us a method to express our ultimate will. It's called an amendment to the Constitution. If the Supreme Court fails to uphold the will of the people of California—if we are going to have our form of government altered by judicial fiat—then the only alternative left to us is to pass a constitutional amendment defining marriage as being between one man and one woman.

"Many senators who voted against the federal marriage amendment the last time it came up said publicly if a federal court interfered with a state's right to determine this issue, they would then be willing to vote for a federal marriage amendment. Ladies and gentlemen, prepare to vote.
Lou Sheldon of the Traditional Values Coalition is losing his creativity. In fact, his statement is rather boring. I won't bother posting it. But TVC state lobbyist Benjamin Lopez thinks this will motivate the Tea Party Movement even more:
"If folks think that the Tea Party movement is a force to be reckoned with now, wait until the silent majority of pro-family voters flex their political muscle once again. Judges beware, you will go the way of Rose Bird, stripped of their robes and kicked off the bench," Lopez added.
Oops! Lopez's statement appears to have been deleted, which just leaves Sheldon's uncreative outrage.
Fact Checking the Family "Research" Council Straw Man Argument
Jason Cianciotto
March 13th, 2010
In response to a Washington Post article about the economic benefits of same-sex marriage in DC, the Family Research Council (FRC) provides a classic example of how right-wing organizations manipulate data and statistics to suit their anti-LGBT positions.
Here's the quote:
When same-sex weddings kicked off in D.C. yesterday, the city wasn't seeing anything but dollar signs. In an absurd article in today's Washington Post, reporters tried to argue that counterfeit marriage could be the economic salvation of the city's economy. In a region with 12% unemployment, local officials claim that redefining marriage "will create 700 jobs and contribute $52.2 million over three years to the local economy."

Not so fast, says FRC. The last census counted 3,678 same-sex partner homes in D.C. Assuming that number has stayed roughly the same, then the 150 who applied for marriage licenses yesterday would amount to a whopping four percent of the local homosexual population–hardly the stuff of economic recovery. For the Post's $52.2 million projection to come true, all 3,678 of those D.C. couples would have to get married and spend over $14,000 per wedding. (I don't know about you, but my wife and I spent a LOT less!) These "marriages" (which have yet to meet financial expectations in other states) may make a fast buck in the short term, but they will do nothing but drain the economy down the road. Consider the massive health care expenses incurred by taxpayers every year to cope with the diseases spread by homosexual behavior. According to the Kaiser Foundation, federal funding grew to more than $18 billion in 2004 to deal with the HIV/AIDS epidemic. Over half of all U.S. infections are in men having sex with men! That means taxpayers spend roughly $10 billion a year treating the diseases caused by a behavior celebrated in same-sex "marriage." So much for economic development!
Not so fast FRC.
Yes, according to the Washington, DC Census Snapshot published by the Williams Institute, there are an estimated 3,678 same-sex couple households in the district, and the Associate Press did report that 150 same-sex couples applied for licenses on the first day same-sex marriage became legal there. This is about all that is factually correct in FRC's statement.
FRC's claim that the 150 couples represent "four percent of the local homosexual population" is a classic manipulation used by the religious right and discredited "researchers" like Paul Cameron. They take an estimate of one portion of a minority population and pretend that it is generalizeable to the population as a whole. In this case, the number of same-sex couple households willing to self-identify in the Census is not equivalent to the total population of lesbian, gay, or bisexual DC residents, which according to the Williams Institute is approximately 33,000.
Even more importantly, it is laughable for FRC to base its argument on the number of couples who applied for licenses on the first day. The Washington Post article references another Williams Institute report, which estimates that 2,000 same-sex couple in DC would marry over the next three years. In addition, another 12,500 couples are expected to come from out of state to get married. This is a more complete picture of the estimates used to create the projection of 700 new jobs and $52.2 million in revenue, but FRC simply ignores this information.
Where to begin with FRC's last argument about same-sex marriage being a long-term drain on the economy because of "diseases spread by homosexual behavior?"
We could cite CDC data on transmission rates caused by "heterosexual behavior." We could also estimate federal funding spent on prevention efforts that address the damage caused by social, and familial environments created by FRC. As they say, so much for economic development!
However, it would be a waste of time to feed into FRC's "straw man" arguments.
They have no interest in examining real facts. Nor do they see the folly in their position against allowing same-sex couples access to an institution that fosters monogamy as well as mutual caring and support. As so many articles and special reports on Box Turtle Bulletin have illustrated, there is no place for scientifically supported facts in the anti-gay playbook.
Mt. Vernon Statement – how can they not see the irony?
Timothy Kincaid
February 20th, 2010
A collection of America's most extreme social conservatives have signed onto a new declaration of unanimity called the Mt. Vernon Statement. It has all the usual suspects, including virtually every anti-gay activist out there.
The basic premise of this statement is that they, unlike the rest of the country, truly support the Constitution and the Declaration of Independence:
Each one of these founding ideas is presently under sustained attack. In recent decades, America\'s principles have been undermined and redefined in our culture, our universities and our politics. The selfevident truths of 1776 have been supplanted by the notion that no such truths exist. The federal government today ignores the limits of the Constitution, which is increasingly dismissed as obsolete and irrelevant.
And they call for a return to upholding the principles of our founding documents. They so revere these documents that they met to sign their statement at Mt. Vernon, George Washington's estate.
The only problem is that they don't value the ideals of the Constitution. They support life, liberty, and pursuit of happiness… just as long as it is their own. But they most certainly do not support our right to life, liberty or the pursuit of happiness.
Now – to be fair – most of these folks really wouldn't call for our execution. Or not publicly. Though in private some probably share the view of Joel McDurmon, the Director of Research for American Vision, who thinks we should be executed. And, of course, Tony Perkins was on hand to oppose tracking those who target us for murder.
But as for "liberty" this group includes its most devoted enemies. Elaine Donnelly is there to oppose our liberty to serve in the military. Richard Viguerie doesn't think we should have the liberty to "be out there trying to re-order society".
And oh do they hate our pursuit of happiness. Surely there is no single issue more related to happiness than family, yet not a single signatory believes that I have the right to choose whom I marry, certainly not Ken Blackwell or Edwin Meese. And David McIntosh is on hand to make sure we can't adopt. Heck, many of them don't even believe that we should have the right to pursue a little happiness in the privacy of our own bedroom.
Signatory Brent Bozell… he even objects to our playing baseball together and Wendy Wright even objects to our being counted in the US Census. There is not a single right for gay people that these folks support.
I really wish that the signers of this statement would actually embrace the Mt. Vernon Statement. I wish they would champion life, liberty and the pursuit of happiness. The irony is that they think that they do.
CPAC Overboard on DADT
Jim Burroway
February 19th, 2010
Die-hard supporters of "Don't Ask, Don't Tell," the military's ban on LGBT people serving openly, held a news conference at the Conservative Political Action Conference on February 18 in Washington, DC. It was a truly priceless exercise in surrealism that has to be seen to believe.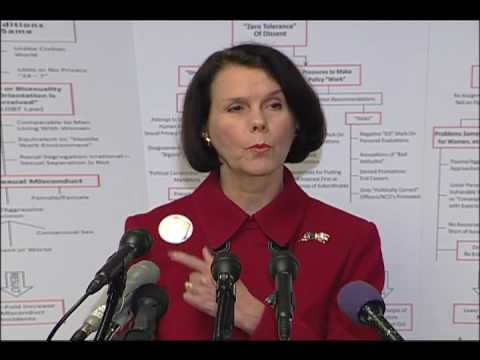 Here are my favorites. Tom Minnery of Focus On the Family thinks repealing DADT is a bad idea, but not because he dislikes gay people. In fact, he's worried all to pieces over what repealing DADT would do to gay men:
There are going to be a number of young gay men who have been shoved in the middle of this social engineering debacle and told that it is their right to serve. In the confines of barracks life, the sexual tension that will result when you try to develop a warrior culture and put these two very different ideas of sexuality in the middle of that culture, it's going to produce a lot of abuse, a lot of angry, a lot of severely disappointed young gay men.
Tony Perkins, of the Family "Research" Council has a hard time with polling data:
When you look at the polling data of the sixty percent of Americans or whatever saying they thing that homosexuals should be open, should be able to serve openly in the military, well do they really understand the conditions under which their sons and daughters and their neighbor's kids would have to serve in.
People understand the conditions of war very well, and nobody understands it better than those who are in the military currently. The Military Times finds that there has been a sharp decline in the percentage of men and women currently in uniform supporting DADT. Fewer still who personally know a gay person serving are willing to report them to their command.
But the most surreal statement comes from Retired Admiral James "Ace" Lyons:
You know in the Navy in the late nineteen hundreds, homosexuality was rampant in the United States Navy. It was so bad that mothers would not let their sons enlist in the Navy until the Navy cleaned its act up, and fortunately they did. …On board ship the Navy found that there are three things unacceptable to good order and discipline and its impact on readiness. You cannot have a thief aboard, you cannot have a drug-user or a drug-pusher, and we found out you could not have a homosexual.
And as anyone who has ever been to Fleet Week in San Francisco, New York, San Diego and Ft. Lauderdale can tell you, they don't have any homosexuals in the Navy anymore.
A review of the Manhattan Declaration
This commentary is the opinion of the author and does not necessarily reflect that of other authors at Box Turtle Bulletin.
Timothy Kincaid
November 20th, 2009
A group of conservative Christians released today their manifesto of their agreement across lines of faith and tradition. Entitled Manhattan Declaration: A Call of Christian Conscience, this document lays out areas in which the signatories declare commonality of purpose.
Who they are
First, let us say what this document is not. It is not, as the NY Times described it, a situation in which "Christian Leaders Unite on Political Issues". Indeed, this is but a segment of Christian thought, claiming the mantle of Christian history and tradition but excluding broad segments of the faith.
One need only glance at the signatories to know the nature of the alliance. Present are some who are well known names in the political culture wars who have long striven to impose their religious views by force of law on the unbelievers: Dr. James Dobson, Chuck Colson, Gary Bauer, and Tony Perkins. Some are religious leaders who have been recently shifting their realm of influence away from faith towards secular domination: Ravi Zacharias, Dr. Albert Mohler, and Jonathan Falwell.
But this is not just broadly social conservatives. There is, instead, a concentration of those who focus on "opposing the homosexual agenda". There are a few religious activists who seem dedicated and committed (obsessed, one might think) to fighting equality for gay people: Ken Hutcherson, Bishop Harry Jackson, and Jim Garlow. And then, inexplicably, some who are not religious leaders at all but social activists whose primary occupation is in seeking the political institutionalizing of inequality to gay people: Maggie Gallagher, Frank Schubert, and William Donohue.
Perhaps the most difficult to explain, and by far the most troubling name present, is The Most Rev. Peter J. Akinola, Primate, Anglican Church of Nigeria.
There is no explanation provided as to what relevance Akinola has on what is a uniquely American collection. But his participation is not accidental. And, as I will discuss momentarily, his is perhaps the key that explains the true nature of this manifesto.
This could be seen as nothing more that "the usual suspects", a rehashing of the Moral Majority or the Christian Coalition or any other of the loose groupings of religious authoritarians, were it not for one import inclusion. There are nine Catholic Archbishops who signed on to this document.
Ideologically as dissimilar as possible, these two Christian extremes – one whose doctrine is based in tradition, liturgy, and hierarchy, the other whose doctrine is based in reform, spirit-led worship, and direct divine revelation – have set aside ancient hostilities and theological beliefs that doubt the other's right to be considered "Christian" and have now joined in a common purpose: denying your rights.
But as important as who is present, is who is absent.
Among the signatories I was unable to find any members of the United Church of Christ, Episcopal Church, Presbyterian Church (USA), Friends (Quaker), Disciples of Christ, Unitarian Universalists or American Baptists. There was one United Methodist minister.
In short, a whole branch of Christianity, Mainline Christianity, was missing, including many who no doubt would agree with the goals of banning abortion and forbidding same-sex marriage. This exclusion is, I believe, integral to understanding the true purpose of this manifesto.
The agreed upon issues
While this alliance is one that does not reflect the face of Christianity, it also is not a declaration of a new-found position of agreement based on shared Christian teaching and ideology. There is no mention of shared faith in creeds or teachings, no virgin birth, no resurrection, no divine redemption.
Rather, this is a statement of political purpose by an alliance of socially conservative activist who oppose abortion and marriage equality. Indeed, although the document speaks in lofty terms of Christian tradition and religious freedom, the only commitments it makes are to oppose legal abortion (some day down the road) and the immediate attack on the ability of gay people to avail themselves of civil equality.
This is, in short a political alliance. It is a pact and a threat.
What it means
While on the face of it, this manifesto purports to be a rededication to fight two specific political issues, I think that this is but surface dressing for a deeper meaning.
This is not a war over civil marriage definition – nor, indeed, has that ever been the real motivation behind anti-gay marriage drives. Rather, this is a war over religious domination, a fight over who is "really a Christian" and an effort on the part of a long-suffering religious subset to spite those who have long had what they coveted.
Political power in the United States had long been in the hands of what is now called Mainline Christianity. Our presidents have included over a dozen Episcopalians (as is the National Cathedral), about ten Presbyterians, with most of the rest being Methodists, Unitarians, Disciples of Christ, and Quakers.
There has been exactly one Catholic. There have been four Baptists, of whom the two Southern Baptists were Jimmy Carter and Bill Clinton. There have been no Pentecostals and no members of mega-Churches. In fact, though some Republican presidents have been religious and conservative, there has never been a President of the United States that was both denominationally and ideologically within the fold represented by the signatories of this Manhattan Declaration.
And now they want theirs. And, not content at the rise of their own political power, they will not be happy unless they can diminish those denominations whom they seek to replace.
Note the presence of the second signatory, Peter Akinola? He is the Nigerian Anglican who has been missionizing the United States in an effort to hurt the Episcopal Church. His inclusion is a very clear message sent to the EC that they are a target for the Catholic Church and the evangelical churches who will use whatever political power they may wield in the future to thwart her position in the nation.
This manifesto is, I believe, less a declaration of war on gay people and those with unplanned pregnancies than it is a declaration of war on other Christian faiths.
One absence that seems to confirm this alliance is a denomination that one might have expected to be quick to affirm its commitment to the right to life and protection of the family. But there are no representatives from the Church of Jesus Christ of Latter Day Saints (the Mormons). The exclusion of this church, considered by most conservatives to be "NOT Christian", suggest that this manifesto has less to do with social goals and more to do with Christian definition.
This manifesto says, in effect, "We are the Christians. We are the 'heirs of a 2,000-year tradition of proclaiming God's word', and we alone will speak for the faith."
What the manifesto reveals
In addition to highlighting the division in the Christian body, there are also some clues as to future items on the agenda of this newly affirmed political alliance. Here is how I translate some of their declarations.
we note with sadness that pro-abortion ideology prevails today in our government … truly Christian answer to problem pregnancies is for all of us to love and care for mother and child alike
Only lip service will be paid to the shared objection to abortion. Little time, money, or political capital will be spent on this already lost goal. However, should opportunity ever swing in their direction, they will stop at nothing short of a full ban on all abortions without any consideration of rape, quality of life, or the life of the mother.
But absent the abortion issue, these allies have but one other shared issue: attacking you and your life.
Around the globe … take steps necessary to halt the spread of preventable diseases like AIDS
The situations in Nigeria and Uganda are not accidental nor unrelated to the efforts of conservative Americans. Although virtually all of the spread of AIDS in Africa is related to heterosexuality, this will be an excuse to pass draconian laws seeking to repress, incarcerate, or execute gay men and women.
In addition to being a slam against the Episcopal Church, the inclusion of Akinola announces that pogroms against gay Africans will have the endorsement of both the Catholic Church and conservative evangelical churches.
We should not expect the calls for criminal prosecution of gay people to be limited to foreign soil. Should such a fervor be fostered internationally, it is unquestionable that this will lend support to efforts to reinstate or bolster oppression here.
It is no longer a matter of curiosity that the Catholic Church has not spoken out against the Kill Gays bill in Uganda. Nor had Dr. Mohler or Dr. Dobson. Nor, indeed, has any signatory of this document.
The impulse to redefine marriage in order to recognize same-sex and multiple partner relationships … there are those who are disposed towards homosexual and polyamorous conduct and relationships … Some who enter into same-sex and polyamorous relationships no doubt regard their unions as truly marital … the assumption that the legal status of one set of marriage relationships affects no other would not only argue for same sex partnerships; it could be asserted with equal validity for polyamorous partnerships, polygamous households, even adult brothers, sisters, or brothers and sisters living in incestuous relationships
The Manhattan document does not in any place refer to same-sex relationships without simultaneously mentioning multiple-party relationships. This will no doubt translate to a new commitment on the part of the signatories to try and tie the two together in their political campaigns.
Frankly, I wish them godspeed in that decision. Americans have, I believe, moved beyond the point in which gay couples are viewed as identical to polygamists.
as Christ was willing, out of love, to give Himself up for the church in a complete sacrifice, we are willing, lovingly, to make whatever sacrifices are required of us for the sake of the inestimable treasure that is marriage.
This probably tells us nothing but the extent to which these people are self-righteous and truly deeply smarmy. They are willing, lovingly, to sacrifice your life and freedom and equality, not their own. Oh how loving. Oh how Christ-like.
Because we honor justice and the common good, we will not comply with any edict that purports to compel our institutions to participate in abortions, embryo-destructive research, assisted suicide and euthanasia, or any other anti-life act; nor will we bend to any rule purporting to force us to bless immoral sexual partnerships, treat them as marriages or the equivalent, or refrain from proclaiming the truth, as we know it, about morality and immorality and marriage and the family.
There are, as we all know, no requirements for any churches or ministers to act contrary to their faith. We have long since debunked their claims of oppression and shown them to be nothing more than a retraction of special privilege when the religious groups in question wanted to use taxpayer dollars to discriminate against gay taxpayers. There are no instances in their recitation in which religious groups were forced to compromise in any areas of faith in the administration of their own funds or time.
That is of no consequence. Liars lie. We expect the morally bankrupt to behave without integrity.
But what I think we can anticipate, based on their conclusion, is a concerted effort at political stuntery. A dedication to dishonesty. And an ongoing campaign of lies.
As a Christian, it distresses me to see the name of my faith and the mantle of its history usurped by those who have no respect for its greater principles but instead gleefully glom onto its darker bloody history. Rather than exalt in the liberties that have evolved from Christian thought, they seek to equate the faith with its most prejudicial, superstitious, exclusionary and dictatorial moments.
But perhaps something good may come of this.
It is possible that out of this declaration of war, the moderate and liberal branches of the faith may find common cause, if nothing else in defense of their own good name. Perhaps they will decide that they have a purpose and meaning in modern America and will let go of residual guilt and angst and take up the mantle of protector of the oppressed and champion of justice and mercy.
Let us hope and pray that they do.
Anti-Gay Activists React To Hate Crimes Bill Passage
Jim Burroway
October 23rd, 2009
And their reactions are true to form — full of all the same bald-faced lies we've heard before. Fortunately, this should be their second-to-last gasp. The last one will come when President Barack Obama signs the legislation into law. First up, Tony Perkins, of the Family "Research" Council:
"In a slap to the face of our servicemen and women, they attached 'hate crimes' legislation to the final defense bill, forcing Congress to choose between expanding hate crimes or making our military go without. This hate crimes provision is part of a radical social agenda that could ultimately silence Christians and use the force of government to marginalize anyone whose faith is at odds with homosexuality. … We call on President Obama to veto this legislation which violates the principle of equal justice under the law and also infringes on the free speech rights of the American people."
The Family "Research" Council really needs to bone up on their research skills, because right there in the text of the bill (Section 4311)  are these clauses:
3) FREE EXPRESSION- Nothing in this division shall be construed to allow prosecution based solely upon an individual\'s expression of racial, religious, political, or other beliefs or solely upon an individual\'s membership in a group advocating or espousing such beliefs.

(4) FIRST AMENDMENT- Nothing in this division, or an amendment made by this division, shall be construed to diminish any rights under the first amendment to the Constitution of the United States.

(5) CONSTITUTIONAL PROTECTIONS- Nothing in this division shall be construed to prohibit any constitutionally protected speech, expressive conduct or activities (regardless of whether compelled by, or central to, a system of religious belief), including the exercise of religion protected by the first amendment to the Constitution of the United States and peaceful picketing or demonstration. The Constitution does not protect speech, conduct or activities consisting of planning for, conspiring to commit, or committing an act of violence.
So unless the "planning for, conspiring to commit, or committing an act of violence" is an essential element of Christian speech, people of faith have nothing to worry about.
Next up, we have Traditional Values Coalition Executive Director Andrea Lafferty. She also repeats the false claim that "Christians and other people of faith will now become targets for persecution and prosecution," but adds this bit of creativity:
Hate crime legislation is based on the phony premise that there\'s an epidemic of hate in America against LGBT (gays, bisexuals, lesbians and transgendered) persons. This is false. FBI hate crime statistics prove that most so-called hate crimes amount to little more than name-calling or pushing or shoving.
First of all, the FBI doesn't collect statistics for "name-calling, pushing or shoving." They only collect statistics on violence and credible threats of violence.  But that's not the only whopper she told. Of all the hate crime categories that the FBI tracks, hate crimes based on sexual orientation are much more likely to be violent personal crimes than any other category.
 
Total Hate Crime Offenses, 2007
Violent Crimes, percentage of total
Race
4,724
1,471
31%
Religion
1,477
126
9%
Sexual Orientation
1,460
695
48%
Ethnicity
1,256
497
40%
Disability
82
21
26%
TOTAL
9,006
2,810
31%
Violent crimes include:
Murder and non-negligent manslaughter,
forcible rape, aggravated assault
and simple assault.
There are more. Bob Unruh at WorldNetDaily calls the bill "the Pedophile Protection Act," an obvious play on the "thirty sexual orientation" lie, which we dissected last May. All in all, there's at least one thing you can say about these anti-gay activists: they may not be truthful, but they are consistent.
Mel White vs. Tony Perkins
Jim Burroway
April 14th, 2009
Soulforce's Mel White calls out the Family Research Council's Tony Perkins beginning at the 6:45 mark:
Tony Perkins' Strange Understanding Of Democracy
Jim Burroway
April 8th, 2009
The Vermont Senate and House today voted to override the governor's veto and provide marriage equality for all citizens of that state. And the city council for the District of Columbia voted to recognize same-sex marriages performed in other jurisdictions. All three of these legislative bodies are made up of members who stand for regular free and fair elections. So how does the Family "Research" Council's Tony Perkins react to today's news?
"Same-sex 'marriage' is a movement driven by wealthy homosexual activists and a liberal elite determined to destroy not only the institution of marriage, but democracy as well"
That's right. Overwhelming votes by representatives of the people are destroying democracy.
There are more winger reactions here.
FRC: Lesbians Led To Octuplets' Birth
Jim Burroway
February 13th, 2009
Everyone's talking about Nadya Suleman. She was the California single mother of six who gave birth to eight more. These octuplets were a result of fertility treatments. Comments have been all over the map. Pro-lifers questioned her decision but praised her for giving life to six more children. Ta-Nehisi Coates, on the other hand, asks us to imagine the reaction if she had been a black woman. Meanwhile, the Onion recoiled, "Uh oh. Eight Aquariuses living under the same roof for the next 18 years—yikes."
It didn't take long however for someone to finally getting around to blaming the gays. Leave it to Tony Perkins at the the homo-obsessed Family "Research" Council to do it:
Last week, taxpayers learned that they would be partially liable for the family's care through hundreds of dollars in food stamps and disability payments. The news fueled even more conviction that the fertility doctor should have refused the procedure. But is he really to blame–or are our courts? In California, the state Supreme Court made it virtually impossible for a physician to exercise his own judgment after two lesbians sued in 2001 for the right to be artificially inseminated over the doctors' personal or social objections.
Update: The problem, of course, is that the Surpreme Court only held that a physician cannot withhold treatment because of the patients sexual orientation. It said nothing about any other considers outside of the state's protected classes of race, creed, color, sexual orientation, national origin, etc. Physicians can find many reasons to withhold treatment, including ethical ones. Discrimination however is not legal. And since Suleman's case had nothing to do with discrimination, the FRC's argument is utterly senseless. But you probably knew that, didn't you?
Newsweek Essay Draws Howls of Protest
Jim Burroway
December 9th, 2008
Anti-gay activists are pulling their hair out over Lisa Miller's essay in Newsweek, in which she lays out a religious case for same-sex marriage. She opens her essay by saying, "Opponents of gay marriage often cite Scripture. But what the Bible teaches about love argues for the other side."
As you can imagine, that didn't go over well with one particular segment of Christianity. Albert Mohler, president of The Southern Baptist Theological Seminary and a member of the Focus on the Family Board of Directors, wrote:
Many observers believe that the main obstacle to this agenda [of allowing same-sex marriage] is a resolute opposition grounded in Christian conviction. Newsweek clearly intends to reduce that opposition."
That was one of the calmer reactions. Tony Perkins of the Family "Research" Council denounced it as "yet another attack on orthodox Christianity." The Donald Wildmon of the American Family Association called it "one of the most biased and distorted pieces concerning homosexual marriage ever published by any major news organization." Not surprisingly, he also is calling on his followers to inundate Newsweek with emails.
And Peter LaBarbera, not one to be outdone, called the essay a "scandalous hit piece" and an "embarrassing attempt to make a Biblical case for sodomy-based 'marriage.'" (See why we have an award named in his honor?) And Peter's pal, Matt Barber responded, "You know, scripture says woe to those who call evil good and good evil, and I say woe to Newsweek for even printing this drivel."
Part of the outrage stems from the fact that anti-gay activists have tried for years to couch their opposition to same-sex marriage on sociological research to make their point — research that, as we have pointed out many times, they have distorted with amazing consistency. But by calling on science instead of the Bible, they seek to inoculate themselves from charges of trying to impose their religious views on others. "See? We're not religious zealots. Science supports us," they like to say. Richard Land, of the Southern Baptist Convention's Ethics and Religious Liberty Commission, repeated this line in saying, "The arguments that are used are often not biblical arguments. They are secular arguments, arguing about marriage as being a civic and a social institution, and that societies have a right to define marriage." And Ralph Reed, former head of the Christian Coalition, claimed, "We're not trying to take the Bible and put a bill number on it and legislate it."
But when they are talking among themselves, religious arguments are firmly at the fore, whether it's LDS Elder M. Russell Ballard speaking of the "central doctrine of eternal marriage" or Richard Land himself explaining with an apparently straight face that what he calls the global warning "hoax" is simply due to "cycles of nature that God has allowed in the cosmos." Neither of these positions sound very scientific to me.
But the religious face is not the public face that these religiously-motivated leaders want to present. And by having to respond to Lisa Miller's essay, they are forced to publicly defend the religious basis for their beliefs, which annoys a few of them to no end.  Watch how Concerned Women for America's Janice Shaw Crouse pivots when asked about the Newsweek essay:
"Beyond the Scriptural distortion, the article distorts the pro-marriage and pro-family movement that is solidly grounded on sociological research about family structures that contribute to the well-being of women and children."
She then goes on to mischaracterize what "experts agree."
But the other part of the outrage also seems clearly aimed at someone who really did intrude onto their home turf. After all, in the same-sex marriage debates, only one small group of Christians are presumed to be allowed to use the Bible — when they think nobody else is looking. Anti-gay activists behave as though the Bible is solely their possession and no one else's — including other Christians who read the same Bible and come to different conclusions. It's okay for anti-gay opponents to turn outside their own sphere of authority — science — to make their point. But now that Lisa Miller has taken them on in their own home turf, they've let loose with their persecution complex and complained that they– and by extension all of Christianity, since they presume to speak for all Christians — have been "attacked." 
Which reminds me of a great and appropriate graphic making its way around the Internet:
Prop 8: The End of the World
Jim Burroway
October 27th, 2008
If California's Proposition 8 fails, it'll be Armageddon, and all that — according to Charles Colson and Tony Perkins:
"This vote on whether we stop the gay-marriage juggernaut in California is Armageddon," said Charles W. Colson, the founder of Prison Fellowship Ministries and an eminent evangelical voice, speaking to pastors in a video promoting Proposition 8. "We lose this, we are going to lose in a lot of other ways, including freedom of religion."

Tony Perkins, president of the Family Research Council, a conservative Christian lobby based in Washington, said in an interview, "It's more important than the presidential election."

"We've picked bad presidents before, and we've survived as a nation," said Mr. Perkins, who has made two trips to California in the last six weeks. "But we will not survive if we lose the institution of marriage."
Why the doom and gloom? Prop 8 proponents are now raising the scare tactic that Prop 8's passage will mean that churches that refuse to marry same-sex couples will be sued, or ministers will be jailed if they preach against homosexuality.
This, of course, is not possible in the United States because of the First amendment. Christian Identity churches are free to preach White Supremacy and anti-semitism, and fundamentalist protestant extremists are free to call the Pope the Anti-Christ. Nobody gets thrown in jail for any of that. And the Catholic Church has been free to refuse to marry anyone who has been divorced, no matter how many divorce papers or civil marriage licenses a couple can waive in front of the priest.