GOPround Co-Founder Resigns, Blasts Group for "Unconditional Surrender to the Forces of Intolerance"
Jim Burroway
February 20th, 2014
Yesterday, National Journal excitedly reported that "the kinder, gentler Conservative Political Action Conference" has decided to "welcome" GOProud back to the fold after being kicked out in 2011. National Journal however was very clear about the limits of that so-called welcome:
Two former GOProud summer interns, Ross Hemminger and Matt Bechstein, took over last summer and sought to repair the bitterly frayed relationship. Under a compromise reached last week, they will attend the March 6-8 gathering as guests, without sponsorship or a booth. GOProud sees the lower-profile role as an important first step.
In other words, they're welcome as long as they sit quitely and don't say anything. COProud co-founder Chris Barron resigned from the board following the announcement, calling the move an "unconditional surrender":
"Last night I resigned from the Board of GOProud, the organization that I co-founded back in April of 2009. I cannot in good conscience sit by and watch as the current leadership of the organization disingenuously pawns off an unconditional surrender to the forces of bigotry as some sort of 'compromise,'" Barron told BuzzFeed. "Nothing has changed in regards to GOProud and CPAC, GOProud does not have a booth, they are not a sponsor, they are not participating in any formal sense – individual members can attend and that's exactly the terms ACU dictated the previous few years."

…"There was a time when GOProud was on the front lines of the fight for a more inclusive conservative movement –- we won some of those battles and we lost some of those battles, but we were always honest about the outcome. If the current leadership of GOProud, or whats left of it, believes that unconditional surrender to the forces of intolerance is in the best interest of the organization, than they should just be honest about it," he said
Earlier this year, another GOProud co-founder, Jimmy LaSalvia, announced that he was leaving the Republican Party altogether, citing "the tolerance of bigotry in the GOP." He resigned as GOProud's Executive Directer last year to work for the ACLU.
Santorum: Don't Trust The Generals
Jim Burroway
February 20th, 2010
"Don't Ask, Don't Tell" supporters have often defended their support by saying they were only following the advice of top military leaders. Now that military leaders are coming out in favor of repealing the ban on gay servicemenbers serving openly, former Sen. Rick Santorum says we shouldn't trust the generals:
Addressing how the military leadership, led by Joint Chiefs of Staff Chairman Mike Mullen, could now favor a repeal of the law, Santorum raised the specter of brainwashing.

"Political correctness is reigning in the military right now," he said. ""Some people say: [Do] whatever the generals say [on DADT]. I'm not too sure that we haven't so indoctrinated the officer corps in this country that they can actually see straight to make the right decision."

The line went over well with the CPAC crowd.
Really? Somehow I missed that on GayPatriot's and GOProud's Twitter stream. But Bruce Carroll does defend Rick "Man-On-Dog" Santorum as being "not homophobic." Right. Because you'd have to be brainwashed to believe otherwise.
GOProud Showed Up. Which Is Very Good, But…
This commentary reflects the opinion of the author and does not necessarily reflect those of other authors at Box Turtle Bulletin
Jim Burroway
February 20th, 2010
Alexander McCobin, at Students for Liberty, welcomed GOProud to the Conservative Political Action Conference (CPAC) amid cheers and boos.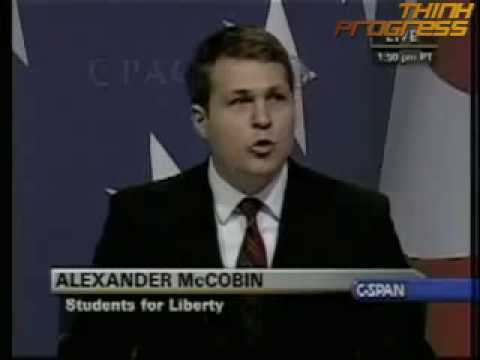 Ryan Sorba, of the Young Conservatives of California, responded by denouncing CPAC amid boos and cheers.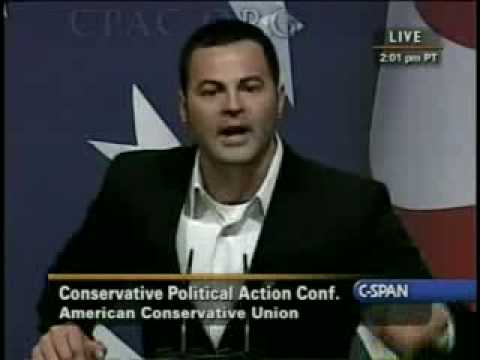 For some reason, it's often the gays who start the hottest trends in this country. The Republican Party's acrimonious split between the traditional followers of John Locke, Adam Smith, Thomas Paine and other believers of individual freedom, and the emerging purer-than-thou wing who today would be loudly lamenting the absence of a "real Republican" if Ronald Reagan himself were alive and running for office — like so many popular trends in America — is just an imitation of what the gays had already started. It was just last April when a group of Log Cabin Republican dissidents split off to form GOProud over the former group's perceived lack of ideological purity.
But despite GOProud's purer-than-pure stance, it's still regarded as being outside the mainstream among other purer-than-pure ideologues who are, in addition, also non-believers in individual freedom. But that didn't stop GOProud from becoming sponsors of that annual purer-than-pure ideological love-fest known that is CPAC in Washington, D.C. This marks the first time a gay group has been a co-sponsor of the event. It also marks the first appearance of the John Birch Society as a co-sponsor, which had always been excluded for being too extremist.
But while the Birchers were allowed to parade around in their tinfoil hats, the GOProuders would not have a platform to to speak about gay issues at the conference. Outside of their booth with the other exhibitors, their only planned contribution that I've been able to discern was a talk about "Using Technology to Mobilize Conservatives." Other than that, their message was limited to their booth.
Silence appears to be the price of admission. GOProud's Twitter stream and web site have been uncomfortably silent over the wacky news conference at CPAC over "Don't Ask, Don't Tell." Okay, there hasn't been complete silence, at least not when a good opportunity for spin comes along. Bruce Carroll, aka GayPatriot, giddily twittered, "Nation\'s most vocal supporter of gay marriage & removing Don\'t Ask, Don\'t Tell speaks at #CPAC10 – DICK CHENEY! HA." Except Cheney didn't utter a single peep about gay marriage or DADT. Chris Crain responds, "Gentlemen… please… we can hold the bar higher than this, can't we?"
But as we all have come to know, it's not enough for the purest of the purer-than-pure crowd to have us agree to shut up about our issues and rah-rah conservatism in general. It's our mere presence, and even our very existence, that many find so horribly offensive. And that offense was on display yesterday when Ryan Sorba decided to go after CPAC for GOProud's quiet existence. When he was boo'ed, Bruce Carroll (aka GayPatriot) celebrated, saying that this "shows that most mainstream conservatives don\'t have much stomach for such nasty rhetoric." But I have to wonder whether it's the rhetoric they can't stomach or the embarrassment over the fact that CSPAN cameras were capturing a dissenting speech live on national television.
Think about it. Sorba's remarks weren't that much nastier than those mouthed at the DADT news conference. Sorba just didn't follow agreed-upon talking points and he compounded that by openly dissenting with fellow CPAC attendees. The boo's started when he said he was denouncing CPAC before he even said why he was denouncing them. Was it the rhetoric they were booing? Or was it the open dissent — complete with calling people out by name — on nationwide television that garnered the boos (and cheers)?
(By the way, some are saying Sorba was boo'ed off the stage. It looks to me that he left the stage when he finished saying what he wanted to say.)
But just showing up is all it takes for GOProud to excite the purest of the purer-than-pure element, then even GOProud's most ardent critics would have to concede that their mere presence served, at least, as a small but important measure of community service for LGBT citizens. Besides, anyone who makes life unbearably uncomfortable for the National Organization for Marriage, which found its booth located just a few short steps away from GOProud's, is worthy of respect. Jimmy LaSalvia's "Who's the pansey?" line by itself is worth GOProud's sponsorship and travel costs.
Playing rope-a-dope, which GOProud has evidently done, is a very useful role to play. The more dopes we can rope, the better. But at some point we ought to see something other than blind cheer-leading among gay conservatives. I mean please, tying Cheney's standing ovation over his opposition to "Don't Ask, Don't Tell" and support for gay marriage? Not uttering a single peep over the ridiculous news conference supporting DADT? That just looks pathetic, especially when compared to the open revolt among gay Democrats over their party's failure to deliver on promises. I'm glad that GOProud decided to stake out a presence at CPAC, but a presence with a clear eye and critical voice would be more helpful still. Woody Allan said that 90% of life is just showing up, but he's a moviemaker. What does he know about politics?
CPAC Overboard on DADT
Jim Burroway
February 19th, 2010
Die-hard supporters of "Don't Ask, Don't Tell," the military's ban on LGBT people serving openly, held a news conference at the Conservative Political Action Conference on February 18 in Washington, DC. It was a truly priceless exercise in surrealism that has to be seen to believe.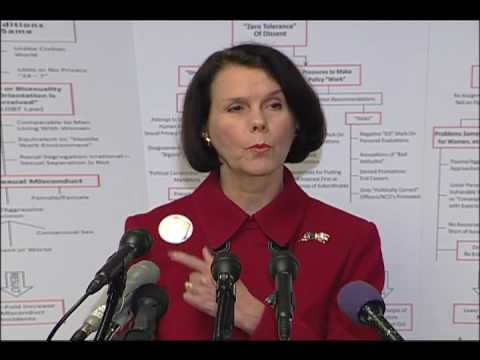 Here are my favorites. Tom Minnery of Focus On the Family thinks repealing DADT is a bad idea, but not because he dislikes gay people. In fact, he's worried all to pieces over what repealing DADT would do to gay men:
There are going to be a number of young gay men who have been shoved in the middle of this social engineering debacle and told that it is their right to serve. In the confines of barracks life, the sexual tension that will result when you try to develop a warrior culture and put these two very different ideas of sexuality in the middle of that culture, it's going to produce a lot of abuse, a lot of angry, a lot of severely disappointed young gay men.
Tony Perkins, of the Family "Research" Council has a hard time with polling data:
When you look at the polling data of the sixty percent of Americans or whatever saying they thing that homosexuals should be open, should be able to serve openly in the military, well do they really understand the conditions under which their sons and daughters and their neighbor's kids would have to serve in.
People understand the conditions of war very well, and nobody understands it better than those who are in the military currently. The Military Times finds that there has been a sharp decline in the percentage of men and women currently in uniform supporting DADT. Fewer still who personally know a gay person serving are willing to report them to their command.
But the most surreal statement comes from Retired Admiral James "Ace" Lyons:
You know in the Navy in the late nineteen hundreds, homosexuality was rampant in the United States Navy. It was so bad that mothers would not let their sons enlist in the Navy until the Navy cleaned its act up, and fortunately they did. …On board ship the Navy found that there are three things unacceptable to good order and discipline and its impact on readiness. You cannot have a thief aboard, you cannot have a drug-user or a drug-pusher, and we found out you could not have a homosexual.
And as anyone who has ever been to Fleet Week in San Francisco, New York, San Diego and Ft. Lauderdale can tell you, they don't have any homosexuals in the Navy anymore.