Santorum's Pastor Problem
Jim Burroway
March 20th, 2012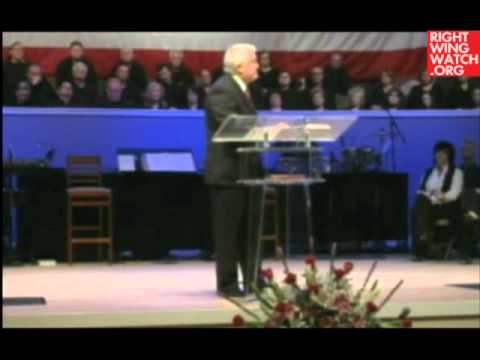 I don't care what the liberals say, I don't care what the naysayers say, this nation was founded as a Christian nation! The God of Abraham, the God of Isaac, the God of Jacob, there's only one God! There's only one God, and his name is Jesus! I'm tired of people telling my I can't say those words. I'm tired of people telling us that as Christians we can't force or beliefs, or we can no longer pray in public. I'm — Listen to me! If you don't like… love American and you don't like the way we do things, I got one thing to say. GET OUT! We don't worship Buddha, we don't Mohammed, we don't woship Allah, we worship God. We worship God's son, Jesus Christ.

…I believe the church is to be the conscience of the nation. The church needs to be the conscience of our state and our local community. Listen closely. Now hold on for just a moment. As long as they continue to kill little babies in our mother's womb, somebody's got to take a stand and say it's not right! God be merciful to us as a nation. As long as sexual perversion is becoming normalized, somebody needs to stand up and say God forgives us, God have mercy upon us! As long as they continue to tell our children they cannot pray in public schools or pray in open public places today, somebody's got to take a stand and say God forgive us, God have mercy upon us! As long as they continue to tear down traditional marriage… Listen! God intended for marriage to be between a man and a woman, and as long as they continue to attack marriage, somebody needs to take a stand and say NO! NO! NO! NO!

…I'm telling you my friend I believe the Christians in American are the key to revival. I believe that Christians in America is (sic) the key to the economy to turn it around. I believe that Christians in America is (sic) the key to the jobless rate continue (sic) to go down. I believe its a spiritual thing. If we would put God back in America, put God back in our pulpits, put God back in our homes and in our statehouse and then in Washington, D.C., then we can have revival in America! And the Holy Spirit will show up and great and mighty things will happen for this country!
The video closes with the camera on Sen. Rich Santorum, standing and clapping, after Greenwell Springs Baptist Church pastor Dennis Terry's fiery speech yesterday calling on anyone who does not adhere to his particular brand of Christianity to leave the country so that they can finally establish their talibanic regime in the White House. Terry made those comments at a rally in Louisiana, which is the home of Family Research Council's Tony Perkins. To tighten that circle just a little, Terry is also Perkins's pastor, who was also on hand at the event.
If anyone wonders at the collapse of the so-called "Catholic vote" (I, for one, believe that Catholics never voted as a block to begin with), one only has to watch this video. Despite Santorum's identification as a conservative Catholic, despite his reportedly attending Mass daily, what you see here is as alien — and as disturbing — to the majority of Catholics as it is to any other (yes, I'll say it) ordinary American. Catholics have acquired a long history of shunning the pronouncements of the hierarchy on issues of private morality, and they have a much longer history of fearing the interference of government in religious affairs. Co-mingling the two are anathema to most Catholics in the pews, even as the Bishops have become increasingly politically active. That partly explains how Romney has been picking up most of the Catholic vote in recent contests.
At the rally's close, Terry prayed over Santorum and asked God to "have favor upon Rick Santorum," as Perkins stood next to them. When Jeremaiah Wright "goddamned" American, Obama was nowhere in sight, but he got the blowback anyway. Terry laid his hands on Santorum and — more relevant to our point here — Santorum obediently bowed his head for Terry's blessing, nodding in agreement.
When pressed by reporters afterward, Santorum tried to half-heartedly back away from Terry's comments that American "heretics" — and let's be clear: that's who Terry's talking about — need to leave America. But the sad truth is, Santorum fully owns Terry and all of the other dominionists who would turn this nation into a theocratic Ameristan as the first opportunity. And to those who say that dominionism is a myth, all I have to say is that we have video proof of it right there, right at the top of this post. And one of them is running for President.
Comments