You'll Never Guess Why Hawaii's New GOP Rep. Supports DADT Repeal
Jim Burroway
June 2nd, 2010
Hawaii's new Republican congressional representative Charles Djou was among the five House Republicans who voted to add the amendment paving the way for "Don't Ask, Don't Tell's" repeal to the Defense Authorization Bill last week. Djou, who is also a captain in the Army Reserves, earned the Log Cabin Republicans' endorsement partly because of his support for DADT's repeal.
While we welcome Djou's support for DADT repeal, his reason for supporting the repeal is more than puzzling: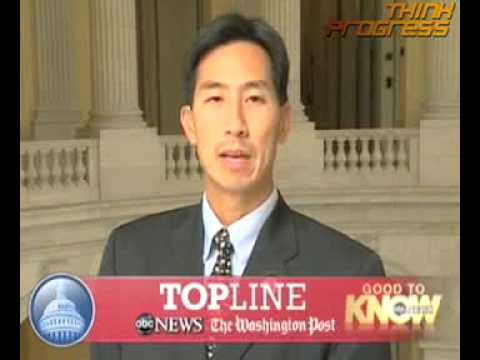 Q: So why did you go against your party's leadership on the "Don't Ask, Don't Tell" question?

Djou: You know, on that particular issue, it comes from personal experience. I have served for nearly 10 years now as an officer in the United States Army Reserve. What concerned me about the "Don't Ask, Don't Tell" policy is that it just simply doesn't work. And I saw too many instances as an army reservist, soldiers would sign up for a re-enlistment bonus, get this gigantic sum from the American taxpayer, and then as soon as the unit gets called up to mobilize to Iraq or Afghanistan, they suddenly claim they are gay with no prior indication at all of that whatsoever. Get the discharge and keep the bonus. That's wrong, that's unfair and that's why this policy should be changed, and I was very happy to cast that vote as I did last night.
Djou claims to support the Employment Non-Discrimination Act. I wonder what kind of backhanded justification he has for that.
House Approves DADT Repeal
Jim Burroway
May 27th, 2010
Following an earlier vote in the Senate Armed Services Committee, the House of Representatives approved an amendment to the House's version of the Defense Authorization Bill that paves the way toward the repeal of "Don't Ask, Don't Tell." The vote was 234-194. Five Republicans broke ranks to vote for the measure. They were Ileana Ros-Lehtinen (FL), Charles Djou (HI), Judy Biggert (IL), Joseph Cao (LA), and Ron Paul (TX).
Update: Twenty-six Democrats voted against the amendment. They were Bobby Bright (AL), Marion Berry (AR), Mike Ross (AR), Sanford Bishop (GA), Daniel Lipinski (IL), Joe Donnelly (IN), Travis Childers (MS), Gene Taylor (MS), Ike Skelton (MO), Bob Etheridge (NC), Mike McIntyre (NC), Heath Shuler (NC), Earl Pomeroy (ND), Mark Critz (PA), John M. Spratt, Jr. (SC), Lincoln Davis (TN), John Tanner (TN), Chet Edwards (TX), Gene Green (TX), Solomon Ortiz (TX), Rick Boucher (VA), Nick Rahall (WV).
Hawaii's new Republican representative
Timothy Kincaid
May 24th, 2010
It has been nearly 20 years since Hawaii sent a Republican to Congress. But, due to multiple Democrats running for a mid-term replacement, Charles Djou, a Republican Honolulu City Council member, will be representing the residents of President Obama's birthplace (His 40% was more than either of the two Democratic candidates).
Djou is a bit of a mixed bag for our community.
He has spoken against Hawaii's newly passed Civil Unions bill and supports DOMA. However, that appears to be tempered by some pro-gay positions which earned him an endorsement by Log Cabin Republicans.
"Log Cabin Republicans is proud to have endorsed the candidacy of Charles Djou for Congress. His commitment to repeal 'Don't Ask, Don't Tell', supporting the Employment Non-Discrimination Act, increased HIV/AIDS research initiatives and equality in domestic partnership benefits on the federal level show that a common-sense Republican can truly win the day, even in President Obama's hometown."
I am not certain exactly what Log Cabin means by "equality in domestic partnership benefits on the federal level", but that may relate to a bill by Sen. Lieberman which seeks to extend "fringe benefits" to the partners of gay federal employees. That vote is expected soon, perhaps this week.
Djou will have to run again in November, this time in a partisan race against whichever Democratic candidate wins the primary. But he may well have to take a stand on a number of issues that impact our community in the meanwhile.
As Djou is an Army Reserve captain and I hope that this will lend credibility among Republican legislators when he asserts that DADT is both unnecessary and ineffective.