The Daily Agenda for Friday, April 4
Jim Burroway
April 4th, 2014
TODAY'S AGENDA:
Events This Weekend: AIDS Walk, Belmont, NC; Brighton Marathon, Brighton, UK; Belgian LGBT Film Festival, Brussels, Belgium; Spring Diversity, Eureka Springs, AR; Sunshine Stampede Gay Rodeo, Ft. Lauderdale, FL; Dinah Shore Weekend, Palm Springs, CA; Phoenix Pride, Phoenix, AZ.
TODAY'S AGENDA is brought to you by:
TODAY IN HISTORY:
Anita Bryant Suggests Sending Gays To Prison For 20 Years: 1978. Newspapers across the country got a bit of a tease from Playboy, which released a couple of tantalizing tidbits from an interview with anti-gay activist Anita Bryant that would appear in its May issue. A small preview released to the wire services quoted Bryant as suggesting that sending gay people to prison for 20 years "might make them think twice, especially the young ones. Any time you water down the law, it just makes it easier for immorality to be tolerated."
She went on: "Why make it easier for them? I think it only helps to condone it and make it easier for kids who wouldn't be so concerned if it was a misdemeanor, whereas a felony might make them think twice, especially the younger ones." When asked whether prison life might not be conducive to homosexuality, she answered, "They'll have plenty of time to think. Just because prisons are corrupt and not doing the right thing in rehabilitation because they don't have enough emphasis on spiritual emphasis doesn't mean there should not be a strong punishment for that."
TODAY'S BIRTHDAY:
Anthony Perkins: 1932-1992. Best known for his role as the sexually-conflicted Norman Bates in the Alfred Hitchcock classic Psycho, Perkins's own sexuality was the subject of rumors throughout his career. He shared a long-term relationship with fellow 1950s teen idol Tab Hunter (See Jul 11. Hunter discussed their time together in his 2005 memoir Tab Hunter Confidential)
and another six-year relationship with dancer/choreographer Grover Dale. In 1973, Perkins and Dale broke up when both of them married other women. Perkins's marriage to Berry Berenson, in what has been described as a bid to keep his name out of the scandal sheets, puzzled his friends. But Perkins seemed to have made the best of it, and by all accounts he was devoted to Berenson and their two children. But it remains doubtful that his devotion extended to sexual exclusivity. He died on September 12, 1992 from complications of AIDS, with Berry by his side, two years after the National Enquirer outed him both as gay and as a person with AIDS. His public acknowledgment of his illness came posthumously in a statement dictated to his sons and released to the public. His private acknowledgement of his sexuality, he took with him to his grave. In a tragic coda, his widow died on September 11, 2001, on American Airlines flight 11 when it was hijacked and crashed into the North Tower of the World Trade Center.
Graham Norton: 1963. The Irish comic's 1992 stand up comedy performance at the Edinburgh Festival Fringe as a tea-towel clad Mother Teresa caught the attention of Scottish Television, which, bizzarely, mistook him for the real Mother Teresa. Soon he was appearing on BBC radio, then as a stand-in late night talk show host for Channel 5, before eventually taking his openly-camp act to Channel 4 for his own weekly talk show, So Graham Norton, then V Graham Norton. In 2004, he tried to take his show to America, with The Graham Norton Effect on Comedy Central, but the controversy over Janet Jackson's "wardrobe malfunction" at the Super Bowl that year soured Norton on bringing his raunchy, innuendo-laden comedy to the U.S. He returned to Britain in 2005, and landed several gigs on the Beeb. He has also regularly hosted the British Academy Television Awards, several British reality/game shows as well as the Eurovision Song Contest. In 2007, he returned to weekly late-night talk with The Graham Norton Show on BBC 2, which moved to BBC 1 in 2009. Series 15 begins tonight at 10:35 on BBC 1, with Russell Crowe, Cameron Diaz, Richard Ayoade, and Kylie Minogue. It will air on BBC America next Saturday, April 12, at 11:00 p.m. Eastern. It airs on BBC Canada on Wednesdays at 11:00 Eastern, and on Network Ten in Australia Sunday nights at 9:30.
If you know of something that belongs on the agenda, please send it here. Don't forget to include the basics: who, what, when, where, and URL (if available).
And feel free to consider this your open thread for the day. What's happening in your world?
The Daily Agenda for Thursday, April 3
Jim Burroway
April 3rd, 2014
TODAY'S AGENDA:
Events This Weekend: AIDS Walk, Belmont, NC; Brighton Marathon, Brighton, UK; Belgian LGBT Film Festival, Brussels, Belgium; Spring Diversity, Eureka Springs, AR; Sunshine Stampede Gay Rodeo, Ft. Lauderdale, FL; Dinah Shore Weekend, Palm Springs, CA; Phoenix Pride, Phoenix, AZ.
TODAY'S AGENDA is brought to you by:
The two-story industrial brick building that housed the Warehouse in 1978 had begun life in 1887 as the American Manufacturing Co., a maker of wood gunstocks and other handcrafted wood products. But more recently, the property was owned by the Knutson Metal Co. which operated a salvage yard on its grounds. City officials considered the property, located between a proposed city amphitheater and a park along the Cedar River, a "blight to the neighborhood and a drag on development," while the Historic Preservationist Commission listed the building itself as one of eleven most endangered buildings in the city. In 2012, the city agreed to buy the property for $1.5 million. At last report, the city was putting the building up for sale in hopes that a private developer would preserve and renovate the historic building, possibly for residential use.
TODAY IN HISTORY:
5 YEARS GO: Iowa Supreme Court Declares Ban on Same-Sex Marriage Unconstitutional: 2009. In a unanimous ruling, the Iowa Supreme Court upheld a lower court ruling which held that the state's marriage statute was unconstitutional. The Court concluded that:
We are firmly convinced the exclusion of gay and lesbian people from the institution of civil marriage does not substantially further any important governmental objective. The legislature has excluded a historically disfavored class of persons from a supremely important civil institution without a constitutionally sufficient justification. There is no material fact, genuinely in dispute, that can affect this determination.
Senate Majority Leader Mike Gronstal and House Speaker Pat Murphy issued a joint statement welcoming the court's decision. Citing Iowa's long tradition in being a leader in civil rights, they congratulated "the thousands of Iowans who now can express their love for each other and have it recognized by our laws." Iowa's same-sex couples began marrying on April 27.
TODAY'S BIRTHDAY:
Anne Lister: 1791-1840. Her father was a veteran British soldier who fought with the Redcoats at the Battles of Lexington and Concord  during the American War for Independence. (He later wrote a book about it). After the war, he married and became a wealthy country gentleman in Yorkshire. His eldest daughter, Anne, was brought up with all of the advantages of education and erudition, the latter resulting in an intense interest in classical literature. In 1826, she inherited the family estate, Shibden Hall, and with it a steady income from the estate's tenants. That modest wealth was enough to afford her a measure of independence and deference from those who might otherwise criticize her "masculine appearance." She was sometimes referred to as "Gentleman Jack," for her business (she was a major player in the very male-dominated coal mining business) and recreational affairs (she was the first woman to climb Mont Perdy in the Pyrenees in 1830). These interests were certainly not considered normal for a woman of her standing.
What's more, her private life wasn't considered normal for a woman of any standing. Lister had a long term relationship with Marianna Belcombe, which lasted lasting several years including a period of time when Belcombe was married. In 1832, Lister met and fell in love with a wealthy landowner Ann Walker, and the two of them would remain together for the rest of Lister's short life. Their relationship was as close to a marriage as was possible, given the times. Lister died in 1840, at the age of 49, while traveling with Walker in Eastern Europe.
Lister left behind a 26-volume diary covering the years 1806 to 1840. Most of the diary covered various mundane topics — the weather, social events, business concerns, her travels — but about a sixth of the diary was encrypted in a simple code. Those coded sections describe her lesbian nature and affairs. When a relative, John Lister, who was the last to inhabit Shibden Hall, decoded the diaries and discovered the contents, he was advised to burn them. He didn't, but he did hide them.
A century later, Helena Whitbread published portions of the diaries in two
volumes
in 1988 and 1992, and issued a re-release of selected excerpts as The Secret Diaries of Miss Anne Lister
in 2012. As Shibden Gall curator Claire Shelby observed, the diaries reveal a complicated woman who was very frank about her sexuality. "She talks about her tactics for wooing women. She talks about how she likes a particular woman, how she is interested and how she has spoken to tem. It's almost like you can see relationships developing as they go along. And, though she doesn't refer to it in the sort of language we use today, it is clear to see a sexual element in her relationships. … She approached an awful lot of women, including married women, and it doesn't sound like she was rejected very often. She could be very charming when she wanted to be." In 2010, BBC Two aired a dramatization and a documentary of Lister's life. Between the books and the television programs, Lister's reputation as "the first modern lesbian" has been firmly cemented.
George Copeland: 1882-1971. The Massachusetts-born concert pianist is best known for his devotion to the work of notoriously heterosexual Claude Debussy. Their meeting in 1911 in Paris marked a huge turning point for Copeland, who had already performed the American debut of Debussy's Deux Arabesques in Boston seven years earlier. Copeland spent four months studying with Debussey, discussing and playing each of Debussy's piano works. Copeland later said that at the end of those four months, Debussy told him, "I never dreamed that I would hear my music played like that in my lifetime."
Whether Debussy really said that or not, it's hard to say. Nevertheless, Copeland became the leading expert on Debussey's piano works. He gave several U.S. premieres as well as several world premiers, including La Boîte à joujoux in 1914 and numbers X and XI of the Etudes in 1916. From 1904 until his final performance in 1964, Copeland played at least one Debussy work in each of his recitals. Copeland also had a fondness for Spanish music from the likes of Isaac Albéniz, Enrique Granados, and Manuel de Falla. In 1909, he performed the American debuts of three of Albéniz works. At the start of his career, Copeland was known as part of the avant-garde, often performing new works by contemporary composers, although he became considerably less adventurous as time went on.
Copeland was also rather iconoclastic in his private life. He was open about his homosexuality, telling a Cleveland paper in 1913 that "I don't care what people think of my morals. I never think anything about other people's morals. Morals have nothing to do with me." He also had a passion for wearing exotic jewelry and perfume. His openness reportedly caused problems for composer Aaron Copland (see Nov 14), who was considerably more circumspect. During a tour of Latin America, the composer was received with a frosty reception by local officials. After discreetly asking around, Copland learned that Copeland-with-an-"e" had been there on a concert tour and had gotten into trouble on a "morals charge." Copland explained the difference, and the concert went on with considerably more cooperation with the locals. Meanwhile, Copeland, in 1936, met a young German, Horst Frolich, in Barcelona, who became Copeland's "secretary" and partner for more than thirty years.
Copeland's career suffered an interruption in 1958 when he broke his shoulder in a fall and was unable to play for several years. He thought his career was over, but he made a comeback in 1963 when he re-entered the recording studio and gave several small concerts. He performed what would be his final concert at Yale in 1964. He talked about returning to the concert hall in 1966, but he never followed through. He died of bone cancer on June 16, 1971.
55 YEARS AGO: David Hyde Pierce: 1959. He took up acting in high school, but he went to Yale to study classical piano. He soon grew bored with it, and decided to switch his major to English and Theatre Arts. He moved to New York, where he struggled to find acting jobs. His big break came in 1993 when he was cast as Niles Crane, Frasier Crane's younger brother for the Cheers spin-off Frasier, which lasted eleven seasons. Pierce earned eleven consecutive Emmy nominations for Best Supporting Actor, and won in 1995, 1998, 1999 and 2004.
Pierce has appeared in Jody Foster's Little Man Tate (1991), Oliver Stone's Nixon (1995), as Meg Ryan's brother in Sleepless in Seattle (1992) and as Ewan McGregor's boss and best friend in Down With Love (2003). That's in addition to voicing several animated features and a couple of episodes of The Simpsons. On stage, he starred in the Kander and Ebb musical Curtains, which won him a Tony for Best Performance by a Lead Actor in a Musical Ffor 2007. Pierce, who had formally come out as gay earlier that year, thanked his partner, television writer/director/producer Brian Hargrove, when accepting his Tony "because it's 24 years of listening to your damn notes — that's why I'm up here tonight. They married in October, 2008 in California, just days before voters approved Proposition 8.
If you know of something that belongs on the agenda, please send it here. Don't forget to include the basics: who, what, when, where, and URL (if available).
And feel free to consider this your open thread for the day. What's happening in your world?
The Daily Agenda for Wednesday, April 2
Jim Burroway
April 2nd, 2014
TODAY'S AGENDA:
Events This Weekend: AIDS Walk, Belmont, NC; Brighton Marathon, Brighton, UK; Belgian LGBT Film Festival, Brussels, Belgium; Spring Diversity, Eureka Springs, AR; Sunshine Stampede Gay Rodeo, Ft. Lauderdale, FL; Dinah Shore Weekend, Palm Springs, CA; Phoenix Pride, Phoenix, AZ.
TODAY'S AGENDA is brought to you by:
THIS MONTH IN HISTORY:
60 YEARS AGO: ONE Magazine Educates Readers on Legal Definition of Entrapment: 1954. Police entrapment was a very real concern for LGBT people everywhere, with many police departments being particularly aggressive in their pursuit of gay people. But the difficulty of proving entrapment made it an extremely rare defense, as an article from the April 1954 issue of ONE illustrates. The unsigned article,written by "ONE's legal counsel" (possibly Eric Jubler, who would later successfully defend ONE in a landmark censorship case; see Jan 13) begins with a brief overview of the relevant law, and then provides three specific examples to illustrate what does and does not constitute entrapment:
1 — The first situation is that where an officer offers to buy a prohibited article, and the defendant is willing to sell. This can arise in narcotics cases, liquor cases, or in prostitution. In these cases, it is no defense that the officer disguised his identity. Where the de-fendant is motivated by a desire for money, there is no entrapment by an officer who offers money.

2 — The second type of case involves more active activity on the part of the officer. He may secure the confidence of a thief and loan him a gun with which to commit a robbery; he may pretend to be an accomplice; he may take narcotics into a city and there-by attract narcotic peddlers anxious to buy. In these situations, the officer creates situations which make it easier for a criminal to commit an offense which he seeks an opportunity to commit. The idea for the offense has, however, originated with the defendant.

3 — In the third situation, the officer suggests the commission of the crime. He overcomes the defendant's unwillingness by threats or appeals to sympathy, pity or friendship. In this situation, entrapment exists. (For example, in a famous case, a prostitute induced a man to live with her outside of wedlock. She had been hired to do so by police, who arrested the man for violation of a morals law. It was held the man had been entrapped.) But in this situation, the proof of the defendant's reluctance must be clear and overwhelming. CASES ARE EXTREMELY RARE IN WHICH A CLAIM OF ENTRAPMENT IS SUCCESSFUL AS A DEFENSE.

In situations of homosexual life, we can apply the law as obtained from the above situations and lay down the following general rules, dependent in each case, of course, upon the particular facts:

It is obvious that, for instance, a homosexual who makes the acquaintance of a strange man, perhaps in a public place, and proposes to him the commission of an illegal act, cannot urge the defense of entrapment, even though the stranger was a vice-squadder "staked out" as a decoy to attract such defendants.

If, in the same situation, it was the vice-squadder who proposed the illegal act the same would be true. A MERE SOLICITATION BY A VICE SQUAD OFFICER DOES NOT CREATE ENTRAPMENT. These cases are similar to situation (2) above: the officer has merely created a situation in which a defendant can commit an act with more ease.

Only in the third situation can en-trapment truly be claimed: If the officer "picks up" the defendant, gains his acquaintance, proposes the act, and proceeds to overcome the defendant's genuine reluctance and unwillingness by appeals to sympathy, pity. friendship, etc., entrapment exists, but IF, AND ONLY IF the defendant was in fact unwilling, and the officer's appeals were such as to leave no doubt that he was the procuring party. To prove such a state of fact requires a strong degree of proof; obviously, the defendant is forced to take the stand in his own defense, and his version of the facts must be so strong and believable as to convince a judge or jury of its truth and validity.
This discussion by ONE was not only in the immediate interest of many of its readers, but it also came about as the result of direct experience of least one member of ONE's founding staff members. Dale Jennings recounted in ONE's very first issue on 1953 of his own narrow escape after having been arrested in a clear case of entrapment by the Los Angeles Police (see Jun 23). Jennings surprised everyone by publicly proclaiming his homosexuality in court while refusing to plead guilty to the charges. His case was finally dismissed, not because he was exonerated, but because the jury couldn't agree on whether to believe his claims of entrapment.
[Source: Unsigned. "The law: A discussion of entrapment." ONE 2, no. 4 (April 1954): 7-8.]
The Daily Agenda for Tuesday, April 1
Jim Burroway
April 1st, 2014
TODAY'S AGENDA is brought to you by:

My World opened in Green Bay in the spring of 1979 as a Leather/Levi Country/Country Rock bar. At around 1982 and 1983, the building housed a second bar out back, the Silver Saddle, which was a lesbian bar. My World appears to have changed ownership around 1985 and became Brandy's, although it still remained a Leather/Levi bar. Brandy's stayed there until 1989, when it moved to another location and became Brandy's II, which closed for good in 2007. The building at the original location is gone now, replaced with a parking lot.
TODAY IN HISTORY:
Canada Reduces Criminal Penalty for Sodomy: 1955. Canada enacted the first of a long series of consolidations of its federal statues, with a new amended Criminal Code going into effect on April 1, 1955, which replaced the Section 202 of the old Code:
"Everyone is guilty of an indictable offence and liable to imprisonment for life who commits buggery, either with a human being or with any living creature."
with Section 147, which reduced the penalty from life imprisonment to fourteen years:
"Everyone who commits buggery or bestiality is guilty of an indictable offence and is liable to imprisonment for fourteen years."
The Criminal Code would undergo another round of consolidation and modernization with the Criminal Amendment Act of 1968, which, when it was finally passed in 1969, resulted in the full decriminalization of homosexuality (see May 14).
Gay Rights Activists Challenge "Gay Cure" Doctor: 1965. Just a few weeks earlier, Frank Kameny convinced the Mattachine Society of Washington D.C. to endorse a resolution declaring that "the absence of valid evidence to the contrary, homosexuality is not a sickness, disturbance, or other pathology in any sense, but is merely a preference, orientation, or propensity on par with, and not different in kind from, heterosexuality" (see Mar 4). It was a bold statement, challenging the collective verdict to the contrary as delivered by the mental health professions, but it was the first step in the long march by Kameny, Barbara Gittings and others to convince the American Psychiatric Association to remove homosexuality from its list of mental disorders in 1973.
But in 1965, that resolution was considered a radical and controversial move in the gay community and among gay rights activists. Indicative of the kind of deference that many in the gay community were willing to accord mental health professionals, the Philadelphia-based gay rights group known as the Janus Society hosted a lecture by Dr. Samuel B. Hadden, Associate Professor of Psychiatry at the University of Pennsylvania and a well-known practitioner of group therapy to try to cure male homosexuals. Hadden gave his usual spiel to the gathering: that gay people were suffering from a treatable neurotic disorder, one brought about by a dominating mother-figure or an absent father. Jody Shotwell, writing for The Ladder described Hadden's treatment approach:
In his group-therapy technique, the homosexual is brought into contact w1th other homosexuals who, according to Dr. Hadden, have seen some kind of light. During the sessions, those patients farther along in treatment try to convince the newer members of the group of the dissat1sfactions — if not horrors — of life as a homosexual. Some attention is given to dress and mannerisms, in an effort to get the more effeminate homosexuals to conform to our culture's notion of masculinity.
Hadden claimed he had managed to cure twelve of his thirty two-patients, a claim that an audience member challenged by asking whether any of his patients may have been motivated to lie about their progress. Hadden had no answer. He also didn't bother trying to conceal his contempt for his audience. He likened homophile organizations to Nazis and the Klan, said that gay people should never be granted security clearances, and falsely asserted that everyone who had defected to the Soviet Union were gay. It was toward the end of the discussion that Kameny rose to challenge Hadden on his own turf:
Dr. Franklin E. Kameny of the Mattachine Society of Washington put the following questions to the speaker: 1. Are not his patients particularly susceptible or prone — as demonstrated by their being his patients — to justify the changes he has wrought, and hence atypical of homosexuals as a whole? 2. He seems to have taken it as a premise or axiom that homosexuality is pathological. What scientifically meaningful proof or demonstration of such pathology does he have? Dr. Hadden did not reply to or touch on the first question. In answering the second, he spoke in terms of "I feel (that homosexuality is a sickness, etc.) … We believe… I consider… We think…" In the exchange of remarks, Dr. Kameny asked for a definition of pathology in this context and said that homosexuals have been defined into sickness. When Dr. Hadden's responses continued in terms of "I think" and "We feel," Dr. Kameny declared, "This is not science, Dr. Hadden; this is faith."
[Source: Jody Shotwell. "Special Report: Faith and Fury." The Ladder 9, n0. 8 (May 1965): 20-21.]
Gay Groups Consider Buying Small California Town: 1971. Just five months after the Gay Liberation Front revealed plans to encourage gays and lesbians to move to rural Alpine County, California and take it over as a haven from discrimination and oppression (see Oct 19), reports emerged that Los Angeles-area gay leaders were considering buying another town east of San Diego and "colonizing" it.
The tiny town of Bankhead Springs, population 19, was up for sale. For a cool $239,000 (that would be almost $1.4 million today), the buyer would get a 51-year-old hotel, a cafe and eight houses. Bankhead Springs was named for Sen. John Bankhead, Tallulah Bankhead's father and Alabama Senator who championed the construction of U.S. Route 80, "the nation's Broadway," from Savannah to San Diego. In southern San Diego County, Route 80 covered an old winding, mountainous stagecoach road, and Bankhead Springs became a convenient stop for automobile travelers midway between San Diego and El Centro.
But when Interstate 8 bypassed that section of Route 80 in the 1960s, traffic through town plummeted and businesses closed all along the route. LA-area activists saw an opportunity to create a settlement where gays could escape harassment, raise livestock, and establish an arts and crafts community. Morris Kight said that some of the surrounding properties had already been sold. "They've quietly moved into those villages in considerable numbers and are gradually colonizing them," he claimed.
Kight said that the project to buy the town itself was sponsored by the Gay Liberation Front of Los Angeles, but a spokeswoman for another group interested in the town said the GLF only offered "moral support." She said the plan was to buy the town, rename it Mount Love, and subdivide it into quarter-acre lots. But the town's owner, Helen Miller, said she hadn't talked with any prospective buyers who identified themselves as part a gay group, and added, "I don't know if I would sell to them anyway. I love these mountains and don't want to be run out."
[Source: Associated Press. "Homosexual group eyes small town." (April 1, 1971).]
40 YEARS AGO: First Openly Lesbian Candidate Wins Public Office: 1974. For most of the previous decade, politics was the lifeblood of The University of Michigan's Ann Arbor campus. In 1964, President Lyndon B Johnson chose that progressive campus to unveil his Great Society proposals during the commencement ceremony. In 1965, the anti-war movement was born when UM faculty members and 3,000 students held the nation's first faculty-led "teach-in" to protest the Vietnam war. By 1974, protests, demonstrations, sit-ins and teach-ins to support all sorts of counter-cultural causes — civil rights, peace, women's liberation, marijuana decriminalization, and all sorts of other progressive and radical causes — became mundane events in Ann Arbor's student life.
And so when Ann Arbor city elections came around in 1974, few eyebrows were raised when a local political party, the Human Rights Party (HRP), ran Kathy Kozachenko to represent the second ward surrounding the UM campus. Republicans, which until then had held a solid lock on city government, couldn't find anyone to run in the second ward, leaving a lone Democratic candidate to run against Kozachenko. With Kozachenko running openly as a lesbian, it proved to be a tight race. After expressing fears that she might lose on election day, she ended up winning by just nine votes. "This is so goddamn great!" she told reporters. "Our victory cannot be attributed simply to gay people and the HRP 'core'. I think people really understood the difference between actions and words." Meanwhile, Kozachenko's opponent, Mary Richman, gave what was perhaps the most unlikely concession speech in the history of American politics: "Apparently all the Republicans voted for Kathy." In fact, Kozachenko may have been helped by a successful HRP-sponsored ballot initiative which proved popular with UM students: the so-called "dope ordinance" which reduced the fine for possession of marijuana to $5.
First Gay Couples Marry in Netherlands: 2001. In 1998, the Netherlands became the first non-Scandinavian country to institute registered partnerships (geregistreerd partnerschap). That law was written so that opposite-sex couples could also enter into registered partnerships, making it a viable alternative to marriage for straight people while, at the same time, being the only option available for gay couples. That changed in April 1, 2001, when the Netherlands became the first country in the world to grant marriage equality to same-sex couples. At the stroke of midnight, four couples — three male and one female — were among the first to be pronounced legal spouses in ceremonies at Amsterdam City Hall.
TODAY'S BIRTHDAY:
Alberta Hunter: 1895-1984. Born in Memphis to a very troubled family, she left home at the age of fourteen, moved to Chicago, lied about her age, and became one of Chicago's top Blues singers in the 1910s and 1920s. She toured London and Paris in 1917, and appeared in clubs and musicals in New York and London throughout the 1920s and 1930s, including an appearance as "Queenie" in the first London production of Show Boat with Paul Robeson. In 1934, she was a regular with the Jack Jackson orchestra at London's Dorchester Hotel. With the outbreak of World War II, she returned to America and toured with the U.S.O, entertaining troops in Casablanca, Europe and the Pacific.
Hunter was fiercely independent, which prompted rumors about her sexuality. To silence the rumors, she married in 1919, but the couple never slept together and the divorced in 1923. She had a long-term relationship with Lottie Tyler, a woman from New York that Hunter had met in Chicago. Tyler accompanied Hunter on at least one trip to Europe.
Hunter's mother death in 1954 caused her to reconsider her priorities. "I went as far as you could go. I played Broadway. I played the Royal Theatre in London. I played in Paris… and I figured I had gone to the top," she later told a documentary filmmaker." A career change was in order. So she took twelve years off her age, created a false high school diploma, and enrolled in nursing school in New York City. She was, by all accounts, a dedicated nurse for the next twenty years. None of her co-workers suspected that they were working alongside a singer who had been celebrated on two continents. In 1961, she broke her eleven-year vow to stay away from show business when she agreed to record her signature composition, "Down Hearted Blues," and a few other songs for a couple of albums. She enjoyed the diversion, but decided to stick with nursing. She remained at New York's Goldwater Memorial Hospital until 1977, when she reached, according to their records anyway, the mandatory retirement age of seventy. (She was, in fact, eighty two.)
Bored, she decided to launch a comeback. In 1978, she was booked for what was supposed to be a two-week engagement at a Greenwich Village club, the Cookery, which quickly turned out to be a huge hit. Columbia Records gave her another recording contract. She released two albums, supervised the re-release of her old material, made television appearances and began touring again in Europe and South America. The White House invited her to perform for Jimmy Carter, but she refused because "they wanted me there on my day off." The White House adjusted its schedule and she accepted the invite. She continued to perform regularly at the Cookery until she died in October, 1984. She was inducted in the Blues Hall of Fame in 2011.
Here she is, in 1981, performing "Nobody Knows You When Your Down and Out" at the Cookery.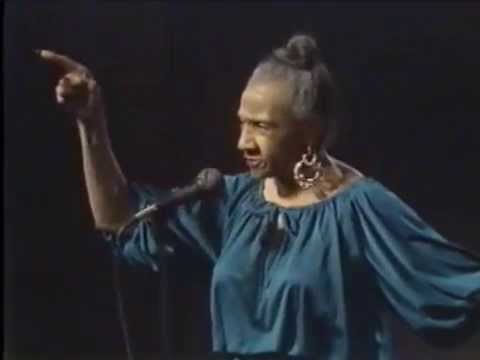 If you know of something that belongs on the agenda, please send it here. Don't forget to include the basics: who, what, when, where, and URL (if available).
And feel free to consider this your open thread for the day. What's happening in your world?
The Daily Agenda for Monday, March 31
Jim Burroway
March 31st, 2014
TODAY'S AGENDA is brought to you by:
Northwest Gay Review explained this Seattle event which took place forty years ago tonight:
I don't believe this is really happening, but on March 31, the Trojan Shield I is holding a "Closet Ball." You're probably asking yourself, "What in the queen's realm is a 'Closet Ball'?" Well here it is sweetie. Go find yourself a straight friend (You do have at least one don't you — some of my best friends are straight). If you truly don't have any, then bring a gay substitute. Then on March 31 dress yourself up in drag and bring your (hee-hee) straight friend to the Trojan Shield at 8 p.m. Then for a specified period of time (I think one hour) you will proceed to undress yourself and dress your former friend in your drag outfit. Since neither of you will be recognizable, you can both come out of your closets. Tickets for the event are $3 with rules and entry blanks available at the Shield. The pair performing the best transformation will receive a beautiful color photo of Rock Hudson
TODAY IN HISTORY:
Off-Duty SF Police  Officers Assault Lesbian Bar: 1979. About fifty burly young men, most of them drunk, had gathered outside of Peg's Place, a lesbian bar in San Francisco's Richmond neighborhood. They were loud and obnoxious, and some of them talked about "getting the dykes." Bar employees met them at the door and an argument broke out. The argument quickly escalating in shouting and pushing. When one of the women threatened to call the cops, the guy doing the pushing responded, "We're the cops, and we'll do as we damn please."
In fact, the men, who were out celebrating a bachelor party for their friend, included San Francisco off-duty officers. A general melee broke out as patrons rushed to defend the door, armed with pool cues. One officer beat bartender Alene Levine so badly she was hospitalized for ten days due to severe head injuries. A police lieutenant arrived, and promptly began investigating — the bar, carefully checking all of the bar's licenses and permits, and accusing the bartender of being drunk.
The lieutenant refused to believe that his officers could be at fault. But in fact, the officers' actions were part of a much larger trend. Police had been hassling, and sometimes beating and/or arresting customers as they tried to enter gay bars. In January, police officers assaulted and arrested two women as they left a lesbian bar in the Mission. To make matters worse, they were strip searched at the jail.
The Peg's Place assaults quickly became a major story in the local press, and gay leaders pressed Mayor Dianne Feinstein to address the growing problems. Their frustration grew as Feinstein waited two full weeks before issuing a statement calling for the prosecution of the policemen involved. One of the officers was eventually charged, tried, and convicted of battery. He was sentenced to three years' probation and fined $1,000. But the problems continued to fester. Resentments in the gay community grew as police harassment continued without letup. Anger finally boiled over less than two months later, when former city Supervisor Dan White was sentenced to a paltry seven years for shooting San Francisco Supervisor and LGBT advocate Harvey Milk and Mayor George Moscone. Gays rioted at City Hall and police rioted in the Castro, in what became known as the "White Night Riots" (see May 21).
TODAY'S BIRTHDAY:
Sergei Diaghilev: 1872-1929. The Russian-born art patron and connoisseur forever changed the world of modern ballet when he founded the revolutionary Ballets Russes in Paris in 1909. Three years earlier, Diaghilev had mounted a major exhibition of Russian art in Paris, which he followed with a series of concerts of Russian music and a production of Mussorgsky's Boris Godunov at the Paris Opéra. When he returned to Paris again in 1909 with a troupe of dancers led by his lover, Vaslav Nijinsky, they performed all new works with innovative set designs and choreography. His four-week run was a smashing success.
In subsequent years, Ballets Russes became known for breaking all of the rules. The violently sexual Scheherazade, based on a symphonic poem by Nikolai Rimsky-Korsakov, so outraged the composer's widow that she protested in open letters which Diaghilev published. His debut of Stravinsky's The Rite of Spring in 1913, with its insistent rhythms and dissonant score and the highly unconventional choreography set off a riot in the theater on opening night. Diaghilev was delighted at the controversy, telling Stravinsky that it was "exactly what I wanted."
Ballets Russes collaborated with wide-ranging artists as composers Claude Debussy, Sergei Prokofiev, Richard Strauss and Erik Satie, and artists Pablo Picasso, Henri Matisse, Joan Miró, Georges Braque, Georges Rouault, and Max Ernst as designers. It also launched the careers of George Balanchine, Ninette de Valois, and Serge Lifar.
Diaghilev was always very open about his homosexuality. It's largely the reason he abandoned pre-revolutionary St. Petersburg for the more permissive climes of Paris. Composer Nicolas Nabokov said, "he was perhaps the first grand homosexual who asserted himself and was accepted as such by society." He was also a very passionate man in everything he did. Diaghilev's affair with Nijinsky was perhaps the most famous gay affair in Europe until Nijinsky married in 1913. Diaghilev promptly fired him. Diaghilev then turned to Léonide Massine, who he coached into becoming a great dancer and one of the more important choreographers of the century. They were together until Massine married in 1920. Diaghilev promptly fire him also.
While Ballets Russes was both a critical and artistic success, it was never a financial one. Diaghilev barely kept the company afloat, and it never found a permanent home any time in its two decade existence. When he died in Venice of diabetes in 1929, his friend had to pay the hotel bill. Ballet Russes folded upon Diaghilev's death.
80 YEARS AGO: Richard Chamberlain: 1934. He first became famous in 1961 as the handsome young intern, Dr. Kildare, in the television series of the same name, a role that lasted until the series ended in 1966. From there, he became involved in repertory theater and film roles which had a more literary bent: The Tree Musketeers, The Count of Monte Cristo, The Music Lovers, and The Lady Carline Lamb (his 1974 appearance in The Towering Inferno being a notable departure.) He returned to television in the 1970s in several popular miniseries, including Centennial, Shōgun, and The Thorn Birds as Father Ralph de Bricassart. He lived in Hawaii with his partner, Martin Rabbett, from 1976 to 2010; and it was during that time that he was outed by a French women's magazine in 1989. While that outing didn't really stick very well with the general public, it didn't surprise many people when Chamberlain finally and officially came out in 2003 in his autobiography Shattered Love
. In 2010, he advised actors who sought leading-man roles to remain in the closet. "Despite all the wonderful advances that have been made, its still dangerous for an actor to talk about that in our extremely misguided culture. Look at what happened in California with Proposition 8. Please, don't pretend that we're suddenly all wonderfully, blissfully accepted."
Barney Frank: 1940. He represented Massachusetts's 4th Congressional district from 1981 until his retirement in 2012, and he did so as an openly gay representative since 1987. When he came out to The Advocate that year, he became the first member of Congress to do so voluntarily. He recalled that when Rep. Stewart McKinney of Connecticut died of complications from AIDS (McKinney's physician claimed that McKinney became infected from a blood transfusion, but many didn't believe it.), there was "an unfortunate debate about 'Was he or wasn't he? Didn't he or did he?' I said to myself, I don't want that to happen to me." After coming out, Frank easily won re-election in 1988 and in just about every election since then.
He earned a reputation for being one of the House's quickest wits, saying, for example, that he was unable to finish reading the Starr Report about President Bill Clinton's relationship with Monica Lewinsky because it was "too much reading about heterosexual sex." In 2006, Rep. John Ostettler (R-IN) accused Frank of pushing a "radical homosexual agenda." Frank responded to that charge by point out, "I do not think that any self-respecting radical in history would have considered advocating people's rights to get married, join the army, and earn a living as a terribly inspiring revolutionary platform." He married his partner, Jim Ready, in July of 2012, making Frank the first gay-married Congressman in history.
If you know of something that belongs on the agenda, please send it here. Don't forget to include the basics: who, what, when, where, and URL (if available).
This your open thread for the day. What's happening in your world?
The Daily Agenda for Sunday, March 30
Jim Burroway
March 30th, 2014
TODAY'S AGENDA:
Events This Weekend: Belgian LGBT Film Festival, Brussels, Belgium; AIDS Walk & Music Festival, Ft. Lauderdale, FL; Los Angeles Leather Pride, Los Angeles, CA; OutBoard, Steamboat Springs, CO.
TODAY'S AGENDA is brought to you by:

Nite Beat, Milwaukee's "girl's bar," opened originally at 196 S. 2nd street in about 1964, and lasted there until sometime between 1968 and 1971, when it moved across the street to 183 Second Street. One former patron remembered: "The Nite Beat was a hard-core diesel bar. Butches were butches, femmes were femmes, and my generation of role-light young feminists was viewed with total suspicion. Although it was on street level, you felt as though you were walking into a basement." In 1972, the bar became much more femme when it was sold and re-opened as the Riviera Show Lounge, which featured lavish drag shows.
THIS MONTH IN HISTORY:
"Yes, I Am!": 1958. It seems that much of gay history before the rise of the women's movement in the 1960s is often centered on the experiences of gay men. It was men were being arrested and jailed, in numbers which far exceeded the experiences of lesbians, although lesbian bars were also targeted by police (see for example, Mar 8, Sep 8, Sep 21). We can all imagine what it was like to be a gay man fifty-five years ago thanks to the early homophile magazines ONE and The Mattachine Review. The latter was devoted almost exclusively to male concerns (although lesbians made an occasional appearance from time to time) while ONE, in its early days, mostly relegated women's concerns to a segregated regular column called "The Feminine Viewpoint."
In 1956, the Daughters of Bilitis began publishing The Ladder to provide women with a voice separate from men — and indeed, for much of the fifties, the gay men's movement and the lesbian movement, such as they were, were mostly separate movements which only sometimes recognized the common cause between them. But thanks to The Ladder, we have, preserved like a time capsule, a collection of voices from, well, the feminine viewpoint. And so what was it like to be a lesbian in the 1950s? Well, an article that appeared in the March 1958 issue of The Ladder provides one illustration of how invisible lesbians often were — and often made themselves — in those year. The article was signed with the name of Sandra Pine, although that was probably a pen name. It was titled, simply, "Yes, I Am!":
I wish it were possible for me to wr1te this on my letterhead, but my "world" would be too shocked if they were to learn their perfectly proper and "normal" appearing friend, business and professional member of their society were any different than she appears. And more shocked to know that she is secretly glad to be a Lesbian.

I've never consulted a psychiatrist (but many have with me) as I am not emotionally disturbed nor suffering from a guilt complex. I am perfectly healthy, have no need or use for drugs, cigarettes or alcohol. Although I move in a society that uses them with the rest of their problems, I'm not concerned with their use.

I've only had one "friend". Fifteen years ago we "discovered" one another at a rather boring society tea and instantly we knew there was a tie that bound us. We've been true. There is nothing "cheap" about the deep love that we have shared. We are both very prominent women. There has never been the slightest finger of suspicion pointed at us. Our manners in public are such as not to attract any undue attention. We are both attractive, well groomed, fashionably dressed, completely feminine.

If occasionally our hands meet under the table when dining out it is with complete fulfillment and security. We have found what few individuals ever do – that is complete compatibility and understanding, without jealousy or distrust.

I am always secretly amused when some wise person says "I can tell one a mile away". When my secretary, a clever young woman who has been with me for 10 years, said to me recently when she accidentally saw my copy of THE LADDER: "What do you want with that stuff – you're no homosexual" I knew my mask had never slipped, and I was secretly proud of the fact. But I long f or the day when I could say "I am a Lesbian" with the same ease I say "I am a Republican".

My friend and I do not and never have lived together. We have conventional families who never even guess we are "different". We manage to have a day a week together. We meet at social affairs and quite often we weekend, or take a vacation somewhere, even Europe.

I would not change my way of life, even if I could. Of course, we all should come out in the open and proclaim our status, but the world is not quite ready for that. While I'm not afraid of men, mice, ' snakes or storms, I'm just not brave enough — yet — to say "Ye s, I am!"
As an answer to that odd, contradictory, and yet, given the times, understandable declaration of deeply closeted pride, The Ladder published another article the following July by Jule Moray, titled, "An Open Letter to Sandra Pine":
I was touched by your article, "Yes, I Am" in the March edition of THE LADDER; touched, and a little terrified.

I see two well dressed women, perfectly groomed, at whom the finger of suspicion has never pointed; their hats fashionably perched above masks that never slip. Two perfect ladies, completely feminine. Miss Pine, might I ask what are you being feminine for? Whom are you trying to deceive? Yourself, or the well dressed, well groomed, completely masculine men you meet every day? Or your conventional families, who trust you and would never guess? Is it not possible that these normal business and professional friends are as afraid of showing you that they know, as you are afraid of knowing they know? Let us by all means keep our personal lives as private as can be; but if we are lucky enough (and many are not) to have private lives why not let them be as full and satisfying as we can possibly make them? A hand touched beneath the table; one day in seven alone; the occasional week-end; even a trip to Europe in fifteen years -is that the best you can do for your love life, Miss Pine?

Would you lose your job, your mother's love or your right to vote Republican if you let slip just a couple of small hairpins, took a flat with you friend (sic), and started to make up for all the time you two have lost? Who is going to worry? Not your secretary — you haven't made a pass at her in ten years — we know that. Not those professional and business gentlemen — you've been giving them the red light all along. Who else is there? The ladies at your social gatherings — they'll be only too thankful you're not after their men. And at the very worst, if the whole town knows you've left home and are sharing with a roommate; is that going to rock anybody?

My friend and I have been together for twenty years; it took us eight years, owing to the war before we were able to live together. We're not at all smart or well groomed, and I don't honestly know if you'd say we are feminine or not. Probably in every plaoe we've ever lived everyone has known we are Lesbians. We rarely think about it, and we never worry about it. Certainly no one has ever hinted that our relationship is at all strange. Most of our friends are married and no one has ever refused to come to our house. We, in fact, think ourselves liked, sometimes well-liked, very rarely disliked.

Miss Pine, you are not afraid of men, mice, snakes or storms? All right; why don't you take that flat? A comfortable one, serviced, you can afford it. Let yourselves go a bit over the decor, be bold, but cosy; and, before it's too late, see to it that there's only one bedroom with a full size double bed. You won't, either of you be so well groomed in the future — but it will be worth it.
[Sources: Sandra Pine. "Yes, I Am!" The Ladder 2, no. 6 (March 1958): 12-13.
Jule Moray. "Open Letter to Sandra Pine." The Ladder 2, no. 10 (July 1958): 16-17.]
If you know of something that belongs on the agenda, please send it here. Don't forget to include the basics: who, what, when, where, and URL (if available).
This your open thread for the day. What's happening in your world?
The Daily Agenda for Saturday, March 29
Jim Burroway
March 29th, 2014
TODAY'S AGENDA:
Events This Weekend: European Gay Ski Week, Alpe d'Huez, France; Belgian LGBT Film Festival, Brussels, Belgium; AIDS Walk & Music Festival, Ft. Lauderdale, FL; Los Angeles Leather Pride, Los Angeles, CA; Gay Snow Happening, Sölden, Austria; OutBoard, Steamboat Springs, CO; European Snow Pride, Tignes, France.
TODAY'S AGENDA is brought to you by:

I've been able to find references to the Roaring 20′s Lounge in Torrance, California from as far back as 1959, when it was under different ownership. During those days, it was apparently a pretty swank little joint, hosting singers, jazz ensembles and other regional acts. By the 1960s, the ownership changed, and with it, apparently, the clientele. The area has changed again since then. If you go to the corner of 166th and Crenshaw today, all you'll find is a 7-Eleven on one side and a parking lot on the other.
THIS MONTH IN HISTORY:
Inducing Hallucinations to "Cure" Homosexuality: 1962. Ever since Ivan Pavlov taught his dog to salivate whenever a bell was rung, Behavioral Therapists employed all sorts of adverse stimuli to produce a conditioned response in their patients which would represent a desired change in behavior: smoking cessation, giving up alcohol and other drugs, or stopping being gay — as though being gay was nothing more than behavior. And as far as Behavioral Therapists were concerned, being gay was just behavior and nothing more. (See Blind Man's Bluff for a more complete explanation of Behavioral Therapy and its history.) And ever since Louis M. Max invented a device for delivering non-lethal doses of electric shock (see Mar 11), Behavioral Therapists have deployed any number of punitive methods designed to "cure" their patients of their homosexuality (see Jan 18, Jan 20, Jun 3, Jul 26, Oct 30, Dec 8), and our award-winning investigation, What are Little Boys Made Of?).
But among the cruelest methods for attempting to "cure" gay people must be the one described by the University of Edinburgh's Dr. Ian Oswald, in which he used a combination of aversion therapy and induced hallucinations to try to cure one of his patients of the gay. (His other six patients were two rubber fetishists — one apparently gay and one straight — three alcoholics, and a married cross dresser.) The aversion therapy portion of the treatment was literally retching: Oswald administered two-hourly injections of apamorphine, a powerful emetic which induced violent vomiting and, in some cases, diarrhea. This was already a relatively common form of aversion therapy, but for Oswald's experiments, the vomiting had the added desirable effect of making his patients dizzy and lightheaded due to the depletion of electrolytes. He also injected them with pilocarpine nitrate, which causes heavy salivation and sweating and, in some cases shortness of breath. Oswald never says why he used pilocarpine nitrate, but it might have been to simulate a panic attack in his subjects. He also gave his patients small doses of dexamphetamine, a stimulant, which he used to induce sleep deprivation.
All of that pharmacology was in the service of creating a condition in which his patients could be induced to experience auditory hallucinations when a tape loop was repeatedly played for hours on end. His goal was to create a state of mind similar to that of paranoid schizophrenia. Here is how it went for a patient identified as Case 5:
Case 5. A homosexual male aged 25 under the management of Dr. W. D. Boyd. The patient's tyrannical father died when the patient was 15. The mother, to whom the patient was closely attached, was a drunkard, a spiritualist and a Lesbian. Elder brother had never engaged in honest work. No family history of mental illness.

Homosexual relationships began at the age of 14 and included frequent brief affairs in public lavatories and several long love-affairs. He had married at 19 and had two children. He came for treatment to try and salve his marriage, for he had been living away with a man for eight months. He was usually a passive partner, principally interested in fellatio. He was greatly excited by male urine and sometimes drank it.

Aversion therapy was embarked on with some reservations. A 30-minute interview in which he described his homosexual practices was tape-recorded. Every two hours he received apomorphine by injection and then the tape-recorded interview was played through a loud speaker. Glasses of urine were sometimes placed by him. In the intervals the following tape loop was played; "It makes him sick, it makes him sick, Sex with men? Oh, it makes him sick now. He gets sex with men. It must make him sick now. He'd meet men in the lavatories. Ugh. Sex with men makes him sick. He looks at men's bodies. It must make him sick now." (One male voice). Four seconds pause.

He received pilocarpine nitrate 1/20 grain once on the first day and once on the fourth, and dexamphetamine sulphate 10 mg. each night. Fluid and electrolyte depletion were prevented as with the other patients and serum potassium and sodium remained within normal limits, though the CO2 combining power rose to 33@5m.Eq./L. and chloride fell to 96 m.Eq./L. on the fourth day, having remained within normal limits previously.

He experienced the words of the tape-loop changing from the first day and throughout the four days' treatment. The changes never had any great significance for him, seeming merely trivial or absurd. He could not voluntarily re-experience what was actually played through the loudspeaker. The changes were experienced by day and night throughout the four days and three nights of treatment.

At times he wrote down the various phrases he heard, which included:

"I like it thick my bacon thick. Sanford man, what makes it him sick now. He has Sangford man. They musta made a mistake now. They'll need 8 men in the lavatories. Sangford man makes it sick. Be a good man Sportis? Do not make sick now. I'll knock him sick. What makes him sick now. Enough with men's bodies. Bolton quick it'd make you sick. Sex written in. He's got six sick men, that must make him sick now. He'd eight men in the lavatories. Sax written back Matron's sick. Hey'n they've got nice bodies. But you mustn't make them sick now."

After the end of treatment on the fourth day he wrote of his most recent auditory experiences:

"This impression of the tape-recorded message was not written down in detail at the time I heard it because I was quite convinced that it really was a separate recording, and I accepted it as such without question. I remember that the dialogue seemed much briefer and with longer pauses than the original recording, also the intonation seemed different. While listening, my mind's eye formed a picture of the characters involved in this little 'sketch'. One person monopolized all speech on a telephone while his weak-stomached friend sat immobile in a bath-chair. The man on the 'phone would jokingly say he had 'mixed bodies' (sweets?) then say something quietly to the effect that he had better not say that as it might make 'him' (the bath-chair sitter) sick. There would then be a deep belching sound not before heard on the recorder and the person on the 'phone would say, 'He's sick now,' or words to that effect. Then after a pause, very loudly, 'Oh, we've made him sick, we've made him sick,' then carry on more normally asking after the health of two friends with strange names I cannot remember. The dialogue would then come round to the part about 'mixed bodies' and carry on repeating endlessly the same sickly tale. If I remember correctly these variations in the recordings always came after I'd snatched a little sleep. They never changed while listening and no effort would make them sound like the original recording."

A month later the patient reported that he had had one attempt at sexual relations with a man but had stopped because he felt feelings of revulsion and physically sick. Within two months, however, he had left his wife and gone off to live with a man.
As for the other patients, Owens claimed success with the three alcoholics, but only one of the two fetishists — the other rubber fetishist had "formed a friendship with a male homosexual (but had not had sexual relations with him" — while the cross-dresser, "in the 8 month since, he has dressed-up in female clothes on many occasions."
[Source: Ian Oswald. "Induction of illusory and hallucinatory voices with consideration of behaviour therapy." Journal of Mental Science 108, no. 453 (March 1962): 196-212.]
If you know of something that belongs on the agenda, please send it here. Don't forget to include the basics: who, what, when, where, and URL (if available).
This your open thread for the day. What's happening in your world?
The Daily Agenda for Friday, March 28
Jim Burroway
March 28th, 2014
TODAY'S AGENDA:

Same-Sex Marriage Arrives in England and Wales. Sometime after midnight tonight GMT (8:00 p.m. EDT), Peter McGraith and David Cabreza, who have been together for seventeen years, will marry that the Registrar's office at Islington Town Hall, London. It is believed that they will become the first couple to marry in Britain under the new Marriage (Same Sex Couples) Act 2013, which will allow same-sex couples to marry in England and Wales. I understand that BBC will be there, so we should have video available sometime later tonight.
The first part of the new marriage law actually went into effect two weeks ago, when marriages conducted in other countries which provide marriage equality became legally recognized in England and Wales. Other provisions still remain to be put into effect, namely the procedures for converting civil partnerships into marriage, which should be worked out later this year. Also later this year, Scotland will begin providing marriage equality for same-sex couples. Northern Ireland remains the only corner of the United Kingdom where there has been no movement on marriage equality. This is despite more than half of residents supporting same-sex marriage, with particularly strong support among Catholics.
Events This Weekend: European Gay Ski Week, Alpe d'Huez, France; Belgian LGBT Film Festival, Brussels, Belgium; AIDS Walk & Music Festival, Ft. Lauderdale, FL; Los Angeles Leather Pride, Los Angeles, CA; Gay Snow Happening, Sölden, Austria; OutBoard, Steamboat Springs, CO; European Snow Pride, Tignes, France.
TODAY'S AGENDA is brought to you by:
 
How classy is this: silver and black Marylyn Monroe wallpaper, a sleek see-and-be-seen bar upstairs, a massive industrial-looking staircase which wound its way down to the lower bar and dance floor, cool steel and cable railings, shiny chrome all over the place. The club was très chic-for-1980, winning several design awards and becoming popular with the New Romantics set. Legends partied for two decades, until 1999, which by then was a bit past its coolness date. The location has been a string of restaurants since then, most recently Embassy, which closed in 2013.
TODAY'S BIRTHDAY:
Dirk Bogarde: 1921. He was born Derek Jules Gaspard Ulric Niven van den Bogaerde, but his friends and fans called him Dirk. After serving in the Queen's Royal Regiment in World War II as an intelligence officer, he became one of Britain's top matinee idols in the 1950s. In the 1960s he decided to do away with his heart-throb image with more challenging roles, including that of the closeted Melville Farr in 1961′s Victim, who resolves to break up an extortion racket that targets gay men. Time magazine, in its review of Victim, called it "a plea for perversion." "Everybody in the picture who disapproves of homosexuals proves to be an ass, a dolt or a sadist," Time fumed. "Nowhere does the film suggest that homosexuality is a serious (but often curable) neurosis that attacks the biological basis of life itself."
Bogarde won critical acclaim playing the sinister Hugo Barrett in 1963′s The Servant, and he took on the gay lead in the 1971 art house film Death in Venice. Warner Brothers tried to drop the distribution of Death in Venice because they feared it would be banned for obscenity, but relented after Queen Elizabeth II and Princess Anne attended the London premiere.
If it was brave for a popular actor to take on gay roles like that, it was doubly brave of Bogarde because he never officially came out. And yet he remained dedicated to his lifelong partner Anthony Forwood, whose death in 1988 after a long struggle with Parkinson's disease and liver cancer led Bogarde to become an advocate for assisted suicide. Bogarde, by then had quit acting and turned to writing, publishing seven memiors and several novels. Bogarde didn't come out in any of his memoirs, although he did talk about caring for Forwood. Bogarde was knighted in 1992, suffered a dibilitating stroke in 1996, and died of a heart attack in 1999. It wasn't until 2004, upon the publication of an authorized biography, that his brother,  Gareth van den Bogaerde, finally acknowledged publicly that Dirk was gay.
If you know of something that belongs on the agenda, please send it here. Don't forget to include the basics: who, what, when, where, and URL (if available).
This your open thread for the day. What's happening in your world?
The Daily Agenda for Thursday, March 27
Jim Burroway
March 27th, 2014
TODAY'S AGENDA:
Events This Weekend: European Gay Ski Week, Alpe d'Huez, France; Belgian LGBT Film Festival, Brussels, Belgium; Los Angeles Leather Pride, Los Angeles, CA; Gay Snow Happening, Sölden, Austria; OutBoard, Steamboat Springs, CO; European Snow Pride, Tignes, France.
TODAY'S AGENDA is brought to you by:

The original location, in a light industrial area of Miami underneath the flight path for Miami International, is gone, replaced with a parking lot for an auto paint shop. The Ft. Lauderdale location is now a strip mall.
THIS MONTH IN HISTORY:
Miami Bar Posts House Rules: 1955. Gallows humor, or at the least, sardonic humor, has long been a valuable coping mechanism whenever things haven't been going well. And things hadn't been going well for Miami's gay community, which had experienced wave after wave of police raids, arbitrary arrests, and general persecution over the previous year (see Aug 3, Aug 11, Aug 12, Aug 13 (twice that day), Aug 14,Aug 26, Aug 31, Sep 1, Sep 2, Sep 7, Sep 15, Sep 19, Oct 6 Oct 20, Nov 12 and Dec 16). According to ONE Magazine, an un-named Miami-area bar tried to make light of the situation by posting the following set of rules for its patrons to follow:
Rules and Regulations Covering the Behavior of Our Customers

First of all-remember that the customer is never right.

Before drinking each beer customer is to repeat six times "Customer is never right."

When customer wishes to go to the restroom–please raise hand and barmaid will direct you to proper door.

Mother and daughter customers are not allowed to hold hands, kiss or pat each other on back. On week-ends they are not allowed to even talk to each other.

No after-shave lotion or talcum powder allowed on men customers.

Women must wear make-up-false eyelashes and beauty marks will be provided at the bar for those women customers who have just come from the beach and don't have their make-up kits with them.

Men may wear only stiff shirts and tails.

Any male customer caught buying a beer for another male customer will have to buy a beer for the barmaid too so that the management will know that the man customer is of high moral character and not one of those characters.

Female customers may not talk at all–they are required to walk around the bar at least once every five minutes, dropping handkerchiefs and swooning at the far turn.

Male customers 'may NOT wave at friends or relatives passing by in the street because we'll have none of those gestures in this place, my dear.

Lady customers may smoke only if male customer lights cigarette for them.

Lady customers may smoke only cigarettes with ivory tips, jewelled pipes or Between the Acts cigars.

Male customers must have hair on the chest–if you have none–please bring along another chest with the required hair on it. (We will gladly refrigerate it for you while you're here).

Male customers are required to spit periodically. Since we have no spittoons please use the guy next to you.

Please do not be offended if we do not serve you. Here are but a few of the people we could not serve if they were able to patronize us : Socrates, Wilde, Proust, Da Vinci, Michelangelo, Queen Christina, Amy Lowell, Lord Tennyson, etc., etc. and far on into the night.
The bar also posted a detailed "Questionnaire to be filled in by prospective customer before selling 15¢ beer", which asked for the customer's name, address, phone number, boss's phone number, parents' names and three references. Also, and presumably to make the police's job of notifying everyone possible if you were arrested, it asked for "names and addresses of five business or personal friends of your parents and their wives or husbands."
[Source: J.K. "Letter from Miami." ONE 3, no. 3 (March 1955): 44.]
TODAY'S BIRTHDAY:
Bob Mizer: 1922-1992. Before there was the internet and its most lucrative offering, online porn, and before the proliferation of dead-tree porn in the late 1960s through the 1980s, there was the "physique" magazines that sprang up after World War II. Bob Mizer was the mild-mannered publisher and photographer for Physique Pictorial, one of many such magazines that published "beefcake" photographs under the guise of bodybuilding and health. His photography studio, the Athletic Model Guild (AMG), specialized in men (gay and straight) doing bodybuilding poses or wrestling in pairs. But that thin guise — almost as thin as the posing pouch that his models wore — wasn't enough to keep him from being convicted in 1947 of unlawful distribution of obscene materials and serving a nine month sentence at a work camp in Saugus, California.
That setback barely put a dent into Mizer's career. In addition the Physique Pictorial, Mizer added Young Adonis in 1963 and Grecian Guild Studio Quarterly in 1966. When obscenity laws were relaxed in 1968 allowing full male frontal nudity, Mizer quickly adapted with the times. Through it all, AMG was very much a family affair, with Mizer's mother (her skills as a seamstress was put to use in creating a line of skimpy briefs and posing pouches) and brother (an accountant) playing important roles in the business. Mizer would photograph thousands of men and take nearly a million different images. He also produced over 3000 film titles from the 1950s to the 1980′s, which mostly consisted of film (and later, videotape) of his photo sessions.
He died in 1992, and AMG went dormant for a while. But under new ownership, Mizer's archives are being catalogued and digitally remastered. Mizer never thought of himself as an artists, but his work has garnered a significant re-appraisal in the past two decades, which influenced artists like Robert Mappelthorpe and David Hockney. The Los Angeles Times wrote in 2004 that "Mizer's pictures are historically important because they capture a time, place and attitude so vividly that it still seems to be with us. His photographs are inspiring because they were not made to fill a market niche that already existed. Instead, they created the niche and then filled it with aplomb." In 2009, Taschen Books released the monograph Bob's World: The Life and Boys of A.M.G.'s Bob Mizer
.
If you know of something that belongs on the agenda, please send it here. Don't forget to include the basics: who, what, when, where, and URL (if available).
This your open thread for the day. What's happening in your world?
The Daily Agenda for Wednesday, March 26
Jim Burroway
March 26th, 2014
TODAY'S AGENDA:
Events This Weekend: European Gay Ski Week, Alpe d'Huez, France; Belgian LGBT Film Festival, Brussels, Belgium; Los Angeles Leather Pride, Los Angeles, CA; Gay Snow Happening, Sölden, Austria; OutBoard, Steamboat Springs, CO; European Snow Pride, Tignes, France.
TODAY'S AGENDA is brought to you by:
 
Located in Los Angeles's Silverlake gayborhood where Santa Monica Blvd veers to the southeast to become Sunset, Connie's place was one of a handful of gay bars located within just a few blocks of each other. A few months after this ad appeared in the Los Angeles Advocate, Connie's place apparently redecorated, and its ads invited readers to see their "all-new roaring twenties atmosphere." Apparently that didn't work out. A few years later, Connie's Place chucked whatever elegance it could muster, changed its name to the Male Box, and became a gay leather/biker bar (see the ad for Mar 22). The building's still there, and is home to the (straight) hipster 4100 Bar.
TODAY IN HISTORY:
Boulder, CO Issues Same-Sex Marriage Licenses: 1975. It all began when Dave McCord and Dave Zamora, both 27, went to their local county clerk's office for El Paso County (Colorado Springs) and sought a marriage license. According to McCord, the clerk told them, "We do not do that here in El Paso County, but if you want to, go to Boulder County, they might do it there."
They then went to Boulder and asked County Clerk Clela Rorex for a license. Rorex turned to the county's Assistant District Attorney, William C. Wise, who wrote a quick memorandum noting that Colorado's marriage laws weren't gender specific. "There is no statutory law prohibiting the issuance of a license, probably because the situation was simply not contemplated in the past by our legislature. The case law is strongly on the side of the public official that refuses to issue a marriage license in these situations, and a public official could not be prosecuted for violation of any criminal law by such marriage licensing," Wise wrote.
With Wise's decision in hand, Rorex decided, as a "strictly administration decision," that she would issue the county's first same-sex marriage license to McCord and Zamora. "I am not in violation of any law," she reasoned, "and it is not for me to legislate morality and not give persons a license if I so desire." She also said she would continue to issue licenses in similar case as long as it was legal.
A month later, a guy by the name of Roswell Howard tried to protest the decision by showing up with a horse and a plethora of reporters. "a boy can marry a boy and a girl can marry a girl, why can't a lonesome old cowboy get hitched to his favorite saddle mare?", he said to the cameras. But Rorex as quick to deny the license, and she had solid legal backing to do so: the horse was too young to marry without written parental consent.
Six couples were married altogether before the State Attorney General stepped in to call a halt. Among them were California residents Richard Adams and Tony Sullivan, an Australian national who was trying to legally immigrate to the U.S. to be with Adams. They had already married on March 20 in a religious ceremony officiated by the Metropolitan Community Church's founder, Rev. Troy Perry, in the hopes that they could secure a green card for Sullivan on First Amendment freedom-of-religion grounds. When they heard Johnny Carson joke about the marriage licenses being issued in Boulder, they flew to Colorado and got their license on April 21.
Three days later, the Colorado Attorney General declared the six marriages invalid and ordered a halt to the licenses. The INS made it clear that it would not recognize Sullivan's marriage. The INS district director wrote, "You have failed to establish that a bona fide marital relationship can exist between two faggots." That crude ruling was quickly replaced with a more official declaration stating that the marriage was invalid because neither spouse "can perform the female functions in marriage." The couple sued in Federal Court, but judge Irving Hill ruled against them, grounding his ruling partly on religious principles, which "could not possibly sanction any marriage between persons of the same because of the vehement condemnation in the Scriptures of both religions (Christianity and Judaism) of all homosexual relationships" — ignoring the couple's MCC religious marriage in the process. The Ninth Circuit Court of Appeals upheld the decision, and the U.S. Supreme Court refused to hear the case.
After living abroad, Adams and Sullivan slipped back into the U.S., with Sullivan living as an undocumented immigrant. The couple remained together for four decades, until Adams's death in 2012. None of the six couples married in Colorado saw their marriages formally annulled. Instead, their licenses were simply ignored, as though they didn't exist. Two decades after Boulder's historic step, Rorex reflected on that momentous decision to grant the licenses:
"Honestly, I was pretty young," says Rorex, who went on to get her master's in both public administration and legal administration and has been with the Native American Rights Fund's Boulder office since 1992. "I had no real political background; I was not a political animal when I ran for that office. I didn't even know any gays or lesbians. I didn't know anything about the issue. I just operated from gut instinct."

And her gut told her to give a license to two men who loved each other and wanted to get married. "It felt like the right thing to do," she recalls, "but I couldn't have articulated why in 1975." She can today.

"Over all of these years, I've watched this issue, because of the place I was at that time — the accidental moment of history I was involved in — and I've grown to become a real staunch crusader for same-sex marriages," Rorex says. "I'm continually surprised that it has taken so long for people to give equal rights to same-sex partnerships.
[Additional source: Joyce Murdoch & Deb Price. Courting Justice: Gay Men And Lesbians V. The Supreme Court
(New York: Basic Books, 2001): 219-225.]
Gay Group Meets at White House: 1977. In a historic first, a group of gay advocates from the National Gay Task Force (later, the National Gay and Lesbian Task Force) met with presidential aide Midge Costanza for the first official discussion of gay rights at the White House. Gay rights leaders, including Bruce Voeller (see May 12), Jean O'Leary, Frank Kameny (see May 21), Elaine Noble (see Jan 22), Rev. Troy Perry (see Jul 27), William B. Kelley, and several others, told reporters that the three hour meeting was "a happy milestone on the road to full equality under the law." The meeting took place while President Jimmy Carter was away at Camp David for the weekend, but participants were assured that Carter was aware of the meeting and promised to support anti-discrimination legislation for employment in the federal government. "We had a fantastic meeting," said O'Leary, NGTF co-director, "What we got was a commitment on all the issues we brought up" for further discussion not only at the White House, but within individual executive agencies.
The next day, White House Press Secretary Jody Powell appeared in CBS's Face the Nation and defended the meeting. "For an organized group who feel they have a grievance that they are not being treated fairly, for them to have a right to put that grievance before high officials and say 'we want redress,' that to me is what the essence of America is all about."
But Anita Bryant, who was then campaigning against a Miami, Florida gay rights ordinance, thundered her disaproval in a written statement. "Behind the high sounding appeal against discrimination in job and housing — which is not a problem to the 'closet' homosexual — they are really asking to be blessed in their abnormal lifestyle by the office of the President if the United States. I protest the action of the White House staff in dignifying these activists for special privilege with a serious discussion of their alleged 'human rights'." Later that day her self-righteous indignation grew: "Before I surrender to this insidious attack on God and His laws and the parents and their rights to protect their children, I will lead such a crusade to stop it as this country has not seen before."
US Supreme Court Overturns Oklahoma's Ban on Teachers Who Support Gay Rights: 1985. In 1978, Oklahoma state Senator Mary Helm introduced a bill allowing public schools to fire or refuse to hire anyone who engaged in "public homosexual activity" or "public homosexual conduct" (see Feb 21). The first was violation, "public homosexual activity," was defined as any act which violated the state's anti-sodomy law (which also banned heterosexual sodomy, but Helms's law only dealt with violations by gay people) and the second provision concerning "public homosexual conduct" was defined to include "advocating, soliciting, imposing, encouraging or promoting public or private homosexual activity in a manner that creates a substantial risk that such conduct will come to the attention of schoolchildren or school employees." That latter provision endangered heterosexual teachers who might presume to defend gay neighbors or relatives. Shortly after the bill was introduced, more than 100 teenage boys joined KKK chapters in local high schools to "declare war on homosexuals" (see Jan 25) with the full support of Klan leader David Duke (who happened to be a friend of Family Research Council's current president Tony Perkins.) One student Klansman declared, "We are not just against blacks like the old Klan. We are against gays … because this activity is morally and socially wrong."
Anita Bryant lobbied the Senate for the bill's passage, saying that it would curb "the flaunting of homosexuality." The Helm's Bill sailed through the House and Senate, passing the upper chamber unanimously. Stan Easter, a gay man licensed to teach in Oklahoma, sued the Oklahoma City Board of Education in Federal Court with the backing of the National Gay Task Force. But Easter backed out over the backlash. Fortunately, Federal Judge Luther Eubanks said NGTF had standing to sue based on sworn affidavits stating that the group's gay members included Oklahoma teachers who feared that having their names made public would result in their immediate firing. But Eubanks then went on to uphold the law's constitutionality. The Tenth Circuit Court of Appeals largely reversed his decision, saying that while a teacher could be fired for violating Oklahoma's sodomy law, the rest of the law violated teachers' free speech rights under the First Amendment. The State of Oklahoma appealed to the U.S. Supreme Court, which deadlocked 4-4 (Justice Lewis Powell, seriously ill with prostate cancer, was absent during oral arguments and didn't vote). That meant that the lower court's ruling stood and the gag rule against Oklahoma teachers was lifted, but the ban on teachers engaging in "public homosexual activity" remained.
TODAY'S BIRTHDAYS:
Tennessee Williams: 1911-1983. If you were to ask who was the most celebrated gay playwright in history, most people, gay or straight, may point to Tennessee Williams. Which is ironic because if the gay themes in his work is any indication, he appears to have been rather conflicted by his homosexuality. Blanche's first husband in the Pulitzer Prize-winning A Streetcar Named Desire killed himself. So did Skipper in the Pulitzer Prize winning Cat on the Hot Tin Roof, and his death threatened to out his pro football buddy and severe alcoholic Brick. In Suddenly, Last Summer, Sebastian was torn apart and eaten by the boys whose sexual favors he sought. For the most part, gay characters are dead and don't appear on the stage in Williams's plays; Brick remained closeted, with just enough deniability for straight audience members who didn't want to see it.
As for Williams himself, he was certainly not closeted, socializing in gay circles and taking a string of lovers. His most enduring relationship with Frank Merlo lasted sixteen years; they remained together until Merlo's death in 1963. That plunged Williams into a severe depressions, for which he turned to Dr. Max Jacobson for help. Jacobson, nicknamed "Dr. Feelgood," prescribed amphetamines for this depression and Seconal for his insomnia. Unsurprisingly, Williams appeared incoherent in several interviews, and his reputation suffered. He died in a Paris hotel room in 1983, having chocked to death on the cap from an eye drops bottle, surrounded by barbiturates and other prescription drugs.
T.R. Knight: 1973. Theodore Raymond began his acting career at the age of five at Minneapolis's Guthrie Theater. He won a scholarship the the Minneapolis-based Children's Theatre Company while a freshman in high school. After high school, he landed several leading roles at the Guthrie before moving to New York to try his luck on Broadway, where he appeared in the 2001 revival of Noises Off and the 2003 revival of Tertuffe. But his big break came two years later when he landed the role as Dr. George O'Malley in ABC's Grey's Anatomy.
Knight's work on Grey's Anatomy was well received and things seemed to be going fairly well until late 2006, when rumors began circulating that his Grey's Anatomy co-star Isaiah Washington insulted Knight with a homophobic slur. A short time later, Knight came out and Washington issued a statement apologizing for his "unfortunate use of words during the recent incident on-set." But the controversy resurfaced again during the Golden Globe Awards in January when Washington responded to a question from the press that "I never called T.R. a faggot." But Knight countered that defense during an appearance on the Ellen DeGeneres Show, saying "everybody heard him." Washington apologized again, but his fate was sealed. Later that summer, ABC announced that it wasn't renewing Washington's Contract. Knight, for his part, remained with Grey's Anatomy for two more seasons before leaving in 2009 due to what he called a "breakdown in communication" with the executive producer over his lack of screen time and his decision to be open about his sexuality.
Since Grey's Anatomy, Knight returned to the theater, appearing in several off-Broadway productions as well as the Broadway's A Life in the Theatre in 2010. On October 5, 2013, Knight married Patrick Leahy, his partner of three years, in Hudson, New York.
Jonathan Groff: 1985. The bulk of his career has been in the theater, beginning with his role as Melchior Gabor in Spring Awakening, for which he was nominated for a Tony and a Drama Desk Award, and won a Grammy for best Musical Show Album featured soloist. He has appeared in an off-Broadway revival of Hair, and he made his West End debut in 2010 in Deathtrap at the Noël Coward Theatre. He's also worked in some television time, with a recurring role in One Life to Live and Glee. My four-year-old niece will recognize his voice in the Disney animated feature Frozen, for which he lent his voice to the mountain man, Kristoff.
His last two projects have both been with HBO. This year, he starred as Patrick, a gay video game developer in the HBO series Looking, which completed its eight-episode first season earlier this month. The series started slowly, but found its footing as the season went on, with Groff's character ending the season in an awkward unresolved triangle with Richie, a barber and Patrick's main love interest, and a drunken session with Kevin, his boss. HBO has announced that they are ordering a second season. Groff has also signed on to play Craig Donner in HBO's adaptation of Larry Kramer's The Normal Heart.
Scotty Joe Weaver: 1986-2004. He should have turned twenty-eight today, but he only managed to see his eighteenth birthday. On July 22, 2004, his badly burned body was found at the side of a rural Alabama road. He had been beaten, strangled, cut, burned and robbed of between $65 and $80. While robbery was first thought to be the main motivation, Baldwin County District Attorney David Whetstone quickly determined that Weaver's sexuality was the reason he was killed. "We have very specific evidence that indicates part of the motive involved his sexual orientation," he said, noting that the wounds on Scotty Joe's body indicated "overkill," a common feature of anti-gay hate crimes.
Robert Porter, 18, Nichole Bryars Kelsay, 18, and Christopher Gaines, 20 were arrested and charged with capital murder. Gaines and Kelsay had been Scotty Joe's roommates, and Gaines' lawyer at that time said that Gaines told him that Porter "spoke openly of wanting to kill the guy because he was gay." Gaines pleaded guilty to avoid the death penalty, and was sentenced to life without parole. Porter pleaded guilty and received two consecutive life sentences. Kelsay pleaded guilty to conspiracy to commit murder and was sentenced to 20 years. Alabama doesn't have a hate crime law covering sexual orientation. And despite the District Attorney's findings, Scotty Joe Weaver's murder was not included in the FBI's hate crime statistics for 2004, representing another example of the gaps in the FBI's hate crime reporting program. The crime was featured in the 2006 documentary, Small Town Gay Bar
.
If you know of something that belongs on the agenda, please send it here. Don't forget to include the basics: who, what, when, where, and URL (if available).
This your open thread for the day. What's happening in your world?
The Daily Agenda for Tuesday, March 25
Jim Burroway
March 25th, 2014
TODAY'S AGENDA is brought to you by:

That burst of gay-rights activism right after the 1969 Stonewall rebellion had petered out considerably as the first half of the 1970s ground on. After weathering Vietnam, Watergate, the oil embargo, runaway inflation and "Feelings", all anybody wanted to do, gay or straight, was do a little dance, make a little love, and get down tonight. But Anita Bryant's vicious anti-gay campaign to repeal Miami's gay rights ordinance (see Jun 7) re-galvanized a complacent gay community into action, and not just in South Florida. Bryant promised to take her anti-gay crusade nationwide, and rumors abounded about further anti-gay ordinances and ballot initiatives in cities across America. Activists in Washington, D.C., fearing that the nation's capital would be a likely target, organized a coalition called the Dialog for Human Rights. Member groups included the National Organization for Women, the Gay Activists Alliance, and the Gertrude Stein Democratic Club, and they immediately set about a fundraising drive to counter whatever might be headed their way. As it happened, D.C. was spared, but St. Paul, Minnesota (see Apr 25); Wichita, Kansas (see May 9);  and Eugene, Oregon fell victim to the Bryant steamroller before it was finally turned back in Seattle and California (see Nov 7).
TODAY IN HISTORY:
385 YEARS AGO: Thomas/Thomasine Hall: 1629. The Virginia Colony Court's records describe the case of a servant, Thomas or Thomasine Hall, who claimed to be "both a man and a woman." In testimony before the court, Hall told of being born at or near Newcastle Upon Tyne and recalled being christened "by the name of Thomasine." Hall was dressed in woman's apparel until the age of twelve. At the age of 22 while living in London, Hall's brother joined the army and Hall "cut off his hair and changed his apparel into the fashion of a man" and joined the army. After leaving the army, Hall again "changed himself into woman's apparel and made bone lace and did other work with his needle." Shortly after, Hall again changed "his apparel into the habit of a man and so came over into this country."
After arriving in Virginia as a male, he changed his expression back to that of a woman, but rumors spread that "Hall did lie with a maid … called Great Bess." In one encounter, two men assaulted Hall, threw him on his back and "pulled out his members," revealing that Hall anatomically "was a perfect man." Three other women testified to having searched Hall and reported that "he was a man." But a Captain Basse performed an inspection and determined that there was "a piece of flesh growing at the [section of the document is missing] belly as big as the top of his littler finger (an) inch long." Basse commanded Hall "to be put in woman's apparel," apparently deciding that Hall was a female. To finally resolve the case, the Court decided to accept Hall's own self-definition as both man and woman, and ordered the determination "to be published in the plantation" where Hall lived, "that he is a man and a woman" and ordered Hall to "go clothed in man's apparel, only his head to be attired in a coyfe (coif) and crosscloth with an apron before him."
280 YEARS AGO: 300 Lashes In Savannah for Sodomy: 1734. The description is extremely brief. No names, no details, just two short sentences in the diary of Johann Boltzius and Israel Gronau, Lutheran pastors who ministered to German settlers in the Georgia Colony:
Today an execution of judgment was held here in Savannah. A man from this place had been accused and convicted of sodomy and inciting others, for which he was to receive three hundred lashes under the gallows.
"Insanity, Produced by Masturbation": 1835. In 1829, the state of Massachusetts was alerted to the growing problem of "lunatics and persons furiously mad" who were being kept in local jails, almshouses, or private homes. After completing an informal census of the numbers of people suffering from mental illness, the state legislature established in the Massachusetts Lunatic Hospital in Worcester, among the nation's first insane asylums, which opened its doors in 1833 under its first superintendent, Dr. Samuel B. Woodward. In many ways, Woodward's approach represented a significant breakthrough in the attitudes towards treating the mentally ill, who he regarded as suffering from diseases which were not unlike physical illnesses.
However, being a product of his times, Woodward's understanding of physical and mental illnesses reflected an era when medicine was still based on little more than lore and folk medicine. The mental health profession had even less to go on than that. But I guess they had to start somewhere. And observing the activities of the patients at the Lunatic Hospital was perhaps as good a place to start as anywhere else. On March 25, 1835, Woodward contributed a short article to the Boston Medical and Surgical Journal (which would later become the prestigious New England Journal of Medicine) detailing what he considered to be an important cause of mental illness:
No cause is more influential in producing Insanity, and, in a special manner, perpetuating the disease, than Masturbation. The records of the institutions give an appalling catalogue of cases attributed to this cause; and yet such records do not show nearly all the cases which are justly ascribable to it. For it is so obscure, and so secret in its operation, that the friends in almost all cases are wholly ignorant of it. It is in a few cases only, where the practice of the vice becomes shamefully notorious, that friends are willing to allow its agency in the production of any disease, particularly insanity; and yet no cause operates more directly upon the mind and the feeling. The mental energies are prostrated by the habit in innumerable cases, long before the delusions of insanity appear. Indeed there are many cases, in which insanity does not intervene between the incipient stages of that mental and physical imbecility, which comes early upon the victim of masturbation, and the most deplorable and hopeless idiocy, in which it frequently results.
It's easy to be distracted by the terminology used in the early nineteenth century: idiocy, imbecility, lunacy. Today, these words are purely pejorative. But in the nineteenth century, these words had different and rather specific meanings to describe what we today would call severe intellectual disability (or severe mental retardation), milder learning difficulties, and psychosis respectively. And while Woodward used to word "vice" to describe the "notorious" practice, it would be a mistake to assume that Woodward was writing wholely out of moral indignation. (It would also be a mistake to assert that Woodward was immune to the moral indignity directed towards all non-procreative sex acts that was common in his society.)
Instead, it is perhaps best to understand Woodward as operating from what was perhaps the first true mental health laboratory in the U.S. For the first time, a trained physician could directly observe, under controlled conditions, their charges' conduct. And these charges, often, weren't self-possessed enough to limit their activities to what was considered proper conduct, including sexual conduct. And since sexual conduct was most certainly not a subject for polite society, Kinsey's findings that virtually everyone masturbated would come more than a century too late to be of any use to Woodward. And so when Woodward saw crazy people masturbating, he drew the conclusion that masturbation made people crazy, though not always:
This is not, however, always the case. In some individuals there is all the raving of the most furious mania, or the deep and cruel torture of hapless melancholy, before the mind is obliterated and the energies of the system forever prostrated. … Those cases of insanity arising from other known causes, in which masturbation is a symptom, are rendered more hopeless by this circumstance. It is a counteracting influence to all the means of cure employed, either moral or medicinal, and coinciding as it does with whatever other causes may have had an agency in producing disease, renders the case almost hopeless. Of the number of tbe insane that have come under the observation of the writer (and that number is not small), few, very few have recovered, who have been in the habit of this evil practice; and still fewer, I might say almost none, have recovered, in which insanity or idiory has followed the train of symptoms enumerated in a former paper, indicating the presence of the habit, and its debilitating influence upon the minds and bodies of the young.
Clearly, with the limited data available to him, Woodward had difficulty sorting out causation versus correlation, which was a common problem in his day (as it often is today). But he provided some data to try to cast some light on this conundrum. But with no criteria to ascertain whether it was a cause or an effect of the patients' mental health problems (or totally unrelated altogether, a prospect which apparently never occurred to him), it's hard to see how it helps:
Of eighty males, insane, that have come under the observation of the writer, and who have been particularly examined and watched, with reference to ascertaining the proportion that practised masturbation, something more than a quarter were found to practise it; and in about 10 per cent., a large proportion of which are idiotic, the disease is supposed to have arisen from this cause.
Once someone had moved on to madness, Woodward wrote, it would be almost impossible to cure him of the practice. "They will rarely form resolutions on the subject, and still more rarely adhere to them. Reason, the balance wheel of the mind, being denied them, they are obnoxious to the influence of all the propensities in a high degree." But he offered this advice for those who found that they could strain themselves from the habit:
As the inebriate would probably never conquer his appetite for alcoholic drink if he indulged once a month only — so in this habit, the occasional indulgence will thwart the whole plan of cure. The diet should be simple and nutritious; the exercise should be moderate and gentle; indulgence in bed should not be allowed, and the individual should always sleep alone. A matrass (sic) is better than a soft bed. He should rise immediately upon waking, and never retire till the disposition to sleep comes strongly upon him. The cold bath is a valuable remedy, a sea bath is better, and the shower bath often superior to either.

Narcotics, if there is a high degree of irritability in the system, are valuable remedies, of which conium, belladonna, hyoscyamus, nux vomica, and opium, may be used under different circumstances, combined or singly, according to the effects. Blisters and issues on the pudenda or perineum, promise well, and the different preparations of bark and iron, and other mineral tonics, should be used till all the effects of the habit are removed, till the propensity is fully conquered, and the constitution is restored to health and vigor.
Ironically, the very next article in the Boston Medical and Surgical Journal, titled "Quackery," warned against the dangerous practice that passed for medical practice and called for a system of statewide regulation of the medical profession.
As for Woodward, he would go on to co-found the Association of Medical Superintendents of American Institutions for the Insane, and serve as the first president. That organization, in 1892, would rename itself the American Medico-Psychological Association which, in 1921, would rename itself again as the American Psychiatric Association.
[Source: Samuel B. Woodward. "Insanity, produced by masturbation." Boston Medical and Surgical Journal 12, no. 7 (March 25, 1835): 109-111. Available online at Google Books.]
State Department Announces Firing of 126 Homosexuals: 1952. Carlisle H. Humelsine, deputy undersecretary at the Department of State, told a House Appropriations Committee that the State Department had fired 126 people accused of homosexuality since January 1, 1951. He said that 119 had been fired from the department and the foreign service during calendar year 1951, and that seven more had been fired so far in 1952. "There is no doubt in our minds," he told the committee, "that homosexuals are security risks. We havce been working in a very vigorous way on this particular problem. We have resolved that we are going to clean it up."
Humelsine explained how the Department went about the task. "I think one of the reasons for what appears to be a large figure is that we went to each chief of mission and called his personal attention to it, and said that there is no doubt that we have just got to eradicate this influence from the foreign service. We did the same ting in the department, and I think this shows the results of that sort of work. I hope that next year will show that we have broken the back of this particular problem."
Committee chairman Rep. John J. Rooney (D-NY) commended the State Department's efforts, and went on to make what he called a "gratuitous observation that the State Department wasn't the only government agency with gay people on the payroll. "We probably could do the same thing in all of the departments of the Government, including Interior, Post Office, Treasury and everywhere else. This has been extensively advertised as a problem which is solely the State Department's, but the facts do not bear that out …. After this committee questioned such possible conditions in the Department of Commerce, it was only a very short time until they had 53, and they were still weeding them out."
Betty Friedan Says Lesbians Are Taking Over the Women's Movement: 1973. During the first major fundraising event for the New York chapter of the National Organization for Women, noted feminist author Betty Friedan and NOW founder cited "man hating" and lesbians as two factors that would hinder progress for women. In remarks to those gathered, the author of the 1963 book The Feminine Mystique which is credited for sparking the Women's movement in the 1960s, repeated her opinion that lesbians were being used as a ploy to divide women. "Let U.S. Rep. Bella Abzug introduce a bill for lesbian mothers. Let Ms. Magazine do a special issue about lesbians. But let us concentrate on men and women working together for full partnership in society." She continued:
"I have had to say some uncomfortable things because I felt they were important. I think the movement has been infiltrated and the lesbian issue has been pushed forward for divisive purposes. We must not let ourselves be used. … You don't have to hate men or give up children to be liberated."
An Associated Press article describing the meeting reported this reaction to Friedan's remarks:
"Her putting down of the lesbian issue as irrelevant to the women's movement was incredible," said Jan Welch, who described herself as a feminist, NOW member and a lesbian, but not a man hater. "I want her to prove that I am somehow harmful to the movement because I am a lesbian. I think it's Betty that's causing all the problems."
TODAY'S BIRTHDAYS:
Anita Bryant: 1940. The less said, the better.
Elton John: 1947. He was born Reginald Dwight in Middlesex. He started playing piano at the age of three, and took up formal lessons at seven. He took to composition and showmanship early, writing his own music and playing piano like Jerry Lee Lewis at school functions. By eleven, he won a junior scholarship to the Royal Academy of Music, where he learned Chopin and Bach. He became a pub pianist at fifteen and began playing in bands around London. He answered an ad in the New Musical Express for a songwriter, and was given a stack of lyrics written by Bernie Taupin. Dwight wrote music for the lyrics and sent them back to Taupin, and one of history's most successful song-writing partnerships was born. Shortly after, Dwight adopted the name Elton John. In 1969 he recorded his first Album, Empty Sky, and followed that up with the eponymous Elton John, which yielded him his first US Top Ten single, "Your Song." A string of hits followed, building toward the 1973 smash "Goodbye Yellow Brick Road," from the album by the same name. In 1976, he "came out" as bisexual, but few believed him. When he married German recording engineer Renate Blauel in 1984, many speculated that the marriage was just a cover. They divorced in 1988, and he finally decided he was "comfortable" being gay." In 1992, he founded the Elton John AIDS Foundation which raises money for HIV/AIDS prevention and fighting stigma and discrimination against people with HIV/AIDS. Since 1993, John has been in a relationship with David Furnish, which they formalized with a civil partnership in 2005. They became parents in 2010.
Sheryl Swoops: 1971. The standout women's basketball player led her Texas Tech teammates to the NCAA women's basketball championship in 1993 during her senior year after setting several NCAA records which are still on the books today. When the Women's National Basketball Association was formed in 1997, she was the first player signed to the new league. She began her professional career with the Houston Comets, returning to the court only six weeks after giving birth to her son and leading the Comets to the 1997 WNBA Championship. From 1995 to 1999, she was married to her high school sweetheart, but in 2005 she finally announced that she was gay, saying "it doesn't change who I am. I can't help who I fall in love with. No one can. … Discovering I'm gay just sort of happened much later in life. Being intimate with [Alisa] or any other woman never entered my mind. At the same time, I'm a firm believer that when you fall in love with somebody, you can't control that." Over time, it appears that Swoopes has determined that she is not so much gay as bisexual: in 2011, she broke up with Alisa and became engaged to a man.
If you know of something that belongs on the agenda, please send it here. Don't forget to include the basics: who, what, when, where, and URL (if available).
This your open thread for the day. What's happening in your world?
The Daily Agenda for Monday, March 24
Jim Burroway
March 24th, 2014
TODAY'S AGENDA is brought to you by:

Harry's Back East was a longtime gay bar whose origins went back to at least 1968. It probably owed its longevity to its reputation for being a simple, laid-back and friendly establishment. At least one story has it that Judy Garland paid a visit there in 1969 shortly before she died. It was a narrow space, with a very long bar in front that ran the length of the front room, with a separate dance room in the back with a disco ball and a large red light that came on whenever the cops entered the front. That was everyone's signal to stop dancing and act innocent, lest the cops start arresting them for "lewd" conduct. If the owners weren't current on their bribes however, all bets were off and everyone was arrested regardless of what the cops found. Harry's survived that era and continued as a popular hangout until it finally closed in 1982. The location's latest incarnation appears to have been a restaurant that has recently closed.
TODAY IN HISTORY:
ACT-UP Launches First Protest: 1987. Morning rush hour became ensnarled in lower Manhattan as 250 AIDS activists protested at the corner of Broadway and Wall Street. The protest was the result of growing frustration over New York City's lax response to the AIDS crisis in the city as well as the Food and Drug Administration's cautious and excruciatingly slow process for approving new drugs to combat the disease. Only one drug, AZT, had been approved so far (see Mar 19), but at $10,000 per year ($20,000 in today's dollars) it was prohibitively expensive, hard to obtain (it was being rationed), and of very limited efficacy. European regulators had approved several other drugs for use in combating AIDS, but the FDA's standard process for approval would take the better part of a decade, far longer than most people with AIDS would have to live.
The newly-formed group, ACT-UP (AIDS Coalition To Unleash Power), was born from that frustration, and on the morning of March 24 they took to the streets for the first time. Playwright Larry Kramer, one of the group's founder, said, "We've been told by the leading AIDS experts that there are drugs that are safer to use and more promising than AZT. We want these drugs and we want the Wall Street business community to help us get them." The group also called for a massive public education campaign to stop the spread of the disease, an anti-discrimination policy for people with AIDS in treatment, insurance, employment and housing, and a national comprehensive national policy on AIDS. Protesters sat down in the middle of the street, resulting in seventeen arrests. After more than a year of protests, including a massive protest in which members of ACT-UP occupied the grounds of the FDA in Washington, D.C., (See Oct 11), the FDA finally relented and instituted a new emergency streamlined process for quicker approval of AIDS drugs.
TODAY'S BIRTHDAY:
Grethe Cammermeyer: 1942. She was born in Oslo during the Nazi occupation of Norway, in a home that was across the street from Nazi headquarters. Her parents were active in the resistance, and they used to hide guns under the mattress of her baby carriage, and push her through the streets of Oslo to make deliveries to the resistance. After the war, the family moved to the U.S. in 1951, and she became a U.S. citizen upon turning eighteen in 1960.
In 1961, she joined the Army Nurse Corps to learn to be a nurse. She married a fellow soldier in 1965, served at a hospital in Vietnam for fourteen months, then left the army in 1968 when she became pregnant for her first son. Army regulations at the time didn't allow women to have dependent children. When that changed in 1972, she returned to the Army Reserves and rose to the rank of Colonel in 1987. Meanwhile, she gave birth to three more sons and entered a period that she called her "identity crisis, as I came to understand that I was a lesbian." She divorced after fifteen years of marriage.
In 1988, she accepted a position as Chief Nurse of the Washington State National Guard. While interviewing for a top-secret clearance in 1989, she truthfully answered the question that would get her in trouble: "I am a lesbian." During that past year, she had been in a relationship with Diane Divelbess, and the two would go on to become lifelong partners. But Cammermeyer's answer to investigators kicked off an investigation and proceedings that ended with her discharge in 1992. She immediately filed a lawsuit to try to get her job back. In June, 1994, Federal District Court Judge Thomas Zilly ruled that the military's ban on gays serving openly was unconstitutional. The Pentagon requested a stay of the decision, but Zilly refused, as did the Ninth Circuit Court of Appeals. To preserve "Don't Ask, Don't Tell," the Pentagon elected not to appeal rather than risk a higher court ruling that would free others from serving under the ban. Cammermeyer returned to the National Guard, and retired with full military privileges in 1997.
After Washington voters approved a marriage equality referendum at the ballot box in 2012, Cammermeyer and Divelbess became the first same-sex couple to get a marriage license in Island County, where they make their home.
If you know of something that belongs on the agenda, please send it here. Don't forget to include the basics: who, what, when, where, and URL (if available).
This your open thread for the day. What's happening in your world?
The Daily Agenda for Sunday, March 23
Jim Burroway
March 23rd, 2014
TODAY'S AGENDA:
Events This Weekend: European Gay Ski Week, Alpe d'Huez, France; Amsterdam Bear Pride, Amsterdam, Netherlands; Los Angeles Leather Pride, Los Angeles, CA; Gay Snow Happening, Sölden, Austria; European Snow Pride, Tignes, France.
TODAY'S AGENDA is brought to you by:

This is one of those clubs that came and went in New York City, more or less without a trace. The only bit of info that I can find on it is that the space had originally been a club called Stage 45 until the Lib came along in the early seventies. Today, even the storefront is gone. The building's there, but the address has been walled- and glassed-in, and is no longer accessible from the street.
TODAY IN HISTORY:
New Haven Colony Sentences "Sundrie Youths" To Public Whipping: 1653. The court records for Puritan colony at New Haven includes the following account for March 23, 1653:
Upon a complaint made to he Governor of sundrie youths in the Town that had committed much wickedness in a filthy corrupting way one with another, they were called before the Governor and Magistrates … [Those charged were] Benjamin Bunill, Joshua Bradly, Joseph Benham,William Trobridg, Thomas Tuttill & Thomas Kimberly. They were examined in a private way, and their examinations taken in writing, which were of such a filthy nature as is not fit to be made known in a public way; after which the Court were called together, and the youths before them. Their examinations were read and, upon their several confessions, the Court … Sentenced the youths above named to be whipped publicly. And whereas John Clarke, servant to Jeremiah Whitnell, was questioned and charged by one of them for some filthy carriage, he denied it, and another of the company in some measure cleared him from that the other charged him with, whereupon he was not sentenced to be corrected publicly, but the Court left it with his master to give him that correction in the family which he should see meet, warning John Clarke that if ever any such carriage came forth against him hereafter, the court would call these miscarriages charge upon him to mind again.
[Source: Jonathan Ned Katz. Gay/Lesbian Almanac: A New Documentary (New York: Harper & Row, 1983): 100.]
Columnist: "State Department Hires Perverts": 1950. The early stages of the McCarthyite red scare also had distinctly pink undertones, as gay people became looked upon as being as much as a danger to national security as communists. Deputy undersecretary of State John E. Peurifoy's revelation (see Feb 28) that the State Department had fired 91 employees for being gay sent shock waves around the country and the nation's columnist and pundit class into a tizzy. Author and novelist Robert Ruark, whose column was syndicated by Scripps-Howard, weighed in with his own unique literary style:
Looks like a new point in journalism has finally been reached, at which it is possible to face the problem of homosexuality and perversion with the same honesty it took us so long to win in the case of venereal disease. Our peering into the well of loneliness is as much overdue as our realization that syphilis and gonorrhea were something more than "social" diseases, to be hushed behind the hand.

This belated appraisal of a human aberration is due to the fact that our State Department, in record, as been filled with a type of humanity which is not "normal" as we construe normalcy in the broad sense, and that the list of perverted sex-crimes seems to be mounting furiously.

There is considerably more to abnormality in the sexes than a simple negation of boy-meets-girl. There is a great difference between homosexuality and perversion. The homosexual in a simpler sense is less dangerous to the world around him, because his odd sexual leanings creep easily into vicious criminality with innocents as victims.

Divergents from the sexual norm are pitiable, and in general live a life of mental and spiritual torture, full of frustration and persecution. Their residence in a minority group makes them subject to censure by the majority and leads them to a life in shadow.

This creates a constant nervousness that pays off in panic. Most "queers" eventually acquire a tendency to hysteria, which means the blow their tops in time of stress. Since the also must hide from the world that outweighs them — since the must always mask their activities in stealth and secrecy — they are forever open to apprehension.

A pervert fondles a child. The child cries. The creep blows his roof. He is panic-ridden and hysterically afraid of being caught. He throttles the child. A homosexual — possibly even a "happily" married one — is suddenly confronted with public awareness of his abnormal outcroppings. His position, his job, his very life is at stake. He blows his top. He has three choices. He can kill himself, jill his discoverer, or submit to blackmail.

In the loneliness that cloaks a homosexual that places him basically apart form his fellow, he scarred soul calls out for company. So his inclination is to surround himself with his like. Homosexuals travel in packs, as do most divergents from an accepted status.

It is all well to say that a man must live his own life and in a manner which best suits him, but in government which is operated for the greater good of the greatest number a dissenter from accepted behavior is a great liability. The drunkard, the boss who chases every stenographer, the sexual degenerate or homosexual all have a gaping chink in the behavioristic armor. This leads almost invariably to erratic action, neglect of job, and even to blackmail. Always to blackmail.

When a man or woman is susceptible to easy blackmail, he is a tremendous risk in a position of trust. I know the story of the highly-placed State Department executive who crowded the lists with so many homosexuals that 91 resignations of firings have recently resulted. His appointees surrounded themselves with their appointees, and on down the line. What you have finally is a corroded organization which can be bribed, bulled or blackmailed in the easiest possible fashion.

Homosexuality has figured, off stage, in one of our traitorous operations. Homosexuality and similar irresponsibility has weakened us all over the world through the State Department's calm acceptance of abnormality. A great deal of the trouble we are in, internationally, can be laid to the tolerance of that kind of weakness in a service which should be above reproach. You can say that the queer ones are pathetic and deserve a right to pursue happiness in most businesses but you don't need them in positions of heavy trust.
TODAY'S BIRTHDAYS:
Carl Westphal: 1833-1890. the German neurologist is credited for revolutionizing psychiatry and bringing it into the world of modern medicine. That he is much lesser known today than Sigmund Freud just goes to show how much of a lock psychoanalysis held in the mental health professions throughout the first three-quarters of the twentieth century.  Westphal founded the Archiv für Psychiatrie und Nervenkrankheiten (Archives of Psychiatry and Nervous Diseases) in 1868 where, for the first time, German clinicians could publish articles and discuss a new understanding of mental illness: that it was a  medical problem rather than moral or sinful failings subject to conviction and incarceration under the law. Westphal is credited for coining the term "agoraphobia," to describe the case of three male patients who feared going out in public. He was the first to describe what is now known as hepatolenticular degeneration, in which cooper accumulates in the tissues and causes neurological and psychiatric symptoms, as well as liver disease. And he was the first to describe narcolepsy and cataplexy, which is a sudden temporary loss of muscle tone.
And, owing to a paper Westphal published in the Archiv in 1869 where he wrote about the case of a woman who was sexually attracted to other women rather than men, Westphal became the first to describe, in clinical terms, those who experienced Konträre Sexualempfindung ("contrary sexual feeling"). He described what would later become known as homosexuality as being the result of an individual's alienation from his or her own gender, an archaic and ultimately unproven theory that remains a crucial underpinning of much of what is taught in ex-gay circles today. Westphal wrote:
I chose the term 'contrary sexual feeling' from a suggestion by an admirable, and in the field of philology and archeology, most distinguished colleague, after failing to find shorter and more appropriate terms. What shall here be expressed is that it is not always simultaneously the sexual urge as such with which we are dealing, but rather also merely the feeling of the complete inner being, being alienated form its own sex.
By describing homosexuality as something that was an expression of the essential nature in an individual, the paper sparked tremendous controversy in medical circles. Until then, those who were caught engaging in homosexual behavior were treated as heretics, sinners, and criminals. Westphal instead sought to abolish those primitive, archaic superstitions with a new "scientific" understanding of gay people. Westphal's paper, in particular, ascribed homosexuality to a disorder of the central nervous system. And while that particular theory was eventually discarded, it nevertheless placed homosexuality in the realm of psychiatry, there it it would remain for more than a century. So while Westphal can be credited for introducing the idea that gay people weren't sinful criminals, he can also be blamed for the classifying all gay people as mentally sick. It could be argued that in 1869, that represented a huge advancement, but in reality it merely represented an exchange of prison, the pillory and other torturous punishments for the mental asylum and torturous "medical" treatments (see Jan 18, Jan 20, Mar 11, Jun 3, Jul 26, Oct 30, Dec 8), an exchange that would last for another hundred years before the American Psychiatric Association finally removed homosexuality form its list of mental disorders in 1973.
140 YEARS AGO: J. C. Leyendecker: 1874-1951. At the turn of the century, men's shirts were sold with detachable collars, and New York's Cluett, Peabody & Co. and their advertising agency launched one of the most successful advertising campaign for Cluett's line of Arrow collars. The Arrow Collar Man was the creation of Joseph Leyendecker, one of the the pre-eminent American illustrators of the era. Little did the nation's housewives know that when they purchased those collars for their husbands with the handsome and debonair Arrow Collar Man in mind, that he was modeled after Leyendecker's life-long partner, Canadian-born Charles Beach. By the time Leyendecker landed the Arrow Collar gig at the turn of the century, his work was already making regular appearances on the covers of the Saturday Evening Post, a relationship that would last for 44 years. Meanwhile the handsome Beach would turn up for Leyendecker's illustrations in ads for Kuppenheimer Suits, Interwoven Socks, Pierce-Arrow automobiles, and wherever style and class were called for.
By 1914, Leyendecker was financially secure enough to buy a large home in New Rochelle, NY for himself, Beach, and Leyendecker's brother and sister. The parties which Leyendecker and Beach hosted at their home became important social events as Leyendecker was acknowledged as one of the country's great illustrators. But with the stock market crash of 1929 and the onset of the great depression, Leyendecker's high-society style lost favor among advertising agencies. Cluett, Peabody & Co. dropped him in 1931 as the company had stopped making collars in favor of completed shirts. By 1936, the Saturday Evening Post cut back on their commissions for his covers. World War II brought something of a respite, with contracts for war bond posters, but that work would mark the end of his output. He died in 1951, survived by his sister and Beach. A really great monograph of his illustrations
was published in 2008 by Abrams.
If you know of something that belongs on the agenda, please send it here. Don't forget to include the basics: who, what, when, where, and URL (if available).
This your open thread for the day. What's happening in your world?
The Daily Agenda for Saturday, March 22
Jim Burroway
March 22nd, 2014
TODAY'S AGENDA:
Events This Weekend: European Gay Ski Week, Alpe d'Huez, France; Amsterdam Bear Pride, Amsterdam, Netherlands; Los Angeles Leather Pride, Los Angeles, CA; Black Party, New York, NY; Gay Snow Happening, Sölden, Austria; European Snow Pride, Tignes, France.
TODAY'S AGENDA is brought to you by:

Located in Sliver Lake where Santa Monica Blvd turns to become Sunset Blvd, what used to be a gay leather/biker bar is now the straight/hipster 4100 Bar.
TODAY IN HISTORY:
Suspensions Announced of Allegedly Gay Teachers in Florida: 1961. Pinellas County School Superintendent Floyd T. Christian confirmed at a school board meeting that five St. Petersburg-area teachers had been suspended for "alleged homosexual practices." The action came after the state's Legislative Investigative Committee lodged allegations against the teachers. The Legislative Investigative Committee, known as the Johns Committee for its first chairman, state Sen. Charley Johns, was created in 1956 to root out communists from government but switched its focus to look for gays teachers and university professors. Superintendent Christian said that following the accusations from the state, the teachers were suspended last October "with the full knowledge and approval of the board."
The matter was referred to the state's Cabinet Board of Education in Tallahassee, which revoked the certificates of three of the teachers. That decision was overturned by the State Supreme Court in 1962, saying the state board didn't follow proper procedures. The three teachers' certificates were finally restored in 1963.
Superintendent Christian would go on to become the Florida Commissioner of Education from 1965 to 1973, which became an elected position with Florida's new constitution in 1968. Superintendent Christian would go on to become the Florida Commissioner of Education from 1965 to 1973. After resisting desegregation as Pinellas County School Superintendent, Christian would shift his position as state Commissioner and become a strong defender of desegregation efforts in the state. Christian's political career ended in scandal, and he spent several months in federal prison in 1975 for income tax evasion.
Christan's career ended in scandal, and he spent several months in federal prison following a conviction for income tax evasion.
Montana Senate Requires Convicted Gays To Register With Police: 1995. In a 41-8 vote, the Montana Senate gave its approval to a bill that would require offenders of the state's anti-homosexuality law (which prohibited "deviate sexual conduct") to register for life with local law enforcement officials. The provision was a last minute amendment to a bill requiring registration for those convicted of murder, rape, aggravated assault, incest, sexual assault, and indecent exposure. During the debate, Sen. Al Bishop (R-Billings) said that homosexual acts, even consensual acts between adults, were "even worse than a violent sexual act," a statement that drew outrage among women's rape crisis advocates. Gay rights advocates quickly organized rallies in Helena, Billings and Missoula, and the entire state became the target of national scorn. By noon the next day, red-faced lawmakers were in full retreat mode, repealing the provision specifying "deviate sexual conduct" from the bill that they had just passed the day before, in a unanimous voice vote with no debate.
TODAY'S BIRTHDAY:
Stephen Sondheim: 1930. Born to a well-to-do Jewish family in New York's Upper West Side, Sondheim describes his childhood as an exceedingly lonely one. " it's luxurious, you're in an environment that supplies you with everything but human contact. No brothers and sisters, no parents, and yet plenty to eat, and friends to play with and a warm bed, you know?" His parents divorce when he was ten; his father abandoned the family for another woman, and his mothre was, according to Sondheim, psychologically abusive.
But at around the time of his parents' divorce, Sondheim became friends with Jimmy Hamerstein, son of the Broadway legend, Oscar Hammerstein II, who became a kind of a surrogate father and mentor. While attending the prestegious George School in Newtown, Pennsylvania, Sondheim wrote a musical, By George, which proved popular with his classmate. Proud of his efforts, he took it to Hammerstein and asked him to evaluated it. Hammerstein said it was the worst thing he ever saw. "But if you want to know why it's terrible, I'll tell you." Sondheim then received and education that afternoon which, as he later said, taught him " more about songwriting and the musical theater than most people learn in a lifetime."
After studying musical thater at Williams College and graduating Magna Cum Laude in 1950, when through "a few painful years of struggle" trying to break into the business. But his persistence was rewared when, in 1955, he was hired to write the lyrics for Leornard Bernstein's West Side Story. In 1959, he wrote the lyrics for Gypsy, which ran for 702 performances. Then he got the chance to write music and lyrics for the musical farce, A Funny Thing Happened on the Way to the Forum, which opened in 1962, ran for 964 performances, and earned him his first Tony. But then followed a dry spell, until 1970, when he began his fruitful collaboration with director Hal Prince. That partnership produced a string of innovative hits: Company (1970, which won him three Tonys), Follies (1971, and another Tony), and A Little Night Music (1973), which won him two Tonys and yielded his only Top 40 hit with Judy Collins's recording of "Send In the Clowns."
The collaboration with Prince continued with Pacific Overtures (1976), Sweeny Todd (1979, which won him another Tony), and Merrily We Roll Along (1984, which flopped badly). The tone of the reviews for Merrily were such that he felt that critics and the public were rooting for his failure. (Merrily would later go on to see several successful revivals.), and it almost convinced Sondheim to quit musical theater altogether. Instead, he went off Broadway and discoverd a play by director James Lapine, whose unorthodic presentation rekindled Sondheim's creative interests. Their first collaboration, Sunday in the Park with George opened off Broadway in 1983, despite the first act still being in development. The act was finished and the second act was developed before the run of 25 performances were over. The production then moved to Broadway in 1984, with the show completed only a few days before its opening.  It opened to mixed reviews, and ran for 604 performances. It lost money, but Sondheim and Lapine won the Pulitzer Prize for Drama, and Sunday has seen several rivivals since then. Sondheim's collaborations with Levine continued with Into the Woods (1987, which won Sondheim another Tony), and Passion (1994, and two more Tonys).
When Sondhein turned 80 in 2010, he was feted with several benefits and concerts in New York and London, and the former Henry Miller's Theater was renamed the Stephen Sondheim Theater. He is still working, and lives with his partner Jeff Romley.
If you know of something that belongs on the agenda, please send it here. Don't forget to include the basics: who, what, when, where, and URL (if available).
This your open thread for the day. What's happening in your world?
The Daily Agenda for Friday, March 21
Jim Burroway
March 21st, 2014
TODAY'S AGENDA:
Events This Weekend: European Gay Ski Week, Alpe d'Huez, France; Amsterdam Bear Pride, Amsterdam, Netherlands; Los Angeles Leather Pride, Los Angeles, CA; Black Party, New York, NY; Gay Snow Happening, Sölden, Austria; European Snow Pride, Tignes, France.
TODAY'S AGENDA is brought to you by:

Two different discos have taken the Limelight name in New York. There was the famous one on the Avenue of the Americas from 1983 through the 1990s that was located in a former Episcopal Church. That Limelight was part of a chain of nightclubs, all called the Limelight, in South Florida, Atlanta, Chicago and London. But the earlier Limelight had nothing to do with that one. Located on Seventh Avenue in Greenwich Village, the building had long been associated with the Limelight name, having opened as the Limelight gallery and coffee bar in the 1950s. When it became the Limelight disco in 1973, it drew a mainly Puerto Rican crowd. The dance floor featured a lit stained-glass ceiling overhead, and thanks to the DJ's who played a formative role in disco's early years, the Limelight quickly became the place to be for those who took their disco dancing seriously. The dancing ended in 1980 as the disco area came to a close. The building has been Disneyfied to house the Jekyll and Hyde restaurant "for explorers and mad scientists."
TODAY'S BIRTHDAY:
Vadim Alekseevich Kozin: 1903-1994. The great Russian tenor Vadim Alekseevich Kozin was celebrated throughout the Soviet Union in the 1920s for his recordings and concerts specializing in gypsy romances and love songs. He sang those songs, which he wrote himself, with such passion and tenderness that garnered him the title of the "Russian Orpheus." He once gave a concert with American Paul Robeson and is said to have performed for Winston Churchill, Franklin Delano Roosevelt and Joseph Stalin at the Tehran conference in 1943. But in those precarious days during Stalin's rule, Kozin fell out of favor with the Kremlin and was arrested in 1944. He was sent to a prison camp near Magadan in the Russian Far East for five years for political offenses, "corruption of youth" and homosexuality. From that moment on, his songs disappeared from the radio and his public concerts came to an end.
After his release in 1950, Kozen resumed performing in local theaters in the Russian Far East and Siberia, but he was prohibited from performing in Moscow and Leningrad. It was during this period when Kozen began to keep a diary. "How I would like even just once," he wrote of one unnamed man in 1956, "even for one instant, to look into the depth of those green eyes. Why does it happen like this? One person appears, and there is nothing else sacred in the world. He has filled it all himself. Who that person is, no one will ever find out."
Kozin also used his diary to express his impatience with the official attitude toward homosexuality. "There is nothing unnatural in the life I want to live," he wrote. "There is real, good friendship and complete mutual trust." In another entry, he criticized actors with their "demonstration of fictional family values" and waving of party cards. "Do I have the moral right, with my defects, to see them that way? After torturous and long thought, I have realized that I do. They are much more rotten people."
But Kozin worried that he risked further imprisonment. In another entry, he was alarmed by another actor while on tour. "His behavior will lead him to the camp. I must tell him that his sexual motives shouldn't affect me at all. … I don't want people to think about me like that again. I will try to suffer alone."
Kozin's fears were well-founded. He was arrested again in 1959 for homosexuality and was forced to write a humiliatingly detailed confession. Despite a brief revival in the 1980′s when his records were reissued, he was never officially rehabilitated. He died in Madagan in 1994 at the age of 91. Since his death, Vadim Kozin has become an icon in Russia's gay community. One of his most famous songs is one called "Friendship" which, he later confided to a friend, was dedicated to another man:
"We are so close that words do not have to be repeated. Our tenderness and our friendship are stronger than passion and greater than love."
Vadim Kozin with friends in Madagan in 1993:
Rosie O'Donnel: 1962. Times change, don't they? During her years hosting her popular daytime talk show, The Rosie O'Donnell Show, from 1996 to 2002, she developed a reputation for being "The Queen of Nice" and for her self-professed crush with actor Tom Cruise. Two months before her talk show ended, she came out, saying, "I'm a dyke!" When she became a moderator for The View in 2006, her "queen of nice" persona was ancient history, as she engaged in several public controversies and on-air disputes. She was encouraged by the program to be provocative and outspoken, and she certainly delivered. She picked a public fight with Donald Trump, she compared the Mark Foley congressional page scandal to the Catholic Church's child sexual abuse scandals, and she condemned the Bush Administration's Iraq war policies. The final straw for O'Donnel was during an on-air argument with co-host Elizabeth Hasselbeck, the producers showed O'Donnel and Hasselbeck in a split screen, which, O'Donnel, said, "they (the producers) had to prepare that in advance… I felt there was setup egging me into that position." Tired of the confrontations, O'Donnel left the show in May, 2007. Parade magazine named her "The Most Annoying Celebrity of 2007," while Time called her one of their "100 Most Influential People."
Since then, O'Donnell has been involved in several projects, including acting as Executive Producer of a Lifetime movie, hosting SiriusXM's "Rosie Radio" from 2009 to 2011, a short-lived talk show on Oprah Winfrey's OWN, and a collaborative partner in the LGBT family vacation company R Family Vacations. She has also been involved with several charitable causes, including early childhood care and education, adoption and foster parenting, and rehabilitation therapies for Iraq and Afghanistan war veterans. Her For All Kids Foundation has awarded more than $22 million in grants to 1,400 child-related organizations. Overall, O'Donnell has given more than $100 million to charity. O'Donnel herself is a foster and adoptive mother, and in February of 2004, she married Kelly Carpenter in San Francisco when Mayor Gavin Newsom launched an ill-fated effort to grant marriage licenses to same-sex couples, but the couples split in 2007. (Their marriage, by then, had been invalidated by the California Supreme Court, along with all of the other 2004 "winder of love" marriages.) In 2012, O'Donnel married Michelle Rounds in a private ceremony in New York, and they adopted a daughter, Dakota, in early 2013.
If you know of something that belongs on the agenda, please send it here. Don't forget to include the basics: who, what, when, where, and URL (if available).
This your open thread for the day. What's happening in your world?
The Daily Agenda for Thursday, March 20
Jim Burroway
March 20th, 2014
TODAY'S AGENDA:
Events This Weekend: European Gay Ski Week, Alpe d'Huez, France; Amsterdam Bear Pride, Amsterdam, Netherlands; Los Angeles Leather Pride, Los Angeles, CA; Black Party, New York, NY; Gay Snow Happening, Sölden, Austria; European Snow Pride, Tignes, France.
TODAY'S AGENDA is brought to you by:
 
If you Google the address today, you get a business called Costumes, Etc., but when you go to Google Streetview, you get this.
TODAY IN HISTORY:
Florida Supreme Court: Gays Can't Be Barred From State Bar: 1978. In 1976, Robert F. Eimers, a recent graduate of Hastings College of Law in San Francisco, had already been certified for admission to the Pennsylvania bar when he moved to Florida and took the exam for the Florida bar. He passed, but the Florida Board of Bar Examiners found that he might fail to meet the "good moral character" standard for admission because, in response to a question at a hearing, Eimers said that he was gay. The twelve member board deadlocked on whether to admit him and referred the matter to the Florida Supreme Court. On March 20, the Supreme Court ruled in a 6-1 decision that a "substantial connection" between private behavior and the ability to carry out professional responsibilities would be required to bar Eimers from practicing law, and his homosexuality did not rise to that level. "Otherwise, the bar will be virtually unfettered in its power to censor the private morals of Florida bar members, regardless of any nexus between the behavior and the ability to responsibly perform as an attorney."
That's where the "Today in History" part of the story ends, but Eimers' story continues. While Florida's Supreme Court was correct in ruling that a gay man cannot be prohibited from practicing law because of his "private morals," that same court nine years later would wind up disbarring Eimers because of his dismal public morals, not to mention breaking a few laws along the way. In 1982 Eimers, his law partner (who was not licensed to practice law) and husband-and-wife clients Daniel and Sally Phelps, were the subjects of an undercover sting involving money laundering and prostitution. In November 1982, they were all charged with two counts of money laundering, and the Phelps's, in addition, were charged with three counts associated with the prostitution ring. After their arrest and indictment, they were all released on bail. The Phelps and Eimers were tried and convicted in June, 1983, but Eimers's conviction was in absentia due to his becoming a fugitive in March. Eimers was sentenced to ten years and fined $100,000. In 1987, the Florida Supreme Court officially disbarred him (PDF: 176KB/6 pages) because of his felony conviction and allegations that he had misappropriated funds from three of his clients. I can't find any record of his having served his sentence, but in 1993 the Pennsylvania Supreme Court also ordered his disablement in that state as well. He apparently died in 1998 at the age of 51.
And that, as they say, is the rest of the story.
TODAY'S BIRTHDAY:
Samuel-Auguste Tissot: 1728-1797. You know you'll go blind if you keep doing that, don't you? Ever wonder where those old medical "facts" came from? Blame this eighteenth-century Swiss physician from Lausanne, but also consider his time. In his day, the medical establishment was built on little more than folk medicine and superstitions, some of which where handed down from as far back as ancient Greece.
To his credit, Tissot tried to change that and turn the practice of medicine into a scientific endeavor. His 1761 textbook Avis au Peuple sur sa Santé (Advise to the Public Concerning their Health) became the best-selling medical self-help book of the century and it established his international reputation. In a 1769 essay, he argued that doctors must have a working knowledge of physics and the natural sciences: "Whoever is unacquainted with the powers and properties of bodies and the laws of motion will never be able to learn the art of healing." He became an early proponent of exercise for "literary and sedentary persons," observing that exercise "strengthens the fibres, preserves the fluids in their proper state, procures an appetite, facilitates the secretions particularly perspiration, raises our spirits, and produces an agreeable sensation in the whole nervous system." His 1789 Traité des Nerfs et de Leurs Maladies (Treatise on the Nerves and Nervous Disorders) included an 83-page chapter devote to the study of migraines, which is today considered a foundational work for future doctors' understanding of the phenomenon.
So you can see he was off to a pretty good start in professionalizing the practice of medicine. But his efforts were ultimately constrained by the state of medical knowledge in the 1700s which still came mainly from two sources: ancient manuscripts, from Greek and Roman times through the Renaissance, and ongoing observations by physicians who knew nothing about viruses, bacteria, hormones, genetics or even the precise functions of a number of organs. And so Tissot believed, like many of his contemporaries, that the human body was governed by a balance between the excretion of vital fluids — the ancient Greeks called them "humours" — and their replenishment through eating and drinking. Blood, obviously, was an essential humour. Lose too much of it, and death is certain. Perspiration was a humor, as was mother's milk, which he called a "non-essential" humour — for the mother, anyway. Also, in the tally of humours:
There is another, the seminal fluid, which has so much influence on the strength of the body and on the perfection of digestion which restores it, that physicians of every age have unanimously admitted, that the loss of one ounce of it, enfeebles more than forty ounces of blood. We may form some idea of its importance by observing the effects it produces; when it begins to form, the voice, the countenance, and even the features change; the beard grows, and the whole body often assumes another appearance, since the muscles become so large and firm that they form a sensible difference between the body of an adult, and that of one who has not arrived at puberty. All these developments are prevented by debilitating the organ which serves to separate the fluid producing them. Correct observations prove that the extirpation of the testicles, at the period of virility, causes the loss of the beard, and the return of an infantile voice. Can we doubt, after this of its action on the whole body, and not perceive the many bad consequences with which the emission of so precious a fluid must be attended.
That passage is from the introduction of Tissot's most enduring work, his highly influential L'onanisme, ou Dissertation Physique, sur les Maladies Produites par la Masturbation (Onanism: Or a Treatise Upon the Disorders produced by Masturbation), published first in Latin in 1758, then in French in 1760. According to Tissot, the loss of just an ounce of semen brought about a terrible blow to the body. During the sexual act, Tissot observed that other humours were excreted through perspiration and heavy breathing, leading to the "evacuation of the semen," which is accompanied by:
a general shock, a convulsion of all the parts, an increase of the rapidity of the movements of all the fluids, to displace and expel it. Is it too great presumption to say, we must regard this necessary concurrence of the whole system, at the moment of its evacuation, as a rational proof of its influence on the body? …The promptitude with which the weakness follows the act, appears to many people, and with reason, a proof that this cannot be occasioned by merely a loss of semen; but the debility of all those affected with convulsive diseases, proves that the weakness is produced by the spasm…
Men weren't alone in their susceptibility to masturbation's dangers. Semen's analog in women was the fluids of vaginal lubrication. Like men, women also experienced the perspiration, the "rapidity of the movements of all the fluids," the general shock and convulstions, and so forth. But masturbation posed an even greater danger to women because their weaker nerves made the loss of those vital fluids all the more serious. The consequences, for men and women both, were numerous: pimples, hemorrhoids, tuberculosis, weak-mindedness, weakness or partial paralysis in the limbs, ashen skin, pain, digestive problems, epilepsy, blindness, and even death.
The loss of semen was always bad, but it was worse when the loss occurred during non-procreative sex, all forms of which he grouped under the umbrella term "Onanism." At least with ordinary vaginal intercourse, he reasoned, there was a reciprocity taking place which helped to lower the dangers:
A person perspires more during coition than at any other time, because the power of the circulation is quickened. This perspiration is perhaps more active and more volatile than at any other time: it is a real loss, and occurs whenever emissions of semen take place, from whatever cause, since it depends on the agitation attending it. In coition it is reciprocal, and the one inspires, what the other expires. This exchange has been verified by certain observations. In masturbation there is a loss without this reciprocal benefit.
Tissot's L'onanisme wasn't the first anti-masturbation tract. Some thirty-five years earlier, an unknown London doctor and clergymen published the final edition of Onania; or the Heinous Sin of Self-Pollution (see Oct 16), which warned about the many dangers of masturbation from both a medical and moral standpoint. But Tissot criticized the English Onania for its "theological and moral trivialities" which made it  "truly a chaos, the most unfinished work written for a long time." Tissot's L'onanisme, on the other hand, sought to correct those errors and re-cast sexual morality solely on the basis of the physical imperative rather than a divine one. It became a best-seller. Twelve authorized editions appeared between 1760 and 1799 in the original French, with translations into German, Italian, Spanish, Russian and English. Thanks to Tissot, the idea that masturbation was the source of a number of serious physical, medical and social diseases quickly became medical dogma all the way up to the beginning of the twentieth century.
[Source: Samuel-Auguste Tissot. Treatise on the Diseases Produced by Onanism. Translated by "A Physician" (New York: Collins & Hannay, 1832). Available online at Archive.org. The original 1760 French edition of L'onanisme is available at Google Books.]
 If you know of something that belongs on the agenda, please send it here. Don't forget to include the basics: who, what, when, where, and URL (if available).
This your open thread for the day. What's happening in your world?
The Daily Agenda for Wednesday, March 19
Jim Burroway
March 19th, 2014
TODAY'S AGENDA:
Events This Weekend: European Gay Ski Week, Alpe d'Huez, France; Amsterdam Bear Pride, Amsterdam, Netherlands; Los Angeles Leather Pride, Los Angeles, CA; Black Party, New York, NY; Gay Snow Happening, Sölden, Austria; European Snow Pride, Tignes, France.
TODAY'S AGENDA is brought to you by:

This is another one of those San Francisco bars that is difficult to find anything about. It appears to have opened around 1972 near the corner of Market and Sanchez, at about the time the area was still a down-on-its-luck Irish neighborhood known as Eureka Valley, rather than the gay mecca of the Castro as it's known today. The storefront today is now a Venetian seafood restaurant called Pesce.
TODAY IN HISTORY:
835 YEARS AGO: Final Session of the Third Lateran Council, Orders Excommunication for the "Unnatural Vice": 1179. Upon Pope Hadrian IV's death in 1157, the divided Cardinals split into two camps backing two separate popes: Roland of Siena, who took the name of Alexander III, and Octavian of Rome who assumed the name of Pope Victor IV. While Pope Alexander III had majority of the Cardinals' support, Pope Victor had the crucial support of Emperor Frederick I of the Holy Roman Empire. Frederick declared war on the Italian states and the Church in support of his candidate, causing a schism in the Church. Victor died in 1164, and two further Popes were declared in Frederick's faction: Paschal III (1164–1168) and Callistus III (1168–1178).
Finally, the forces supporting Pope Alexander III proved victorious at the Battle of Legnano of 29 May 1176. WIth the Treaty of Venice in 1177, Pope Alexander III promised to hold an ecumenical council to bring the Church back together. That council, known as the Third Council of the Lateran established new regulations on papal elections to try to prevent future schisms, and laid down new Canons on the qualifications and proper conduct of the clergy. Twenty-seven Canons were promulgated in all, with some tying up some loose ends in civil matters: they abolished usury, forbade Jews and Muslims from employing Christian servants, and required that the evidence of Christians would always be accepted against Jews. In addition, Canon 11 read:
11. Clerics in holy orders, who in open concubinage keep their mistresses in their houses, should either cast them out and live continently or be deprived of ecclesiastical office and benefice. Let all who are found guilty of that unnatural vice for which the wrath of God came down upon the sons of disobedience and destroyed the five cities with fire, if they are clerics be expelled from the clergy or confined in monasteries to do penance; if they are laymen they are to incur excommunication and be completely separated from the society of the faithful. If any cleric without clear and necessary cause presumes to frequent convents of nuns, let the bishop keep him away; and if he does not stop, let him be ineligible for an ecclesiastical benefice.
Africans Identified As AIDS Risk Group: 1983. As I've said before, by the time 1983 came around the panic surrounding the emerging HIV/AIDS crisis had already reached epic proportions, with anti-gay groups and individuals pinning everlasting blame on the gay community. When they had bothered to notice, some would acknowledge that Haitians, drug addicts and hemophiliacs were also at risk for AIDS. But it was the gay community which bore the brunt of the responsibility for the new "plague."
If ignorance among many Americans was running a fevered pitch, things were very different in Europe, particularly in Belgium and France where doctors had been noticing a strange development for quite some time. For several years, they had been treating wealthy Africans from their former colonies who were suffering from diseases which were remarkably similar to those reported by AIDS patients in America. While AIDS was also showing up in gay communities in Europe, these African patients signaled to European specialists that AIDs was neither a homosexual nor Western disease. Finally on March 19, 1983, the rest of the world would learn what they have been noticing with the publication of this brief letter by Dr. Nathan Clumeck of the Université Libre de Bruxelles in the respected journal The Lancet:
Acquired Immune Deficiency Syndrome in Black Africans

SIR,-Acquired immune deficiency syndrome (AIDS) has been described in homosexual or bisexual men, in drug addicts, in haemophiliacs, and in Haitian immigrants. To our knowledge there is no report of AIDS and opportunistic infections in previously healthy Black Africans with no history of homosexuality or drug abuse.

Tables I and II show the clinical and immunological data on five Black patients seen in Brussels and who were from Central Africa (Zaire and Chad). Three of them had been living in Belgium, for between 8 months and 3 years. All were of good socioeconomic status. They presented with prodromes of fever, weight loss, and generalised lymphadenopathy, and extensive investigations did not reveal any neoplasia. Patients A and E died; the three survivors are still ill.
Because the HIV virus had not been discovered yet, there was no test for it. Doctors had to rely on a process of elimination to determine whether the patient really had AIDS:
These patients fulfilled all the criteria of AIDS. Two of them had severe herpes simplex infections and to exclude the possible role of herpes virus in their immune deficiency we did lymphocyte subset analyses in a control group of eight patients with HSV-2 infections. None had OKT4+ deficiency and their OKT4/OKT8 ratios were between 0.99 and 2.52 (mean 1.80), so it is unlikely that HSV-2 alone was responsible for the AIDS in the African patients.

Responses to mitogen stimulation (phytohaemagglutinin, concanavalin A, pokeweed) were well below normal in all cases. In eleven healthy Black Africans reactions to intradermal tuberculin, candida, and streptodornase were >5 mm: all five patients were skin test negative to these antigens.

This preliminary report suggests that Black Africans, immigrants or not, may be another group predisposed to AIDS.
This small letter to the editor would later prove to be an important first indication of the horror that had been stalking the Congo river region for decades. Clumeck and his colleagues would follow up that letter with a larger study a year later in the New England Journal of Medicine. That study presented detailed data on 23 Africans treated for AIDS from as far back as May 1979. That would be a full two years before the CDC reported on the five gay patients in Los Angeles (See Jun 5). Eighteen of the patients treated in Brussels were from Zaire (now the Democratic Republic of Congo), one from Chad, two from Rwanda, and two from Burundi. By then, ten had died. On further investigation, researchers found that the husband of one patient had died in 1976 in Belgium at the age of 27 from diseases "consistent with AIDS."
In December 1984, Clumeck and associates published another paper in the Annals of the New York Academy of Sciences expanding their study to 40 patients who had undergone treatment in Belgium. Only two of them were gay male Belgians; the rest were Africans. By then, they had concluded, "It is likely that AIDS is endemic now in Central Africa, and that the cases seen in Belgium represent only the tip of the iceberg."
[Sources: N. Clumek, F. Mascart-Lemone, J. de Maubeuge, D. Brenez, L. Marcelis. Letter to the editor: "Acquired Immune Deficiency Syndrome in Black Africans." Lancet 1, no. 8325 (March 19, 1983): 624.
Nathan Clumeck, Jean Sonnet, Henri Taelman, et al. "Acquired immunodeficiency syndrome in African patients." New England Journal of Medicine 310, no, 8 (February 23, 1984): 492-497.
Nathan Clumeck, Jean Sonnet, Henri Taelman, et al. "Acquired immune deficiency syndrome in Belgium and its relation to Central Africa." Annals of the New York Academy of Sciences 437 (December 1984): 264-269.]
FDA approves AZT to treat AIDS: 1987. Dr. Jerome P. Horwitz, a researcher at Wayne State University's cancer center, developed azidothymidine (AZT) as cancer drug in 1964. Part of a new approach to curing cancer, AZT was was made as a synthetic form of nucleosides, which is a fundamental building block of genetic material. The idea was to inject AZT into cancer cells and watch it confuse the cell's real nucleosides and render the cancer unable to reproduce. It failed. Horwitz never bothered to patent it, and moved on to other avenues of investigation. For the next two decades, AZT would remain, in Horwitz's words, "a very interesting set of compounds that were waiting for the right disease."
Fast forward twenty years to 1984. The pharmaceutical company Burroughs-Wellcome  (now GlaxoSmithKline) asked the National Cancer Institute to investigate AZT's potential in combatting AIDS. The investigation, conducted by government scientists under government funding, began clinical trials of AZT provided by Burroughs-Wellcome, and found that the drug was able to interfere with the reproduction of HIV's DNA and reduce the viral load (the amount of the virus in the blood). Burroughs-Wellcome patented the drug in 1985, and with no other drugs available and AZT proving to be a real benefit, the FDA gave its approval in 1987, in record time, despite the drug only having gone through a phase one trial.
Marketed as Retrovir, AZT cost $10,000 for a one-year supply (that would be about $20,600 in today's money), making it the most expensive drug in history. It's cost was prohibitive for the estimated thirty-five percent of people with AIDS who either had no health insurance or whose policies didn't cover the drug. And because it only went through a phase one trial, optimum dosage was still unknown. Consequently, and under the FDA's recommendation, doctors prescribed it at very high doses which revealed its toxic side effects, which included anemia, depressed white blood count, liver damage, heart muscle damage, muscular weakness, changes in abdominal body fat, acid reflux, headache and loss of appetite.
But while there were a patchwork of medications to treat the various opportunistic diseases that befell people with aids, AZT remained the only FDA-approved drug for treating AIDS itself for several more years. Over time, researchers discovered that AZT's dosage could be reduced to minimize the side effects without hindering its effectiveness. But AZT's effectiveness was limited, regardless of dosage, by HIV's remarkable ability to mutate into an AZT-resistant form. ATZ by itself prolonged life, on average, by a year or so, which was an eternity for a disease with a 100 percent mortality rate. It wouldn't be until two other drugs entered the market in 1995 and AZT became a part of the three-drug cocktail (see Dec 6) when an effective treatment regimen to combat AIDS would finally become available. As for Dr. Horwitz, he never did see any royalties from his invention of AZT.
If you know of something that belongs on the agenda, please send it here. Don't forget to include the basics: who, what, when, where, and URL (if available).
This your open thread for the day. What's happening in your world?
The Daily Agenda for Tuesday, March 18
Jim Burroway
March 18th, 2014
TODAY'S AGENDA is brought to you by:

Lambda Lounge opened in Appleton sometime in 1977. Before that, it was another gay bar called Doris' Super Bar. Lambda Lounge remained in business until 1982. The building now houses an Irish pub called the Durty Leprechaun.
TODAY IN HISTORY:
NYPD Back Down From Gay Demonstrators: 1966. The Stonewall Rebellion is often described as the first time that the gays fought back in the face of police repression. That's not entirely true, as indicated by a brief notice in the May 1966 copy of the Homosexual Citizen, which was published by the Mattachine Societies of Washington, D.C. and Miami.
Police Retreat from Angry Villagers
Greenwich Village has long been known as a homosexual Bohemia. On March 18, New York police erected baracades in an unsuccessful attempt to curb "undesirables" by preventing their entrance to a 14-block area. The barricades attracted a howling, chanting mob of 1500 "assorted undesirables" who forced the police to retreat and remove their barricades. The police experiment was part of Mayor Lindsay's current push to "clean up and quiet down Greenwich Village." The police are mapping new strategy while members of the Mattachine Society, Inc. of New York are distributing "If You Are Arrested" leaflets to the surging crowds.
[Source Warren D. Adkins (Jack Nichols, see Mar 16). "Newsfronts." The Homosexual Citizen 1, no. 5 (May 1966): 13.]
William F. Buckley, Jr. Proposes Tattooing "All AIDS Carriers": 1986. Two op-eds appeared in The New York Times's editorial page under the heading, "Critical Steps in Combating the AIDS Epidemic." One was written by Harvard Law professor Alan Dershowitz, and the other by conservative pundit William F. Buckley, Jr. Dershowitz's column, in keeping with the general hysteria of the day, was not without its alarmist elements. He repeated the belief that "AIDS may, in fact, be transmissible by tears, saliva, bodily fluids and mosquito bites" — a contention that was quickly refuted by those more familiar with the disease. But he also pleaded that "the flow of solid data should not be polluted by personal moralism. … We have a right to know the hard facts about AIDS, unvarnished by moralistic prejudgments."
That recommendation contrasted sharply with Buckley's op-ed that appeared on the same page. Buckley acknowledged that many who see homosexuality as morally wrong also saw AIDS as a "special curse of the homosexual, transmitted through anal sex between males." But that didn't stop him from trying to claim that those who "tend to disapprove forcefully of homosexuality … (tend) to approach the problem of AIDS empirically." And how did Buckley "empirically" approach the AIDS crisis?
We face a utilitarian imperative, and the requires absolutely nothing less than the identification of the million-odd people who, the doctors estimate, are carriers.

How?

Well, the military has taken the first concrete step. Two million soldiers will be given the blood test, and those who have AIDS will be discreetly discharged. …The next logical step would be to require of anyone who seeks a marriage license that he present himself not only with a Wassermann test but also an AIDS test.

But if he has AIDS, should he then be free to marry?

Only after the intended spouse is advised that her intended husband has AIDS, and agrees to sterilization. We know already of children born with the disease, transmitted by the mother, who contracted it from the father.

…The next logical enforcer is the insurance company. Blue Cross, for instance, can reasonably require of those who wish to join it a physical examination that requires tests. Almost every American, making his way from infancy to maturity, needs to pass by one or another institutional turnstile. Here the lady will spring out, her right hand on a needle, her left on a computer, to capture a blood specimen.

Is it then proposed …that AIDS carriers should be publicly identified as such?

The evidence is not completely in as to the communicability of the disease. But while much has been said that is reassuring, the moment has not yet come when men and women of science are unanimously agreed that AIDS cannot be casually communicated. Let us be patient on that score, pending any tilt in the evidence: If the news is progressively reassuring, public identification would not be necessary. If it turns in the other direction and AIDS develops among, say, children who have merely roughhoused with other children who suffer from AIDS, then more drastic segregation measures would be called for.

But if the time has not come, and may never come, for public identification, what then of private identification?

Everyone detected with AIDS should be tattooed in the upper forearm, to protect common-needle users, and on the buttocks, to prevent the victimization of other homosexuals.
A year later, Buckley "withdrew" his proposal under the unique kind of protest that only Buckley could muster:
Sixteen months ago, in a thinking-out-loud exchange with Professor Alan Dershowitz, I suggested that perhaps AIDS carriers should be tattooed discreetly, to guard uncontaminated sexual or needle partners from danger. This proposal reminded everyone of Auschwitz, and I have seen, in print, that Mr. Buckley "wants to tattoo all homosexuals." It is as though anyone who found a use for barbed wire was secretly a concentration-camp fetishist. Never mind: I quickly withdrew the proposal for the simple reasoning that it proved socially intolerable. I have ever since been waiting for a socially tolerable alternative to be proposed…
But in 2005 when the news media would initiate a new round of hysteria over an imaginary AIDS "superbug," Buckley was there again, suggesting that the tattoo idea be revived:
The objective is to identify the carrier, and to warn his victim. Someone, 20 years ago, suggested a discreet tattoo the site of which would alert the prospective partner to the danger of proceeding as had been planned. But the author of the idea was treated as though he had been schooled in Buchenwald, and the idea was not widely considered, but maybe it is up now for reconsideration.
The so-called "superbug" was a phantom; but Buckley's Buchenwaldist proposal was, apparently, serious — serious enough for him to raise it again unapologetically 20 years later.
Michelangelo Sigornile Reports That A Very Wealthy Businessman Was Gay: 1990. Malcolm Forbes was gay. You knew that, right? Playwright George Osterman knew. He had had sex with Forbes a few times, and was one of the very few willing to talk about it under his own name. "To a degree, he was very charming. I did it for the experience, I mean, I was having sex with a millionaire, It was an experience. It was fine," he said. A host of New York City waiters knew; Forbes seemed to have had a particular thing for waiters. A former employee at Forbes magazine said that half of the staff knew and the other half just didn't want to know about it. New York's gossip columnists knew: Newsday's James Revson, The Daily News' Billy Norwich, Village Voice's Michael Musto. Liz Smith, also at The Daily News, undoubtedly knew, though she claimed to be "too square" to be aware of it. Besides, she was still tending to her own closet at the time. Even Elizabeth Taylor knew — even though the New York Times implied in Forbes's obituary that he had wanted to marry her, only to strike that reference in the paper's later editions. And because Michelangelo Signorile put all of that in a cover story for OutWeek three weeks after Forbes died of a heart attack, you know it too:
People talked and, in quite a few segments of the gay male community at least, it seamed that everyone knew someone who'd done it with Malcolm Forbes. He was also quite showy, liking to ride around with his "dates" on his motorcycle. It was not uncommon to spot Forbes on Christopher Street taking a break next to his bike with a hot, young, leathered bikemate by his side. He also would show up — often with young men — at such mixed clubs as Love Machine and Celebrity Club at the Tunnel, where the crowed was predominately gay but was never listed as such or considered a gay club per se. This the contradiction of Forbes: While he tried to keep it all very hush-hush, he behaved many times in a sloppy, seemingly deliberate way, yearning to have fun, and testing the limits of living a closeted life.
Signorile's first job out of college was with a public relations firm that specialized in getting their clients mentioned in gossip columns. That's where he became increasingly aware of the double standard with which gossip columnists — and journalists generally — treated gay people. Every hint of a heterosexual dalliance was given press, but whenever they became aware of a romance involving a gay celebrity, there was nothing but silence — or a manufactured story of a heterosexual romance. As Signorile became involved with ACT UP in 1989, the group's motto "SILENCE = DEATH" took on a special meaning. As long as gay people were an abstraction to the general public — as long as gay people were those people, relatively nameless and faceless because those who were well known remained silent — the unique combination of apathy and hysteria surrounding AIDS would continue.
Forbes wasn't the first celebrity whose homosexuality Signorile reported on. As the features editor of OutWeek, Signorile also wrote a regular column titled "Gossip Watch," in which he sought to hold New York's other gossip columnists accountable. Beginning in 1989, he launched a second column called "Peek-A-Boo," in which he listed the names of some ninety allegedly closeted celebrities. Critics, including many in the gay community, lambasted Signorile for publishing private and "salacious" details, as though being gay itself was somehow salacious. By 1990, the mainstream media began to notice, when Time magazine published "Forcing Gays Out of the Closet," in which media critic William Henry III coined the word "outing" as a verb, a term that Signorile has always disliked. As he saw it, what he was doing was reporting, and was in no way different from what other journalists were writing about heterosexual celebrities.
As for the Forbes article, Signorile's portrait was actually somewhat sympathetic. But in the end, Signorile said that setting the record straight, so to speak, was important "for the sake of posterity:
Is our society so overwhelmingly repressive that even individuals as all-powerful as the late Malcolm Forbes feel they absolutely cannot come out of the closet? It would seem so. Much like Congressman Barney Frank before he came out, Forbes was the victim of a virulently homophobic society which he too fed into regularly. He was forced to lead a life of secret pursuits and dark, dirty doings; of exploitation and abuse, His own internalized homophobia far outweighed the commanding authority that any amount of dollars could possibly wield.

And what is the significance of bringing all of this out now?

First, for the sake of posterity the truth must be told. All too often history is distorted. One of the most influential men in America just died, and regardless of how we may or may not see him as a proper public figure, he was gay, And that must be recorded.

Second, it sends a clear message to the public at large that we are everywhere.

Third, perhaps gays and lesbians at all levels of society can learn a great deal from the story of Malcolm Forbes, In researching this piece, in an attempt to try to obtain more information about Forbes and get to people who were close to him, I came upon someone who kneW the family very well and who would have been able to discuss intimate details about the man; not merely about sex, but about the the real inner-workings of Forbes' mind, It was a person who could perhaps provide an insight into what Forbes thought about such issues as gay rights and AIDS, But, after considerable thought, he decided not to speak to me. Currently living a closeted existence with regard to his own family and business, he said, "My choice in speaking to you is between myself and the greater gay community, And — at this moment — I have to go with myself."

Ultimately, that was the tragedy of Malcolm Forbes' entire life, Under the guise, perhaps, of doing the best for "himself," Forbes initiated a senseless, self-imposed prison sentence which benefited no one.
Despite what had become rather common knowledge — and despite Signorile's efforts to promote to story to other news organizations, the mainstream press remained silent. Several months later, The New York Times, in an article about the "outing" controversy, refused to mention Forbes's name, referring to him simply as "a famous businessman who had recently died."
[Sources: Michelangelo Signorile. "The other side of Malcolm." Outweek (March 18, 1990): 40-45. Available online here (PDF: 21.3 MB/108 pages).
William Henry III. "Forcing gays out of the closet." Time (January 29, 1990). Available online with subscription here.]
If you know of something that belongs on the agenda, please send it here. Don't forget to include the basics: who, what, when, where, and URL (if available).
This your open thread for the day. What's happening in your world?
The Daily Agenda for Monday, March 17
Jim Burroway
March 17th, 2014
TODAY'S AGENDA is brought to you by:

Clara Houllis bought a run-down old liquor store in 1969 and spent the next few years pouring everything she had into it to turn it into a Daytona landmark. The Zodiac Lounge was famous for its drag shows, and it hosted the Miss Florida Female Impersonator Pageant in 1979. The club boasted one of the first psychedelic light shows in town and its giant neon red rocket sign was a landmark. It was also right next to city hall. In 1989, the city of South Daytona acquired the Zodiac Lounge through eminent domain after a protracted battle in court, bulldozed the building and turned the site into a parking lot.
TODAY IN HISTORY:
50 YEARS AGO: Florida Legislature Issues Report On Homosexuality: 1964. In 1956, the Florida Legislature established the Legislative Investigations Committee, known popularly as the Johns Committee for its chairman, state senator and former governor Charley Johns. The committee's broad mandate was, more or less, to carry on the work of the already-discredited Sen. Joseph McCarthy's hearings from earlier in the decade. In addition to the red- and homo-baiting, the Johns committee also sought to rid the state of the NAACP and anyone else who "could constitute violence, or a violation of the laws of the state, or would be inimical to the well being and orderly pursuit of their personal and business activities by the majority of the citizens of this state." In 1961, the legislature again tasked the committee to investigate "extent of [homosexuals'] infiltration into agencies supported by state funds." The concern here was with the state's college campuses. The legislature's renewed directive came after the Johns committee had been searching for homos under the dorm room beds since at least 1958 (see for example Mar 22, Apr 24).
That effort culminated in a report released in 1964, nicknamed the "purple pamphlet" for the abstract purple cover that was added to obscure the more provocative cover inside. The report called for "increased research efforts to expose the underlying causes of homosexuality and its possible cures" and defined homosexuality as a problem "of control, and that established procedures and stern penalties will serve both as encouragement to law enforcement officials and as a deterrent to the homosexual hungry for youth." It included a dictionary of slang terms and included confiscated photos from gay people who had undergone various anti-gay investigations over the previous years. The report lamented that "little has been done to reveal the role of the male muscle and physique magazines, the pinup books of homosexuality," and it called for mandatory psychiatric evaluations of anyone convicted of homosexuality, the creation of outpatient treatment centers, a registry that potential employers could check, and making a second conviction a felony.
The report provoked an immediate outcry, but not for the reasons the committee expected. The State Attorney for Dade County warned that the purple pamphlet was "becoming the object of curiosity in every school in the state and could engender perversion." If the Johns Committee sent any more copies of the report to his county, he warned, he would file obscenity charges. A Daytona Beach politician criticized the committee for "becoming engaged in the publication of such vile material." The Miami Herald ran an editorial saying, "It is shocking to see that it bears the Great Seal of Florida and the governor's office as the return address. We feel that the immediate resignation of every state official who had a hand in it, and the full investigation of possible violations of obscenity laws, are called for."
As if to prove the point, the Guild Press, publisher of male physique magazines including Grecian Guild Pictorial and other homoerotica, also saw the pamphlet's prurient value and reprinted a facsimile edition of the non-copyrighted pamphlet and marketed it in their nationally-distributed catalogue enticing customers with "an action photograph of a rest room 'glory hole' scene that is unbelievable." The ad described the photo as "the only scene such as this that we have ever seen in print anywhere." It quickly became on of the Guild Press's best sellers.
Rep. Richard Mitchell, then the committee's chairman, responded to the controversy with a special news conference and said that the report would not be distributed "indiscriminately." But the damage to the committee's reputation was insurmountable. The next year, the Florida Legislature pulled funding for the Committee and it disbanded on July 1, 1965. The Committee's decade-long inquisition was over, but its influence continued on. Jacksonville Mayor Haydon Burns ran for governor, saying he was "astounded at the number of pinks and Communists on the campuses of higher education in this state" and he pledged "to get rid of them." He won.
The Johns Committee Report is available online here.
TODAY'S BIRTHDAY:
Bayard Rustin: 1912-1987. Many African-Americans are offended whenever some assert that "gays are the new Black." That controversy isn't a new one; just try to imagine the blowback when, in a 1986 speech, the venerable civil rights leader and aid to Dr. Martin Luther King, Jr. declared "The new niggers are gays":
Today, blacks are no longer the litmus paper or the barometer of social change. Blacks are in every segment of society and there are laws that help to protect them from racial discrimination. The new "niggers" are gays. No person who hopes to get politically elected, even in the deep South, not even Governor Wallace, would dare to stand in the schoolhouse door to keep blacks out. Nobody would dare openly and publicly to argue that blacks should not have the right to use public accommodation. Nobody would dare say any number of things about blacks that they are perfectly prepared to say about gay people. It is in this sense that gay people are the new barometer for social change.

Indeed, if you wan to know whether today people believe in democracy, if you want to know whether they are true democrats, if you want to know whether they are human rights activists, the question to ask is, "What about gay people?" Because that is now the litmus paper by which this democracy is to be judged. The barometer for social change is measured by selecting the group which is most mistreated. … The question of social change should be framed with the most vulnerable group in mind: gay people.
Rustin insisted on the connection between civil rights for gay people and civil rights for African-Americans. He had a special authority to assert that connection: openly gay his whole life, he was the main organizer of King's 1963 March on Washington. By then, he had already devoted nearly two decades to Mahatma Ghandi's teachings on non-violent resistance and three decades to his pacifist Quaker faith, which led to his imprisonment for refusing to fight in World War II. He is credited with teaching King about the principles of nonviolent protest when he met King during the Montgomery bus boycott, techniques Rustin honed during the first Freedom Rides in 1947 (and for which Rustin spent 22 days on a chain gang for violating North Carolina's Jim Crow laws). Rustin later helped found the Congress for Racial Equality and the Southern Christian Leadership Conference.
Rustin's open sexuality was not without its complications. It was often used against him by enemies of segregation and, later, by more militant members of the Black Power movement. He was forced to resign from King's organization during the bus boycott, but King turned to Rustin to organize the 1963 March on Washington. In the end, King and other civil rights leaders refused to abandon him and expressed their confidence in Ruston's abilities.
After the passage of the Civil Rights Act in 1964 and the Voting Rights Act of 1965, Rustin became more active directly in the Democratic Party. He also became more involved in the labor movement and the gay rights movement. And through it all, he insisted that all fights for equal rights were connected by a common thread, running from Auschwitz to Montgomery to Stonewall:
There are four burdens, which gays, along with every other despised group, whether it's blacks follow slavery and reconstruction, or Jews fearful of Germany, must address. The first is recognize one must overcome fear. The second is overcoming self-hate. The third is overcoming self-denial. The fourth is more political. It is to recognize that the job of the gay community is not to deal with extremists who would castigate us or put us on an island and drop an H-bomb on us. The fact of the matter is that there is a small percentage of people in America who understand the true nature of the homosexual community. There is another small percentage who will never understand us. Our job is not to get those people who dislike us to love us. Nor was our aim in the civil rights movement to get prejudiced white people to love us. Our aim was to try to create the kind of America, legislatively, morally, and psychologically, such that even though some whites continued to hate us, they could not openly manifest that hate. That's our job today: to control the extent to which people can publicly manifest antigay sentiment.
Rudolf Nureyev: 1938-1992. The world-famous dancer was born on the move, on a Trans-Siberian train while his mother was traveling to Vladivostok, where his father was stationed with the Red Army. Despite auditioning and earning a spot with the prestigious Bolshoi, he decided instead to hitch his rising star to the Kirov in Leningrad (now St. Petersburg), where he danced fifteen roles in three years. His early reputation as a rebel meant that the Soviet Union kept Nureyev at home whenever the Kirov traveled abroad. But in 1961, the Kirov's leading male dancer was injured and Nureyev was chosen to replace him for a European tour.
His performance in Paris created a sensation among audiences and critics. Kirov's management couldn't have been happier, except for one thing: they noticed that he had broken the rules about mingling with foreigners. The Kirov and KGB wanted to send him back to the Soviet Union immediately. In one subterfuge, he was told that instead of traveling on to London, he was needed for a special performance at the Kremlin. When that didn't work, they told him his mother was dying. Convinced (correctly, it turned out) that he was being lied to, he defected at the Le Bourget Airport in Paris.
Already a well-known among ballet aficionados, his dramatic defection made him a household name among those who knew nothing of ballet except for the local Christmas Nutcracker productions in the elementary school gyms. But Nureyev brought a style and verve to ballet that transformed the art. Before Nureyev, male dancers were little more than accessories to the star ballerinas, flinging them around and holding them aloft as on-stage props. Nureyev changed that by putting the male performance — his performance — first.
Ironically, Nureyev found employment difficult in the years immediately following his defection, as top companies were loath to jeopardize their relationships the the prestigious Bolshoi and Kirov. Nureyev picked up a low paying position with a middling Paris company. While on tour in Denmark, he met Erik Bruhn, a dancer with the Royal Danish Ballet, who would become his off-and-on lover until Bruhn's death in 1986. Nureyev's career eventually included two decades at the Royal Ballet in London, and a stint as director of the Paris Opera Ballet in the 1980s, where he also acted as chief of choreography and dancer until 1989. Nureyev also became famous in the gay community — some would say notorious – for his less artistic appearances in various bathhouses and other cruising venues. By the late 1970′s his health was declining due to what may have been various opportunistic infections brought on by AIDS. He was diagnosed in 1984, but continued dancing, although his capacity was becoming obviously diminished. His last public appearance was on October 8, 1992 for the premiere of a new production of La Bayadère, which he choreographed. He entered the hospital for the last time in November, and died two months later at the age of 54.
If you know of something that belongs on the agenda, please send it here. Don't forget to include the basics: who, what, when, where, and URL (if available).
And feel free to consider this your open thread for the day. What's happening in your world?
The Daily Agenda for Sunday, March 16
Jim Burroway
March 16th, 2014
TODAY'S AGENDA:
Events This Weekend: Scandinavian Ski Pride, Hemsedal, Norway; Elevation Mammoth Gay Ski Week, Mammoth Lakes, CA; Carnival Maspalomas, Maspalomas, Gran Canaria.
TODAY'S AGENDA is brought to you by:
For those who could afford it, a trip to Europe often meant breaking free from the constraints of being gay in America. Then, as now, Amsterdam was a favorite destination. But as you can see, businesses elsewhere also sought the gay dollar, pound, franc and mark. The two Amsterdam hotels, Hotel Floca and Hotel Zwitserland Amsterdam, are now both private apartment houses. Cafe Tusculum was still there in Hamburg until very recently, although it appears to no longer be in business. But Hotel P.L.M. is still operating as an inexpensive but well-regarded hotel in the heart of Cannes.
THIS MONTH IN HISTORY:
55 YEARS AGO: ONE Asks, When Will Homosexuals Stop Pitying Themselves?: 1959. Never to leave well enough alone in its early years, the staff of ONE magazine staked out a bold-for-the-fifties argument for gay equality in the face of a generalized broad-based fear in the gay community in the wake of the Lavender Scare earlier that decade. ONE's founders consisted of disaffected former Mattachine members who grew tired of the endless, aimless discussions taking place in Mattachine meetings (see Oct 15). ONE's first issue opened with a stirring re-telling an exceptionally rare, early gay-friendly ruling in a court of law when Dale Jennings fought and won against lewd conduct charges resulting from a case of entrapment (see Jun 23). ONE fought vigorously against postal authorities that tried to shut the magazine down on indecency grounds, a fight that ultimately led to the very first gay rights Supreme Court victory (see Jan 13). ONE's board chairman Dorr Legg (who went by the name of William Lambert, see Dec 15) even found himself face-to-face with FBI agents sent on J. Edgar Hoover's orders demanding that he retract a statement that appeared in ONE alleging that gays occupied key positions in the FBI. Legg refused (see Jan 26).
So ONE, at least in its early years, was aggressive, sometimes too aggressing in the view of some in the gay community. In a March 1959 editorial, Legg pushed back against that criticism, hard.
"Too aggressive! Just asking for trouble!" Comments such as these have been thrown at ONE many times over the years by the timorous. As, for instance, the criticisms back in 1953 over an editorial which vigorously proclaimed, "ONE is not grateful." The Los Angeles Postmaster had jusl released copies of an issue he had been withholding from the mails, The editorial continued, "ONE thanks no one for this reluctant acceptance… Never before has a governmental agency of this size admitted that homosexuals not only have legal rights but might have respectable motives as well. The admission is welcome, but it's tardy and far from enough."

Whether or not this was "too aggressive" it has always been ONE's position that homosexuals are, first of all, citizens, and entitled to exactly the same rights and privileges accorded all citizens. Neither second-class citizenship nor discrimination could be tolerated, we devoutly believed. It was our indignation over police brutalities, the peephole spying, and other such incidents which supplied us with the energies and "recklessness" that kept ONE going in the face of all obstacles.

We have always felt sad, even a little ashamed, for those who "just couldn't afford to be associated with such a group." For this attitudes showed how many Americans were forgetting that Constitutional freedom also included the freedom from being pushed around by public officials, and that if one class of citizens is deprived of its rights, all can and eventually would be.

However, in trying to be "the voice of U.S. homosexuals," ONE Magazine had to steer a course between what only a rare few were discerning as an issue of the highest moral order, and the all-too-evidence inability of most homophiles to get out from under the crushing load of guilt imposed upon them by a society which hated queers, laughed at fairies, or gladly beat-up homos, all with the deepest feelings of self-satisfied virtue. This same society could not and would not listen to the proposition that homosexuals were, by and large, no better or no worse than other people. "Preposterous," they snorted, while the homophiles themselves rather pitifully asked, "Do we dare claim this?" or else struck back at ONE for even proposing such a heresy.
Legg noticed that all of the legal victories won so far came about because heterosexual lawyers were willing to take up the causes that "homosexuals have hitherto been too spineless to do for themselves.":
When are American homosexuals going to stop sitting around pitying themselves, excusing themselves, hiding their faces and bemoaning their lot? When are they going to roll up their sleeves and do some of the hard work and the fighting that any segment of society must do to defend its own rights. These attorneys are pointing out some of the ways of going at these things. How embarrassing that this should be necessary! …

A salute to the attorneys for waking us up! Once awakened, what are we going to do about it? Let it never be forgotten that evils unchallenged grow even worse, nor that few evils are more vicious than the suppression of personal freedoms. ONE proposes to strengthen its battle for the social and civil rights of homosexuals. The ride may be bumpier from here on out. But what is anyone with a shred of self-respect to do about that?
[Source: William Lambert (Dorr Legg). Editorial. ONE 7, no. 3 (March 1959): 4-5.]
TODAY'S BIRTHDAYS:
Karl (Rolf) Meier: 1897-1974. Karl Meier's first love was the theater. He began training as an actor in Zurich in 1917, and he began performing in Swiss plays and operettas starting in 1920. Between 1924 and 1932, he was part of several productions touring Germany, although he never appeared an any of the famous cabarets of Berlin. He returned to Switzerland in 1934 and joined the cabaret Cornichon, which proved to be a huge success for the next thirteen years. He resigned from Cornichon in 1947 and moved to children's theater, radio, and then television and minor roles in film. He also moved into stage production, direction and set design, became the leading producer of independent amateur theater productions in Switzerland. He remained involved with Swiss theater until his stroke in 1970. His life partner of thirty years, Alfred Brauchli, cared for him until his death in 1974.
The mention of his life partner brings us to Karl Meier's other life, a parallel one but not a hidden one. While Meier never performed in Berlin during his tours of Germany, he did come in contact with the gay subculture there, where he met Adolf Brand (see Nov 14), editor of the world's first gay journal, Der Eigene (often translated as The Unique, The Special One, or The Self-Owned; there is no direct English equivalent.) Meier contributed a number of articles to Der Eigene and, from 1934, for the Schweizerisches Freundschafts-Banner (Swiss Banner of Friendship) in Zurich, a gay journal that was founded in 1932.
In 1943, one year after Switzerland decriminalized homosexuality, Meier took over the editorship of the journal, which by then had added a French section to the original German. Under the pseudonym of "Rolf" (even though his association with the journal was well-known), he changed the title to Der Kreis (The Circle), and by 1952 made the journal trilingual with the appearance of an English language section.
He also took the journal into a much more conservative direction. Before Switzerland decriminalized homosexuality, the journal had been very vocal in the political sphere. But after changing to Der Kreis, Meier feared that pushing for any further political reform would incite a backlash. From then on, Der Kreis limited itself to philosophical, cultural and medical/psychological topics while promoting a much more heteronormative model for gay men and women. And while the French and English sections of Der Kreis had their own editors, Meier's influence was supreme. The German sections made up about half of the journal, and Meier's articles, under various pseudonyms, made up close to a fifth of the entire German output. He also included a section of  photos and illustrations — always tasteful and never showing frontal nudity — including some fifty photos by George Platt Lynes (see Apr 15) over the course of several years.
Der Kreis would prove to be profoundly influential to would-be gay publishers around the world, including the band of brothers who founded ONE magazine in Los Angeles (see Oct 15). ONE often reprinted articles from Der Kreis, and it regularly carried advertisements for Der Kreis subscriptions. For its part, Der Kreis encouraged gay men in America and all over Europe to travel to Zurich for its conferences, festivals, and a large Christmas celebration each year. But by the 1950s Der Kreis was already being criticized for being too conservative. When the 1960s rolled in with its greater freedoms of expression and more daring gay publications from Germany and Scandinavia, Der Kreis's popularity declined precipitously. It finally ceased publication in 1967.
Jack Nichols: 1938-2005. The co-founder, with Frank Kameny, of the Washington, D.C., chapter of the Mattachine Society, Nichols was out to his parents since he age of twelve. His mother, described as an Auntie Mame figure, accepted him with aplomb; his father, an agent with the FBI who had divorced his mother after returning from World War II, not so much. His mother's Scottish immigrant parents, with whom he and his mother lived in affluent Chevy Chase, Maryland, were similarly accepting: his grandmother allowed him to neck with his male dates in the driveway. They also encouraged Nichols's self-education through their own devotion to the Scottish "free thinker" tradition. By the time he was fifteen, Nichols had read over a thousand books on philosophy, poetry, and religion.  By the time he was nineteen, Nichols and his first boyfriend bought a house and lived together openly as a couple.
In 1960, he met Frank Kameny (see May 21), and together they co-founded the Mattachine Society of Washington, D.C. Beginning in 1963, Nichols chaired the Washington Mattachine's committee on religious concerns, which eventually became the Washington Area Council on Religion and Homosexuality. With Kameny, he led the first gay rights March in front of the White House in April, 1965. Afterword, when Nichol's presence at the protest drew the attention of J. Edgar Hoover, Nichols's father, who feared that it would jeopardize his career, threatened to kill him. For obvious reasons, that would mark their final parting.
That same year, Nichols participated in the first of five annual pickets at Philadelphia's Independence Hall on Jul 4, and he began to lead the challenge to remove homosexuality from the APA's list of mental disorders. Nichols was among those who appeared on the 1967 documentary CBS Reports: The Homosexuals (See Mar 7). In 1969, he and his partner, Lige Clarke, moved to New York and founded GAY, reputed to be the first gay weekly newspaper in the US distributed on newsstands. He and Clarke also wrote a column, "The Homosexual Citizen," for Screw magazine. That column was the first gay-interest column in a non-gay publication. Nichols would later serve as editor for Sexology magazine, the San Francisco Sentinel, and GayToday.com. He also wrote four books: 1974′s Roommates Can't Always be Lovers: An Intimate Guide to Male-Male Relationships, 1975′s Men's Liberation: A New Definition of Masculinity, 1996′s The Gay Agenda: Talking Back to the Fundamentalists
, and 2004′s The Tomcat Chronicles: Erotic Adventures of a Gay Liberation Pioneer
. He died in 2005 at his home in Florida of complications from cancer.
If you know of something that belongs on the agenda, please send it here. Don't forget to include the basics: who, what, when, where, and URL (if available).
And feel free to consider this your open thread for the day. What's happening in your world?