What does Bennett's ouster mean?
Timothy Kincaid
May 10th, 2010
Republican Utah Senator Bob Bennett was denied the GOP nomination this year by his party's convention (he came in third, and thus will not be on the ballot in the primary election). This is likely the result of Tea Party activism and is being touted as the result of "people wanting a Republican Party that is conservative."
Social conservatives such as Rick Santorum have been all over the news declaring this to be a victory for "real conservatives", by which he means those who share his troglodyte views. Some right wingers are going so far as to claim that Bennett was dumped because he "voted for gay rights activist Roberta Achtenberg to be Assistant Secretary for Equal Opportunity at HUD." In 1993. Seventeen years ago.
Nonsense.
No one voting this past weekend based their decision on Roberta Achtenberg. And very few were likely swayed by Bennett being "too gay supportive." While there are Senators on the Hill who are far less friendly, Bennett was hardly known for his wild social liberalism.
Nor are the candidates who beat him in the voting and going on to the primary raging homophobes running on a "traditional family" platform. Neither of the campaign website for Tim Bridgewater (who got 57% on the third vote) nor Mike Lee (43%) address gay rights in general or specific on their issues pages. And, believe me, they address a lot of issues.
And, although Utah has been in the center of gay rights conflict over the past year, these candidates have been pretty much quiet on gay issues. In fact, as best I can find the only time they addresses gay issues specifically was when six of the eight candidates including Bennett and Bridgewater (Lee canceled due to illness) went to a Log Cabin event to answer questions and appeal for the Log Cabin vote (which was reported as significant). (Salt Lake City Weekly)
Will the next Senator from Utah be supportive of equality? No.
But when we hear social conservatives translating voter dissatisfaction with current elected representatives and fury over what is perceived as fiscal irresponsibility and arguing it to be mandate for their favorite right-wing social agenda items, we should recognize it for what it is: spin, bluster, and nonsense.
Utah's second largest city may enact employment and housing protections
Timothy Kincaid
March 9th, 2010
Tonight the West Valley City Council will discuss (and likely pass) employment and housing protections for their gay and lesbian residents. (Salt Lake Tribune)
Freshman Mayor Mike Winder urged the council, during a planning retreat in January, to take up the issue in 2010. On Monday, he said, residents have shared with him their experiences of being "evicted or fired" because of their sexual orientations.

"I'm a proud Republican and a proud American," Winder said. "When I recite the Pledge of Allegiance and say 'with liberty and justice for all,' I mean what I say."
Let's hope that Winder continues to listen closely, and is joined by many more Christian Republicans who will listen closely to the words they pledge with their hand over their heart.
Orrin Hatch is open to overturning DADT
Timothy Kincaid
February 3rd, 2010
Senator Orrin Hatch (R – UT) talks with Andrea Mitchell about Don't Ask Don't Tell.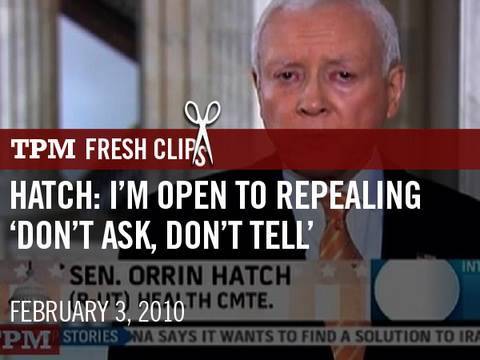 HATCH: I believe that there are very outstanding patriotic gay people who serve in the military and they aught to be given credit for it. And they shouldn't have to lie about being gay.

On the other hand I think a lot of people are concerned that if you do away with the Don't Ask Don't Tell, that literally they'll come back and ask for special rights and preferences and privileges that others don't have. I, I don't see that either.

So, ya know, like I say, I just don't, I just plain do not believe in prejudice of any kind.

MITCHELL: So you're willing to vote for the change.

HATCH: Well, I don't know about that. I'd have to look at it, I'd have to really see, and of course, they recommend, Admiral Mullen said at least a year study by them and then they'll come out and make the final recommendation. So, at least that's what I got out of it.

So, I'd like to wait until the end and see what they come up with and see what happens.

But I can see why the people on both sides are upset. I just want to do what's right.

MITCHELL: So I can put you down as being at least open to the idea. So, uh

HATCH: I am.

MITCHELL: That's a very interesting statement.
While I would rather hear that Hatch has unequivocal support for overturning the policy, I welcome words of "openness to the idea" from prominent Republicans.
Sentence for hate crime: one year
Timothy Kincaid
December 14th, 2009
On Aug. 9, 2008, Carlos Lopez was enjoying an outing at Ensign Park in Utah when Fa MoiMoi approached him and asked Lopez to take his picture. MoiMoi then asked Lopez, 18, if he was gay. When he didn't respond, MoiMoi began punching him.
MoiMoi, along with several of his friends, beat Lopez, his sister, and his aunt. Carlos Lopez suffered severe head trauma, including an broken orbital bone, and required major reconstructive surgery.
Fortunately, the picture provided evidence and police were able to identify the primary attacker. But by then MoiMoi had fled to Hawaii. In February he was arrested and brought back to Utah where he faced two charges of aggravated assault, one of which was enhanced to a first-degree felony because it was a hate crime.
On Friday he received his sentence (SL Tribune)
[MoiMoi] was charged with one count of first-degree felony aggravated assault and two counts of class A misdemeanor assault. On Friday, he pleaded guilty to one count of third-degree felony aggravated assault and the other charges were dismissed.

In addition to jail time, MoiMoi must complete 200 hours of community service, write a letter of apology to the victims, obtain his high school diploma and pay medical restitution of more than $36,500.
I don't wish to overreact.
I know that a plea deal is quite useful when a district attorney is uncertain that evidence can conclusively place a perpetrator at the scene or when there are no witnesses. But this hardly seems to be a difficult case to prosecute.
I can sympathize when a situation gets out of hand and a punch gets thrown. But this was a gang of men attacking two women and a boy resulting in reconstructive surgery on his face.
One count.
Third degree.
One year.
I just can't help but wonder if Lopez had been sent to the hospital in Utah with his facial bones broken because he was Mormon whether perhaps, just perhaps, the crime might have been taken more seriously.
Will LDS's Incremental Approach To LGBT Issues Someday Lead To Bigger Changes?
Jim Burroway
November 14th, 2009
At least that's how I interpret the fact that the Church of Jesus Christ of Latter-Day Saints has placed a statement endorsing specific pro-LGBT legislation on their online LDS Newsroom:
The Church of Jesus Christ of Latter-day Saints has declared its support of nondiscrimination regulations that would extend protection in matters of housing and employment in Salt Lake City to those with same-sex attraction.

The Church said the Salt Lake City Council's new nondiscrimination ordinance "is fair and reasonable" and balances fair housing and employment rights with the religious rights of the community.
It doesn't get any bigger than this. Can you imagine the Vatican placing a similar statement on their web site or publishing it in L'Osservatore Romano?
The Church had released a similar statement last August offering support for limited LGBT civil rights measures, but that occurred at the same time that it was pumping millions into the fight to strip California's LGBT citizens the right to marry. At the time, the statement was seen as nothing more than a fig-leaf to try to shield the Church from charges of bigotry. But Utah's LGBT advocates took the Church at their word and pushed for the Common Ground Initiative, a series of LGBT protections put before Utah's Mormon-dominated legislature that were modeled on the Mormon statement. The Common Ground initiative however was utterly crushed by Mormon legislators and never even made it out of committee.
This time, the Mormon hierarchy chose to put a tiny fraction of its influence officially behind the Salt Lake City non-discrimination ordinance. The tiny fraction was all that was needed though, because its implications go far beyond a city council vote that few believed was in doubt even without support from the Church. LDS spokesperson Michael Otterson's statement before the Salt Lake City council — which the Mormon web site describes as "representing the position of the Church's leadership" — puts the church fully on record for the first time in support of a specific piece of pro-LGBT legislation. This is huge in and of itself. What's more, one high-ranking LDS leader, Elder Jeffrey R. Holland of the Quorum of the Twelve Apostles, has already hinted that the Church may very well support at least parts of the Common Ground Initiative when it is brought back to the state legislature.
If the Church follows through, this will truly be a historic step. More importantly, decades from now we may look back on this as a significant turning point for LGBT Mormons. That's because Mormonism is very different from other popular religions in America in that it is the only major religion which reserves the authority to change a portion of its canonized texts according to ongoing revelations. And there is recent precedent for just such adjustments in their doctrines. Not long ago, Blacks were regarded as being under the curse of Ham, and thus denied full participation in the Church. Mormon scriptures still declare (2 Nephi 5:21):
For behold, they had hardened their hearts against him, that they had become like unto a flint; wherefore, as they were white, and exceedingly fair and delightsome, that they might not be enticing unto my people the Lord God did cause a skin of blackness to come upon them.
Having black skin was a mark of a curse. And according to the Book of Mormon, when the curse is lifted from a group of black-skinned people, their skins became white (3 Nephi 2:14-16):
And it came to pass that those Lamanites who had united with the Nephites were numbered among the Nephites; And their curse was taken from them, and their skin became white like unto the Nephites; And their young men and their daughters became exceedingly fair, and they were numbered among the Nephites, and were called Nephites.
According to long-held Mormon doctrine, black skin was the mark of a curse that individuals acquired due to unfaithfulness in their pre-existence. And because they displayed the mark of that curse on their skins, Blacks were not permitted to enter into celestial marriages or the Priesthood. This also meant that their role in the celestial kingdom would be a lesser role — as eternal servants.
This teaching came under fire in the 1950s and 1960s during the civil rights struggle. Sports teams began boycotting Brigham Young University and the NAACP held protest marches in Salt Lake City, but the Church held steadfast to its teachings, saying that "it is not a matter of the declaration of a policy but of direct commandment from the Lord." When a few Mormons themselves began opposing their Church's racial teachings, many were excommunicated or denied entry into the temple for important ceremonies. (Sound familiar?) But all that finally changed in 1978 when, acting on a brand new revelation, the LDS Church added an entry into the open canon of its scripture known as Doctrine and Covenants which finally granted Blacks full participation in the life of the Church.
And guess what? Nobody's skin color changed.
This latest move by the Mormon church to actively support the non-Discrimination ordinance should rightly be seen as a very small step. No, they're not about to grant celestial marriage to LGBT Mormons anytime soon, just as they resisted allowing celestial marriages for African-Americans. Right now, there's still every indication that the Church will continue to vigorously oppose marriage equality with every resource at its disposal. They will give us many new reasons to harbor deep well-earned anger and justified suspicions for many years to come as they continue to try to enshrine their particular religious beliefs into secular law at our expense. For that we must always be vigilant and hold the Church accountable.
All that said, this is still cause for hope. This is a Church that isn't hamstrung by a closed canon, and it has a long history of receiving new revelations to correct grievous wrongs. What's to keep the Church sometime in the future from receiving another revelation — this time one that reconsiders the place of its own LGBT sons and daughters in the life of the Church and the celestial kingdom?
Such a change certainly won't come any time soon; it's still likely decades away, at least. But that very possibility makes this latest step in favor of pro-LGBT legislation, as small as it is for our liking but as huge as it is for the Church, reason to rejoice.
Another Reason To Rejoice
Jim Burroway
November 14th, 2009
There's another reason to rejoice over the LDS Church's historic support for pro-LGBT legislation in Salt Lake City: it's causing all sorts of angst among anti-gay extremists. The right-wing group America Forever, whose fundraising ventures included selling worthless ID's to Mexican immigrants, is incredulous. They charged that the seemingly powerless Church "was placed in this position by the gays from Utah." That's right. Gays are more powerful in Utah than the Mormon Church.
Other denunciations were more conventional. The American Family Association of Michigan's Gary Glenn sputtered that the Church's position was "grossly ignorant." The Family Research Council's Peter Sprigg charged that the Church was "bend[ing] over backwards to exhibit tolerance toward homosexuals in some way." Peter LaBarbera wailed that the church's stance may mark "the 'official' split of the American pro-family movement against homosexuality into two camps," with only one camp holding fast to unadulterated, no-holds-barred, anti-gay warfare — the only stance he finds acceptable. LaBarbera also worries:
If churches back "gay rights" (and the LDS is hardly the first), is there some truth to the idea that those of us who remain opposed to ALL aspects of the "GLBT agenda" are "bigots" or somehow extreme in our worldview?
Increasingly, the answer to LaBarbara's question is self-evident. If someone opposes ALL aspects (as LaBarbera emphatically stipulates) of recognizing the humanity of any people — whoever they may be — then yes, they are bigots and extremists. That's pretty much the definition. There's no other way to put it. And whenever a major denomination like the LDS church can frame a question like this through its actions with such stark clarity, we all benefit.
LDS Church Supports Salt Lake LGBT Protections
Jim Burroway
November 11th, 2009
 Yes, you read that right:
Hours after the LDS Church announced its support Tuesday night of proposed Salt Lake City ordinances aimed at protecting gay and transgender residents from discrimination in housing and employment, the City Council unanimously approved the measures.

"The church supports these ordinances," spokesman Michael Otterson told the council, "because they are fair and reasonable and do not do violence to the institution of marriage."
The Mormon church has come under withering criticism over its overwhelming support in passing California's Proposition 8, which stripped LGBT couples in that state the right to marry. The LDS's massive efforts have led some to dub Prop 8 "The Mormon Amendment." In addition to overall criticism, that campaign also proved to be highly divisive within the church itself.
Last year in the wake of that criticism, LDS leaders said that they had no problem with non-marriage related protections for LGBT people. In August 2008, the church issued a statement titled "The Divine Institution of Marriage" in which church leaders claimed to support "rights regarding hospitalization and medical care, fair housing and employment rights, or probate rights." That spawned the "Common Ground" initiative, which consisted of a set of LGBT protections based on the LDS statement. But the LDS church turned around and blocked every single proposal in the state legislature which they had earlier said they could support.
LGBT leaders in Salt Lake City hail last night's vote as a historic step, and the result of several months of quiet, behind-the-scenes meetings with church leaders. But noting that four-fifths of Utah's LGBT citizens live outside the city, they vow to reintroduce the Common Ground proposals in the state legislature again this year.
Why the sudden turnaround after the Common Ground initiative failed to even make it out of committee in the state legislature last year? There are a couple of possibilities. First, Salt Lake City is not a Mormon bastion as the rest of the state is. Many former LDS people who wrote in to BTB this morning believe that this ordinance would have passed without LDS support. After all, this is the same city that has already instituted a domestic partnership registry. So by coming out in support of this ordinance, the reasoning goes, the church is able to turn what would have been seen as a defeat into positive publicity.
Meanwhile, others speculate that Senate Majority Leader Harry Ried (D-NV) and former presidential candidate Mitt Romney, both Mormons, may have played a hand. At any rate, the real test will be when the Common Ground initiative is brought back to the state legislature again next year.
According to the Salt Lake Tribune, the ordinances passed last night would:
Forbid housing and employment discrimination based on a person's sexual orientation or gender identity in Salt Lake City.
Exempt religious organizations, businesses with fewer than 15 employees and some small landlords. (The exemptions mirror those in state and federal laws.)
"Not create any special rights or privileges," the ordinances state, because "every person has a sexual orientation and a gender identity."
Create a complaint and investigation process. The complaint could be resolved through mediation or a fine of up to $1,000.
Not create a "private right of action" to sue over alleged discrimination.
Require annual reports by the city's Human Rights Commission on the effectiveness of the statutes.
We Know You Have Choices when it Comes to Air Travel…
Timothy Kincaid
October 29th, 2009
Lambda Legal is reporting that SkyWest, a Utah based airline, is denying travel benefits to the legal spouses of gay employees in California that they provide to the spouses of their straight employees. This is not only discriminatory and bigoted but it is also against California law.
I've inquired with SkyWest as to whether this is true. I'll let you know what they say.
But, in the meantime, you may wish to carefully weigh your travel decisions and decide whether you wish to fly with an airline that does not consider you to be as valuable as the heterosexual in the next seat over.
But In Other Catholic News
Jim Burroway
October 23rd, 2009
It's not all bad. Judge Memorial Catholic High School in Salt Lake City Catholic will go forward with its production of Rent, after the school's superintendent reviewed the play at the request of the Bishop:
Sister Catherine Kamphaus, superintendent of schools in the Salt Lake City diocese, said she read the script at the request of Bishop John Wester, and she watched a dress rehearsal Tuesday.

"There is absolutely nothing that would be offensive," Kamphaus said Thursday. "It wasn't condoning the gay and lesbian lifestyle."

Rather, she said, the play shows friends forming a loving and caring community while facing AIDS and other challenges. …The superintendent praised Judge's use of the play as a springboard to teach about the Roman Catholic Church's compassion for outcasts, the sick and the hopeless.
A special school edition of Rent bcame available in the past year. The school edition removes one song, "Contact," along with profane language.
Too Offensive for Mormon Eyes
Timothy Kincaid
October 2nd, 2009
The Deseret News is a Utah newspaper directed towards Mormon readership. It is, in a way, the sectarian version of the Salt Lake Tribune, sharing the same advertising handler and providing discounts for ad spots placed in both papers.
But the Deseret News is careful to shield its readers from advertising that could offend Mormon sensibilities. And this week it has rejected just such an ad,with a message so outrageous that it was sure to offend. (Salt Lake Tribune)
The wording of this ad:
"Bring Them in From the Plains"

From Despair to Hope

The Foundation for Reconciliation
at www.ldsapology.org
presents a Memorial Service, honoring LGBT suicide
victims as well as those who have successfully overcome
conflicts involving their sexual orientation and the LDS
Church. Join us for an evening of music and the spoken
word, including a special video appearance by actor
Will Swenson
Yes, this is an ad by a Mormon group seeking to gain dialogue with other Mormons. This ad makes no attack on the church nor does it contain language that is contradictory to church dogma. In fact, the foundation made effort to be non-offensive.
Peter Danzig, a Salt Lake City spokesman for the foundation, called the newspaper ad "innocuous."

"There's nothing anti-Mormon," he said. "We tried to create an event that would be welcoming to everyone on either side of the issue."
But the ad does express sympathy for those who killed themselves over conflict involving their sexual orientation, and the church can't have that!
So when officials at the Mormon Church assure you that they don't hate you just because you are gay, be very very skeptical.
Kissing Scandal Update: Mormon Church Changes Signs
Timothy Kincaid
September 28th, 2009
As a result of the public response to the manhandling and roughing up of two gay men who shared a kiss in an open-access plaza owned by the Church of Jesus Christ of Latter Day Saints (the Mormons), the Church has updated the signage on the plaza. It now says
Private Property
The Church reserves the right to refuse access to any person for any reason.
Like, oh I don't know, being gay?
Gay Good Samaritan Acquitted of Kidnapping
Timothy Kincaid
September 27th, 2009
About 6:30 in the morning of July 4, 2008, David James "D.J." Bell took his neighbors' children, ages 2 and 4, into his South Salt Lake home. The neighbors were having an all night party and the children were wandering about unattended.
When Lulu Latu finally noticed her kids were missing, she went to Bell's home. Finding the kids there, she become hysterical, screaming and slapping Bell. Minutes after she returned to her drinkfest, her fellow partiers broke down Bell's door and assaulted Bell and Daniel Fair, his partner. (Salt Lake Tribune)
Bell was dragged from his home by his then-shoulder length hair and his head was repeatedly smashed against the pavement, [defense attorney Susanne] Gustin said. Blood was oozing from his right ear and he still suffers hearing loss, she said.

Someone used a piece of broken glass to cut Bell's throat, chest and one of his toes.

Bell's partner, Fair, also was beaten, and a large TV was thrown onto his head.
The District Attorney opted not to bring any assault charges in the case but instead charged Bell with kidnapping. Defense argued that this was an anti-gay hate crime and that had any other neighbor taken the children in they would have been thanked instead of beaten. (SLT)
[Defense attorney Roger] Kraft accused police of conducting a shoddy investigation, noting that 10 people who attended Latu's party were never interviewed. Neither were four people at Bell's home, even though they wanted to talk and provided police with their contact information.

Juror Jorgensen agreed that if the police investigation had been "handled properly, [they] would have come to a different conclusion on that day."
In cases like these, it can be difficult to know whether there were extenuating circumstances, whether Lulu had reason to fear for her children's safety with Bell, whether other neighborhood history was involved. Although I was tempted to see this as yet another illustration of how police assume that gay men are guilty until proven innocent in Utah, I hesitated at that time to form judgment.
But it seems the jury had far less difficulty, After acquitting Bell, the jurors told the Tribune that they were appalled at the lack of evidence and the waste in pressing charges.
Perhaps, after being rebuked by the jury, the district attorney may be willing to possibly consider caring whether it's free-beating season on gay men in Salt Lake County.
Buju Banton Salt Lake City Concert Cancelled
Jim Burroway
September 15th, 2009
Buju Banton's October 8 concert scheduled for the Urban Lounge in Salt Lake City has been cancelled. Club operators say they were unaware of his murder music lyrics when they booked him.
Caught On Video: LDS Security Guards Hauling Off Kissing Couple
Jim Burroway
July 31st, 2009
The Salt Lake City Tribune has posted video of security guards from the Church of Jesus Christ of Latter-Day Saints confronting a gay couple after they kissed on the LDS plaza in Salt Lake City, Utah, on July 9, 2009. The video was made available through an open records request with Salt Lake City. Missing from the video clip is the couple's kiss that started it all.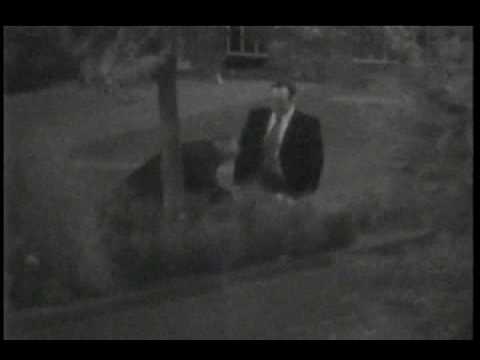 City prosecutors have dropped tresspassing charges against Derek Jones and Matt Aune because the church failed to properly mark the open plaza as private property.
A One Man Boycott
Timothy Kincaid
July 15th, 2009
One of our readers, Ben in Oakland, was solicited to do business with a company located in Utah. Still smarting from the interference of Utah Mormons in a California proposition in which members of the church contributed at least $20 million and 80-90% of all volunteers, Ben declined to do work with them, explaining as follows:
In the wake of Prop. 8, funded by the Mormon Church to enforce its theological beliefs upon my civil marriage, I have determined not to do business with any firm in Utah, if at all possible, and not to step inside of the state of Utah, which is entirely possible. You may not be a Mormon, or agree with what this church has to say about gay people. If so, I thank you for standing on the side of progress and religious freedom. And I apologize if this offends you.

As a gay man, my life has been severely impacted by the Mormon Church's assertion that its set of religious beliefs trumps my civil rights as an American citizen, and that it has a valid reason for interfering in California's civil law. I have urged my friends and correspondents not to do business with or in Utah if they can avoid it. Unfortunately, since the Church does not understand the concepts of religious freedom, tolerance, civil law, and minding your own business, perhaps it will understand economic pressure and social disapproval.

This may have an effect, it may not. I truly hope it does, but frankly, even if it doesn't, it at least is serving to create consciousness that discrimination of the basis of religious belief has no place in America. Nor does prejudice, whether disguised as sincere religious belief, or admitted for what it is. People are understanding more and more that this is not about marriage, morality, faith, freedom of religion, the family, children, God's word, or any other lying rationalization du jour. It is simply about what it has always been about: how much the very existence of gay people offends, entices, obsesses, and frightens some straight people, as well as those-who-wanna-be-straight-but-ain't. This is why only a small shift in the vote– 2%– and Proposition 8 would have been history.

We're here. We're queer. Please get over yourself, LDS. It isn't about you.

When this church stays the hell out of my civil marriage and my equality before the law, when it learns to stop telling lies about gay people and our families to advance its religious, political, and social agendas– in short, when it finally understands that to be respected, one must act respectably, that it cannot be purchased with the easy coin of other people's lives–

At that point, if I still need your services, I'll do business with you. Until then, I cannot.
This was their response:
I first want you to know and understand that I do not have a problem with the lifestyle you have chosen. It's your life and right to live how you want, barring walking on another's same given rights. Having made it clear to you that I have no problems with the way you have chosen to live your life, I would point out the hypocrisy in your decision not to do business with my company simply based off of our physical location. You feel that the Mormon church judges you, does not feel that you have a right to live how you have chosen, and has set you aside for things that are not necessarily changeable. You are now turning the same judgment to us. You will not do business with us because we live in the same state as the headquarters for the Mormon church. Forget that there are Mormons across the globe, forget that we are not connected to them as a business, forget that prop 8 is not completely funded by the Mormons, forget all of the logical points that could be used to refute your statement (which I have no intention of doing), and what are you left with? A gay man that actively stands up for his rights, that is willing to be heard, but cannot practice what he petitions for. How can you feel comfortable in the stand of anti-prejudice views and free rights when you hold for us (and every business like us in Utah) the same prejudice and judgment you feel are so wrongfully bestowed upon you?

Ben, if you want others to take you seriously in your beliefs and in what you stand for, start with showing others that you believe in the basic principals for which you fight, and not how they only apply to you as a gay man.
Ben has invited readers to share their thoughts on how he should react.
Personally, I'd advise dropping it.
You've made your point, Ben. They've lost a customer. This business, at least, has learned that there is a price to be paid for thrusting your religious views on others and actively harming their life.
And I'd not worry too much about their "but I don't have a problem with the lifestyle you've chosen" statement. Theirs was the blustering of one who has been called on their bigotry and only has self-righteous posturing as a defense.
What do our readers think?
The Great Salt Lake City Kiss-In
Jim Burroway
July 12th, 2009
 For a few hours on Sunday morning, the area near Salt Lake City's LDS Temple became the gayest spot in the Beehive State. That's when more than a hundred people, mostly gay but some straight supporters as well, gathered at the LDS Church's Salt Lake Temple near Main Street Square to participate in a light-hearted protest against the LDS's detention of a gay couple after one of them kissed the other on the cheek.The couple, Derek Jones and Matthew Aune, were detained Thursday on Main Street Square by LDS security guards.

LDS officials were not amused by Sunday's show of support for the couple:
Several LDS Church security guards dressed in suits kept a watchful eye, and turned some protesters back when they tried to cross the church-owned plaza or walk onto the property to share a kiss.

Guards called police when protesters staged a walk onto the plaza, and officers stood to block the entrance.

"They were asked repeatedly not to come onto the property, and they chose to do so anyway," said LDS church spokeswoman Kim Farah. Though a few people spoke in protest, there were no direct confrontations, and guards did not stop the protesters gathered past the property line.
The city sold Main Street Square in 2003 to the LDS church and it is now Mormon property, even though it is readily accessible as a public space.
Rep. Chaffetz: A Shining Illustration of Anti-Gay Intellect
Timothy Kincaid
July 8th, 2009
Representative Jason Chaffetz, a California Jewish Democrat turned Utah Mormon Republican, is now auditioning for the position of Congress' Biggest Homophobe. As lead Congressional opponent to D.C.'s out-of-state marriage recognition bill he was strikingly inept, but he did manage to get some press by announcing:
"It's not something I think we can just let go lightly into the night."
Chaffetz got into BYU on a soccer scholarship so perhaps he can be forgiven for mangling Dylan Thomas' poetry. But his other comments suggest that his approach to legislation is not particularly nuanced (abc4):
"Marriage should be defined as a union between a man and a woman. I don't see much other wiggle room for it."

This stance comes in a week where America's fifth state legalized same sex marriages.

So, we asked the congressman whether he is going against a trend towards gay unions.

He said simply, "The trend is still 45 states don't."
Sorry, Jason, but a trend would be… oh, well… nevermind.
But now Jason has now found his cause. He has discovered that he can get the media's attention by saying some rather, ummm, interesting things about gay folk. So he was quick to state his mind when he found that Rep. Tammy Baldwin wants to pass legislation that would give benefits to the domestic partners of federal employees. Baldwin thinks its a matter of equal compensation for equal work.
But Chaffetz called the legislation "directly discriminatory" against heterosexual couples that choose not to marry.
That argument didn't get much traction with the other panel members who noted that gay couples don't have the choice to marry in most states (including Utah). Rep. Gerry Connolly found his argument "a screaming contradiction".
Ah, Jason. You haven't yet figured out that everyone is laughing at you, have you?
Heterosexual Menace: Two Utah Teachers Seduce Same Young Boy
Jim Burroway
March 7th, 2009
Two Bountiful Junior High School teachers are accused of sexually assaulting the same 13-year-old student, after their separate relationships with him spiraled from personal conversations to the exchange of sexual text messages and phone sex, authorities said.

On Friday, the Davis County Attorney's Office filed first-degree felony charges of rape and sodomy on a child against Linda R. Nef, 46, and Valynne Bowers, 39.

Nef, a Utah studies teacher and cheerleading adviser, and Bowers, who teaches math, each confessed to having sex with the student, said Bountiful Police Lt. Randy Pickett. Until recently, the two teachers did not know about each other's relationship with the same boy, Pickett said.
According to Utah law, these two teachers can fight it out over who wins the affections of the thirteen-year-old student in another five years. And according to Utah law, that then-eighteen-year-old can even pick one and marry her, conviction and all (assuming it comes to that). But same sex partners don't have the right to even visit each other in the hospital if one should fall seriously ill.
You can read keep tabs on what those dangerous heterosexuals are up to here and in our report, "The Heterosexual Agenda: Exposing the Myths."
[Hat tip: reader Louie]
A Tale of Two Parties
Jim Burroway
March 2nd, 2009
There must have been two different parties on Saturday in Salt Lake City, both of them sharing the name "Buttars-Palooza." How else would one explain the two very different estimates of crowd size. First, the Salt Lake Tribune:
More than a thousand people converged on the Utah Capitol on Saturday, not for legislative protest, but to party.

Couples, families and individuals danced on the south lawn to live music at "Buttars-Palooza," a festival meant to exploit the audacity of Utah Sen. Chris Buttars' now-famous comments about gays.
The LDS church-owned Deseret News had a different estimate:
The crowd of 300 or so cheered and waved rainbow flags.

"We are all here as part of something larger, something that is a little bit more threatening to Chris Buttars than the gay-rights movement," said Araveni Olivares, a local activist. "We are part of a lasting movement for civil rights and social justice."
The Deseret News' coverage has taken a considerable turn lately, so much so that News reporters recently refused to allow their names to appear in their stories' bylines in protest over editorial policy changes. Two well-respected editors, Chuck Gates and Julianne Basinger, were demoted after having criticized the paper for tailoring the paper's content to be more pleasing to LDS readers.
Utahns Really Love Their Online Porn
Jim Burroway
February 28th, 2009
Benjamin Edelman. "Red Light States: Who Buys Online Adult Entertainment?" Journal of Economic Perspectives 23, no. 1 (Winter 2009): 209-230. Available online here (PDF: 128 KB/12 pages).
The HBO series "Big Love" features a storyline where Bill Henrickson, the father of a polygamist fundamentalist Mormon family, is trying to enter the Indian gaming industry in Utah with a unique hook. In order to appeal to an underserved Mormon clientele which isn't inclined to go to Las Vegas, the casino would present a more wholesome environment. No alcohol or risque entertainment, but customers would get free lemonade, for example.
That, of course, is fiction. In real life a recent study by Harvard University's Benjamin Edelman suggests that the porn industry is already doing well in the Utah market without having to make any accomodations at all..
A new national study based on data from a top-ten online adult entertainment provider reveals that Utah has the highest per-capita consumption of online porn in the nation. But it's not just Utah. More generally, states that generally more conservative and religious are also among the best consumers of online porn.
There was a time when purchasing porn required traveling to a seedy bookstore on the bad side of town. But since the mid-1990′s, the Internet has changed all that. Pornography today is as easy to get as a book from Amazon.com. And with the explosion of broadband, delivering the more sought-after video content is easier than every before.
Since many of these porn sites offer monthly subscriptions, credit cards can provide a convenient tracking mechanism for studying visitors' online behavior. Edelman obtained anonymized credit card data from a top-ten online porn provider which operates hundreds of web sites, and correlated that data with Zip code information to create his state-by-state analysis. While it's impossible to know how representative this provider's customer base is, they run literally hundreds of web sites offering a very wide variety of adult entertainment.
This study found that 36% of Internet users visit at least one adult web site each month, with each visit lasting an average of 11.6 minutes. And of those who visit at least one adult site per month, the average such users visit adult website 7.7 times per month. By looking at zip code information, the authors were able to come to some rather surprising conclusions.
It turns out that by every measure, the state of Utah is the highest per-capital consumer of online porn. Based on per-thousand Internet and Internet broadband users, the top ten and bottom ten breakdowns look like this:
Per thousand home Internet users
Per thousand home broadband users
1
Utah
2.49
Utah
5.47
2
Hawaii
2.19
Alaska
5.03
3
Nevada
1.85
Mississippi
4.30
4
Florida
1.72
Hawaii
3.61
5
Arizona
1.68
Oklahoma
3.21
6
Maryland
1.64
Arkansas
3.12
7
Massachusetts
1.62
North Dakota
3.05
8
New Jersey
1.59
Louisiana
3.01
9
Alaska
1.56
Florida
3.01
10
California
1.56
West Virginia
2.94
…
…
…
…
41
Minnesota
1.18
Michigan
2.32
42
Michigan
1.15
Wyoming
2.29
43
Oregon
1.14
Connecticut
2.28
44
Iowa
1.10
Delaware
2.28
45
Wisconsin
1.09
New Jersey
2.27
46
North Dakota
1.07
Oregon
2.21
47
Kentucky
1.07
Ohio
2.20
48
Idaho
1.06
Tennessee
2.13
49
South Dakota
0.90
Idaho
1.98
50
West Virginia
0.89
Montana
1.92
The figures for broadband users are particularly notable since having high-speed access is critical to accessing online porn. According to Edelman, "As of June 2008, broadband users outnumber narrowband users 18 to 1 at sites that comScore classifies as adult." That makes sense, since dial-up users are much less likely to endure the long download times required for video or high quality images. This may explain why Mississippi, which has limited availability for broadband statewide, comes in at number three for broadband users, but doesn't even break into the top ten among Internet users generally. West Virginia is dead last among internet users overall, but rockets to number ten when dial-up customers are excluded.
When looking at broadband porn consumption trends nationwide, the map looks like this:
Some observers suggest that this study indicates a red state/blue state divide in porn consumption. Edelman did his analysis before the 2008 elections, but he did look at the 2004 presidential results where he couldn't find any significance based on poll data by Congressional district.
But the 2008 electoral map at the state level does show that of the ten highest porn-consuming states, eight went for John McCain. And of the twenty-nine states in the lowest two porn-consumption categories (2.7 subscriptions per thousand broadband users or less), nineteen (66%) went for Barack Obama. It would be interesting to know whether there's a correlation between porn and political leanings at the Congressional district level for 2008.
That said, Edelman did find some interesting characteristics for states with higher religiosity and more conservative values:
…[I]n regions where more people report regularly attending religious services (per National Election Studies 2004) … a statistically significantly smaller proportion of subscriptions begin on Sundays, compared with other regions. In particular, a 1 percent increase in the proportion of people who report regularly attending religious services is associated with a 0.10 percent reduction in the proportion of purchases that occur on Sunday. This analysis suggests that, on the whole, those who attend religious services shift their consumption of adult entertainment to other days of the week, despite on average consuming the same amount of adult entertainment as others.

…In the 27 states where "defense of marriage" amendments have been adopted (making same-sex marriage, and/or civil unions unconstitutional), … there were 0.2 more subscribers to this adult web site per thousand broadband households, 11 percent more than in other states.
And then there's this:
…In states where more people agree that "Even today miracles are performed by the power of God" and "I never doubt the existence of God," there are more subscriptions to this service. Subscriptions are also more prevalent in states where more people agree that "I have old-fashioned values about family and marriage" and "AIDS might be God's punishment for immoral sexual behavior."
Those comparisons broke down like this:
States where the majority agreed with the statement, "I have old-fashioned values about family and marriage," bought 3.60 more subscriptions per thousand people than states where a majority disagreed.
States where the majority agreed with the statement, "AIDS might be God's punishment for immoral sexual behavior," bought 3.56 more subscriptions per thousand people.
States where the majority agreed with the statement, "Even today miracles are performed by the power of God" bought 2.74 more subscriptions per thousand people.
States where the majority agreed with the statement, "I never doubt the existence of God" also bought 2.74 more subscriptions per thousand people.