Who is that activist judge?
Timothy Kincaid
December 20th, 2013
"I am very disappointed an activist federal judge is attempting to override the will of the people of Utah," said GOP Utah Governor Gary Herbert.
But who is that judge and how did he get there? And why, oh why, didn't any good conservatives try and make sure he never got to power.
Oh. It turns out that Robert Shelby was appointed by President Obama after being nominated by Senator Orrin Hatch (R – Utah) and supported by Senator Mike Lee (R – Utah). I guess that makes them radical militant left-wing GOP Senators.
Utah AG To Appeal, Seeking Stay Against Marriage Ruling (Updated)
Jim Burroway
December 20th, 2013
They keep coming down to county building. #samesexmarriage #utah @fox13now pic.twitter.com/LOhjlJaKsd

— Annie Cutler (@annie_cutler) December 20, 2013
The Utah Attorney General's office says that it will seek an emergency stay against the ruling by U.S. District Court Judge Robert J. Shelby finding the state's ban on same sex marriage unconstitutional. The AG office issued this brief statement:
The federal district court's ruling that same-sex marriage is a fundamental right has never been established in any previous case in the 10th Circuit. The state is requesting an emergency stay pending the filing of an appeal. The Attorney General's Office will continue reviewing the ruling in detail until an appeal is filed to support the constitutional amendment passed by the citizens of Utah.
Gov. Gary Herbert (R) has also issued a brief statement:
"I am very disappointed an activist federal judge is attempting to override the will of the people of Utah. I am working with my legal counsel and the acting Attorney General to determine the best course to defend traditional marriage within the borders of Utah."
ABC news reports that "dozens" had already lined up at the Salt Lake County clerk's office, including State Sen. Jim Dabakis and his longtime partner, Stephen Justesen. Salt Lake City mayor Ralph Becker is on hand to officiate:
Mayor Becker marrying Senator Jim Dubakis and his now husband. #slc pic.twitter.com/JXmksTu8oE

— Seth Anderson (@jsethanderson) December 20, 2013
The LDS has reacted to the ruling:
Cody Craynor, a spokesman for The Church of Jesus Christ of Latter-day Saints, released the following statement in response to the ruling.

"The Church has been consistent in its support of traditional marriage while teaching that all people should be treated with respect. This ruling by a district court will work its way through the judicial process. We continue to believe that voters in Utah did the right thing by providing clear direction in the state constitution that marriage should be between a man and a woman and we are hopeful that this view will be validated by a higher court."
Update: Equality on Trial says that the state has appealed the judge's decision to the Tenth Circuit Court of Appeals:
The state defendants in the challenge to Utah's same-sex marriage ban have filed an appeal of today's decision striking down the ban. Earlier today, a federal district court ruled that the ban is unconstitutional. There is not yet an application for a stay of the district court decision…
Yes! It's Happening. Right Now. In Utah!
Jim Burroway
December 20th, 2013
Me and my new husband!! My polygamous Mormon great grandparents would be so proud! pic.twitter.com/82xyh9GJoS

— Seth Anderson (@jsethanderson) December 20, 2013
Earlier:
@ACLUaz we are at the office now. DA just walked in. In a meeting now. We were told to hang tight for 20 min

— Seth Anderson (@jsethanderson) December 20, 2013
Everyone in the office is so supportive

— Seth Anderson (@jsethanderson) December 20, 2013
This is happening pic.twitter.com/uTuq1peV9m

— Seth Anderson (@jsethanderson) December 20, 2013
People are crying. This is happening

— Seth Anderson (@jsethanderson) December 20, 2013
Marriage licenses available right now in Salt Lake City
Timothy Kincaid
December 20th, 2013
About four miles down State Street from the Mormon Temple is the Salt Lake County Government Center. And if any of the apostles want to take a little break from church duties to dash over to see the County Clerk, they can pick up a marriage license right now to marry a person of the same sex.
Within hours, Salt Lake County District Attorney Sim Gill confirmed that, in light of the ruling, he saw no reason to prohibit Salt Lake County Clerk Sherrie Swensen from issuing marriage licenses to same-sex couples.

"We've advised Sherrie Swensen that she should proceed — as of right now … she should be processing those applications like she would of anyone else," Gill said around 3 p.m. "As of right now, if somebody gets in line and applies, there is no prohibition against it as a matter of law right now."
And couples are getting married.
Utah marriage ban found unconstitutional
Timothy Kincaid
December 20th, 2013
It's coming fast and furious this week. (SL Trib)
A federal judge in Utah Friday struck down the state's ban on same-sex marriage, saying the law violates the U.S. Constitution's guarantees of equal protection and due process.

"The state's current laws deny its gay and lesbian citizens their fundamental right to marry and, in so doing, demean the dignity of these same-sex couples for no rational reason," wrote U.S. District Court Judge Robert J. Shelby. "Accordingly, the court finds that these laws are unconstitutional."
No one expected anything on this case before next month.
From the ruling
The court agrees with Utah that regulation of marriage has traditionally been the province of the states, and remains so today. But any regulation adopted by a state, whether related to marriage or any other interest, must comply with the Constitution of the United States. The issue the court must address in this case is therefore not who should define marriage, but the narrow question of whether Utah's current definition of marriage is permissible under the Constitution.
…
Applying the law as it is required to do, the court holds that Utah's prohibition on same-sex marriage conflicts with the United States Constitution's guarantees of equal protection and due process under the law. The State's current laws deny its gay and lesbian citizens their fundamental right to marry and, in so doing, demean the dignity of these same-sex couples for no rational reason. Accordingly, the court finds that these laws are unconstitutional.
UPDATE:
There is no stay on this ruling (as of yet) and there is no required delay between application and ceremony, so expect Utah marriages immediately.
Utah values
Timothy Kincaid
August 13th, 2012
The Democratic candidate for Governor of the great state of Utah has clarified that he doesn't support Democratic values. He supports Utah Values. Ya know, the ones that are passed down from the Prophet. (Salt Lake Tribune)
Democratic gubernatorial candidate Peter Cooke launched a pre-emptive strike Monday, distancing himself from his party's national platform, declaring his opposition to gay marriage, civil unions and abortion and vowing to represent "Utah values."

Cooke said his opposition to gay marriage stems from his faith ­— he is a member of The Church of Jesus Christ of Latter-day Saints, which has actively opposed same-sex unions in California and elsewhere — but he supports a state law that would ban discrimination based on sexual orientation, which the church has also supported.

"To me gay marriage is part of my religious belief and I support that and I respect other religious beliefs and I support and love those who are in the gay community," Cooke said. "I think what needs to be done in Utah is for us to all live together, be compassionate. That's what the Democratic Party is showing."
Well, okay, I guess that's to be expected. It is Utah, after all.
But I'm not so sure that "I promise to vote how the church tells me" is that compelling of a position for politicians anymore. At some point people just get tired of being told that their church will do the thinking for them. And it seems to me that the Mormons may want to take a little glance at their buddies the Catholics and recognize that the more that church leaders insist on dictating politics, the more their flock feels comfortable with ignoring what they have to say.
And maybe, just maybe, Cooke could have grown a pair and used this to his advantage. He could have said that unlike Republican Governor Gary Herbert, he stands for gay families. He could have championed civil unions (or some other form of couple recognition) – as do 71% of Utah's residents. And had he done so he, he might have stood out as the candidate more in line with "Utah values."
You know that you've lost the "protect marriage" battle, when…
Timothy Kincaid
July 10th, 2012
… when 71% of Utah residents support either marriage or civil unions – according to data from Brigham Young University, as reported by Deseret News.
In the 2012 Utah survey, 43 percent of voters supported civil unions, and 28 percent supported same-sex marriage. Nationally, 24 percent favor civil unions and 38 percent favor same-sex marriage.

Using two election exit polls and two surveys of voter panels derived from those exit polls, the Center for the Study of Elections and Democracy has collected data on attitudes toward gay marriage at four time points beginning in 2004. That year, 54 percent of Utah voters opposed any form of legal recognition for same-sex relationships. The number dropped to 37 percent in 2009, 35 percent in 2010 and fell again to 29 percent in the new latest poll.
Fred calls it quits
Timothy Kincaid
June 29th, 2012
Fred Karger has finally concluded that he is not going to win the Presidency this year. Okay, he knew it on the day he filed, but that was never his goal anyway. Fred just wanted a chance to challenge thinking about who can or cannot be gay and who can or cannot be a Republican.
Fred never reached his stated goal of debating the other Republican candidates in a televised debate. But that was because the Party and the media cheated. (And really, isn't it disgusting that the mainstream media so dismissed him simply because he is gay while they got all in an excited gigglefest about other zero-chance candidates. No mainstream news channel called out the organizers when they refused Fred even though he met their stated standards.)
But Fred did do an amazing job of reaching people with his message. His novelty caught the attention of newspapers across the nation and many a teenager for the first time realized that a gay person could run for President. And he also provided that element which called out people on their BS. From the minor local Party people who had to ask themselves whether they really did have an objection to gay people running for office and, if so, what it was exactly to the raging homophobes who exposed themselves as such and now will soon experience the outcome of public hatred.
But Fred's campaign – more of a gay PR campaign than a political one – is over.
LAGUNA BEACH, CA – "After 2 ½ years of campaigning as a candidate for President of the United States I am officially ending my historic campaign today June 29, 2012. It's been one hell of a ride, and I want to thank the thousands of people across this country who volunteered, contributed, opened their homes, came to our events and cheered me on. Special thanks to the thousands more who shared their stories with me in person, via email, facebook, twitter, etc. Every one of you kept me going.

It's been the experience of a lifetime. I've made many new friends and undoubtedly picked up a few more detractors. I hope and trust that my discussion of the key issues helped to open dialog on fixing the economy, balancing the federal budget, creating jobs, education reform, the environment, immigration reform, ending the Iraq and Afghanistan wars and fighting for full equality for all lesbian, gay, bisexual and transgender Americans. We must move forward on these issues and many more.

A big thank you goes out to our incredible campaign team, most of whom have been around for nearly the entire 2 ½ years. Your dedication, spirit and great ideas made all the difference.

I plan to rest up for awhile and then I will be back at it to help in the fight for LGBT equality. We will let you know as soon as our exact course is determined.
Here at BTB we have a soft spot for Fred. Maybe it's because when I met him, his first words were, "I was on the Turtle Box today looking up something on Uganda." Maybe it's because when you are on the ballot, the media can't refuse to run advertisements like this one.
Or maybe it's because he really is a charming dorky gay nerd who reached the highest levels of political involvement (he was a Presidential advisor) and was willing to spend a big chunk of his own money to try and help out kids out there in the red states who desperately need to know that they can grow up to be anything they want to be, including charming dorky gay nerd Presidents.
Runnin' For President Ain't Nuttin But A Booty Call
Jim Burroway
June 13th, 2012
Fred Karger, the openly gay candidate who is still pressing his issues-based campaign for the Republican nomnation, had a rough go of it in Utah which will hold its primary on June 26. He met with Republican leaders and urged the LDS Church to end its campaigns against marriage equality. One of those GOP leaders he met was Washington County Party Chairman Willie Billings. Karger said that meeting went well — Karger gave Billings a Frisbee and a T-Shirt. But when Billings took the items home, his wife threw then out and fired off an email to the Karger campaign:
From: nanette Billings <—->
Subject: running for president

Message Body:
you are an idiot. You met with my husband Willie Billings today about you being on the Utah ballot. He brought your frisby and tshirt home and it is now out in the trash. I never want to hear from such a radical idiot again. you think you are conseritave? conseritave means you beleive in the values of the founding fathers and God. Do you know you cant procreate right? Well thank goodness for that Nanette Billings
She confirmed the email to Yahoo News. She also said:
"My feeling is the only reason he's running for president is to find more [sexual] partners," Nanette Billings told Yahoo News in a phone interview. "To get more people on his bandwagon."
Who said Utahns are nice?
300 Straight Mormon Allies March in Salt Lake City's Pride Parade
Jim Burroway
June 4th, 2012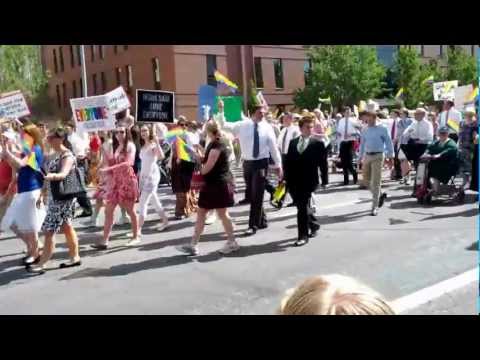 It was a diverse group of Mormons (well, diverse as far as Mormons in Utah go) that showed up to march in Sunday's Pride Parade in Salt Lake City:
The group, Mormons Building Bridges, said they wanted to send a message of love to the state's LGBT community, a message they believe is compatible with their faith.

Emily Vandyke, 50, carried a sign with the words from an LDS children's song: "I'll walk with you, I'll talk with you. That's how I'll show my love for you."

Several blocks along the parade route, she embraced a tall woman weeping at the edge of the crowd who said, "Thank you."

"I haven't recognized them as equals," Vandyke said a few minutes later. "They have been invisible to me."
Organizers expected about a hundred straight Mormon families to show up. Those expectations were exceeded threefold, with many marchers showing up straight from church in their Sunday best.
Those accounts were carried in the Salt Lake Tribune and spread across the country by the Associated Press. Mormons Building Bridges also got a brief mention from the local CBS, ABC, NBC and Fox affiliates, as well as Mormon-owned Deseret News, which carefully spelled out the church's position on homosexuality.
300 Gay Mormons Meet in Salt Lake City Conference
Jim Burroway
November 7th, 2011
In the same weekend in which about 70 people attended the annual convention for the National Association for Research and Therapy of Homosexuality (NARTH) in Phoenix which included a very large contingent of people associated with the Mormon ex-gay group Evergreen International as well as other LDS church members, about 300 people attended a three-day conference in a Salt Lake City church to discuss the issues surrounding gay Mormons. The conference, held at First Baptist Church, featured author and playwright Carol Lynn Pearson, Utah Democratic Party Chair Jim Dabakis, researcher John Dehlin, filmmaker Kendall Wilcox, Faith in Action's Jimmy Creech, and gay psychologist Lee Beckstead. The conference was organized by Mormon Stories, which is not affiliated with the LDS church, and was intended to "build bridges between all who identify as Mormon," at task which Beakstead said he found difficult:
During the Saturday morning session, Dr. Lee Beckstead, a Salt Lake therapist whose research has focused on resolving sexual, social and religious conflicts, said Mormons with same-gender attraction often feel torn apart by individuals urging them to "get off the fence — to be gay or be Mormon," suggesting that one can't be both.

Beckstead said either choice is painful.

"You can't cut off a part of yourself and not do harm — even if you're doing it to please God, or parents, or family or friends," he said. While Beckstead said that he personally had a hard time being both gay and Mormon, the same may not be true for others.

"My resolution may not be your resolution," he said, urging conferencegoers to "keep exploring for yourself what your truth is, what is right for you. That is where you will find your happiness."
The Salt Lake Tribune (no link, although that may change soon) reports that Kevin Kloosterman, an LDS bishop from Illinois described the treatment of gays by the church as "an atrocity" and personally apologized, although he clarified that he was only speaking for himself and not the church. But he added that "straight members of the church have a lot of repenting to do."
Third Salt Lake-Area Gay Man Attacked In Two Weeks
Jim Burroway
September 9th, 2011
Police in American Fork, a suburb community south of Salt Lake City, are investigating an attack on a hair salon owner as he was taking out the trash at 12:45 a.m. early Thursday morning. Police say that he was beaten by two or three assailants as they uttered gay slurs. The victim, 32-year-old Cameron Nelson, was treated at a hospital for multiple injuries including a broken nose. Police are investigating.
Two weeks ago, two gay men in Salt Lake City were attacked in separate incidents. One man, Dane Hall, suffered a broken jaw and lost six teeth when his attackers "curb stomped" him. Incredibly, SLC police are refusing to regard either of the attacks as hate crimes.
Salt Lake City Gay Bashings "Not Related"
Jim Burroway
September 6th, 2011
More than a week after Dane Hall was brutally beaten outside a Salt Lake City night club, police finally decided to get around to interviewing him. Attackers stomped on the back of his head, broke his jaw, and knocked out several teeth. The local gay community is rallying around Hall and are trying to raise money to pay his medical bills. Hall has no health insurance and his bills are mounting. That same night, another man, whose identity has been withheld, was also severely beaten. The Salt Lake City Tribune (no link) reports that police, who are refusing to regard the attacks as hate crimes, say that the two assaults appear unrelated. I don't know which of the two statements in that last sentence I find more disturbing: the idea that it's not a hate crime, or the idea that more than one roving band of anti-gay attackers were on the loose in Salt Lake City on the same evening.
Utah Dems Elect First Openly Gay Man As Party Leader
Jim Burroway
July 18th, 2011
And he wants to assure the state's Mormons that they are also welcome in the "big tent" party:
"I want to speak directly to the LDS people in our state," Jim Dabakis said Saturday after being nominated for state party chairman. "I want you LDS people to participate in our party. We want your spirit, we want your contributions and we want to earn your votes. I will do whatever I can as chair to see that our big tent is comfortable to LDS people because it's the right thing to do."
Dabakis co-founded Equality Utah and The Utah Pride Center. Shortly after his nomination for the top job, he joked, "This is a historic moment. Utah may elect its first out Greek-American party chair."
I support polygamists' lawsuit
Timothy Kincaid
July 12th, 2011
Get ready to hear the anti-gays shriek, "I told you so!" A reality celebrity polygamist family from Utah is suing that state to have its polygamy law found unconstitutional. And I support them. (ABC)
The polygamist family portrayed on the TLC reality show "Sister Wives" said all along its main goal in going on national television was to gain public acceptance of its lifestyle.

Now family patriarch Kody Brown, his four wives and 16 children and stepchildren are moving from the court of public opinion to the court of law, arguing that criminalizing their lifestyle is unconstitutional.
This lawsuit may seem to support the contentions of Maggie Gallagher and the others who spend their energy obsessing over my life and campaigning to keep me inferior. And it may seek peculiar that I would support such and endeavor.
But here's the thing. They are not suing to have their family structure given legal recognition; that I would oppose.
The legal bonds of matrimony uniquely empower one person to be the sole caretaker and decision-maker over another in times of trouble, the primary heir with unique right at death, and encompasses a whole host of entanglements that become complicated beyond possibility when more than two are included. While the State can step in to a family squabble and say we recognize the spouse, chaos would result from multiple spouse with equal claim or, worse yet, some hierarchy of squabbling spouses.
But their lawsuit is about something else, the effort by the state to control their sex life. Unlike other states which do not recognize multi-party marriage, Utah has banned multi-party cohabitation.
The state law reads: "A person is guilty of bigamy when, knowing he has a husband or wife or knowing the other person has a husband or wife, the person purports to marry another person or cohabits with another person."

Kody Brown is legally married to one woman, Meri, but also calls the other three women his spouses.
And while I do not wish to open legal marriage to multiple parties, I am a big fan of leaving people live how they want, love whom they want, and in general be as stupid as they want to be (and, believe me, I think any non-bisexual woman that enters into a relationship in which she is one of four women with one man is stupid). So if you want to live with the knowledge that you have no right to recourse should your man and his other three women tire of you, knock yourself out.
And this is not just a theoretical complaint against the state. The police in Lehi, Utah, launched an investigation into the Brown family's lifestyle for a possible charge of bigamy.
So yeah, I side with the crazy people on this one. If you think that your god wants you to share your man with three other women (one of whom has all the legal rights) then I'll support your right to sleep where you want and with whom. But fair warning, polygamists, don't be marrying 14 year-olds or abandoning your male children on a street corner or I'll happily lead the charge to throw your nasty ass in jail.