Happy LGBT History Month
Timothy Kincaid
June 1st, 2015
In the United States, June is designated as LGBT History Month. Many Gay Pride events occur in June to align with the original gay pride march in New York City in 1970, itself a commemoration of the Stonewall Riots the previous year.
They Didn't Know What They Were Up Against
Jim Burroway
July 1st, 2014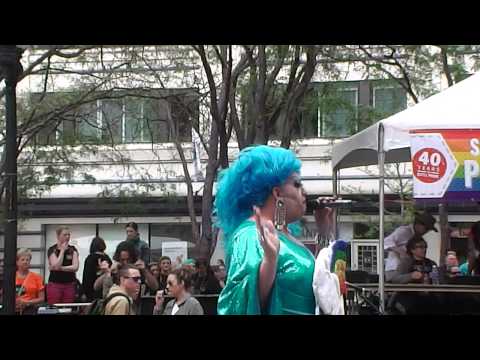 A group of Christians protesters tried to disrupt the start of Seattle's gay pride parade last Sunday. They tried to invoke the power of Jesus Christ, but they failed to take into account the power of Mama Tits:
"I saw them coming up the road pre-Parade and looked at Sylvia and DonnaTella and said, 'Ladies, let's make a wall!' Before I knew it, I was standing tits to nose with the leader guy on the megaphone. It felt like I had the strength of all the people who had ever been hurt by these people standing right behind be me giving me power! I was almost in auto-pilot mode from my days as a Sister of Perpetual Indulgence. I planted myself in his path and wouldn't move. When he walked around me, I got back in front of him again and again.I stared him in the eyes and could see the pain in his eyes, I could see he was scared and he should have been. He tried to hit me with his sign, but like Bianca Del Rio says "Not Today, Satan!"

I pushed his sign away from my face and hair, because you DO NOT TOUCH my hair. And, it was all I could do to NOT get violent, but I didn't because once that happens, we all lose. They tried to surround me in an intimidation tactic, but let's face it, I'm fucking HUGE and it didn't work at all! The police came to me and asked to let them pass, and told me not to let them get me upset. I told the cops I wasn't upset, but I WILL defend myself when assaulted, and they needed to remove them from our Parade. I then walked over and grabbed my mic and started to get the crowd involved. I wanted them to make so much joyful noise to drown out the hate… and, boy did they ever! The crowd made the walls rattle down on 4th and Pine!
Pride disallowed in Belarus
Timothy Kincaid
December 11th, 2013
Officials in Minsk, capital of the Northern European nation of Belarus, have disallowed a Gay Pride march and rally. (rferl)
Authorities in Minsk have banned two gay-rights events, but Belarusian activists have vowed to go ahead anyway.

Authorities blamed their decision not to allow a lesbian, gay, bisexual, and transgender (LGBT) march planned for December 11 and a gay-rights rally planned for December 12 on "technical" and timing problems.
And, naturally, the authorities refused to discuss ways to work around the timing problems. This is part of a larger difficulty in Belarus for gay activists to gain visibility. The federal government of self-proclaimed homophobe President Alyaksandr Lukashenka has threatened and terrorized gay rights leaders in the country.
Montenegro to have a Pride Parade
Timothy Kincaid
July 22nd, 2013
Montenegro is a small Eastern European nation on the Adriatic Sea about the size of Connecticut (with about one sixth of that state's population). It's a bit of an anomaly, in that the laws and official positions of the nation are not hostile (homosexuality was decriminalized in 1977 and Montenegro is a signatory on the UN Resolution supporting same) while the culture in this Orthodox country is socially conservative and partiarchal. Most gay people keep a very low profile.
So it is quite a notable event that a Pride Parade has been planned (AFP)
Traditionally conservative Montenegro is to hold its first ever gay pride parade later this week in the coastal town of Budva, organisers said Monday.

"The first Montenegrin gay parade will be held on Wednesday, July 24, in front of the walls of Budva's old town," a centuries-old tourist resort on the Adriatic Coast, said Aleksandar Zekovic of the lesbian, gay, bisexual and transgender (LGBT) forum Progress.
The latest incarnation of Richard Cohen's International Healing Foundation
Timothy Kincaid
July 3rd, 2013
One of the highest profile – and astonishingly clueless – advocates who ever championed fixing Teh Ghey is Richard Cohen.
Richard was never the one to quietly live a life of example. Nor did he hit the church circuit selling the redeeming power of Christ and showing off his wife (which, since he married her in a Moonie mass wedding, would be odd anyway). Nope. Richard opted for publicity.
In 2000, he wrote Coming Out Straight – with forward by Dr. Laura Schlessinger – about how he was cured of his homosexuality through reparative therapy. And though it included cringe-worthy photos of the process, it was his passport to credibility.
Soon Richard was founder of the International Healing Foundation and president of PFOX (Parents and Friends of Ex-Gays), the most colorful of the ex-gay organizations. He was a speaker at NARTH and Exodus events and an ex-gay therapist with a rising star. Richard used that platform to launch his image to a greater audience, CNN's Paula Zahn Now.
But he probably didn't realize just quite what impression he was giving while he explained that one's homosexuality could be healed through hitting a pillow with a tennis racquet while screaming, "mom! mom! mom! mom! Why did you do that to me?" or cuddling in another man's arms (a method he calls "good touch"). Rather than praise his clever methods, most people just fell off their couch laughing.
I attribute that moment to be the beginning of the end of the ex-gay movement.
It was around that point that some supporters of Cohen's reparative therapy theories began to see exactly what kind of lunacy they were connected to. Most notably, Dr. Warren Throckmorton told PFOX that either Cohen took a hike or he would pull his support (over time Throckmorton would disavow reparative therapy, acknowledge possible biological bases for orientation, and eventually publicly question some of evangelical Christianity's assumptions about what expectations can be put on gay people).
Then Cohen unwisely followed his CNN debacle with a 2007 visit to The Daily Show. Either he didn't notice that the show was on the Comedy Channel or he didn't guess who would be providing the laughs.
National public mockery was too much even for NARTH, who scrubbed mention of him from their sites.
Shortly after that a much earlier endeavor got noticed, Richard's 1993 children's book, Alfie's Home, all about how little Alfie got molested.
Even for Cohen, this was really really icky.
It was time for a change. A new direction. A new image.
Having realized that his brand of hands-on therapy was not well accepted by much of anyone, Cohen took a new tack. He decided that parents of gay kids were truly in need of his services. So November 2007 brought us a book to help them, Gay Children / Straight Parents.
After all, who doesn't need a book to tell fathers that what they really needed to do was touch their sons more? (Okay, it was creepy just writing that). I can't possibly do justice to this in a sentence, but fortunately Jim wrote an extensive review.
But this was just the ticket Cohen needed to get back into the good graces of PFox. They praised his book and his ideas. But it came with a price.
Cohen had kept his religious connections pretty low key and PFOX and NARTH had long sought to sell themselves as secular. But with a growing social acceptance for gay people, increasingly the ex-gay movement was narrowing itself down to social conservative Christians. And there just wasn't a whole lot of room for followers of the Reverend Sun Myung Moon.
So Cohen's International Healing Foundation needed a new face. And in February 2009, IHF gave a trial run to Caleb Lee Brundidge.
Brundidge's first run out the gate was to Uganda, where he spoke at a conference on homosexuality to pastors in Kampala and where he had an audience with the legislature. Cohen's Coming Out Straight was presented as a primer and source.
That conference led to Uganda's notorious Kill The Gays Bill, which not only resulted in at least one death, but severely damaged Uganda's relationship with most of it's Western supporters. By the end of the year, Cohen and IHF were reeling from the bad publicity and issued "statements" and "disavowals" and Brundidge became invisible.
In 2010, CNN's Kyra Phillips ran a piece on a California legislator's bill to remove from the books a forgotten and obsolete law from 1950 that authorized the state to look for cures to homosexuality. To "balance" the segment she decided to bring on Cohen. This time it was Phillips who was embarrassed by the association and who had to apologize – well, bitch and whine, really – for her lack of wisdom.
And that was it for a while. He joined PFOX in their amicus brief in support of Proposition 8, but that was small potatoes.
Again, it was time for a new angle.
So in late 2011, Cohen decided that he would apologize and just love everybody. His new mantra would not be "change is possible" but "coming out loved". It was painful. Just sort of imagine Paula Deen inviting African-American leaders over to apologize for her recent comments, and serving them chitlins and watermelon… that kind of painful.
Beginning today, IHF's doors are wide open to everyone in the LGBTQ and straight communities. The new mission, "Coming Out Loved," is the catalyst of true tolerance, real diversity, and equality for all. IHF staff will assist anyone who is conflicted about their sexuality and other challenging issues that arise for many in the gay community.
The universe yawned. Perhaps the universe found Cohen's disingenuous definitions of "true tolerance" and "real diversity" to be more pathetic than shocking.
Because it didn't take long for us to learn that "true tolerance" is for those who demand that you acquiesce to their demands over your life or you are the "real bigot" who doesn't accept their "sincerely held beliefs". And "real diversity" is one that puts Cohen on an equal standing with a person of character and integrity.
Not that anyone paid attention or cared.
But I decided to see what Cohen's IHF is up to these days. And, as it turns out, his IHF has a new face, a new name, a new site, and a new project.
Yes, Cohen is speaking up for those who have no way to speak for themselves. He's calling for their recognition and to make them feel valued. And especially to defend their rights.
The mission of Voice of the Voiceless is to defend the rights of former homosexuals, individuals with unwanted same-sex attraction, and their families. We also support the faith-based community and work actively in the United States to defend the constitutional rights of all Americans to share their views of homosexuality in the public forum. We support similar international efforts and provide assistance, whenever possible, to individuals and organizations abroad who align with our mission and goals.
Translation: we insist that it's possible to change your orientation. We insist that those who seek to bash and attack and harm gay people can do so without criticism. And, of course we didn't mean it when we disavowed the murder in Uganda. We celebrate the nations that deny rights to gay people.
Cohen himself is invisible from the group. It's cofounded by one of the IHF "counselors", Christopher Doyle, and none other than the old ranting racist loon, D.L. Foster. And just because it must be ol' home week, the vice president is the unfortunately named David Pickup (whose original ex-gay counseling advertisement was mistaken by many to be a parody).
And as for the ex-gays, well they deserve a month of their own to… well, I'm not sure what, but if those who "suffer from same-sex attraction" get a month, then so should ex-gays.
So, if you want to catch up on these fellows and see how they are all doing, you can do so right here in July, Ex-Gay Pride Month. You can write ex-gay music or better yet, go to their dinner. It is bound to be entertaining – though you may be the only one there who thinks so. And God only knows what insanity, embarrassment, or tragedy will ensue.
Massachusetts GOP Senate Candidate goes to Pride
Timothy Kincaid
June 19th, 2013
Next Tuesday there will be an election for US Senate in Massachusetts. This is a special election to replace Sen. John Kerry after his move to Secretary of State.
Although Massachusetts usually sends Democrats to Washington, the GOP nominee, Gabriel Gomez, is within striking distance of his Democratic counterpart, Rep. Ed Markey. And it appears that Gomez, who supports marriage equality and has endorsed ENDA, is far more in line with Massachusetts values than are most Republicans. He may even have forged new ground.
It isn't surprising that Ed Markey, who has long been a firm supporter of the community, participated in the Boston Pride Parade this year. And it is not at all unusual for Log Cabin to have a presence at Pride Events. However, I am not able to recall any previous time in which the Republican Nominee for Senate from any state had their own booth at a Pride Festival.
Naturally, the wackadoodles over at MassResistence are all kinds of unhappy about this.
Salt Lake Trib's Utahns of the Year: Mormons Building Bridges
Timothy Kincaid
December 26th, 2012
In June, Erika Munson, a straight church-going Mormon wife and mother decided that saying you love doesn't mean crap if you don't show it. So she decided that she would march in Salt Lake City's Gay Pride March. And after she tossed her idea on the internet, a few other Mormons decided to join her. Three hundred of 'em. They came straight from church in their Sunday clothes with kids in strollers waving gay flags.
Now the Salt Lake Tribune has recognized Mormons Building Bridges as the most impactful Utahns of 2012:
They called themselves Mormons Building Bridges. They were not out to debate politics or doctrine, organizers said, but to promote love and listening. Still, their simple yet potent gesture echoed around the globe, setting an example for fellow believers who then took up the style, if not the name, in 15 other Pride parades. They also attracted national and international media attention, well-known enough even for spoofing in the satirical magazine The Onion.
Occuidiots
Timothy Kincaid
September 4th, 2012
I guess every movement has it's fair share of idiots.
Remember when some portion of the Occupy movement decided to protest Wells Fargo Bank during San Francisco Pride? Yeah, that was pretty stupid. But not nearly as stupid as the latest from the Occupy movement's idiot fringe.
From the Oakland Tribune:
An offshoot of Occupy Oakland, upset that the city's Pride Festival was charging for admission, went on a vandalism spree Sunday, breaking windows at a Bank of America branch and tagging buildings and a police vehicle with anarchist graffiti, police said.
There is a certain mindset which thinks that they are admirable and noble for engaging in vandalism and the destruction of property. They certainly don't want their property destroyed or their neighborhood tagged with someone else's views, but when they do deplorable acts it's for good, you see.
And while they might insist that they be compensated for their efforts ("dude, I friggen grew it myself"), it's evil capitalism that the Pride committee expects everyone to kick in to help cover costs.
They are idiots.
The Sears at Broadway and 20th Street was tagged with red spray paint that read "Destroy Capitalism" and "Queer Riots Now." A vacant building on the corner of 19th and Broadway was tagged with "Queer Revolt."

Less than a block down on Broadway, the Community Bank of the Bay was tagged with an anarchy symbol and the words, "Queers: Burn Banks."
Yeah, idiots.
Pride occupied
A Commentary
Timothy Kincaid
June 25th, 2012
Beliefs are funny things. They don't need to be tied to reason or logic or be in any way consistent. They just need to be asserted and believed.
This past weekend a segment of our community, calling themselves "Occupride", trotted out to the San Francisco Gay Pride Parade to protest the corporations that are supporting our community.
OccuPride, the Occupy movement for Gay Pride, temporarily blocked the San Francisco Gay Pride Parade today, effectively slowing down the route for contingents while making their presence known in a peaceful manner. An estimated hundred or so protesters intercepted annual walk up Market Street. The group chanted such gems as, "Out of the sidewalks into the streets," "Community, not commodity,' and "We're here, we're queer, we're not going shopping."
I think that last one was pretty self evident.
As for their objections, they seem to be angry at corporations funding pride. They aren't upset with the Pride committee, but with the corporations for, well it's hard to know why they are angry that they contributed. They mostly just object to their existence. (Examiner)
"I think the corporatization, the commercialization of pride has really gotten out of hand," said Tommi Avicolli Mecca, a longtime activist and Castro district resident. "I think they're really consciously trying to buy favor in the community."

This year, Avicolli Mecca and other activists are organizing OccuPride, a series of protest actions inspired by the Occupy Wall Street movement and loosely affiliated with Occupy San Francisco. While there have been unsanctioned protests at Pride in previous years, Avicolli Mecca said this year activists had more to be angry about.

"I don't know why the people at Pride are taking money from banks this year," Avicolli Mecca said, referring to Wells Fargo and Bank of America, which are listed as sponsors for the San Francisco Pride Celebration & Parade and have drawn fire from the anti-Wall Street movement for foreclosing on homeowners. "I know that Pride needs money, but there's other ways to get money."
Well, yes of course there are. You can just pick it off the money tree.
As best I can tell, what makes evil corporations evil (other than just being part of a capitalist system) is that they fail to give back to the community, they put profits over people, and they just aren't being responsible neighbors. So we should protest their funding of gay pride events. (Irony isn't really their strong point.)
Instead we should rely on funds from good sources. Like, well… okay, by definition there aren't any good people who actually have money. Because if they did, that would make them part of the evil wealthy elite.
But that doesn't matter! That isn't the point, the point is that these are Corporations! And that's Bad! So let's protest and Speak Truth to Power and Stand United and make them Go Away! And if no one funds Pride in the future (or, like Wells Fargo, gives money to oppose anti-gay amendments) we don't want their Evil Corporate Money anyway. We'd rather lose than take their evil filthy corporate money!!
Which makes me wonder, where do I go to occupy the Occupiers?
The Mormons are coming to Gay Pride
Timothy Kincaid
June 8th, 2012
I guess they really liked marching in Salt Lake City, cuz the Mormons are breaking out their marching shoes. (WaPo)
This summer, members of the Church of Jesus Christ of Latter-day Saints from around the country will be marching in LGBT pride parades in nine cities, including in DC's Capital Pride parade on June 9, an act that participants say is motivated not in spite of Mormon teaching, but out of obedience to Jesus' message.
Some will be there in full support of gay rights, including marriage equality. Others will be there just because they think their church has failed to be loving enough. But for whatever reason, they are there to support, not convert, condemn, or push ex-gay ministries. Unlike the evangelicals who occasionally set up a card table in some gay neighborhood because they "have a heart for the homosexual", the Mormons are coming just to say, "hey, love your parade, love you, gimme a gay flag and I'll wave it." They aren't even worried that they might be "supporting a sinful lifestyle".
Some of us may still be hurt from 2008, but I think we should greet the Mormons with a big smile and a thank you. Their idea of "support" may not be ideal, but neither were the Episcopalians or the Democratic Party in 1986, and this is a very big step for them.
So when the Mormons come down the street with signs saying "Jesus said to love everyone" and "LDS hearts LBGT" with their dozen or so blond children waving rainbow flags, let's give them some love in return. The last time Mormons organized around a gay issue, it was a very different message; I like this one a whole lot more.
300 Straight Mormon Allies March in Salt Lake City's Pride Parade
Jim Burroway
June 4th, 2012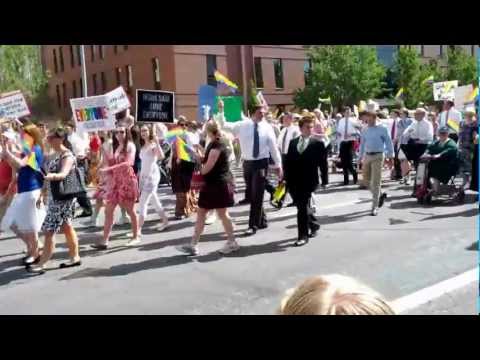 It was a diverse group of Mormons (well, diverse as far as Mormons in Utah go) that showed up to march in Sunday's Pride Parade in Salt Lake City:
The group, Mormons Building Bridges, said they wanted to send a message of love to the state's LGBT community, a message they believe is compatible with their faith.

Emily Vandyke, 50, carried a sign with the words from an LDS children's song: "I'll walk with you, I'll talk with you. That's how I'll show my love for you."

Several blocks along the parade route, she embraced a tall woman weeping at the edge of the crowd who said, "Thank you."

"I haven't recognized them as equals," Vandyke said a few minutes later. "They have been invisible to me."
Organizers expected about a hundred straight Mormon families to show up. Those expectations were exceeded threefold, with many marchers showing up straight from church in their Sunday best.
Those accounts were carried in the Salt Lake Tribune and spread across the country by the Associated Press. Mormons Building Bridges also got a brief mention from the local CBS, ABC, NBC and Fox affiliates, as well as Mormon-owned Deseret News, which carefully spelled out the church's position on homosexuality.
Mormons marching in Pride
Timothy Kincaid
May 30th, 2012
What do you do when you believe what your church says about love, but you think they aren't showing it very well to gay people? If you're Erika Munson, you just decide to show it yourself. It turns out, she wasn't alone. (SL Tribune)
"I felt that there must be people like me," Munson said, "who are committed to the church, who believe in the gospel and want to live Jesus' word, which is, 'love one another.' "

Munson's group is not affiliated with the LDS Church or any political party, and though it started just a few weeks ago, it's been gaining steam through social media. As of Wednesday, the group had more than 900 members on Facebook, and more than 100 had committed to Sunday's march in downtown Salt Lake City.
(that popping noise was an Apostle's head)
Serb Authorities Cancel Belgrade Pride
Jim Burroway
October 1st, 2011
Serbia's Interior Minister Ivaca Dacic announced yesterday a total ban for Sunday's Pride parade in Belgrade, along with all other public events planed for the weekend. Citing last years violence by anti-gay nationalists and skinheads, another government official cited planned violence by "hooligans" and said that Serbia's National Security Council ordered police to cancel the event due to "extremely serious security threats". Goran Miletic, the Pride parade's organizer, condemned the move as a capitulation:
"We are shocked," he said. "With this the state capitulated … a democratic state should be able to guarantee two hours of security to its citizens."
Interior Minister Dacic said that more than 100 police officers were injured in rioting that broke out during last year's march. Those riots caused widespread damage throughout Belgrade, and the headquarters of the ruling Democratic Party was burned. Dacic estimated that as many as 5,000 security personnel would be needed to protect this year's Pride.
Serbia has run into several obstacles in its bid to join the European Union, including relations with its former Yugoslav neighbors, ongoing disputes over Kosovo, and concerns about Serbia's commitment to protecting human rights. Opposition leader Cedomir Jovanovic said the ban "demonstrates the government's cowardice and weakness."
Sao Paulo's legislation: Straight Pride or Hate Pride?
Timothy Kincaid
August 4th, 2011
I support straight pride.
Heterosexuals have made many contributions to society, have unique attributes that deserve acknowledgement, and should never be made to feel shame for their orientation. If straight folk feel insignificant or have experienced discrimination, then by all means celebrate and find pride in your identity. Set up panels to discuss opposite-sex attractions and explore them and think about what it means to be straight. Embrace your heterosexuality.
And there's even a benefit for non-straight people: people who are truly comfortable with their sexuality tend to be tolerant of those with different sexuality. Those who are brave enough and curious enough to try and understand what motivates their desire and to truly understand their attractions seem to develop a respect and even advocacy for others in the process.
But, of course, that it not what those who say that they want Straight Pride mean at all. They don't want a festivity of heterosexuality or a discovery of its meaning and celebration of its culture. It isn't Straight Pride that they are seeking, but Anti-Gay Pride. It's not love for heterosexuals that they seek to express, but hatred and contempt for gay people.
As is evident in Sao Paulo, Brazil. (AP)
The city council of South America's biggest city has adopted legislation calling for a Heterosexual Pride Day to be celebrated on the third Sunday of each December.
Are they seeking to celebrate straight conformity with signs extolling family dinner or straight abandon like a second Carnival? No. Their reasons don't even mention heterosexuality.
The legislation's author, Carlos Apolinario, said the idea for a Heterosexual Pride Day is "not anti-gay but a protest against the privileges the gay community enjoys."

As an example, he mentioned how Sao Paulo's huge gay pride day parade is held every year on Paulista Avenue, one of the main thoroughfares in this city of 20 million people, while the March for Jesus organized by evangelical groups is not allowed on the same avenue.
Oh… so this isn't about straight pride at all, just anti-gay resentment.
This legislation must be signed by the Mayor to go into effect. But I don't much care if they get their Straight Pride day. They can even close Paulista Avenue and make it theirs for the day.
Obviously it isn't a good thing when the city council of the largest city in South America endorsed homophobia. But I have no fear about comparing Gay Pride to Anti-Gay Pride in Sao Paolo. Show the world which parade that city's residents endorse.
Because the thing about events is that it can be fun to join someone in celebrating their uniqueness and love for their community – be it St. Patrick's Day or the Lotus Festival or MLK Day or Gay Pride or even a March for Jesus, I suppose. And in Sao Paulo about three million people show up at Gay Pride to watch the floats, dancers, and marchers and to enjoy the fun and celebration.
But days to celebrate hate just don't put a smile on your face. An Anti-Irish Day Parade would not be much fun at all and I doubt that a Stomp on Lotus Festival would get beyond the planning phase.
Sure some Eastern European cities have had anti-gay marches and there are always those donkey people in Jerusalem, but the Anti-Gay Pride Parade just doesn't seem to promise the sparkle and flash that Parada do Orgulho LGBT de São Paulo brings. Besides, what would they do for floats? Straight go-go dancers often aren't and the straight version of drag tends to be pro-gay anyway.
Active Duty Military Marches In San Diego Pride
Jim Burroway
July 8th, 2011
Now that "Don't Ask, Don't Tell" has been half-lifted by the Ninth Circuit Court of Appeals, LGBT members of the U.S. military in the San Diego area marched in the city's Gay Pride parade this weekend as out and proud LGBT Americans.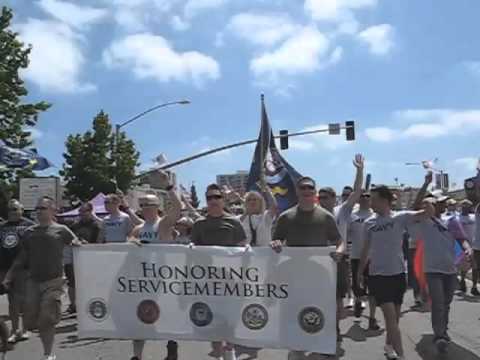 San Diego is home port for the U.S. Navy's Pacific Fleet, and the area is dotted with ports, naval air stations, national guard facilities — and the Marine's Camp Pendelton is just up the cost in north county. This appears to be the first organized march by active duty military personnel in a U.S. Gay Pride parade.