Salt Lake Trib's Utahns of the Year: Mormons Building Bridges
Timothy Kincaid
December 26th, 2012
In June, Erika Munson, a straight church-going Mormon wife and mother decided that saying you love doesn't mean crap if you don't show it. So she decided that she would march in Salt Lake City's Gay Pride March. And after she tossed her idea on the internet, a few other Mormons decided to join her. Three hundred of 'em. They came straight from church in their Sunday clothes with kids in strollers waving gay flags.
Now the Salt Lake Tribune has recognized Mormons Building Bridges as the most impactful Utahns of 2012:
They called themselves Mormons Building Bridges. They were not out to debate politics or doctrine, organizers said, but to promote love and listening. Still, their simple yet potent gesture echoed around the globe, setting an example for fellow believers who then took up the style, if not the name, in 15 other Pride parades. They also attracted national and international media attention, well-known enough even for spoofing in the satirical magazine The Onion.
Occuidiots
Timothy Kincaid
September 4th, 2012
I guess every movement has it's fair share of idiots.
Remember when some portion of the Occupy movement decided to protest Wells Fargo Bank during San Francisco Pride? Yeah, that was pretty stupid. But not nearly as stupid as the latest from the Occupy movement's idiot fringe.
From the Oakland Tribune:
An offshoot of Occupy Oakland, upset that the city's Pride Festival was charging for admission, went on a vandalism spree Sunday, breaking windows at a Bank of America branch and tagging buildings and a police vehicle with anarchist graffiti, police said.
There is a certain mindset which thinks that they are admirable and noble for engaging in vandalism and the destruction of property. They certainly don't want their property destroyed or their neighborhood tagged with someone else's views, but when they do deplorable acts it's for good, you see.
And while they might insist that they be compensated for their efforts ("dude, I friggen grew it myself"), it's evil capitalism that the Pride committee expects everyone to kick in to help cover costs.
They are idiots.
The Sears at Broadway and 20th Street was tagged with red spray paint that read "Destroy Capitalism" and "Queer Riots Now." A vacant building on the corner of 19th and Broadway was tagged with "Queer Revolt."

Less than a block down on Broadway, the Community Bank of the Bay was tagged with an anarchy symbol and the words, "Queers: Burn Banks."
Yeah, idiots.
Pride occupied
A Commentary
Timothy Kincaid
June 25th, 2012
Beliefs are funny things. They don't need to be tied to reason or logic or be in any way consistent. They just need to be asserted and believed.
This past weekend a segment of our community, calling themselves "Occupride", trotted out to the San Francisco Gay Pride Parade to protest the corporations that are supporting our community.
OccuPride, the Occupy movement for Gay Pride, temporarily blocked the San Francisco Gay Pride Parade today, effectively slowing down the route for contingents while making their presence known in a peaceful manner. An estimated hundred or so protesters intercepted annual walk up Market Street. The group chanted such gems as, "Out of the sidewalks into the streets," "Community, not commodity,' and "We're here, we're queer, we're not going shopping."
I think that last one was pretty self evident.
As for their objections, they seem to be angry at corporations funding pride. They aren't upset with the Pride committee, but with the corporations for, well it's hard to know why they are angry that they contributed. They mostly just object to their existence. (Examiner)
"I think the corporatization, the commercialization of pride has really gotten out of hand," said Tommi Avicolli Mecca, a longtime activist and Castro district resident. "I think they're really consciously trying to buy favor in the community."

This year, Avicolli Mecca and other activists are organizing OccuPride, a series of protest actions inspired by the Occupy Wall Street movement and loosely affiliated with Occupy San Francisco. While there have been unsanctioned protests at Pride in previous years, Avicolli Mecca said this year activists had more to be angry about.

"I don't know why the people at Pride are taking money from banks this year," Avicolli Mecca said, referring to Wells Fargo and Bank of America, which are listed as sponsors for the San Francisco Pride Celebration & Parade and have drawn fire from the anti-Wall Street movement for foreclosing on homeowners. "I know that Pride needs money, but there's other ways to get money."
Well, yes of course there are. You can just pick it off the money tree.
As best I can tell, what makes evil corporations evil (other than just being part of a capitalist system) is that they fail to give back to the community, they put profits over people, and they just aren't being responsible neighbors. So we should protest their funding of gay pride events. (Irony isn't really their strong point.)
Instead we should rely on funds from good sources. Like, well… okay, by definition there aren't any good people who actually have money. Because if they did, that would make them part of the evil wealthy elite.
But that doesn't matter! That isn't the point, the point is that these are Corporations! And that's Bad! So let's protest and Speak Truth to Power and Stand United and make them Go Away! And if no one funds Pride in the future (or, like Wells Fargo, gives money to oppose anti-gay amendments) we don't want their Evil Corporate Money anyway. We'd rather lose than take their evil filthy corporate money!!
Which makes me wonder, where do I go to occupy the Occupiers?
The Mormons are coming to Gay Pride
Timothy Kincaid
June 8th, 2012
I guess they really liked marching in Salt Lake City, cuz the Mormons are breaking out their marching shoes. (WaPo)
This summer, members of the Church of Jesus Christ of Latter-day Saints from around the country will be marching in LGBT pride parades in nine cities, including in DC's Capital Pride parade on June 9, an act that participants say is motivated not in spite of Mormon teaching, but out of obedience to Jesus' message.
Some will be there in full support of gay rights, including marriage equality. Others will be there just because they think their church has failed to be loving enough. But for whatever reason, they are there to support, not convert, condemn, or push ex-gay ministries. Unlike the evangelicals who occasionally set up a card table in some gay neighborhood because they "have a heart for the homosexual", the Mormons are coming just to say, "hey, love your parade, love you, gimme a gay flag and I'll wave it." They aren't even worried that they might be "supporting a sinful lifestyle".
Some of us may still be hurt from 2008, but I think we should greet the Mormons with a big smile and a thank you. Their idea of "support" may not be ideal, but neither were the Episcopalians or the Democratic Party in 1986, and this is a very big step for them.
So when the Mormons come down the street with signs saying "Jesus said to love everyone" and "LDS hearts LBGT" with their dozen or so blond children waving rainbow flags, let's give them some love in return. The last time Mormons organized around a gay issue, it was a very different message; I like this one a whole lot more.
300 Straight Mormon Allies March in Salt Lake City's Pride Parade
Jim Burroway
June 4th, 2012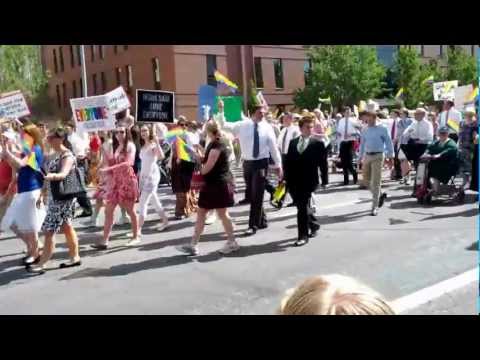 It was a diverse group of Mormons (well, diverse as far as Mormons in Utah go) that showed up to march in Sunday's Pride Parade in Salt Lake City:
The group, Mormons Building Bridges, said they wanted to send a message of love to the state's LGBT community, a message they believe is compatible with their faith.

Emily Vandyke, 50, carried a sign with the words from an LDS children's song: "I'll walk with you, I'll talk with you. That's how I'll show my love for you."

Several blocks along the parade route, she embraced a tall woman weeping at the edge of the crowd who said, "Thank you."

"I haven't recognized them as equals," Vandyke said a few minutes later. "They have been invisible to me."
Organizers expected about a hundred straight Mormon families to show up. Those expectations were exceeded threefold, with many marchers showing up straight from church in their Sunday best.
Those accounts were carried in the Salt Lake Tribune and spread across the country by the Associated Press. Mormons Building Bridges also got a brief mention from the local CBS, ABC, NBC and Fox affiliates, as well as Mormon-owned Deseret News, which carefully spelled out the church's position on homosexuality.
Mormons marching in Pride
Timothy Kincaid
May 30th, 2012
What do you do when you believe what your church says about love, but you think they aren't showing it very well to gay people? If you're Erika Munson, you just decide to show it yourself. It turns out, she wasn't alone. (SL Tribune)
"I felt that there must be people like me," Munson said, "who are committed to the church, who believe in the gospel and want to live Jesus' word, which is, 'love one another.' "

Munson's group is not affiliated with the LDS Church or any political party, and though it started just a few weeks ago, it's been gaining steam through social media. As of Wednesday, the group had more than 900 members on Facebook, and more than 100 had committed to Sunday's march in downtown Salt Lake City.
(that popping noise was an Apostle's head)
Serb Authorities Cancel Belgrade Pride
Jim Burroway
October 1st, 2011
Serbia's Interior Minister Ivaca Dacic announced yesterday a total ban for Sunday's Pride parade in Belgrade, along with all other public events planed for the weekend. Citing last years violence by anti-gay nationalists and skinheads, another government official cited planned violence by "hooligans" and said that Serbia's National Security Council ordered police to cancel the event due to "extremely serious security threats". Goran Miletic, the Pride parade's organizer, condemned the move as a capitulation:
"We are shocked," he said. "With this the state capitulated … a democratic state should be able to guarantee two hours of security to its citizens."
Interior Minister Dacic said that more than 100 police officers were injured in rioting that broke out during last year's march. Those riots caused widespread damage throughout Belgrade, and the headquarters of the ruling Democratic Party was burned. Dacic estimated that as many as 5,000 security personnel would be needed to protect this year's Pride.
Serbia has run into several obstacles in its bid to join the European Union, including relations with its former Yugoslav neighbors, ongoing disputes over Kosovo, and concerns about Serbia's commitment to protecting human rights. Opposition leader Cedomir Jovanovic said the ban "demonstrates the government's cowardice and weakness."
Sao Paulo's legislation: Straight Pride or Hate Pride?
Timothy Kincaid
August 4th, 2011
I support straight pride.
Heterosexuals have made many contributions to society, have unique attributes that deserve acknowledgement, and should never be made to feel shame for their orientation. If straight folk feel insignificant or have experienced discrimination, then by all means celebrate and find pride in your identity. Set up panels to discuss opposite-sex attractions and explore them and think about what it means to be straight. Embrace your heterosexuality.
And there's even a benefit for non-straight people: people who are truly comfortable with their sexuality tend to be tolerant of those with different sexuality. Those who are brave enough and curious enough to try and understand what motivates their desire and to truly understand their attractions seem to develop a respect and even advocacy for others in the process.
But, of course, that it not what those who say that they want Straight Pride mean at all. They don't want a festivity of heterosexuality or a discovery of its meaning and celebration of its culture. It isn't Straight Pride that they are seeking, but Anti-Gay Pride. It's not love for heterosexuals that they seek to express, but hatred and contempt for gay people.
As is evident in Sao Paulo, Brazil. (AP)
The city council of South America's biggest city has adopted legislation calling for a Heterosexual Pride Day to be celebrated on the third Sunday of each December.
Are they seeking to celebrate straight conformity with signs extolling family dinner or straight abandon like a second Carnival? No. Their reasons don't even mention heterosexuality.
The legislation's author, Carlos Apolinario, said the idea for a Heterosexual Pride Day is "not anti-gay but a protest against the privileges the gay community enjoys."

As an example, he mentioned how Sao Paulo's huge gay pride day parade is held every year on Paulista Avenue, one of the main thoroughfares in this city of 20 million people, while the March for Jesus organized by evangelical groups is not allowed on the same avenue.
Oh… so this isn't about straight pride at all, just anti-gay resentment.
This legislation must be signed by the Mayor to go into effect. But I don't much care if they get their Straight Pride day. They can even close Paulista Avenue and make it theirs for the day.
Obviously it isn't a good thing when the city council of the largest city in South America endorsed homophobia. But I have no fear about comparing Gay Pride to Anti-Gay Pride in Sao Paolo. Show the world which parade that city's residents endorse.
Because the thing about events is that it can be fun to join someone in celebrating their uniqueness and love for their community – be it St. Patrick's Day or the Lotus Festival or MLK Day or Gay Pride or even a March for Jesus, I suppose. And in Sao Paulo about three million people show up at Gay Pride to watch the floats, dancers, and marchers and to enjoy the fun and celebration.
But days to celebrate hate just don't put a smile on your face. An Anti-Irish Day Parade would not be much fun at all and I doubt that a Stomp on Lotus Festival would get beyond the planning phase.
Sure some Eastern European cities have had anti-gay marches and there are always those donkey people in Jerusalem, but the Anti-Gay Pride Parade just doesn't seem to promise the sparkle and flash that Parada do Orgulho LGBT de São Paulo brings. Besides, what would they do for floats? Straight go-go dancers often aren't and the straight version of drag tends to be pro-gay anyway.
Active Duty Military Marches In San Diego Pride
Jim Burroway
July 8th, 2011
Now that "Don't Ask, Don't Tell" has been half-lifted by the Ninth Circuit Court of Appeals, LGBT members of the U.S. military in the San Diego area marched in the city's Gay Pride parade this weekend as out and proud LGBT Americans.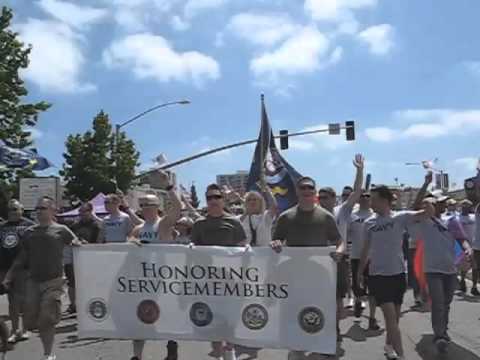 San Diego is home port for the U.S. Navy's Pacific Fleet, and the area is dotted with ports, naval air stations, national guard facilities — and the Marine's Camp Pendelton is just up the cost in north county. This appears to be the first organized march by active duty military personnel in a U.S. Gay Pride parade.
Slavic Pride Attacked By Police, 14 Arrested
Jim Burroway
June 25th, 2011
Despite the ban imposed by St. Petersburg city hall, Russian LGBT advocates held a Slavic Pride demonstration near the monument to Peter the Great in central St. Petersburg. When Pride participants arrived at the monument at 2:00 p.m. local time, they were met by about two dozen militia police. Within minutes, police broke up the march and arrested eleven Russians and three Belarusians.
One LGBT advocate Alexey Kiselev, was reportedly beaten by police at the station. Another advocate, Alexander Sheremetev, was beaten by a skinhead. He has been taken to a hospital under police custody. The attacker was arrested and later released, but the LGBT advocates who were arrested will being held overnight. There is no word on his condition. They are being charged with organizing an illegal action and resisting a police order.  This second charge could lead to a 15-day prison sentence. It appears most of the activists are being held in the same cell and were able to keep their cell phones. They are tweeting and texting from inside their cell. But there is growing concern over trans rights activist Anna Komarova, who is being kept in a separate cell without access to a mobile phone.
Obama Issues Pride Month Proclamation
Jim Burroway
June 1st, 2011
President Barack Obama issued a proclamation last night declaring the month of June the Lesbian, Gay, Bisexual and Transgender Pride Month:
The story of America's Lesbian, Gay, Bisexual, and Transgender (LGBT) community is the story of our fathers and sons, our mothers and daughters, and our friends and neighbors who continue the task of making our country a more perfect Union. It is a story about the struggle to realize the great American promise that all people can live with dignity and fairness under the law. Each June, we commemorate the courageous individuals who have fought to achieve this promise for LGBT Americans, and we rededicate ourselves to the pursuit of equal rights for all, regardless of sexual orientation or gender identity.

…Every generation of Americans has brought our Nation closer to fulfilling its promise of equality. While progress has taken time, our achievements in advancing the rights of LGBT Americans remind us that history is on our side, and that the American people will never stop striving toward liberty and justice for all.
President Obama's declaration also notes that this June marks the 30th anniversary of the known AIDS epidemic (we now know that AIDS had already been killing people for many decades before it was reported by the CDC in 1981), and urges a recommitment to AIDS awareness. "This landmark anniversary is an opportunity for the LGBT community and allies to recommit to raising awareness about HIV/AIDS and continuing the fight against this deadly pandemic."
New inductees into the community: add an X to the alphabet
Timothy Kincaid
April 6th, 2011
Considering that BTB's comments section has had recent discussion about who is, or isn't, or should be, part of our community and what nomenclature should be considered, it is a fittingly timely announcement that the LGBTQQIA community has a new letter: X, as in Malcolm X.
According to a new biography, Malcolm X: A Life of Reinvention by Columbia University historian Manning Marable, X had during his life been involved in a number of not-strictly-heterosexual encounters including hustling the streets and a relationship with a white businessman.
Of course, engaging in same-sex relations for money does not make one gay. Or even bisexual. Lord knows that there are more than a few gay-for-pay porn actors who regularly – and convincingly – utilize their assets in pursuit of a few bucks before going home to the wife. And every major city has a population of young men who will happily engage in whatever sexual act you desire if it will pay for their next meal, next room, next fix.
As Rev. Irene Monroe puts it,
I am not heterosexist apologist, but if we, as LGBTQ, use this era of Malcolm's life to claim him as gay, we misunderstand the art and survival of street hustling culture.

Similarly, if we, as African-Americans, use this era of Malcolm's life to dismiss that he engaged in same-sex relationships, many will miss the opportunity to purge ourselves of homophobic attitudes.
But, as Monroe's comments acknowledge, for the young Malcolms out there today, those who dance on the line of sexuality, their orientation (should it be heterosexual) does not excuse their sexual transgression. They are not "the same as" those in their family, church, community, society who have not had such relations. Heroes simply can't have done homo things, and vice versa.
So, as the greater community of The Respectable may often reject the membership of these not-gay-but-doing-it-anyway folk, let us open our community to include them. Of course I'm kidding about adding an X. I don't even use the letters after T, and most of the time just go with "gay community."
But the invitation is real. The gay community – that community of gay, lesbian, bisexual, two-spirited, same-gender loving, transgender, questioning, queer, intersex, asexual, friendly heterosexual, political ally, and elderly Russian Jewish women who wander down to Santa Monica Boulevard to watch Gay Pride every year – certainly has room for any who want to belong.
Trading in our sparkle and our freak
A commentary
Timothy Kincaid
December 29th, 2010
Conservative columnist and National Review Online editor Jonah Goldberg has an article in which he notes that the gay community has become increasingly bourgeois. We've traded in our outsider status – our anti-establishment, turn over the tables, radical revolutionary rhetoric – for an agenda that is conventional and middle-class. (NRO)
Two decades ago, the gay left wanted to smash the bourgeois prisons of monogamy, capitalistic enterprise and patriotic values and bask in the warm sun of bohemian "free love." And avant-garde values. In this, they were simply picking up the torch from the straight left of the 1960s and 1970s, who had sought to throw off the sexual hang-ups of their parents' generation along with their gray flannel suits.
…
The gay experiment with open bohemianism was arguably shorter. Of course, AIDS played an obvious and tragic role in focusing attention on the downside of promiscuity. But even so, the sweeping embrace of bourgeois lifestyles by the gay community has been stunning.

Nowhere is this more evident — and perhaps exaggerated — than in popular culture. Watch ABC's Modern Family. The sitcom is supposed to be "subversive" in part because it features a gay couple with an adopted daughter from Asia. And you can see why both liberal proponents and conservative opponents of gay marriage see it that way. But imagine you hate the institution of marriage and then watch Modern Family's hardworking bourgeois gay couple through those eyes. What's being subverted? Traditional marriage, or some bohemian identity-politics fantasy of homosexuality?
Even the most casual glance at the goals and aspirations of our community activists – both Gay, Inc. and street protesters – give a picture of a modern gay community seeking conventionality: we value marriage and family, participation in national defense, religious inclusion, assimilated employment and housing, and societal respect for our lives and our unions. Looking at our legislative goals, you'd think we were all Republicans (and, indeed, at least a quarter of us are).
And this is certainly troubling to some in of our community. Those who have been out long enough to remember the transgressive cultural ideology of our youth often do so fondly. Yes, life is certainly easier when the store clerk helps you pick out a gift for your husband, but there was a sense of purpose and a heady rush of righteousness to screaming "fascist pigs" while storming out of a store that made it clear that they didn't serve people like you.
Outsider status has its appeal. There's very little intimacy in "belonging to" a citizenry of 300 million, but subcultures provide encouragement and support and care for those who share in the burden. The more that the greater society rejects you, the more intense is your sense of belonging to your community. And, ironically, the more one takes on attitudes and attributes that further separate you from the oppressors.
And for some in our community, the struggle is what defines their identity; it's what gives purpose to their rage. And on the day that we finally accomplish civil, social, and religious equality, they will find themselves sadly pointless and obsolete.
But most of those who fear gay assimilation aren't just angry or sentimental for the days of rejection. They also are legitimately concerned about a loss of culture, the diminishing of the unique perspective that our community created and which gives us color and life, our peculiarity and individuality. The more we embrace assimilation, the more we lose a bit of who we are.
They are right, of course.
The more that younger gay people assimilate into the greater community, the less our segregation will cause us to coalesce around shared culture points of music, expression, language, politics, and social thought. Gay institutions such as leather, drag, pop icons, feminist music, biker women, and sexual abandon will suffer and diminish as a result – to some extent they already have.
But "our culture" is another term for "what makes us different" and sometimes that which we claim as our own is really just a response to the rejection of others. Art and beauty are often born out of pain, and comfort seldom inspires originality. And as rejection recedes, so too will reaction.
But I believe that there will always be a gay community that is set apart to some extent from society. We will always have a place to go to be around people who share our unique perspective driven by the very real difference of our sexual attraction. And it will have to go through the process of finding what is of lasting unique value and what can and should be given up in trade for the comfort and security that comes from acceptance.
I can't predict what will survive our continued assimilation, but I know that you can't truly stand apart without disregarding the opinions of others. And as we gain equalities, the risks for many gay people will become too great. It is all but certain that some of our culture points will either go extinct or become stylized homages to an earlier time, like lederhosen or Saint Patrick's Day parades.
Yes, it is true that we will be a more equal people, a more secure, accepted, and included people. But it is also certainly true that we will have less sparkle and freak.
Serbian Police Clash With Anti-Gay Rioters at Belgrade Pride
Jim Burroway
October 10th, 2010
The first major Gay Pride parade in Serbia since 2002 triggered massive riots as anti-gay extremists clashed with thousands of Serbian riot police who were deployed to protect the marchers in downtown Belgrade today.
Rioters chanted "The hunt has begun!" and "death to homosexuals!" as they set fire to parked cars, smashed store windows and overturned garbage dumpsters in several of the repeated clashes with thousands of police officers, who had sealed off the streets around the march.
According to the Associated Press, rioters also fired shots and threw Molotov cocktails at the headquarters of the ruling Democratic Party. Rioters also attacked other political party headquarters and the state television station, as well as other unrelated targets in other parts of the city. Gangs of skinheads also reportedly hijacked a bus, ordered the passengers and drivers out, and pushed the bus down a steep street where it crashed into a pole at a main square. Looting also broke out in several shops downtown. Most of the violence took place after the Pride march had ended.
Dragan Djilas, the mayor of the Serbian capital, put the estimated damage at more than one million euros.
According to police, 78 police officers and 17 civilians were injured, 101 were detained and 53 remain in custody. Police say that at least one gay rights activist had been beaten unconscious. According to UK Gay News' Andy Harley, who was in Belgrade to attend the march, a participant from Switzerland has been taken to a hospital with injuries after being attacked in the street two hours after the Pride march ended.
Pride organizer Lazar Pavlovic called the Pride march a "historic event," and noted that the violence and immense security measures illustrated the dangers that gay people in Serbia face every day.
"It is a shame for me to march, to stand for what I am, and to have thousands of cops protect me from hysterical nationalists," said Milena, 36, a lesbian activist.

Susanne Simon-Paunovic, a German married to a Serb who attended the rally said: "It was more like death march. The atmosphere was terrible."
According to AFP, about a thousand people took part in the Pride march. The parade participants included several international observers as well as a well-known Serb actress, Mirjana Karanovic. Speakers at the event included the European Union's delegation chief in Serbia Vincent Degert and Human Rights Minister Svetozar Čiplić.
One participant identified only as Nikola, said, "After the beatings, after living in fear, this is what we needed, to become visible." That visibility continues to be a source of danger for LGBT people. Serbian ultra-nationalist groups threatened to photograph those taking part in the march and post them on a website for retribution.
Belgrade's B92 radio and television reports that after the Pride march ended, police escorted participants safely out of the area. UK Gay News' Andy Harley said that the area cordoned off by police was peaceful, "with most of the Pride participants unaware of the battles going on."
The Serbian Orthodox Church condemned the parade in a statement on Friday, warning that such a move would "provoke others to act violently":
"Behind this verbal triumphalism and boastful public appearance and the gay marchers, is actually internal anguish, despair and grief of the marchers, a clown cry for lost moral and spiritual balance and existential insecurity," [Metropolitan] Amfilohije told weekly Pečat.

"One should never lose sight of eternal symbolism of Sodom and Gomorrah: all towns and people in them were destroyed, burned in sulfur and fire precisely because they turned natural use of male and female into perverted and unnatural," he pointed out.
Amfilohije also condemned violence, saying that ""violence does not cure or triumph over evil, but instead multiplies it." B92 has published a photo of an Orthodox priest speaking to rioters surrounded by police. B92 does not indicate whether the priest was trying to calm the situation or inflame it.
The parade, which was the first one held since 2002, was seen as a test of Serbia's readiness to become a more modern and open society after years of warfare in the 1990s that was fueled by nationalism and ethnic hatred. The 2002 event, which drew 300 participants, was also marred by massive violence. Unknown attackers beat up Mario Kovač, the Croatian theater director who was to serve as Master of Ceremonies. Skinheads also attacked a club popular with the gay community, beating several of the patrons before police arrived to break up the fighting.
Smaller pride gatherings were held with little fanfare in 2003 through 2005. Last year's attempt at a more prominent parade was canceled after the government said it could not guarantee the safety of participants.
Serbian president Boris Tadic condemned this year's violence and vowed, "Serbia will guarantee human rights for all its citizens, regardless of the differences among them, and no attempts to revoke these freedoms with violence will be allowed."
If there is an encouraging sign, it is that the police were vigorous in protecting the rights of LGBT people to hold a peaceful march in the capital. Serbia has aspirations for joining the European Union, and its observance of human rights and protection of minorities is a crucial element to its possible acceptance into the Union.
Update: One Pride marcher praised Belgrade police, saying, "The police were without question the heroes of the day. It makes me angry that some of them were injured, some of them seemingly seriously hurt." Linda Freimane, a co-chair of International Gay and Lesbian Association (IGLA) Europe's Executive Board, also praised Serb authorities: "Today, the Serbian authorities proved they are serious in their respect for everyone's right to exercise their fundamental rights, and for European integration."
Atlanta loses an asset
Timothy Kincaid
August 25th, 2010
From the Journal Constitution:
An organizer of Atlanta's annual Black Gay Pride celebration was shot dead in southwest Atlanta early Wednesday morning, police said.

Durand Robinson, co-owner of the popular gay nightclub Traxx, was found dead in the middle of Hadlock Street around 1:30 a.m., Atlanta police said. Officers said he had been shot in the chest.

Robinson, 50, will be honored during a candlelight vigil on Sept. 1, according to In The Life Atlanta, the nonprofit group that organizes Atlanta Black Gay Pride.
Some Hallelujah testimony from Durango, CO
Timothy Kincaid
July 26th, 2010
This is a letter to the editor in the Durango Herald which just speaks for itself:
The 4 Corners Pride Festival held June 26 at Rotary Park was far more successful than anyone could imagine. God used the park and pride event for his silent pulpit to touch all who attended.

Unknown to the attendees, everyone received a blessing and permanently was touched by God's Holy Spirit. This included straight and homosexual people.

While the pride fest participants were indulging in their prefest party at the Lost Dog Bar & Lounge on the evening of June 25, a group of dedicated Christians met at Rotary Park for prayer and physical anointing of the park with God's holy oil. The oil has extreme spiritual power to overcome Satan's grip on those who are not Christians. Because of this, the Holy Spirit will remain with each individual as long as believing Christians continue to keep it activated with prayer.

Escape from homosexuality is possible with God's help. The Wednesday evening prayer chain for salvation is still alive and active. It was established to bring homosexuals to Jesus for eternal salvation and for deliverance from their lifestyle.

Any individual or community that continues to accept and condone homosexuality is going against God's teachings and will suffer severe consequences. This is explained in the King James Bible, which accurately has predicted mankind's future for more than 2,000 years.

Everyone is welcome to join the prayer chain by simply asking Jesus to include you in the many prayers going to God on Wednesday evenings.

Vi McCoy, Durango
Let's just say that Vi doesn't speak for all Christians. Or most Christians. Or anyone with even the vaguest knowledge of either history or the King James Version of the Bible. Or for King James. Or anyone with a high school education. Or anyone whose TV gets the History Channel. Or for the prayer-chain members in Durango. Well… maybe for the prayer-chain members in Durango.
Congrats to Detroit's black gay pride
Timothy Kincaid
July 23rd, 2010
It is tougher as a minority. But it can be crazy difficult being a minority within a minority. And sometimes you just need a time and place where you look out and everyone you see knows exactly where you are coming from.
So congratulations to Detroit's Black Pride for 15 years of giving a voice, presence, and closer sense of community to a part of our family.
The Kansas City Star Readers' Representative plays devil's advocate
Timothy Kincaid
June 29th, 2010
When the Kansas City Star ran a web article about NY gay pride accompanied by a photo of a nude man on a bike in San Francisco, I wrote to the Star to express my discontent. Derek Donovan, the Readers' Representative responded to clarify how the picture came to be and to give me a little lesson about what is an appropriate illustration for gay pride.
I did not agree.
Here is my less-than-friendly original comment:
Really, KC Star?

The best possible picture to accompany a story about this year's gay pride parade in New York City was a picture of a nude guy on a bike from last year's pride in San Francisco? What kind of irresponsible hateful jerk decided to try and trash gay people universally by tying this picture to the entire community? I'm sure he's really proud of his little homphobic effort
Here is Mr. Donovan's much-more-polite response:
Dear Mr. Kincaid,

The letters editor shared your note with me, since it pertains to how The Star covers the news. That photo came directly from The Associated Press, where it was posted online automatically. When a Web editor at KansasCity.com noticed it, he removed it. Wire content rotates in and out of KansasCity.com automatically every day without an editor's hand, as it does on many news sites.

However, I'm going to play devil's advocate here. That man in the photo was indeed a participant in the pride parade, as were a number of others in skimpy and outlandish costumes. It's the journalist's job to document what goes on — and that includes images that some people don't want to see. A column from the National Gay and Lesbian Journalists Association says:

"Some photojournalists may feel like ignoring the femme boys, the butch girls and all those drag queens on Rollerblades. That's just as wrong as making them the entire focus of coverage."

Full column:

http://www.nlgja.org/publications/articles/dotinga_pride.htm

Some gay people love pride events, and others disdain them. Some are ambivalent. The Society of Professional Journalists' code of ethics says to "Tell the story of the diversity and magnitude of the human experience boldly, even when it is unpopular to do so."

The bottom line (no pun intended) is that the man in the photo chose to appear nude in the parade. And again, an editor removed the image when he saw it. I don't really think the word "homophobic" is applicable here, but I will include your comments in my weekly report to the publisher, vice presidents and the entire newsroom.

Best wishes,
Derek Donovan
Readers' representative
The Kansas City Star
And this is my rebuttal
Derek,

Thank you for your response. And let me state up front that I am appreciative of the Star's decision to remove the deceptive picture from accompanying and illustrating your article.

However, in playing devil's advocate, I think you failed to closely read your own position or apply it to the situation.

Yes, the NGLJA does advise:

"Some photojournalists may feel like ignoring the femme boys, the butch girls and all those drag queens on Rollerblades. That's just as wrong as making them the entire focus of coverage."

In other words, don't color the story to portray a false impression. The man on the bike, as the only picture provided, became the entire focus of coverage. He became the sole image of Gay Pride, regardless of the fact that the article was about the New York gay pride parade – and he was from an entirely different type of gay pride parade 3,000 miles away (New York and San Francisco have sharply different gay cultures and their parades have both different messages and different meaning).

And NGLJA follows that advice with this:

"Photos that only show stereotypical images of gays and lesbians without reflecting the diversity of our community have rightly caused anger for many years," Poller said. "But at the same time, it's good to remember what the day is about, what the event feels like. Pride is loud and boisterous and fun, and the published photos should reflect that."

Was that picture loud, boisterous or fun? No. Only to the person who got a chuckle from tying this image to the gay community as a whole.

And was it honest, true or a fair representation of pride? Again, no.

Readers had no way to know that this man on his bike was extremely atypical for gay pride parades. Indeed, he would not have been allowed to ride nude in the vast overwhelming number of pride parades, including the subject of your article.

The Society of Professional Journalists' code of ethics says to "Tell the story of the diversity and magnitude of the human experience boldly, even when it is unpopular to do so."

This picture did not tell the story of diversity and magnitude. This was not an inclusive photograph showing several floats, a marching band or two, some drag queens, and a few go-go dancers. Rather this was a picture that focused on a single individual and, by default, portrayed him as representative.

Based on the criteria you stated, the AP – and the Star – failed miserably.

And I'm troubled by your failure to see the problem with the decision to use this photograph. This was not an accidental happenstance.

Yes, the man in the photo chose to appear nude in the parade. But someone else chose to photograph him, to put him on the wire, and to allow the picture to represent gay pride.

To understand my point, ask yourself this question: would you not feel shame for accompanying a story about the MLK march or Saint Patrick's Day parade or the Lotus festival with a picture that sought to stereotype the participants in a negative way? Would you not be embarrassed if the coverage of a Tea Party rally deliberately pictured a person who, say, was missing teeth?

We would recognize these images as attempts to demean. And they would be.

So let's not pretend that there was no intent on someone's part to portray gay people and gay pride parades in as outlandish a way as possible. To do so discredits an otherwise credible response.

Again, thank you for your reply. I am taking the liberty of sharing it with my readers.

Timothy Kincaid
Gee thanks, Kansas City Star
Timothy Kincaid
June 27th, 2010

Is Peter LaBarbera working for the Kansas City Star?
Seems like it. For some reason, the KC Star decided that an article about today's Gay Pride parade in New York City should be accompanied by this photo, from last year's pride parade in San Francisco.
And, of course, this is the photo that pops up on Google News to illustrate the 973 news articles about Gay Pride events around the world. Stanley Cup? nope. Ernie Banks? not a chance. The elected officials or PFLAG or health services or even baton twirlers or drag queens? un-uh. This year's image for Gay Pride is a year old picture of a nude man on a bike.
Oh goodie.
UPDATE: The picture appears to have disappeared from the KC Star website.
The importance of Ernie Banks
Timothy Kincaid
June 25th, 2010
Sports Illustrated writer, Jeff Pearlman, writes about the message that the Chicago Cubs are making by sending their most iconic symbol to Chicago Gay Pride.
The team could have enlisted any former player without a peep of complaint from the community. Here's Dwight Smith waving to the crowd! Or Ray Burris! Or Mike Maksudian! It could have just sent the float along with Biff, the 19-year-old eager-to-please PR intern. Hell, the Cubs could probably get by merely contributing the float and a box of donuts. But by putting forth Banks, an iconic Hall of Famer and one of the classiest men to ever grace the diamond, the Cubs have made a bold and powerful statement that, even in the oft-closed-minded world of professional team sports, homophobia no longer has a place.