Richard Cohen Is Back In The PFOX and Exodus Orbit
Jim Burroway
February 26th, 2009
Richard Cohen is back and he's on tour, with the full blessing of Exodus International member organization PFOX.
Two years ago, the ex-gay movement was widely embarrassed by Richard Cohen when in July 2006 he revealed his "holding" or "touch" techniques before a nationwide audience. It's a controversial techniques that Cohen promotes through his International Healing Foundation. Cohen had also been president of the PFOX, but he was forced out after that CNN episode aired.
That embarrassment was compounded when in March 2007 he appeared on Comedy Central's The Daily Show. That prompted PFOX and NARTH to scrub their web sites of all mention of him, and Exodus International publicly distanced themselves from his techniques:
Exodus International does not endorse the work of Richard Cohen or the methods utilized in his practice. Some of the techniques Mr. Cohen employs could be detrimental to an individual's understanding of healthy relational boundaries and disruptive to the psychological and emotional development of men and women seeking clinical counsel and aid.
That was wise, if belated. Five years earlier, Cohen had already been expelled from the American Counseling Association (ACA) for multiple ethical violations.
Well, that exile didn't last long. Even though PFOX scrubbed their web site to pretend they had never heard of Cohen, we learned that just a few months later PFOX was referring "clients" to Richard Cohen's International Healing Foundation. Then last year came word of a possible rapprochement between Exodus and Cohen. That was quite a turnaround considering that Exodus International president Alan Chambers had resigned just a year ealier from PFOX's board of directors because they hadn't distanced themselves enough from Cohen
And now PFOX, which through all of this has remained a member in good standing in Exodus's referral network, is promoting Cohen's "National Tour!" — complete with exclamation marks. Actually, there are no tour dates set just yet. They're still begging for people to invite him. But the timing's no coincidence. Cohen will have a new book out, "Loving Gays the Right Way: The Other Side of Tolerance."
Let's see, what would the other side of tolerance be?
To remind you of Cohen's "healing" techniques, here's a clip of Cohen on CNN.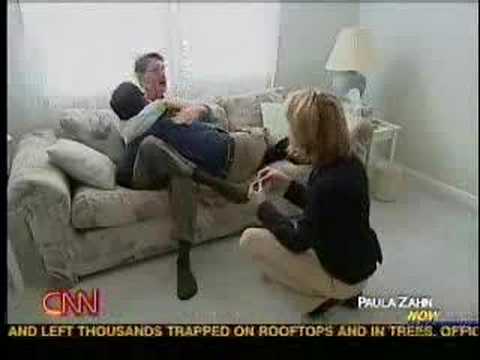 Comments