French Report: Nikolai Alekseev En Route To Moscow
Jim Burroway
September 17th, 2010
Here is an awkwardly Google-translated report from the French LGBT web site yagg.com:
According to Sophie Lichten, Vice-Chair of IDAHO (International Day Against Homophobia), Nikolai Alekseev said in a telephone call on his way to Moscow, "where it will in the coming hours and will relate what has happened over the last 48 hours. He was surprised by the rumor that he was in Minsk, and said that his phone was taken from him two days."

…"I am delighted that we finally have official confirmation that my counterpart [Nikolai Alekseev is also vice-president of the IDAHO] is always there," said Sophie in Yagga Lichten.
According to this Wikipedia profile, Nikolai became Secretary of the Paris-based IDAHO Committee in 2006, and was appointed vice-president in 2008.
While we should be cautious about any reports we receive until we are able to see and hear Nikolai himself, this may be a positive development. Meanwhile as of this writing, GayRussia.ru, the web site founded by Nikolai, is still down:
In other developments, the BBC's Russian language service reports that the French Foreign Minister Bernard Kouchner on Friday intends to discuss Alekseev's disappearance at a meeting with Russian Foreign Minister Sergei Lavrov. "We ask the Russian authorities to respect the right to freedom of association and freedom of speech and freedom of movement guaranteed Alekseev," said Kouchner.
So the French government is rightly concerned about this ham-handed Soviet-style abduction of a principled political dissident. What about Secretary of State Hillary Clinton?
Update: Andy Hardy at UK Gay News has further confirmation that Alekseev is not in Minsk:
"I never was in Minsk … My phone was taken from me two days ago …"  These are the actual – and remarkable – words of Nikolai Alekseev, the gay Russian activist and chief organiser of Moscow Pride, who has surfaced somewhere in Russia.

Mr. Alekseev was speaking this evening to a close friend, who is known to UK Gay News from Moscow Gay Pride in May – and who is reliable.

The close friend, who does not want to be identified as he fears for his safety, said he was certain that it was Nikolai Alekseev speaking.

"Nikolai used my nickname when he sent me a SMS, so I was pretty sure it was him," the friend said.  "Then I asked a question that only he could answer – and the answer was correct, so I called the number."
Alekseev is reportedly about 500 km from Moscow and was on his way back to the capital. He hopes to return on Saturday when he can explain what happened.
[Hat tips: Rex Wockner, UK Gay News]
Where Is Nikolai Alekseev?
Jim Burroway
September 17th, 2010
A recent news dispatch from Interfax Belarus is raising alarm bells over the well-being of Russian LGBT advocate Nikolai Alekseev. A Google translation of that dispatch reads:
The organizer of Moscow gay pride parades Nikolai Alexeev said that he intends to seek political asylum in Belarus.

"At present I am in Minsk and intends to ask the authorities for political asylum in Belarus", – said Nikolai Alexeev Interfax through short SMS-messages.

According to him, he also decided to withdraw all claims of the European Court of Human Rights (ECHR) on the prohibition of shares of sexual minorities in Moscow, 2006, 2007 and 2008. "Due to the pressure exerted on me I decided to withdraw the complaint on the Moscow authorities ban gay pride parades in 2006, 2007 and 2008 from the European court," – he said.
Reports that we, UK Gay News, Interfax and others have relayed so far have reportedly originated from SMS text messages from Nikolai's phone. But if Nikolai is in the custody of Russian authorities, then his phone is also. A few other reports have originated from email messages that several LGBT activists and bloggers around the world (including BTB) have received from Nikolai's email account. But as we noted yesterday, those messages, too, are suspect; Nikolai had his laptop with him when he was seized at Moscow's Domodedovo International Airport as he was about to board a Swiss Air flight to Geneva.
Late yesterday, we received an apparently confirmation email from someone who is not Nikolai (the email speaks of Nikolai in the third person) from Nikolai's email account saying that Nikolai was free and in Minsk. There is no indication of how he got there, and this is extremely critical. As one astute BTB commenter noted, Belarus, unlike Russia, is not a member of  the Council of Europe, which means it is not subject to the rulings of the European Court of Human Rights. And yet it is a very close Russian ally, as well as an anti-gay dictatorship that has been ruled with an iron fist by Alexander Lukashenko since 1994. Virtually nothing in Belarus has changed since the days of the Soviet Union.
Which means that as long as Nikolai is in Belarus, he remains in an even more repressive state than Russia with no legal recourse for the protection of his human rights. And yet because Belarus is such a close ally of Russia (there has been talk of a re-union between the two countries), Nikolai remains subject to the whims of Russian authorities. If one were to seek asylum from Russia, Belarus would be the very last place one would go to.
Further, if he is in Belarus, there is no indication whatsoever that he is free. UK Gay News reports that their contact in Minsk's gay community say that no one there has seen or heard from Nilolai, who has extensive contacts in the Belorussian capital — he helped to organize a pride conference and march there last October. But no one has heard from him in person.
But the most worrying indication that Nikolai may still be in personal danger is Interfax Belarus' report that he supposedly withdrew his complaints against Moscow city authorities before the European Court of Human Rights. This is is not the least bit consistent with a man the world has come to know and admire for his personal courage. He bravery earned him the title of "Global Pride Warrior" in an Advocate article in July, 2009. To acquiesce on the case before the European court is completely outside of his character.
[Update: Another LGBT advocate in Russia, Alexei Davydov, wrote a blog post at Anti-Dogma saying he received an SMS text message from Nikolai saying he had signed the papers to withdraw his complaints from the European Court. The activist responded with a question that only he and Nikolai knew the answer to. At that point, "the connection was lost." He also notes that another Russian activist, Anna Komarova, experienced the same thing. This means that all messages purportedly from Nikolai are suspect.]
We echo this call from Andy Harley of UK Gay News, who is a personal friend of Nikolai's: "Until Mr. Alekseev actually contacts someone by "voice" telephone and says where he is – and that he is a free man, concerns will remain.  But at the present time, there are serious doubts."
Russian LGBT Advocate Reportedly Deported to Belarus
Jim Burroway
September 16th, 2010
We are recieving multiple reports, including this one from Interfax, that Russian LGBT activist Nikolai Alekseev was taken to Minsk, the capital of Belarus. Interfax quotes Alexeev as saying that he was seized at Moscow's Domodedovo International Airport as he was about to board a Swiss Air flight to Geneva.
According to Interfax, Alekseev reportedly said that he was driven to a provincial location and questioned by authorities (it's unclear which authorities at this point) who apparently had two demands. They demanded that he cancel a planned protest against Moscow mayor Yuri Luzhkof slated for next Tuesday, which happens to be Luzhkof's birthday. His captors also demanded that he drop a lawsuit lodged in the European Court of Human Rights over the banning of Moscow Gay Prides over the past five years.
Whether Alekseev is free to move about in Minsk is unclear, but in messages sent to friends and the media, he insists that he will do his best to be back in Moscow in time for next week's protest. "It is a matter of principle," Interfax quoted him as saying. In a separate email sent from Alekseev's account, the writer (who refers to Alekseev in the third person) adds, "The picket against the Moscow Mayor planned in Moscow for Sept 21 is maintained irrespectively of the decision of the authorities to allow it or not."
IGLA-Europe has issued a statement demanding Alekseev's immediate release.
Meanwhile, a planned Queer Culture Festival in St. Petersburg was forced to move its venue moments before it was due to open at the Exhibit Centre at the St. Petersburg Artists Union. The venue's director told Interfax that the Committee on Culture ordered the closing. The festival will open instead at Club Vega. The festival is scheduled to continue through Sept 25 with a concert by Swedish singer Jay-Jay Johanson. A parents organization in St. Petersburg is petitioning the city authorities to shut down the festival altogether.
Riot Police Break Up Pride Events in Minsk
Jim Burroway
May 15th, 2010
Belarussian police on Saturday broke up a gay and lesbian pride demonstration by about 20 participants who defied an official ban to gather on a side street in central Minsk and march with bright rainbow flags.

Some carried handwritten signs saying, "Today they ban gays, tomorrow they will ban you," in a short-lived protest that was the first of its kind organized by the Russian and Belarussian Slavic Pride rights group in the capital.

Police wearing black berets and armed with batons moved in after the protesters advanced about 300 meters down the street. They tore away the flags and hauled off the marchers, some of whom had traveled from Russia for the event.

"The police reaction was completely disproportionate to the threat which they thought the protesters posed," Russian activist Nikolai Alekseev told Reuters.
UK Gay News anticipated the potential trouble in Minsk and has been live-blogging Pride events the entire weekend. Here's their description of the crackdown:
Minsk had its gay pride march.  For just 10 minutes, 40  Belarusians and Russians waived a 12 meters long rainbow flag for a short march of approximately 200 meters.  They were at first met by a large group of journalists, photographers and TV crew.  But when they reached the first crossing point, they were trapped by several vans of anti-riot police.  Suddenly, the doors of the vans opened and anti-riot officers ran towards the participants. "I never saw anything of the kind" said Nikolai Alekseev by mobile phone.  "They were brutal and violent" he added.  Another participant who did not want to be named said: "It was like a group of wild dogs".  The march ended with most of the participants being arrested and violently beaten.  A few managed to escape but the police ran after them.
Twelve people were reportedly detained by police. It appears that at least eight of them have been released, but must appear in court on Monday.
The planned march, which had been banned by Minsk authorities, was just one of several events planned by the Minsk LGBT community. Other private events, including a dance scheduled for Saturday night, appear to have gone on without incident, and sometimes with police protection from skinhead protesters.
Here is video of the march: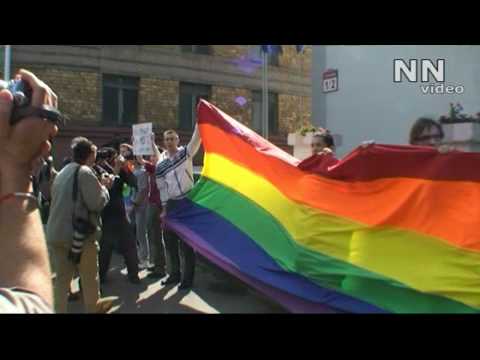 Major LGBT Conference Held In Belarus While Authorities Looked The Other Way
Jim Burroway
October 5th, 2009
The situation for LGBT people in Belarus has always been difficult. While the legal ban on homosexual behavior was lifted in 1994, Belarus law offers no protections for its LGBT citizens and officially-sanction harassment remains rampant in the former Soviet republic. Every attempt to hold Gay Pride marches since 1999 has failed due to official bans. In 2004, a conference by the International Lesbian and Gay Cultural Network was canceled after authorities threatened the host organizers and threatened to expel participating foreigners. Belarus routinely blocks access to LGBT websites.
And so it was quite a surprise to learn that Belarus authorities allowed a large (by Eastern European standards) international LGBT conference to proceed this year undisturbed. (That lack of interference may explain why the conference went largely unnoticed in the West.) On Saturday, September 26, more than 100 participants from ten countries gathered for "Movement and NGOs: Prospects for Cooperation with active civil society to overcome homophobia in Belarus" at the Crowne Plaza hotel in Minsk.
The conference, billed as the largest ever Belarusian LGBT conference, closed with a resolution calling on President Alexander Lukashenko and the government of Belarus to end discrimination on the basis of sexual orientation and gender identity, provide protections against hate crimes, grant equal rights to same-sex couples, to end the practice of blocking internet access to LGBT web sites, and to support Slavic Pride slated for May 15, 2010.
Russian and Belarusian LGBT activists have been working together for nearly a year on several joint projects, including last May's Slavic Pride in Moscow. When Moscow riot police broke up the march and arrested most of the participants, the Belarusian Embassy in Moscow refused to provide assistance for their own detainees. Next year's Slavic Pride will be held in Minsk.
Conference participants came from across Belarus, as well as Poland, Ukraine, France, Switzerland, Germany, Sweden, Hungary, United Kingdom and Russia. Some of the organizations represented include the Belarusian Helsinki Committee, Belarusian Social Democratic Party, the Green Party, the Association of Belarusian Journalists, and activists from the GayRussia.ru LGBT portal. Observers from the Swedish, French and Hungarian embassies were also in attendance. The Swedish Embassy hosted a reception for conference participants at a Minsk restaurant.