Pride disallowed in Belarus
Timothy Kincaid
December 11th, 2013
Officials in Minsk, capital of the Northern European nation of Belarus, have disallowed a Gay Pride march and rally. (rferl)
Authorities in Minsk have banned two gay-rights events, but Belarusian activists have vowed to go ahead anyway.

Authorities blamed their decision not to allow a lesbian, gay, bisexual, and transgender (LGBT) march planned for December 11 and a gay-rights rally planned for December 12 on "technical" and timing problems.
And, naturally, the authorities refused to discuss ways to work around the timing problems. This is part of a larger difficulty in Belarus for gay activists to gain visibility. The federal government of self-proclaimed homophobe President Alyaksandr Lukashenka has threatened and terrorized gay rights leaders in the country.
NBC News Brings Scott Lively to Mainstream America
Jim Burroway
September 18th, 2013
We've been following Scott Lively for six years now, through his activities in Novosibirsk, Riga, and Kampala. When Russia passed a so-called "anti-propaganda" law which effectively prohibits all advocacy and positive portrayals of gay people, Lively rushed to take credit for it. But with the exception for a brief period in 2009 after Uganda's parliament proposed a law which would include the death penalty for gay people, Lively hasn't made much of an impression in the mainstream media. Today, NBC News published a significant profile which gets the rest of America caught up to date with the impact that Lively has had around the world:
Lively has reason to be a bit cocky. America may have "fallen to the gays," he says, but much of the world still fears them and Lively is working to keep it that way.

In Moldova in 2011, according to Human Rights Watch, he helped several cities declare themselves "gay-free zones" and organized an "emergency" campaign to block a law prohibiting discrimination on the basis of sexual orientation. In Poland, Latvia, Lithuania, Estonia, Ukraine and Belarus he met with politicians and pastors, fostering talk of new curbs on gay rights. Every place he goes, Lively says, his goal is to block the open expression of homosexuality, keep discrimination legal and make pro-gay advocacy a crime.

To whip up support for such policies, Lively simply shares his beliefs about gay people: They're dangerous predators, even killers. And they caught this gay "disorder" through "an evil game of tag," a chain of abuse in which gays recruit kids into sodomy just as they were once recruited. In this way homosexuality spreads like "a social cancer," he claims, until nothing remains of the Christian world.
NBC has re-posed portions of video from Lively's talks in Novosibirsk and Riga, videos which are no longer available at their original locations. Tony Dokoupil's report provides more information about the extent of Lively's 2007 tour, which turns out to be more extensive than I had originally thought. Dokoupil also draws a line from Lively's virulent rhetoric to some of the violence which often follows:
In Oregon in 1992, a same-sex couple died when their house was firebombed during OCA's campaign to declare homosexuality "abnormal, wrong, unnatural, and perverse." In Sacramento in 2007, a gay man was called a "faggot" and punched to death by a stranger in a park. In Uganda in 2011, the country's first openly gay man had his skull caved in. And right now in Russia and in the former Soviet states, there's been a surge in homophobic vigilantism, including a torrent of shaming videos, some depicting gay teens being tortured by skinheads. Lively has not been linked to any of these crimes but we asked: Couldn't his talk of predatory gays, "good and evil," and "war" have played a role?

"Wow, that's a leap," said Lively, who sees his work as advocacy in the public interest, no different from campaigning against drunk drivers.
Lively is probably best known within the gay community for his 2009 conference in Uganda. Lively would later brag that the conference was his "nuclear bomb against the gay agenda," and he immodestly dubbed himself the father of the anti-homosexuality movement in Uganda. Ugandan activists are currently suing Lively in U.S. Federal District Court, alleging that Lively engaged in a conspiracy to deny the LGBT community of their rights and safety under International Law, and that conspiracy resulted in harm to the LGBT community. Lively is being sued under the Alien Tort Statute, which provides federal jurisdiction for "any civil action by an alien, for a tort only, committed in violation of the law of nations or a treaty of the United States."  Dokoupil adds this concerning the lawsuit:
Pamela Spees, an attorney with the Center for Constitutional Rights, the group pursuing Lively for alleged "crimes against humanity" in Uganda, said she is prepared to file a second lawsuit related to his work in Russia and the surrounding countries, assuming there's evidence that Lively was "an architect of the persecutory program" there.

And that's why the case against Lively is so important, gay-rights activists say. As the Olympics draw nearer and the boycotts and homophobic backlash continue, Putin will be the guy paraded down the world's front pages and social media feeds. But Lively may be the secret agent to watch.

If he loses his lawsuit he could be prohibited from spreading his message abroad, a terrible precedent for other anti-gay crusaders. However if he wins, he emerges stronger than ever, the self-described "hero" of an expanding fight to restore "godliness to society," as he puts it – or else "pull as many people as possible into the lifeboat before the ship goes down."
We've been following Scott Lively for several years, ever since he first popped up on our radar in 2007 when he was in Riga, Latvia in a stop on a far-flung tour of Eastern Europe and the former Soviet Union sponsored by a new international anti-gay organization, Watchmen On the Walls. (That organization now appears to be inactive.) Soon, video appeared of a talk Lively gave earlier in March in Riga. I was then alerted to video of a talk that Lively gave in Novosibirsk in August, where he warned:
There is a war that is going on in the world. There is a war that is waging across the entire face of the globe. It's been waging in the United States for decades, and it's been waging in Europe for decades. It's a war between Christians and homosexuals. …And this is the design of the Devil to destroy civilization, because civilization is based on the natural family.
Then in November, Lively was back in Riga for a multi-day Watchmen conference. On the first day, Lively complained that the United States was under the iron grip of the homosexual agenda, which he called the product of Satan, "the father of lies":
You have to understand how this battle works. We follow the God of truth. The Holy Spirit, who is called the Spirit of Truth, lives inside of us. But our adversaries follow the father of lies. Scripture calls him the "father of lies." They can't tell the truth, and they won't tell the truth because they don't want people to listen to what we have to say. But we can't say anything that would give them proof that what they teach is right… So we must be wise as serpents and innocent as doves. We won't stop telling the truth, and they won't stop telling the lies. But this is a war.
In a later talk at the same conference, Lively disclosed what he called secrets that "homosexuality community doesn't want you to know": that homosexuality is a disorder, that homosexuality is like an addiction but also that homosexuality is voluntary, that homosexuals really don't want to be homosexual, and that the only reason we remain homosexual is because the leaders of the homosexual movement have made us afraid of Christians. He also read aloud an open letter to the Russian people, in which he advocated:
…[C]riminalize the public advocacy of homosexuality. My philosophy is to leave homosexuals alone if they keep their lifestyle private, and not to force them into therapy if they don't want it. However, homosexuality is destructive to individuals and to society and it should never publicly promoted. The easiest way to discourage "gay pride" parades and other homosexual advocacy is to make such activity illegal in the interest of public health and morality.
Russia has effectively done that, after President Vladimir Putin signed the so-called "anti-propaganda" into law last June.
Riot Police Break Up Pride Events in Minsk
Jim Burroway
May 15th, 2010
Belarussian police on Saturday broke up a gay and lesbian pride demonstration by about 20 participants who defied an official ban to gather on a side street in central Minsk and march with bright rainbow flags.

Some carried handwritten signs saying, "Today they ban gays, tomorrow they will ban you," in a short-lived protest that was the first of its kind organized by the Russian and Belarussian Slavic Pride rights group in the capital.

Police wearing black berets and armed with batons moved in after the protesters advanced about 300 meters down the street. They tore away the flags and hauled off the marchers, some of whom had traveled from Russia for the event.

"The police reaction was completely disproportionate to the threat which they thought the protesters posed," Russian activist Nikolai Alekseev told Reuters.
UK Gay News anticipated the potential trouble in Minsk and has been live-blogging Pride events the entire weekend. Here's their description of the crackdown:
Minsk had its gay pride march.  For just 10 minutes, 40  Belarusians and Russians waived a 12 meters long rainbow flag for a short march of approximately 200 meters.  They were at first met by a large group of journalists, photographers and TV crew.  But when they reached the first crossing point, they were trapped by several vans of anti-riot police.  Suddenly, the doors of the vans opened and anti-riot officers ran towards the participants. "I never saw anything of the kind" said Nikolai Alekseev by mobile phone.  "They were brutal and violent" he added.  Another participant who did not want to be named said: "It was like a group of wild dogs".  The march ended with most of the participants being arrested and violently beaten.  A few managed to escape but the police ran after them.
Twelve people were reportedly detained by police. It appears that at least eight of them have been released, but must appear in court on Monday.
The planned march, which had been banned by Minsk authorities, was just one of several events planned by the Minsk LGBT community. Other private events, including a dance scheduled for Saturday night, appear to have gone on without incident, and sometimes with police protection from skinhead protesters.
Here is video of the march: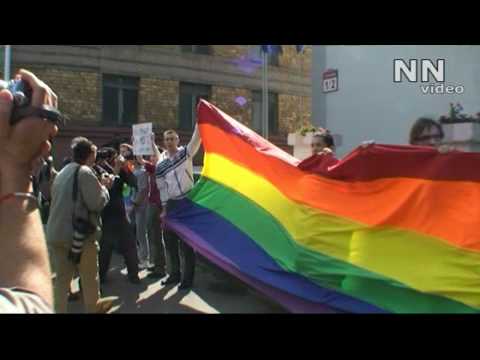 Major LGBT Conference Held In Belarus While Authorities Looked The Other Way
Jim Burroway
October 5th, 2009
The situation for LGBT people in Belarus has always been difficult. While the legal ban on homosexual behavior was lifted in 1994, Belarus law offers no protections for its LGBT citizens and officially-sanction harassment remains rampant in the former Soviet republic. Every attempt to hold Gay Pride marches since 1999 has failed due to official bans. In 2004, a conference by the International Lesbian and Gay Cultural Network was canceled after authorities threatened the host organizers and threatened to expel participating foreigners. Belarus routinely blocks access to LGBT websites.
And so it was quite a surprise to learn that Belarus authorities allowed a large (by Eastern European standards) international LGBT conference to proceed this year undisturbed. (That lack of interference may explain why the conference went largely unnoticed in the West.) On Saturday, September 26, more than 100 participants from ten countries gathered for "Movement and NGOs: Prospects for Cooperation with active civil society to overcome homophobia in Belarus" at the Crowne Plaza hotel in Minsk.
The conference, billed as the largest ever Belarusian LGBT conference, closed with a resolution calling on President Alexander Lukashenko and the government of Belarus to end discrimination on the basis of sexual orientation and gender identity, provide protections against hate crimes, grant equal rights to same-sex couples, to end the practice of blocking internet access to LGBT web sites, and to support Slavic Pride slated for May 15, 2010.
Russian and Belarusian LGBT activists have been working together for nearly a year on several joint projects, including last May's Slavic Pride in Moscow. When Moscow riot police broke up the march and arrested most of the participants, the Belarusian Embassy in Moscow refused to provide assistance for their own detainees. Next year's Slavic Pride will be held in Minsk.
Conference participants came from across Belarus, as well as Poland, Ukraine, France, Switzerland, Germany, Sweden, Hungary, United Kingdom and Russia. Some of the organizations represented include the Belarusian Helsinki Committee, Belarusian Social Democratic Party, the Green Party, the Association of Belarusian Journalists, and activists from the GayRussia.ru LGBT portal. Observers from the Swedish, French and Hungarian embassies were also in attendance. The Swedish Embassy hosted a reception for conference participants at a Minsk restaurant.