300 Straight Mormon Allies March in Salt Lake City's Pride Parade
Jim Burroway
June 4th, 2012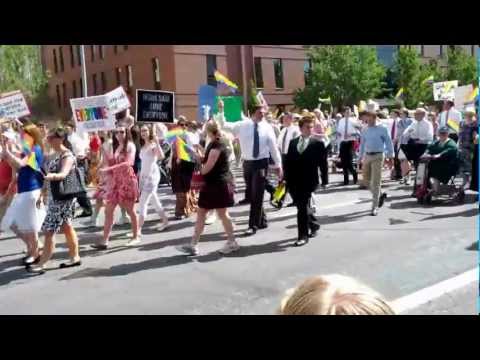 It was a diverse group of Mormons (well, diverse as far as Mormons in Utah go) that showed up to march in Sunday's Pride Parade in Salt Lake City:
The group, Mormons Building Bridges, said they wanted to send a message of love to the state's LGBT community, a message they believe is compatible with their faith.

Emily Vandyke, 50, carried a sign with the words from an LDS children's song: "I'll walk with you, I'll talk with you. That's how I'll show my love for you."

Several blocks along the parade route, she embraced a tall woman weeping at the edge of the crowd who said, "Thank you."

"I haven't recognized them as equals," Vandyke said a few minutes later. "They have been invisible to me."
Organizers expected about a hundred straight Mormon families to show up. Those expectations were exceeded threefold, with many marchers showing up straight from church in their Sunday best.
Those accounts were carried in the Salt Lake Tribune and spread across the country by the Associated Press. Mormons Building Bridges also got a brief mention from the local CBS, ABC, NBC and Fox affiliates, as well as Mormon-owned Deseret News, which carefully spelled out the church's position on homosexuality.
Comments