World Congress of Families To Meet in Utah for 2015
Jim Burroway
July 2nd, 2014
The World Congress of Families, a project of the Rockford, Illinois-based Howard Center for Family, Religion and Society and an officially designated hate group by the Southern Poverty Law Center, has announced that it will be holding its 2015 Congress in Salt Lake City:
The World Congress of Families is to be held at the Little America and Grand America hotels in late October 2015. It's an event that could attract a couple of thousand people, said Paul Mero, president of the Sutherland Institute, a Utah conservative think tank that is hosting the gathering.

Mero, who serves on the congress' management committee and used to work for The Howard Center for Family Religion and Society, which founded the Congress, said Salt Lake City is the perfect place for the conference.

"I think there's no better locale more focused on family as the fundamental unit of society than Utah," Mero said. "I think Utah is exceptional in faith, family and in freedom."
I am so there! Anyone with me?
The World Congress of Families typically holds its Congresses outside of the United States with the aim of exporting anti-gay rhetoric and other socially-conservative ideas to other countries. This year's Congress, scheduled to take place in Moscow, was "suspended for the time being" after Russia invaded the Crimea. Not so much because WCF was dumbfounded that Russia would violate human rights on such a massive scale, but because U.S. and European Union sanctions "has raised questions about travel, logistics, and other matters necessary to plan WCF VIII ." The fact that WCF and its partners were happy to heap praise on Russian President Vladimir Putin for passing its so-called "homosexual propaganda" law should tell you everything you need to know about the WCF's concerns over human rights.
300 Straight Mormon Allies March in Salt Lake City's Pride Parade
Jim Burroway
June 4th, 2012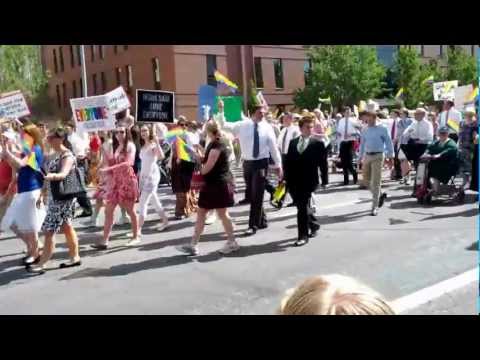 It was a diverse group of Mormons (well, diverse as far as Mormons in Utah go) that showed up to march in Sunday's Pride Parade in Salt Lake City:
The group, Mormons Building Bridges, said they wanted to send a message of love to the state's LGBT community, a message they believe is compatible with their faith.

Emily Vandyke, 50, carried a sign with the words from an LDS children's song: "I'll walk with you, I'll talk with you. That's how I'll show my love for you."

Several blocks along the parade route, she embraced a tall woman weeping at the edge of the crowd who said, "Thank you."

"I haven't recognized them as equals," Vandyke said a few minutes later. "They have been invisible to me."
Organizers expected about a hundred straight Mormon families to show up. Those expectations were exceeded threefold, with many marchers showing up straight from church in their Sunday best.
Those accounts were carried in the Salt Lake Tribune and spread across the country by the Associated Press. Mormons Building Bridges also got a brief mention from the local CBS, ABC, NBC and Fox affiliates, as well as Mormon-owned Deseret News, which carefully spelled out the church's position on homosexuality.
300 Gay Mormons Meet in Salt Lake City Conference
Jim Burroway
November 7th, 2011
In the same weekend in which about 70 people attended the annual convention for the National Association for Research and Therapy of Homosexuality (NARTH) in Phoenix which included a very large contingent of people associated with the Mormon ex-gay group Evergreen International as well as other LDS church members, about 300 people attended a three-day conference in a Salt Lake City church to discuss the issues surrounding gay Mormons. The conference, held at First Baptist Church, featured author and playwright Carol Lynn Pearson, Utah Democratic Party Chair Jim Dabakis, researcher John Dehlin, filmmaker Kendall Wilcox, Faith in Action's Jimmy Creech, and gay psychologist Lee Beckstead. The conference was organized by Mormon Stories, which is not affiliated with the LDS church, and was intended to "build bridges between all who identify as Mormon," at task which Beakstead said he found difficult:
During the Saturday morning session, Dr. Lee Beckstead, a Salt Lake therapist whose research has focused on resolving sexual, social and religious conflicts, said Mormons with same-gender attraction often feel torn apart by individuals urging them to "get off the fence — to be gay or be Mormon," suggesting that one can't be both.

Beckstead said either choice is painful.

"You can't cut off a part of yourself and not do harm — even if you're doing it to please God, or parents, or family or friends," he said. While Beckstead said that he personally had a hard time being both gay and Mormon, the same may not be true for others.

"My resolution may not be your resolution," he said, urging conferencegoers to "keep exploring for yourself what your truth is, what is right for you. That is where you will find your happiness."
The Salt Lake Tribune (no link, although that may change soon) reports that Kevin Kloosterman, an LDS bishop from Illinois described the treatment of gays by the church as "an atrocity" and personally apologized, although he clarified that he was only speaking for himself and not the church. But he added that "straight members of the church have a lot of repenting to do."
Third Salt Lake-Area Gay Man Attacked In Two Weeks
Jim Burroway
September 9th, 2011
Police in American Fork, a suburb community south of Salt Lake City, are investigating an attack on a hair salon owner as he was taking out the trash at 12:45 a.m. early Thursday morning. Police say that he was beaten by two or three assailants as they uttered gay slurs. The victim, 32-year-old Cameron Nelson, was treated at a hospital for multiple injuries including a broken nose. Police are investigating.
Two weeks ago, two gay men in Salt Lake City were attacked in separate incidents. One man, Dane Hall, suffered a broken jaw and lost six teeth when his attackers "curb stomped" him. Incredibly, SLC police are refusing to regard either of the attacks as hate crimes.
Salt Lake City Gay Bashings "Not Related"
Jim Burroway
September 6th, 2011
More than a week after Dane Hall was brutally beaten outside a Salt Lake City night club, police finally decided to get around to interviewing him. Attackers stomped on the back of his head, broke his jaw, and knocked out several teeth. The local gay community is rallying around Hall and are trying to raise money to pay his medical bills. Hall has no health insurance and his bills are mounting. That same night, another man, whose identity has been withheld, was also severely beaten. The Salt Lake City Tribune (no link) reports that police, who are refusing to regard the attacks as hate crimes, say that the two assaults appear unrelated. I don't know which of the two statements in that last sentence I find more disturbing: the idea that it's not a hate crime, or the idea that more than one roving band of anti-gay attackers were on the loose in Salt Lake City on the same evening.
Gay Good Samaritan's attackers finally sentenced
Timothy Kincaid
May 24th, 2011
On July 3, 2009, Tapululululu Latu decided to celebrate Independence Day by holding an all night party. At about 6:30 on the following morning, her neighbor, D.J. Bell (who had earlier been at the party) noticed that two small children from the party were wandering about unattended while their parents reveled and took them into his home.
When Lulu noticed that the children were missing, she came to Bell's home where he returned the kids to her care. But although the children had been well cared for, Lulu became hysterical, slapped Bell, and went back to the party where she rallied the partiers with some tale.
She led the gang back whereupon they broke down the door and attacked Bell and his partner, Daniel Fair, who had been sleeping. They dragged Bell into the yard where they repeated smashed his face into the sidewalk and cut his throat with a piece of glass. Fair was beaten and a television was smashed onto his head. All the while the assailants screamed homophobic slurs at the pair.
The Salt Lake City police came and promptly made arrests. They took Bell to jail on charges of kidnapping.
To the bafflement of the entire community, the District Attorney insisted on pressing the charges and took the case to trial. Although Bell was not wealthy, a number of attorneys and private investigators stepped up to provide support without any expectation of compensation (not a common practice for those in the legal field).
The jury, having heard the entire story and all the evidence, responded in anger. They accused the District Attorney of wasting their time and were furious at the police for their shoddy investigation. Having decided that the gay guy must be guilty, the detectives didn't even return phone calls of witnesses that wanted to provide information.
And finally, perhaps in response to an increasingly incredulous public and a string of uncomplimentary news stories, the District Attorney pressed assault charges against Latu and her mob.
And this week sentences were assigned. Other than one, the assailants plead guilty to reduced charges. (Deseret)
Peace, 35, Ieti Mageo, 34, and Ietitaia Tavita Nuusila, 27, previously pleaded guilty to reduced charges of aggravated burglary, aggravated assault and rioting, all third-degree felonies. They were each sentenced Monday to zero to five years for each count, but 3rd District Judge Randall Skanchy ordered the sentences to be served concurrently.

They were also ordered to pay restitution in the amount of $14,865 to Bell and Fair.

Tapululululu Latu, 31, was sentenced to 365 days in jail for attempted riot, a class A misdemeanor, but 180 days of her sentence was suspended. She will spend two years on probation when released.
As for Bell, he still has scars and permanent partial loss of hearing in his right ear.
Thousands Surround Salt Lake Temple
Jim Burroway
October 8th, 2010
An estimated 4,500 people surrounded the two blocks downtown that make up the headquarters of the Church of Jesus Christ of Latter Day Saints last night to protest a recent anti-gay statement by LDS Apostle Boyd K. Packer.
Paker spoke at the Mormon Church's 180th Semiannual General Conference spoke out against same-sex marriage and called homosexuality "impure and unnatural":
"There are those today who not only tolerate but advocate voting to change laws that would legalize immorality, as if a vote would somehow alter the designs of God's laws and nature," Boyd K. Packer, president of the church's Quorum of Twelve Apostles, said in a strongly worded sermon about the dangers of pornography and same-sex marriage. "A law against nature would be impossible to enforce. Do you think a vote to repeal the law of gravity would do any good?"
Those comments, coming on the heels of at least five suicides in September, drew sharp condemnations inside and outside the church:
Tonight, we are symbolic of all the children who have been killed by messages like Boyd K. Packer's," said organizer and Salt Lake City blogger Eric Ethington. "When you hear nothing from [church leaders] but that you are nothing but evil and you need to change the unchangeable nature of yourself, that is only a message kids can take for so long."
Will LDS's Incremental Approach To LGBT Issues Someday Lead To Bigger Changes?
Jim Burroway
November 14th, 2009
At least that's how I interpret the fact that the Church of Jesus Christ of Latter-Day Saints has placed a statement endorsing specific pro-LGBT legislation on their online LDS Newsroom:
The Church of Jesus Christ of Latter-day Saints has declared its support of nondiscrimination regulations that would extend protection in matters of housing and employment in Salt Lake City to those with same-sex attraction.

The Church said the Salt Lake City Council\'s new nondiscrimination ordinance "is fair and reasonable" and balances fair housing and employment rights with the religious rights of the community.
It doesn't get any bigger than this. Can you imagine the Vatican placing a similar statement on their web site or publishing it in L'Osservatore Romano?
The Church had released a similar statement last August offering support for limited LGBT civil rights measures, but that occurred at the same time that it was pumping millions into the fight to strip California's LGBT citizens the right to marry. At the time, the statement was seen as nothing more than a fig-leaf to try to shield the Church from charges of bigotry. But Utah's LGBT advocates took the Church at their word and pushed for the Common Ground Initiative, a series of LGBT protections put before Utah's Mormon-dominated legislature that were modeled on the Mormon statement. The Common Ground initiative however was utterly crushed by Mormon legislators and never even made it out of committee.
This time, the Mormon hierarchy chose to put a tiny fraction of its influence officially behind the Salt Lake City non-discrimination ordinance. The tiny fraction was all that was needed though, because its implications go far beyond a city council vote that few believed was in doubt even without support from the Church. LDS spokesperson Michael Otterson's statement before the Salt Lake City council — which the Mormon web site describes as "representing the position of the Church\'s leadership" — puts the church fully on record for the first time in support of a specific piece of pro-LGBT legislation. This is huge in and of itself. What's more, one high-ranking LDS leader, Elder Jeffrey R. Holland of the Quorum of the Twelve Apostles, has already hinted that the Church may very well support at least parts of the Common Ground Initiative when it is brought back to the state legislature.
If the Church follows through, this will truly be a historic step. More importantly, decades from now we may look back on this as a significant turning point for LGBT Mormons. That's because Mormonism is very different from other popular religions in America in that it is the only major religion which reserves the authority to change a portion of its canonized texts according to ongoing revelations. And there is recent precedent for just such adjustments in their doctrines. Not long ago, Blacks were regarded as being under the curse of Ham, and thus denied full participation in the Church. Mormon scriptures still declare (2 Nephi 5:21):
For behold, they had hardened their hearts against him, that they had become like unto a flint; wherefore, as they were white, and exceedingly fair and delightsome, that they might not be enticing unto my people the Lord God did cause a skin of blackness to come upon them.
Having black skin was a mark of a curse. And according to the Book of Mormon, when the curse is lifted from a group of black-skinned people, their skins became white (3 Nephi 2:14-16):
And it came to pass that those Lamanites who had united with the Nephites were numbered among the Nephites; And their curse was taken from them, and their skin became white like unto the Nephites; And their young men and their daughters became exceedingly fair, and they were numbered among the Nephites, and were called Nephites.
According to long-held Mormon doctrine, black skin was the mark of a curse that individuals acquired due to unfaithfulness in their pre-existence. And because they displayed the mark of that curse on their skins, Blacks were not permitted to enter into celestial marriages or the Priesthood. This also meant that their role in the celestial kingdom would be a lesser role — as eternal servants.
This teaching came under fire in the 1950s and 1960s during the civil rights struggle. Sports teams began boycotting Brigham Young University and the NAACP held protest marches in Salt Lake City, but the Church held steadfast to its teachings, saying that "it is not a matter of the declaration of a policy but of direct commandment from the Lord." When a few Mormons themselves began opposing their Church's racial teachings, many were excommunicated or denied entry into the temple for important ceremonies. (Sound familiar?) But all that finally changed in 1978 when, acting on a brand new revelation, the LDS Church added an entry into the open canon of its scripture known as Doctrine and Covenants which finally granted Blacks full participation in the life of the Church.
And guess what? Nobody's skin color changed.
This latest move by the Mormon church to actively support the non-Discrimination ordinance should rightly be seen as a very small step. No, they're not about to grant celestial marriage to LGBT Mormons anytime soon, just as they resisted allowing celestial marriages for African-Americans. Right now, there's still every indication that the Church will continue to vigorously oppose marriage equality with every resource at its disposal. They will give us many new reasons to harbor deep well-earned anger and justified suspicions for many years to come as they continue to try to enshrine their particular religious beliefs into secular law at our expense. For that we must always be vigilant and hold the Church accountable.
All that said, this is still cause for hope. This is a Church that isn't hamstrung by a closed canon, and it has a long history of receiving new revelations to correct grievous wrongs. What's to keep the Church sometime in the future from receiving another revelation — this time one that reconsiders the place of its own LGBT sons and daughters in the life of the Church and the celestial kingdom?
Such a change certainly won't come any time soon; it's still likely decades away, at least. But that very possibility makes this latest step in favor of pro-LGBT legislation, as small as it is for our liking but as huge as it is for the Church, reason to rejoice.
Another Reason To Rejoice
Jim Burroway
November 14th, 2009
There's another reason to rejoice over the LDS Church's historic support for pro-LGBT legislation in Salt Lake City: it's causing all sorts of angst among anti-gay extremists. The right-wing group America Forever, whose fundraising ventures included selling worthless ID's to Mexican immigrants, is incredulous. They charged that the seemingly powerless Church "was placed in this position by the gays from Utah." That's right. Gays are more powerful in Utah than the Mormon Church.
Other denunciations were more conventional. The American Family Association of Michigan's Gary Glenn sputtered that the Church's position was "grossly ignorant." The Family Research Council's Peter Sprigg charged that the Church was "bend[ing] over backwards to exhibit tolerance toward homosexuals in some way." Peter LaBarbera wailed that the church's stance may mark "the 'official' split of the American pro-family movement against homosexuality into two camps," with only one camp holding fast to unadulterated, no-holds-barred, anti-gay warfare — the only stance he finds acceptable. LaBarbera also worries:
If churches back "gay rights" (and the LDS is hardly the first), is there some truth to the idea that those of us who remain opposed to ALL aspects of the "GLBT agenda" are "bigots" or somehow extreme in our worldview?
Increasingly, the answer to LaBarbara's question is self-evident. If someone opposes ALL aspects (as LaBarbera emphatically stipulates) of recognizing the humanity of any people — whoever they may be — then yes, they are bigots and extremists. That's pretty much the definition. There's no other way to put it. And whenever a major denomination like the LDS church can frame a question like this through its actions with such stark clarity, we all benefit.
LDS Church Supports Salt Lake LGBT Protections
Jim Burroway
November 11th, 2009
 Yes, you read that right:
Hours after the LDS Church announced its support Tuesday night of proposed Salt Lake City ordinances aimed at protecting gay and transgender residents from discrimination in housing and employment, the City Council unanimously approved the measures.

"The church supports these ordinances," spokesman Michael Otterson told the council, "because they are fair and reasonable and do not do violence to the institution of marriage."
The Mormon church has come under withering criticism over its overwhelming support in passing California's Proposition 8, which stripped LGBT couples in that state the right to marry. The LDS's massive efforts have led some to dub Prop 8 "The Mormon Amendment." In addition to overall criticism, that campaign also proved to be highly divisive within the church itself.
Last year in the wake of that criticism, LDS leaders said that they had no problem with non-marriage related protections for LGBT people. In August 2008, the church issued a statement titled "The Divine Institution of Marriage" in which church leaders claimed to support "rights regarding hospitalization and medical care, fair housing and employment rights, or probate rights." That spawned the "Common Ground" initiative, which consisted of a set of LGBT protections based on the LDS statement. But the LDS church turned around and blocked every single proposal in the state legislature which they had earlier said they could support.
LGBT leaders in Salt Lake City hail last night's vote as a historic step, and the result of several months of quiet, behind-the-scenes meetings with church leaders. But noting that four-fifths of Utah's LGBT citizens live outside the city, they vow to reintroduce the Common Ground proposals in the state legislature again this year.
Why the sudden turnaround after the Common Ground initiative failed to even make it out of committee in the state legislature last year? There are a couple of possibilities. First, Salt Lake City is not a Mormon bastion as the rest of the state is. Many former LDS people who wrote in to BTB this morning believe that this ordinance would have passed without LDS support. After all, this is the same city that has already instituted a domestic partnership registry. So by coming out in support of this ordinance, the reasoning goes, the church is able to turn what would have been seen as a defeat into positive publicity.
Meanwhile, others speculate that Senate Majority Leader Harry Ried (D-NV) and former presidential candidate Mitt Romney, both Mormons, may have played a hand. At any rate, the real test will be when the Common Ground initiative is brought back to the state legislature again next year.
According to the Salt Lake Tribune, the ordinances passed last night would:
Forbid housing and employment discrimination based on a person's sexual orientation or gender identity in Salt Lake City.
Exempt religious organizations, businesses with fewer than 15 employees and some small landlords. (The exemptions mirror those in state and federal laws.)
"Not create any special rights or privileges," the ordinances state, because "every person has a sexual orientation and a gender identity."
Create a complaint and investigation process. The complaint could be resolved through mediation or a fine of up to $1,000.
Not create a "private right of action" to sue over alleged discrimination.
Require annual reports by the city's Human Rights Commission on the effectiveness of the statutes.
Gay Councilman in the Heart of Mormonland
Timothy Kincaid
November 5th, 2009
From the Salt Lake Tribune
Stan Penfold, a gay man and the director of Utah Aids Foundation, has won the race to fill Salt Lake City\'s District 3 council seat.

Penfold outpaced Phil Carroll to represent the Avenues and Capitol Hill, replacing outgoing Councilman Eric Jergensen.
Somehow I don't think that the First Presidency and the Quorum of the Twelve Apostles are celebrating.
But In Other Catholic News
Jim Burroway
October 23rd, 2009
It's not all bad. Judge Memorial Catholic High School in Salt Lake City Catholic will go forward with its production of Rent, after the school's superintendent reviewed the play at the request of the Bishop:
Sister Catherine Kamphaus, superintendent of schools in the Salt Lake City diocese, said she read the script at the request of Bishop John Wester, and she watched a dress rehearsal Tuesday.

"There is absolutely nothing that would be offensive," Kamphaus said Thursday. "It wasn't condoning the gay and lesbian lifestyle."

Rather, she said, the play shows friends forming a loving and caring community while facing AIDS and other challenges. …The superintendent praised Judge's use of the play as a springboard to teach about the Roman Catholic Church's compassion for outcasts, the sick and the hopeless.
A special school edition of Rent bcame available in the past year. The school edition removes one song, "Contact," along with profane language.
Too Offensive for Mormon Eyes
Timothy Kincaid
October 2nd, 2009
The Deseret News is a Utah newspaper directed towards Mormon readership. It is, in a way, the sectarian version of the Salt Lake Tribune, sharing the same advertising handler and providing discounts for ad spots placed in both papers.
But the Deseret News is careful to shield its readers from advertising that could offend Mormon sensibilities. And this week it has rejected just such an ad,with a message so outrageous that it was sure to offend. (Salt Lake Tribune)
The wording of this ad:
"Bring Them in From the Plains"

From Despair to Hope

The Foundation for Reconciliation
at www.ldsapology.org
presents a Memorial Service, honoring LGBT suicide
victims as well as those who have successfully overcome
conflicts involving their sexual orientation and the LDS
Church. Join us for an evening of music and the spoken
word, including a special video appearance by actor
Will Swenson
Yes, this is an ad by a Mormon group seeking to gain dialogue with other Mormons. This ad makes no attack on the church nor does it contain language that is contradictory to church dogma. In fact, the foundation made effort to be non-offensive.
Peter Danzig, a Salt Lake City spokesman for the foundation, called the newspaper ad "innocuous."

"There's nothing anti-Mormon," he said. "We tried to create an event that would be welcoming to everyone on either side of the issue."
But the ad does express sympathy for those who killed themselves over conflict involving their sexual orientation, and the church can't have that!
So when officials at the Mormon Church assure you that they don't hate you just because you are gay, be very very skeptical.
Kissing Scandal Update: Mormon Church Changes Signs
Timothy Kincaid
September 28th, 2009
As a result of the public response to the manhandling and roughing up of two gay men who shared a kiss in an open-access plaza owned by the Church of Jesus Christ of Latter Day Saints (the Mormons), the Church has updated the signage on the plaza. It now says
Private Property
The Church reserves the right to refuse access to any person for any reason.
Like, oh I don't know, being gay?
Gay Good Samaritan Acquitted of Kidnapping
Timothy Kincaid
September 27th, 2009
About 6:30 in the morning of July 4, 2008, David James "D.J." Bell took his neighbors' children, ages 2 and 4, into his South Salt Lake home. The neighbors were having an all night party and the children were wandering about unattended.
When Lulu Latu finally noticed her kids were missing, she went to Bell's home. Finding the kids there, she become hysterical, screaming and slapping Bell. Minutes after she returned to her drinkfest, her fellow partiers broke down Bell's door and assaulted Bell and Daniel Fair, his partner. (Salt Lake Tribune)
Bell was dragged from his home by his then-shoulder length hair and his head was repeatedly smashed against the pavement, [defense attorney Susanne] Gustin said. Blood was oozing from his right ear and he still suffers hearing loss, she said.

Someone used a piece of broken glass to cut Bell's throat, chest and one of his toes.

Bell's partner, Fair, also was beaten, and a large TV was thrown onto his head.
The District Attorney opted not to bring any assault charges in the case but instead charged Bell with kidnapping. Defense argued that this was an anti-gay hate crime and that had any other neighbor taken the children in they would have been thanked instead of beaten. (SLT)
[Defense attorney Roger] Kraft accused police of conducting a shoddy investigation, noting that 10 people who attended Latu's party were never interviewed. Neither were four people at Bell's home, even though they wanted to talk and provided police with their contact information.

Juror Jorgensen agreed that if the police investigation had been "handled properly, [they] would have come to a different conclusion on that day."
In cases like these, it can be difficult to know whether there were extenuating circumstances, whether Lulu had reason to fear for her children's safety with Bell, whether other neighborhood history was involved. Although I was tempted to see this as yet another illustration of how police assume that gay men are guilty until proven innocent in Utah, I hesitated at that time to form judgment.
But it seems the jury had far less difficulty, After acquitting Bell, the jurors told the Tribune that they were appalled at the lack of evidence and the waste in pressing charges.
Perhaps, after being rebuked by the jury, the district attorney may be willing to possibly consider caring whether it's free-beating season on gay men in Salt Lake County.