They Didn't Know What They Were Up Against
Jim Burroway
July 1st, 2014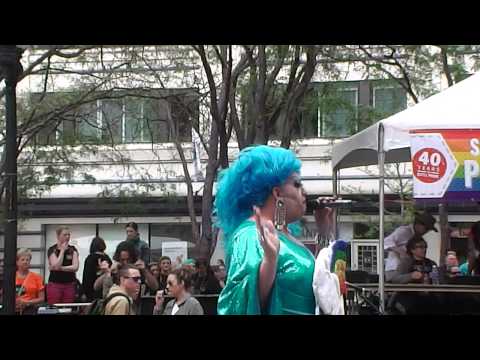 A group of Christians protesters tried to disrupt the start of Seattle's gay pride parade last Sunday. They tried to invoke the power of Jesus Christ, but they failed to take into account the power of Mama Tits:
"I saw them coming up the road pre-Parade and looked at Sylvia and DonnaTella and said, 'Ladies, let's make a wall!' Before I knew it, I was standing tits to nose with the leader guy on the megaphone. It felt like I had the strength of all the people who had ever been hurt by these people standing right behind be me giving me power! I was almost in auto-pilot mode from my days as a Sister of Perpetual Indulgence. I planted myself in his path and wouldn't move. When he walked around me, I got back in front of him again and again.I stared him in the eyes and could see the pain in his eyes, I could see he was scared and he should have been. He tried to hit me with his sign, but like Bianca Del Rio says "Not Today, Satan!"

I pushed his sign away from my face and hair, because you DO NOT TOUCH my hair. And, it was all I could do to NOT get violent, but I didn't because once that happens, we all lose. They tried to surround me in an intimidation tactic, but let's face it, I'm fucking HUGE and it didn't work at all! The police came to me and asked to let them pass, and told me not to let them get me upset. I told the cops I wasn't upset, but I WILL defend myself when assaulted, and they needed to remove them from our Parade. I then walked over and grabbed my mic and started to get the crowd involved. I wanted them to make so much joyful noise to drown out the hate… and, boy did they ever! The crowd made the walls rattle down on 4th and Pine!
Comments