Utah Dems Elect First Openly Gay Man As Party Leader
Jim Burroway
July 18th, 2011
And he wants to assure the state's Mormons that they are also welcome in the "big tent" party:
"I want to speak directly to the LDS people in our state," Jim Dabakis said Saturday after being nominated for state party chairman. "I want you LDS people to participate in our party. We want your spirit, we want your contributions and we want to earn your votes. I will do whatever I can as chair to see that our big tent is comfortable to LDS people because it's the right thing to do."
Dabakis co-founded Equality Utah and The Utah Pride Center. Shortly after his nomination for the top job, he joked, "This is a historic moment. Utah may elect its first out Greek-American party chair."
I support polygamists' lawsuit
Timothy Kincaid
July 12th, 2011
Get ready to hear the anti-gays shriek, "I told you so!" A reality celebrity polygamist family from Utah is suing that state to have its polygamy law found unconstitutional. And I support them. (ABC)
The polygamist family portrayed on the TLC reality show "Sister Wives" said all along its main goal in going on national television was to gain public acceptance of its lifestyle.

Now family patriarch Kody Brown, his four wives and 16 children and stepchildren are moving from the court of public opinion to the court of law, arguing that criminalizing their lifestyle is unconstitutional.
This lawsuit may seem to support the contentions of Maggie Gallagher and the others who spend their energy obsessing over my life and campaigning to keep me inferior. And it may seek peculiar that I would support such and endeavor.
But here's the thing. They are not suing to have their family structure given legal recognition; that I would oppose.
The legal bonds of matrimony uniquely empower one person to be the sole caretaker and decision-maker over another in times of trouble, the primary heir with unique right at death, and encompasses a whole host of entanglements that become complicated beyond possibility when more than two are included. While the State can step in to a family squabble and say we recognize the spouse, chaos would result from multiple spouse with equal claim or, worse yet, some hierarchy of squabbling spouses.
But their lawsuit is about something else, the effort by the state to control their sex life. Unlike other states which do not recognize multi-party marriage, Utah has banned multi-party cohabitation.
The state law reads: "A person is guilty of bigamy when, knowing he has a husband or wife or knowing the other person has a husband or wife, the person purports to marry another person or cohabits with another person."

Kody Brown is legally married to one woman, Meri, but also calls the other three women his spouses.
And while I do not wish to open legal marriage to multiple parties, I am a big fan of leaving people live how they want, love whom they want, and in general be as stupid as they want to be (and, believe me, I think any non-bisexual woman that enters into a relationship in which she is one of four women with one man is stupid). So if you want to live with the knowledge that you have no right to recourse should your man and his other three women tire of you, knock yourself out.
And this is not just a theoretical complaint against the state. The police in Lehi, Utah, launched an investigation into the Brown family's lifestyle for a possible charge of bigamy.
So yeah, I side with the crazy people on this one. If you think that your god wants you to share your man with three other women (one of whom has all the legal rights) then I'll support your right to sleep where you want and with whom. But fair warning, polygamists, don't be marrying 14 year-olds or abandoning your male children on a street corner or I'll happily lead the charge to throw your nasty ass in jail.
Arkansas Supreme Court Overturns Adoption Ban
Jim Burroway
April 7th, 2011
The Arkansas Supreme Court today ruled that a voter-approved initiative banning unmarried cohabiting couples, including gay couples, from adopting or serving as foster parents. The court found that because the law singles out cohabiting couples for the ban while allowing single individuals to adopt or foster children, it encroaches on a key right to privacy:
Act 1 directly and substantially burdens the privacy rights of "opposite-sex and same-sex individuals" who engage in private, consensual sexual conduct in the bedroom by foreclosing their eligibility to foster or adopt children, should they choose to cohabit with their sexual partner. The pressure on such couples to live apart, should they wish to foster or adopt children, is clearly significant. In Jegley, the burden perpetrated by the State was criminal prosecution for sodomy, although the act took place in the privacy of the bedroom. In the case before us, the burden dispensed by the State is either to remove the ability to foster or adopt children, should sexual partners live together, or to intrude into the bedroom to assure that cohabitors who adopt or foster are celibate. We conclude that, in this case as in Jegley, the burden is direct and substantial.
In 2002, the Arkansas Supreme Court struck down that state's sodomy law in the case of Jegley v. Picado, nearly a full year before the U.S. Supreme Court struck down sodomy laws nationwide in Lawrence v. Texas. A state judge struck down Arkansas' adoption ban last April. The attorney general then appealed to the Supreme Court, which led to today's ruling.
Because the court found that Act 1 infringes on a key right to privacy, the court determined that heighened scrutiny rather than rational-basis was the appropriate standard for the ruling:
We have held in this case that a fundamental right of privacy is at issue and that the burden imposed by the State is direct and substantial. We now hold, as an additional matter, that because of the direct and substantial burden on a fundamental right, the standard to be applied is heightened scrutiny and not a rational-basis standard. Using the heightened- scrutiny standard, because Act 1 exacts a categorical ban against all cohabiting couples engaged in sexual conduct, we hold that it is not narrowly tailored or the least restrictive means available to serve the State's compelling interest of protecting the best interest of the child.
Utah and Mississippi are the only states remaining with adoption bans affecting gay people. Utah, like Arkansas until today, bans cohabiting couples from adopting but allows single adults to adopt when married couples aren't available. Mississippi law allows unmarried and married adults to adopt regardless of cohabitation status, but contains a separate clause stating, "Adoption by couples of the same gender is prohibited."
Utah Religious Freedom Bill To Rescind LGBT Anti-Discrimination Measures — And Protect Polygamy
Jim Burroway
February 7th, 2011
Utah State Rep. LaVar Christensen (R-Draper) is upset that so many local Utah cities have passed ordinances prohibiting discrimination against LGBT residents in housing and employment. The statutes already exempt religious organizations, but Christensen thinks that doesn't go far enough. he wants to exempt Utah's individuals from prosecutions because of their religious beliefs.
Christensen apparently is a big believer in religious freedom. A huge believer, and he wrote his bill so broadly that it opens the door toward protection of polygamy as well, among other possibilities:
Marina Lowe, the legislative and policy counsel for The American Civil Liberties Union, said the bill is so broad it could permit many types of discrimination. "The possibilities are limitless," Lowe said. For example, a landlord could refuse to rent to a gay couple or a doctor could refuse to treat a woman who is pregnant out of wedlock.

…Civil rights attorney Brian Barnard said the law could provide a defense for the violation of a variety of laws in the name of faith. "Polygamy is the one that comes to mind, but there are other religious practices," Barnard said. "Peyote, for example, and the other one is churches, like the Episcopal church, that give wine to minors during the sacrament."
Another Utah county passes non-discrimination ordinance
Timothy Kincaid
December 22nd, 2010
Grand County, Utah, home to Moab and the Arches National Park, has now passed an ordinance that protects its 9,000 or so residents from sexual orientation and sexual identity discrimination in housing and employment. (SL Tribune)
That means one in four Utahns, living in 10 communities from Moab to Logan, are protected from discrimination based on their sexual orientation or gender identity. Advocates for the statutes hope that groundswell of support will push the Utah Legislature to protect all Utahns.
With this decision, Equality Utah has reached its goal of ten new municipalities banning discrimination.
Salt Lake County followed Salt Lake City's lead, and Equality Utah launched an effort, dubbed "Ten in 2010," to increase the list to 10 by the end of this year. Grand County expedited the ordinances to ensure passage before the new year.
They are hoping to capitalize on the momentum and encourage the state legislature to ban discrimination state wide. As yet, this seems to be more of a grand hope than an achievable goal. However, much depends on the public stances of the Mormon Church, whose support secured the bill in Salt Lake City
Chaffetz reacts to DADT report
Timothy Kincaid
November 30th, 2010
Utah representative Jason Chaffetz is one of my favorite legislators. Not because I ever agree with him, but because he's such a loon that he makes for fun blogging.
Chaffetz is the buffoon who, upon the fifth state enacting civil marriage said, "The trend is still 45 states don't."
He's the fumbling, bumbling fellow who was charged with making sure that the District of Columbia's marriage law was blocked by Congress. Ah, Utah 3rd District, you surely must be proud.
And, consistent with his method of legislating, Chaffetz has now responded to the DADT report. Or, not exactly to the report…
Chaffetz, who has not yet read the study, said he is "still opposed to such a dramatic alteration in the midst of active war."
Still opposed, based on, oh, nothing. There ya go, Chaffetz, that's the ignorant lout with an uninformed opinion that we all know and love.
Thousands Surround Salt Lake Temple
Jim Burroway
October 8th, 2010
An estimated 4,500 people surrounded the two blocks downtown that make up the headquarters of the Church of Jesus Christ of Latter Day Saints last night to protest a recent anti-gay statement by LDS Apostle Boyd K. Packer.
Paker spoke at the Mormon Church's 180th Semiannual General Conference spoke out against same-sex marriage and called homosexuality "impure and unnatural":
"There are those today who not only tolerate but advocate voting to change laws that would legalize immorality, as if a vote would somehow alter the designs of God's laws and nature," Boyd K. Packer, president of the church's Quorum of Twelve Apostles, said in a strongly worded sermon about the dangers of pornography and same-sex marriage. "A law against nature would be impossible to enforce. Do you think a vote to repeal the law of gravity would do any good?"
Those comments, coming on the heels of at least five suicides in September, drew sharp condemnations inside and outside the church:
Tonight, we are symbolic of all the children who have been killed by messages like Boyd K. Packer's," said organizer and Salt Lake City blogger Eric Ethington. "When you hear nothing from [church leaders] but that you are nothing but evil and you need to change the unchangeable nature of yourself, that is only a message kids can take for so long."
Utah GOP selects Log Cabin leader as candidate
Timothy Kincaid
September 2nd, 2010
To run for State Senate in Utah, you need to file certain disclosures by a deadline. If you do not, you are disqualified and the state party can pick a new candidate. (Pride in Utah)
The time limit expired last night on Ben McAdams' Republican opponent Nancy Davis to file her disclosures and she was forced out of the race. In these unlikely circumstances, the Republican Party is allowed to nominate their own candidate to automatically run without going through the delegate system. You won't believe who they picked.

Of all people… Melvin Nimer, the President of the Utah Log Cabin Republicans and board member of the Utah Pride Center.
Ben McAdams, the Mormon Democrat currently holding the office, is supportive of the community and a reliable ally. His predecessor in the 2nd District was gay.
It's difficult to know just what prompted the Republican Party to pick a gay candidate. Perhaps they figure that a gay man has a better chance in the district, and they like winning more than they oppose gay rights. Or perhaps it was pure tokenism, tossing an impossible seat to the gay guy; yet this is a token that Utah Republicans have not traditionally considered.
Regardless of the reason, this is very unexpected and very welcome.
Utah Gov. hosts Log Cabin
Timothy Kincaid
August 11th, 2010
Utah Governor Gary Herbert will be hosting a private reception for Log Cabin Republicans, a gay rights group, later this month. Herbert, a Republican and a Mormon, had spoken against a non-discrimination proposal last year but this announcement may be an evidence of both the party's and the church's softening attitudes over the past couple of years.
Within the past few years, at least six Utah cities have passed discrimination protections – with the support of the Mormon Church. This may be the silver lining that resulted from the exposure of the church's involvement in California's Proposition 8.
Let's hope that Log Cabin can continue to help build inroads into the administration and elicit support for some of the provisions that are expected to be brought up in the legislature within the next year. But even absent any specific tangible advance, this is a positive step. History shows us that exposure to gay people and hearing our concerns can be the strongest contributor to change.
Summit County makes six
Timothy Kincaid
June 18th, 2010
Utah's on quite a roll. (SL Tribune)
Summit County has snagged the No. 6 spot on a growing list of Utah cities and counties that protect gay and transgender residents from discrimination.

This week, the Summit County Council voted unanimously, with two members absent but supportive, to pass two ordinances that forbid housing and employment discrimination based on a person's sexual orientation or gender identity.
Another Utah City enacts non-discrimination policy
Timothy Kincaid
June 3rd, 2010
Following in the footsteps of Salt Lake City, Salt Lake County (unincorporated areas), Park City, and Logan, Utah's second largest city, West Valley, has now voted to ban discrimination in housing and employment based on sexual orientation. (SL Trib)
The West Valley City Council, in a 5-1 vote, approved Tuesday an anti-discrimination ordinance similar to those recently passed in other Utah cities.

About 60 people attended the meeting at City Hall. Rep. Janice Fisher, D-West Valley City, and about seven others spoke in favor of the proposal to protect gay and transgender residents from housing and employment discrimination. No one spoke publicly against it.
It does appear that opposition to employment and housing discrimination against LGBT people may be becoming part of Mormon values.
Logan, UT (and Mormon Church?) support non-discrimination laws
Timothy Kincaid
May 19th, 2010
Congratulations to residents of Logan, Utah, whose city council on Tuesday night banned employers and landlords from discriminating against gays, lesbians or transgender people (SL Tribune)
Modeled after anti-discrimination laws recently adopted in Salt Lake City, Logan's housing and employment ordinances passed with four votes and one abstention, by Councilman Dean Quayle. A crowd, which filled the City Council Chambers halls and an overflow room, was mostly subdued throughout a one-hour public hearing. Following the tally though, the crowd erupted in applause and rewarded the council with a standing ovation.
…
On Tuesday night, Monson defended his support of the ordinances and clarified the stance of the area's largest church after calling the LDS headquarters in Salt Lake City on Monday.

"The [LDS] church supports nondiscrimination ordinances, period. Certainly, I was told that this applies to Logan as much as any other place in the world," Monson said Tuesday before calling for the vote. "They do and I do and I agree that this is not the answer for everything … But it is a step in the right direction and it is long overdue in my thinking."
It looks like the church may be on a "see, we don't hate you" campaign. And if so… I welcome it.
What does Bennett's ouster mean?
Timothy Kincaid
May 10th, 2010
Republican Utah Senator Bob Bennett was denied the GOP nomination this year by his party's convention (he came in third, and thus will not be on the ballot in the primary election). This is likely the result of Tea Party activism and is being touted as the result of "people wanting a Republican Party that is conservative."
Social conservatives such as Rick Santorum have been all over the news declaring this to be a victory for "real conservatives", by which he means those who share his troglodyte views. Some right wingers are going so far as to claim that Bennett was dumped because he "voted for gay rights activist Roberta Achtenberg to be Assistant Secretary for Equal Opportunity at HUD." In 1993. Seventeen years ago.
Nonsense.
No one voting this past weekend based their decision on Roberta Achtenberg. And very few were likely swayed by Bennett being "too gay supportive." While there are Senators on the Hill who are far less friendly, Bennett was hardly known for his wild social liberalism.
Nor are the candidates who beat him in the voting and going on to the primary raging homophobes running on a "traditional family" platform. Neither of the campaign website for Tim Bridgewater (who got 57% on the third vote) nor Mike Lee (43%) address gay rights in general or specific on their issues pages. And, believe me, they address a lot of issues.
And, although Utah has been in the center of gay rights conflict over the past year, these candidates have been pretty much quiet on gay issues. In fact, as best I can find the only time they addresses gay issues specifically was when six of the eight candidates including Bennett and Bridgewater (Lee canceled due to illness) went to a Log Cabin event to answer questions and appeal for the Log Cabin vote (which was reported as significant). (Salt Lake City Weekly)
Will the next Senator from Utah be supportive of equality? No.
But when we hear social conservatives translating voter dissatisfaction with current elected representatives and fury over what is perceived as fiscal irresponsibility and arguing it to be mandate for their favorite right-wing social agenda items, we should recognize it for what it is: spin, bluster, and nonsense.
Utah's second largest city may enact employment and housing protections
Timothy Kincaid
March 9th, 2010
Tonight the West Valley City Council will discuss (and likely pass) employment and housing protections for their gay and lesbian residents. (Salt Lake Tribune)
Freshman Mayor Mike Winder urged the council, during a planning retreat in January, to take up the issue in 2010. On Monday, he said, residents have shared with him their experiences of being "evicted or fired" because of their sexual orientations.

"I'm a proud Republican and a proud American," Winder said. "When I recite the Pledge of Allegiance and say 'with liberty and justice for all,' I mean what I say."
Let's hope that Winder continues to listen closely, and is joined by many more Christian Republicans who will listen closely to the words they pledge with their hand over their heart.
Orrin Hatch is open to overturning DADT
Timothy Kincaid
February 3rd, 2010
Senator Orrin Hatch (R – UT) talks with Andrea Mitchell about Don't Ask Don't Tell.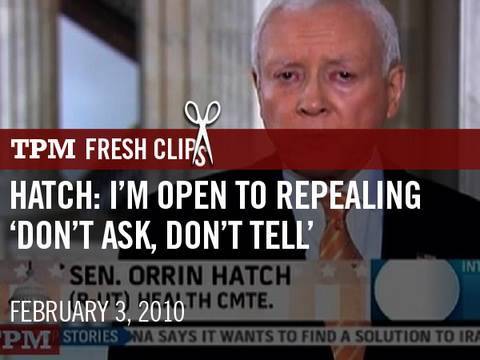 HATCH: I believe that there are very outstanding patriotic gay people who serve in the military and they aught to be given credit for it. And they shouldn't have to lie about being gay.

On the other hand I think a lot of people are concerned that if you do away with the Don't Ask Don't Tell, that literally they'll come back and ask for special rights and preferences and privileges that others don't have. I, I don't see that either.

So, ya know, like I say, I just don't, I just plain do not believe in prejudice of any kind.

MITCHELL: So you're willing to vote for the change.

HATCH: Well, I don't know about that. I'd have to look at it, I'd have to really see, and of course, they recommend, Admiral Mullen said at least a year study by them and then they'll come out and make the final recommendation. So, at least that's what I got out of it.

So, I'd like to wait until the end and see what they come up with and see what happens.

But I can see why the people on both sides are upset. I just want to do what's right.

MITCHELL: So I can put you down as being at least open to the idea. So, uh

HATCH: I am.

MITCHELL: That's a very interesting statement.
While I would rather hear that Hatch has unequivocal support for overturning the policy, I welcome words of "openness to the idea" from prominent Republicans.