Report: Sweden Reconsiders Foreign Aid to Uganda
Jim Burroway
March 1st, 2014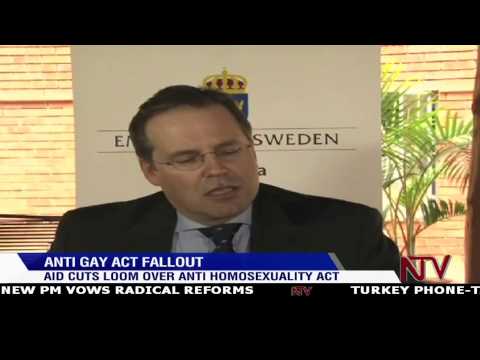 According to this report from NTV Uganda, Sweden's Finance Minister Andes Borg was in Uganda on a visit to highlight Swedish investment oportunities in East Africa. While there, he addressed the problems that Uganda's Anti-Homosexuality Act posed for Sweden's foreign aid and investment in Uganda:
We are reviewing our own aid program with Uganda, and obviously this is a factor that has to be taken in to account. It is not a posative factor but a major problem that we will have to deal with. But there is also in the Swedish aid to Uganda very important areas supporting the civil society, improving health care and the research and development that are important. So we see this as a Swedish long term commitment to a partnership with Uganda. But this is a political issue that is quite problemantic in the medium and short term, I must say.

…The problems that we have from a Swedish human right perspective on this issue, and the legislation is very problematic from our perspective. And I do think that there are also some broader economic risks, not only when it comes to aid cooperation but also when it comes to tourism and investment where this is a reputation risk for Uganda.
Sweden provides about US$10 million in aid to Uganda. Shortly after the Anti-Homosexuality Bill was proposed in 2009, Sweden warned Uganda that the bill was placing Sweden's foreign aid at risk. In 2012 Sweden suspended a portion of its aid to Uganda, as did Ireland, Norway, Denmark and Britain, following revelations that  $15 million in aid from those countries had been diverted to private bank accounts of officials in Prime Minister Patrick Amama Mbabazi's office. Britian's cut in foreign aid was later extended to the entire Ugandan government. On Thursday, Uganda's Parliament cleared Mbabazi of wrongdoing despite lingering questions about the scandal.
Norway, Demark and the Netherlands, which collectively had provided $27 million in aid to Uganda, have announced that they are cutting aid to the Ugandan government. On Friday, the  World Bank announced that it was putting on hold a $90 million loan to Uganda's health service. U.S. Secretary of State John Kerry has said that the State Department is reviewing its relationship with Uganda. The U.S. currently gives more that $486 million in bilateral aid. On Wednesday, the U.S. Ambassador to Kampala said that the U.S. would deny visas to Ugandans who "incite violence, people who propagate hate, (and) who have used political violence."
The Daily Agenda for Saturday, March 1
Jim Burroway
March 1st, 2014
TODAY'S AGENDA:
Events This Weekend: Cape Town Pride, Cape Town, SA; Cologne Street Carnival, Cologne, Germany; Texas Tradition Rodeo, Dallas, TX; South Florida Pride, Ft. Lauderdale, FL; Winter Gay Pride, Killington, VT; Lake Tahoe Winterfest, Lake Tahoe, NV; SWING Gay Ski Week, Lenzerheide, Switzerland; Telluride Gay Ski Week, Mountain Village, CO; Gay Mardi Gras, New Orleans, LA; Leather Alliance Weekend, San Francisco, CA; Sitges Carnival, Sitges, Spain; Sydney Mardi Gras, Sydney, NSW; Bear Essentials, Sydney, NSW.
TODAY'S AGENDA is bought to you by:

Milwaukee's Sugar Shack opened in 1976 as a bar "by and for women." It lasted until 1985 when the two women who owned it sold it . It then re-opened as another lesbian bar, D.K.'s Tavern. That lasted just two years until 1987, when it changed hands again and became a men's gay bar, The Triangle, which finally closed down in 2012. The building has since been renovated beyond recognition and houses a chic Blue Jacket restaurant.
TODAY IN HISTORY:
Trial for "Lewd & Sodomitical Pracices: 1642. The Plymouth Colony Court heard a case brought against Edward Michell and Edward Preston for "lewd & sodomitical practices tending to sodomy." The precise wording was important: sodomy itself was punishable by death, but practices which fell short of sodomy itself (which required proof of penetration and emission), were deemed merely "sodomitical" or sodomy-like. According to surviving records:
Edward Michell, for his lewd & sodomitical practices tending to sodomy with Edward Preston, and other lewd carriages with Lydia Hatch, is censured to be presently whipped at Plymouth, at the public place, and once more at Bamestable, in convenient time, in the presence of Mr. Freeman and the committees of the said town.

Edward Preston, for his lewd practices tending to sodomy with Edward Michell, and pressing John Keene thereunto (if he would have yielded), is also censured [sentenced] to be forthwith whipped at Plymouth, and once more at Bamestable (when Edward Michell is whipped), in the presence of Mr. Freeman & the committees of the same town.

John Keene, because he resisted the temptation, & used means to discover it, is appointed to stand by whilst Michell and Preston are whipped, though in some thing he was faulty.
New Haven Colony Passes Sodomy Law: 1656. When the New Haven Colony, in what is now Connecticut, its legislation was unique in the English-speaking world for mandating the death penalty for women as well as men for acts "against nature," as well as for masturbation and anal sex among heterosexual couples. The act read as follows:
If any man lyeth with mankinde, as a man lyeth with a woman, both of them have Committed abomination, they both shall surely be put to death. Levit. 20. 13. And if any woman change the naturall use, into that which is against nature, as Rom. 1. 26. she shall be liable to the same Sentence, and punishment, or If any person, or persons, shall Commit any other kinde of unnaturall and shamefull filthines, called in Scripture the going after strange flesh, or other flesh then God alloweth, by canall knowledge of another vessel then God in nature hath appointed to becomp one flesh, whether it be by abusing the contrary part of a grown woman, or Child of either sex, or unripe vessel of a Girle, wherein the naturall use of the woman is left, which God hath ordained for the propagation of posterity, and Sodomiticall filthinesse (tending to the destruction of the race of mankind) is committed by a kind of Rape, nature being forced, though the will were inticed, every such person shall be put to death. Or if any man shall act upon himself, and in the sight of others spill his owne seed, by example, or counsel, or both, corrupting or tempting others to doe the like, which tends to the sin of Sodomy, if it be not one kind of it; or shall defile, or corrupt himself and others, by any kind of sinfull filthinesse, he shall be punished according to the nature of the offence; or if the case considered with the aggravating circumstances, shall according to the mind of God revealed in his word require it, he shall be put to death, as the Court of Magistrates shall determine.
New Haven Colony also applied the death penalty for adultery. This law remained in effect for the next ten years, until 1665 when New Haven Colony joined Connecticut and came under Connecticut law, which specified the death penalty for "man lying with man" only. That and adultery.
Minnesotans Respond To A Father's Letter: 1955. Two days earlier, popular Minneapolis broadcaster and columnist Cedric Adams published what must have been a shocking letter in The Minneapolis Star from a father who learned that his son was gay (see Feb 27). According to the father, his son had undergone therapy and "has been salvaged" — according to the father. Also, according to the father, Minneapolis was rife with homosexuals and the police were doing nothing to close down their bars. Adams published the letter in order to, at the very least, "point a finger at the condition."
Indeed it did, and the letter became the subject of three more columns over the following week. On March 1, Adams returned to the subject, publishing a number of letters that he received from outraged citizens in the Twin Cities area. His column for the day went like this:
A father's letter printed here Sunday having to do with a homosexual problem of his 20-year-old son has produced a wave of reaction, some from the public, some from the University of Minnesota and some from our own Minneapolis police department. While the situation is still fresh, This Corner wants to extend to Thomas R. Jones, superintendent of the Minneapolis police department, an opportunity to discuss some of the charges made by the father of the son involved. I ran that letter on Sunday for two reasons: I think the situation needs some airing and I was convinced that this father, and perhaps many others, need a little straightening out on the whole problem. Superintendent Jones did exactly what I hoped he would do. He took the bull by the horns and in a very straightforward manner did his best to pinpoint the mistakes of the parent involved. I spent two hours with Chief Jones In his office yesterday and came out with this statement trom him:

•

"THE OBVIOUS INDICTMENT of the police department in your Sunday column is unjustified and without basis of fact. You omitted the names of the bars because of the possibility of damage suits against your newspaper. The writer of the letter you published had no evidence which would be admissible in a court of law to prove the accusation and inferences made in his letter. Police officers are also bound by that same restriction and cannot name individuals or establishments or make arrests of either unless they are in possession of provable facts which would be admissible in court to prove that a crime has been committed…

"THE ACT OF HOMOSEXUALITY is defined as sodomy In our state statutes and is a felony. Both parties involved are equally guilty in the eyes of the law and can be sentenced to a term in the state penitentiary. However, one may not accuse another of such activity unless he is in possession of such facts that would prove the commission of the crime. This applies to any law violation and you'd be doing a public service by bringing this, to the attention of your readers. Police officers cannot name individuals or establishments or make arrests until they can prove a crime has been committed. A group of suspected homosexuals frequenting a bar does not constitute a violation of the law. There's no evidence that a crime has been committed. Now, take the father's statement that the police have done nothing to curb the situation. That's a complete misstatement of fact. Only last week a night club was told to discontinue an act because the police department strongly suspicioned that objectionable individuals made up a majority of the show. We do not want that kind of attraction. An identical case was similarly disposed of two years ago…

•

"THE FATHER WHO WROTE the letter didn't even suggest that he ever made an attempt to bring his suspicions or complaints to the proper authorities — his police department. He states that his privately hired 'private eye' saw police officers in two of the spots he visited while making his investigation. The duty incumbent on every citizen to bring cases of law violations to the attention of the proper authorities is even more binding on parties holding special police commissions, such as private detectives. They take an oath to enforce the law and to assist law enforcement bodies in every instance of law violation that comes to their attention. It's the duty of our police officers to patrol bars, to look for law violations, but the mere presence of a group of homosexuals in any bar is not evidence of violation of the law…

•

"I CAN'T HELP WONDER whether the father of the son in question had ever taken the time or trouble to caution or advise his son about some of the sins or pitfalls of the world in which we live. It's my suspicion that he, like so many others, is trying to excuse his dereliction of family duty by trying to place the responsibility for his son's yielding to temptation on the police department. This neglect of family duty, in my opinion, is the greatest single cause of juvenile delinquency. Why haven't this father and you and your column and the newspaper you refer to as a 'family gazette' taken a more active stand in endeavoring to give our city enough police officers to carry out the many duties and responsibilities expected of them instead of waiting for lightning to strike home before doing something about it. We have a vice squad of five men to patrol a city of more than half a million. Our whole department has fewer officers per thousand population than the average for all cities in the United States over 10,000 population. Minneapolis has the lowest incident of homosexuality of any city of its size in the country. Don't let your readers get the wrong impression from letters which do not present the facts."
The next day, Adams published another letter from a psychology professor at the University of Minnesota:
"GENERALLY SPEAKING, FATHERS and mothers are always' well-advised to take to a school counselor students who experience behavior and emotional problems. The teacher, the counselor, and the parent have much in common and can be of help to each other. If the boy, referred to in the letter of Feb. 27, is a student in any Minnesota college or university, I am certain that even now the appropriate college counselor would be very pleased to discuss the matter with the father and mother and that much good would result if the parents of this or any boy would take advantage of this available assistance. — E. G. Williamson, dean of student affairs and professor of psychology, University of Minnesota.
These two columns represents a historically interesting turn. Considering the times — 1955, just five years after the initiation of the Lavender Scare — the father's letter didn't generate a state of general panic demanding that the authorities do something immediately. Instead, and quite unlike the kind of generalized panic that had seizedMiami the year before (see Aug 3, Aug 11, Aug 12, Aug 13 (twice that day), Aug 14,Aug 26, Aug 31, Sep 1, Sep 2, Sep 7, Sep 15, Sep 19, Oct 6 Oct 20, Nov 12 and Dec 16), Adams posted a series of letters from readers calling the father to task. The letter writers didn't betray any evidence of enlightenment toward gay people — their motivation appears to have been to rush to defend the reputation of Minneapolis and its people ("Minneapolis has the lowest incident of homosexuality of any city of its size in the country"). But in the context of the times, they do show a remarkable restraint in their reactions upon learning that there are homosexuals in the city.
But the real surprising turn would come in another three days when Adams would feature another round of letters, this time from gay people themselves.
[Source: "In This Corner, with Cedric Adams." Minneapolis Star (March 1, 1955). As reprinted in The Mattachine Review, 1, no. 3 (May-June 1955): 24-30.]
TODAY'S BIRTHDAY:
Mercedes de Acosta: 1893-1968. Born in New York City to Cuban and Spanish immigrants, de Acosta went on to publish a novel and three volumes of poetry, and she saw four of her plays produced. But none of them were successful. De Acosta instead became on early example of achieving fame for being famous, thanks to her many lesbian affairs with Broadway and Hollywood celebrities despite a more-or-less arranged marriage to painter Aram Poole from 1920 to 1935.
Lovers included the Russian-born silent film star Alla Nazimova (see Jun 3), the dancer Isadora Duncan, and Broadway actress Eva Le Gallienne. De Acosta's five-year relationship with Le Gallienne started the same year as de Acosta's marriage. De Acosta wrote two plays for Le Gallienne, both of which flopped, which led to their breakup. She met Greta Garbo in 1929, and the two almost immediately began an intense and stormy relationship. They split in 1932 and de Acosta began seeing Marlene Dietrich. That relationship lasted for the rest of the decade, even as de Acosta and Garbo continued to see each other from time to time and remained, at the very least, close friends over the next thirty years.
Following the war, de Acosta moved to Paris, where she sat out the 1950s and the McCarthy Red- and Lavender Scare. She returned to New York in 1960, broke and in poor health, and published her memoir Here Lies the Heart, to generally good reviews. De Acosta was candid-for-1960 about her relationships while carefully avoiding anything of a sexual nature. Nevertheless Garbo was appalled and ended all contact with de Acosta once and for all. Other critics were shocked and accused de Acosta of exaggeration, but her long-time friend Alice B. Toklas (See Apr 30) came to her defense. "Say what you will about Mercedes, she's had the most important women of the twentieth century." De Acosta died in poverty in 1968, and was buried in Washington Heights in New York City.
Bryan Batt: 1963. He's best known for playing Sal Romano, the married but glass-closeted art director at the Sterling Cooper ad agency for the first three seasons of AMC's Mad Men. He also played gay roles in Kiss Me, Guido, Jeffrey, and the stage version of La Cage aux Folles. Jeffrey came out while he was playing a male (straight) lead on the Broadway version of Sunset Blvd. He was worried that coming out then would ruin his career, "but now I couldn't give a rat's ass. It's normal to be gay." When he's not acting, Batt is in New Orleans with his partner of 25 years where they own a home decorating store.
Don Lemon: 1966. The host of the weekend prime-time CNN Newsroom, Don Lemon joined CNN in 2006, reporting from Chicago as then-Sen. Barack Obama was beginning his long trek to the White House. Since then, his on-the-scene reporting has included the 2007 Minneapolis bridge collapse, the theater shooting in Aurora, Colorado, and the Sandy Hook Elementary shooting in Newtown, Massachusetts. He won the Edward R. Murrow award for his coverage of the capture of the Washington, D.C. snipers, and an Emmy for a special report on Chicago-area real estate. In 2009, Ebony named him as one of the Ebony Power 150, and in 2011 he was the keynote speaker fort he National Lesbian and Gay Journalists Association national convention. That was after he came out as gay in his 2011 memoir, Transparent
.
If you know of something that belongs on the agenda, please send it here. Don't forget to include the basics: who, what, when, where, and URL (if available).
And feel free to consider this your open thread for the day. What's happening in your world?
Anti-Gay Advocate Reveals It's Not About Religious Freedom After All
Rob Tisinai
February 28th, 2014
Are all these religious freedom bills really about religious freedom? And by that I mean the principle of religious freedom — freedom for everyone, not just for members of the anti-gay tribe. Apparently for Ryan Anderson, the Heritage Foundation's expert on marriage, the answer is a resounding NO – religious freedom is not the issue.
A lovely aspect of Twitter is the way it enforces bluntness. Sure, the 140-character limit wipes out any shot at subtlety or nuance, but it also spares us the onslaught of rhetoric that people so often use to wrap ugly views in a soft, gauzy glow. Look at this exchange on Ryan's twitter feed. The first message is someone challenging Ryan on his discrimination argument, followed by Ryan's reply.
@IngrahamAngle @RyanT_Anderson Since when is not being refused service by a for-profit business because of who you are a "special right"?

— Ian Thompson (@iantDC) February 27, 2014
@iantDC @IngrahamAngle you have no right to have anyone bake you a wedding cake.

— Ryan T. Anderson (@RyanT_Anderson) February 27, 2014
@RyanT_Anderson @IngrahamAngle Bakeries aren't able to turn away interracial couples. Why is anti-gay discrimination more acceptable?

— Ian Thompson (@iantDC) February 27, 2014
@iantDC @IngrahamAngle racism is wrong. Marriage has nothing to do with keeping the races apart. Marriage is about uniting male and female.

— Ryan T. Anderson (@RyanT_Anderson) February 27, 2014
Ah, racism is wrong. Ryan's bluntness reveals two things. First, that he doesn't think anti-gay discrimination is wrong. I guess that's not a news flash, but it contrasts with disingenuous commentators who say, Of course I'm opposed to discrimination, but we have to respect people's freedom. (By the way, I don't find that indefensible; I just rarely find it to be sincere.)
Second, he shows this isn't about religious freedom for him. Sure, he thinks racism is morally wrong. And that's based on his religious views. But others may (do!) find their faith not only doesn't find racism wrong, but actually mandates it. These are both religious views. From a "religious liberty" perspective, the only difference is that one of them is part of Ryan's religion while the other is not — but Ryan wishes liberty only for his own beliefs.
Which, of course, is how we know Ryan isn't really an advocate for religious freedom.
Keep in mind, this is the man who wrote:
Liberty protects the rights of citizens even to do things we might personally disagree with. http://t.co/svqMn5QaND via @Heritage

— Ryan T. Anderson (@RyanT_Anderson) February 25, 2014
Really, though, he means liberty protects the right of people to do things you and I might disagree with, but if he disagrees with them, then liberty can go bake a cake. Freedom for me, but not for thee.
World Bank Delays $90 Million Loan to Uganda
Jim Burroway
February 28th, 2014
The World Bank yesterday announced that it was delaying a US$90 million loan to Uganda's health system, citing the country's draconian new Anti-Homosexuality Act that President Yoweri Museveni signed into law on Monday.
"We have postponed the project for further review to ensure that the development objectives would not be adversely affected by the enactment of this new law," World Bank spokesman David Theis said in an email.

…The World Bank, a poverty-fighting institution based in Washington, usually refrains from getting involved in countries' internal politics or in issues such as gay rights to avoid antagonising any of its 188 member countries.

World Bank president Jim Yong Kim, however, sent an email to bank staff saying the bank opposes discrimination, and would protect the safety of all employees.

He said passage of the Ugandan law was not an isolated incident, as 83 countries outlaw homosexuality and more than 100 discriminate against women.

"In the coming months, we will have a broad discussion about discrimination with staff, management, and our board on these issues," Kim said in the email. "Now is the right moment for this conversation."
The bank's executive board was set to approve the loan today. The $90 million loan is part of a larger $1.56 billion portfolio the bank has with Uganda. World Bank President Jim Yong Kim wrote an op-ed discussing the broader problems of discrimination of all kinds around the world and how that played into his decision:
These recent anti-gay laws, and many others that have been on the books for years, are acutely ironic. Just 15 years ago, a small band of gay men and women — largely in the United States but also in Europe and parts of Africa — fought with all their intellect, energy and creativity to expand access to treatment for all people with HIV/AIDS. In 2000, just 50,000 people in the developing world received AIDS treatment. Today, largely thanks to the work of these gay activists and others, more than 10 million people are being treated with AIDS drugs — most of them African.

At the World Bank Group, we will have a full internal discussion over the coming months about discrimination more broadly and how it would affect our projects and our gay and lesbian staff members. My view is that the fight to eliminate all institutionalized discrimination is an urgent task.
Norway, Demark and the Netherlands announced this week that they are cutting a combined US$27 million in aid to the Ugandan government. U.S. Secretary of State John Kerry said that the State Department is currently reviewing its relationship with Uganda. The U.S. currently gives more that $486 million in bilateral aid.
Meanwhile, Museveni is seeking alternative benefactors. He may find one in Russia:
President Museveni has said he will work with Russians because they don't meddle in the internal affairs of other countries. …[W]hile commissioning a new flight simulator at the air force headquarters in Entebbe on Friday, Mr Museveni told Obama to stop interfering in the affairs of Uganda, adding he will work with Russia instead of America. "Russia has worked in Africa since 1917, meaning they have been here for more than 100 years. I want to work with Russia because they don't mix up their politics with other country's politics," Mr Museveni said.
The Daily Agenda for Friday, February 28
Jim Burroway
February 28th, 2014
TODAY'S AGENDA:
Events This Weekend: Cape Town Pride, Cape Town, SA; Cologne Street Carnival, Cologne, Germany; Texas Tradition Rodeo, Dallas, TX; South Florida Pride, Ft. Lauderdale, FL; Winter Gay Pride, Killington, VT; Lake Tahoe Winterfest, Lake Tahoe, NV; SWING Gay Ski Week, Lenzerheide, Switzerland; Telluride Gay Ski Week, Mountain Village, CO; Gay Mardi Gras, New Orleans, LA; Leather Alliance Weekend, San Francisco, CA; Sitges Carnival, Sitges, Spain; Sydney Mardi Gras, Sydney, NSW; Bear Essentials, Sydney, NSW.
TODAY'S AGENDA is brought to you by:

Washington, D.C's Court Jester first opened in 1970 downtown, at 812 13th St NW at the intersection with New York Avenue, where a condo building now stands. In late 1976, the bar moved three miles across town to Wisconsin Avenue, where another condo building now stands across from the grounds of the U.S. Naval Observatory. The Court Jester closed for good in 1979.
TODAY IN HISTORY:
State Department Reported Firing 91 Homosexuals Over Previous Two Years: 1950. In testimony before the Senate Appropriations Committee, Deputy undersecretary of State John E. Peurifoy said that the State Department had gotten rid of 202 employees over the past two years who were considered "poor security risks." One person was fired and the rest were allowed to resign. According to Peurifoy, 91 of those let go were separated because they were suspected of being gay.
TODAY'S BIRTHDAY:
190  YEARS AGO: Karl-Maria Kertbeny: 1824-1882. Born in Vienna, the family moved to Budapest when he was a child. When he was fourteen, a friend killed himself after being blackmailed by an extortionist for his homosexuality. Kertbeny, who had what he called "an instinctive drive to take issue with every injustice," took up the cause of writing in support of "the rights of man," against Prussian and German anti-sodomy laws. Kertbeny proposed what would be called "the medical model" of homosexuality: that it was inborn and not the result of mere wickedness. But to talk about homosexual people, he needed a new word: the very word "homosexual" hadn't been coined yet. Instead, the words "sodomite" and "pederast" were more commonly used in the German speaking world. In a letter he wrote to German gay-rights advocate Karl Heinrich Ulrich in 1868, Kertbeny used the word Homosexualität, which for the first time separated of the object of sexual or romantic desire from the gender role of the subject. This eventually allowed for the discussion of what we now know as butch gay men and lipstick lesbians because then, the idea that a gay man could be masculine was nearly impossible to imagine. The word later appeared in pamphlets and other writings, and made its English-language debut at around 1894 (see May 6), when Richard von Krafft-Ebing's 1886 Psychopathia Sexualis was translated into English. Kertbeny insisted that he was not among the homosexuals he defended, but when he died in Budapest in 1882 at the age of 58, he was still unmarried.
Pedro Zamora: 1972 (Feb 29) -1994. When MTV debuted The Real World in 1992, it quite literally invented so-called reality television — so-called because it's hard to see how putting eight attractive young people in a hip loft-like apartment with television crews, hidden cameras, and make-work jobs could be considered "reality." But in 1994, things really did start getting real when Pedro Zamora, the Cuban-American gay man revealed that he was HIV positive to his housemates by showing them his scrapbook of his four years as an AIDS educator and advocate. In fact, it was this vocation which inspired him to audition for The Real World's third season. As the season progressed, housemates (and viewers) became more aware of the myths surrounding HIV and AIDS, attended some of Pedro's AIDS education lectures, celebrated with him as he and his partner exchanged vows during a commitment ceremony, and watched as he dealt with his own deteriorating health as the season progressed.
Taping ended in June 19, 1994 and the first episodes aired a week later. As the season aired, Pedro's declining health prevented him from participating in any publicity appearances. In August, he checked into St. Vincent's Hospital in New York. There he was diagnosed with toxoplasmosis, one of the many opportunistic infections that many people with AIDS suffered, which causes fatigue, headaches and confusion. After three weeks, he was flown home to Miami to be with his family. He died on November 11, 1994, a day after the final episode of The Real World aired. President Bill Clinton praised Pedro, saying that because of his example, "no one in America can say they've never known someone who is living with AIDS."
If you know of something that belongs on the agenda, please send it here. Don't forget to include the basics: who, what, when, where, and URL (if available).
And feel free to consider this your open thread for the day. What's happening in your world?
Final Order on Kentucky's Recognition of Out-Of-State Marriages Expected Today (UpdateD)
Jim Burroway
February 27th, 2014
The Lexington Herald-Leader reports:
A federal judge said Wednesday afternoon that he would issue a final order within 24 hours requiring Kentucky to immediately recognize same-sex marriages performed outside the state.
…In response, lawyers for the attorney general's office told U.S. District Judge John G. Heyburn II at a hearing that the state would "very promptly" decide whether to appeal the order.Heyburn told lawyers that his final order will not include a stay postponing it from taking effect. "There could be some confusion" among Kentuckians who quickly seek legal benefits stemming from their same-sex marriages, such as joint tax-filing status, if the state appeals 30 days later and delays the implementation of the order or throws its future into question, Heyburn cautioned.
The named defendants in the lawsuit, Gov. Steve Beshear and Attorney General Jack Conway, are both Democrats. Neither of them mounted a defense of the state's refusal to recognize same-sex marriages from out of state. Judge Heyburn struck down Kentucky's prohibition against recognizing out-of-state marriages two weeks ago.
Update: A clarification is in order: "Attorneys for the state did not introduce evidence against same-sex marriage while the suit was being argued, limiting the case to issues of law," so says the Lexington Herald-Leader. As expected, the order came down today and out-of-state marriages are legal — for now:
However, Gov. Steve Beshear and Attorney General Jack Conway, who defended the same-sex marriage ban in court, have 30 days to appeal. And hours before Heyburn handed down his order, Conway's office filed a motion asking Heyburn for a "stay," a 90-day delay in implementing the ruling.

"This will give defendants time to determine if they will appeal the order, and the executive branch time to determine what actions must be taken to implement this court's order if no appeal is taken," Clay Barkley, a lawyer for Conway's office, wrote in Thursday's motion. "Should defendants elect to appeal from any final order, they reserve the right to seek a stay for the duration of an appeal."

Heyburn responded to Conway's request by scheduling a telephone conference call for the lawyers in the case for 2:30 p.m. Friday.

But for at least one day, same-sex marriages performed elsewhere are legal in Kentucky, said Laura Landenwich, an attorney for four same-sex married couples who sued Beshear and Conway last year.
Is Arizona a Turning Point?
Jim Burroway
February 27th, 2014
It would appear that the outcry over Arizona's license-to-discriminate bill that was finally vetoed by Gov. Jan Brewer last night may have reached something of a high water mark. Major companies, business group, professional organizations, and major league sports all came out with strong statements denouncing the bill in the moments leading up to Brewer's veto. Typical was this one from Yelp's CEO Jeremy Stoppelman:
SB 1062 would serve to create an environment where consumers would not know how they would be treated – or whether they would even be served – when they patronize a business. This bill goes against the rule that every great business subscribes to, which is that the customer is always right. It will not only be bad for customers, but also bad for local business in the state. I also believe that it would be in consumers' interests to be made aware of businesses within the state that did engage in discriminatory behavior. Since early 2010, Yelp has hired over 650 employees in Arizona. Over the next few years, we hope to hire hundreds more. It would be unconscionable for the state to encourage discrimination against any of them.
Arizona joins three other states in putting an end to their license-to-discriminate bills in just the past twenty-four hours:
Sponsors of Ohio's license-to-discriminate bill withdrew their support yesterday. Moments later, the chairman of the House Judiciary Committee announced that the bill was dead.
 The Mississippi House of Representatives Civil Subcommittee late yesterday voted to strike almost all of the provisions of their license-to-discriminate bill, leaving only a provision adding "In God We Trust" to the state seal. This move came after the state Senate gave its unanimous approval in January.
Florida Gov. Rick Scott announced yesterday that he will veto a proposed license-to-discriminate bill if it reaches his desk. Earlier that day, he had refused to address the question during an interview on MSNBC.
Over the past several weeks, license-to-discriminate bills have been defeated or withdrawn in Colorado, Kansas, Maine, Tennessee, and Utah. But we're not out of the woods yet. Similar bills are still working their way through Idaho, Missouri, South Dakota, and Georgia, where Atlanta-based Delta Airlines has announced its opposition. The Idaho bill was returned to a House committee last week, with the sponsor saying he wants to "find the right language." In addition, there's a push to put a similar measure on the ballot in Oregon in November.
The Daily Agenda for Thursday, February 27
Jim Burroway
February 27th, 2014
TODAY'S AGENDA:
Events This Weekend: Cape Town Pride, Cape Town, SA; Cologne Street Carnival, Cologne, Germany; Texas Tradition Rodeo, Dallas, TX; South Florida Pride, Ft. Lauderdale, FL; Winter Gay Pride, Killington, VT; Lake Tahoe Winterfest, Lake Tahoe, NV; SWING Gay Ski Week, Lenzerheide, Switzerland; Telluride Gay Ski Week, Mountain Village, CO; Gay Mardi Gras, New Orleans, LA; Leather Alliance Weekend, San Francisco, CA; Sitges Carnival, Sitges, Spain; Sydney Mardi Gras, Sydney, NSW; Bear Essentials, Sydney, NSW.
TODAY'S AGENDA is brought to you by:

Larry Box, who had managed the original Stonewall Inn in Greenwich Village when it was raided in 1969, moved to Florida and opened Stonewall Too in 1975. This club was in a building that also housed the 8000 Club Hotel, which at one time sold timeshares to gay clientele. At one point the building housed a piano bar, a restaurant, a gym and this disco.
TODAY IN HISTORY:
A Minneapolis Father Discovers Homosexuality: 1955. Cedric Adams was perhaps the most popular radio personality in the upper Midwest throughout the 1940s and 1950s. He was the newscaster for WCCO in Minneapolis/St. Paul, and he hosted several other popular music and talent programs. In the 1950s, he made his transition to WCCO television as its newscaster. Pilots claimed that they could see lights go out each night after Adams signed off his 10:00 p.m. newscast. He also write a daily column for The Minneapolis Star titled, "In This Corner." On Sunday, February 27, he devoted that day's column to a letter that he received from a Minneapolis father:
APPALLING INDEED was the story this last week of the 36 shoplifters — 31 girls, 5 boys, all in their teens. Tomorrow the youngsters and their parents will traipse to the police department, loot will be piled up, department store representatives will be on hand to identify the merchandise that has been pilfered. A pretty shocking situation. What the spotlight of public attention turned on the ugly picture will do is conjecture. Will the punishment fit the crime? It's a good question. We have another situation fully as alarming and as demanding of investigation as the shoplifting spree of the 36 …

I don't have the answer, but I do have the initial warning that should alert every last one of us to a social danger in our midst. It happened to a father right here in Minneapolis. He was courageous enough to act. He was also astute enough to sense the evil. I hope you will read his letter. It's one of those that obviously comes from within — shocking it is, and yet so vital. If publishing the letter does nothing more than point a finger at the condition, it will then have served its purpose. Here is the letter exactly as I received it:

"DEAR CEDRIC: My wife and I have two sons and a daughter approximately the ages of your children. We have considered ours a typical American family. The daughter is in high school, the two boys attend college. Very recently I was shocked to learn of a well-established vice condition flourishing and allowed to continue right in our city of Minneapolis. The police so far have done nothing to stop it. Maybe they can do nothing…

"This condition seriously affected the life of my younger son — and perhaps the lives of many other young sons. Because of the distasteful nature of the condition, I am not going to reveal our names. But something corrective should be done…

"Our younger son (we'll call him Jack) is 20 years old. Until the last few months he has been a regular boy. He has a fine appearance, was a high school athlete, was interested in all sports, even took an active interest in church affairs…

"Recently we noticed Jack had dropped his girl friend as well as his former school and church friends. He began an association with a strange group of fellows. They appeared decent enough outwardly, yet we could detect something that gave the impression they were a totally 'wrong' group. Jack spent fewer evenings and week-ends at home. His college studies suffered. In the past, Jack had always brought his problems to the family. Suddenly he had grown apart from us. We felt he was hiding something of which he was ashamed…

"My wife and I were concerned, yet we were determined to let Jack bring his problem to us. He failed to do it. Finally I decided to talk to him. I got nowhere. I suspected Jack had joined a group of dope addicts…

"I hired a reliable private detective in desperation. As a matter of fact, my family physician advised it. I was amazed at the findings of the detective. Jack had not become a dope addict, but instead had falling in with a large group of active homosexuals frequenting several Minneapolis public bars and so-called supper clubs. The detective pointed out that there were police officers in two of the bars during one of his visits. Moreover, he said most of the clubs were operating almost exclusively for homosexuals with just a sprinkling of on-lookers present…

"My wife and I were greatly concerned, as you might well imagine. We wondered if we failed in the proper upbringing of our son. I confronted Jack with the findings and, at the request of our family physician again, we sent our son to a psychiatrist, with whom I visited myself. The psychiatrist informed me that Jack had not been an active homosexual The doctor said Jack's upbringing had been normal and that it was his opinion he had simply fallen in with the wrong group…

"This group had interested Jack as it had interested many other young sons. These boys were actually 'taught' homosexuality just as one learns to become a dope addict, the doctor informed me…

"Jack told us this had been his first experience. He had been introduced to it through another university student. Now Jack is completely ashamed of his venture, he's proud of his parents once again and has left the group completely. We're proud of him and happy, of course, to have him back with his family and his former friends…

"But how many other Jacks are there or will there be if this sort of thing is permitted to operate and grow? The detective admitted that these practices had been increasing greatly here within the last few years, that certain bars and clubs are exclusive hangouts for homosexuals, that no curb whatsoever has been placed on them. He supplied me with a list of the places he knew that had been encouraging that kind of patronage. That list I have sent to Mayor Hoyer…

"Our son has been salvaged. It's my earnest hope that others — all of them — may be, too. I hope you will be fearless enough to do something to bring the whole situation to the attention of both the public and our authorities. Here is a force as deadly in its operation as anything in the world. Something should be done. Can't you spearhead the drive with publicity at least?"

Signed — A MINNEAPOLIS FATHER.
Remember where things stood in 1955. The Lavender Scare was, by then, five years old, and public attitudes towards gay people had not measurably improved since then. Gays and lesbians were prohibited from federal employment, and were routinely fired from their jobs whenever their sexuality became known. Police departments across the country routinely raided gay bars and even private homes, charging their prey with a patchwork of "lewd vagrancy," "moral deviancy" and even felony sodomy laws. All, more or less, with the generous backing of the general public.
And so this column posed the danger of unleashing a witch hunt in the Twin Cities similar to anti-gay crack downs in other cities. But for some reason, things were different in Minneapolis. Over the next few days, a remarkable dialogue — remarkable for 1955 at least — took place on the pages of The Minneapolis Star. Check back on March 1 for the next installment of that conversation.
[Source: "In This Corner, with Cedric Adams." Minneapolis Star (February 27, 1955). As reprinted in ONE magazine, 3, no. 4 (April 1955): 18-23.]
Miami's Witch Hunt Resumes: 1956. Miami's longstanding anti-gay witch hunt of 1954 (see Aug 3, Aug 11, Aug 12, Aug 13 (twice that day), Aug 14,Aug 26, Aug 31, Sep 1, Sep 2, Sep 7, Sep 15, Sep 19, Oct 6 Oct 20, Nov 12 and Dec 16) appeared to have been dying down, at least according to the papers, which hadn't had much to report on in, gosh, over a year now, leading The Miami News, the city's biggest cheerleader for past anti-gay campaigns, to worry that the word had gone out that the "heat's off":
Homosexuals Return, Find Heat's Off Again
Homosexuals are appearing openly again in Greater Miami and making money for the operators of clubs which cater to them.

Several hundred — possibly more than 1,000 — are here this winter and have found that the heat is off from a public protest campaign less than two years ago.

Word now is going back up north that Miami has lifted the barriers once more.

A three-week survey by The Miami News showed that the pervert colony is flocking back in the same places raided consistently during the "purge" of 1954."
The News listed five bars "where a News reporter was actually approached," with at least one with drag performances which some Miami citizens apparently decided was more entertaining than dangerous. "Female impersonators also are an important part of the act at the Club Benni, which draws many non-deviates as well. The News also said that "open homosexuality also was found in several other places" in Miami Beach around 22nd Street with "as many as 100 or more obvious deviates at one time."
But if the heat was really off, then it's hard to explain another article which appeared that same day in the same paper:
4 Fined $900 in Roundup of Deviates Here
Four of 15 men arrested in a four-day pervert round-up by Miami police were fined a total of $900 in City Court today.

The roundup, first in Miami this season, started after Miami News reporters began checking known hangouts here and asked police for comments on the situation.

…Police arrested 15 adults and issued two juvenile citations in the pervert probe between Thursday and Saturday last week. Most of the other cases will come up soon in City Court, according to Sgt. R.H. Kellum.
A fifth man in the roundup had apparently been injured by someone who was out "rolling the queers" that night. He, too, found himself  charged:
In Miami Beach, a man who told police he was a homosexual, was charged with disorderly conduct after he was found bleeding from a gashed leg early today at Flamingo Drive and 24th Street.

Detective Walter Philbin and Joseph Caputo said the man originally told them he was hit by an automobile. Later, while being treated at Mount Sinai Hospital, he said he was visiting a friend when he picked up a broken bottle and cut himself in the leg. Detectives said he gave no reason for the action.

The cut required 15 stitches. Trial was set for Wednesday.
Cracker Barrel Backtracks on Gay Employees: 1991. Earlier in January, it had been revealed that the down-home country-style restaurant chain had fired eleven gay employees after issuing a policy statement saying it "is perceived to be inconsistent with our customer base to continue to employ individuals… whose sexual preferences fail to demonstrate normal heterosexual values which have been the foundation of families in our society." A manager of a Georgia restaurant fired one of his employees by telling him that the company had adopted a policy of not employing "homosexuals or men who had feminine traits."
Once gay rights groups learned of the firings, the Lebanon, Tennessee-based company's chairman Dan W. Evans tried to backtrack in late February, telling The Tennessean newspaper that "a written policy got out that should not have gotten out. We told the gay community that was a mistake, we apologized, (and) rescinded it. As of now, we have no policy regarding gays and lesbians." But he then went on to contradict his non-policy when he said that openly gay or lesbian applicants would not be employed in some rural communities where their presence would be perceived as a "disruption." The company's vice president also said that the fired employees would not be rehired because they" were a disruption to the store," and issued a second statement saying, "it only makes good business sense to continue to employ folks who will provide the quality of service our customers have come to expect from us."
The Tennessee Gay and Lesbian Alliance and the National Gay and Lesbian Task Force were not at all satisfied with the response, and called a boycott of the fast-growing chain. Two New York pension funds added to the pressure by refusing to vote to re-elect any of the company's board of directors in 1992, and shareholders waged a battle over nondiscrimination policies through much of the 1990s. In 2002, the Cracker Barrel board finally added sexual orientation to the company's non-discrimination policy, and therefore ending the boycott. However, Cracker Barrel continued to get into hot water over other areas of discrimination, including charges in 2002 that restaurants had been segregating African-American customers in smoking sections and denying them service. The Justice Department in 2004 found that Cracker Barrel had violated the Civil Rights Act of 1964, and the company agreed to a settlement which, among other things, required the company to hire outside auditors to ensure compliance with the law.
In 2010, Cracker Barrel earned a spot (barely) on the Human Rights Campaign's Corporate Equality Index for implementing nondiscrimination policies and diversity training that includes sexual orientation for all of its employees. Cracker Barrel earned a score of 15 points out of a possible 100, a score that has risen to only 45 for 2014.
Pat Buchanan Again Calls AIDS "Nature's Retribution": 1992. Presidential nomination races seem to bring out the worst in candidates, and when that candidate is Pat Buchanan his worst can be pretty bad. When he brought his campaign to Georgia, he appeared on conservative talk radio to talk about the topics that were near and dear to his heart: abortion, pornography, and the gay "lifestyle." In response to a question about AIDS, Buchanan responded, "AIDS is nature's retribution for violating the laws of nature in many ways. I think the promiscuous homosexual lifestyle is not only wrong, but it is medically ruinous. And I think it is socially destructive." With this statement, Buchanan picked up a theme that he had been using since at least 1983, when he wrote an op-ed for the New York Post saying that gay people "have declared war upon nature, and now nature is exacting an awful retribution." (see May 24) One thing that can be said for the man: he certainly has the virtue of consistency.
TODAY'S BIRTHDAY:
James Leo Herlihy: 1927-1993. The novelist, playwright and actor was born in Detroit to a working-class family. Herlihy enlisted in the Navy in 1945, missing combat thanks to the war's end. He attended the highly experimental Black Mountain College near Asheville North Carolina for two years where he studied sculpture, painting, music and literature, and then moved to California to attend the Pasadena Playhouse College of the Theater when his first play, "Streetlight Sonata," premiered in 1950. He then moved to New York, were his "Moon in Capricorn" appeared off Broadway. His first play to make it to the Great White Way was "Blue Denim" in 1958, which was made into a movie the following year.
He began publishing novels in 1960, two of which were adapted to films. All Fall Down (1960), about an adolescent boy's conflicts with his function family, dealt with the very touchy subjects of teenage sexuality, pregnancy and abortion, and broke new ground for what major publishers were willing to touch. It was made into a film
in 1962 starring Warren Beatty, Eva Marie Saint and Karl Malden. While the novel received wide critical acclaim, the movie flopped.
The reverse happened with 1965′s Midnight Cowboy
: the book received relatively lukewarm reviews, but the 1969 film became the first (and only) X-Rated film to receive an Academy Award. It actually won three: for Best Picture, Best Director and Best Adapted Screenplay. His last novel, "Season of the Witch" (1971) took the form of a diary, written by a 19-year-old girl who moves to New York with her gay boyfriend.
Herlihy himself spent most of his life living the bohemian lifestyle in the gay paradise of Key West, Florida. During the late 1960s, he embraced the hippie and anti-war movements, despite being a whole generation older. His Key West cottage became a kind of a "safe house" for hippies. "I protected a fair number of them from the law, who wanted to drive them out of town and we had love-ins and weddings in the garden," he later said. "What made me so happy with those beautiful creatures was the sense they gave me that the marginal people to whom I'd been drawn all through my life were suddenly having a heyday. We've learned since then that it wasn't as simple as all that, but for a time, at least, the freaks really did have the establishment on the run, and nothing's been the same since."
By the 1970s, Herlihy was starting to feel claustrophobic by his celebrity and the growing toursm in Key West. He also found that it was getting too hard for him to work. In 1973, he moved to Los Angeles and adopted a pseudonym to try to keep the world at bay. He resumed writing, but never published anything else after the move. He also acted in several plays and one movie, Four Friends
(1981). His character, a disturbed father, committed suicide. In 1993, Herlihy took his own life, overdosing on sleeping pills.
If you know of something that belongs on the agenda, please send it here. Don't forget to include the basics: who, what, when, where, and URL (if available).
And feel free to consider this your open thread for the day. What's happening in your world?
A Rare Loss In Arizona for Herrod
Jim Burroway
February 26th, 2014
Cathi Herrod heads the Focus On the Family-affiated Center for Arizona Policy (CAP), and she's become quite accustomed to having her entire legislative agenda breeze through the legislature year after year. But today's veto of SB 1072 by Gov. Jan Brewer represents an exceptionally rare moment of sanity for the state of Arizona and a highly unusual setback for Herrod:
Today's veto of SB 1062 marks a sad day for Arizonans who cherish and understand religious liberty.

SB 1062 passed the legislature for one reason only: to guarantee that all Arizonans would be free to live and work according to their faith.

Opponents were desperate to distort this bill rather than debate the merits. Essentially, they succeeded in getting a veto of a bill that does not even exist.

When the force of government compels one to speak or act contrary to their conscience, the government injures not only the dignity of the afflicted, but the dignity of our society as a whole.

SB 1062 made certain that governmental laws cannot force people to violate their faith unless it has a compelling governmental interest–a balancing of interests that has been in federal law since 1993.

The religious beliefs of all Arizonans must be respected and this bill did nothing more than affirm that. It is truly a disappointing day in our state and nation when lies and personal attacks can over shadow the truth."
You can see the devastating chaos that bill would have caused had it become law here and here.
Brewer vetoes SB 1062
Timothy Kincaid
February 26th, 2014
Brewer's remarks
Good evening, and thank you for joining me here today.

I am here to announce my decision on Senate Bill 1062.

As with every proposal that reaches my desk, I gave Senate Bill 1062 careful evaluation and deliberate consideration. I call them like I see them, despite the cheers or boos from the crowd.

I took the time necessary to make the RIGHT decision. I met or spoke with my attorneys, lawmakers and citizens supporting and opposing this legislation. I listened and asked questions. As Governor, I have protected religious freedoms when there is a specific and present concern that exists in OUR state. And I have the record to prove it. My agenda is to sign into law legislation that advances Arizona.

When I addressed the Legislature earlier this year, I made my priorities for this session abundantly clear… Among them are passing a responsible budget that continues Arizona's economic Comeback.

From CEOs — to entrepreneurs — to business surveys — Arizona ranks as one the best states to grow or start a business. Additionally, our IMMEDIATE challenge is fixing a broken Child Protection system. Instead, this is the first policy bill to cross my desk.

Senate Bill 1062 does not address a specific and present concern related to religious liberty in Arizona. I have not heard of one example in Arizona where a business owner's religious liberty has been violated. The bill is broadly worded and could result in unintended and negative consequences.

After weighing all of the arguments, I vetoed Senate Bill 1062 moments ago. To the supporters of the legislation, I want you to know that I understand that long-held norms about marriage and family are being challenged as never before.

Our society is undergoing many dramatic changes. However, I sincerely believe that Senate Bill 1062 has the potential to create more problems than it purports to solve. It could divide Arizona in ways we cannot even imagine and no one would ever want.

Religious liberty is a core American and Arizona value, so is non-discrimination. Going forward, let's turn the ugliness of the debate over Senate Bill 1062 into a renewed search for greater respect and understanding among ALL Arizonans and Americans. Thank you.
(text from Towelroad)
Note the careful way in which she discusses the challenges to long held norms about marriage and family and dramatic change without actually stating her opinions about such challenges and change.
And Texas falls
Timothy Kincaid
February 26th, 2014
A federal judge in San Antonio ruled Wednesday that Texas' ban on same-sex marriage unconstitutionally deprives some citizens of due process and equal protection under the law by stigmatizing their relationships and treating them differently from opposite-sex couples.

U.S. District Judge Orlando Garcia cited recent U.S. Supreme Court rulings as having trumped Texas' moves to ban gay marriage.

"Today's court decision is not made in defiance of the great people of Texas or the Texas Legislature, but in compliance with the U.S. Constitution and Supreme Court precedent," he said in his order. "Without a rational relation to a legitimate governmental purpose, state-imposed inequality can find no refuge in our U.S. Constitution."
The decision is on hold pending appeal at the Fifth Circuit Court of Appeals.
Garcia is a former Democratic Texas State Representative from San Antonio. He was appointed to the bench by President Bill Clinton.
This should all prove to be interesting. Texas has more than it's fair share of those opposed to treating their neighbor like themselves and Texan's are unusually willing to let their biases and bigotries be known.
Marriage Equality Foe Accidentally Rebuts Arguments Against Marriage Equality
Rob Tisinai
February 26th, 2014
With NOM collapsing like a crumbling tenement, the main political force opposing same-sex marriage seems to the Heritage Foundation, working through its resident expert Ryan T. Anderson, a co-author on Robert George's egregious What is Marriage?
Ryan, of course, is a big supporter of Turn-Away-the-Gay bills. Yesterday, in quick succession, he issued a series of tweets explaining why, in language that made me laugh out loud.
Liberty protects the rights of citizens even to do things we might personally disagree with. http://t.co/svqMn5QaND via @Heritage

— Ryan T. Anderson (@RyanT_Anderson) February 25, 2014
Freedom is two way street. Requires allowing others to do or not do things that we might choose differently 
http://t.co/UDNPgmQLjj @Heritage

— Ryan T. Anderson (@RyanT_Anderson) February 25, 2014
Liberty isn't about acting only in ways that the New York Times approves of.http://t.co/gwZlDj540Y via @Heritage

— Ryan T. Anderson (@RyanT_Anderson) February 25, 2014
Let's keep these handy for when he turns his attention back to banning same-sex marriage. But wait, he doesn't do that, because there are no bans on same sex marriage. From the day before:
of course there are no "bans", only laws defining marriage for gov purposes, not "banning" anything. NYT and Holder don't know difference

— Ryan T. Anderson (@RyanT_Anderson) February 24, 2014
Of course, because laws that only allowed men to vote didn't ban women voters, and that only allowed Christians to hold office didn't ban Jewish office-holders, and that only allowed men to be King of Gondor didn't ban orcs from ascending the throne.
Sorry about that last one. For a moment there I suffered a bout of Ryan-itis: the inability to distinguish fact from my fantasy.
Uganda starts to feel cost of anti-homosexuality bill
Timothy Kincaid
February 26th, 2014
President Yawari Museveni has barely signed the 2014 Anti-Homosexuality Bill and already the nation's economy is experiencing the consequence. (Bloomberg)
Uganda's shilling fell the most since March 2012 against the dollar after donors started cutting aid after President Yoweri Museveni signed a law that imposes life sentences on some homosexual acts.
…
Museveni signed the law on Feb. 24 after scientists in Uganda found no genetic link to homosexuality. Uganda's shilling has dropped for three straight days, paring gains in Africa's third-best performing currency this year. The currency of East Africa's third-biggest economy fell 2.2 percent to 2,513 per dollar by 6:57 pm. in Kampala, the capital.
As nations cut off foreign aid to Uganda, the bite is immediate. But perhaps more concerning for political stability is the impact the legislation can have on future investment.
Global companies which do business in the West rely on a gay friendly image and investment in Uganda can be perceived as social irresponsibility. Additionally, they increasingly accept and promote gay employees and can be reluctant to be involved in nations where their employees may be at risk or whose policies complicate personnel strategies.
"In the long run, foreign-direct investment could be withdrawn, which will have a bigger impact than the donor aid," Jacques Nel, an economist at NKC Independent Economists in Paarl, South Africa, said by phone. The law "creates increased risk that companies may no longer invest in the country or invest less," he said.
Opposition to Arizona's Right-To-Discriminate Bill Grows
Jim Burroway
February 26th, 2014
Arizona's License-To-Discriminate law is still on Gov. Jan Brewer's desk awaiting her decision. The expansive SB 1062, which would allow virtually anyone to discriminate against anyone else — and more — on the basis of religious belief, would effectively bring anarchy to the state of Arizona and its employers with non-hostile workplace policies. Which is why local Arizona business groups are lining up to urge Brewer to veto the bill:
The Greater Phoenix Economic Council and Arizona Technology Council are joining gay rights groups in opposition to Senate Bill 1062. Part of their worries are the measure will repeat the bad publicity and negative impact on tourism and business investment seen after Gov. Jan Brewer signed the SB 1070 immigration bill four years ago.

"This legislation has the potential of subjecting the Super Bowl, and major events surrounding it, to the threats of boycotts," said GPEC chairman James Lundy and CEO Barry Broome in a letter to Brewer today. They also said four companies looking to bring jobs to Arizona might reverse course if Brewer signs the measure, which passed the Legislature this week. They did not identify the companies.
Businesses are looking to avoid repeating the SB 1070 debacle four years ago when Arizona lost millions of dollars in businesses and tax revenue due to the fallout. Other business groups opposing SB 1062 this time include the Arizona Chamber of Commerce, Greater Phoenix Chamber of Commerce, Greater Phoenix Leadership, the Arizona Hispanic Chamber of Commerce, the Greater Phoenix Economic Council, the Arizona Lodging & Tourism Association, Tucson Hispanic Chamber of Commerce, the outhern Arizona Leadership Council, and Visit Tucson, the city's tourism board.
Individual businesses have also lined up to oppose the bill, including Apple, which is set to open a new sapphire glass plant in Mesa with 700 full-time jobs. Other Arizona employers opposing SB 1062 include PetSmart, Intel, Dignity Health, American Express, Mariott, American Airlines (which recently merged with Tempe-based USAirways) and Delta Airlines.
Local politicians are voicing their opposition. Tucson's Mayor Jonathan Rothschild opposes the bill, as does Phoenix Mayor Greg Stanton, and Mesa Mayor Scott Smith. Surprisingly, I haven't heard from Glendale Mayor Elaine Scott. That city risks losing the 2015 Super Bowl if SB 1062 makes it into law:
The NFL said it was monitoring the progress of the bill, the Cardinals said they are concerned about the negative image the bill could bring the state, and the Arizona Super Bowl Host Committee said it flatly opposes the legislation.

…n 1993, Arizona was in line to host the Super Bowl in Tempe, but Arizona voters in November 1992 voted against a referendum recognizing Martin Luther King Jr. Day as a state holiday, prompting the NFL to give the Super Bowl to Pasadena, CA.
Even Fox News, which has spent several months drumming up support for bills like Arizona's SB 1062, has done an about face and now compares the bill to Jim Crow laws. Which has got to be very disorienting to Arizona politicians living in the Fox News bubble.  But at least it's having its effect. Three Republican State Senators who had supported SB 1062 before they opposed it, are now urging Brewer to veto the bill.
Sens. Bob Worsley, Adam Driggs, and Steve Pierce delivered a letter to Brewer on Monday, saying, "While our sincere intent in voting for this bill was to create a shield for all citizens' religious liberties, the bill has instead been mischaracterized by its opponents as a sword for religious intolerance. These allegations are causing our state immeasurable harm."

The senators asked Brewer to veto the bill.

"We must send a clear message that Arizona is a state that values religious tolerance and protects and values each individual's ability to follow the dictates of their own conscience," they wrote.
Now they come to their senses. If they had voted against the bill in the first place, it would have failed in the Senate 14-16. Instead, it passed in a 17-13 vote.
Arizona's two Republican U.S. Senators, John McCain and Jeff Flake also urge Brewer to veto SB 1062.
As for SB 1052 supporters, the include the bill's primary cheerleader, the Center for Arizona Policy's Cathi Herrod. CAP, by the way, is an official state policy council of Focus On the Family. And there's this guy, State Sen. Al Melvin (R-SaddleBrooke/Tucson):
Which more or less means that any halfway sane governor would veto this bill before it even had a chance to settle on her desk. But since Brewer has until Friday to make up her mind, the rest of the country gets to see what we Zonies have to put up with every day.
The Daily Agenda for Wednesday, February 26
Jim Burroway
February 26th, 2014
TODAY'S AGENDA:
Events This Weekend: Cape Town Pride, Cape Town, SA; Cologne Street Carnival, Cologne, Germany; Texas Tradition Rodeo, Dallas, TX; South Florida Pride, Ft. Lauderdale, FL; Winter Gay Pride, Killington, VT; Lake Tahoe Winterfest, Lake Tahoe, NV; SWING Gay Ski Week, Lenzerheide, Switzerland; Telluride Gay Ski Week, Mountain Village, CO; Gay Mardi Gras, New Orleans, LA; Leather Alliance Weekend, San Francisco, CA; Sitges Carnival, Sitges, Spain; Sydney Mardi Gras, Sydney, NSW; Bear Essentials, Sydney, NSW.
TODAY'S AGENDA is brought to you by:
TODAY IN HISTORY:
Chemical Castration for Homosexuality: 1955. In the 1950s, endocrinologists were just beginning to understand the many valuable benefits of hormone therapy to treat a large number of conditions. They also found that hormones could also have lasting, damaging effects on the body. Those effects were put to use in attempts to control the sexual behavior of gay men as doctors, often under court order, began prescribing Stilboestrol, a synthetic estrogen, in order to induce chemical castration. In an article which appeared in the British Medical Journal, Dr. Robert E. Hemphill, the medical superintendent at the Bristol Mental Hospital, described the effects of hormone therapy for a number of different conditions, including the following:
Homosexuality and Excessive Sexuality. — The direction of homosexual or heterosexual drives cannot be altered with sex hormones; but the force of sexual drive in males can be reduced by treatment with female sex hormones. There are a number of papers on the subject, and all the authors are in general agreement about the indications and the rationale. Treatment with female sex hormones reduces the production of gonadotrophic hormones, producing a secondary effect on testicular function and secretion. The reduction of sex drive is comparable to that achieved by surgical castration, although some authors claim that endocrine treatment is more effective (Hamilton, 1943). Stilboestrol is the usual preparation, administered in increasing doses until the nipples become pigmented and the breasts sore; an alternative is ethynol oestradiol, 0.5 or 1 mg. daily. Eventually almost complete testicular atrophy will be produced, but not necessarily a total suppression of the abnormal sex drives. It is interesting that notice has been taken of this treatment at the recent trial of an extreme and persistent homosexual offender, in whom abnormal behaviour had continued in spite of the production of almost complete atrophy of the testes by stilboestrol. The judge took into consideration that the offender had therefore done everything possible that medical treatment could offer, although in his case it had not been completely successful. Persistent homosexual offenders should therefore be encouraged to persevere with this treatment, although in some cases a satisfactory control of sexual behaviour may not necessarily be achieved.
In 1952, famed mathematician Alan Turing (see Jun 23) was arrested for homosexuality and given the choice between prison and chemical castration through hormone therapy. Turing was given Stilboestrol for a year, whereupon he became impotent and experienced the side effects of breast enlargement and general bloating in his body. He also lost his security clearance. Stilboestrol, also known in the U.S. as Diethylstilbestrol (DES), would later be linked to depression and severe birth defects when given to pregnant women. Turing committed suicide in 1954.
[Source: R.E. Hemphill. "Endocrine treatment in psychiatry." British Medical Journal 1, no. 4912 (February 26, 1955): 501-504. Full text available online here.]
Newsweek's "Gay Power": 1973. Newsweek provided a quick update to the beginnings of what would become a growing political movement in a small article titled "Gay Power":
The time is probably not at hand when Chicago's Mayor Richard J. Daley will don black tie and hie himself off to an annual dinner of the Chicago Gay Alliance — just another politician seeking votes among just another group of citizens. Nor has Richard Nixon yet expressed his hopes for a brighter future for America's homosexuals. But in recent years, in the backwash of political organizational efforts by migrant workers, welfare mothers and other once formless and powerless groups, the nations homosexuals have begun taking a few assertive steps of their own — and finding to their not inconsiderable surprise that the politicians can be made to pay attention.
Newsweek wrote that progress so far had been measured "mostly by symbol and gesture" and was limited to major cities and college campuses. San Francisco, Los Angeles were mentioned, but Newsweek was more impressed with the activity taking place in the Northeast, where gay advocates worked to overturn anti-sodomy laws (43 states still had them in 1973), enact equal rights protections, ensure child visitation rights in custody battles, and even fight on behalf of gay taxi drivers in New York City who required medical certifications of sanity before they were allowed to drive cabs. Gays were visible as never before, except for one young legislator who, while not yet out, may have dared reporters to ask:
In Boston earlier this month, freshman State Rep. Barney Frank caused a small sensation when he told his colleagues that he had routinely used gays as campaign workers last year, among ordinary citizens as well as among other homosexuals — "and as all of you know, campaigning is a peculiarly personal kind of thing."
But nobody asked, and Frank didn't tell. A year later, Massachusetts (and the nation) saw its first openly gay state legislator when Elaine Noble was elected to the Massachusetts House of Representatives (see Nov 5). Frank came out on his own initiative in 1987 during his fourth term in Congress (see May 29).
If you know of something that belongs on the agenda, please send it here. Don't forget to include the basics: who, what, when, where, and URL (if available).
And feel free to consider this your open thread for the day. What's happening in your world?