EU Downplays Ugandan Sanctions Over Anti-Homosexuality Act
Jim Burroway
April 3rd, 2014
LGBT advocates in Uganda are split over the question of foreign aid cuts in response to the country's adoption of the draconian Anti-Homosexuality Act. Many have argued that any actions taken against Uganda should be aimed at addressing the much larger human rights problems in what is increasingly becoming a one-party kleptocracy. Sexual Minorities Uganda executive director Frank Mugisha and others have cautioned against aid cuts:
"We can't afford to create new victims," (Mugisha) said on Twitter this week. "We should go after the crazy politicians! Not innocent Ugandans."

…Edwin Sesange, director of the African LGBTI Out and Proud Diamond Group, said in a Gay Star News comment piece: 'Aid in various forms helps all ordinary Ugandans, including LGBTI people who we are campaigning for. "Therefore the consequences of not being able to access those services financed by foreign aid will directly impact gay, lesbian, trans and bi Ugandans wellbeing. Our parents, sisters, brothers, friends and other relatives will also become victims. By contrast, most proponents of homophobia in Uganda can afford luxurious lives without depending on some foreign aid funded projects."

He added: Politicians and the anti-gay vigilantes are using this threat from developed countries as a way of convincing people the west is using foreign aid and its influence to spread homosexuality to Uganda. We need to change this argument such people can understand the role of the western countries has is fighting homophobia, not making people gay. Western leaders need to assess the risks of their strategies before LGBTI people pay the consequences."
Meanwhile, Ugandan critics question why the West is ignoring the protracted government-sponsored violence against opposition leaders and their supporters and focusing all of their attention on the LGBT population.  This is the best way to understand the situation on the ground that the European Union Ambassador to Uganda Kristian Schmidt is trying to address in this interview with NTV Uganda yesterday.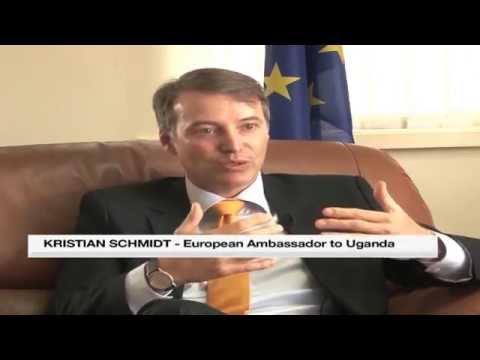 Europe is not here to exchange money for African values. This is not the nature of our partnership. Our partnership is one of equal partners where what we do in the area of development cooperation is discussed and agreed with our Ugandan partners.

The discussion that we have on human rights are not conditional, and that's why it's important to note that we are not threatening. We didn't threaten with aid cuts during the process of legislative adoption of the bill. This is not how Europe operates.
J. Lester Feder at Buzzfeed has more on the assurances Ambassador Schmidt says that he is seeking from the Uganda Government:
During an interview in his office in the Ugandan capital on Wednesday, Schmidt would not specify what assurances the E.U. sought from the five cabinet officials he met with behind closed doors last week. But, he said, he was "very" satisfied with the conversation and expected to resume the discussion after Ugandan officials returned from a summit between E.U. leaders and African leaders being held this week in Brussels.

"I am satisfied with the fact that … there were five ministers [in the meeting] … ready to give us assurances, that the law wouldn't mean violations of privacy, freedom of expression, freedom of assembly, [and] the way medical care will be extended in facilities that are already caring for men who have sex with men," Schmidt said. And while the E.U. believes the "law is discriminatory from A to Z and it has to be repealed," he said, "there are ways to limit the damage. I want to keep working on that [through dialogue]."

…"We do not try to buy African acceptance for European or universal values through our development cooperation," he said. "Because what happens when you try to do that, you get the [backlash] that we're seeing.… It's not productive to present it as a trade off."
It's hard to see what meaningful assurances government could offer when arrests like these are continuing across Uganda and suspects are being paraded before TV cameras: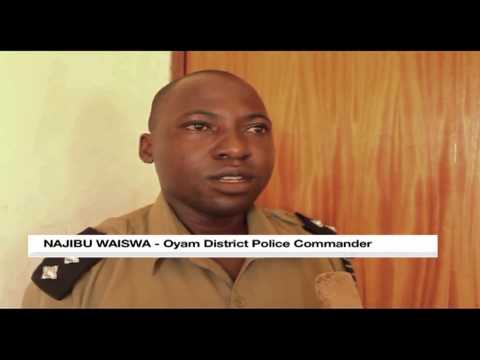 Two men suspected of engaging in homosexuality acts have been arrested in Oyam. Oyam District Police Commander, Najibu Waiswa says 22-year-old Maurice Okello and his alleged partner, 18-year-old Anthony Oluku were caught red handed. Police claims the two admitted to having been involved in acts of homosexuality.
Meanwhile, Frank Mugisha is tweeting this morning that police have raided an NGO at Makarere University which receives PEPFAR funds from the US over services it provides to LGBT people:
The Daily Agenda for Thursday, April 3
Jim Burroway
April 3rd, 2014
TODAY'S AGENDA:
Events This Weekend: AIDS Walk, Belmont, NC; Brighton Marathon, Brighton, UK; Belgian LGBT Film Festival, Brussels, Belgium; Spring Diversity, Eureka Springs, AR; Sunshine Stampede Gay Rodeo, Ft. Lauderdale, FL; Dinah Shore Weekend, Palm Springs, CA; Phoenix Pride, Phoenix, AZ.
TODAY'S AGENDA is brought to you by:
The two-story industrial brick building that housed the Warehouse in 1978 had begun life in 1887 as the American Manufacturing Co., a maker of wood gunstocks and other handcrafted wood products. But more recently, the property was owned by the Knutson Metal Co. which operated a salvage yard on its grounds. City officials considered the property, located between a proposed city amphitheater and a park along the Cedar River, a "blight to the neighborhood and a drag on development," while the Historic Preservationist Commission listed the building itself as one of eleven most endangered buildings in the city. In 2012, the city agreed to buy the property for $1.5 million. At last report, the city was putting the building up for sale in hopes that a private developer would preserve and renovate the historic building, possibly for residential use.
TODAY IN HISTORY:
5 YEARS GO: Iowa Supreme Court Declares Ban on Same-Sex Marriage Unconstitutional: 2009. In a unanimous ruling, the Iowa Supreme Court upheld a lower court ruling which held that the state's marriage statute was unconstitutional. The Court concluded that:
We are firmly convinced the exclusion of gay and lesbian people from the institution of civil marriage does not substantially further any important governmental objective. The legislature has excluded a historically disfavored class of persons from a supremely important civil institution without a constitutionally sufficient justification. There is no material fact, genuinely in dispute, that can affect this determination.
Senate Majority Leader Mike Gronstal and House Speaker Pat Murphy issued a joint statement welcoming the court's decision. Citing Iowa's long tradition in being a leader in civil rights, they congratulated "the thousands of Iowans who now can express their love for each other and have it recognized by our laws." Iowa's same-sex couples began marrying on April 27.
TODAY'S BIRTHDAY:
Anne Lister: 1791-1840. Her father was a veteran British soldier who fought with the Redcoats at the Battles of Lexington and Concord  during the American War for Independence. (He later wrote a book about it). After the war, he married and became a wealthy country gentleman in Yorkshire. His eldest daughter, Anne, was brought up with all of the advantages of education and erudition, the latter resulting in an intense interest in classical literature. In 1826, she inherited the family estate, Shibden Hall, and with it a steady income from the estate's tenants. That modest wealth was enough to afford her a measure of independence and deference from those who might otherwise criticize her "masculine appearance." She was sometimes referred to as "Gentleman Jack," for her business (she was a major player in the very male-dominated coal mining business) and recreational affairs (she was the first woman to climb Mont Perdy in the Pyrenees in 1830). These interests were certainly not considered normal for a woman of her standing.
What's more, her private life wasn't considered normal for a woman of any standing. Lister had a long term relationship with Marianna Belcombe, which lasted lasting several years including a period of time when Belcombe was married. In 1832, Lister met and fell in love with a wealthy landowner Ann Walker, and the two of them would remain together for the rest of Lister's short life. Their relationship was as close to a marriage as was possible, given the times. Lister died in 1840, at the age of 49, while traveling with Walker in Eastern Europe.
Lister left behind a 26-volume diary covering the years 1806 to 1840. Most of the diary covered various mundane topics — the weather, social events, business concerns, her travels — but about a sixth of the diary was encrypted in a simple code. Those coded sections describe her lesbian nature and affairs. When a relative, John Lister, who was the last to inhabit Shibden Hall, decoded the diaries and discovered the contents, he was advised to burn them. He didn't, but he did hide them.
A century later, Helena Whitbread published portions of the diaries in two
volumes
in 1988 and 1992, and issued a re-release of selected excerpts as The Secret Diaries of Miss Anne Lister
in 2012. As Shibden Gall curator Claire Shelby observed, the diaries reveal a complicated woman who was very frank about her sexuality. "She talks about her tactics for wooing women. She talks about how she likes a particular woman, how she is interested and how she has spoken to tem. It's almost like you can see relationships developing as they go along. And, though she doesn't refer to it in the sort of language we use today, it is clear to see a sexual element in her relationships. … She approached an awful lot of women, including married women, and it doesn't sound like she was rejected very often. She could be very charming when she wanted to be." In 2010, BBC Two aired a dramatization and a documentary of Lister's life. Between the books and the television programs, Lister's reputation as "the first modern lesbian" has been firmly cemented.
George Copeland: 1882-1971. The Massachusetts-born concert pianist is best known for his devotion to the work of notoriously heterosexual Claude Debussy. Their meeting in 1911 in Paris marked a huge turning point for Copeland, who had already performed the American debut of Debussy's Deux Arabesques in Boston seven years earlier. Copeland spent four months studying with Debussey, discussing and playing each of Debussy's piano works. Copeland later said that at the end of those four months, Debussy told him, "I never dreamed that I would hear my music played like that in my lifetime."
Whether Debussy really said that or not, it's hard to say. Nevertheless, Copeland became the leading expert on Debussey's piano works. He gave several U.S. premieres as well as several world premiers, including La Boîte à joujoux in 1914 and numbers X and XI of the Etudes in 1916. From 1904 until his final performance in 1964, Copeland played at least one Debussy work in each of his recitals. Copeland also had a fondness for Spanish music from the likes of Isaac Albéniz, Enrique Granados, and Manuel de Falla. In 1909, he performed the American debuts of three of Albéniz works. At the start of his career, Copeland was known as part of the avant-garde, often performing new works by contemporary composers, although he became considerably less adventurous as time went on.
Copeland was also rather iconoclastic in his private life. He was open about his homosexuality, telling a Cleveland paper in 1913 that "I don't care what people think of my morals. I never think anything about other people's morals. Morals have nothing to do with me." He also had a passion for wearing exotic jewelry and perfume. His openness reportedly caused problems for composer Aaron Copland (see Nov 14), who was considerably more circumspect. During a tour of Latin America, the composer was received with a frosty reception by local officials. After discreetly asking around, Copland learned that Copeland-with-an-"e" had been there on a concert tour and had gotten into trouble on a "morals charge." Copland explained the difference, and the concert went on with considerably more cooperation with the locals. Meanwhile, Copeland, in 1936, met a young German, Horst Frolich, in Barcelona, who became Copeland's "secretary" and partner for more than thirty years.
Copeland's career suffered an interruption in 1958 when he broke his shoulder in a fall and was unable to play for several years. He thought his career was over, but he made a comeback in 1963 when he re-entered the recording studio and gave several small concerts. He performed what would be his final concert at Yale in 1964. He talked about returning to the concert hall in 1966, but he never followed through. He died of bone cancer on June 16, 1971.
55 YEARS AGO: David Hyde Pierce: 1959. He took up acting in high school, but he went to Yale to study classical piano. He soon grew bored with it, and decided to switch his major to English and Theatre Arts. He moved to New York, where he struggled to find acting jobs. His big break came in 1993 when he was cast as Niles Crane, Frasier Crane's younger brother for the Cheers spin-off Frasier, which lasted eleven seasons. Pierce earned eleven consecutive Emmy nominations for Best Supporting Actor, and won in 1995, 1998, 1999 and 2004.
Pierce has appeared in Jody Foster's Little Man Tate (1991), Oliver Stone's Nixon (1995), as Meg Ryan's brother in Sleepless in Seattle (1992) and as Ewan McGregor's boss and best friend in Down With Love (2003). That's in addition to voicing several animated features and a couple of episodes of The Simpsons. On stage, he starred in the Kander and Ebb musical Curtains, which won him a Tony for Best Performance by a Lead Actor in a Musical Ffor 2007. Pierce, who had formally come out as gay earlier that year, thanked his partner, television writer/director/producer Brian Hargrove, when accepting his Tony "because it's 24 years of listening to your damn notes — that's why I'm up here tonight. They married in October, 2008 in California, just days before voters approved Proposition 8.
If you know of something that belongs on the agenda, please send it here. Don't forget to include the basics: who, what, when, where, and URL (if available).
And feel free to consider this your open thread for the day. What's happening in your world?
Why I'm not panicked about the Mississippi bill
Timothy Kincaid
April 2nd, 2014
The Mississippi Senate and House have passed a bill (similar to that vetoed by Arizona Governor Brewer) which would formally legalize discrimination in that state, so long as such discrimination is "substantially motivated by one's sincerely held religious belief, whether or not the exercise is compulsory or central to a larger system of religious belief".
It is a rather nasty piece of work which was formulated out of animus and is intended as a tool to deny rights to gay people.
But I'm not particularly worried about this bill.
Instances of actual anti-gay discrimination in the provision of services are infrequent. Even in the Deep South, there is little advantage to be had by turning down business from gay customers.
There's just not much to be gained by alienating customers. Maybe a few moments of internet celebrity and the promise of a few new strident anti-gay sales, but "we don't sell to those type of people" is not a very effective marketing plan. Most folks would rather stay out of your war – and out of your store – irrespective of their own beliefs.
And the evidence of that can be seen in that despite the anti-gay industry's ever-vigilant search for fresh martyrs to parade, only a handful of Jesus-lovin', sin-hatin', concerned Christians have been found nationwide who have been willing to destroy their livelihood for the cause. Elane Photography, a couple of bakers, and a florist or two. Oh, and some cookie baker and a venue in Texas. Most of whom were not even required by ordinance or law to offer service to gay people.
But even if such discrimination were ubiquitous in Mississippi, this bill changes nothing. There is no corner of the state in which gay people are protected from discrimination. No bakers or florists or bed and breakfast inn masters are limited from turning away gay people at the door. There is not even one city ordinance in the state that requires equal service to gay customers.
As for the anti-gay efforts, this bill gains them nothing. It's merely a public statement of derision towards a segment of their population.
However, it does have the potential to facilitate some outcomes that hardcore conservative Christians do not predict, and will not like. These bills almost always do.
Those, such as the Mississippi legislators, who seek laws that advantage conservative Christians suffer from too much belief in their own rhetoric. They are part of a worldview that has some misperceptions:
1. They are the only real people of faith.
It baffles me how this perception manages to keep hold when all evidence is to the contrary. But in the minds of these people, if you are a person of faith then you obviously believe the Levitical commands in precisely the same way they do.
They don't consider that them there liberal sin-compromisin' feel-goody pseudo-Christians will get the exact same legal rights under these sort of laws as True, Bible-believing, born-again People of God.
2. They are a persecuted people.
It may be hard to take seriously the notion that the state and local officials in Mississippi are in some way out to get the Christians. But when you believe that Satan is using the principalities and powers of the world to attack the Body of Christ, you can hear about some preacher who was arrested in Sweden and fear that Sheriff Billy Bob Honeycutt is about to do the same.
It hasn't occurred to these legislators that real persecuted people – the religious minorities in Mississippi – may now actually have a tool by which to empower their freedom.
3. God's hand is in whatever they do
There is a form of circular reinforcement that can result in astonishing stupidity. Much of what you hear from Pat Robertson is based in this thinking. It goes like this:
I am a child of God. I seek God's will in my life in what I do and say. I believe that God speaks to my heart and inspires me to move in the direction that he knows is best in my life. Therefore, when I strongly believe something, I know that it is inspired by God. And as God never lies or works against that which is good, whatever batpoop idiotic nonsense that I am spouting at any given moment is backed up by the creator of the universe.
Because they all agree that God wants them to stand up against the homosexual agenda, and because the homosexaul lobby opposes this bill, then it must be inspired by God and a wonderful victory for His Kingdom.
And so they've passed a phenomenally stupid bill that is likely to bite them in the ass. In fact, it's likely to have the exact opposite impact of what they expect.
It certainly wouldn't be the first time. Remember in the 80′s when there was a big ruckus because some Bible Clubs had been restricted at some school or other? Well Congress rushed to fix that with the Equal Access Act, which required that if a school allowed any extra-curricular organizations then it had to allow all such groups.
And for about ten minutes there were Bible Clubs on a handful of campuses (until students realized that the idea of a Bible Club was much sexier than actually trying to read the book). But the largest impact of this law is the opposite of its intention; mostly, this law is what requires schools to allow gay-straight-alliances on campus. In court case after court case, anti-gay school boards have been told that if they want to ban support groups for LGBT kids, they also had to ban the chess club and the Fellowship of Christian Athletes.
It is, of course, far too early to know what kind of repercussions will result from the Mississippi Freedom Restoration Act. But here are a few scenarios that the language of the law would appear to cover:
Should there be a Muslim woman who is a state employee, local concerns or sensibilities will now have no say in her choice of clothing, provided that she has a sincerely held religious belief. Burka, baby!
Rastafarians, Native Americans, and others whose religious beliefs incorporate use of mind altering substances now have a much higher bar by which they are to be denied access to the implements of their worship. Now drug enforcement officers must prove "a government interest of the highest magnitude that cannot otherwise be achieved without burdening the exercise of religion". I predict a large conversion to such faiths.
The Knights of the Ku Klux Klan are a religious organization. They have lost favor in the nation, even in the South, as social and civil disapproval has taken the forefront. And the federal Civil Rights Laws disallow discrimination against people on the basis of race, so this law will not override that protection. But it would protect the state employee who wants to wear KKK insignia to work. And it will cause all sorts of havoc.
And, most ironically, they were blind to the most obvious scenario, the one jumping up and down in front of them waving its arms:
"Exercise of religion" includes, but is not limited to, the ability to act or the refusal to act in a manner that is substantially motivated by one's sincerely held religious belief, whether or not the exercise is compulsory or central to a larger system of religious belief.
One of the phenomena that we have seen recently is the deeply-held religious conviction on the part of some people of faith that denying gay people equality is an injustice and an immoral attack on a child of God. Some are rather visible, such as Episcopalians or UCC or Lutherans, in which the denomination is on their side. But some, such as a recent spate of Methodists, are willing to defy their church and risk defrocking in order to fulfill their fealty to God.
Even if no denomination states that it is sinful to discriminate against gay people, some clergy have made this case. And surely there is among the 82 counties in Mississippi at least one clerk who compelled by his faith to offer marriage certification to same-sex couples just as he would to opposite-sex couples. And this law says that state action cannot burden his religious act of faith.
Mississippi just opened for themselves a colossal can of worms. Funny how animus, arrogance, and self-righteousness can work that way.
Mississippi Legislature Passes License-To-Discriminate Law
Jim Burroway
April 2nd, 2014
Both houses of the Mississippi legislature approved S.B. 2681 yesterday. The bill passed the GOP-controlled House in a 78-43 bipartisan vote, and the GOP-controlled Senate by a 38-14 bipartisan vote. The bill states that "State action or an action by any person based on state action shall not burden a person's right to exercise of religion, even if the burden results from a rule of general applicability…" It also provides that "A person whose exercise of religion has been burdened or is likely to be burdened (emphasis mine) in violation of this section" can go to court for "injunctive relief, declaratory relief, compensatory damages, and the recovery of costs and reasonable attorney's fees."
The same law, designated as the "Mississippi Religious Freedom Restoration Act," also adds the words "In God We Trust" to the state seal. The law now goes to Gov. Phil Bryant (R) for his signature. Bryant said on Monday that he plans to sign the bill into law. Mississippi's anti-discrimination law currently does not offer any protections on the basis of sexual orientation or gender identity, which means that even without this bill, discrimination against LGBT people is already perfectly legal in Mississippi.
Like the Arizona bill which was vetoed by Gov. Jan Brewer (R), the Mississippi bill doesn't single out sexual orientation or gender identity as allowed grounds for discrimination, which leaves it open to employers and individuals claiming rights to discriminate on any basis — race, religion, gender, perceived national origin, etc., — as long as they can claim a religious reason for doing so. As with the Arizona legislation, atheists and agnostics will have no such specific license to discriminate. Similar bills are before the legislatures in Oklahoma and Missouri, and a bill is expected to be introduced in North Carolina when its legislative session begins in May. Similar bills in Georgia, Idaho, Kansas, Maine, and Ohio have been rejected.
In February, the Mississippi House amended the bill to remove the license-to-discriminate language, leaving only the sections modifying the state seal. The Senate, however, rejected that move and restored a version of the original language, which moved the bill to a conference committee which hammered out the final version.
Click here to read the full text of the Mississippi bill.
The Daily Agenda for Wednesday, April 2
Jim Burroway
April 2nd, 2014
TODAY'S AGENDA:
Events This Weekend: AIDS Walk, Belmont, NC; Brighton Marathon, Brighton, UK; Belgian LGBT Film Festival, Brussels, Belgium; Spring Diversity, Eureka Springs, AR; Sunshine Stampede Gay Rodeo, Ft. Lauderdale, FL; Dinah Shore Weekend, Palm Springs, CA; Phoenix Pride, Phoenix, AZ.
TODAY'S AGENDA is brought to you by:
THIS MONTH IN HISTORY:
60 YEARS AGO: ONE Magazine Educates Readers on Legal Definition of Entrapment: 1954. Police entrapment was a very real concern for LGBT people everywhere, with many police departments being particularly aggressive in their pursuit of gay people. But the difficulty of proving entrapment made it an extremely rare defense, as an article from the April 1954 issue of ONE illustrates. The unsigned article,written by "ONE's legal counsel" (possibly Eric Jubler, who would later successfully defend ONE in a landmark censorship case; see Jan 13) begins with a brief overview of the relevant law, and then provides three specific examples to illustrate what does and does not constitute entrapment:
1 — The first situation is that where an officer offers to buy a prohibited article, and the defendant is willing to sell. This can arise in narcotics cases, liquor cases, or in prostitution. In these cases, it is no defense that the officer disguised his identity. Where the de-fendant is motivated by a desire for money, there is no entrapment by an officer who offers money.

2 — The second type of case involves more active activity on the part of the officer. He may secure the confidence of a thief and loan him a gun with which to commit a robbery; he may pretend to be an accomplice; he may take narcotics into a city and there-by attract narcotic peddlers anxious to buy. In these situations, the officer creates situations which make it easier for a criminal to commit an offense which he seeks an opportunity to commit. The idea for the offense has, however, originated with the defendant.

3 — In the third situation, the officer suggests the commission of the crime. He overcomes the defendant's unwillingness by threats or appeals to sympathy, pity or friendship. In this situation, entrapment exists. (For example, in a famous case, a prostitute induced a man to live with her outside of wedlock. She had been hired to do so by police, who arrested the man for violation of a morals law. It was held the man had been entrapped.) But in this situation, the proof of the defendant's reluctance must be clear and overwhelming. CASES ARE EXTREMELY RARE IN WHICH A CLAIM OF ENTRAPMENT IS SUCCESSFUL AS A DEFENSE.

In situations of homosexual life, we can apply the law as obtained from the above situations and lay down the following general rules, dependent in each case, of course, upon the particular facts:

It is obvious that, for instance, a homosexual who makes the acquaintance of a strange man, perhaps in a public place, and proposes to him the commission of an illegal act, cannot urge the defense of entrapment, even though the stranger was a vice-squadder "staked out" as a decoy to attract such defendants.

If, in the same situation, it was the vice-squadder who proposed the illegal act the same would be true. A MERE SOLICITATION BY A VICE SQUAD OFFICER DOES NOT CREATE ENTRAPMENT. These cases are similar to situation (2) above: the officer has merely created a situation in which a defendant can commit an act with more ease.

Only in the third situation can en-trapment truly be claimed: If the officer "picks up" the defendant, gains his acquaintance, proposes the act, and proceeds to overcome the defendant's genuine reluctance and unwillingness by appeals to sympathy, pity. friendship, etc., entrapment exists, but IF, AND ONLY IF the defendant was in fact unwilling, and the officer's appeals were such as to leave no doubt that he was the procuring party. To prove such a state of fact requires a strong degree of proof; obviously, the defendant is forced to take the stand in his own defense, and his version of the facts must be so strong and believable as to convince a judge or jury of its truth and validity.
This discussion by ONE was not only in the immediate interest of many of its readers, but it also came about as the result of direct experience of least one member of ONE's founding staff members. Dale Jennings recounted in ONE's very first issue on 1953 of his own narrow escape after having been arrested in a clear case of entrapment by the Los Angeles Police (see Jun 23). Jennings surprised everyone by publicly proclaiming his homosexuality in court while refusing to plead guilty to the charges. His case was finally dismissed, not because he was exonerated, but because the jury couldn't agree on whether to believe his claims of entrapment.
[Source: Unsigned. "The law: A discussion of entrapment." ONE 2, no. 4 (April 1954): 7-8.]
Ugandans Celebrate Anti-Homosexuality Act
Jim Burroway
April 1st, 2014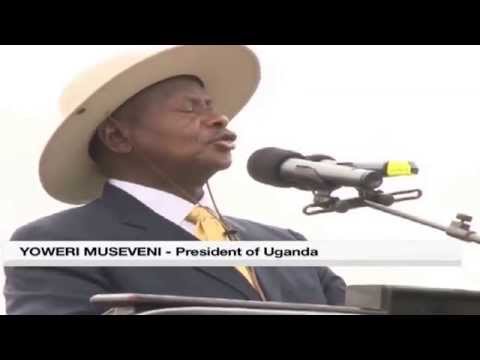 Uganda's Inter-Religious Council, a coalition of religious denominations, organized a ceremony of prayer and thanksgiving yesterday at the Kololo Independence Grounds, the nationally-revered site where Uganda's independence was declared in 1962. Religious and political leaders gathered to honor President Yoweri Museveni for signing the Anti-Homosexuality Act into law despite widespread international condemnation. Buzzfeed's J. Lester Feder was there and described the carnival atmosphere at Kololo:
Fire jugglers, acrobats, and schoolchildren performed at a five-hour ceremony in the Ugandan capital on Monday called to celebrate the country's new Anti-Homosexuality Act.

Speakers paid tribute to President Yoweri Museveni, the official guest of honor, and linked Uganda's fight against homosexuality with shedding its colonial past in an event that had the feeling of a campaign rally.

"Today, we come here again [to celebrate] sovereignty and freedom … [and] to take charge of our destiny," said David Bahati, the lawmaker who sponsored the bill, noting that the event was taking place at the Kololo Independence Grounds, the parade grounds where Ugandan independence was granted in 1962. "The citizens of Uganda are with you, Mr. President. The religious and cultural leaders are with you, Mr. President. The members of parliament and the nation is behind you."
Sheik Shaban Mubajje, Mufti of Uganda, spoke on behalf of the Inter-Religious Council in offering prayers of thanksgiving for the Anti-Homosexuality Act, while complaining that foreign donors have cut US$3.5 million in aid to the group that had been earmarked its HIV/AIDS programs. HIV/AIDS providers and legal experts have warned that the overly broad wording of the Anti-Homosexuality Act's "aiding and abetting" clause would, at best, have a chilling effect on the delivery HIV/AIDS services to LGBT people, and, at worst, could be interpreted as criminalizing it. Other religious leaders offering thanksgiving prayers included Roman Catholic Archbishop Cyprian Lwanga, Anglican Archbishop Stanley Ntagali, and evangelical pastor Simon Peter Emiau. Ahead of the celebration, Pastor Martin Ssempa, of "eat-da-poo-poo" fame and staunch supporter of the new law, led a march of supporters from Makarere University to Kololo.
Museveni charged that Western countries were "attacking our culture, which is the bedrock of our survival," and promised to support a domestic fund to replace lost foreign dollars for HIV/AIDS.
The Daily Agenda for Tuesday, April 1
Jim Burroway
April 1st, 2014
TODAY'S AGENDA is brought to you by:

My World opened in Green Bay in the spring of 1979 as a Leather/Levi Country/Country Rock bar. At around 1982 and 1983, the building housed a second bar out back, the Silver Saddle, which was a lesbian bar. My World appears to have changed ownership around 1985 and became Brandy's, although it still remained a Leather/Levi bar. Brandy's stayed there until 1989, when it moved to another location and became Brandy's II, which closed for good in 2007. The building at the original location is gone now, replaced with a parking lot.
TODAY IN HISTORY:
Canada Reduces Criminal Penalty for Sodomy: 1955. Canada enacted the first of a long series of consolidations of its federal statues, with a new amended Criminal Code going into effect on April 1, 1955, which replaced the Section 202 of the old Code:
"Everyone is guilty of an indictable offence and liable to imprisonment for life who commits buggery, either with a human being or with any living creature."
with Section 147, which reduced the penalty from life imprisonment to fourteen years:
"Everyone who commits buggery or bestiality is guilty of an indictable offence and is liable to imprisonment for fourteen years."
The Criminal Code would undergo another round of consolidation and modernization with the Criminal Amendment Act of 1968, which, when it was finally passed in 1969, resulted in the full decriminalization of homosexuality (see May 14).
Gay Rights Activists Challenge "Gay Cure" Doctor: 1965. Just a few weeks earlier, Frank Kameny convinced the Mattachine Society of Washington D.C. to endorse a resolution declaring that "the absence of valid evidence to the contrary, homosexuality is not a sickness, disturbance, or other pathology in any sense, but is merely a preference, orientation, or propensity on par with, and not different in kind from, heterosexuality" (see Mar 4). It was a bold statement, challenging the collective verdict to the contrary as delivered by the mental health professions, but it was the first step in the long march by Kameny, Barbara Gittings and others to convince the American Psychiatric Association to remove homosexuality from its list of mental disorders in 1973.
But in 1965, that resolution was considered a radical and controversial move in the gay community and among gay rights activists. Indicative of the kind of deference that many in the gay community were willing to accord mental health professionals, the Philadelphia-based gay rights group known as the Janus Society hosted a lecture by Dr. Samuel B. Hadden, Associate Professor of Psychiatry at the University of Pennsylvania and a well-known practitioner of group therapy to try to cure male homosexuals. Hadden gave his usual spiel to the gathering: that gay people were suffering from a treatable neurotic disorder, one brought about by a dominating mother-figure or an absent father. Jody Shotwell, writing for The Ladder described Hadden's treatment approach:
In his group-therapy technique, the homosexual is brought into contact w1th other homosexuals who, according to Dr. Hadden, have seen some kind of light. During the sessions, those patients farther along in treatment try to convince the newer members of the group of the dissat1sfactions — if not horrors — of life as a homosexual. Some attention is given to dress and mannerisms, in an effort to get the more effeminate homosexuals to conform to our culture's notion of masculinity.
Hadden claimed he had managed to cure twelve of his thirty two-patients, a claim that an audience member challenged by asking whether any of his patients may have been motivated to lie about their progress. Hadden had no answer. He also didn't bother trying to conceal his contempt for his audience. He likened homophile organizations to Nazis and the Klan, said that gay people should never be granted security clearances, and falsely asserted that everyone who had defected to the Soviet Union were gay. It was toward the end of the discussion that Kameny rose to challenge Hadden on his own turf:
Dr. Franklin E. Kameny of the Mattachine Society of Washington put the following questions to the speaker: 1. Are not his patients particularly susceptible or prone — as demonstrated by their being his patients — to justify the changes he has wrought, and hence atypical of homosexuals as a whole? 2. He seems to have taken it as a premise or axiom that homosexuality is pathological. What scientifically meaningful proof or demonstration of such pathology does he have? Dr. Hadden did not reply to or touch on the first question. In answering the second, he spoke in terms of "I feel (that homosexuality is a sickness, etc.) … We believe… I consider… We think…" In the exchange of remarks, Dr. Kameny asked for a definition of pathology in this context and said that homosexuals have been defined into sickness. When Dr. Hadden's responses continued in terms of "I think" and "We feel," Dr. Kameny declared, "This is not science, Dr. Hadden; this is faith."
[Source: Jody Shotwell. "Special Report: Faith and Fury." The Ladder 9, n0. 8 (May 1965): 20-21.]
Gay Groups Consider Buying Small California Town: 1971. Just five months after the Gay Liberation Front revealed plans to encourage gays and lesbians to move to rural Alpine County, California and take it over as a haven from discrimination and oppression (see Oct 19), reports emerged that Los Angeles-area gay leaders were considering buying another town east of San Diego and "colonizing" it.
The tiny town of Bankhead Springs, population 19, was up for sale. For a cool $239,000 (that would be almost $1.4 million today), the buyer would get a 51-year-old hotel, a cafe and eight houses. Bankhead Springs was named for Sen. John Bankhead, Tallulah Bankhead's father and Alabama Senator who championed the construction of U.S. Route 80, "the nation's Broadway," from Savannah to San Diego. In southern San Diego County, Route 80 covered an old winding, mountainous stagecoach road, and Bankhead Springs became a convenient stop for automobile travelers midway between San Diego and El Centro.
But when Interstate 8 bypassed that section of Route 80 in the 1960s, traffic through town plummeted and businesses closed all along the route. LA-area activists saw an opportunity to create a settlement where gays could escape harassment, raise livestock, and establish an arts and crafts community. Morris Kight said that some of the surrounding properties had already been sold. "They've quietly moved into those villages in considerable numbers and are gradually colonizing them," he claimed.
Kight said that the project to buy the town itself was sponsored by the Gay Liberation Front of Los Angeles, but a spokeswoman for another group interested in the town said the GLF only offered "moral support." She said the plan was to buy the town, rename it Mount Love, and subdivide it into quarter-acre lots. But the town's owner, Helen Miller, said she hadn't talked with any prospective buyers who identified themselves as part a gay group, and added, "I don't know if I would sell to them anyway. I love these mountains and don't want to be run out."
[Source: Associated Press. "Homosexual group eyes small town." (April 1, 1971).]
40 YEARS AGO: First Openly Lesbian Candidate Wins Public Office: 1974. For most of the previous decade, politics was the lifeblood of The University of Michigan's Ann Arbor campus. In 1964, President Lyndon B Johnson chose that progressive campus to unveil his Great Society proposals during the commencement ceremony. In 1965, the anti-war movement was born when UM faculty members and 3,000 students held the nation's first faculty-led "teach-in" to protest the Vietnam war. By 1974, protests, demonstrations, sit-ins and teach-ins to support all sorts of counter-cultural causes — civil rights, peace, women's liberation, marijuana decriminalization, and all sorts of other progressive and radical causes — became mundane events in Ann Arbor's student life.
And so when Ann Arbor city elections came around in 1974, few eyebrows were raised when a local political party, the Human Rights Party (HRP), ran Kathy Kozachenko to represent the second ward surrounding the UM campus. Republicans, which until then had held a solid lock on city government, couldn't find anyone to run in the second ward, leaving a lone Democratic candidate to run against Kozachenko. With Kozachenko running openly as a lesbian, it proved to be a tight race. After expressing fears that she might lose on election day, she ended up winning by just nine votes. "This is so goddamn great!" she told reporters. "Our victory cannot be attributed simply to gay people and the HRP 'core'. I think people really understood the difference between actions and words." Meanwhile, Kozachenko's opponent, Mary Richman, gave what was perhaps the most unlikely concession speech in the history of American politics: "Apparently all the Republicans voted for Kathy." In fact, Kozachenko may have been helped by a successful HRP-sponsored ballot initiative which proved popular with UM students: the so-called "dope ordinance" which reduced the fine for possession of marijuana to $5.
First Gay Couples Marry in Netherlands: 2001. In 1998, the Netherlands became the first non-Scandinavian country to institute registered partnerships (geregistreerd partnerschap). That law was written so that opposite-sex couples could also enter into registered partnerships, making it a viable alternative to marriage for straight people while, at the same time, being the only option available for gay couples. That changed in April 1, 2001, when the Netherlands became the first country in the world to grant marriage equality to same-sex couples. At the stroke of midnight, four couples — three male and one female — were among the first to be pronounced legal spouses in ceremonies at Amsterdam City Hall.
TODAY'S BIRTHDAY:
Alberta Hunter: 1895-1984. Born in Memphis to a very troubled family, she left home at the age of fourteen, moved to Chicago, lied about her age, and became one of Chicago's top Blues singers in the 1910s and 1920s. She toured London and Paris in 1917, and appeared in clubs and musicals in New York and London throughout the 1920s and 1930s, including an appearance as "Queenie" in the first London production of Show Boat with Paul Robeson. In 1934, she was a regular with the Jack Jackson orchestra at London's Dorchester Hotel. With the outbreak of World War II, she returned to America and toured with the U.S.O, entertaining troops in Casablanca, Europe and the Pacific.
Hunter was fiercely independent, which prompted rumors about her sexuality. To silence the rumors, she married in 1919, but the couple never slept together and the divorced in 1923. She had a long-term relationship with Lottie Tyler, a woman from New York that Hunter had met in Chicago. Tyler accompanied Hunter on at least one trip to Europe.
Hunter's mother death in 1954 caused her to reconsider her priorities. "I went as far as you could go. I played Broadway. I played the Royal Theatre in London. I played in Paris… and I figured I had gone to the top," she later told a documentary filmmaker." A career change was in order. So she took twelve years off her age, created a false high school diploma, and enrolled in nursing school in New York City. She was, by all accounts, a dedicated nurse for the next twenty years. None of her co-workers suspected that they were working alongside a singer who had been celebrated on two continents. In 1961, she broke her eleven-year vow to stay away from show business when she agreed to record her signature composition, "Down Hearted Blues," and a few other songs for a couple of albums. She enjoyed the diversion, but decided to stick with nursing. She remained at New York's Goldwater Memorial Hospital until 1977, when she reached, according to their records anyway, the mandatory retirement age of seventy. (She was, in fact, eighty two.)
Bored, she decided to launch a comeback. In 1978, she was booked for what was supposed to be a two-week engagement at a Greenwich Village club, the Cookery, which quickly turned out to be a huge hit. Columbia Records gave her another recording contract. She released two albums, supervised the re-release of her old material, made television appearances and began touring again in Europe and South America. The White House invited her to perform for Jimmy Carter, but she refused because "they wanted me there on my day off." The White House adjusted its schedule and she accepted the invite. She continued to perform regularly at the Cookery until she died in October, 1984. She was inducted in the Blues Hall of Fame in 2011.
Here she is, in 1981, performing "Nobody Knows You When Your Down and Out" at the Cookery.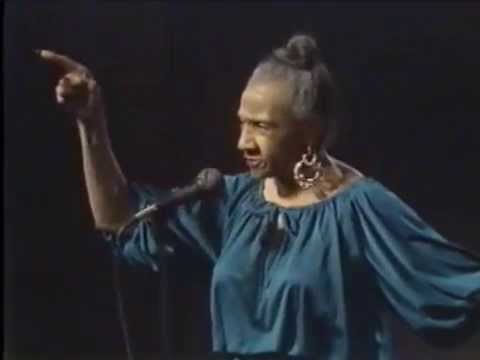 If you know of something that belongs on the agenda, please send it here. Don't forget to include the basics: who, what, when, where, and URL (if available).
And feel free to consider this your open thread for the day. What's happening in your world?
Ukraine: EU Negotiations Sideline LGBT Rights
Randy Potts
March 31st, 2014
On the cover of today's The New Republic is this piece by Maxim Eristavi, who writes that gays and lesbians took a front and center role fighting on the maidan/main square of Kyiv but are now being sidelined by the revolutionary government and, according to multiple sources, by the EU as well.
But despite these aggressions, LGBT activists are in a tricky position when it comes to the revolution. When I approached revolutionary campaigner Bohdana Babich, whoposted about the attacks on the gay club on her Facebook page, she refused to speak with me, saying that I shouldn't create "informational noise" at a time of a crisis in Ukraine. When a group of LGBT activists decided to support the revolution last year, they did so with the understanding that they would have to do so quietly. "A majority of LGBT activists decided to fully support and participate in the revolution, because European values are close to our values and goals," said Bogdan Globa, a well-known local LGBT activist, in an interview with Hromadske TV in January. "But, at the same time, we decided not to use our rainbow flags in joining the protest, not to demand a special attention to us and to publicly demonstrate our concerns."
The EU, for their part, is still saying publicly that they "prefer a solution whereby the law covers sexual orientation" but are dropping an outright demand for it during the negotiations.
The Daily Agenda for Monday, March 31
Jim Burroway
March 31st, 2014
TODAY'S AGENDA is brought to you by:
Northwest Gay Review explained this Seattle event which took place forty years ago tonight:
I don't believe this is really happening, but on March 31, the Trojan Shield I is holding a "Closet Ball." You're probably asking yourself, "What in the queen's realm is a 'Closet Ball'?" Well here it is sweetie. Go find yourself a straight friend (You do have at least one don't you — some of my best friends are straight). If you truly don't have any, then bring a gay substitute. Then on March 31 dress yourself up in drag and bring your (hee-hee) straight friend to the Trojan Shield at 8 p.m. Then for a specified period of time (I think one hour) you will proceed to undress yourself and dress your former friend in your drag outfit. Since neither of you will be recognizable, you can both come out of your closets. Tickets for the event are $3 with rules and entry blanks available at the Shield. The pair performing the best transformation will receive a beautiful color photo of Rock Hudson
TODAY IN HISTORY:
Off-Duty SF Police  Officers Assault Lesbian Bar: 1979. About fifty burly young men, most of them drunk, had gathered outside of Peg's Place, a lesbian bar in San Francisco's Richmond neighborhood. They were loud and obnoxious, and some of them talked about "getting the dykes." Bar employees met them at the door and an argument broke out. The argument quickly escalating in shouting and pushing. When one of the women threatened to call the cops, the guy doing the pushing responded, "We're the cops, and we'll do as we damn please."
In fact, the men, who were out celebrating a bachelor party for their friend, included San Francisco off-duty officers. A general melee broke out as patrons rushed to defend the door, armed with pool cues. One officer beat bartender Alene Levine so badly she was hospitalized for ten days due to severe head injuries. A police lieutenant arrived, and promptly began investigating — the bar, carefully checking all of the bar's licenses and permits, and accusing the bartender of being drunk.
The lieutenant refused to believe that his officers could be at fault. But in fact, the officers' actions were part of a much larger trend. Police had been hassling, and sometimes beating and/or arresting customers as they tried to enter gay bars. In January, police officers assaulted and arrested two women as they left a lesbian bar in the Mission. To make matters worse, they were strip searched at the jail.
The Peg's Place assaults quickly became a major story in the local press, and gay leaders pressed Mayor Dianne Feinstein to address the growing problems. Their frustration grew as Feinstein waited two full weeks before issuing a statement calling for the prosecution of the policemen involved. One of the officers was eventually charged, tried, and convicted of battery. He was sentenced to three years' probation and fined $1,000. But the problems continued to fester. Resentments in the gay community grew as police harassment continued without letup. Anger finally boiled over less than two months later, when former city Supervisor Dan White was sentenced to a paltry seven years for shooting San Francisco Supervisor and LGBT advocate Harvey Milk and Mayor George Moscone. Gays rioted at City Hall and police rioted in the Castro, in what became known as the "White Night Riots" (see May 21).
TODAY'S BIRTHDAY:
Sergei Diaghilev: 1872-1929. The Russian-born art patron and connoisseur forever changed the world of modern ballet when he founded the revolutionary Ballets Russes in Paris in 1909. Three years earlier, Diaghilev had mounted a major exhibition of Russian art in Paris, which he followed with a series of concerts of Russian music and a production of Mussorgsky's Boris Godunov at the Paris Opéra. When he returned to Paris again in 1909 with a troupe of dancers led by his lover, Vaslav Nijinsky, they performed all new works with innovative set designs and choreography. His four-week run was a smashing success.
In subsequent years, Ballets Russes became known for breaking all of the rules. The violently sexual Scheherazade, based on a symphonic poem by Nikolai Rimsky-Korsakov, so outraged the composer's widow that she protested in open letters which Diaghilev published. His debut of Stravinsky's The Rite of Spring in 1913, with its insistent rhythms and dissonant score and the highly unconventional choreography set off a riot in the theater on opening night. Diaghilev was delighted at the controversy, telling Stravinsky that it was "exactly what I wanted."
Ballets Russes collaborated with wide-ranging artists as composers Claude Debussy, Sergei Prokofiev, Richard Strauss and Erik Satie, and artists Pablo Picasso, Henri Matisse, Joan Miró, Georges Braque, Georges Rouault, and Max Ernst as designers. It also launched the careers of George Balanchine, Ninette de Valois, and Serge Lifar.
Diaghilev was always very open about his homosexuality. It's largely the reason he abandoned pre-revolutionary St. Petersburg for the more permissive climes of Paris. Composer Nicolas Nabokov said, "he was perhaps the first grand homosexual who asserted himself and was accepted as such by society." He was also a very passionate man in everything he did. Diaghilev's affair with Nijinsky was perhaps the most famous gay affair in Europe until Nijinsky married in 1913. Diaghilev promptly fired him. Diaghilev then turned to Léonide Massine, who he coached into becoming a great dancer and one of the more important choreographers of the century. They were together until Massine married in 1920. Diaghilev promptly fire him also.
While Ballets Russes was both a critical and artistic success, it was never a financial one. Diaghilev barely kept the company afloat, and it never found a permanent home any time in its two decade existence. When he died in Venice of diabetes in 1929, his friend had to pay the hotel bill. Ballet Russes folded upon Diaghilev's death.
80 YEARS AGO: Richard Chamberlain: 1934. He first became famous in 1961 as the handsome young intern, Dr. Kildare, in the television series of the same name, a role that lasted until the series ended in 1966. From there, he became involved in repertory theater and film roles which had a more literary bent: The Tree Musketeers, The Count of Monte Cristo, The Music Lovers, and The Lady Carline Lamb (his 1974 appearance in The Towering Inferno being a notable departure.) He returned to television in the 1970s in several popular miniseries, including Centennial, Shōgun, and The Thorn Birds as Father Ralph de Bricassart. He lived in Hawaii with his partner, Martin Rabbett, from 1976 to 2010; and it was during that time that he was outed by a French women's magazine in 1989. While that outing didn't really stick very well with the general public, it didn't surprise many people when Chamberlain finally and officially came out in 2003 in his autobiography Shattered Love
. In 2010, he advised actors who sought leading-man roles to remain in the closet. "Despite all the wonderful advances that have been made, its still dangerous for an actor to talk about that in our extremely misguided culture. Look at what happened in California with Proposition 8. Please, don't pretend that we're suddenly all wonderfully, blissfully accepted."
Barney Frank: 1940. He represented Massachusetts's 4th Congressional district from 1981 until his retirement in 2012, and he did so as an openly gay representative since 1987. When he came out to The Advocate that year, he became the first member of Congress to do so voluntarily. He recalled that when Rep. Stewart McKinney of Connecticut died of complications from AIDS (McKinney's physician claimed that McKinney became infected from a blood transfusion, but many didn't believe it.), there was "an unfortunate debate about 'Was he or wasn't he? Didn't he or did he?' I said to myself, I don't want that to happen to me." After coming out, Frank easily won re-election in 1988 and in just about every election since then.
He earned a reputation for being one of the House's quickest wits, saying, for example, that he was unable to finish reading the Starr Report about President Bill Clinton's relationship with Monica Lewinsky because it was "too much reading about heterosexual sex." In 2006, Rep. John Ostettler (R-IN) accused Frank of pushing a "radical homosexual agenda." Frank responded to that charge by point out, "I do not think that any self-respecting radical in history would have considered advocating people's rights to get married, join the army, and earn a living as a terribly inspiring revolutionary platform." He married his partner, Jim Ready, in July of 2012, making Frank the first gay-married Congressman in history.
If you know of something that belongs on the agenda, please send it here. Don't forget to include the basics: who, what, when, where, and URL (if available).
This your open thread for the day. What's happening in your world?
The Daily Agenda for Sunday, March 30
Jim Burroway
March 30th, 2014
TODAY'S AGENDA:
Events This Weekend: Belgian LGBT Film Festival, Brussels, Belgium; AIDS Walk & Music Festival, Ft. Lauderdale, FL; Los Angeles Leather Pride, Los Angeles, CA; OutBoard, Steamboat Springs, CO.
TODAY'S AGENDA is brought to you by:

Nite Beat, Milwaukee's "girl's bar," opened originally at 196 S. 2nd street in about 1964, and lasted there until sometime between 1968 and 1971, when it moved across the street to 183 Second Street. One former patron remembered: "The Nite Beat was a hard-core diesel bar. Butches were butches, femmes were femmes, and my generation of role-light young feminists was viewed with total suspicion. Although it was on street level, you felt as though you were walking into a basement." In 1972, the bar became much more femme when it was sold and re-opened as the Riviera Show Lounge, which featured lavish drag shows.
THIS MONTH IN HISTORY:
"Yes, I Am!": 1958. It seems that much of gay history before the rise of the women's movement in the 1960s is often centered on the experiences of gay men. It was men were being arrested and jailed, in numbers which far exceeded the experiences of lesbians, although lesbian bars were also targeted by police (see for example, Mar 8, Sep 8, Sep 21). We can all imagine what it was like to be a gay man fifty-five years ago thanks to the early homophile magazines ONE and The Mattachine Review. The latter was devoted almost exclusively to male concerns (although lesbians made an occasional appearance from time to time) while ONE, in its early days, mostly relegated women's concerns to a segregated regular column called "The Feminine Viewpoint."
In 1956, the Daughters of Bilitis began publishing The Ladder to provide women with a voice separate from men — and indeed, for much of the fifties, the gay men's movement and the lesbian movement, such as they were, were mostly separate movements which only sometimes recognized the common cause between them. But thanks to The Ladder, we have, preserved like a time capsule, a collection of voices from, well, the feminine viewpoint. And so what was it like to be a lesbian in the 1950s? Well, an article that appeared in the March 1958 issue of The Ladder provides one illustration of how invisible lesbians often were — and often made themselves — in those year. The article was signed with the name of Sandra Pine, although that was probably a pen name. It was titled, simply, "Yes, I Am!":
I wish it were possible for me to wr1te this on my letterhead, but my "world" would be too shocked if they were to learn their perfectly proper and "normal" appearing friend, business and professional member of their society were any different than she appears. And more shocked to know that she is secretly glad to be a Lesbian.

I've never consulted a psychiatrist (but many have with me) as I am not emotionally disturbed nor suffering from a guilt complex. I am perfectly healthy, have no need or use for drugs, cigarettes or alcohol. Although I move in a society that uses them with the rest of their problems, I'm not concerned with their use.

I've only had one "friend". Fifteen years ago we "discovered" one another at a rather boring society tea and instantly we knew there was a tie that bound us. We've been true. There is nothing "cheap" about the deep love that we have shared. We are both very prominent women. There has never been the slightest finger of suspicion pointed at us. Our manners in public are such as not to attract any undue attention. We are both attractive, well groomed, fashionably dressed, completely feminine.

If occasionally our hands meet under the table when dining out it is with complete fulfillment and security. We have found what few individuals ever do – that is complete compatibility and understanding, without jealousy or distrust.

I am always secretly amused when some wise person says "I can tell one a mile away". When my secretary, a clever young woman who has been with me for 10 years, said to me recently when she accidentally saw my copy of THE LADDER: "What do you want with that stuff – you're no homosexual" I knew my mask had never slipped, and I was secretly proud of the fact. But I long f or the day when I could say "I am a Lesbian" with the same ease I say "I am a Republican".

My friend and I do not and never have lived together. We have conventional families who never even guess we are "different". We manage to have a day a week together. We meet at social affairs and quite often we weekend, or take a vacation somewhere, even Europe.

I would not change my way of life, even if I could. Of course, we all should come out in the open and proclaim our status, but the world is not quite ready for that. While I'm not afraid of men, mice, ' snakes or storms, I'm just not brave enough — yet — to say "Ye s, I am!"
As an answer to that odd, contradictory, and yet, given the times, understandable declaration of deeply closeted pride, The Ladder published another article the following July by Jule Moray, titled, "An Open Letter to Sandra Pine":
I was touched by your article, "Yes, I Am" in the March edition of THE LADDER; touched, and a little terrified.

I see two well dressed women, perfectly groomed, at whom the finger of suspicion has never pointed; their hats fashionably perched above masks that never slip. Two perfect ladies, completely feminine. Miss Pine, might I ask what are you being feminine for? Whom are you trying to deceive? Yourself, or the well dressed, well groomed, completely masculine men you meet every day? Or your conventional families, who trust you and would never guess? Is it not possible that these normal business and professional friends are as afraid of showing you that they know, as you are afraid of knowing they know? Let us by all means keep our personal lives as private as can be; but if we are lucky enough (and many are not) to have private lives why not let them be as full and satisfying as we can possibly make them? A hand touched beneath the table; one day in seven alone; the occasional week-end; even a trip to Europe in fifteen years -is that the best you can do for your love life, Miss Pine?

Would you lose your job, your mother's love or your right to vote Republican if you let slip just a couple of small hairpins, took a flat with you friend (sic), and started to make up for all the time you two have lost? Who is going to worry? Not your secretary — you haven't made a pass at her in ten years — we know that. Not those professional and business gentlemen — you've been giving them the red light all along. Who else is there? The ladies at your social gatherings — they'll be only too thankful you're not after their men. And at the very worst, if the whole town knows you've left home and are sharing with a roommate; is that going to rock anybody?

My friend and I have been together for twenty years; it took us eight years, owing to the war before we were able to live together. We're not at all smart or well groomed, and I don't honestly know if you'd say we are feminine or not. Probably in every plaoe we've ever lived everyone has known we are Lesbians. We rarely think about it, and we never worry about it. Certainly no one has ever hinted that our relationship is at all strange. Most of our friends are married and no one has ever refused to come to our house. We, in fact, think ourselves liked, sometimes well-liked, very rarely disliked.

Miss Pine, you are not afraid of men, mice, snakes or storms? All right; why don't you take that flat? A comfortable one, serviced, you can afford it. Let yourselves go a bit over the decor, be bold, but cosy; and, before it's too late, see to it that there's only one bedroom with a full size double bed. You won't, either of you be so well groomed in the future — but it will be worth it.
[Sources: Sandra Pine. "Yes, I Am!" The Ladder 2, no. 6 (March 1958): 12-13.
Jule Moray. "Open Letter to Sandra Pine." The Ladder 2, no. 10 (July 1958): 16-17.]
If you know of something that belongs on the agenda, please send it here. Don't forget to include the basics: who, what, when, where, and URL (if available).
This your open thread for the day. What's happening in your world?
The Daily Agenda for Saturday, March 29
Jim Burroway
March 29th, 2014
TODAY'S AGENDA:
Events This Weekend: European Gay Ski Week, Alpe d'Huez, France; Belgian LGBT Film Festival, Brussels, Belgium; AIDS Walk & Music Festival, Ft. Lauderdale, FL; Los Angeles Leather Pride, Los Angeles, CA; Gay Snow Happening, Sölden, Austria; OutBoard, Steamboat Springs, CO; European Snow Pride, Tignes, France.
TODAY'S AGENDA is brought to you by:

I've been able to find references to the Roaring 20′s Lounge in Torrance, California from as far back as 1959, when it was under different ownership. During those days, it was apparently a pretty swank little joint, hosting singers, jazz ensembles and other regional acts. By the 1960s, the ownership changed, and with it, apparently, the clientele. The area has changed again since then. If you go to the corner of 166th and Crenshaw today, all you'll find is a 7-Eleven on one side and a parking lot on the other.
THIS MONTH IN HISTORY:
Inducing Hallucinations to "Cure" Homosexuality: 1962. Ever since Ivan Pavlov taught his dog to salivate whenever a bell was rung, Behavioral Therapists employed all sorts of adverse stimuli to produce a conditioned response in their patients which would represent a desired change in behavior: smoking cessation, giving up alcohol and other drugs, or stopping being gay — as though being gay was nothing more than behavior. And as far as Behavioral Therapists were concerned, being gay was just behavior and nothing more. (See Blind Man's Bluff for a more complete explanation of Behavioral Therapy and its history.) And ever since Louis M. Max invented a device for delivering non-lethal doses of electric shock (see Mar 11), Behavioral Therapists have deployed any number of punitive methods designed to "cure" their patients of their homosexuality (see Jan 18, Jan 20, Jun 3, Jul 26, Oct 30, Dec 8), and our award-winning investigation, What are Little Boys Made Of?).
But among the cruelest methods for attempting to "cure" gay people must be the one described by the University of Edinburgh's Dr. Ian Oswald, in which he used a combination of aversion therapy and induced hallucinations to try to cure one of his patients of the gay. (His other six patients were two rubber fetishists — one apparently gay and one straight — three alcoholics, and a married cross dresser.) The aversion therapy portion of the treatment was literally retching: Oswald administered two-hourly injections of apamorphine, a powerful emetic which induced violent vomiting and, in some cases, diarrhea. This was already a relatively common form of aversion therapy, but for Oswald's experiments, the vomiting had the added desirable effect of making his patients dizzy and lightheaded due to the depletion of electrolytes. He also injected them with pilocarpine nitrate, which causes heavy salivation and sweating and, in some cases shortness of breath. Oswald never says why he used pilocarpine nitrate, but it might have been to simulate a panic attack in his subjects. He also gave his patients small doses of dexamphetamine, a stimulant, which he used to induce sleep deprivation.
All of that pharmacology was in the service of creating a condition in which his patients could be induced to experience auditory hallucinations when a tape loop was repeatedly played for hours on end. His goal was to create a state of mind similar to that of paranoid schizophrenia. Here is how it went for a patient identified as Case 5:
Case 5. A homosexual male aged 25 under the management of Dr. W. D. Boyd. The patient's tyrannical father died when the patient was 15. The mother, to whom the patient was closely attached, was a drunkard, a spiritualist and a Lesbian. Elder brother had never engaged in honest work. No family history of mental illness.

Homosexual relationships began at the age of 14 and included frequent brief affairs in public lavatories and several long love-affairs. He had married at 19 and had two children. He came for treatment to try and salve his marriage, for he had been living away with a man for eight months. He was usually a passive partner, principally interested in fellatio. He was greatly excited by male urine and sometimes drank it.

Aversion therapy was embarked on with some reservations. A 30-minute interview in which he described his homosexual practices was tape-recorded. Every two hours he received apomorphine by injection and then the tape-recorded interview was played through a loud speaker. Glasses of urine were sometimes placed by him. In the intervals the following tape loop was played; "It makes him sick, it makes him sick, Sex with men? Oh, it makes him sick now. He gets sex with men. It must make him sick now. He'd meet men in the lavatories. Ugh. Sex with men makes him sick. He looks at men's bodies. It must make him sick now." (One male voice). Four seconds pause.

He received pilocarpine nitrate 1/20 grain once on the first day and once on the fourth, and dexamphetamine sulphate 10 mg. each night. Fluid and electrolyte depletion were prevented as with the other patients and serum potassium and sodium remained within normal limits, though the CO2 combining power rose to 33@5m.Eq./L. and chloride fell to 96 m.Eq./L. on the fourth day, having remained within normal limits previously.

He experienced the words of the tape-loop changing from the first day and throughout the four days' treatment. The changes never had any great significance for him, seeming merely trivial or absurd. He could not voluntarily re-experience what was actually played through the loudspeaker. The changes were experienced by day and night throughout the four days and three nights of treatment.

At times he wrote down the various phrases he heard, which included:

"I like it thick my bacon thick. Sanford man, what makes it him sick now. He has Sangford man. They musta made a mistake now. They'll need 8 men in the lavatories. Sangford man makes it sick. Be a good man Sportis? Do not make sick now. I'll knock him sick. What makes him sick now. Enough with men's bodies. Bolton quick it'd make you sick. Sex written in. He's got six sick men, that must make him sick now. He'd eight men in the lavatories. Sax written back Matron's sick. Hey'n they've got nice bodies. But you mustn't make them sick now."

After the end of treatment on the fourth day he wrote of his most recent auditory experiences:

"This impression of the tape-recorded message was not written down in detail at the time I heard it because I was quite convinced that it really was a separate recording, and I accepted it as such without question. I remember that the dialogue seemed much briefer and with longer pauses than the original recording, also the intonation seemed different. While listening, my mind's eye formed a picture of the characters involved in this little 'sketch'. One person monopolized all speech on a telephone while his weak-stomached friend sat immobile in a bath-chair. The man on the 'phone would jokingly say he had 'mixed bodies' (sweets?) then say something quietly to the effect that he had better not say that as it might make 'him' (the bath-chair sitter) sick. There would then be a deep belching sound not before heard on the recorder and the person on the 'phone would say, 'He's sick now,' or words to that effect. Then after a pause, very loudly, 'Oh, we've made him sick, we've made him sick,' then carry on more normally asking after the health of two friends with strange names I cannot remember. The dialogue would then come round to the part about 'mixed bodies' and carry on repeating endlessly the same sickly tale. If I remember correctly these variations in the recordings always came after I'd snatched a little sleep. They never changed while listening and no effort would make them sound like the original recording."

A month later the patient reported that he had had one attempt at sexual relations with a man but had stopped because he felt feelings of revulsion and physically sick. Within two months, however, he had left his wife and gone off to live with a man.
As for the other patients, Owens claimed success with the three alcoholics, but only one of the two fetishists — the other rubber fetishist had "formed a friendship with a male homosexual (but had not had sexual relations with him" — while the cross-dresser, "in the 8 month since, he has dressed-up in female clothes on many occasions."
[Source: Ian Oswald. "Induction of illusory and hallucinatory voices with consideration of behaviour therapy." Journal of Mental Science 108, no. 453 (March 1962): 196-212.]
If you know of something that belongs on the agenda, please send it here. Don't forget to include the basics: who, what, when, where, and URL (if available).
This your open thread for the day. What's happening in your world?
Congrats Brits! (despite the nonsense from the BBC)
Timothy Kincaid
March 28th, 2014
Tonight England and Wales (soon to be followed by Scotland) will begin to allow same-sex couples to marry. And, for the most part, everyone is happy. Though the BBC, for reasons inscuteable, has decided to focus on the negative. (BBC)
About one in five British adults would turn down an invitation to a same-sex wedding, research suggests.

As legislation in England and Wales allowing gay couples to marry comes into force on Saturday, the BBC Radio 5 live survey also found men were nearly twice as likely to stay away as women.

The poll of 1,007 people found 68% agreed gay marriage should be permitted, with 26% opposing it.
Which, of course, has a local Catholic priest all giddy.
Father Edmund Montgomery, a member of the organisation and a Catholic priest in Greater Manchester, said: "As the Church, we love those seeking a same-sex union, but our love for them requires we tell them the true meaning of marriage, something which that fifth of respondents find difficult but have the integrity to do by turning down the invitation.

"In our modern culture it is increasingly difficult to have an open debate without being labelled as bigoted or intolerant."

He continued: "It is a great irony that those seeking to increase tolerance do not extend that to those who disagree with them."

Fr Montgomery, who at 29 is the youngest priest in the diocese of Shrewsbury, said he thought more people might turn down an invitation to a gay wedding were they not concerned they might be regarded as extreme.
Oh silly priest. Oh silly BBC.
Do you know nothing at all about human nature? No one is doing that.
Now there will be some percentage which will never be invited to a same-sex wedding. Such as Father Montgomery, for example. So they will never have the opportunity to "tell them the true meaning of marriage".
But very few people who receive an invitation to a wedding are going to be so colossally rude as to deliberately insult the person inviting them. It is one thing to tell pollsters that you would decline a theoretical gay wedding invitation. It's quite something else to tell your nephew or your coworker that you aren't going to their wedding because it isn't "true".
So today we'll skip right over the sour grapes that Father Montgomery and the BBC are serving up and head straight for the champagne. Cheers!
The Daily Agenda for Friday, March 28
Jim Burroway
March 28th, 2014
TODAY'S AGENDA:

Same-Sex Marriage Arrives in England and Wales. Sometime after midnight tonight GMT (8:00 p.m. EDT), Peter McGraith and David Cabreza, who have been together for seventeen years, will marry that the Registrar's office at Islington Town Hall, London. It is believed that they will become the first couple to marry in Britain under the new Marriage (Same Sex Couples) Act 2013, which will allow same-sex couples to marry in England and Wales. I understand that BBC will be there, so we should have video available sometime later tonight.
The first part of the new marriage law actually went into effect two weeks ago, when marriages conducted in other countries which provide marriage equality became legally recognized in England and Wales. Other provisions still remain to be put into effect, namely the procedures for converting civil partnerships into marriage, which should be worked out later this year. Also later this year, Scotland will begin providing marriage equality for same-sex couples. Northern Ireland remains the only corner of the United Kingdom where there has been no movement on marriage equality. This is despite more than half of residents supporting same-sex marriage, with particularly strong support among Catholics.
Events This Weekend: European Gay Ski Week, Alpe d'Huez, France; Belgian LGBT Film Festival, Brussels, Belgium; AIDS Walk & Music Festival, Ft. Lauderdale, FL; Los Angeles Leather Pride, Los Angeles, CA; Gay Snow Happening, Sölden, Austria; OutBoard, Steamboat Springs, CO; European Snow Pride, Tignes, France.
TODAY'S AGENDA is brought to you by:
 
How classy is this: silver and black Marylyn Monroe wallpaper, a sleek see-and-be-seen bar upstairs, a massive industrial-looking staircase which wound its way down to the lower bar and dance floor, cool steel and cable railings, shiny chrome all over the place. The club was très chic-for-1980, winning several design awards and becoming popular with the New Romantics set. Legends partied for two decades, until 1999, which by then was a bit past its coolness date. The location has been a string of restaurants since then, most recently Embassy, which closed in 2013.
TODAY'S BIRTHDAY:
Dirk Bogarde: 1921. He was born Derek Jules Gaspard Ulric Niven van den Bogaerde, but his friends and fans called him Dirk. After serving in the Queen's Royal Regiment in World War II as an intelligence officer, he became one of Britain's top matinee idols in the 1950s. In the 1960s he decided to do away with his heart-throb image with more challenging roles, including that of the closeted Melville Farr in 1961′s Victim, who resolves to break up an extortion racket that targets gay men. Time magazine, in its review of Victim, called it "a plea for perversion." "Everybody in the picture who disapproves of homosexuals proves to be an ass, a dolt or a sadist," Time fumed. "Nowhere does the film suggest that homosexuality is a serious (but often curable) neurosis that attacks the biological basis of life itself."
Bogarde won critical acclaim playing the sinister Hugo Barrett in 1963′s The Servant, and he took on the gay lead in the 1971 art house film Death in Venice. Warner Brothers tried to drop the distribution of Death in Venice because they feared it would be banned for obscenity, but relented after Queen Elizabeth II and Princess Anne attended the London premiere.
If it was brave for a popular actor to take on gay roles like that, it was doubly brave of Bogarde because he never officially came out. And yet he remained dedicated to his lifelong partner Anthony Forwood, whose death in 1988 after a long struggle with Parkinson's disease and liver cancer led Bogarde to become an advocate for assisted suicide. Bogarde, by then had quit acting and turned to writing, publishing seven memiors and several novels. Bogarde didn't come out in any of his memoirs, although he did talk about caring for Forwood. Bogarde was knighted in 1992, suffered a dibilitating stroke in 1996, and died of a heart attack in 1999. It wasn't until 2004, upon the publication of an authorized biography, that his brother,  Gareth van den Bogaerde, finally acknowledged publicly that Dirk was gay.
If you know of something that belongs on the agenda, please send it here. Don't forget to include the basics: who, what, when, where, and URL (if available).
This your open thread for the day. What's happening in your world?