World's Ugliest Statue Stolen From Anita Bryant's Lawn
Jim Burroway
June 4th, 2014
The Oklahoma County Sheriff's Office is trying to figure out who stole a large marble statue from a Deer Creek couple and how they did it.

The statue weighs a ton and someone took it from the front yard of Anita Bryant's home.

Bryant and her husband think someone must have been watching them because they were only gone for three hours when it was taken. The thief had to use a forklift to get it off the ground.

"You have got to be kidding me, I just can't believe that that happened in that quick of time," Charlie Dry exclaimed. "I mean, I'm still in shock that that planning went on like it did."
Police are struggling to figure out how someone stole the statue. That, I guess, is their job. Our job is not to ask how, but to ask why would anyone want to steal that?
But there was a silver lining to poor Anita's bad day. She found a defender over at HLN, where the human cesspool that is Nancy Grace ran a cued-up 37-year-old footage from deep in CNN's archives of that pie throwing incident in Des Moines, and denounced it because… because… Brad Pit?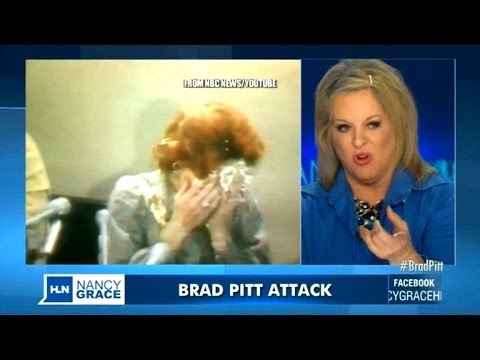 "I still remember when I was a little girl, and somebody came up and did this to her, in public. She was speaking on some issue dear to hear heart, and I remember that as a little girl. I mean, she is a lady, to come. I don't understand that. I don't understand that, Bethany. I mean, why did that guy do that? That was the first time I recall this happening — to her. I mean, look at her. She makes me think of my own mother. Why would you do this to a sweet lady whether you agree with her politics or not?"
Anita's ugliness goes way beyond mere statues or principled disagreement over employment policies. That "sweet lady" called gays child molesters ("As a mother, I know that homosexuals cannot biologically reproduce children; therefore, they must recruit our children"), compared our relationships to bestiality and prostitution ("If gays are granted rights, next we'll have to give rights to prostitutes and to people who sleep with St. Bernards and to nailbiters"), and thought we should be sent to prison for twenty years ("A felony might make them think twice, especially the young ones"). She staked her career, her celebrity and her public persona on those sweet sentiments. Not that any of that necessarily excuses the throwing of pies or anything else that can conceivable be construed as violence. But there's violence — 33-year-old Robert Hillsborough was murdered that year in San Francisco; one of his attackers yelled, "This one's for Anita!" — and there's "violence" — a fruit pie ruining a sweet lady's make-up. In the greater scheme of things, a pie is hardly worth getting worked up over after nearly four decades. I would hope that Grace could find some energy to get a little worked up over the Robert Hillsboroughs of the world. But somehow I have a feeling that wouldn't play to Grace's demographics. Or to her human side, such as it is.
Obituary of a Bitter Man
Jim Burroway
February 26th, 2012
Probably not how you would want to be remembered:
Bob Green, a onetime radio DJ who married pop singer and Miss Oklahoma Anita Bryant, was found dead Jan. 26 at his home in Miami Beach. He was 80.

Mr. Green managed his wife's rise to stardom as an entertainer and Florida citrus spokeswoman, then followed her into anti-gay activism, which ultimately destroyed their careers — and marriage in 1980. For more than 30 years, Mr. Green lived quietly, alone and resentful.

…In 2007, Mr. Green told the Miami Herald that he blamed gay people for the turmoil in his life because "their stated goal was to put [Bryant] out of business and destroy her career. And that's what they did. It's unfair."
Oh yes, how terribly unfair.
Anita Bryant "Wants A Gay Best Friend"
Jim Burroway
November 3rd, 2011
Chad Hodge is writing an HBO movie about the famed anti-gay activist. He's also the first gay person she agreed to talk to in 33 years:
"She was panicked to meet me and I was panicked to meet her," said Hodge, who most recently was executive producer of The Playboy Club.

The two eventually warmed to each other. "We talked about everything," Hodge said. "Religion, homosexuality, her life and every detail of her life. I mean, everything! She really opened up to me. It started very standoffish…but then it slowly took a turn and she opened up and cried to me."

Cried?!

Hodge smiled, "Turns out she wants a gay best friend just like everyone else."
HBO Developing Anita Bryant Biopic
Jim Burroway
February 2nd, 2010
HBO is working on a biopic on the life of 1970's anti-gay activist Anita Bryant:
Sex and the City" creator Darren Star is on board to direct the film, which is being written by "Runaway" creator Chad Hodge. Star also is executive producing with Dennis Erdman. "She is a fascinating person on every single level," said Hodge, who has a connection to Bryant — they both attended Northwestern. "The twists and turns of her life are incredible."

…Hodge, who is looking to talk to Bryant about the project, said he is going for a nuanced portrayal of her and "what drove her to do the things that she did."
In 1977, the former Miss American runner-up and Florida orange juice spokesperson successfully headed a campaign to overturn Miami-Dade's new gay rights law and fought for Florida's gay adoption ban, a ban that is still in place. But when we last checked in on her, things weren't going so well. The name for the HBO project hasn't been released. I don't even know if one has been chosen yet. If not, I suggest Pieface.
What Ever Happened To Anita Bryant?
Jim Burroway
December 15th, 2006
Crowned Miss Oklahoma in 1958 and second runner-up Miss America in 1959, Anita Bryant was a wholesome, 30-something singer in the 1970s who was voted "Most Admired Woman in America" by Good Housekeeping magazine three years in a row. She parlayed her wholesome image into a successful career in the Florida Citrus campaign ("Breakfast without orange juice is like a day without sunshine").
But many of us remember her for her infamous 1977 "Save our Children" campaign to repeal a Dade County, Florida gay rights ordinance. She led a particularly nasty campaign, complete with charges that gay men and women were only interested in recruiting children. That campaign quickly led Florida legislators to pass a law banning gay adoptions — a ban that is still in place today. Eventually, the controversy over her anti-gay activism ruined her career and her personal life. Her citrus contract was not renewed, she and her husband divorced, and she moved back to her native Oklahoma where she fell off the national radar.
Where Is She Today?
The St. Petersburg Times caught up with her a few years ago. Bryant remarried and has tried, without success, to revive her career, first in Eureka Springs, Arkansas and Branson, Missouri. That failed in 1997, and she was forced to declare bankruptcy.
Anita and her husband then moved to Pigeon Forge, Tennessee, where history repeats itself. She opened the Music Mansion, a Branson-style theater, and put on a show where she sang songs from her 1950's and 1960's heyday and preached her Christian beliefs. She was well-liked among her conservative Christian followers, but popularity remained elusive. Attendance was sparse; even on her best days the theater was never more than 25% full. Salaries went unpaid, bills piled up, promises were broken, and the theater eventually closed amid hard feelings and anger. Yet Bryant seems to remain unphased by all the damage she has done:
"In my opinion, you do not do people like they have done people and live a Christian life," said Margaret Cole, who cannot explain the strange, faith-based hold that kept her in Bryant's service for so long.

"If I owed people like they owe people I would not be able to lay down at night and sleep."

Ashley Matthews, a dancer who is owed $3,200 in back pay, said the hard times left some workers so strapped for cash they stole popcorn and candy from the theater's concession stand so they could eat.
While theater employees subsisted on popcorn, Anita and her husband continued to live in a $350,000 home in a gated community in the Smokies.
Anita Bryant has left a lot of devastation in her wake. Not only did she stoke the fires of homophobia in the late 1970's with legislative effects that last to this day, she has also left a trail of unpaid bills, back taxes, broken promises, and abused employees in her wake.
Her theater manager, Brion Bever, tried to cover expenses from his own pocket but he was never reimbursed. He even deferred his own pay so others could be paid. His credit history was ruined when suppliers went after him because he signed for deliveries on her behalf. Those bills went unpaid and Bryant left Bever holding the bag.
But being the good Christian that she is, Anita has — get this — forgiven him:
Anita Bryant approached him on the day he was fired and dismissed all that he had been through, he said.

"Anita looked at me and she says, "I forgive you,' " he recalled. "And I'm like, "For what?' She said, "I forgive you and God will forgive you, too.' And she turned around and walked off."