An "I'm A Mormon" Campaign You're Not Likely To See On Television
Jim Burroway
April 9th, 2012
It's an "It Gets Better" video, featuring several Brigham Young University students who proclaim "I'm a Mormon" and "I'm gay/lesbian/bisexual." But as you can see, it was only after a great deal of struggle and shame before they could come to that place of being able to accept themselves.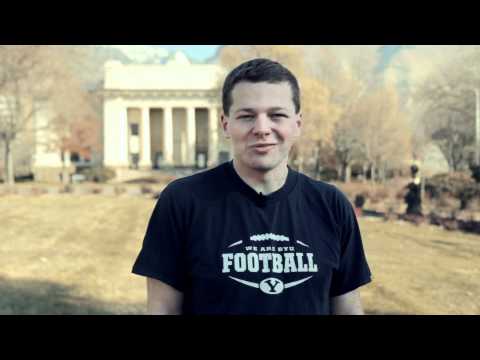 If you're a BYU student, you can find out more about the campus gay-straight alliance here.
Play About Mormon Shock Therapy "Cure" Opens In October
Jim Burroway
March 30th, 2011
ABC News has just released this fascinating report about playwright John Cameron's experiences with a Mormon-sponsored program in the 1970s to try to cure him of his homosexuality through the use of electric shock therapy. That program, at Brigham Young University, was the basis for a doctoral dissertationby Max Ford McBride. Cameron was a very devout Mormon, and even though he had never acted on his sexual attractions at the time, he was desperate to get rid of his feelings. He saw McBride as his savior:
A mercury-filled tube was placed around the base of the penis and the students were shown alternating slides of men and women in various stages of undress.

When participants responded to images of men with an erection, the closed electric circuit was broken and they received three-second electrical shocks at 10-second intervals. Each session lasted an hour. Participants set their own pain levels.

Cameron said his shame was so deep that he selected the highest level.

"Max (the study's author) didn't do it, we did it," he said. "I was always turning it up to get the most pain because I was desperate."
This line really jumped out at me:
McBride's alleged response ended up in Cameron's play: "No one is a homosexual. Homosexuality doesn't exist. It's just a symptom of a deeper problem you are not willing to deal with."
This line — there is no such thing as a homosexual — remains fundamental dogma of the ex-gay movement to this very day.
Cameron was one of thirteen subjects for McBride's study. McBride today is a psychologist in Provo, Utah. Cameron wrote a play, "14," about his experiences. The play, which includes portions of McBride's dissertation, will be performed at the University of Colorado in Boulder in October. The play debuted at University of Iowa in 2007, and was performed at Kent State University in 2009.
BYU Rehangs Photo Exhibit
Jim Burroway
December 10th, 2008
Michael Wiltbank's photo project is back up:
BYU spokesman Michael Smart said a miscommunication between administrators in the College of Fine Arts and Communication led to the removal. "When the action became apparent after the weekend, college administrators reviewed the decision," Smart said. "Because the project does not violate BYU's honor code, the project was rehung Tuesday afternoon.
The photo project, which featured pairs of photos of one gay student and one straight supporter, had been removed last Friday. Michael writes in his blog:
While I was of course frustrated that the work was removed, I also hoped that it, and this situation, would prompt more discussion. This has now happened, and I'm very pleased about it.
No Homosexuals At BYU. Nope. No Siree.
Jim Burroway
December 8th, 2008
A student at Brigham Young University had put together a series of photographs for a Fine Arts show which feature… well, we'll let him explain:
These are some of the final images for my fine art photography project. These portraits are of students of BYU who identify themselves as homosexual and a person that supports them. With all of the dissenting views regarding this topic in the past few months I have felt very strongly about this project. The portraits will be shown in pairs. The idea is that there are gay and lesbian individuals not only in the Mormon culture, but also at BYU. I also chose to photograph someone who is a support to this person. This could be a family member or friend. This support person may also identify themselves as homosexual and both people may provide support to each other. I am not telling the viewer who identifies themselves as homosexual, because I hope the viewer will realize that placing a label with the portrait only creates divisions in our society and furthers stereotypes. It is my hope this body of work can be a vehicle for tolerance, support, love and change.
It looks like portraying gay people — or is it the ambiguity of not knowing who is gay and who isn't in these pairs? — was just too much for BYU's administration. Michael now reports:
Apparently the topic of homosexuality is a bit much for the BYU audience and my part of our Fine Art Classes show was taken down today. It seems that censorship is favored over support and love. This really saddens me. I found out because a friend of mine went to the show and said that my pieces had been removed and the show had been rearranged. While I knew this topic would be controversial (in fact I expected that this would ruffle some feathers) I never thought that they would bring it down. Also I wish that they would have asked me to remove it, or at least had the courtesy to ask that I remove it or discuss it with me prior to its removal.
Update: BYU has put the exhibit back up.