Ellen takes on AFA's 'One Million' Moms
Timothy Kincaid
February 8th, 2012
This is how you do it: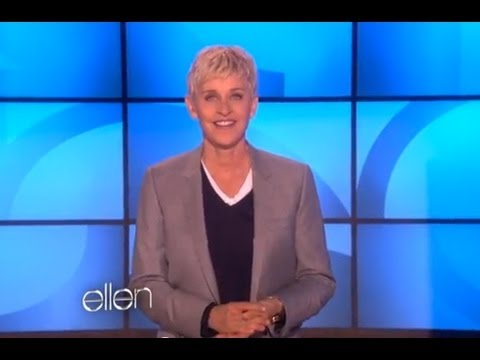 AFA's One Million Mom's demonstrate real bigotry
Timothy Kincaid
February 1st, 2012
You know how anti-gay activists like to tell the world that they aren't opposed to gay people, just to gay behavior, or rights, or social acceptance of homosexuality or fill in the blank. They're lying. We know it, you know it, they know it.
So I guess they decided to just be upfront with their latest whine. The American Family Association's amusingly named One Million Moms don't want Ellen DeGeneres to be the spokesperson for JC Penny's for one reason: she's gay.
Recently JC Penney announced that comedian Ellen Degeneres will be the company's new spokesperson. Funny that JC Penney thinks hiring an open homosexual spokesperson will help their business when most of their customers are traditional families. More sales will be lost than gained unless they replace their spokesperson quickly.
Seriously, there's not a single reference to "lifestyle" or "agenda" or anything Ellen has said or supported. Nope, she's gay and thus "the majority of JC Penney shoppers will be offended and choose to no longer shop there."
Wow. That's just plain ol' blatant bigotry.
Fortunately, the handful of moms who hate gay people so much that they wouldn't go to JC Penny (or use Cover Girl cosmetics) are increasingly few and really showing themselves to be far outside the mainstream.
Perez Hilton Swears Off Bullying and Outing
Jim Burroway
October 14th, 2010
The September Suicides have heightened everyone's awareness of the role that bullying and harassment has played in these tragedies. Some, like Focus On the Family and the Family "Research Council" have continued to oppose efforts to end anti-gay bullying and even shifted the blame for the suicides on the victims themselves.
But others are taking a more honorable route by looking at their own behavior to see if there's anything they're doing that is detrimental to the overall climate for gay people or anyone else who is different. Perez Hilton, who has been widely seen as something of a bully himself. He appeared on Ellen Degeneres' program to say that the suicides has been "big wake-up call" call for him to turn over a new leaf.
Read the transcript after the jump
Ellen Buys Airtime to Oppose Proposition 8
Timothy Kincaid
October 17th, 2008
Ellen DeGeneres has been using her popular daytime talk show to get out the message that same-sex marriage is life-changing and beautiful. She has also recorded a 30 second message to spread the word, a message that was viewed 80,000 times.
Now the Sacramento Bee is reporting that she cares so much about getting out her message that she's funding the airing of the ad.
Eddie Fernandez of the No on 8 campaign said DeGeneres is starting by purchasing $100,000 in air time for the ad.
This appeal, made and paid for by someone that listeners may feel that they know and love, may make this proposition personal for some viewers. I commend Ellen on her efforts and generosity.
Ellen DeGeneres and Sen. John McCain Debate Same Sex Marriage
Jim Burroway
May 22nd, 2008
Click here to read the transcript
Make It Personal
Timothy Kincaid
May 16th, 2008
It's far easier to deny rights to them than it is to you.
Them, those un-named faceless homosexuals out there in San Francisco, are foreign and strange and we don't care what they want. But you, the person we know and love, well we don't like disappointing you.
Today Ellen Degeneres made gay marriage personal. She announced that she and Portia de Rossi plan to marry. The response: a standing ovation.
Now some of her viewers may not really approve in the abstract of state sanctioned marriage between persons of the same sex, but how can you not be happy for Ellen?
We all have an audience. We all have people who want to be happy for us.
Take Dan Pinello and Lee Nissensohn. These guys aren't celebrities. But they found a way to introduce themselves to their neighbors and become a face and a name in the marriage equality debate.
Dan and Lee were arrested for trespassing on April 28 when they refused to leave Oyster Bay Town Hall at closing time after officials politely rebuffed the couple's request for a marriage license. And now when some New Yorkers think of gay marriage, they think of those two middle aged professionals with a weakness for stray cats.
You don't have to announce your engagement on a popular talk show. You don't have to get arrested or even speak to a newspaper. But your grocer and your autorepairman and your dentist all vote. For them you can give marriage equality your face and name.
Ellen DeGeneres Discusses Larry King's Murder
Jim Burroway
February 29th, 2008
I can't think of a single thing to add to this: