Now This Is Just Sad…
Jim Burroway
January 31st, 2008
Fred Phelp's Westboro Baptist cultists were all set to jump into the spotlight with a promised high-profile protest of Heath Ledger's funeral. There's just one problem. They don't know where it is:
For misguided reasons you are hiding the body of Heath Ledger, and refusing the divulge the time, date, and place of his burial in Perth, Australia, so that we at Westboro Baptist Church cannot attend — in respectful proximity — and conduct a religious service. …

… Please tell us the time, date and place of Heath's funeral in Australia. Thank you.
That was Monday, January 28, and I guess Westboro's engraved invitation still hasn't arrived. So yesterday the Phelps moved to Plan "B":
WBC will soon launch a new Website — titled GodHatesAustralia. Watch for it.
Doesn't it just break your heart?
Update: Sadder still. As the commenters have noted, the Phelps clan sent out their second press release, but they neglected to do one very important thing: they didn't register the domain name. Click on GodHatesAustralia.com, and you see this:
Correction
There has been recent statements in the media that godhatesaustralia.com was registered recently by the Westboro Baptist Church. While their intention may have been to register godhatesaustralia, they were too late. Love thy neighbour.
The dancing bear is a nice touch. Poor Westboro. They just can't get a break.
Dan Abrams On Heath Ledger's Death
Jim Burroway
January 26th, 2008
Dan Abrams did a great round-up and discussion on the homophobic reactions to actor Heath Ledger's death.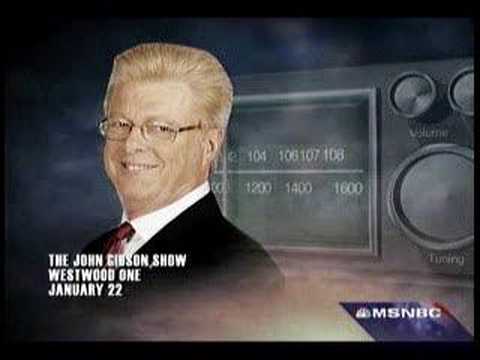 Among the internet posts Abrams highlighted was this one, which has since been deleted from Yahoo! Answers:
The encouraging thing: all of the responses took the questioner to task for posing such a stupid question.
John Gibson Update
Jim Burroway
January 24th, 2008
John Gibson continued to heap more insults on yesterday's radio broadcast. But today, his tune has changed considerably for the better. "I'm sorry that some took my comments as anti-gay and insensitive. … Once again, to anyone offended by my comments, I'm sorry. But I'm also sorry that Heath Ledger is no longer alive and with us."
We gave John Gibson the LaBarbera Award this morning for his comments mocking actor Heath Ledger's untimely death. But now, even with this half-hearted non-apology "apology," it looks like John Gibson has demonstrated himself to be a much bigger man than Peter LaBarbera, in whose honor the award was christened. I don't think I've ever seen LaBarbera actually apologize — not even half-heartedly — for  much of anything.
Update, 1/26: Now that it's a nice Saturday morning, I've had time to re-read this post and agree with the commenters. This isn't much of an apology. I've updated the post accordingly as shown in italics.
LaBarbera Award: John Gibson
Jim Burroway
January 24th, 2008
Whenever misfortune befalls anyone in the gay community, there is a small band of anti-gay extremists we can count on to exploit that news to make cheap political points. When tragic news comes around, we know we will be hearing from these demagogues in very short order. It's not a matter of if, but when. They've shown themselves to be pretty reliable that way. No "Oh gee, we're sorry" or "How can I help?" but a parade of press releases and media appearances saying "A-ha!" while friends and families grieve.
As Timothy Kincaid observed in a recent comment, it's hard to imagine a better definition of evil than finding joy in other people's suffering. And on seeing the behavior of some people over the years, it's hard to believe that deep in their hearts that they did't experience a moment of abject glee upon hearing the news.
If there is a smidgen of a silver lining, it's that most of these demagogues remain on the fringe and their yawps are often nothing more than pathetic attempts to draw attention to themselves. But not yesterday. Yesterday, we heard a major media figure, John Gibson, whose programs appear on radio and television coast-to-coast, find glee in the death of a young actor and devoted father.
On Tuesday, Fox News host John Gibson opened his radio show with funeral music, followed by callous jokes about the death of actor Heath Ledger, who played the role of Ennis Del Mar in the landmark 2005 movie Brokeback Mountain. Gibson played an audio clip of Ledger's famous line from a pivotal scene, "I wish I knew how to quit you," and replied, "Well, we found out how to quit you." He laughed then played another clip of Ledger saying "We're dead," followed by his own mocking "We're dead," followed by Ledger's clip again. (Think Progress has the audio.)
What fun he must have had making fun of dead gays — no, not dead gays, but dead straight actors who portray gay characters. You see, the level of discourse in this country has plummeted so badly that you don't even have to be gay to be targeted. The sad fact is that LGBT's can be treated this way and too often the outrage doesn't go much beyond the LGBT community. But today, you don't even have to be gay to be singled out for abuse.
We all should be outraged when someone mocks another person's suffering, no matter who's suffering. But if our greater society cannot find a way to be outraged over the abuse heaped upon the grieving family, friends and the young daughter of a straight man, then we're far worse off than anybody has wanted to admit publicly so far.
You can register your outrage at Fox News. Let's hope they listen.
Update: John Gibson continued to heap more insults on yesterday's radio broadcast. But today, his tune has changed considerably for the better. "I'm sorry that some took my comments as anti-gay and insensitive. … Once again, to anyone offended by my comments, I'm sorry. But I'm also sorry that Heath Ledger is no longer alive and with us."
Heath Ledger's Autopsy Inconclusive
Jim Burroway
January 23rd, 2008
The New York medical examiner has issued a statement saying that Heath Ledger's autopsy results are inconclusive:
"The autopsy is inconclusive and we have to do further testing which includes toxicology and tissue testing. We expect to have results in about 10 days to two weeks," spokeswoman Ellen Borakove said.
There are reports that investigators found two bottles of sleeping and anti-anxiety pills at the apartment. There was no suicide note, and there's no indication so far that these pills had anything to do with Ledger's death.
Phelps Clan To Protest Heath Ledger's Funeral
Jim Burroway
January 23rd, 2008
Never one to pass an opportunity to put a "Christian" face on things, the anti-gay Phelpsian cult has announced that they will be protesting Heath Ledger's funeral:
… God hates Fags! & Fag-Enablers! …

Heath Ledger is now in Hell, and has begun serving his eternal sentence there — beside which, nothing else about Heath Ledger is relevant or consequential.
A lovely bunch.
Actor Heath Ledger Is Dead
Jim Burroway
January 22nd, 2008
Actor Heath Ledger, Oscar-nominated actor of the groundbreaking film Brokeback Mountain, was found dead in a Lower Manhattan apartment. He was 28.
Ledger is survived by a young daughter, Matilda, with actress Michelle Williams, who played his wife in Brokeback Mountain.
Early reports indicate a possible drug overdose or suicide, although those reports have not been confirmed. He was pronounced dead at 3:30 p.m.
Heath Ledger talked about why he chose to take the role of Ennis Del Mar, saying that he did it for his gay uncle, Australian tough guy Neil Bell:
Ledger said his uncle's difficult early life and tough personal experiences helped him forge what is being acclaimed as one of the strongest and most emotionally powerful performances in recent cinema history.

…

"I had a dear friend of mine, who's my uncle," explained Ledger. "He's a big guy. He goes to bare-knuckle fighting out in the Nevada desert, and he's gay."

As a young man, Bell was told to leave home by his father because of his sexuality and, many years later, he told Ledger of some of the painful events in his life.