Jack E. Jett Interview: Anderson Reiterates "All Gays Are Predators", Bible Was Written In English
Jim Burroway
August 31st, 2009
It's in three parts. The interview starts out with Anderson's complaints about President Barack Obama, whom  Anderson has been asking God to smite and send to hell. He's not too fond of Bush and Cheney either. Anderson also discusses why men should pisseth standing up.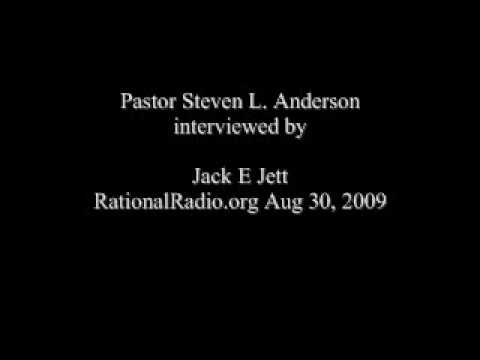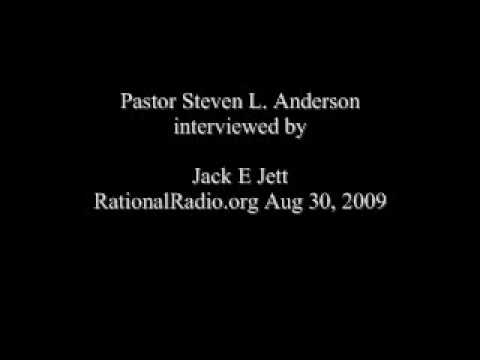 Toward the end of part one (at about 8:40), the conversation turns to Anderson's statement that all gay people are predators and molesters.
Jack E. Jett: You think that all gay people are child molesters and predators. Is that correct?

Steven Anderson: Yes.

Jett: Okay. And you say this because all the gay people you had come in contact with have tried to either seduce your or seduce your children?

Anderson: No, no that's not really the right quote. Here's where I get that belief. First of all, Leviticus 20:13 says that if man also lies with mankind as he lies with a woman, even both of them have committed an abomination, their blood shall be upon them. So God put the death penalty on homosexuality in Leviticus 20:13. It's reiterated again in Romans chapter one in the New Testament.

And as far as believing that they're all pedophiles and predators, it's not… obviously I've come in contact with gay people constantly, and I didn't… obviously every single one of them I came in contact with I didn't witness them trying to molest or trying to rape. But what I said was that there are three stories in the Bible that involve homosexuals, and in all three stories they're trying to rape and abuse people against their will. Also there are other verses in the Bible like Habakkuk 2:!5 … [Begin part 2] … where the Bible insinuates that the gays will try to use alcohol to molest or rape someone against their will. And then I said that the gays I've known, like that I actually knew as far as some that were in my extended family for example, or that I went to school with, were always trying to molest or recruit others to their lifestyle.

Obviously I've come into contact briefly with people out in public. Obviously every single one of them I didn't witness doing this, because they're doing it behind closed doors. But I'm saying I've been exposed to a lot of it. I've seen…

Jett: Have you ever had a gay man come on to you?

Anderson: Well you know I actually have. When I was a teenager, I remember there were actually gays in the Christian school, believe it or not. And they would try to come on to everybody. And you know they were in the closet, but it was real obvious what they were doing . Later on they came out of the closet. And I've seen it in my personal life. I've seen it in the news — and you've got to admit that in the news it's constantly little boys being molested. I mean, it's every day in Phoenix, it's in the news, let alone nationwide.
After returning from a commercial break, Jack E. Jett gave a shout out to BTB readers acknowledging the questions you left for him to ask.They got into interpretation at about 8:00 in part 2:
Jett: How do you know it's not you that's out of synch instead of the rest of the world that's out of synch?

Anderson: I know for a fact that I'm not the only person who believes this way. Give me a break. There are tons of people who believe. I"m just the one who's vocal about it. And the thing is, the way that I know is because that's what the Bible says, people talk all about interpreting the bible. You know, if I'm speaking a foreign language, I"m going to call an interpreter. But you know the Bible's written in English and it's pretty clear what it says. I don't know how else you can interpret it when God says that if a man sleeps with another man, he should be put to death in Leviticus 20:13. I'm not sure how anyone else can interpret that any differently.

Jett: It also says you shouldn't be eating shellfish. We've got a question from someone who went to Red Lobster last night and said that they had a lot of shrimp and should they be put to death? It also says in the Bible you shouldn't be eating figs. There's three quotes in the Bible about eating figs. Now here's a little bit of history for you and if you read your Bible you should know. Did you know that King James himself was gay?

Hello?
The interview continues in Part 3: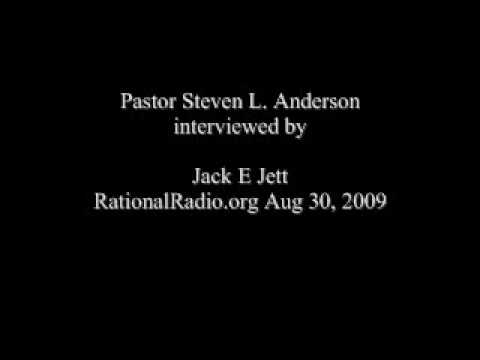 Anderson: Yes, I'm sorry, you cut out on me again. But I heard you talk about the different… the food restrictions…  It's so clear in the Bible, if people don't understand the Bible, that's not my fault. The Bible makes it very clear in Genesis chapter nine that every single animal was okay for people to eat in Genesis nine, no matter what the animal. During the time of Moses and the tabernacle and the Mosaic Law, God gave them dietary restrictions that ended with the coming of Jesus Christ and that's described in Hebrews chapter nine. And so those were the symbolic things that were …. the food, the washing, the animal sacrifices, that were very clearly stated in the Bible that were for a temporary time.

That doesn't mean we can just take out all of God's laws and just throw them out just because they come from the Old Testament. Plus, Romans chapter one and the book of Jude reiterate, and also Second Peter chapter two, reiterate the death penalty for homosexuals and reiterate that it's an abomination in the New Testament.

Jett: Did you know King James himself was gay?

Anderson: That's not true. That's the propaganda that's been stated. There are historians who try to say he was. I've read many biographies of King James where they had whole chapters disproving the fact that he was gay, and it was not even a Christian historian. It was just a secular historian.

Jett: Why would it be necessary for a Bible to disprove someone was gay, if he wasn't gay? Why do you need to disprove it?

Anderson: Do you want to try to call me back because I can't hear a word you're saying. I'm really sorry.
And so he hung up. Jack and the others in the studio noted that no one else was having problems with the phone system. (I'd have to confirm that when I was on the program a few weeks ago, their phones were exceptionally clear — more clear than many other radio interviews I've done over the phone.)
What Would You Ask Steven Anderson?
Jim Burroway
August 27th, 2009
The more we hear from LaBarbera Award winner Pastor Seven Anderson, the nuttier he sounds. Not only did he say that gays "should be taken out and killed," but now he's saying that every homosexual in the world is a deviant and a predator. That's right: every single homosexual in the whole wide world. That's what he told Phoenix radio talk show host Alan Colmes:
"Do you believe that every gay person in the world is a predator?" asked Colmes.

"That's what I believe," replied Anderson. "And every gay person that I've ever known personally has been a predator."

"Define `predator,'" insisted Colmes. "What do you mean by `predator'?"

"A predator as in someone who tries to molest other people," answered Anderson, "to force people into things that they don't want to do."
Anderson also seemed to agree that Leviticus allows you to kill your children if they curse you, and that adulterers should be stoned.
His nuttiness doesn't end there. He also says that President Barack Obama deserves to die.No wonder one of his parishioners showed up at Obama's Phoenix appearance carrying an AR-15.
Dallas radio host Jack E. Jett is scheduled to have Anderson on his program on Sunday, August 30. The program airs from 1:00 to 3:00 CST, and you can listen online at Rational Radio's web site. This should be a great program. If you've ever heard Jack E. Jett, you'll know that he's rarely at a loss for words, but I wonder if Anderson may have left him a little speechless. He wrote in and asked, "I want to have some really clever questions to ask this dude and would like to invite your readers to submit questions."
I have one. My brother and sister-in-law just had a beautiful baby girl. If times get tough, can they sell her?
What about you? What do you want to ask the good Pastor? Comments are open…