What's Wrong With America: Too Many Men Pee While Sitting Down
Jim Burroway
August 30th, 2009
So says Pastor Steven Anderson: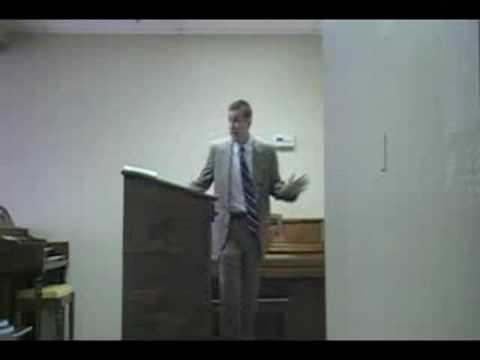 What Would You Ask Steven Anderson?
Jim Burroway
August 27th, 2009
The more we hear from LaBarbera Award winner Pastor Seven Anderson, the nuttier he sounds. Not only did he say that gays "should be taken out and killed," but now he's saying that every homosexual in the world is a deviant and a predator. That's right: every single homosexual in the whole wide world. That's what he told Phoenix radio talk show host Alan Colmes:
"Do you believe that every gay person in the world is a predator?" asked Colmes.

"That's what I believe," replied Anderson. "And every gay person that I've ever known personally has been a predator."

"Define `predator,'" insisted Colmes. "What do you mean by `predator'?"

"A predator as in someone who tries to molest other people," answered Anderson, "to force people into things that they don't want to do."
Anderson also seemed to agree that Leviticus allows you to kill your children if they curse you, and that adulterers should be stoned.
His nuttiness doesn't end there. He also says that President Barack Obama deserves to die.No wonder one of his parishioners showed up at Obama's Phoenix appearance carrying an AR-15.
Dallas radio host Jack E. Jett is scheduled to have Anderson on his program on Sunday, August 30. The program airs from 1:00 to 3:00 CST, and you can listen online at Rational Radio's web site. This should be a great program. If you've ever heard Jack E. Jett, you'll know that he's rarely at a loss for words, but I wonder if Anderson may have left him a little speechless. He wrote in and asked, "I want to have some really clever questions to ask this dude and would like to invite your readers to submit questions."
I have one. My brother and sister-in-law just had a beautiful baby girl. If times get tough, can they sell her?
What about you? What do you want to ask the good Pastor? Comments are open…
LaBarbera Award: Steven L. Anderson
Jim Burroway
August 21st, 2009
It's been a while since we've given one of these awards out. Maybe I've become so jaded that nothing much shocks me anymore. But then something like this comes around and all I can do is shake my head. The latest LaBarbera Award winner comes from just up the road from where I live. Meet pastor Steven L. Anderson of Faithful Word Baptist church in Tempe, AZ:
You want to know who the biggest hypocrite in the world is? The biggest hypocrite in the world is the person who believes in the death penalty for murderers and not for homosexuals. Hypocrite. The same God who instituted the death penalty for murderers is the same God who instituted the death penalty for rapists and for homosexuals – sodomites, queers! That's what it was instituted for, okay? That's God, he hasn't changed. Oh, God doesn't feel that way in the New Testament … God never "felt" anything about it, he commanded it and said they should be taken out and killed.
And why should all of these sodomites and queers be killed? Because they're recruiting:
How are they multiplying? Do you not see that they're multiplying? Are you that blind? Have you noticed that there's more than there were last year and the year before, and the year before that? How are they multiplying? They're reproducing right? No, here's a biology lesson: they're not reproducers, they're recruiters! And you know who they're after? Your children… They're being molested by the sodomites. I can tell you so many stories about people that I know being molested and recruited by the sodomites.

They recruit through rape. They recruit through molestation. They recruit through violation. They are infecting our society. They are spreading their disease. It's not a physical disease, it's a sin disease , it's a wicked, filthy sin disease and it's spreading on a rampage. Can't you see that it's spreading on a rampage? I mean, can you not see that? Can you not see that it's just exploding in growth? Why? Because each sodomite recruits far more than one other sodomite because his whole life is about recruiting other sodomites, his whole life is about violating and hurting people and molesting 'em.

So how many sodomites is one sodomite going to produce? A lot, and that's why it's just exploding. The only way to stop it, you say "how do we stop it?" … You want to know why sodomites are recruiting? Because they have no natural predators.
Jeremy Hooper found the audio, and Right Wing Watch has a transcript. There are more bon mots from this guy at Pam's House Blend.