On Smoking and Not Inhaling
A commentary
Jim Burroway
May 7th, 2012
When then-Governor Bill Clinton was running for President in 1992, someone asked if he had ever smoked pot. His answer came to crystalize his much-discussed "triangularization" of contentious issues — he tried it once, but he didn't inhale. Supposedly that answer would appeal to hip, young pot smokers (along with many fellow baby-boomers) and he, also supposedly, would avoid offending those who opposed marijuana use. We all know how well that worked out. Nobody believed him, but he was allowed to keep that charade going as long as everyone winked (or smirked) whenever they repeated his answer.
Fast-forward twenty years, and President Barack Obama and Vice President Joe Biden are answering questions about their support for marriage equality with a variation on the smoking-but-not-inhaling theme. But yesterday, in an appearance on Meet the Press, Biden came pretty close to taking an honest-to-god drag from the matrimonial reefer:
BIDEN: The good news is that as more and more Americans come to understand what this is all about is a simple proposition. Who do you love? Who do you love and will you be loyal to the person you love? And that's what people are finding out is what all marriages at their root are about. Whether they're marriages of lesbians or gay men or heterosexuals.

DAVID GREGORY: Is that what you believe now?

BIDEN: That's what I believe.

GREGORY: And you're comfortable with same-sex marriage now?

BIDEN: Look, I am vice president of the United States of America. The president sets the policy. I am absolutely comfortable with the fact that men marrying men, women marrying women and heterosexual men and women marrying one another are entitled to the same exact rights. All the civil rights, all the civil liberties. And quite frankly, I don't see much of a distinction beyond that.
The rest of the day was spent carefully parsing Biden's words: did he or didn't he endorse marriage equality? In my reading, I'd say he did, but he set an important caveat: he's just the vice president; the President sets policy. But to be honest, my reading is no more and no less valid than anyone else's. David Axelrod, Obama's chief campaign strategist, tried to slap the smoke from out of Biden's lungs when he quickly tweeted, "What VP said — that all married couples should have exactly the same legal rights — is precisely POTUS's position."
And literally speaking, Axelrod's right. Obama's official position is that he wants to repeal of the Defense of Marriage Act, his Justice Department is declining to defend DOMA in federal courts, his Homeland Security office is granting green cards to foreign partners of married same-sex couples, and his administration had provided an array of domestic partner benefits to large numbers of federal employees. Plus, his campaign has released statements against North Carolina's Amendment 1 and a proposed anti-marriage amendment in Minnesota. And the last time anyone was able to ask Obama about his personal stance on same-sex marriage, he said that he supported equal rights for same-sex couples and he supported the rights of states to grant marriage equality, but that on the subject of marriage itself he was personally still "evolving" on the issue.
The conventional wisdom now goes that Obama is pretending not to support marriage equality and Americans are pretending to believe him. Except conventional wisdom is wrong because they're not. Those who vigorously oppose marriage equality — and they are now a shrinking minority in this country at about 43% — already don't believe him and aren't giving him any credit for his presumably stalled evolutionary state. And those who do support marriage equality believes that he does too, and they're just waiting for him and everyone else in his administration to just finally say so. Just like Mark Halperin on MSNBC's Morning Joe, who says he will ask every cabinet secretary who appears on the program whether they support marriage equality. Secretary of Education Arne Duncan was the first to answer the Morning Joe question this morning. "I do," he said, sounding a lot like someone who has just taken a solemn vow before adding, "I don't know that I've ever been asked publicly."
All of this makes Obama's charade of "evolving" look increasingly ridiculous. Just as the whole point of smoking pot is inhaling (and, Mr. Clinton notwithstanding, more than 100 million Americans have inhaled at least once), the whole point of doing all of the things that the Obama Administration is doing is to bring about a de-facto federal recognition of marriage to as many people as legally possible. There are still huge gaps — the IRS code, military spousal benefits, Social Security survivorship, inheritance taxes — which are still awaiting action. But if Obama doesn't secretly believe in marriage equality, he's sure behaving like someone who has taken a nice, long toke at the betrothal bong. And I'd say you'd have to be smoking something pretty powerful yourself to believe otherwise.
DNC Fundraiser Raises $1 Million Despite Protests
Jim Burroway
June 26th, 2009
According to The Advocate, about 25 protesters met DNC invitees as they gathered for the LGBT Leadership Caucus's DNC Fundraiser Thursday night:
Despite the controversy, about 180 people showed up to hear Vice President Joe Biden speak for a price tag of $1,000 to $30,400 per plate. The event brought in nearly $1 million, up from about $750,000 last year, according to a Democratic Party source.

But the scene was not one of total discord between inside and outside. Some DNC staffers working the event were also wearing red, white, and blue "265" buttons as a reminder of the number of gay and lesbian service members who have been discharged from the military since President Barack Obama took office.

When Vice President Joe Biden took the stage, he told the crowd that he had specifically asked to speak at the event and that his wife, Dr. Jill Biden, had also requested to address a Gay Lesbian Straight Education Network event earlier this month.

"I am not unaware of the controversies swirling around this dinner," Biden said, "swirling around the speed — or lack thereof — that we\'re moving on issues that are of great importance to you and, quite frankly, to me and to the President and to millions of Americans."
Update: The Washington Blade has video coverage: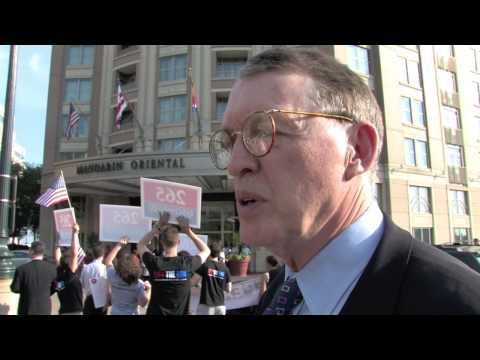 Joe Biden: "If I Lived In California, I'd Clearly Vote Against Prop 8"
Jim Burroway
October 20th, 2008
Democratic Vice-Presidential nominee appeared on Elen DeGeneres's program where he spoke of his opposition to Prop 8.
Biden: First of all, congratulations.

DeGeneres: Thank you, thank you.

Biden: Number two, if I lived in California, I'd clearly vote against Prop 8.

DeGeneres: Fantastic!

Biden: You know, by the way, Barack and I both opposed a similar attempt nationally, that was an attempt to talk about a constitutional amendment which I think, I think it's regressive, I think it's unfair, and so I vote no.

Degeneres: No on Prop 8. Fantastic. That's what I wanted to know…
See also:
CBN: Sarah Palin Supports Federal Marriage Amendment
Biden Seems Good on Gay Issues
Timothy Kincaid
August 23rd, 2008
In the swirl of speculation leading up to the announcement of Democratic presidential nominee Barack Obama's running mate, several names were tossed about. They ranged from the those we cannot call a friend (Chet Edwards of Texas was one of a handfull of Democrats to support the federal anti-gay marriage amendment) to those who have long been allies of the gay community.
His selection, Joe Biden, has a mostly favorable history when it comes to gay issues. From On The Issues
Nobody asks if you're gay in a foxhole

I've been to Afghanistan, I've been to Iraq seven times, I've been in the Balkans, I've been in these foxholes with these kids, literally in bunkers with them. Let me tell you something, nobody asked anybody else whether they're gay in those foxholes. Our allies — the British, the French, all our major allies — gays openly serve. I don't know the last time an American soldier said to a backup from a Brit, "Hey, by the way, let me check. Are you gay? Are you straight?" This is ridiculous.

Source: 2007 Dem. debate at Saint Anselm College Jun 3, 2007

Civil unions ok; gay marriage is probably inevitable

Q: In November 2003, you were asked, "Do you believe gay marriage is inevitable?" And you responded, "I'm not sure. I think probably it is."

A: Well, I think it probably is because social mores change. But I don't think the government can dictate the definition of marriage to religious institutions. But government does have an obligation to guarantee that every individual is free of discrimination. And there's a distinction. I think government should not be able to dictate to religions the definition of marriage, but on a civil side, government has the obligation to strip away every vestige of discrimination as to what individuals are able to do in terms of their personal conduct.

So New Hampshire coming out in favor of civil unions is OK by you?

A: Yes. Yes, it is.

Source: Meet the Press: 2007 "Meet the Candidates" series Apr 29, 2007

Voted NO on constitutional ban of same-sex marriage.

Voting YES implies support for amending the constitution to ban same-sex marriage. This cloture motion to end debate requires a 3/5th majority. A constitutional amendment requires a 2/3rd majority.

The proposed amendment is:

Marriage in the United States shall consist only of the union of a man and a woman. Neither this Constitution, nor the constitution of any State, shall be construed to require that marriage or the legal incidents thereof be conferred upon any union other than the union of a man and a woman.

Reference: Marriage Protection Amendment; Bill S. J. Res. 1 ; vote number 2006-163 on Jun 7, 2006

Voted YES on adding sexual orientation to definition of hate crimes.

Motion to Invoke Cloture on S. 625; Local Law Enforcement Enhancement Act of 2001. The bill would expand the definition of hate crimes to incorporate acts committed because of a victim's sex, sexual orientation or disability and permit the federal government to help states prosecute hate crimes even if no federally protected action was implicated. If the cloture motion is agreed to, debate will be limited and a vote will occur. If the cloture motion is rejected debate could continue indefinitely and instead the bill is usually set aside. Hence a Yes vote supports the expansion of the definition of hate crimes, and a No vote keeps the existing definition. Three-fifths of the Senate, or 60 members, is required to invoke cloture.

Reference: Bill S.625 ; vote number 2002-147 on Jun 11, 2002

Voted YES on prohibiting same-sex marriage.

The Defense of Marriage Act (DOMA): Vote to prohibit marriage between members of the same sex in federal law, and provide that no state is required to recognize same-sex marriages performed in other states. Define 'marriage' as 'between one man and one woman.'
Reference: Bill HR 3396 ; vote number 1996-280 on Sep 10, 1996

Voted YES on prohibiting job discrimination by sexual orientation.

Would have prohibited job discrimination based on sexual orientation.
Status: Bill Defeated Y)49; N)50; NV)1

Reference: Employment Non-Discrimination Act; Bill S. 2056 ; vote number 1996-281 on Sep 10, 1996

Rated 78% by the HRC, indicating a pro-gay-rights stance.

Biden scores 78% by the HRC on gay rights

OnTheIssues.org interprets the 2005-2006 HRC scores as follows:

0% – 20%: opposes gay rights (approx. 207 members)
20% – 70%: mixed record on gay rights (approx. 84 members)
70%-100%: supports gay rights (approx. 177 members)

About the HRC (from their website, www.hrc.org):

The Human Rights Campaign represents a grassroots force of more than 700,000 members and supporters nationwide. As the largest national gay, lesbian, bisexual and transgender civil rights organization, HRC envisions an America where GLBT people are ensured of their basic equal rights, and can be open, honest and safe at home, at work and in the community.

Ever since its founding in 1980, HRC has led the way in promoting fairness for GLBT Americans. HRC is a bipartisan organization that works to advance equality based on sexual orientation and gender expression and identity.

Source: HRC website 06n-HRC on Dec 31, 2006