EXCLUSIVE VIDEO #1: Ugandan News Broadcast of Anti-Gay Rally
Jim Burroway
December 23rd, 2009
Thanks to an anonymous reader in Uganda, BTB has been able to obtain cell-phone video of a Ugandan news broadcast showing Tuesday's anti-gay demonstration in Kampala by pastors Solomon Male and Michael Kyazza.
This clip of a Platinum News broadcast by the independent NBS television on Dec 22 begins with an update on a veritable circular firing squad among rival Pentecostal pastors we first reported in May. In this update, Male and Kyazza are shown outside a court house discussing a case in which the two pastors accused another rival pastor, Robert Kayanja, of homosexuality. Male and Kyazza, in turn, were accused of plotting to trespass Kayanja's Omega Healing Center and being behind the alleged kidnapping and beating Kayanja's personal aide in an attempt at extracting an accusation against Kayanja.
The court house appears to have served as the location for an anti-gay rally, which set the stage for a quick report on the current status of the Anti-Homosexuality Bill. Ethics and Integrity Minister James Nsaba Buturo, who had earlier promised to remain silent for the remainder of the debate, went back on his vow and strongly defended the bill while hinting that the death penalty might be dropped. In denouncing the international pressure against the bill's passage, Buturo said:
I've lived in those countries, and I know how important that issue of aid is. They give, most people there, give in the belief they are helping the poor. Now, you dont help the poor by teaching them about homosexuality, do you?
Buturo was also irritated at the government-owned New Vision, among other media outlets. New Vision had recently published an op-ed by a senior adviser to President Museveni calling on Parliament to drop the bill.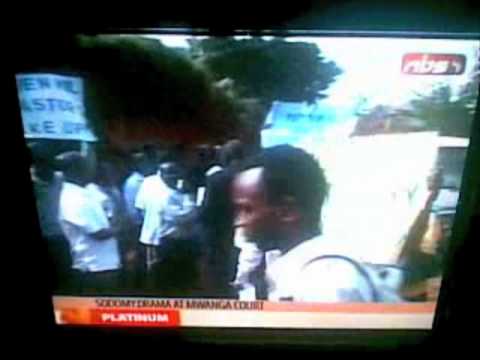 We will have more video clips posted through throughout the day.
Click here to see BTB\'s complete coverage of recent anti-gay developments in Uganda.
Click here to read a transcript of the NBS News Broadcast.