Still Looking Backwards
Jim Burroway
April 8th, 2013
Sen. Orrin Hatch (R-UT) suggests that if states offered civil unions to same-sex couples, that would put an end to the marriage equality debate and let him keep DOMA:
I'll say this, I do believe this could be solved greatly by a civil-union law that would give gay people the same rights as married people," said Hatch, who mentioned hospital visitations and tax benefits. "I think we can solve this problem without undermining the very basis of marital law in our country."
It looks like someone has decided to jump on board the last decade's bandwagon.
Sen. Hatch "clarifies" that he meant the opposite of what he said about DADT
Timothy Kincaid
February 4th, 2010
Senator Hatch (Mormon – UT), is now uncomfortable with having told Andrea Mitchell that he had an open mind on Don't Ask Don't Tell. Perhaps his church informed him that his position was in opposition to changing the policy or perhaps the Republican Party clarified for him exactly what he thinks, but whatever the reason, Senator Hatch wishes the public to know that his vote will be in opposition to the change irrespective of the requests of the Pentagon, the position of the Commander in Chief, the findings of the study, or the wishes of the populace.
His church's paper, the Deseret News, helped set the record straight.
"It's deeply regrettable that liberal groups are misconstruing my position on 'don't ask, don't tell' for activist purposes. I certainly do not support repealing this policy," Hatch's statement on Thursday said.
I guess little ol' "liberal" me must have misconstrued his position when I posted the video and typed out this words verbatim. I suppose I should have realized that he meant exactly the opposite of what he said. Sen. Orrin Hatch is not "at least open to the idea" of being "willing to vote for the change."
Or, to put it in politician-speak:
"What I said was that I want to see Adm. Mullen's report. This is a controversial issue with inflamed passions on both sides," Hatch said.

"Over the years, the views of the military officers and experts, whom I respect, have said that repealing 'don't ask, don't tell' would make life for our troops more difficult — especially as our armed forces wage a global war on terrorism," Hatch said.

He added, "I always try to be fair and stand by what's right and that is why I look forward to reviewing the admiral's report."
Somehow "I look forward to reviewing" seems a bit disingenuous when coupled with "I do not support" and "experts, whom I trust". One gets the sense that the 'review' will be a search for items to criticize rather than an impassioned desire to do what is right and correct.
I'm uncertain whether this is an indication that the Republican Party wishes to present a unified front in opposition to the change. But if that is the case, it will only serve to further entrench the party as recalcitrant, obstructionist, and hopelessly in servitude to a tiny fraction of socially ultra-conservative activists.
Polls have shown that a majority of the public, a majority of Republicans and a majority of conservatives all favor doing away with Don't Ask Don't Tell. But it seems that Sen. Orrin Hatch no longer dances to the tune of conservative Republicans; he now only dances when the subset of social extremists play.
Sadly for Senator Hatch, it must be increasingly difficult to look in the mirror and say, "I just plain do not believe in prejudice of any kind" or "I just want to do what is right".
Orrin Hatch is open to overturning DADT
Timothy Kincaid
February 3rd, 2010
Senator Orrin Hatch (R – UT) talks with Andrea Mitchell about Don't Ask Don't Tell.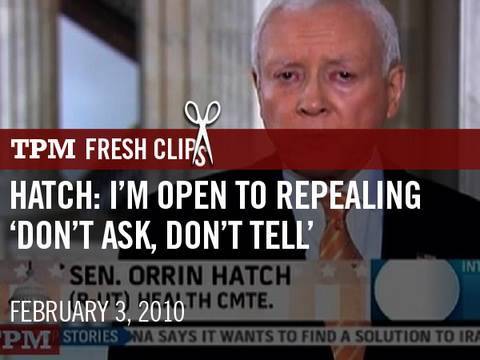 HATCH: I believe that there are very outstanding patriotic gay people who serve in the military and they aught to be given credit for it. And they shouldn't have to lie about being gay.

On the other hand I think a lot of people are concerned that if you do away with the Don't Ask Don't Tell, that literally they'll come back and ask for special rights and preferences and privileges that others don't have. I, I don't see that either.

So, ya know, like I say, I just don't, I just plain do not believe in prejudice of any kind.

MITCHELL: So you're willing to vote for the change.

HATCH: Well, I don't know about that. I'd have to look at it, I'd have to really see, and of course, they recommend, Admiral Mullen said at least a year study by them and then they'll come out and make the final recommendation. So, at least that's what I got out of it.

So, I'd like to wait until the end and see what they come up with and see what happens.

But I can see why the people on both sides are upset. I just want to do what's right.

MITCHELL: So I can put you down as being at least open to the idea. So, uh

HATCH: I am.

MITCHELL: That's a very interesting statement.
While I would rather hear that Hatch has unequivocal support for overturning the policy, I welcome words of "openness to the idea" from prominent Republicans.