Orrin Hatch is open to overturning DADT
Timothy Kincaid
February 3rd, 2010
Senator Orrin Hatch (R – UT) talks with Andrea Mitchell about Don't Ask Don't Tell.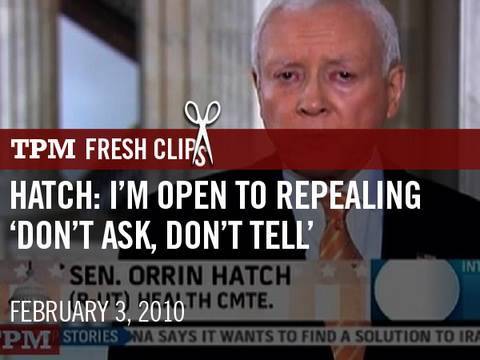 HATCH: I believe that there are very outstanding patriotic gay people who serve in the military and they aught to be given credit for it. And they shouldn't have to lie about being gay.

On the other hand I think a lot of people are concerned that if you do away with the Don't Ask Don't Tell, that literally they'll come back and ask for special rights and preferences and privileges that others don't have. I, I don't see that either.

So, ya know, like I say, I just don't, I just plain do not believe in prejudice of any kind.

MITCHELL: So you're willing to vote for the change.

HATCH: Well, I don't know about that. I'd have to look at it, I'd have to really see, and of course, they recommend, Admiral Mullen said at least a year study by them and then they'll come out and make the final recommendation. So, at least that's what I got out of it.

So, I'd like to wait until the end and see what they come up with and see what happens.

But I can see why the people on both sides are upset. I just want to do what's right.

MITCHELL: So I can put you down as being at least open to the idea. So, uh

HATCH: I am.

MITCHELL: That's a very interesting statement.
While I would rather hear that Hatch has unequivocal support for overturning the policy, I welcome words of "openness to the idea" from prominent Republicans.
Comments