The Daily Agenda for Monday, February 24
Jim Burroway
February 24th, 2014
IN CASE YOU MISSED IT:
Museveni to Sign the Anti-Homosexuality Bill Monday Morning: Kampala, Uganda. According to a tweet sent out late last night by a Ugandan governmental spokesperson, President Yoweri Museveni was set to sign the Anti-Homosexuality Bill at 11:00 a.m. this morning, Uganda time (3:00 a.m. EST). This move comes exactly five years to the day after BTB first learned about that infamous anti-gay conference put on by Scott Lively and two other American Evangelicals in Kampala (see below).
TODAY'S AGENDA is brought to you by:

I can't find any information about this disco in the heart of Old San Juan. Near as I can tell, the address is (or, at least, recently has been) a high fashion boutique.
TODAY IN HISTORY:
10 YEARS AGO: President George Bush Backs Federal Marriage Amendment: 2004. With Massachusetts Supreme Judicial Court ruling that nothing short of marriage would provide full equality for same-sex couples as required in the state's constitution (see May 17), and with San Francisco Mayor Gavin Newsom's order that the county clerk begin issuing marriage licenses to gay couples (see Feb 12), pressure had been building on President Goerge W. Bush, then running for a second term as President, to do something! And so, in lockstep with his conservative Christian base — and in keeping with his campaign strategist Karl Rove's encouraging several important states (including, critically, Ohio) to place marriage bans on their ballots as part of a get-out-the-vote effort — Bush declared his support for the Federal Marriage Amendment, which, if enacted, would have permanently and nationally banished all same-sex marriages "or the legal incidents thereof."
And in the typical black-is-white rhetoric that had become a hallmark of his administration, he blamed his decision on gay people. "After more than two centuries of American jurisprudence, and millennia of human experience, a few judges and local authorities are presuming to change the most fundamental institution of civilization," he said. "Their actions have created confusion on an issue that requires clarity."
Declaring that "the voice of the people must be heard," he urged Congress to "promptly pass… an amendment to our Constitution defining and protecting marriage as a union of a man and woman as husband and wife," during televised remarks from the White House's Roosevelt Room. After urging that the nation consign gay Americans to permanent second-class citizenship, he called on the nation to begin the debate "without bitterness or anger."
Log Cabin Republicans, who enthusiastically supported Bush four years ago after a closed-door meeting with the then-Texas governor, felt betrayed by the statement. Patrick Guerriero, executive director of the Log Cabin Republicans, said. "Log Cabin considers support for this amendment a declaration of war on gay and lesbian families and an attack on our sacred Constitution." LCR political director Chris Barron (he would later go on to co-found GOProud), would later comment, "It is impossible to overstate the depth of anger and disappointment caused by the president's support for an anti-family constitutional amendment. This amendment would not only ban gay marriage, it would also jeopardize civil unions and domestic partnerships." LCR would go on to withhold its endorsement of Bush for the 2004 election cycle.
Later in September, the proposed amendment would fail in the House, 227 to 186, with 290 votes needed to cross the two-thirds requirement to send a Constitutional Amendment to the States for ratification. The Senate had, by then, already failed to break a filibuster against the proposal.
5 YEARS AGO: American Evangelicals Announce Anti-Gay Conference In Uganda: 2009. BTB became the first Western outlet to discover and report the shocking announcement that Exodus International board member Don Schmierer and a little-known staffer at Richard Cohen's International Healing Foundation, Caleb Lee Brundidge, would join Holocaust revisionist and anti-gay extremist Scott Lively for a three day conference in Kampala. Lively was already known to regular BTB readers for his involvement with the international anti-gay extremist group Watchmen On the Walls (not to be confused with an unrelated Family Research Council initiative by the same name) and for his book, The Pink Swastika: Homosexuality in the Nazi Party, in which he wrote that "the Nazi Party was entirely controlled by militaristic male homosexuals throughout its short history." Knowing that Lively was bringing his brand of extremism to Uganda was very worrying. As I wrote at the time:
Lively's brand of rhetoric is unusually vitriolic, even by some of the more ardent anti-gay standards. He regularly describes gays as being sick and"followers of the Father of Lies." When the Watchmen On the Walls held a rally in Novosibirsk, Russia, Lively excused Satander Singh's murder in Sacramento. Lively contends that "civilization and homosexuals" are engaged in a full-blown war, which is part of the Devil's design to destroy civilizations.
The Kampala conference was organized by Steven Langa, director of Kampala-based Family Life Network. Lively had struck up a friendship with Langa during a tour of the African continent in 2002. Throughout the decade, Ugandan pastors adopted increasingly violent rhetoric against gay people, with one pastor, Martin Ssempa, leading hundreds of his followers in 2007 through the streets of Kampala demanding harsh punishments against gay people, and publishing the names and addresses of Ugandan gay rights advocates. Many were forced to go into hiding.
With Lively's incendiary rhetoric being thrown into the mix, I didn't know what would happen but I feared the worst. My worst fears, however, were nothing compared to what actually followed: a long series of anti-gay meetings and rallies, vigilante campaigns, rising violence and blackmail which ultimately culminated in the introduction of the Anti-Homosexuality Bill, otherwise known as the "Kill the Gays Bill," in Uganda's parliament in October, 2009. Lively, who had bragged that his 2009 conference was a "nuclear bomb against the gay agenda," is being sued by Sexual Minorities Uganda in U.S. Federal Court under the Alien Tort Act. The lawsuit alleges that alleging that Lively engaged in a conspiracy to deny the LGBT community of their rights under International Law which caused harm to the LGBT community in Uganda.
Uganda's parliament approved the Anti-Homosexualty Bill last December. The death penalty for so-called "aggravated homosexuality" has reportedly been removed and replaced with a life sentence (as though spending a lifetime in the notorious Luzira prison were any better). Other penalties reportedly include: lifetime imprisonment for entering into a same-sex marriage, seven years for conducting one, five to seven years for advocacy by or on behalf of LGBT people, five years for providing housing to LGBT people, and seven years for providing services to LGBT people. Late last night, Uganda's governmental spokesperson Tweeted that Museveni would sign the bill today at 11:00 a.m., exactly five years to the day after we first learned about that conference that started it all.
Since February 24, 2009, BTB has followed every twist and turn of the events in Uganda. Our compilation, Slouching Toward Kampala: Uganda's Deadly Embrace of Hate, is a timeline and index of the nearly 600 posts that we have written documenting the events in Uganda since then. You can also follow our Uganda tag for more recent events.
If you know of something that belongs on the agenda, please send it here. Don't forget to include the basics: who, what, when, where, and URL (if available).
And feel free to consider this your open thread for the day. What's happening in your world?
Spokesman: Uganda President to Sign Anti-Homosexuality Bill Monday Morning
Jim Burroway
February 23rd, 2014
Moments ago, Uganda's governmental spokesman Ofwono Opondo tweeted that President Yoweri Museveni will sign the Anti-Homosexuality Bill at 11:00 a.m. Monday Morning at State House in Entebbe (3:00 a.m. E.S.T). The Tweet went out at about 6:50 a.m. Monday morning local time in Uganda, or 10:50 Sunday night E.S.T. He then quickly followed that with two more tweets taunting President Obama:
Obama has labeled the Ant-Homosexuality Bill "odious" and warned that signing the bill  "would complicate (our) valued relationship."
As for the Arizona bill which has not been signed into law, not one person would be thrown in jail for as much as an hour if Gov. Jan Brewer made the insane decision to sign it. Uganda's Anti-Homosexuality Bill however will impose a lifetime sentence in prison for conviction of homoseuxality, lifetime imprisonment for entering into a same-sex marriage, seven years for conducting one, five to seven years for advocacy by or on behalf of LGBT people, five years for providing housing to LGBT people, and seven years for providing services to LGBT people.
If Museveni follows through with signing the bill Monday morning, it will occur exactly five years to the very day after BTB first learned that Scott Lively and two other American ant-gay activists were about to conduct one of the most infamous and far-reaching  anti-gay conferences in memory. Lively would later boast that his talk at that conference was a "nuclear bomb against the gay agenda."
Q&A: Arizona and Lawless Anarchy
Rob Tisinai
February 23rd, 2014
I could use some lawyers to chime in here, because to me it looks like Arizona is on the verge of abolishing the rule of law statewide.
Arizona legislators, as you know, are working on a "religious freedom" bill to keep the state a safe haven for anti-gay discrimination. Critics have pointed out the bill would legalize discrimination against just about anyone, but I don't think that description goes far enough.
As far as I can tell, the bill could theoretically suspend just about every Arizona state and local law — at least temporarily — and introduce a new legal era in which citizens, businesses, and organizations get to decide which laws apply to them.
I can imagine the many sensible objections to this interpretation, so let me bring them up and address them.
Isn't this just about anti-gay discrimination? Would it really bring all laws into question?
The bill says:
Except as provided in subsection C of this section, state action shall not substantially burden a person's exercise of religion even if the burden results from a rule of general applicability.
But that's just about exercising your religion. How do you get to "all laws"?
According to the bill:
"Exercise of religion" means the practice or observance of religion, including the ability to act or refusal to act in a manner substantially motivated by a religious belief—
So at least they'd have to show it's official religious doctrine!
Let me finish:
"Exercise of religion" means the practice or observance of religion, including the ability to act or refusal to act in a manner substantially motivated by a religious belief, whether or not the exercise is compulsory or central to a larger system of religious belief.
Emphasis added. That means you can do something ordinarily illegal (or decline to do something the law requires) as long as you claim a religious reason, even if your choice isn't mandated by your religion, important to your religion, or really even part of your religion — or rather, your "larger system of religious belief."
But the lawbreakers have to prove their case, right?
They have to prove three things:
That the person's action or refusal to act is motivated by a religious belief.
That the person's religious belief is sincerely held.
That the state action substantially burdens the exercise of the person's religious beliefs.
We've already shown that (1) is vague enough to include just about anything, which makes it easier to prove (2), especially in the absence of mind-reading juries.
That still leaves the "substantial burden" requirement. In fact doesn't the law say "the term substantially burden is intended solely to ensure that this article is not triggered by trivial, technical or de minimis infractions"?
But what is a substantial burden? UCLA law school professor Eugene Volokh explains the Supreme Court's treatment of the concept:
Requiring people to do something that "is forbidden by [their] faith" qualifies as a substantial burden on religious practice….So does requiring people not to do something that is required by their faith……

"While the compulsion may be indirect, the infringement upon free exercise is nonetheless substantial."…And that is so even where the relevant "conduct proscribed by a religious faith" is indirect complicity in other conduct, and the complicity line that the religious claimant draws appears inconsistent or unsound to the reviewing court… "It is not for [secular courts] to say that the line [the claimant] drew was an unreasonable one."
Read the whole thing. Basically, though, you don't have to establish the law is making you personally violate your religion (or, in the case of this Arizona bill, whatever vague religious sentiment you have even if it's not really part of your declared religion). All you need to show is that you feel somehow involved in someone else's violation of your religious hunch, even if that connection seems inconsistent or unsound to the court.
So the "substantial burden" requirement is satisfied almost by tautology: any perceived violation of religious freedom, however tenuous the link to your actual religion, and however unreasonable it may seem to the court, is by definition a substantial burden. Is that the most expansive possible interpretation of the law? I would hope so. Is that the interpretation that the bill's advocates will push for in court? I can't imagine otherwise.
Does the bill ever allow the government to enforce its laws?
To a degree. It says:
State action may substantially burden a person's exercise of religion only if it the government or nongovernmental person seeking the enforcement of state action demonstrates that application of the burden to the person's exercise of religion in this particular instance is both:

In furtherance of a compelling governmental interest.
The least restrictive means of furthering that compelling governmental interest.
In some cases, this is easy to establish. If you want to go all Leviticus and start stoning the wicked, the state can argue preventing murder is a compelling government interest and that laws against murder are the least restrictive way of accomplishing that. Same thing for a corporation that decides it can pollute a river because the Bible gives man dominion over the earth; laws against dumping toxic waste into a river are probably the least restrictive means of preventing toxic waste from getting dumped in a river. Depending, I suppose, on your definition of "toxic."
(It is fun, as a twisted sort of game, to think of all the things an imaginative mind could justify under this bill.)
This two-step justification, though, isn't always that easy. In fact, it's part of the "strict scrutiny" standard, which is so tough and has been the death of so many laws that it's been jokingly dubbed "strict in name, but fatal in practice." At the very least, Arizona courts will have to step in and make some decisions, many of them extending up to the state Supreme Court. Some of these issues are already decided; others will be settled will quickly and easily; many, many others will not. But until that process is done (and here's the complete set of Arizona state law; see how long it takes you just to read it, and then move on to the city and local law), we're in legal limbo.
Of course, in reality the courts will immediately stay this entire law, and then find it unconstitutional. On the other hand, I say "of course" only because I hope/assume who reads the bill will find it clearly insane, and on that count I'm clearly wrong.
Hold on, you mentioned corporations. This is just about clergy and fundamentalist bakers. Corporations don't have religious beliefs. Corporations aren't even people!
Aren't they? But I don't have to invoke Supreme Court rulings. It's all right there in the Arizona law, which "protects" the religious freedom of a whole motley crew of non-human people:

"Person" includes any individual, association, partnership, corporation, church, religious assembly or institution or other business organization.
Okay. So that takes me back to where I started: As far as I can tell, the bill could theoretically suspend just about every Arizona state and local law — at least temporarily — and introduce a new legal era in which citizens, businesses, and organizations get to decide which laws apply to them.
That doesn't sound so crazy now. Or it's just as crazy, but it also seems plausible.  And it's based on a few simple points:
The bill expands the definition of "person" to include, well, anything.
The bill expands the notion of religion to include things that are not compulsory, central, or possibly even part of your religion — in other words, just about anything.
The exceedingly subjective interpretation of "substantial burden" can include things that do not seem reasonable, sound, or consistent in a court of law; the tautological definition of "substantial burden" can include just about anything, given the wording of this bill.
The mandated standard of strict scrutiny can strike down, well, not anything, but a huge and not entirely predictable chunk of the state's laws.
Again, I'll admit this is the most extreme interpretation of the law. But that's no stumbling block for some of our opponents.
I'll go even further with my speculation. A few years back I predicted that when NOM and their cohorts realized they couldn't ban marriage equality in the courts, and then in the legislature, and then in direct votes by the people, they'd resort to going back to the courts to argue that our marriages violated their religious freedom. It's hard to remember that some people rolled their eyes at me back then.
Now I have to wonder if the sweeping nature of this bill doesn't represent a flaw in the eyes of their proponents, but is in fact a feature. This truly may not just be about discriminating against gays. Perhaps they're thrilled at the idea that the bill would gut anti-discrimination laws in general. And perhaps they're thrilled it would throw the entire legal structure into anarchy. The Tea Party wants a revolution. Perhaps this is their way of getting it.
As I said up top, I'd appreciate the input of any lawyers on this. Does the vague language of the law open the door to all manner of chaos? Let us know what you think. Also, check out Jim Burroway's intriguing take on the bill.
The Daily Agenda for Sunday, February 23
Jim Burroway
February 23rd, 2014
TODAY'S AGENDA:
Events This Weekend: Cape Town Pride, Cape Town, SA; National Student Pride, London, UK; Telluride Gay Ski Week, Mountain Village, CO; Elevation: Utah Gay Ski Week, Park City, UT; Arctic Pride, Rovaniemi, Finland; Bear Essentials, Sydney, NSW; Sydney Mardi Gras, Sydney, NSW.
TODAY'S AGENDA is brought to you by:

In 1972, San Francisco's Castro and Market area was still known as Eureka Valley, a struggling Irish neighborhood that had seen better days. The real action for the gay community was on Polk Street near the Tenderloin, and the P.S. restaurant and coctail lounge, with its floor show, was a regular institution. The building now houses a cocktail lounge called Blur.
TODAY IN HISTORY:
A Suicide in St. Louis: 1892. When I wrote about this suicide in 2012, I didn't know the date nor the name of the man in question. All I had was a written description of a man whose desperation over an unrequited (or a no longer requited) love led to his untimely and sad end. Charles H Hughes, editor of the Alienist and Neurologist ("Alienist" was an early term for psychiatrist) gave a talk before the Section of Mental and Nervous Diseases at the Pan-American Medical Congress in 1893 on "Erotopathia" — among the many early terms given to homosexuality before the word "homosexual" entered the English language — in which he gave the following account:
In February of the past year (1892), a quiet, cultured and gentlemanly appearing young man committed suicide by shooting himself at his room in a hotel in St. Louis. A combination of causes probably led to the despondency which ended in the rash act. Pecuniary embarrassment may have been one of them, but the chief cause, as elicited at the Coroner's inquest, as testified by the male friend of whom he was enamored, was that he had a morbid attachment for that friend. He wrote long letters to him teeming with endearing words. They had roomed together, but at the time of the tragedy they were rooming apart. This was his second attempt at suicide. At the time of his death he carried a locket about his neck containing the picture of the man be loved. He was an educated professional man, kindhearted and of good address.

The following letters, written in a neat hand shortly prior to, and about the time of, his death, serve to show the erotopathic condition of this young man's mind. They reveal the ardent feeling of the anxious, disappointed lover, much the same feeling as one madly in love might normally have for his heart's idol of the other sex, but never but unnaturally and abnormally for one's own sex, with homicidal and suicidal impulses of maddened desperation added.

"My Dear Friend: — Are you ill, angry or merely careless? I looked for my usual Thursday's letter Saturday morning. It came not. I then felt sure you would write me on Sunday. I watched for the postman. No letter. He has been here this A. M. and still no letter. It makes me not only unhappy, but very anxious — unhappy since I am deprived of all that is left me to care for or look forward to; unhappy in the thought that I have displeased you; in suspense and anxiety lest some bodily ailment has seized that goodly frame and rendered you unable to communicate with me. If I do not hear from you in a day or so I shall be frantic and unfit for anything. I sent the stud on Thursday, which must have reached you Saturday, and not later than Monday, in which case I should have heard from you by this time."

"My Dear Friend: — I have just returned from the Cathedral, where Bishop Tuttle preached. My mind is not in a very receptive frame, so I can hardly tell anything he said. The pass was all a myth. The only pass I have is one into eternity. I even sold my dress suit and my old clothes to raise the funds to get here on. I came, intending to first kill you, then myself. I shall only make an end of my own miserable existence. My Jove for you has been my ruin. I can no more live a life apart from you than I can fly. The past month has been the test and I cannot do it. There is but one thing which could save me, and that is to pass the remainder of my life in your presence. I shall do that anyhow, for to die in your arms relieves death of half its terrors. I wish it would come to me naturally and you would have nothing to dishonor or grieve you. It is cruel in me to do this act, for it will blight your life. I should be more cruel to myself to try and live without you. You have done all but the one right and effective thing to save and make me, but it has all failed. I would gladly beg, steal, do anything — forego riches, forget friends, home, kindred, but for a life of blissful association with you. My office and outfit are all intact and you can realize something on those things. Mr. C—- H—-, XI6 M—- Avenue, will see to the things. I appreciate all you did, and the effort and sacrifice you made for me. It was not in the right direction.

"This letter to you is all I leave behind. I cannot write anything to my parents. The blow will probably kill my mother. I shudder to think of it. We might have been happy together had it not been for W—-. The W—-, your brother's family, your other rich friends, your high social and business standing, your high ideas of morality, which you never filled — but 'tis too late, the end must come. I don't see why God did not let me die that Saturday night. I suppose there was some purpose waiting till you had made the outlay and sacrificed so much. You see, the end is all the same. Good-by, dear I—-, I won't wish you happiness; you will never have that again and you will follow in my footsteps sometime. Men of our natures and sins must have their punishment, and ours comes in a terrible shape. You are mine in the light of heaven and no family ties can claim you from me in death. I pity you, but oh, to be free from all this agony of separation, suspense, doubt, is so welcome. May God deal with me according to my weakness. Keep my stud as long as you live. send my watch and ring to my mother. Let my last rites be attended by as little expense as possible. A pauper cannot expect to repose in a metallic casket. I am going to bed, to sleep and gain nerve to face my fate. I have felt it must be, and since I have known you, I knew you were to be the last straw. I have Joved you better than you have ever loved or will ever be loved again. Think kindly of that love sometimes. I am unworthy, but my love for you is worth a thought. Pray for my soul. Amen."

Much more than a sentiment of warm friendship for one's benefactor is breathed in these epistles of passion, desperation and love, with its sequel of chagrin and suicide, without remorse for, or full appreciation of, the unnatural character of his perverted love. Though his Christian training had taught him to regard his unnatural passion as a sin.
This is why I love BTB readers. Soon after this appeared on a 2012 Daily Agenda, BTB reader John Manion wrote to me after having sleuthed out the following information:
I noticed your St Louis suicide story, it sure caught my interest and I wanted to know a little more about those involved. I am into genealogy and I took it as a challenge to find out their names. I found more than I expected and got a little carried away, but, I am stopping here. I am forwarding the items to BTB. The following is from online sources (genealogybank.com, ancestry.com, google books, etc)

Dr Hughes lived in St. Louis and may have seen the letters firsthand. He states in your column that Breedlove and Judson roomed together for a while, which is something I do not think I have seen in the news, so maybe he talked with some of the people involved. There is a sketch of Dr Breedlove.

The date of the death was reported in the newspapers of the day as happening in the morning of Feb 23 1892 in St Louis at the Hurst's Hotel. Between 8 and 8:30. The story was in many papers from coast to coast. The man who died was Dr. Charles Breedlove, a young dentist of age 28, born in 1864, a graduate of the University of Maryland. He was single. Dr Breedlove was the last of 4 children his parents had, the other 3 all died in early life and his family hails from the south. Of course, the family was completely surprised but supportive of their son, but did not know he was unhappy. His body was sent home to Fort Smith, Arkansas, where his family lived. His father was a medical doctor. His parents died in 1906, within a few months of each other. Charles Breedlove's friends from Baltimore thought he was not sad and certainly slandered by Prof Judson.

The man he wrote the letters to was Isaac Judson, born in 1853. They had met in Sept of 1891 and became fast friends. He was 38 and single. He was a Yale graduate and spoke at his commencement ceremonies during his graduation. His dad went to Yale too and both were members of Skull & Bones. He was a professor of Greek and Latin at the St Louis High School. His family hails from the Northeast. He was suspended from teaching for a few days until a special committee could review the case. They exonerated him from any blame in the situation and allowed him to continue his profession "without prejudice". After the suicide he stayed in St Louis until at least 1920, working as the Head Assistant in the School. He was always single up to the 1920 census, his last one. After that he returned to New York, and died there in 1926. His funeral notice does not mention family members. He was the youngest of 4 children, with one surviving brother.

Breedlove waited for him to arrive at the hotel, walk into the room, handed him a letter. Judson was reading it and behind him Breedlove shot himself in the head. Breedlove was wearing a charm around his neck, when opened was a picture of Judson. Breedlove's letters gave the story a life it would not have had. His family and friends believed Prof Judson, had he cared enough, would have kept the letters private. That may not have been an option, as at least one other letter was found by the medical examiner.

Judson consulted a Dr Ware (he is a dentist!!) about the feelings Charles was having, and Judson didn't understand what was going on. Judson "seemed horrified" as Dr Ware explained what it means. Judson told Dr Ware he had "never before heard of such a thing". Judson "then resolved to throw Breedlove aside, and asked me the best way to do it."

Dr Ware continued "Breedlove came to me once for treatment. When he offered to pay me I declined to take his money…..a few days later…we went to the theater together. I did not like the man from the start."

Poor guy!

Prof Judson had a roommate. This is the one Breedlove was "intensely jealous" of, Prof Herbert A Wheeler, of Washington University of St Louis. His statement is Judson was introduced to Dr Breedlove last September by a mutual friend. "the two soon grew to be fast friends and frequent visits were made by them to one another's boarding houses."

Professor Wheeler was born in Brooklyn in 1859 Wheeler graduated in 1880 from the Columbia College School of Mines. Herbert A Wheeler got married at age 66. It was his first marriage. He did not have any children listed at age 71, the 1930 census. He died in March 11 1950 in St Louis County. He was the youngest of 5 children.

Judson taught school in Brooklyn, from 1877 to 1880.
John also sent a wealth of newspaper clippings and other documents, and he created a public family tree page at Ancestry.com in order to make this information accessible for other historians and genealogists.
[Original source: Charles H. Hughes. "Erotopathia -- Morbid eroticism." Alienist and Neurologist 14, no. 4 (October 1893): 531-578. Available via Google Books here.]
TIME Film Review Blasts "Victim" As "A Plea for Perversion": 1962. The British Film Victim featured a plot steeped in homosexual blackmail. Starring Dirk Bogarde (see Mar 28) as a lawyer seeking to break up a blackmail ring after his gay client commits suicide, the 1961 film brought to mass audiences a key danger that gay people faced: "A law which sends homosexuals to prison is a charter for blackmail." The film had been released in Britain in August of 1961, but because was barred from U.S. theaters because of the Motion Picture Producers and Distributors of America's (MPPDA) standards prohibited films with homosexual content.
The MPPDA changed its code five weeks later (see  Oct 3), and Victim saw its U.S. premiere on February 5, 1962. In a film review two weeks later, Time made it clear that they didn't like it one bit:
Victim has a neat plot, deft direction by Basil Dearden, and the sort of grum good manners one expects of the British in these trying situations. It also has a careful performance by Bogarde, and it pursues with eloquence and conviction the case against an antiquated statute.

But what seems at first an attack on extortion seems at last a coyly sensational exploitation of homosexuality as a theme —and, what's more offensive, an implicit approval of homosexuality as a practice.

Almost all the deviates in the film are fine fellows—well dressed, well spoken, sensitive, kind. The only one who acts like an overt invert turns out to be a detective.

Everybody in the picture who disapproves of homosexuals proves to be an ass, a dolt or a sadist. Nowhere does the film suggest that homosexuality is a serious (but often curable) neurosis that attacks the biological basis of life itself. "I can't help the way I am," says one of the sodomites in this movie. "Nature played me a dirty trick." And the scriptwriters, whose psychiatric information is clearly coeval with the statute they dispute, accept this sick-silly self-delusion as a medical fact.
If you know of something that belongs on the agenda, please send it here. Don't forget to include the basics: who, what, when, where, and URL (if available).
And feel free to consider this your open thread for the day. What's happening in your world?
Did the Arizona Legislature Just Legalize Sharia Law?
Jim Burroway
February 22nd, 2014
That's what it looks like to me.
Arizona Republican lawmakers thought they were striking a blow against gay people when they voted to approve their right-to-discriminate law. But they know the Constitution and Romer v Evans well enough to know that making a law which comes right out and says that you can discriminate against gay people to your sincerely-held-belief's content simply won't pass muster in the courts. And, of course, they don't want the words "discriminate" or "discrimination" anywhere in the bill either. Those are political red flags. So to get a law to do what they wanted to do, they had to open its wording up this way (Uppercase are additions, strikeouts are deletions to Title 41 of the existing code):
Section 1.  Section 41-1493, Arizona Revised Statutes, is amended to read:

41-1493.  Definitions

In this article, unless the context otherwise requires:

1.  "Demonstrates" means meets the burdens of going forward with the evidence and of persuasion.

2.  "Exercise of religion" means the PRACTICE OR OBSERVANCE OF RELIGION, INCLUDING THE ability to act or refusal to act in a manner substantially motivated by a religious belief, whether or not the exercise is compulsory or central to a larger system of religious belief.

3.  "Government" includes this state and any agency or political subdivision of this state.

4.  "Nonreligious assembly or institution" includes all membership organizations, theaters, cultural centers, dance halls, fraternal orders, amphitheaters and places of public assembly regardless of size that a government or political subdivision allows to meet in a zoning district by code or ordinance or by practice.

5.  "Person" includes a religious assembly or institution ANY INDIVIDUAL, ASSOCIATION, PARTNERSHIP, CORPORATION, CHURCH, RELIGIOUS ASSEMBLY OR INSTITUTION, ESTATE, TRUST, FOUNDATION OR OTHER LEGAL ENTITY.

6.  "Political subdivision" includes any county, city, including a charter city, town, school district, municipal corporation or special district, any board, commission or agency of a county, city, including a charter city, town, school district, municipal corporation or special district or any other local public agency.

7.  "Religion‑neutral zoning standards":

(a)  Means numerically definable standards such as maximum occupancy codes, height restrictions, setbacks, fire codes, parking space requirements, sewer capacity limitations and traffic congestion limitations.

(b)  Does not include:

(i)  Synergy with uses that a government holds as more desirable.

(ii)  The ability to raise tax revenues.

8.  "Suitable alternate property" means a financially feasible property considering the person's revenue sources and other financial obligations with respect to the person's exercise of religion and with relation to spending that is in the same zoning district or in a contiguous area that the person finds acceptable for conducting the person's religious mission and that is large enough to fully accommodate the current and projected seating capacity requirements of the person in a manner that the person deems suitable for the person's religious mission.

9.  "Unreasonable burden" means that a person is prevented from using the person's property in a manner that the person finds satisfactory to fulfill the person's religious mission.

Sec. 2.  Section 41-1493.01, Arizona Revised Statutes, is amended to read:

41-1493.01.  Free exercise of religion protected; definition

A.  Free exercise of religion is a fundamental right that applies in this state even if laws, rules or other government actions are facially neutral.

B.  Except as provided in subsection C, government OF THIS SECTION, STATE ACTION shall not substantially burden a person's exercise of religion even if the burden results from a rule of general applicability.

C.  Government STATE ACTION may substantially burden a person's exercise of religion only if it THE OPPOSING PARTY demonstrates that application of the burden to the person PERSON'S EXERCISE OF RELIGION IN THIS PARTICULAR INSTANCE is both:

1.  In furtherance of a compelling governmental interest.

2.  The least restrictive means of furthering that compelling governmental interest.

D.  A person whose religious exercise is burdened in violation of this section may assert that violation as a claim or defense in a judicial proceeding, and obtain appropriate relief against a government REGARDLESS OF WHETHER THE GOVERNMENT IS A PARTY TO THE PROCEEDING.  THE PERSON ASSERTING SUCH A CLAIM OR DEFENSE MAY OBTAIN APPROPRIATE RELIEF.  A party who prevails in any action to enforce this article against a government shall recover attorney fees and costs.

E.  In FOR THE PURPOSES OF this section, the term substantially burden is intended solely to ensure that this article is not triggered by trivial, technical or de minimis infractions.

F.  FOR THE PURPOSES OF THIS SECTION, "STATE ACTION" MEANS ANY ACTION BY THE GOVERNMENT OR THE IMPLEMENTATION OR APPLICATION OF ANY LAW, INCLUDING STATE AND LOCAL LAWS, ORDINANCES, RULES, REGULATIONS AND POLICIES, WHETHER STATUTORY OR OTHERWISE, AND WHETHER THE IMPLEMENTATION OR APPLICATION IS MADE OR ATTEMPTED TO BE MADE BY THE GOVERNMENT OR NONGOVERNMENTAL PERSONS.
The meat of the changes are in two places. In the first section, the legislature changes how the entire Article 9 of the Arizona Statute covering "Free exercise of religion" interprets the word  "person." Before, the free exercise of religion statutes protected religious assemblies or institutions. You know, churches, synagogues, mosques and the like. Now, the definition has been expanded to include any legal entity, including individuals, businesses, and tax-exempt charities.
Then in section two, the legislature changes "government" to "state action," which opens the applicability of the free exercise of religion statute to "any law, including state law, ordinances, rules, regulations and policies." And the definition applies regardless of whether the enforcement is being made by the government or by "nongovernmental persons" — that would be you or me if we were to try to sue for being fired on discrimination grounds. And if you or I were to sue and lose, which this bill seeks to make inevitable, we would be on the hook for attorney fees and court costs.
So, notice what the bill does. It exempts anyone from having to follow a whole host of state laws, ordinances and regulations if they conflict with an individual's religious belief. This would mean that a Muslim landlord could forcibly evict single women or a convert to Christianity, since either action would be covered by Sharia law. It would also allow a Muslim employer to treat his non-Muslim employees with the same rules as his Muslim employees. He could compel non-Muslims to work longer hours at lesser pay and reduced rank.
But here is where things can get really chaotic. Because "state action" includes anything that is "statutory or otherwise," it includes regulations, court decisions, and legal contracts, and it goes way beyond anti-discrimination laws,which aren't mentioned anywhere in this bill. This means a self-proclaimed Muslim could refuse to pay interest to his mortgage company, which goes against his sincerely held beliefs. A divorced Muslim could refuse to pay his alimony obligations. Or, conversely, he could prevent an ex-wife from seeing their children.
In reality, I suspect that there would be exceptionally few, if any, Islamic adherents who would jump to take advantage of Arizona's new law. Muslems tend to fall into two groups: either they are Americans who converted to Islam or they are immigrants and descendants of immigrants who came here because they value American principles of equal opportunity and freedom. Right-wing paranoia to the contrary, I don't see any significant movement anywhere in the country to elevate Sharia into a state-valued place in our civil codes. And yet the Republican-controlled Arizona Legislature has done precisely that.
Now, all of these so-called freedoms would be available to anyone claiming a violation of their religious beliefs, not just Muslims. Protestants, Catholics, Jews, Mormons, Hindus, Buddhists, Pagans, Wiccans, Scientologists, Satanists, Zoroastrians, Moonies, Astrologists and Trekkies would all be able to line up and claim special rights against all sorts of laws, regulations, court rulings and legal contracts. And while they celebrate their newfound freedoms to discriminate, they can all find themselves on the receiving end of discrimination, also in the name of "religious freedom."
But hey, as long as they can stick it to gay people, who really cares about a little collateral damage?
Ugandan Psychologist: Museveni's Party Caucus "Left Out Vital Facts In Our Report"
Jim Burroway
February 22nd, 2014
It's fair to say that the  "Scientific Statement on Homosexuality" written by members of the Ugandan Ministry of Health and Makerere University leaves a lot to be desired, leaving out as it does so much of the research on research on the biological origins of homosexuality. There are a lot of points in the report that can be criticized, but beyond that it's also important to notice that the ruling National Resistance Movement (NRM) press release on the report differs from the report itself in very significant ways.
Peter Mwesige, of the African Centre for Media Excellence, an African journalism watchdog, digs into those differences and concludes that the NRM press release distorts the statement's conclusions that in saying "Homosexuality is not a disease but merely an abnormal behavior which may be learned through experiences in life," when the statement itself says "homosexuality is not an abnormality." Mwesige  points to those differences and admonishes journalists for not publicizing the discrepancies:
Regardless of where they stand on the gay debate, journalists still have a responsibility to subject statements from the President and other political leaders to scrutiny and to seek out the opinion of people who are knowledgeable about such complex issues, in this case the scientists whose advice the President and his party purport to have relied on in reaching a key decision on the anti-gay bill.

One of the experts is my friend Paul Bangirana (Ph.D.), a clinical psychologist who was part of the team of scientists that authored the report on homosexuality.

He told me in a phone interview that he was "personally disappointed by the Caucus. We didn't say homosexuality is an abnormality. We categorically state it is NOT an abnormality. We also report that there [may be] a biological basis for the behaviour but there is no conclusive link as of now. They left out some vital facts in our report."

Dr Bangirana said he can understand if some of the media reports were filed by journalists who didn't have the report of the scientists. "But if they had the report, they have a responsibility to inform the nation based on factual reporting."

And [balanced] factual or accurate reporting would also include journalists not ignoring the human rights-based argument that the gay community invokes in defending their sexuality.
[Hat tip: Warren Throckmorton]
The Daily Agenda for Saturday, February 22
Jim Burroway
February 22nd, 2014
TODAY'S AGENDA:
Events This Weekend: Cape Town Pride, Cape Town, SA; National Student Pride, London, UK; Telluride Gay Ski Week, Mountain Village, CO; Elevation: Utah Gay Ski Week, Park City, UT; Arctic Pride, Rovaniemi, Finland; Bear Essentials, Sydney, NSW; Sydney Mardi Gras, Sydney, NSW; Regenbogenball (Rainbow Ball), Vienna, Austria.
TODAY'S AGENDA is brought to you by:

Launched in 1980, Mr. Dillon's boasted one of the more powerful sound systems on the West Coast and a dance floor of a thousand square feet. It closed in 1988, replaced by another club, Metro, which lasted about a year and the space sat empty for a few years. The space now houses Rich's, which is still the largest gay club in San Diego.
TODAY IN HISTORY:
Modesto Youth Gets Probation On "Morals Charge": 1950. Vernon Edward Jensen, a clerk at a florist shop, pleaded guilty to what The Modesto (CA) Bee called simply a "sex perversion charge." The circumstances behind the arrest aren't described, except that
Jensen was one of nine recently arrested on perversion charges in a police roundup. Two of the nine were county teachers, Rolla H. Nuckles, 37, of 110 Roselawn Avenue, Modesto High School public speaking instructor, and Charles Lloyd Martin, 23, at 310 South Broadway, Turlock, who taught English and history at the Wakefield School there.
The charge against Nuckles were dismissed two days earlier, after having been held in jail since January 27 at the recommendation of the Deputy District Attorney. But that didn't shield him from having his name and address printed once again in the paper. There is no mention of what happened to Martin. As for Jensen, a psychiatrist, Dr. Ralph Gladen, head of the Modesto State Hospital, said that he wasn't a "psychiatric abnormal person":
As quoted by the court, Dr. Gladen pictured Jensen as not a homosexual but as "foolish kid," now highly penitent and disgusted with his past action, and deserving of another chance.
The court agreed, and sentenced him to three years probation, during which time "he must obey all laws, report to the probation officer at regular intervals, remain in the county and refrain from excessive use if liquor."
I see these names in the papers and often wonder what happened to them. Whenever people were arrested on a "morals charge" or for "lewd vagrancy," their names, addresses and places of employment were typically printed in the paper, and that publicity often made whatever official punishment they may have received mild in comparison to losing their job or being shunned by their families and neighbors. It must have been an extraordinarily humiliating experience for each of these three men. But sixty years later, those very details are sometimes the only thing which can truly remind us that these were real people suffering from this kind of official oppression and not just characters in long-forgotten newspaper clippings.
Like I said, I often wonder what happened to some of these people that I run across, so I went sleuthing on Ancestry.com. There, I found a Vernon Edward Jenson, born February 11, 1929 in Butte, California, who died in 1995 in Alameda. Unfortunately, that's all I was able to find for him. I wasn't able to come up with much of anything for Martin.
But I may have found some interesting information on Nuckles, the teacher against whom the charges were dismissed. Rolla Hargiss Nuckles was born in Kansas City, Missouri, and attended the University of Kansas where, in 1932 and 1933, he was a member of the Dramatic Club, and in 1933 was president of the local chapter of the National Collegiate Players, "one of the many units in all nation-wide dramatic movements.") That same year, he appeared on the Dramatic Club's performance of "Uncle Tom's Cabin," where, according to the college yearbook, "Elizabeth Crafton stole the show and Rolla Nuckles wore lace." Nuckles appears to have been quite the performer. As a member of the Sigma Alpha Epsilon fraternity, he was described as "perhaps the most delectable tap dancer to nauseate the Hill in some years." In 1938, he's still there, teaching "radio speaking" for students at the University of Kansas' radio station KFKU and directing radio dramas as well as theatrical plays. This seems to match pretty well with being a public speaking instructor in Modesto. A 1944 Corpus Christi city directory lists a Rolla H. Nuckles as a radio announcer for radio station KEYS. From there, the record runs dry, with the exception of the arrest in Modesto, until his death in 2000 in San Antonio.
Frank Kameny Becomes First Openly Gay Candidate for Congress: 1971. The U.S. Constitution grants each state voting representation in both houses of Congress, but because the District of Columbia isn't one, its more than half-a-million residents are taxed without voting representation (even though its population is larger than Wyoming). But in 1971, Congress agreed to allow D.C. to be represented in the House of Representatives by a single by a non-voting delegate. On February 22, pioneering gay rights advocate Franklin E. Kameny (see May 21) filed his nominating papers and proclaimed himself "the first publicly declared homosexual ever to run for Congress." In announcing his run, Kameny declared, "We intend to remind a government and a country, which seems in may ways to have forgotten it, exactly what Americanism means — that this is a country of personal freedom and individual diversity; that Queen Victoria is dead, and the Puritans are long gone."
Kameny joined a crowded field of eight (soon narrowed to six after two candidates' petitions were thrown out), led by front-runner Democrat Rev. Walter E. Fauntroy, who had been an associate of Dr. Martin Luther King, Jr. Contrary to expectations, Kameny didn't run a single-issue campaign. He spoke at forums and television appearances about welfare reform, crime, the Vietnam war, freeway construction, home rule for the District, and other issues in terms similar to other candidates. But, as he told one audience, his campaign added "a special concern for what America stands for in terms of human rights for minorities like homosexuals." One audience member exclaimed, "Are you serious?" Kameny answered, characteristically, "Yes, I certainly am."
The overarching theme of the campaign was personal freedom. "I offer you beyond what the other candidates offer," he told one forum at Howard University, "a special sensitivity to personal freedom, the right to live your life as you choose to live it."
At one point in the campaign, Kameny told reporters, "My candidacy is a special one and will be conducted in some special ways." One of those special ways was a campaign event he held at 1:00 a.m. on an early Friday Morning at Pier Nine, one of the city's largest gay bars at Half and T Streets SW. The goal was to make sure the gay vote became a visible one. "Even if we don't win," he said, "if we can get 5,000 to 10,000 votes, things will not be the same again. That many votes would not be overlooked. …We are part of society; we are citizens of Washington, and we love this city. We want to play an active role in the life of Washington."
On March 23, Fauntroy, as expected, won and became the District's first non-voting delegate to Congress. (He would also, years later, become an outspoken foe of marriage equality in the District and a supporter of the Federal Marriage Amendment.) Kameny came in fourth with 1,841 votes. The vote count may have been small (only 1.6% of the total), but it did wind up changing the local political dynamic. In the following year, several candidates for the newly elected city school board went out of their way to court gay and lesbian voters.
[Sources: David R. Boldt. "Homosexual files delegate papers." The Washington Post (February 23, 1971): A17
William L. Claiborne. "Candidate seeks end to homosexual ban." The Washington Post (March 10, 1971): C1, C3.
Bart Barneas. "Kameny stresses personal freedom." The Washington Post (March 13, 1971): B1, B2.
"Kameny for Congress." The Rainbow History Project (Undated): Online.]
If you know of something that belongs on the agenda, please send it here. Don't forget to include the basics: who, what, when, where, and URL (if available).
And feel free to consider this your open thread for the day. What's happening in your world?
Is Ugandan President Looking For a Way Out of the Anti-Homosexuality Bill?
Jim Burroway
February 21st, 2014
As I wrote earlier, the political incentives weighing on Uganda President Yoweri Museveni to sign the draconian Anti-Homosexuality Bill into law are extraordinarily powerful. But Museveni can't ignore the international cost of doing so, especially given Obama's warning that signing the bill "would complicate (our) valued relationship." That relationship includes, among many other things, U.S. technical military assistance in Uganda's ongoing fight against the Lord's Resistance Army insurgency.
Earlier today, Uganda's Observer published a lengthy statement by Museveni defending his decision last weekend to sign the Anti-Homosexuality Bill on the basis of a statement by Ugandan scientists that homosexuality is "not genetic." He then called on the U.S. to "help us by working with our Scientists to study whether, indeed, there are people who are born homosexual. When that is proved, we can review this legislation."
Since then, that same identical statement has appeared in its entirety in all five major Ugandan publications with a web presence. In addition to the opposition-friendly Observer, the full statement is also being carried in the government-owned New Vision, the independent Daily Monitor, Uganda's The Independent, and even in the notoriously anti-gay tabloid Red Pepper. The statement is dated last Sunday, February 18, but it's being reprinted in full, virtually simultaneously, in all five publications today.
More typically, a government press office releases a statement and publications quote from this. The unusual detail is this: all five publications have reprinted Museveni's entire statement in full. In my five years of watching events in Uganda, I cannot recall a any other time where all the major papers published an official statement verbatim on the same day. This represent a high degree of coordination at the very least, and it may possibly be the result of a direct order from the government. Museveni plainly wants everyone to see this.
And since he wants everyone to see it, I'll include it here also:
Click here to read Museveni's statement
Uganda President Seeks More Scientific Input on Homosexuality
Jim Burroway
February 21st, 2014
Uganda President Yoweri Museveni seems to be looking for a way out of the mess. A statement by Museveni appeared in Uganda's Observer this morning justifying his previous announcement that he would sign the Anti-Homosexuality Bill based on the "scientific" was provided to him by members of the Ministry of Health and Makarere University. Now, he says he needs more information:
I have now received their signed document, which says there is no single gene that has been traced to cause homosexuality.  What I want them to clarify is whether a combination of genes can cause anybody to be homosexual.  Then my task will be finished and I will sign the Bill.

After my statement to that effect which was quoted widely around the World, I got reactions from some friends from outside Africa.  Statements like: "it is a matter of choice" or "whom they love" which President Obama repeated in his statement would be most furiously rejected by almost the entirety of our people.

It cannot be a matter of choice for a man to behave like a woman or vice-versa.  The argument I had pushed was that there could be people who are born like that or "who they are", according to President Obama's statement.

I, therefore, encourage the US government to help us by working with our Scientists to study whether, indeed, there are people who are born homosexual.  When that is proved, we can review this legislation.

I would be among those who will spearhead that effort.  That is why I had refused to sign the Bill until my premise was knocked down by the position of our Scientists.
His statement also directly addresses President Barack Obama's condemnation of the Anti-Homosexuality Bill, in particular Obama's warning that signing it would "complicate our valued relationship." That particular line seems to have gotten his attention.
This statement would appear to contradict yesterday's unconfirmed report that Museveni had already signed the bill.
Last Sunday, Uganda's Foreign Affairs Permanent Secretary, Ambassador James Mugume, told reporters that U.S. National Security Adviser would provide "some materials and evidence that they feel were left out by our scientists." You can read Uganda's "scientific statement" here.
The Daily Agenda for Friday, February 21
Jim Burroway
February 21st, 2014
TODAY'S AGENDA:
Events This Weekend: Cape Town Pride, Cape Town, SA; National Student Pride, London, UK; Telluride Gay Ski Week, Mountain Village, CO; Elevation: Utah Gay Ski Week, Park City, UT; Arctic Pride, Rovaniemi, Finland; Bear Essentials, Sydney, NSW; Sydney Mardi Gras, Sydney, NSW; Regenbogenball (Rainbow Ball), Vienna, Austria.
TODAY'S AGENDA is brought to you by:

This lesbian bar in Maitland, Florida, just north of Winter Park near Orlando, closed just two years later and became a steak house.
TODAY IN HISTORY:
Oklahoma Prohibits Gay Teachers: 1978. When Oklahoma State Sen. Mary Helm (R-OKC) introduced the "Feature Fitness Statute" in the state Senate, she had more than just gay teachers in her sights. The bill would allow public schools to fire or refuse to hire anyone who engaged in "public homosexuality activity," which the proposed broadly defined to also include not just sexual activity, but also "advocating, soliciting, imposing, encouraging or promoting public or private homosexual activities in a manner that creates a substantial risk that such conduct will come to the attention of schoolchildren or school employees."
Think of what that meant. A straight teacher writing a letter to the editor supporting gay rights or, perhaps, denouncing the formation of a student KKK chapter in the public schools to bash gay people — which occurred in the northern suburbs of Oklahoma City soon after the bill was introduced (see Jan 25) — that teacher would be subject to being fired by the school board. But lawmakers weren't focused on gay bashing, but on anyone who might publicly say that gay bashing was abhorrent. When the bill was introduced into the House by Rep. John Monks (D-Muskogee), he told reporters that the measure would allow school boards to "fire those who are afflicted with this degenerate problem … people who are mentally deranged this way." (Monks was famous for saying stupid shit. In a successful effort to defeat a bill to ban cockfighting, Monks thundered, "In every country the communists have taken over, the first thing they do is outlaw cockfighting.")
When the House passed the measure by a lopsided 88-2 vote without debate on February 7, the Associated Press speculated that "it is expected to face stiffer opposition in the Senate." Fat chance. Anita Bryant, a former Miss Oklahoma who was fresh off of her victory in repealing a gay rights ordinance in Miami (see Jun 7), lobbied the state Senate to prohibit "the flaunting of homosexuality." On February 21, the Senate passed the bill unanimously, and it quickly became law in April.
It took two years before the National Gay Task Force could even find a teacher willing to challenge the law. But after several false starts, the NGTF was finally able to bring a case to Federal Court challenging the law's constitutionality. After the slow trek through the appeals process, the United States Supreme Court finally struck down the law in 1986 (see Mar 26).
Atlanta Gay Bar Bombed: 1997. Memrie Wells-Cresswell, of Snellville, GA, went to Atlanta's Otherside Lounge to celebrate a friend's birthday. Memrie had not told many people that she was lesbian, but the bombing that night at the popular lesbian bar would change all that. Five people were injured, but hers were the most serious: a three to four inch nail entered her arm and severed a brachial artery. When Mayor Bill Campbell mentioned her by name everyone suddenly knew her secret, including her employer who fired her. She later told The Advocate, "The company ended up giving me some hush money just to make me go away."
Police found a second bomb just outside the bar, which they detonated with a robot. It had been placed there to harm police and medical workers responding to the first explosion. That fit a pattern established with two earlier Atlanta bombings, one at the Centennial Olympic Park on July 27, 1996 and another at an Atlanta abortion clinic on January 16, 1997. Three days after the Otherside Lounge Bombing, police received a letter from an organization calling themselves The Army of God claiming responsibility. The letter threatened "total war" and promised more attacks against abortion clinics and gay people.
In 1998, Federal Authorities charged Eric Rudolph with the three Atlanta bombings and a fourth one at an abortion clinic in Birmingham, Alabama. They spent the next four and a half years looking for him around the town of Murphy, North Carolina, where Randolph spent his teenage years. Murphy residents printed tee-shirts reading "Run, Rudolph Run." He was finally captured there on May 31, 2003. He was well-groomed and well-fed, suggesting he had help in Murphy. On August 13, 2005, Rudolph pleaded guilty to all four bombings in a plea agreement that allowed him to avoid the death penalty. In an eleven page statement, he wrote, "Whether it is gay marriage, homosexual adoption, hate crimes laws including gays, or the attempt to introduce a homosexual normalizing curriculum into our schools, all of these efforts should be ruthlessly opposed." He also said that the attack on The Otherside Lounge was "meant to send a powerful message in protest of Washington's continued tolerance and support for the homosexual political agenda." He is currently serving four life sentences.
If you know of something that belongs on the agenda, please send it here. Don't forget to include the basics: who, what, when, where, and URL (if available).
And feel free to consider this your open thread for the day. What's happening in your world?
Maine Says No To Discrimination, Arizona (Naturally) Says Yes
Jim Burroway
February 20th, 2014
In a mostly party-line 89-52 vote, the Maine House defeated a bill that would have created a special exemption for those who wish to claim a right to discrimination based on religious beliefs.
While the exemption was supposedly aimed at allowing discrimination against LGBT people and same-sex couples, the bill itself did not provide such narrow grounds for claiming an exemption. Instead, the bill sought to exempt anyone from anti-discrimination laws or any other law or regulation if it would "Constrain or inhibit conduct or expression mandated by a person's sincerely held religious tenet or belief." That would include any kind of act, whether its discrimination against a gay couple or an African-American family or a single woman. Two Democrats, Rep Stan Short (Pittsfield) and Steve Stanley (Medway) voted for the measure. Five Republicans — Reps. Michael G. Beaulieu (Auburn), Richards Campbell (Orrington), Aaron Libby (Waterboro), Sharri MacDonald (Old Orchard Beach), Joyce Maker (Calais) — voted to kill the bill.
While Maine's lawmakers showed their sanity in turning down the bill, Arizona's lawmakers are working diligently to preserve their state's reputation for being among the most hostile and retrograde in the nation. House Bill 2153 would provide a similarly broad exemption for religious people by allowing them to "act or refusal to act in a manner substantially motivated by a religious belief, whether or not the exercise is compulsory or central to a larger system of religious belief." As Dan Savage describes it in a post titled "It Could Soon Be Legal For Satanists to Discriminate Against Christians in Arizona":
That's not the law's intent, of course. Arizona's proposed new law, like the ones in Kansas and Idaho, is about legalizing discrimination against gays and lesbians. But in an effort to hide the anti-gay prejudice behind their "religious liberty" bill, Arizona lawmakers have worded it so vaguely that it empowers anyone of any faith to discriminate against anyone for any reason—provided, of course, that the person doing the discriminating remembers to cite their sincerely held religious beliefs as a justification.
It also adds a new element of discrimination into the law: atheists would have no grounds to claim protection for refusing to serve gay people in a restaurant or rent to Latinos or hire Jews. This law and others like it carve out a special privilege available to religious people only.
An identical bill sailed through Arizona's Senate last Wednesday in a 17-13 party-line vote. And true to form, the Arizona House passed the measure in another 33-27 vote. Republicans Rep. Kate Broohy McGee (Phoenix), Heather Carter (Cave Creek), and Ethan Orr (Tucson) voted no.  It will now land on Republican Gov. Jan Brewer's desk by nightfall.
Mother Jones reports that these rash of bills are hitting state legislatures in rapid succession:
Republicans lawmakers and a network of conservative religious groups has been pushing similar bills in other states, essentially forging a national campaign that, critics say, would legalize discrimination on the basis of sexual orientation. Republicans in Idaho, Oregon, South Dakota, and Tennessee recently introduced provisions that mimic the Kansas legislation. And Arizona, Hawaii, Ohio, Oklahoma, and Mississippi have introduced broader "religious freedom" bills with a unique provision that would also allow people to deny services or employment to LGBT Americans, legal experts say.
The Arizona and Idaho bills were brought forward by state policy organizations associated with CitizenLink, a Focus On the Family affiliate. Others, like the Kansas bill, were crafted by the American Religious Freedom Program, which is part of the Ethics and Public Policy Center.
The sponsor of the Tennessee bill withdrew it yesterday, while lawmakers in Idaho, Kansas, South Dakota turned back measure in their states. This came on the same day that the Kansas Senate president announced that her chamber would not consider a discrimination exemption bill that had passed the House earlier. The Kansas version was perhaps the broadest bill of all, as it would have covered all government employees including first responders.
Unconfirmed Reports: Museveni May Have Signed the Anti-Homosexuality Bill
Jim Burroway
February 20th, 2014
CNN's Mike Krever quoted Ethics and Integrity Member (and defrocked former priest) Simon Lokodo:
Ugandan President Yoweri Museveni has just signed that bill, according to the minister, but has not yet handed it over to parliament.
It's not clear to me whether Lokodo is much of an insider in Museveni's government. He may be speaking out of personal knowledge, but he also may be working with second-hand information.  Meanwhile, the Uganda Media Centre, the president's official press office, posted the following contradictory statement on its Facebook page earlier today:
Press Statement
February, 20, 2014

Government statement on the Anti-Homosexuality Bill

Following the passage of the Anti-Homosexuality Bill by the Parliament of Uganda in December, 2013, fears have been expressed by sections of the international community that this could lead to the persecution of some sections of Ugandan society.

The 1995 Constitution is the supreme law of Uganda.

Article 21(1)… of the said Constitution states "All persons are equal before and under the law in all spheres of political, economic, social and cultural life and in every other respect and shall enjoy equal protection of the law.

Article 21(2) states "Without prejudice to clause (1) of this article, a person shall not be discriminated against on the grounds of sex, race, colour, ethnic origin, tribe, birth, creed or religion, social or economic standing, political opinion or disability."
Government of Uganda reiterates its commitment to uphold and protect the fundamental rights and freedoms of all persons in Uganda as guaranteed by the Constitution.

No person shall be prosecuted outside the provisions of the law.

Government of Uganda therefore reassures all Ugandans and the international community of its continued commitment and respect for the rule of law in Uganda.

Ofwono Opondo
EXECUTIVE DIRECTOR/GOVERNMENT SPOKESPERSON
UGANDA MEDIA CENTRE
The Facebook comments to that post show that the statement is throwing everyone into confusion: Did he/will he sign the bill?
GOPround Co-Founder Resigns, Blasts Group for "Unconditional Surrender to the Forces of Intolerance"
Jim Burroway
February 20th, 2014
Yesterday, National Journal excitedly reported that "the kinder, gentler Conservative Political Action Conference" has decided to "welcome" GOProud back to the fold after being kicked out in 2011. National Journal however was very clear about the limits of that so-called welcome:
Two former GOProud summer interns, Ross Hemminger and Matt Bechstein, took over last summer and sought to repair the bitterly frayed relationship. Under a compromise reached last week, they will attend the March 6-8 gathering as guests, without sponsorship or a booth. GOProud sees the lower-profile role as an important first step.
In other words, they're welcome as long as they sit quitely and don't say anything. COProud co-founder Chris Barron resigned from the board following the announcement, calling the move an "unconditional surrender":
"Last night I resigned from the Board of GOProud, the organization that I co-founded back in April of 2009. I cannot in good conscience sit by and watch as the current leadership of the organization disingenuously pawns off an unconditional surrender to the forces of bigotry as some sort of 'compromise,'" Barron told BuzzFeed. "Nothing has changed in regards to GOProud and CPAC, GOProud does not have a booth, they are not a sponsor, they are not participating in any formal sense – individual members can attend and that's exactly the terms ACU dictated the previous few years."

…"There was a time when GOProud was on the front lines of the fight for a more inclusive conservative movement –- we won some of those battles and we lost some of those battles, but we were always honest about the outcome. If the current leadership of GOProud, or whats left of it, believes that unconditional surrender to the forces of intolerance is in the best interest of the organization, than they should just be honest about it," he said
Earlier this year, another GOProud co-founder, Jimmy LaSalvia, announced that he was leaving the Republican Party altogether, citing "the tolerance of bigotry in the GOP." He resigned as GOProud's Executive Directer last year to work for the ACLU.
Museveni's Political Calculus and the Anti-Homosexuality Bill
Jim Burroway
February 20th, 2014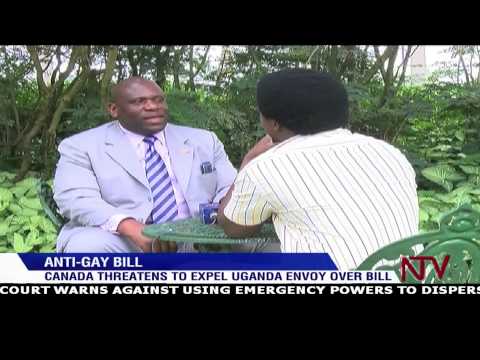 NTV Uganda recaps events since President Yoweri Museveni's announcement that he will sign the Anti-Homosexuality Bill, and reports that about 20% of Uganda's budget is funded by donor money. In response to statements from donor countries that their aid would be jeopardized by the Anti-Homosexuality Bill, State Minister for Regional Affairs Asuman Kiyingi said, "What I've heard from the public… is that Ugandans are willing to forfeit the support that the donors are giving if it means that the support is conditioned on sacrificing their values. But I'm sure we're going to find a middle ground."
Kiyingi's belief that there will be a "middle ground" with respect to foreign aid suggests that Museveni feels more confident that he won't suffer severe international consequences if he signs the bill. Uganda has raised its strategic profile in the past couple of years, well-positoned geographically and sharing borders with Rwanda, Congo and Southern Sudan. Uganda provides peacekeeping (and sometimes not so peacekeeping) troops to Southern Sudan and Somalia, and regularly meddles in guerrilla fighting in Congo. Uganda is also central to that battle against the murderous Lord's Resistance Army, and it receives a great deal of military technical assistance from the U.S. in that fight. This morning, Daily Monitor's Daniel K. Kalinaki explains what all of that means:
Museveni also understands the centres of power in America. The White House and the State Department might be critical of him and his decisions but he has been around long enough to understand that the CIA and the Defence Department often deal in the cold rational reality of real-politick.

Thus while cuts in military support to the UPDF would hurt, there would be grave concerns for the Pentagon if Uganda were to withdraw its troops from Somalia, for instance. Museveni understands that US national security comes first, ahead of everything else. As long as he is willing to put boots on the ground to keep the regional peace and support the war against terror, he will always have friends at the Pentagon willing to help him manage his relations with the State Department.
There are also a number of internal political considerations that likely went into Museveni's decision. Again, Kalinaki:
It is telling that President Museveni announced his intentions at a meeting of NRM MPs amidst a plot to endorse him as the sole party candidate for the 2016 elections. In signing, he gives the MPs a blank cheque. Having forced Prime Minister Amama Mbabazi on the defensive, he also cuts from underneath Speaker Rebecca Kadaga one of her populist planks within Parliament.
Mbabazi and Kadaga both were believed to be vying to challenge Museveni for the party's nomination in 2016. This moves places Mbabazi on the defensive because he was the most vocal in pointing out that Parliament passed the Anti-Homosexuality Bill without a quorum. At the time, Mbabazi appeared to be speaking for Museveni, since Museveni himself had argued against the bill's passage, and complained about the lack of quorum Speaker Kadaga in a letter written a week after the bill's passage. Museveni's sudden U-turn left Mbabazi stranded out on a very weak political limb. At the same time, Kadaga, who sought to build her political legacy on the Anti-Homosexuality Bill, is now seeing the oxygen being sucked out of the room with Museveni's announcement. Mbabazi signed on to endorse Museveni's 2016 bid, but Kadaga didn't.
Kalinaki also points out that the political costs for signing the bill are minimal when compared to the benefits:
First, he is exercising power without responsibility for his actions; he is signing a Bill he never wanted, passed by Parliament against his advice, and on the recommendation of scientists. It wasn't me, he could easily say. Secondly, Museveni must surely know that several lawyers have lined up to challenge the constitutionality of the law; one of them, your columnist hears, is Mr Fox Odoi, who spent many years doing legal work for the President and remains close to the inner circle.

Such a challenge would hold up the law in the courts for at least a couple of years. If the courts uphold it, it wasn't me, the President would say. If they strike it down, it still wasn't him. Throw in a few more years on appeal in the Supreme Court and you have a Bill all dressed up with nowhere to go.
A man like Museveni doesn't stay in power for twenty-eight years as he has without either brute force or cynical cunning. Museveni prefers the latter but isn't afraid of the former. It is, after all, how he came to power in the first place. So the question now is whether Museveni was correct in minimizing the political costs to signing the bill or did he misjudge? The Human Rights Campaign's Chad Griffin wants the U.S. to up the political costs to Museveni. He has called on the U.S. to withdraw its ambassadors to Uganda and Nigeria, which recently recently enacted similarly draconian anti-gay legislation:
"The Ugandan and Nigerian governments' decisions to treat their LGBT citizens like criminals cannot be accepted as business as usual by the U.S. government. We urge Secretary Kerry to recall both Ambassadors for consultations in Washington to make clear the seriousness of the situation in both countries," said HRC President Chad Griffin.
The Daily Agenda for Thursday, February 20
Jim Burroway
February 20th, 2014
TODAY'S AGENDA:
Events This Weekend: Cape Town Pride, Cape Town, SA; National Student Pride, London, UK; Telluride Gay Ski Week, Mountain Village, CO; Elevation: Utah Gay Ski Week, Park City, UT; Arctic Pride, Rovaniemi, Finland; Bear Essentials, Sydney, NSW; Sydney Mardi Gras, Sydney, NSW; Regenbogenball (Rainbow Ball), Vienna, Austria.
TODAY'S AGENDA is brought to you by:

The Barefoot Boy Disco was immensely popular from about 1974 to about 1978 or 1979 (near as I can tell) that launched the careers of quite a number of major DJs of the era. Disco queen and former porn star Andrea True, whose "More, More, More" in 1976 became part of the disco canon, name-checked the Barefoot Boy in her 1977 single "New York, You Got Me Dancing" ("Dancing the night away / Oh what a joy at the Barefoot Boy"). The club late became Zeus (or Barefoot Boy at Club Zeus). It then became Stix in the early 1980s. A residential tower now stands where they once danced the night away.
TODAY IN HISTORY:
Marcus Welby, M.D. Episode "The Other Martin Loring" Airs: 1973. Marcus Welby was America's favorite doctor, and Marcus Welby, M.D. was the first program to hit number one in the Nielsen ratings for the perpetually struggling ABC. But America's favorite doctor made a bad call in its fourth season when it aired an episode titled "The Other Martin Loring." The episode centers around Loring, who consults Dr. Welby for being an alcoholic, overweight, depressed and diabetic. Relax, take it easy, don't work too hard, Welby tells Loring. That night, Loring who goes home to his wife, who demand a divorce and custody of their son. When he threatens to countersue, Mrs. Loring says she won't "hold anything back." He later collapses under the strain and under Welby's care again. One thing led to another, including a drunk-driving car accident. Eventually, Welby figures out that Loring is gay. Welby's advice: Loring had a "serious illness" and he should suppress his desires and see a psychiatrist because his "tendencies" were "degrading and loathsome."
Shortly before the episode's scheduled air date, a script was leaked to the Gay Activist Alliance, which organized a protest of two dozen demonstrators at ABC's New York headquarters. Another group of thirty activists entered the building, guided by a detailed map provided by someone within the network, and took over the thirty-ninth floor offices of the network's top executives. "It was one of the first big actions we took," Ron Gold, GAA's media director, later recalled. "It was also one of the biggest mistakes we made. ABC offered to set up a meeting for two of us with their standards and practices person and the president of the network if the rest of us would go away. But we were afraid that we were going to get screwed over so we said no. That was very foolish because we didn't get to talk to anybody. They thought we were crazy — and to a certain extent we were. But we were also justifiably paranoid."
Other protests broke out in Los Angeles when the episode aired, and gay activists tried to launch a nationwide advertiser boycott. But the boycott fizzled, largely because the fractious gay activist community didn't have the means to communicate with each other effectively, let alone to the general public. In a sense, LGBT-advocacy was still in its infancy, learning the ways of effective demonstration and publicity. But they were quick learners. More than a year later, when Marcus Welby, M.D. would air another homophobic episode (see Oct 8), gay activists were better prepared, and their actions would lead to seventeen ABC affiliates dropping that episode, and at least seven major sponsors pulling out.
TODAY'S BIRTHDAYS:
William Lygon, 7th Earl Beauchamp: 1872-1938. He succeeded his father as Earl at the age of eighteen when his father died of a heart attack during dinner in 1891. That was the start of a very prodigious political career. He became mayor of Worcester in 1895, and was given the post as Governor of New South Wales, Australia in 1899, while still only twenty-seven. But here, his inexperience showed. He was unpopular due to a series of gaffes, including the time he referred to Australia's "birthstain" as a penal colony. Bored with the assignment, Beauchamp returned to Britain in 1900. In 1902, he joined the Liberal Party and married Lady Lettice Grosvenor. The couple would go on to have three sons and four daughters. When the Liberals came to power in 1905, Beauchamp took on a series of posts in the government, and he served as Liberal Leader in the House of Lords from 1924 to 1931.
Stories had circulated since the 1920s about parties Beauchamp threw at Walmer Castle. But it would be a return trip to Australia in 1930 that would be his undoing, as he was accompanied during the two month trip by young Liberal MP, Robert Bernays, who was also Beauchamp's lover. Hugh Grosvenor, the Tory Duke of Westminster, was a staunch foe of the Liberals and, more to the point, developed a deep and abiding hatred for his brother-in-law. He summoned his sister and laid the evidence of Beauchamp's homosexuality before her and urged her to divorce her husband. She never did file for divorce, but she left him immediately. The Duke also demanded that Beauchamp's children testify against him, but they refused. Finally, the Duke took his information to King George V, who was shocked at the allegation. "I thought men like that shot themselves," he muttered.
It appeared Beauchamp's arrest and trail by the House of Lords was imminent. But there was one problem: during the depths of the Great Depression, the House of Lords was increasingly looked upon as a place of idleness and privilege, prompting calls for its abolition. A scandal like this would only worsen the its reputation. Also, Beauchamp was personally close to the King — he had carried the Sword of State at William's coronation and served as Steward of the Household. Also, the King's son, George, was seeing one of Beauchamp's daughters, although that relationship soon ended. The King intervened, and sent three envoys to persuade Beauchamp to resign from all of his official posts and leave England by midnight.
Beauchamp fled England that night, taking a boat to the continent and traveling to the German spa town of Wiesbaden. His plan, which he had disclosed to two of his daughters before leaving, was to commit suicide by overdose. His children took turns traveling weeks at a time to Wiesbaden to remain with him at all times, watching over him. It was finally Hugh, his second son (and who was also gay) who finally persuaded his father from taking his life.
After recovering his wits at Wiesbaden, Beauchamp moved to Paris, Venice, Sydney and San Francisco, constantly moving between the four cities. The closest city to a home to him was perhaps Sydney, where he spent most of his time and was tempted to buy a house. But after Hugh's death in 1936, Beauchamp was allowed to return to England to bury his son at the ancestral home of Madresfield Court, staying only a few days for fear of arrest. But the following year, shortly after George V's death and George VI's coronation, the charges were finally dropped and Beauchamp was allowed to go home for good. He died in 1938 of cancer while traveling to New York. His children remained loyal to him to the very end.
The Earl of Beauchamp is generally believed to have been model for Lord Marchmain in Evelyn Waugh's novel, Brideshead Revisited.
Roy Cohn: 1927-1986. Could there be a more despicable character in all of gay history? The Columbia Law grad showed signs of legal brilliance early, having been admitted to the bar at twenty-one, becoming an Assistant U.S. attorney in Manhattan and playing a prominent role in the prosecution of Julius and Ethel Rosenberg in 1951. In 1952, Sen. Joseph McCarthy (R-WI) appointed him as chief counsel to the Senate Permanent Subcommittee on Investigations on the recommendation of FBI chief J. Edgar Hoover, where Cohn became known for his aggressive questioning of suspected Communists. Cohn brought in his good friend, David Schine as consultant to McCarthy's staff. But when the young and handsome Schine was drafted into the army in 1953, Cohn embarked on a private campaign to ensure special treatment for Schine — light duties, extra leave, an exemption from overseas assignment — and threatened to "wreck the Army" if they didn't accede to his demands. The bitter irony of all this is that while Cohn was pursuing special treatment for his special friend, McCarthy's witch hunt extended beyond communists to also include gay people (See, for example, Mar 14, Jul 2, Sep 7).
By 1954, McCarthy's anti-communist and anti-gay witch hunt extended to the Army, which decided to fight back. During one exchange during a committee hearing, the Army's head counsel, Joseph Welch, asked a McCarthy staffer about the origin of a photo of Schine and Army Secretary Robert Stevens, which had been doctored to omit the presence of Air Force Colonel Jack Bradley. Welch asked the staffer sarcastically, "Did you think it came from a pixie?" McCarthy interjected, "Will counsel (Welch) for my benefit define– I think he might be an expert on that– what a pixie is?" Welch responded, "Yes. I should say, Mr. Senator, that a pixie is a close relative of a fairy." Others in the chamber who were in on the rumors, broke into laughter. Cohn later called the remark, "malicious," "wicked," and "indecent."
Cohn later forced to resign from McCarthy's staff due to growing outrage over his tactics. He returned to New York and entered private practice, where his clients included mafia figures, the New York Yankees, the Roman Catholic Archdiocese of New York, and Studio 54 owners Steve Rubell and Ian Schrager. He was friends with Barbara Walters (she served as his "beard" for a while), columnist Walter Wenchell, and North Carolina Sen. Jesse Helms. While publicly closeted and working actively against gay rights, he partied at the best gay bars and threw lavish parties in New York and Provincetown. In 1984, he was diagnosed with AIDS. He used his connections to jump to the head of the line for treatment with the then-scarce and experimental AZT. By the time he died in 1986, he maintained his public denial both of his homosexuality and his disease — he said it was "cancer." In Tony Kushner's Angels In America, Cohn is portrayed as a power hungry, self-loathing hypocrite who is dying of AIDS while haunted by the ghost of Ethel Rosenberg. Cohn's name is also on a panel of the AIDS memorial quilt. It reads, "Roy Cohn: Bully, Coward, Victim." A fitting eulogy if there ever was one.
If you know of something that belongs on the agenda, please send it here. Don't forget to include the basics: who, what, when, where, and URL (if available).
And feel free to consider this your open thread for the day. What's happening in your world?
Kansas anti-gay bill killed
Timothy Kincaid
February 19th, 2014
Last week the Kansas House of Representatives passed a broad and sweeping bill to "protect the religious beliefs" of individuals and businesses who object to same sex marriage and who wish to discriminate against gay couples. In addition to providing that businesses need not provide the commercial trappings of marriage to gay couples, it also allowed individuals – whether in a private capacity or as an employee of a business or even a civil servant – the right to claim religious exemption from providing the services of their company or of the state. In a final 'gotcha', it excluded same sex couples from the right within the state to sue for discrimination.
The Kansas House, comprised mostly of Republicans, voted 72 to 49 for the bill. What happened next is interesting.
As could be expected, civil libertarians, civil rights activists, and supporters of gay equality all decried the bill. And legal scholars pointed out that after Romer v Evans, excluding a class of individuals from the right to legal recourse was on it's face unconstitutional.
But, nevertheless, most pundits expected the Kansas Senate, also controlled by Republicans, to pull out a big rubber stamp and join in on the bacchanalia of bigotry.
Surprisingly, they did not.
It seems that the GOP Senators, unlike the GOP Representatives, took a look at their political alliances, their hope for a future reputation, and the implications of this bill on the Republican brand, saw this for what it was: an invitation to treat gay people cruely. And the bill now appears dead. (NY Times)
Susan Wagle, a conservative Republican who is president of the Kansas Senate, raised opposition to the House measure, saying she had "grown concerned about the practical impact of the bill" and "my members don't condone discrimination."

Ms. Wagle was backed by Senator Jeff King, the chairman of the Judiciary Committee, who said he would not hold hearings on the House bill.
But it was not merely Wagle's conscience that led to the bill's demise. It was also the objections of Business and Religion.
As written, the bill would put employers – especially small businesses – in an awkward and complicated and likely expensive position. Staffing would be based on the personal beliefs of employees rather than on the needs of the market and in a less-than-stellar economy this was a burden that could kill a company with only a few employees.
Opponents included the Kansas Chamber of Commerce, which said that the measure could lead to increased costs for businesses. The chamber took particular exception to a provision in the bill that said that if an employee of the government or "other nonreligious entity" objected to providing a service based on religious beliefs, the employer would have to find another employee to fill in or find some other way to provide the service.

Businesses were "not interested in getting into these guessing games as to someone's intent and whether a strongly held religious belief is legitimate or not," said Mike O'Neal, the president of the chamber.
And the claim about "protecting religious beliefs" was damaged by strong opposition to the bill by some religious groups. The Episcopal Church led the religious opposition in the strongest terms. (HuffPo)
For Episcopalians, our faith is unequivocal. Our Baptismal Covenant asks, "Will you seek and serve Christ in all persons, loving your neighbor as yourself? Will you strive for justice and peace among all people and respect the dignity of every human being?" Promising to strive for justice and peace among all people and to respect the dignity of every human being requires us to be adamantly opposed to legislation that does none of these things.

Our biblically based faith calls us to live out the command of Jesus Christ to love one another. You cannot love your fellow Kansans and deny them the rights that belong to everyone else.
And they were not alone. Less conservative churches are now increasingly speaking up to counter the message that faith is universally anti-gay. (UPI)
Many ministers in the state oppose the bill and say it has nothing to do with religious freedom. Kate McGee of Presbyterian Trinity Church in Topeka, Aaron Roberts of Colonial Church in Prairie Village and Chad Herring of John Knox Kirk in Kansas City, Mo., joined forces Friday to lobby against it.

McGee said religious beliefs should not be codified in Kansas law.

"If businesses rejected sinners, they would have no customers," McGee said. "They themselves wouldn't be able to shop in their own businesses. Where does it stop?"
Some form of bill may yet arise in the Kansas Senate. Sen. King has said that while no substitute bill is in the wings, he'll hold hearings to see if any additional protections are needed. But it is a sign of our eminent equality that Business, Religion, and the GOP Senate aligned to kill this anti-gay bill.