The Daily Agenda for Tuesday, May 5
Jim Burroway
May 5th, 2015
TODAY'S AGENDA is brought to you by:
TODAY IN HISTORY:
► Marriage In Hawaii, Almost: 1993. In the case of Baehr v Lewin, Ninia Baehr sued the state of Hawaii over the state's refusal to issue her and her partner, Genora Dancel, a marriage license. That refusal, according to their lawsuit, amounted to illegal discrimination. On May 5, 1992, the Hawaii Supreme Court ruled that her argument had merit. They didn't rule Hawaii's ban illegal, but remanded the case to a lower court, and placed the burden on the state to prove that it had a compelling interest under strict scrutiny for denying same-sex partners a marriage license.
The case would drag on for another six years with little doubt about where the state Supreme Court would go if the case made its way back there again. Ninia had thought they had as good as won. But the state legislature had other ideas, and drafted a constitutional amendment to take the issue out of the courts' hands. Voters approved Amendment 2 in 1998, making Hawaii the first state to amend its constitution to address same-sex marriage. But unlike other state constitutional amendments that would follow, Hawaii's Amendment 2 didn't ban same-sex marriage outright. It granted Hawaii's legislature the power to reserve marriage to opposite-sex couples, which it later did by passing a law to that effect.
In February of 2011, Gov. Neil Abercrombe signed into law a bill granting civil unions to the state's same-sex couples. That law took effect on January 1, 2012. A bill to allow same-sex marriage was introduced into the legislature in January 2013, but it quickly died without legislative action. After the U.S. Supreme Court struck down parts of the Defense of Marriage Act, a move which made civil unions unquestionably inferior to marriage at the federal level, Gov. Abercrombe called the state legislature back for a special session to take up a marriage equality bill. After a contentious hearings, the Senate and House finally approved the bill and Gov. Ambercrombe signed it into law, the state that started the first steps toward marriage equality twenty years earlier became the fifteenth state to make it available to same-sex couples in December.
TODAY'S BIRTHDAY:
► Del Martin: 1921-2008. When young Dorothy Taliaferro was six years old, she experienced her first act of discrimination when she was denied a magazine delivery route just because she was a girl. That alone made her a life-long feminist, and it was that awareness that informed everything she did as an activist.
Her adult life started out rather conventionally. She studied journalism, married James Martin when she was nineteen, had a daughter, and divorced four years later. So much for conventionality. By 1950, Del was living in Seattle, writing for a construction trade magazine, where she met Phyllis Lyon (see Nov 10). In 1953, the couple moved to San Francisco, moved into a home together, established a joint bank account, and embarked on more than a half-century together as a couple.
But being a lesbian couple in the 1950s was a lonely experience for them. In their search for lesbian friends, Martin and Lyon, along with six other women, founded the Daughters of Bilitis in 1955, which became the first major lesbian organization in the United States (see Oct 19). The DOB grow from a small Bay-area club to a national organization dedicated to "the education of the variant; education of the public at large; participation in research projects; and investigation of the penal code as it pertains to the homosexual." In 1956, the DOB began publishing a monthly newsletter, The Ladder, with Lyons acting as its first editor and Martin contributing a groundbreaking essay in the very first issue. The DOB struggled to stake out its place in the emerging homophile movement. Martin chaffed when, as happened all too often, DOB was dismissed as the "women's auxiliary" of the Mattachine Society. At the Mattachine's 1959 convention in Denver, Del addressed the delegates and defended the need to keep DOB as a separate, women's-only organization:
What do you men know about lesbians? In all of your programs and your Mattachine Review you speak of the male homosexual and follow this with — oh yes, and incidentally there are some female homosexuals, too. … ONE magazine has done little better. For years they have relegated the lesbian interest to a column called "Feminine Viewpoint." So it would appear to me that quite obviously neither organization (the Mattachine Society nor ONE) has recognized the fact that lesbians are women and that the twentieth century is the era of emancipation of women…
In 1964, Del and Phyllis helped to found the Council on Religion and the Homosexual, bringing together national religious leaders and gay and lesbian activists for a discussion of gay rights (see Jan 1). In the late sixties, Del and Phyllis became active in the National Organization for Women, with Martin becoming the first open lesbian elected to the gruop's board of directors. As Martin saw it, lesbian issues were feminist issues, and she consistently lambasted examples of chauvinism among the male leaders of the gay rights movement. In 1970, Martin wrote a scathing article for The Advocate titled, "Goodbye, My Alienated Brothers," which became a clarion call for a separate lesbian movement that was completely independent from the male-dominated gay movement. "Goodbye to the male homophile community," she wrote. "'Gay is good,' but not good enough …We joined with you in what we mistakenly thought was a common cause." But her commitment to lesbian causes didn't end all cooperation with other gay activists. A year later, she flew to Washington D.C. for the annual American Psychiatric Association meeting to speak on a panel of "nonpatient" homosexuals, where Martin accused psychiatrists of becoming "the guardians of mental illness rather than promoting the mental health of homosexuals as a class of people in our society."
In the next decade, Martin's activism turned to domestic violence with the 1976 publication of her groundbreaking book Battered Wives
. That book, which is still in print, helped to launch battered women's shelters across the country. She also co-founded the Coalition for Justice for Battered Women and chaired NOW's Task Force on Battered Women and Household Violence. In the 1980s, Martin and Lyons became involved in advocacy on behalf of ageing gays and lesbians. They both served as delegates for the 1995 White House Conference on Ageing, where they represented the interests of older lesbians and prodded the conference into including sexual orientation in a nondiscrimination declaration. The couple also became heavily involved with Bay area Democratic politics. In 2008, Martin and Lyons became the first same-sex couple to be married after the California's Supreme Court ruling legalizing marriage equality. Del passed away two months later.
If you know of something that belongs on the agenda, please send it here. Don't forget to include the basics: who, what, when, where, and URL (if available).
And feel free to consider this your open thread for the day. What's happening in your world?
The Daily Agenda for Monday, May 4
Jim Burroway
May 4th, 2015
TODAY'S AGENDA is brought to you by:
I haven't been able to come up with much information about Dirty Edna's except that it was a rather seedy bar owned by a husband and wife team, reputedly with mob connections — like a lot of other New York gay bars at the time. According to a Village Voice article from 1978:
Most of the bars he laces into are run by a husband-and-wife team who have been around the gay-bar scene since Peter Minuit bought Manhattan from the Indians. Legally we cannot identify the couple or be more specific about names, dates and places reported by (Ediie "Skull" Murphy, described as a "double agent and gay liberationist") … But according to him, the couple own more property than the Catholic Church and have old East Side Yorkville Mafia ties. Whatever those ties are, he doesn't say. "They're still paying their porters $5 a day and their bouncers $20 a night. Among the spots they own or have owned are the Pub, La Fiesta, Boot Hill, the Wildwood, the Roundhill Lounge, Dirty Edna's, the Barrow Inn, the Mailbox, and Gracie Manor in Brooklyn.
Near as I can tell, the location now appears to be a parking lot a block off of Broadway.
TODAY'S BIRTHDAYS:
► Keith Haring: 1958-1990. Inspired by graffiti art in New York, Keith Haring's bold lines, vivid colors, and simple, active figures became an iconic presence throughout the 1980's. He was a huge proponent of public art, and that led to commissions and collaborations from around the world. The very out, HIV-positive gay man even found common ground in his collaboration with the visionary Baptist preacher/folk artist Howard Finster.
From his AIDS diagnosis in 1988 until his death in 1990 at the age of thirty-one, his artwork also became the de facto art of AIDS through the work of the Keith Haring Foundation. In 2008, Rizolli published a 522-page monograph
supplemented with a wealth of material including drawings, studio photo, and journal entries. His journals
, which he kept from the age of nineteen until his death, were re-issued in 2010 by Penguin Classics.
► Lance Bass: 1979. The 'N Sync alum grew up in Mississippi in a Southern Baptist family where, as many southern gay boys do, he learned to sing in the church choir. He further honed his bass voice (no pun intended) in his high school's award-winning show choir and in a state-wide choir, where he just happened to work with Justin Timberlake's vocal coach. When Timberlake left The Mickey Mouse Club in 1994 and joined up with Lou Perlman to put together a boy band, it was Timberlake's vocal coach who recommended Bass after the original bass singer dropped out. 'N Sync went on the record three multi-platinum studio albums which yielded eleven top forty pop singles including number one hits "Bye Bye Bye" and "It's Gonna Be Me."
After 'N Sync went on permanent "temporary hiatus," Bass took a turn at training at Star City, Russia to qualify for a seat on a Soyuz capsule for a trip to the International Space Station in 2002. He completed the grueling training which earned him a certification from NASA and the Russian Space Agency, only to lose that chance to go into space when his commercial sponsors withdrew their support over financial and liability concerns. In 2006, Bass came out in a cover story for People magazine. A year later, he followed up with his autobiography, Out of Sync
. He married painter and actor Michael Turchin in December  2014.
If you know of something that belongs on the agenda, please send it here. Don't forget to include the basics: who, what, when, where, and URL (if available).
And feel free to consider this your open thread for the day. What's happening in your world?
The Daily Agenda for Sunday, May 3
Jim Burroway
May 3rd, 2015
TODAY'S AGENDA:
Pride Celebrations This Weekend: Willemstad, Curaçao; Norrköping Sweden.
AIDS Walks This Weekend: Atlantic City, NJ; Asbury Park, NJ; Morristown, NJ; Newark NJ; Ridgewood NJ.
Other Events This Weekend: Texas Tradition Rodeo, Dallas, TX; Frieberg Gay Film Festival, Frieberg, Germany; Miami Gay and Lesbian Film Festival, Miami, FL; Hot Rodeo, Palm Springs, CA; Prague Rainbow Spring, Prague, Czech Republic; Sitges International Bear Meeting, Sitges, Spain; Tybee Rainbow Fest, Tybee Island, GA.
TODAY'S AGENDA is brought to you by:
Open at about 1965, Your Place's name often wound up being a double entendre — "What do you say we go to Your Place?" Maybe that's why locals simply called it "The Y.P." It was very popular through the 1970s and 1980s. The Wisconsin GLBT History Project says:
The bar long featured original art work, and was especially known for a round ceiling mural by local gay arts Robert Uyvari. It is perhaps best known as probably the first gay bar in Milwaukee with a large outdoor patio. The patio was used for summer barbecues virtually every weekend, and was well landscaped with lights, plants, paths, benches and a stage for shows. This was also one of the favorite smaller dance bars in town, although in later years the dance area held a pool table. Between the main building and the patio was an enclosed porch, with a small bar service area and large windows facing the patio; this was a favorite spot to sit and talk or enjoy drinks separate from the main bar area. …

On June 28, 1989, second owner Uncle Al closed the YP after his 7-and-a-half year reign as owner, and the bar was reopened late in July as "Partners" under the management of Paul and ownership of Jim Balistreri. The large round painting of a male nude angel, by local artist Robert Uyvari, which had long hung over the front bar, was auctioned off at a "Make A Promise" Dinner in April 1990 as a benefit for the ARCW (AIDS Resource Center of Wisconsin).
Partner's didn't last long, and it went back to being Your Place in 1993 before closing for good the next year.
TODAY IN HISTORY:
► Sr. Francis Bacon Accused of "His Most Abominable and Darling Sin": 1621. On May 3, 1621, Sir Simonds D'Ewes published his political biography of Sir Francis Bacon, in which he accuses the great lawyer, scholar and "father of empiricism" of "his most abominable and darling sin." D'Ewes continued, "I should rather bury in silence than mention it, were it not a most admirable instance of how men are enslaved by wickedness and held captive by the devil." D'Ewes accused Bacon of "keeping still one Godrick, a very effeminate-faced youth, to be his catamite and bedfellow… deserting the bed of his Lady." That same year, Bacon resigned as Lord Chancellor over accusations that he accepted payment from litigants, which, while against the law, was a widespread and accepted practice at the time. He quickly confessed to accepting payments, a confession that may have been prompted by threats to charge him with the capital offense of sodomy.
► Medical Report of a Gay Civil War Veteran: 1921. Dr. Clarence P. Oberndorf, a New York City psychoanalyst, spoke at the Annual Meeting of the Medical Society of the State of New York in Brooklyn about one of his patients, a 74-year-old Civil War veteran who suffered from depression, saying "For sixty years I have been leading a double life." He became aware of his feelings for other men at a very early age. "He preferred rough, coarse men, like longshoremen, husky and full of vitality. These he sought at intervals, while his acquaintances knew him as a refined gentleman interested in art and literature." He never married. Oberndorf quoted tim: "In my younger days, I used to grieve because of my affliction, but in later years I have become indifferent."
Oberndorf's goal was not to cure homosexuality per se. "Where treatment is undertaken for passive homoerotism in the male," — active homosexuals, or "tops," were not considered truly homosexual in the early 20th century — "psychoanalysis may powerfully influence the attitude of the patient toward his malady by removing some of the urgent neurotic fears which accompany the inversion. After analysis such an invert at least feels himself more reconciled to his passive homoeroticism than previously. I have had male passive homoerotics seek treatment with just such stipulations — not to be cured but to be made more content with their lives."
[Source: Clarence P. Oberndorf. "Homosexuality." New York Medical Journal 22, no. 4 (April 1922): 176-180. Available online here.]
► MCC Wins Federal Grant to Resettle Gay Refugees: 1981. The Rev. Elder Freda Smith, vice moderator of the Metropolitan Community Church, announced that the gay church had been awared a $380,000 grant from the Reagan Administration to resettle gay Cuban refugees who were currently being housed in four reception centers across the country. Rev. Smith said the church had already resettled nearly 500 gay Cubans who had arrived during the previous year's Mariel boatlift that brought 127,000 refugees to southern Florida. The gay refugees had additional motives for joining the boatlift: "Gays are looked down in Cuba because homosexuality runs against the macho attitudes in the country," Rev. Smith added.
Rev. Smith said that federal officials authorized the grant because the MCC was better equipped to resettle gay refugees than other groups. "We are an idea whose time has come," she said. She also revealed that the church had already spent another $100,000 of its own funds toward the effort.
If you know of something that belongs on the agenda, please send it here. Don't forget to include the basics: who, what, when, where, and URL (if available).
And feel free to consider this your open thread for the day. What's happening in your world?
The Daily Agenda for Saturday, May 2
Jim Burroway
May 2nd, 2015
TODAY'S AGENDA:
Pride Celebrations This Weekend: Willemstad, Curaçao; Norrköping Sweden; Northhampton, MA; Raleigh, NC.
AIDS Walks This Weekend: Atlantic City, NJ; Asbury Park, NJ; Charlotte, NC; Morristown, NJ; Newark NJ; Ogunquit, ME; Ridgewood NJ.
Other Events This Weekend: Texas Tradition Rodeo, Dallas, TX; Frieberg Gay Film Festival, Frieberg, Germany; Miami Gay and Lesbian Film Festival, Miami, FL; Hot Rodeo, Palm Springs, CA; Prague Rainbow Spring, Prague, Czech Republic; Sitges International Bear Meeting, Sitges, Spain; Tybee Rainbow Fest, Tybee Island, GA.
TODAY'S AGENDA is brought to you by:
The gay travel magazine Ciao didn't care much for Wonder's when it devoted a special section to Houston in 1984. Maybe Wonder's refused to shell out for an ad?
The Wonder's Club at 3207 Montrose gets the worst types in the area. Most of the heads and problems kicked out of the other bars head for there. While the other bars in the Westheimer area have been changing for the better, the Wonder's has been changing for the worse. It isn't recommended unless you prefer heads, hustlers and troublemakers. They have shows, but they're not very good.
The right portion of the building you see in the photo is still there, but the left part which appears to have been the club's entrance has been torn down.
TODAY IN HISTORY:
► 65 YEARS AGO: Disloyalty vs. Security Risk: 1950. So if you've been following along on the Daily Agendas (for example, Feb 28, Mar 14,Mar 21, Mar 23, Mar 24, Apr 14, Apr 26) you would have a pretty good feel for the incredible anti-gay hysteria that was sweeping the country in 1950. The twin scares — the Lavender Scare and the Red Scare — cemented in everyone's mind the argument that gay people in federal employment, particularly in the State Department and in the armed forces, represented a security risk which, in the words of the GOP chairman, were "as dangerous as the actual Communists" (see Apr 18). On May 2, columnist James Marlow took the opportunity to provide a couple of hypothetical situations to explain to readers the difference between being disloyal and being a security risk:
1. Jones, completely loyal, is a good worker, sober on the job. But at night, sometimes or often, he gets drunk and talks too much. In the non-sensitive agriculture department that might not make much difference, as long as Jones did his work and kept out of trouble when drunk. In the commerce department, if Jones held a sensitive job, he might be considered a security risk: he might blab secrets when drunk.

The commerce department could do one of two things: fire Jones on the ground that he was "unsuitable" for government work; or transfer him to a non-sensitive job. But state department officials say that if Jones worked there and was considered a security risk, he'd be fired. (The say emphatically they keep no known security risks or disloyal persons on the payroll, although Senator McCarthy, Republican of Wisconsin, says the place is full of them.)

2. Smith is found to be a homosexual. He's completely loyal but because of his secret sex habits may some day run into an individual or group which would blackmail him. In the state department, he'd be considered a security risk and out, officials there say.

Officials of other government agencies, sensitive and non-sensitive, told this writer they would get rid of a homosexual on the grounds that he was "unsuitable" for government employment, not because he was a security risk.
► "Dr. H. Anonymous" Addresses the APA: 1972. For several years, gay activists Barbara Gittings (see Jul 31) and Frank Kameny (see May 21), among others, saw the American Psychiatric Association's classification of homosexuality as a mental illness as the single greatest impediment to equal rights for gays and lesbians. As long as the APA labeled gay people as sick, the government had an excuse to refuse to hire them, immigration authorities could refuse to allow them into the country, and thousands of therapists could continue to inflict harmful and questionable treatments to try to "cure" their patients (see, for example, see Jan 18, Jan 20, Mar 29, Jun 3, Jul 26, Oct 30, Dec 8, and our award-winning investigation, What are Little Boys Made Of?).
For Gittings and Kameny in particular, getting the APA to change its stance was a pressing priority. After years of protesting APA conventions as outsiders (see May 14), they finally were given permission in 1972 to organize a panel on homosexuality for that year's convention in Dallas. The panel's topic was to be "Lifestyles of Non-Patient Homosexuals." Gittings and Kameny were part of the panel, and they had recruited three other prominent psychiatrists, Judd Marmor, Robert Siedenberg and Kent Robinson. But they also felt it was important to include a professional psychiatrist who was gay. Finding one who would agree to speak was virtually impossible. Everyone they asked turned them down, except one: John Fryer (see Nov 7), and he would only do it in disguise. He wore a mask, wig, and a suit several sizes too big (which was not easy to find since Fryer was already a big man to begin with), and he spoke into a microphone which distorted his voice. And with all of those precautions in place, American psychiatrists, for the first time, heard a fellow psychiatrist by the name of "Dr. H. Anonymous" describe what it was like to be gay in a profession that considered him sick. His speech was short, but to the point:
Thank you, Dr. Robinson. I am a homosexual. I am a psychiatrist. I, like most of you in this room, am a member of the APA and am proud to be a member. However, tonight I am, insofar as in it is possible, a "we." I attempt tonight to speak for many of my fellow gay members of the APA as well as for myself. When we gather at these conventions, we have a group, which we have glibly come to call the Gay-PA. And several of us feel that it is time that real flesh and blood stand up before you and ask to be listened to and understood insofar as that is possible. I am disguised tonight in order that I might speak freely without conjuring up too much regard on your part about the particular WHO I happen to be. I do that mostly for your protection. I can assure you that I could be any one of more than a hundred psychiatrists registered at this convention. And the curious among you should cease attempting to figure out who I am and listen to what I say.

We homosexual psychiatrists must persistently deal with a variety of what we shall call 'Nigger Syndromes.' We shall describe some of them and how they make us feel.

As psychiatrists who are homosexual, we must know our place and what we must do to be successful. If our goal is academic appointment, a level of earning capacity equal to our fellows, or admission to a psychoanalytic institute, we must make certain that no one in a position of power is aware of our sexual orientation or gender identity. Much like the black man with the light skin who chooses to live as a white man, we cannot be seen with our real friends — our real homosexual family — lest our secret be known and our dooms sealed. There are practicing psychoanalysts among us who have completed their training analysis without mentioning their homosexuality to their analysts. Those who are willing to speak up openly will do so only if they have nothing to lose, then they won't be listened to.

As psychiatrists who are homosexuals, we must look carefully at the power which lies in our hands to define the health of others around us. In particular, we should have clearly in our minds, our own particular understanding of what it is to be a healthy homosexual in a world, which sees that appellation as an impossible oxymoron. One cannot be healthy and be homosexual, they say. One result of being psychiatrists who are homosexual is that we are required to be more healthy than our heterosexual counterparts. We have to make some sort of attempt through therapy or analysis to work problems out. Many of us who make that effort are still left with a sense of failure and of persistence of "the problem." Just as the black man must be super person, so must we, in order to face those among our colleagues who know we are gay. We could continue to cite examples of this sort of situation for the remainder of the night. It would be useful, however, if we could now look at the reverse.

What is it like to be a homosexual who is also a psychiatrist? Most of us Gay-PA members do not wear our badges into the Bayou Landing, [a gay bar in Dallas] or the local Canal Baths. If we did, we could risk the derision of all the non-psychiatrist homosexuals. There is much negative feeling in the homosexual community towards psychiatrists. And those of us, who are visible, are the easiest targets from which the angry can vent their wrath. Beyond that, in our own hometowns, the chances are that in any gathering of homosexuals, there is likely to be any number of patients or paraprofessional employees who might try to hurt us professionally in a larger community if those communities enable them to hurt us that way.

Finally, as homosexual psychiatrists, we seem to present a unique ability to marry ourselves to institutions rather than wives or lovers. Many of us work twenty hours daily to protect institutions that would literally chew us up and spit us out if they knew the truth. These are our feelings, and like any set of feelings, they have value insofar as they move us toward concrete action.

Here, I will speak primarily to the other members of the Gay-PA who are present, not in costume tonight. Perhaps you can help your fellow psychiatrist friends understand what I am saying. When you are with professionals, fellow professionals, fellow psychiatrists who are denigrating the "faggots" and the "queers," don't just stand back, but don't give up your careers either. Show a little creative ingenuity; make sure you let your associates know that they have a few issues that they have to think through again. When fellow homosexuals come to you for treatment, don't let your own problems get in your way, but develop creative ways to let the patient know that they're all right. And teach them everything they need to know. Refer them to other sources of information with basic differences from your own so that the homosexual will be freely able to make his own choices.

Finally, pull up your courage by your bootstraps and discover ways in which you and homosexual psychiatrists can be closely involved in movements which attempt to change the attitudes of heterosexuals — and homosexuals — toward homosexuality. For all of us have something to lose. We may not be considered for that professorship. The analyst down the street may stop referring us his overflow. Our supervisor may ask us to take a leave of absence. We are taking an even bigger risk, however, not accepting fully our own humanity, with all of the lessons it has to teach all the other humans around us and ourselves. This is the greatest loss: our honest humanity. And that loss leads all those others around us to lose that little bit of their humanity as well. For, if they were truly comfortable with their own homosexuality, then they could be comfortable with ours. We must use our skills and wisdom to help them — and us — grow to be comfortable with that little piece of humanity called homosexuality.
The panel was a sensation. Despite the august credentials held by the other psychiatrists, their contributions to the discussion were all but ignored. Dr. Anonymous's speech was the only thing people talked about. The "Dr. Anonymous" speech proved to be a critical turning point. The following year, Dr. Robert Spitzer, who was editor of the Diagnostic And Statistical Manual, met quietly with the Gay-PA and began the process of removing homosexuality from the authoritative manual. That process was completed by the end of the year (see Dec 15)
But on that day, the end goal still seemed to be very far away. But Fryer, despite his initial hesitation, was elated. The next day as he was flying back to Boston from Dallas, Fryer wrote in his diary:
The day has passed — it has come and gone and I am still alive. For the first time, I have identified with a force which is akin to my selfhood. I am not Black. I am not alcoholic. I am not really addicted. I am homosexual, and I am the only American psychiatrist who has stood up on a podium to let real flesh and blood tell this nation it is so.
[You can see Dr. Fryer's handwritten speech here and his diary entry here.]
TODAY'S BIRTHDAY:
► Lesley Gore: 1946-2015. She was still a junior in high school in 1963 when her single, "It's My Party" shot to number one, was nominated for a Grammy, and sold over one million copies. She followed that with a string of top forty hits: "Judy's Turn to Cry", "She's a Fool," "You Don't Own Me," and another Grammy nominated hit, "Sunshine, Lollipops and Rainbows." Her fame led to a cameo in the beach party movie, The Girls on the Beach, which also included an early appearance by the Beach Boys, and she played the villain, Pussycat, one of Catwoman's acolytes, in the Batman TV series. In 1980, she won an Academy Award, with her brother Michael, for the song  "Out Here On My Own" for the Fame soundtrack. In 2005, Gore revealed in an interview that she was a lesbian, and had been living with her partner, jewelry designer Lois Sasson, since 1982. She died of lung cancer on February 15, 2015.
If you know of something that belongs on the agenda, please send it here. Don't forget to include the basics: who, what, when, where, and URL (if available).
And feel free to consider this your open thread for the day. What's happening in your world?
The Daily Agenda for Friday, May 1
Jim Burroway
May 1st, 2015
TODAY'S AGENDA:
Pride Celebrations This Weekend: Willemstad, Curaçao; Norrköping Sweden; Northhampton, MA; Raleigh, NC.
AIDS Walks This Weekend: Atlantic City, NJ; Asbury Park, NJ; Charlotte, NC; Morristown, NJ; Newark NJ; Ogunquit, ME; Ridgewood NJ.
Other Events This Weekend: Texas Tradition Rodeo, Dallas, TX; Frieberg Gay Film Festival, Frieberg, Germany; Miami Gay and Lesbian Film Festival, Miami, FL; Hot Rodeo, Palm Springs, CA; Prague Rainbow Spring, Prague, Czech Republic; Sitges International Bear Meeting, Sitges, Spain; Tybee Rainbow Fest, Tybee Island, GA.
TODAY'S AGENDA is brought to you by:
When it opened in 1974, Club Madame billed itself as the "the Washington club with a French accent" and catered to a mostly lesbian crowd. Operated by "Madame Louisatte and daughter Beatrice ('BB')," the club was located along 8th Street S.E. alongside several other gay bars. Club Madame was particularly popular for its special themed events, including Mardi Gras and Ocktoberfest. The club closed in 1978, and the location re-opened as a gay bar called Bachelor's Mill which suffered an arson attack in 1980. Today, the building houses a Cuban/Mexican/Puerto Rican restaurant and bar.
TODAY'S BIRTHDAY:
► Romaine Brooks: 1874-1970. The American painter worked mostly in France, where she was surrounded by the brilliant colors of Fauvism and the decompositional attitudes of cubism, but her work hearkened back to the style of James Whistler. She was born Beatrice Romaine Goddard, and in 1903 she married John Ellingham Brooks. He was gay, but he couldn't take her gender-bending manner of dress and hairstyle. Their marriage lasted only a year, but she wound up keeping his name. The following year, she discarded the bright colors of her works which were so fashionable and adopted the darker, more subdued colors which would become her trademark.
Brooks took a string of unconventional lovers, including the American heiress Winnaretta Singer and Lord Alfred Douglas (Oscar Wilde's former lover), and the Russian ballerina Ida Rubinstein, who Brooks painted more than any other subject. Her paintings were almost all portraits, and very nearly all of them of women. By 1925, she had been featured in several successful solo exhibitions in Paris, London and New York, but after that year she produced only four more paintings. She briefly took up line drawing in 1930, but dropped that by 1935. Her longtime partner, Natalie Barney, also became her manager and continued to arrange shows for her. But after the Second World War, Brooks became increasingly reclusive and paranoid. By 1969, Brooks's paranoia led her to stop communicating with Barney entirely. Brooks died in 1970 at the age of 96.
► Michael Dillon: 1915-1962. The first trans man to undergo sex-reassignment surgery, he started life as Laura. His mother died just ten days after his birth. He was raised by two aunts in Kent, England, studied at Oxford, and began working at a research lab in Gloucestershire. He had long decided that he was not truly the woman others thought he was, so in 1939 sought treatment from a doctor who was experimenting with teststerone. But before getting the testosterone pills from his doctor, the doctor insisted that Dillon see a psychiatrist, who violated Dillon's confidentiality by blabbing about him all over town.
Dillon quit his professional job and fled to Bristol where he took a job at a mechanic's garage. The hormones, by then, were having their effect and he was able to present himself as a man. In 1939 when Dillon was in the hospital for hypoglycemia, he came to the attention of a plastic surgeon, a specialty that was still exceedingly rare at the time. That surgeon agreed to perform a double mastectomy, provided the necessary paperwork so Dillon could correct his birth certificate, and put him in touch with another plastic surgeon, Harold Gilles, who was already being regarded as "the father of plastic surgery."
Giles was in high demand to reconstruct penises for injured soldiers and he had also begun working with intersex people with ambiguous genitalia. He was willing to perform Dillon's phalloplasty, but he already had a long line of wounded soldiers in front of him. So while Dillon was waiting for his surgery, he enrolled in medical school under his new legal name and became a physician.
When Dr. Giles was finally ready to perform the first of at least thirteen surgeries between 1946 and 1949, he entered an official diagnosis of acute hypospadias, a rare birth defect of the penis, in order to conceal the fact that he as performing the world's first FtM reassignment surgery. Whenever Dillon returned to college following surgery, he attributed his limp and infections to war injuries. He also published a book, Self: A Study in Ethics and Endocrinology
, one of the first books to describe what would later be called transsexuality and transgenderism.
Dillon didn't discuss his own history in Self; that would come out in 1958 when his aristocratic roots would betray him, when Debrett's Peerage listed him as the legitimate heir to his brother's baronetcy, while another guide, Burke's Peerage, mentioned only a sister — referring to Dillon before he transitioned. By then Dillon was a ship's doctor, and his ship was docked in Baltimore when the news of his sex reassignment broke. Reporters threatened to tear off his clothe4s to see the evidence of his surgery. Dillon fled to India where he began studying Buddhism, entered a monastery and took the name Lobzang Jivaka. His problems weren't over however, as his fellow monks and superiors refused to recognize him as male. He nevertheless wrote two books on Buddhism before dying on May 15, 1962 at the age of 47.
► Tad Mosel: 1922-2008. It's a sad commentary on where television has gone that its first decade of widespread existence is often looked upon as its golden age. That's when people were still trying to figure out how to make the new medium work as an art form. Productions were on a shoestring budget, and in the very early years most programs went out live, forcing the actors and crew to stay alert and think on their feet. That immediacy made for compelling television that's not often seen today.
Mosel was born in Steubenville, but the family moved to New York City shortly after his father's grocery business failed following the stock market crash. His early exposure to Broadway in 1936 opened the young Mozel's eyes to the theater. After serving in World War II, he studied at Amherst, did graduate work at Yale Drama School, and earned a Masters at Columbia. He quickly found a place in television in 1949, shortly after commercial broadcasting began in New York City, with his first teleplay on Chevrolet Tele-Theater. He considered that job a diversion, nothing more than an opportunity to make a little money — very little money because no "self-respecting writer" would dare write for TV — before returning to the theater. As he recalled in 1997,
Even drunken screenwriters wouldn't write for television. So who was there left? It was us. It was kids who would work for 65 cents. And so with a very patronizing attitude you thought, "Well, if I could make a few bucks doing that, it would give me time to write the great American play." It didn't take too much experience to realize that television was a medium all in itself, and that it was a career all in itself, and it was a thrilling one. But we stumbled into it by being snobs if I may say so. They would give anyone a chance. I look back on it, and I think, "Weren't we lucky to be there?" Because it was pure luck that we were there.
He went on to become a major script writer for television drama, with plays appearing on Goodyear Television Playhouse (1953-54), Medallion Theater (1953-1954), Philco Television Playhouse (1954) and Producer's Showcase (1955), Studio One (1957-58), and CBS's prestigious Playhouse 90 (1957-1959). He returned to theater in 1960 with All the Way Home, which opened to critical acclaim and earned him a 1961 Pulitzer. The play was also adapted for television and film in 1963. He continued writing screenplays until retiring in the 1980s. He died at age 86 of cancer in 2008. His partner of more than 40 years, graphic designer Raymond Tatro, had died thirteen years earlier.
If you know of something that belongs on the agenda, please send it here. Don't forget to include the basics: who, what, when, where, and URL (if available).
And feel free to consider this your open thread for the day. What's happening in your world?
The Daily Agenda for Thursday, April 30
Jim Burroway
April 30th, 2015
TODAY'S AGENDA:
Pride Celebrations This Weekend: Willemstad, Curaçao; Norrköping Sweden; Northhampton, MA; Raleigh, NC.
AIDS Walks This Weekend: Atlantic City, NJ; Asbury Park, NJ; Charlotte, NC; Morristown, NJ; Newark NJ; Ogunquit, ME; Ridgewood NJ.
Other Events This Weekend: Texas Tradition Rodeo, Dallas, TX; Frieberg Gay Film Festival, Frieberg, Germany; Miami Gay and Lesbian Film Festival, Miami, FL; Hot Rodeo, Palm Springs, CA; Prague Rainbow Spring, Prague, Czech Republic; Sitges International Bear Meeting, Sitges, Spain; Tybee Rainbow Fest, Tybee Island, GA.
TODAY'S AGENDA is brought to you by:
This poster was submitted by BTB reader Jaime Harrington last September:
My partner and I were visiting with our friend whose husband just died. They just were able to marry, together 48 years. He relayed to me this meeting by the gay men's health crisis in 83 and have the poster from it. I apologize the picture isn't the best. He relayed there was a total news blackout regarding it. But it was either 15 or 18,000 people showed up.
TODAY IN HISTORY:
► "A Pixie Is a Close Relative of a Fairy": 1954. Roy Cohn was only 24 years old when he gained prominence for his part in grilling witnesses on the stand in the Rosenberg trial of 1951. Cohn's performance impressed FBI director J. Edgar Hoover, who recommended Sen. Joseph McCarthy (R-WI) hire Cohn as his chief counsel on the Senate Permanent Subcommittee on Investigations. Cohn, in tern, recruited his friend and anti-communist crusader, G. David Schine, to join McCarthy's staff as an unpaid "chief consultant." The two spent the summer of 1953 on a widely-criticized tour of Europe, visiting libraries of the U.S. Information Agency and snooping for what they considered to be subversive material. One American official in Germany jeered them as "junketeering gumshoes."
It appears that at about this time, Cohn took quite a shine to Schine and developed something of a schoolboy's crush. By all accounts, Schine appears to have been straight and there's no evidence to suggest that Cohn's affections were returned. Nevertheless, when Schine was drafted into the army the following November, Cohn was livid. Through back channels, Cohn made several demands in Schine's behalf for light duties, extra leave, and not to be assigned overseas. He also demanded that Schine be given an officer's commission — Schine had been inducted as a private — but the army refused due to lack of qualifications. Cohn pestered everyone from the Secretary of the Army on down, charging that the Army was holding Schine "hostage" in an attempt to dissuade Cohn and McCarthy from launching a witch hunt against the Army, and threatening to "wreck" the Army" if he didn't get his way.
Cohn's behavior raised eyebrows, not only in the Army but also in the Senate. Sen. Ralph Flanders (R-VT), who despised McCarthy, gave a speech on the Senate floor questioning" the mystery concerning the personal relationship of the army private, the staff assistant and the senator."
The resulting Army-McCarthy Hearings, broadcast live on national television from April to June of 1954, had Americans glued to their sets to watch the epic battle between McCarthy and the Army. In mid-April, while the committee's special counsel Ray Jenkins grilled Army Secretary Robert T. Stevens, Jenkins produced a key piece of evidence provided to him by Cohn. It was a photo of a smiling Stevens standing next to Schine, a photo that Jenkins charged was "taken with you (and Schine) alone at your suggestion." It had been taken the previous November, soon after Schine was drafted and undergoing basic training at Fort Dix, New Jersey. Stephens had gone to Fort Dix to meet with McCarthy and Cohn, and the photo was taken after the meetings were over. If Stevens was so outraged at McCarthy and Cohn's demands, why was he photographed alone with Schine, appearing somewhat relaxed, looking in Schine's direction and smiling. Wasn't the real truth something else? "Isn't it a fact," Jenkins pressed, "that you were being especially nice and considerate and tender of this boy, Schine, in order to dissuade the senator from continuing his investigation of one of your departments?"
"Positively and completely not," Stevens answered, and he insisted he treated all privates in the Army the same. This answer was hard to believe. After all, how many Army privates get their photo taken alone with the Secretary of the Army?
The photo caught Stevens and the Army's counsel, Joseph Welch, off guard. Later that evening, Welch got a call from the Army photographer who took the photo. The photographer saw the photo in the news and was angry that it had been altered. There were three people in the photo, and a fourth who was only partly in the frame. It was not, as Jenkins claimed, a friendly photo of an Army Secretary and a private, but a group photo of Stevens, Schine, Air Force Col. J.T. Bradley and, on the far edge of the photo, the left arm of McCarthy's chief of staff, Frank Carr. And when you saw the full photo, it became clearer that Stevens wasn't looking at Schine and smiling, but was looking past Schine toward Col. Bradley.
When Welch revealed the original photograph to the committee the next day, it was Jenkins, McCarthy's and Cohn's turn to be put on the defensive. Welch told Jenkins, "I would like to say with all of my power, sir, I know you would never participate in a trick like this, but I suggest to you that you were imposed upon." Jenkins sputtered that he got the altered photo from "one of the parties in interest in this case, and I might say an adverse party of interest to Mr. Stevens, as being the genuine authentic photograph. And I presented it in good faith." But all of America knew that Jenkins had been duped. What's worse, it was proof that evidence being fed to the committee was being doctored and was untrustworthy.
So instead of the committee investigating the Army, it was now investigating where the doctored photo came from. On April 29, Schine was called to testify. He said that he had supplied a copy of the photo to McCarthy's staff, but that the photo he provided showed all four people. The next day, the committee called Cohn's assistant, James Juliana, to the stand. He acknowledged receiving the photo, but repeatedly claimed he had no idea where it came from.
Welch was incredulous. He thrust a copy of the photo at Juliana and asked, "Did you think this came from a pixie? Where do you think that this picture I hold in my hand came from?"
Juliana replied, "I had no idea."
McCarthy tried to give Juliana some relief from the grilling by asking Welch an apparently innocuous question: "With the counsel for my benefit define — I think he might be an expert on that — what a pixie is?"
Welch replied, with relish. "Yes, I should say, Mr. Senator, that a pixie is a close relative of a fairy. Shall I proceed, sir? Have I enlightened you?"
The room burst into raucous laughter. Even McCarthy, aware that the cameras were now trained on him, managed a chuckle. But Cohn sat stone-faced and was clearly not amused. Cohn later called the remark "malicious," "wicked," and "indecent." After the hearings were over, Cohn resigned from McCarthy's staff and went into private practice in New York City. He became a fixture at Studio 54 in the 1970s, he threw lavish parties featuring very beautiful young men, and he used Barbara Walters as his beard. All the while, he insisted that he was straight. And until the day he died, he insisted that the disease he was suffering from was liver cancer. He died in 1986 of AIDS.
► "Ellen" Comes Out: 1997. Ellen DeGeneres had already come out as a lesbian publicly two weeks earlier with a Time magazine cover story titled, "Yep, I'm Gay." But Ellen Morgan, her clumsy, nervous, and eager-to-please character on her weekly sitcom, Ellen was as closeted as ever, although hints were dripping out throughout season four. Ellen's character finally came tumbling out in her characteristically awkward fashion when she met Susan, a lesbian television producer who assumed that Ellen was also gay. Although Ellen denied it, much of the episode dwelled on her trying to come to terms with the fact that she really, really liked Susan — in that way. When Ellen was told that Susan was about to leave town, Ellen rushed to the airport and, after much hemming and hawing, finally said it: "I'm gay" — while inadvertently saying it directly into the public address microphone that carried her announcement throughout the terminal.
Getting the episode to air was easier than you might think. Network executives had become antsy about the series' lackluster ratings and lack of focus, and DeGeneres wasn't much interested in fixing the problem by relying on the standard sitcom formulas of dating and relationships. One producer suggested that maybe Ellen could get a puppy, an indication of how desperate the producers were to think that a puppy was all that was missing. That plot element was discarded, but the suggestion lived on in the episode's title, "The Puppy Episode." ABC and Disney agreed to their next plan, which was for Ellen to come out as lesbian. After rejecting the first script for not going far enough — "If we're going to do it, let's do it," Disney executive Dean Valentine reportedly said — they began production on the episode on March 7.
Word spread, and the backlash soon followed. The studio received one bomb threat, and DeGeneres was followed to work by a "suspicious man" at least once. The American Family Association called for an advertiser boycott, as they always do, leading Chrysler to refuse to buy advertising time for the "Puppy Episode," along with did J.C. Penney. (DeGeneres would become the advertising face for J.C. Penney in 2012, prompting yet another AFA boycott.) Wendy's dropped Ellen from its sponsorship altogether, and ABC affiliate WBMA in Birmingham, Alabama refused to air the episode. Jerry Falwell displayed his monumental ingenuity by calling DeGeneres "Ellen Degenerate," to which DeGeneris responded, "I've been getting that since the fourth grade." Laura Dern, who played Susan, was unable to find work for a year and a half because of the episode.
"The Puppy Episode" however was the highest-rated episode of Ellen ever, drawing some 42 million viewers. It won two Emmys, a Peabody, and a GLAAD Media Award. Ellen was renewed for another season, but each subsequent episode was prefaced with a parental warning. Ratings dropped, perhaps because of the backlash, perhaps because of the warning, but also perhaps because so many episodes wound up dealing with gay-specific issues which were of little interest to the larger audience. At any rate, Ellen was cancelled after the end of Season 5.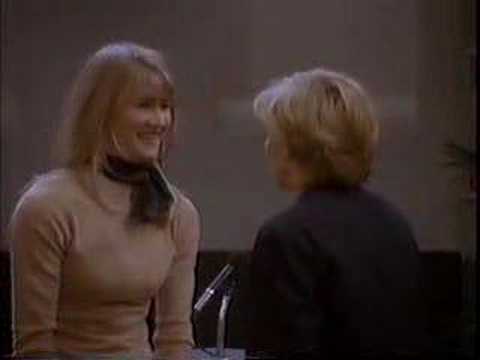 ► London Gay Pub Bombed: 1999. It was the start of a bank holiday weekend in Britain, and the venerable Admiral Duncan pub in Soho was packed with people getting an early start. Londoners that Friday evening were only somewhat wary following two unsolved bombings earlier that month in Brixton (April 17) and East London (April 24). Fortunately, nobody died in either bombing, although sixty one were injured, including a two year old toddler with a four inch nail embedded in his brain. Police narrowed the search to neo-Nazi David Copeland based on a CCTV image from the Brixton blast. Brixton was targeted because of its black population, while the East London neighborhood was largely inhabited by South Asian immigrants. Some feared that the next target might be Jewish, or possibly gay. One gay pub in Soho had put up a poster warning customers to be vigilant for any suspicious activity, but most people thought that his motivations were more racist than homophobic. That theory was quickly dispelled at 6:37 p.m. when a nail bomb that had been left in a bag at the Pub's entrance went off. Jonathan Cash, who would later write a play about the bombing, described it this way:
"The loudest, most alien sound I have ever heard ripped through the pub and smashed into my head. I don't know how long it went on – a couple of seconds, perhaps – then the most enormous crunch of something structural and solid. I felt no pain, just terror. My eyes were ringing, my nose filled with sulphurous dust and, in the blink of an eye, I saw unrecognisable shapes flying past towards the doors. With the dust and smoke, I could see little more than six inches in front of me. Somehow I was on the floor. Then I heard the screaming. I didn't make any sound. Or perhaps I did. I can't remember."
Andrea Dykes, 27, who was four months pregnant, was killed instantly, along with two friends, Nick More, 31 and John Light, 32. About seventy were injured, including Dykes's husband, Julian, who remained in a coma for three weeks. Four of the injured required amputations.
Police tracked Copeland down later that night and arrested him. He told them that he had hoped that his bombings would inflame racial tensions and create a backlash that would generate popular support for the radical-right British National Party. On June 30, 2000, a court sentenced Copeland to six life sentences, and in 2007 the High Court ruled that he should remain in prison for at least 50 years, guaranteeing that he will remain put away until at least the age of 73. There is now a memorial chandelier with an inscription and a plaque at the Admiral Duncan to remember those where were killed and injured.
TODAY'S BIRTHDAY:
► Alice B. Toklas: 1877-1967.Born in San Francisco, she met Gertrude Stein (see Feb 3) on the very first day that she arrived in Paris, on September 8, 1907. They remained inseparable for the next thirty-nine years until Stein's death in 1946. Together, they hosted one of the more illustrious salons that attracted the best writers and painters of the Paris avant-garde, including American expats Ernest Hemingway, Thorton Wilder, and Paul Bowles. Stein and Toklas were early patrons of Pablo Picasso and Henri Matisse, and they were also patrons of some rather unsavory characters before and during World War II. Their support for the Vichy government went far beyond considerations of wartime survival. They could have easily escaped to Switzerland, but their friendship with the anti-Semitic Bernard Faÿ and open admiration for Vichy leader Marshal Philippe Pétain (Stein translated a collection of Pétain's speeches into English to bring them to a wider audience) gave them privileges denied ordinary French citizens, let alone those who were both Jewish and gay.
Toklas was Stein's partner in every way: cook, lover, editor, critic and muse. Stein gave her own autobiography the tongue-in-cheek title of The Autobiography of Alice B Toklas, while Toklas's 1954 memoir was titled The Alice B Toklas Cookbook. It was, technically I suppose, a cookbook — there are three hundred recipes, including the famous brownie recipe titled "Haschich Fudge" — but it's was more accurately a memoir of the many dinners that Toklas and Stein hosted for their famous friends over the years. In 1963, Toklas really did write an autobiography, What Is Remembered, but it ends abruptly with Stein's death in 1946, much as Toklas's own life did in many ways. Their relationship being legally unrecognized, Stein's relatives plundered the couples' art collection and left Toklas in poor financial and physical health. She died in poverty in 1967 at the age of 89, and was buried next to Stein in the Peré Lachaise Cemetery in Paris.
If you know of something that belongs on the agenda, please send it here. Don't forget to include the basics: who, what, when, where, and URL (if available).
And feel free to consider this your open thread for the day. What's happening in your world?
The Daily Agenda for Wednesday, April 29
Jim Burroway
April 29th, 2015
TODAY'S AGENDA:
Pride Celebrations This Weekend: Willemstad, Curaçao; Norrköping Sweden; Northhampton, MA; Raleigh, NC.
AIDS Walks This Weekend: Atlantic City, NJ; Asbury Park, NJ; Charlotte, NC; Morristown, NJ; Newark NJ; Ogunquit, ME; Ridgewood NJ.
Other Events This Weekend: Texas Tradition Rodeo, Dallas, TX; Frieberg Gay Film Festival, Frieberg, Germany; Miami Gay and Lesbian Film Festival, Miami, FL; Hot Rodeo, Palm Springs, CA; Prague Rainbow Spring, Prague, Czech Republic; Sitges International Bear Meeting, Sitges, Spain; Tybee Rainbow Fest, Tybee Island, GA.
TODAY'S AGENDA is brought to you by:
By the time the Bay Area Reporter began publishing in 1971, there were already two gay bars, the Bayou Lounge and Le Cabaret, one lesbian bar, the Bee Hive (jokingly referred to as the 'Beer Hive'), and a bath house (the homey-sounding Fred's Health Club) all in Redwood City. The bars were regularly featured in the column 'Peninsular Gossip' by Roger Thomas which ran in the B.A.R. that first year. And should you think these were quiet neighborhood bars, Le Cabaret was a three-floor dance and show bar and was already sponsoring VD clinics in the early '70s!
TODAY IN HISTORY:
► The San Francisco Streetcar Murder: 1961. It was late on a Friday night, actually shortly after midnight on Saturday morning, when William P. Hall, 27, was waiting near his San Francisco home for a streetcar on the J line at 19th and Church Street alongside Dolores Park. He was on his way to a dinner date with a theater manager at a North Beach pizza parlor when a car pulled up and three youths, Larry Magee 16, of 116 Tiffany Avenue, Robert Hall, 17 (and no relation to William Hall), and William Castillo, 17, both of 680 Castro Street, piled out. Magee asked William Hall, "Are you a queer?" Hall replied, "What if I asked you that question?" And that's when the trouble really began.
William Hall was a well-liked eight grade teacher in Marin County, but that night he was accosted by four young men "looking to roll a queer," as they later admitted. Castillo later told police that Robert Hall and Magee attacked William first. When William fell, Castillo said he kicked him in the head "but I was only wearing tennis shoes." In fact, it came out during the trial that Castillo had jumped down from this pedestrian bridge and landed on Hall's head. They beat him mercilessly until his was unconscious, took his wallet containing $2.85, and left him lying on the trolley tracks. They piled back into the car, driven by Michael Kilkenny, 16, of 710 Castro Street, (and who police later said was the mastermind of the whole thing) and fled to Buena Vista Park to find more gay men to roll, although they later told police they didn't find any. Car trouble finally ended the spree for the night.
But back at Dolores Park and just a few minutes after they left Hall lying there on the J line, a streetcar came around the corner. Roy Gibbon, the motorman, saw Hall lying on the tracks a mere thirty feet away and slammed on the breaks, but it was too late. Hall was "ground to death beneath the wheels," according to one of the more prosaic news report. Gibbon later told the jury, "I know he was under the car but I didn't want to look at him." The motorman first told police that he thought he might have seen Hall feebly waving his arms as the streetcar approached, but later he said he wasn't sure if Hall had moved. Firemen worked for nearly an hour to jack the streetcar up, but Hall died  from his injuries about ten minutes before before he could be freed.
When Hall's death appeared in the papers the next morning, the four decided to try to destroy the only evidence they had: the wallet. They tried burning it, but when that failed, Kilkenny took it to Golden Gate Park and threw it into Stow Lake. About a week later, an anonymous tip led police to arrest the four, who, according to a San Francisco News-Call-Bulletin report, were quite proud of what they did:
"They said they considered Hall's death justifiable homicide," said Inspector Robert McLellan, who with Inspector William Guthrie helped crack the baffling case. "They seem to regard the beating up of whomever they consider sex deviates as a civic duty."

The officers made clear Hall certainly was not in that unfortunate category.

"This is the first time we ever took anything," one youth said, admitting the beating they gave Hall was not the first they had administered. "Most of the time, one of these guys comes up and says something suggestive. Then we jump him." This boy said he knew of as many as 50 youths in his neighborhood who have taken part in similar attacks.
According to several news reports, the four admitted to belonging to "a gang of 50 that roamed the streets at night looking for  someone to roll":
"I know one fellow," volunteered Magee, "who has 28 or 29 queers to his credit. They're all over the city. This is becoming a homosexual town. They're even coming into the Mission District. You can't even go out to Dolores Park any more."

And what qualifies a teenager to diagnose anyone as a sex deviate?

"Well," Magee replied, "we ask 'em."
During the trial, Magee said that all they wanted to do was find some gay people "and scare them." When asked how one goes about scaring gay people, he replied, "You form a ring around him and taunt him." All four teens had juvenile police records which included battery, burglary, disturbing the peace, and auto theft. Kilkenny's father defending his son as "very studious" and "an upright young man." But Castillo's father was more forthcoming. "He's a bum," he said, tearfully, while blaming Kilkenny for being a bad influence. All four teens were tried as adults. After a three week trial, the jury deliberated for just two and a half hours before finding all four guilty of first degree murder and robbery. All four were sentenced to mandatory life sentences, but they would be eligible for parole after seven years. I've not been able to find any information about how long they remained in prison.
William Pierce Hall, who was born March 9, 1934, was buried in Oak Grove Cemetery in Nacogdoches, Texas.
[Sources: "'Queer Hunting' Among Teenagers." Mattachine Review 7, no. 6 (June 1961): 6-15.
Del McIntire (pseudonym). "Tangents." ONE 9, no. 7 (July 1961): 17-19.
"Four Youths Guilty in Streetcar Slaying." Mattachine Review 7, no. 10 (October 1961): 24.
"4 Youths Charged with Bludgeoning of Ross Teacher." San Rafael (CA) Daily Independent-Journal (May 5, 1961): 1, 12.
"Motorman Testifies At Trial of Four Boys." San Rafael Daily Independent-Journal (August 25, 1961): 1.
"Four Youths Found Guilty of Slaying Ross Teacher."San Rafael Daily Independent-Journal (September 9, 1961): 1, 5.]
► "I Am Proud Of My Gay Son": 1972. Frustration had been growing in New York City's gay community over the lack of news coverage of the gay rights movement since the Stonewall rebellion nearly three years before. When journalists and politicians gathered for the Fiftieth Annual Inner Circle dinner and comedy roast at the New York Hilton, members of the Gay Activists Alliance saw a perfect opportunity for a protest. But when they entered the ballroom during the intermission to distribute leaflets and briefly take the stage, they were thrown out. A fight ensued in the hallway, where, according to several city officials who witnessed the melee, Michael Maye, president of the city's Uniformed Firefighters Association, threw twenty-one year old Morty Manford down an escalator, then kicked and stopped him. (Despite the many witnesses, Maye was later acquitted of the assault.)
Manford's parents were outraged by the attack, and in April 29, Jeanne Manford's letter appeared in the New York Post announcing her unquestioned support for her son:
A Fair Chance

I would like to commend The Post for its coverage last week of the tragic incident that took place at the Inner Circle dinner, when hoodlums who work for our city were allowed to beat up the young men of the Gay Activists Alliance and walk away while our police stood by watching. It might be that these "men" have themselves some deep rooted sexual problems or they would not have become so enraged as to commit violence in beatings.

I am proud of my son, Morty Manford, and the hard work he has been doing in urging homosexuals to accept their feelings and not let the bigots and sick people take advantage of them in the ways they have done in the past and are continuing to do.

I hope that your honest and forthright coverage of the incident has made many of the gays who have been fearful gain courage to come out and join the bandwagon. They are working for a fair chance at employment and dignity and to become a vocal and respected minority. It is a fight for recognition such as all minority groups must wage and needs support from outsiders as well as participants in the movements.

Jeanne Manford
Two months later, Jeanne would walk alongside her son during the New York City Gay Pride Parade, carrying a hand-lettered sign that read, "Parents of Gays United in Support of Our Children." She later recalled that as they walked along the parade route spectators cheered and "young people were hugging me, kissing me, screaming, asking if I would talk to their parents. Very few of them were out to their parents for fear of rejection." That when Jeanne and her husband, Jules, got the idea of starting a local support group for parents of gays and lesbians. That support group grew to become the internationally-renowned Parents, Families and Friends of Lesbians and Gays (PFLAG), with 350 chapters more than 200,000 members in the U.S. Jeane Manford passed away in 2013 at the age of 92.
If you know of something that belongs on the agenda, please send it here. Don't forget to include the basics: who, what, when, where, and URL (if available).
And feel free to consider this your open thread for the day. What's happening in your world?
Supreme Court Audio from Today's Oral Arguments Now Available — Updated With Reactions
Jim Burroway
April 28th, 2015
The Supreme Court has posted audio of today's marriage oral arguments. The first question investigates whether bans against same-sex marriage violate the Constitution of the United States. You can listen below, or click here to download the file as MP3, Windows Media, or RealAudio.
Audio clip: Adobe Flash Player (version 9 or above) is required to play this audio clip. Download the latest version here. You also need to have JavaScript enabled in your browser.
The second argument pertains to whether states are obligated under the U.S. Constitution to recognize a same-sex marriage that was lawfully obtained in another state. You can listen below, or click here to download the file.
Audio clip: Adobe Flash Player (version 9 or above) is required to play this audio clip. Download the latest version here. You also need to have JavaScript enabled in your browser.
UPDATES:
Transcripts for both questions have also been posted at the above links.
Buzzfeed's resident self-described law dork Chris Geidner summarizes it all this way:
A 5-4 vote in favor of same-sex couples' marriage rights appears to be the most likely outcome, although Chief Justice John Roberts' vote shouldn't be counted out.
But SCOTUSblog's Kevin Russell weighs whether a compromise ruling might be in the works:
There is some reason to wonder whether the Chief might be angling for a compromise in which the states win the first question (i.e., they do not have to permit same-sex marriages to be performed in their states) but lose the second (i.e., they would have to recognize same-sex marriages performed in other states). It's very hard to read the Chief, but he did ask questions in the second argument expressing some skepticism over the fact that states don't, in fact, deny recognition to any marriage that does not conform with state law, except same-sex marriages. And, as I mentioned, Justice Scalia asked questions suggesting he might think there was a reason based in the text of Article 4 that would justify ruling for the couples on recognition but not the right to marry. So one could imagine a potential compromise that would effectively allow same sex couples to get married in states that allow it, have their marriages recognized elsewhere, but not have the Court issue a decision that has broad implications for other kinds of sexual orientation discrimination.

On the other hand, Justice Kennedy's near silence in the second argument suggests that he did not think that the second question was likely all that important. The only significant question he asked was something like "if we assume states have a sufficiently strong interest that they do not have to allow same-sex marriages in their own state, doesn't that necessarily mean the states have a strong enough interest to permit them to refuse to recognize same-sex marriages from other states?"
Robert Barnes and Fred Barbash at the Washington Post wondered about the split-the-baby scenario as well:
If states are forced to recognize same sex marriages performed elsewhere, Roberts suggested, it would be "only a matter of time" before same sex marriage settled in as the national norm. It would effectively allow "one state" or a minority of states, to "set policy for the nation."

At the same time, the Roberts' line of questioning suggested he did not view that possibility with great alarm, at least as an alternative to a court decision holding that all states must permit same sex marriages within their borders.
But back to the possibility of striking the bans outright, we've often looked at Justice Kennedy as the critical swing vote. But is Chief Justice John Roberts another possible swinger? Greg Stoher and Mark Drajem at Bloomberg found his questioning worth noting:
Chief Justice John Roberts directed the bulk of his questions at same-sex marriage proponents during the argument. Although Roberts voted against gay rights two years ago, marriage advocates hold out hope of winning his vote this time.

"If you prevail here, there will be no more debate," Roberts told Mary Bonauto, the lead lawyer arguing in favor of same-sex marriage rights. Shutting off debate "can close minds."

He added, "people feel very differently about something if they have a chance to vote on it." Roberts also said the "fundamental core of the institution is the opposite-sex relationship."

The chief justice shifted course later, suggesting he was open to joining an opinion that didn't focus on sexual orientation and instead struck gay-marriage bans as unconstitutional gender discrimination.

"If Sue loves Joe and Tom loves Joe, Sue can marry him and Tom can't," Roberts said. "Why isn't that a straightforward question of sexual discrimination?"
The Daily Agenda for Tuesday, April 28
Jim Burroway
April 28th, 2015
TODAY'S AGENDA:
U.S. Supreme Court Hears Oral Arguments in Marriage Cases: Washington, DC. No matter how things go, today will be a historic day. The U.S. Supreme Court today will hear arguments in four marriage cases from Sixth Circuit Court of Appeals, which upheld same-sex marriage bans in Kentucky, Michigan, Ohio and Tennessee. In accepting the cases, the U.S. Supreme Court announced that they will hear arguments centering on just two questions:
1. Do bans against same-sex marriage violate the Constitution of the United States? (Michigan: DeBoer v. Snyder.)
2. Are states obligated under the U.S. Constitution to recognize a same-sex marriage that was lawfully obtained on other states? (Kentucky: Bourke v. Beshear; Ohio: Obergefell v. Hodges; Tennessee: Tanco v. Haslam)
All four cases were consolidated, but the Court will hear arguments in two parts, one for each question. Mary Bonauto, who successfully argued for same-sex marriage in Massachusetts in 2003, will present her case on the first question and argue against bans on same-sex marriage for about thirty minutes. This will be her first appearance before the Supreme Court. She will be followed by the Solicitor General of the U.S., Donald Verrilli, Jr., who will have fifteen minutes to present the Obama Administration's position that the bans violate the equal protection clause. Then John Bursch, a former Michigan solicitor general with eight Supreme Court appearances under his belt, will have about forty-five minutes to argue on behalf of Michigan to keep the ban in place. Then Bonauto will have a few more minutes of rebuttal time.
Next, Douglas Hallward-Driemeier will have about a half hour to present his case on behalf of the challenges to the states' bans on recognizing valid same-sex marriage licenses from other states. Hallward-Driemeier is a seasoned pro with the Supreme Court stuff, having argued 15 cases before the high court. The states will then be represented by Joseph WHalen, an associate solicitor general form Tennessee. This will be his first time before the high court, and like Hallward-Driemeier, he will also have thirty minutes.
The session gets underway at 10:00 a.m. E.D.T. While there will not be any live-streaming of audio or video, the court's press office has announced that the posting of audio on the court's web site will be expedited, perhaps as early as noon. A decision isn't expected until late June.
TODAY'S AGENDA is brought to you by:
Uncle Charlie's began in two Manhattan locations in the mid 1970s: Uncle Charlie's North was at 1049 Lexington Avenue near 75th street in the Upper East Side, and Uncle Charlie's South was at 581 3rd Avenue at 38th Street in the Murray Hill neighborhood. The north location eventually closed (it is now a specialty stationary story), and South was joined by Uncle Charlie's restaurant across the street and down a block at 542 3rd Avenue. Uncle Charlie's Downtown opened on Greenwich Avenue at around 1980. I don't know when Uncle Charlie's South or the restaurant closed, but South today is home to a sushi bar, and the restaurant location became a Mediterranean bar and restaurant. Uncle Charlie's Downtown closed in 1997 and became an Irish pub. Uncle Charlie's is still around (although I'm not quite sure of its provenance) as a (still gay) piano bar.
TODAY IN HISTORY:
► Gay Bar Bombed in Greenwich Village: 1990. A home-made pipe bomb exploded shortly after midnight early Saturday morning at Uncle Charlie's Downtown Bar, a popular video-bar in Greenwich Village. Damage to the building was described as minor, but at least three patrons were injured. Frizzell Green, said he was in the bar when the blast went off in a trash can, about five or six feet away from him. At first, police investigators told reporters that they didn't consider the bombing to be bias-related. Gay community leaders disagreed, and they organized a march on Saturday evening. Three to five hundred people gathered at Uncle Charlie's and walked the ten blocks to the Sixth Precinct, blocking traffic and chanting "Hey, hey, ho, ho! Homophobia has got to go!"
The bombing went unsolved for five years, until February 1995 when Federal prosecutors charged El Sayyid A. Nosair with the attack. Nosair, one of the leaders of a fundamentalist Islamic terrorist group, was already serving a prison sentence for assault and possession of an illegal firearm in connection with the murder of radical Jewish Rabbi Meir Kahane. Bizarrely, the jury acquitted him of murder even though they found him guilty of the assault that led to Kahane's death, leaving the judge in December 1991 to sentence Nosair to 7⅓ to 22 years in prison, the maximum allowed by law. So when Federal officials charged him again in 1995 for bombing the gay bar and conspiring to blow up other New York landmarks including the World Trade Center, he was found guilty of seditious conspiracy with other defendants, including the blind sheik, Omar Abdel Rahman, and sentenced to life imprisonment. At last report, Nosair was serving his sentence at the federal Supermax facility in Florence, Colorado.
TODAY's BIRTHDAY:
► Ryan Skipper: 1981-2007. Ryan would be celebrating his thirty-fourth birthday if Joseph Beardon and William Brown, Jr., hadn't stabbed him more than 20 times, slit his throat, stole his car, left his body on a dark rural road in Wahneta, Florida, and bragged to friends that they killed him because he was "a faggot" on March 14, 2007. Jurors in Beardon and Brown's trial were visibly shaken when they saw the autopsy photos. The coroner testified that it was the cut to the throat that killed him. The cut was 3.5 inches deep, tearing through skin, tissue, muscles and, more fatally, an artery. Ryan quickly bled to death within minutes. Bearden and Brown tried to clean the car so they could sell it. But it was too badly soaked with blood to be cleaned and they didn't have a copy of the car's title to sell it, so they abandoned it on a dock on Lake Pansy in Winter Haven and set it on fire. The flames only caused minor damage, and investigators were able to retrieve both of their fingerprints from the car.
Prosecutors had sought the death penalty for Bearden, but jurors found him guilty of second-degree murder instead of first-degree murder as charged. He was also found guilty of theft of a motor vehicle, accessory after the fact, tampering with evidence, and dealing in stolen property. He was sentenced to life in prison. A few months later, Brown was found guilty of first degree murder, robbery, arson, and tampering with evidence. He was sentenced to life in prison without parole for the first degree murder conviction, another life term for the armed robbery with a deadly weapon, fifteen years for arson, and a five for tampering with evidence.
If you know of something that belongs on the agenda, please send it here. Don't forget to include the basics: who, what, when, where, and URL (if available).
And feel free to consider this your open thread for the day. What's happening in your world?
Marriage bans disadvantage gay voters and candidates
Timothy Kincaid
April 27th, 2015
A compelling argument for equality focused on an erea that I hadn't noticed: (NY Daily News)
Under federal law, it's illegal to make a political contribution in the name of someone else or using someone else's money. This anti-corruption law is specifically designed to preempt individuals who seek to dishonestly circumvent contribution maximums by making a donation under another name.

Married couples are the exception to this rule. Most states — including all four states with marriage bans before the Supreme Court — extend to a husband and wife their own contribution limits, even if only one spouse brings income into the marriage. But committed same-sex couples living in states where their marriage is not recognized do not enjoy the same spousal exemption.
It's even more unbalanced when a gay candidate runs for office. Her spouse is limited to contributions, just as if she were a stranger, while her opponent can use his wife's funds as if they were his own.
When marriage equality heads to the Supreme Court, we'll hear arguments loudly advocating for the supposed states' rights to settle the marriage debate outside of the courtroom.

This approach places faith in our political system without realizing that the existing same-sex marriage bans hampers the democratic process. In the absence of equal spousal exemptions to campaign finance laws, gay and lesbian men and women are less able to participate politically as donors and as candidates. And as a result, an already marginalized group is further disenfranchised.
The Daily Agenda for Monday, April 27
Jim Burroway
April 27th, 2015
TODAY'S AGENDA is brought to you by:
TODAY IN HISTORY:
► "A Closer Union Than That Of Most Marriages": 1892. Mary Grew was the daughter of the Baptist preacher Henry Grew of Boston, who, after moving to Hartford, co-founded the Hartford Female Seminary and the Hartford Peace Society, which became a part of the larger New England Anti-Slavery Society. The elder Mary followed her father in his abolitionist footsteps. In 1840, she accompanied her father to the World Anti-Slavery Convention in London. But the convention's most severe debates centered not on slavery, but whether women should be permitted to participate in the conference. The elder Grew sided with the conference organizers who demanded that women be excluded. Mary's exclusion, which was supported by her own father, opened her eyes to the need to join the cause of women's suffrage.
Grew dedicated her life to feminism and abolitionism, the latter cause shifting to civil rights for African-Americans following the civil war. Her lifelong companion, Margaret Burleigh, also joined Grew in both causes. They shared a home and bed together until Burleigh's death in December, 1891. The following April, Grew responded to a sympathy note from fellow suffragist Isabel Howland, herself involved in a relationship with another woman. That may explain Grew's opening lines in her thank you note:
Your words respecting my beloved friend touch me deeply. Evidently you understood her fine character; & you comprehend & appreciate, as few persons do, the nature of the relation which existed, which exists, between her & myself. Her only surviving niece, Miss Ella Jones, also does. To me it seems to have been a closer union than that of most marriages. We know that there have been other such between two men, & also between two women. And why should there not be. Love is spiritual, only passion is sexual. …

Why do we speak of those who have "gone up higher," as though they were of the past? They live more really, more fully, than ever before; & they love us with a firmer, tenderer, nobler love. …

And I have the comfort & confident hope that my time on earth is nearing its end; for I am eighty-seven years old. I try to wait patiently. I do not feel wholly separated from her who was so large a part of my life.
[Source: Jonathan Ned Katz. Gay/Lesbian Almanac: A New Documentary (New York: Harper & Row, 1983): 230-231.]
► Eisenhower Signs Executive Order Banning Gays from Federal Employment: 1953. By the time Dwight D. Eisenhower began his first term as president, an anti-gay witch hunt had been going on steadily for three years. When Undersecretary of State John Peurifoy, testifying before the US Senate Committee on Expenditures in the Executive Department, revealed that 91 employees "in the shady category" had resigned since 1947 (see Feb 28). Republican Senators took that admission to allege that President Harry Truman's administration's employment of "sexual deviants with police records" was recklessly endangering the country's national security. The Republican Party's national chairman warned 7,000 party members that, "Perhaps as dangerous as the actual Communists are the sexual perverts who have infiltrated our government in recent years." (See Apr 18).
So when Eisenhower took office in 1953, he was keen to demonstrate that he wouldn't be soft on the pansies. Three months after becoming President, Eisenhower invited Sens. Joseph McCarthy (R-WI), William Jenner (R-IN), Frank Carlson (R-KS) and Reps. Harold Velde (R-IL) and Edward Reese (R-KS) — all of them longtime communist and homosexual hunters — to brief them on a new Executive Order, known as Executive order 10450 mandating that all federal employees who were determined to be guilty of "sexual perversion," among other offenses, be fired.
This new Executive Order represented a massive expansion of the Truman Administration's security and loyalty programs. The Truman policies had only applied to ten federal agencies and a limited number of positions that dealt with classified information. It guaranteed the employee the right to counsel and a right to know the charges against him (although not necessarily his accuser, which typically made cross-examination impossible). It also allowed for an appeal to a review board. Eisenhower's Executive Order dispensed with all of that. An employee's fate now rested solely with the department head, and if the department head fired him, he stayed fired. The order also applied to everyone in federal employment, and not just those deemed to be in "sensitive positions." It no longer matter whether the employee was a diplomat, a typist, a switch board operator, or a cook.
As The Los Angeles Time described it, the "tough new loyalty-security program (is) designed to rid the government of homosexuals, alcoholics and 'blabbermouths,' as well as employees deemed subversive and disloyal. The Executive Order deemed all of those categories "security risks," regardless of whether they were actually disloyal or not. ONE magazine, the first national gay magazine in the U.S., worried about the order's far-reaching consequences:
Every item in the new standards can be used to hound and harry not only every homosexual in government and in basic industry, but all his friends, acquaintances, and associates, be they homosexual, homosexually inclined, bi-sexual, or heterosexual. Further, every name breathed as fact or as rumor, whether they be National Security employees or not, goes into the National Security files for cross-referencing to Armed Services Files and the local records of the Communities in which they live, towards another day of total mobilization, or a National Registration Act, whichever is first.

For the homosexual, to be loyal is not enough. The homosexual is required to be 100% anti-homosexual as well. He must agree, by taking a loyalty oath, to subvert the Constitution of the United States (which is not his to subvert) and testify against himself. Then, as a homosexual, he must testify against his own decency and integrity thereby making possible acts of aggression against every person he has ever known. Then, having destroyed himself as a person not only to the community but to his own conscience, he is to be tossed aside as a basic security risk by one or all of the five standards of the Security Program.

The homosexual's life is no longer a private matter to himself. It has become political by Presidential order.
More than 640 federal employees would lose their job because of allegations of homosexuality over the next year and a half. Unknown numbers of others resigned quietly. State and local governments and government contractors followed suit, tossing countless more innocent Americans out of their jobs.
The ban on gays and lesbians in federal employment would continue for the next two decades. In 1973, a federal judge ruled that a person's sexual orientation alone had no bearing on an individual's ability to perform his or her job, and it could not be the sole reason for termination from federal employment. But even with that ruling, the U.S. Civil Service Commission held out until 1975 before finally changing their policies and allowed gay people to work in federal jobs (see Jul 3).
[Additional source: Anonymous ("R. Noone") "You are a public enemy." ONE 1, no. 5 (May 1953): 5-7.]
If you know of something that belongs on the agenda, please send it here. Don't forget to include the basics: who, what, when, where, and URL (if available).
And feel free to consider this your open thread for the day. What's happening in your world?
The Daily Agenda for Sunday, April 26
Jim Burroway
April 26th, 2015
TODAY'S AGENDA:
Pride Celebrations This Weekend: Philadelphia, PA (Black Pride); Phuket, Thailand; Port St. Lucie, FL; Potsdam, Germany; Tokyo, Japan.
AIDS Walks This Weekend: Kansas City, MO; Miami, FL.
Other Events This Weekend: Hill Country Ride for AIDS, Austin, TX; GayCharlotte Film Festival, Charlotte, NC; Rodeo In the Rock, Little Rock, AR; White Party; Palm Springs, CA; Splash, South Padre Island, TX.
TODAY'S AGENDA is brought to you by:
TODAY IN HISTORY:
► 65 years ago: State Department Escalates Gay Purge: 1950. Two months earlier, Deputy Undersecretary of State John E. Peurifoy revealed in testimony before the Senate Appropriations Committee that the State Department had gotten rid of 91 employees accused of being homosexual (see Feb 28). At first, his comments almost slipped by unnoticed, but the revelation became more prominent in the growing public feud between Peurifoy and Sen. Joseph McCarthy (R-WI), who was just beginning to stake his career on what would become the Red and Lavender Scares. Pretty soon, national conservative pundits picked up on Peurifoy's mention of the 91 homosexuals, and it seems that just about everyone had already forgotten about all of those Communists who were allegedly floating around in government (see Mar 21, Mar 23, Mar 24, Apr 14). Meanwhile, Peurifoy was appointed ambassador to Greece and Carlisle H. Humelsine took over his post at the State Department. In testimony made public on April 26, Humelsine told the House Appropriations Committee that the State Department's purge was continuing, with the number forced out rising to 148 since 1947 with eleven more under investigation.
"There is no doubt whatsoever in my mind and there is no doubt as far as the State Department is concerned, that a homosexual is a security risk," Humelsine told the panel. "We treat homosexuals as security risks. We are not attempting to run a campaign of going after people because of the fact that they have an illness. I think homosexuality is a type of illness. A homosexual, in my opinion, is just as sick as a person who has a cancer or some other disease. But it is absolutely apparent to us that these people are also security risks and we want them off our rolls. And we are going to get them off our rolls."
► 65 YEARS AGO: Australian Judge in Adelaide Sentences Nine for Homosexual Offenses: 1950b. And The Advertiser was there to record all of the details, including the names and addresses of the eight men who pleaded guilty to various charges of "homosexual offences." Two were sentenced to twelve months for "unnatural offence with each other," another got eight months for "unnatural office with another man," and five got four months for "gross indecency with another man." A ninth man was ordered to pay a " two year bond of £25 with two £25 sureties, not to associate with homosexuals or persons of bad character."
The Advertiser, which was little more than a scandal sheet, didn't provide much information about how the men had been arrested. In fact, The Advertiser didn't even bother to name the judge, although the defendants were identified in detail. But this 2012 paper by Dino Hodge provides considerable more context. After World War II,  the city experienced what Hodge describes as " a flowering of Adelaide's homosexual world" which ran headlong against the growing cold war worries over such "subversives" as unionists, peace activists and gay men. South Australian Police Commissioner William Johns established the Subversive Section which investigated allegedly subversive activity and maintained detailed secret records on thousands of people through the 1978, when a judicial inquiry finally ordered the files destroyed.
In 1948, police began what local gay men would later remember as "the blitz," a four year campaign of harassment, intimidation, beatings and arrests of gay people and anyone suspected of being gay. Adelaide's gay life centered mostly on private parties held in peoples' homes. Bert Hines, who lived above his lampshade shop in central Adelaide, was one such host. He had been hosting parties since at least 1933, and had seen his parties raided by police several times. Before the war, those raids were mostly relaxed, with good natured-bantering between the police and Hines. But a 1950 raid was considerably different. One of those arrested later recalled:
"This is the first time this had ever happened … And of course, each one dobbed the other in. … It snowballed and snowballed. … But it wasn't anything to do [with] the connection with Bertha, they were just individual charges, but the police linked it to the shop. … There was hundreds questioned, but they … were older people who had a bit more brains than the kids that they charged."
On passing sentence, the judge who Hodge identified as Justice George Ligertwood, remarked, "It must have come as a shock to the citizens of Adelaide to learn that there were centres of homosexuality in this city. Such practices have always been regarded as abhorrent to public decency and have been treated in the Criminal Law Consolidation Act as serious crimes. Whatever psychology may say about this class of offender, my duty is to carry out the law and to impose sentences which will act as a deterrent to others, who are minded to commit homosexual crimes. …In the majority of the cases,  the sentences will be light. They will not however be taken as precedents for the future. If, after the warning of the present sentences, the offences are found to recur much heavier penalties will ensue."
As I said, eight of the nine were sentenced to jail, and their names, ages and addresses were published in the papers. One of those jailed later committed suicide. As for Bery Hines, locals later said that he was among many others who "simply fled town for Melbourne or Sydney, some never to return." Hodge added: "The lampshade shop scandal was the first of three court cases within a few years which were highly-publicised and considered by some to be held up as a warning for the culture to reduce its profile and activities."
If you know of something that belongs on the agenda, please send it here. Don't forget to include the basics: who, what, when, where, and URL (if available).
And feel free to consider this your open thread for the day. What's happening in your world?
The Daily Agenda for Saturday, April 25
Jim Burroway
April 25th, 2015
TODAY'S AGENDA:
Pride Celebrations This Weekend: Philadelphia, PA (Black Pride); Phuket, Thailand; Port St. Lucie, FL; Potsdam, Germany; Tokyo, Japan.
AIDS Walks This Weekend: Kansas City, MO; Miami, FL.
Other Events This Weekend: Hill Country Ride for AIDS, Austin, TX; GayCharlotte Film Festival, Charlotte, NC; Rodeo In the Rock, Little Rock, AR; White Party; Palm Springs, CA; Splash, South Padre Island, TX.
TODAY'S AGENDA is brought to you by:
Named for the nearby Forrest Theater, the restaurant and bar was bought in 1944 by Barney Zeeman, a pianist and former dance band leader in the 1920s and 1930s. By the 1960s, the Forrest began advertising itself in gay magazines and travel guides.  Zeeman died in 1976, and the Forrest continued to operate as a gay bar in various incarnations through the early 1980s. The location is now a leather bar called the Bike Stop.
TODAY IN HISTORY:
► Miami Police Reveals It Keeps Tabs on 3,000 Homosexuals: 1962. Florida Gov. C. Farris Bryant convened a conference in Miami for area law enforcement officers to discuss the "serious and growing problem of homosexuality and other sexual perversions in the state." The governor's spokesman, Vernon Williams, addressed the conference, saying "The governor feels a diligent effort is required on the part of all agencies to curb the growth of homosexuality. But it s not our intention to start a witch hunt." Williams had no need to announce a new witch hunt, as authorities in Miami and much of Florida had waged a rather long-standing campaign against gay people for much of the prior decade. Williams pointed to those campaigns and said that homosexuals were found "in the ranks of university professors, Sunday school teachers, and Scout leaders, among other professions."
Williams wasn't the only one discussing the results of various witch hunts. Closer to home, Dade County sheriff Thomas Kelly, who was not stranger to anti-gay witch hunts in Miami (see Aug 14), told the gathering that Metro police maintained a list of 3,000 local persons "suspected of being practicing homosexuals." He said that the list was comprised of people "from 8 to 80″ (8? Really?). He also said that they "tend to stay in groups and had many contacts throughout the county. … I feel that these people are sick."
► 50 YEARS AGO: Gay Protesters Arrested At Philadelphia's Dewey's Malt Stand: 1965. Dewey's was a chain of malt and sandwich shops with as many as eighteen locations sprinkled throughout Philadelphia. Many of them were open twenty-four hours a day, and the one on the 200 block of 13th Street known throughout Philly as the "fag Dewey's" was popular with the LGBT crowd, especially after the bars closed. But "a large number of homosexuals and persons wearing non-conformist clothing" began to filter into the 17th Street Dewey's management decided to keep the undesirables out of that location. On April 25, two teen boys and one teen girl were refused service. But instead of getting up and walking out, they remained seated and refused to leave. They were arrested along with Clark Polak, a gay rights leader and publisher of Philly's gay magazine Drum, and all of them were charged with disorderly conduct.
The Janus Society, an early Philadelphia gay rights group, had joined with several other east cost gay activist groups to form the East Cost Homophile Organization (ECHO), which, in a 1964 conference, agreed to engage in more direct actions, including protests, to confront provocations against the gay community. That agreement had already spawned two planned protests in April: the first picket for gay rights in Washington D.C. at the White House (see April 17) and another one in New York at the United Nations (see April 18. New York had already seen its first picket the year before; see Sep 9). The Dewey's sit-in was the perfect opportunity to put ECHO's new-found commitment to direct action to work in Philadelphia by organizing a five-day protest and leafleting campaign. Over 1,500 pieces of literature were distributed in front of the malt stand while gay rights leaders negotiated with the restaurant's management. On May 7, protesters staged another sit-in. Management called police, but this time police decided that they had no authority to force the protesters to leave. After an hour, management gave in and agreed to "an immediate cessation to all indiscriminate denials of service." It is believed to be the first documented instance of a sit-in in support of LGBT rights.
► St. Paul Voters Overturn Gay Rights Ordinance: 1978. In 1977, a proposed state anti-discrimination law failed to pass the Minnesota legislature. That defeat, which occurred just three weeks before voters in Dade County, Florida voted down a similar measure that had been approved by the Miami-Metro government, emboldened anti-gay activists at St. Paul's Temple Baptist Church to turn their attention to that city's three-year-old gay rights ordinance. Pastor Richard Angwin, in launching the petition drive to put the ordinance's repeal on the ballot, stated frankly, "I don't want to live in a community that gives respect to homosexuals."
Anita Bryant, fresh off her victory in Miami-Dade, joined the fray along with her husband, Robert Green. A week before the vote, Anita Bryant failed to show up at a rally, telling some reporters that she didn't feel well. Some suspect that the pie-throwing incident in Des Moines the previous fall may have unnerved her when she changed her story, saying that she was afraid she'd be assassinated. Local gay rights activist Jack Baker (see Mar 10) scoffed at the idea. "We'd be silly to shoot her," he said. "She's the best thing that ever hit the gay community." Green showed up in her place and urged the crowd of 10,000 to stand against the forces of "moral breakdown of this nation," saying "the devil is really working overtime." Turnout was heavy for the special election, and voters repealed the the gay rights ordinance, 54,090 to 31,690. Soon after the election results were announced, over a thousand marchers demonstrated through the streets of St. Paul.
If you know of something that belongs on the agenda, please send it here. Don't forget to include the basics: who, what, when, where, and URL (if available).
And feel free to consider this your open thread for the day. What's happening in your world?