Dangerous Mercies
Jim Burroway
March 22nd, 2008
The Sydney Morning Herald has published the results of an investigation into the secretive Mercy Ministries in a series of articles this past week. Mercy Ministries is connected with the controversial Hillsong Church, Australia's largest pentecostal mega-church with more than 25 individual churches. Mercy Ministries in Australia is a branch of the Nashville-based program by the same name.
Mercy Ministries' programs are intended to help young women between the ages of 16 and 28 with a number of psychological issues, including "lesbianism." Their web site says the group offers these women support from "psychologists, general practitioners, dietitians, social workers and career guidance addressing each of the young women's individual issues."
But the program has drawn fire for its secretive and unorthodox ways. According to the Sydney Morning Herald investigation:
Three former ministry residents have blown the whistle on the program, claiming they were independent young women when they entered, but came out broken and suicidal, believing – as ministry staff had told them – that they were possessed by demons and that Satan controlled them.

These women have since been forced to undergo years of intense psychological and psychiatric care to overcome their treatment at the ministry.
Mercy Ministries claims to help young women deal with "life-controlling issues" — many of them legitimate psychological problems including bipolar disorders, addiction, depression, anorexia and self-harm. It also includes a "condition" that is not a recognized disorder — homosexuality:
…Mercy Ministries is keen to ensure there is no lesbianism under its roof. It issues "separation contracts" to young women who make friends with each other and prevents any form of physical contact between residents.

"While I was there, we received much teaching on the evils of gay and lesbian lifestyles," said Naomi Johnson, who spent nine months in the ministry's Sydney house.

As someone with no issues about her sexuality, she was perplexed by the ministry's continuing focus on the issue.

"In particular, there was an ongoing teaching video series by Sy Rogers an 'ex-gay' – now reformed – married Christian," she said.
Mercy Ministries' application form used to ask prospective applicants if they had been involved with lesbianism next to a question about prostitution:
Another former resident, who did not wish to be identified, said: "Girls were asked on the application form, as well as in a telephone interview, if they have ever had lesbian or bisexual relationships. They asked if I had been involved in drug abuse, witchcraft, or lesbianism. They bunched them in together like that."
Mercy Ministries, much like Memphis-based Love In Action, operate a residential pseudo-psychological program without the benefit of oversight which comes with regulation. And another similarity to Love In Action is Mercy Ministries' lengthy and bizarre rules which clients are required to follow. Some of those rules stem from Mercy Ministries' obsession with homosexuality: No physical contact, no supportive hugging, no shoulder to cry on. The residential program housed three women to a bedroom, but they were not allowed to change clothes if another person was in the room.
But the bizarre rules didn't end there. Clients were not allowed contact with their families. They weren't allowed to see their doctors by themselves. A Mercy Ministries staff member had to be in the room with the doctor and patient at all times — which is a gross violation of the Australian Medical Association's patient-client confidentiality standards. Clients even required specific permission to go to the bathroom or brush their teeth. One former client was denied her asthma medication:
Every time I had an asthma attack they told me to stop acting … I was punished, I had to do an assignment about why God believes that lying is wrong."

I was told, 'You still have demons to battle with. Satan still has a huge control over your life. That is when the exorcism and the prayers over my life started."
One former client described the oppressive rules this way:
"One major issue that I struggled with throughout the duration of my Mercy stay was complete submission; being told how to dress, when to sleep, when to shower, when to wash your clothes, when to eat, how much to eat, when to change your sheets, what music you were allowed to listen to, what shops you could and couldn't go into."
The slightest infraction of the rules could mean instant expulsion — a very dangerous move given the psychiatric state of some of the clients and the overly depended condition the rules placed them in:
Naomi Johnson, Rhiannon Canham-Wright and Megan Smith (Megan asked to use an assumed name) went into Mercy Ministries independent young women, and came out broken and suicidal, believing, as Mercy staff had told them repeatedly, that they were possessed by demons and that Satan controlled them.

Only careful psychological and psychiatric care over several years brought them back from the edge.
Naomi Johnson entered Mercy Ministries for anorexia and self-harm. Before she entered the program, she was functioning as a full-time student and she was living independently. The effects of her sudden expulsion were particularly dramatic:
The situation came to a head when Johnson returned to the Sydney house after spending Christmas with her family in Perth. She was told she had been seen smoking at the airport and that she was being expelled from the program. Naomi phoned her mother in tears, and the staff informed her they were putting her on the next plane back to Perth.

"She was distraught; she was an absolute mess; her life was in danger. I could hear it, she was capable of anything, the anxiety was so extreme … she was just out of control," Julie Johnson said. "I said to them, 'There is no way you are going to send her back on her own, she is suicidal. You will deliver her to me at the airport when I can get a flight over'."

Mrs. Johnson flew to Sydney to collect her daughter.

"She went into that place as a young lady and came back to us as a child. She was very confused, like she was 12 or 13. She shut herself in the bedroom and thought she was nothing but evil. Her self-esteem went down. She thought, 'I may as well die."'
While some women have come forward to say they were helped by Mercy Ministries, psychologists have voiced concerns about what they describe as Mercy Ministries' highly unconventional and "cult-like" practices:
What an organisation like this is doing is quite high risk – high risk for the young women and high risk for these [Bible college] students to be taking on these complex cases," said Louise Newman, a professor of psychiatry at the University of Newcastle and a former director of the NSW Institute of Psychiatry.

"There is always the potential of self harm and possible suicidal behaviour."

Placing young women with mental health issues in an isolated house with little contact with their families or qualified medical and psychiatric care could exacerbate, rather than alleviate, their symptoms, she said.

"[It sounds] very similar to the … old psychiatric facilities that were isolated, disempowering places where people very rapidly lose their sense of identity, where the focus is compliance, there are high levels of surveillance and where contact with people close to them is limited."
The effects of that isolation and total control can be devastating:
Nine months without medical treatment, nine months without any psychiatric care, nine months of being told she was not a good enough Christian to rid herself of the "demons" that were causing her anorexia and pushing her to self-harm. After being locked away from society for so long, Naomi started to believe them. "I just felt completely hopeless. I thought if Mercy did not want to help me where do I stand now?

"They say they take in the world's trash, so what happens when you are Mercy trash?"

Two months after she had been expelled from Mercy's Sydney house (her crime was to smoke a cigarette) Johnson ended up in Royal Perth Hospital's psychiatric unit. From there she started seeing a psychologist at an outpatient program two to three times a week.

"Even now, three years on, I don't socialise widely, I don't work full time, I don't study full time. Even now there is still a lot of remnants hanging around from my time at Mercy.
Many former clients were told that they were forbidden to share their experiences at Mercy with the outside world. That isolation also extended to family members. Naomi Johnson's mother recalled:
"They told me that what happens in Mercy stays in Mercy, that what happens between the staff and Naomi stays at Mercy. It is not let out to the family," Julie Johnson said. "We were isolated, we were not involved in her progress at Mercy, we were just excluded and yet we were a family that wanted to be behind her and they wouldn't allow us to be."
While Mercy Ministries sought to help young women with a huge variety of problems, from bipolar disorder to suicide ideation to anorexia — and lesbianism, don't forget that one — the proposed solutions were all the same: pre-scripted prayers and exorcisms:
"Most of the staff were current Bible studies or Bible college students, and that is it, if anything. You just cannot play around with mental illness when you do not know what you are doing. Even professionals will acknowledge that it is a huge responsibility working in that field, and that is people who have six years, eight years university study behind them."

…Johnson had grown up in a Christian family; her belief in God was not the issue; anorexia and self harm were. "A major sticking point was when they told me I needed to receive the holy Spirit in me and speak in tongues, to raise my hands in worship songs and jump up and down on the spot in fast songs. I told them that I really didn't understand how jumping up and down to a fast song at church was going to fix the anorexia, and yet that was a big, big sticking point, because it showed I was being resistant, cynical and holding back."
Clients reportedly sign over months of their lives over to a program that uses exorcisms to treat mental illnesses rather than medical or psychiatric care. Residents are also required to sign over their Centrelink payments (i.e. social security, unemployment and other relief benefits) over to Mercy Ministries. This allegation has prompted the federal Minister for Human Services, Joe Ludwig, to announce that the government would launch an investigation.
Since the revelations about Mercy Ministries hit the Australian press, several corporate sponsors, including Rebel Sport and LG Electronics Australia, have cut their ties to Mercy Ministries. But Mercy's biggest sponsor, the Gloria Jean's Coffees chain, said it has no plans to change their sponsorship despite the allegations. Peter Irvine is on the Board of Directors of Gloria Jean's Coffees and is a director of Mercy Ministries.
The Sydney Morning Herald Investigations:
Women 'mistreated' by secretive ministry — March 17, 2008.
They sought help, but got exorcism and the Bible — March 17, 2008.
Lives at risk when vulnerable patients taken in by cult-like groups — March 17, 2008.
Ethics, financial probity for review — March 18, 2008.
Why Mercy Ministries was godsent for Hillsong — March 18, 2008.
Corporates move quickly to cut ties — March 18, 2008.
The business of giving Mercy — March 18, 2008.
No mercy for transgressions — March 19, 2008.
God's cure for gays lost in sin — March 19, 2008.
Hat tip: Mike Airhart at Truth Wins Out.
Australian State To Get Partnership Registry
Timothy Kincaid
March 12th, 2008

The Age brings us the story:
GAY and de facto couples will be able to formally register their relationships in Victoria after the Legislative Assembly last night passed historic legislation.

The bill will be passed in the upper house, with Labor, the Greens and several Liberals certain to support it.
This registry is not marriage and is significantly less significant than the civil unions legislation proposed in the Australian Capital Territory.
Australian Capital Territory to Consider Civil Unions
Timothy Kincaid
December 5th, 2007
UPDATED: See Below
The Australian Capital Territory is that area in which the federal Austrailian government is conducted. Like the District of Columbia, it has self-governance but its decisions can be overruled by federal authority.
In 2006 the ACT legislated for civil unions for gay couples. This action was overturned by the federal government. Overturning ACT decisions is not a common practice.
A new government has been voted into power, and part of their campaign was on providing some form of recognition to same-sex couples. However, the Rudd government is not in favor of marriage or of civil unions. They propose that states offer registration of couples and provide benefits similar to de-facto relationships.
The ACT government does not view relationship registers as an adequate response to either the commitment or the needs of same-sex couples. They are proposing a slightly watered down version of their previous efforts of enacting civil unions. From ABC News (not the US one)
The ACT's Attorney-General, Simon Corbell, plans to re-introduce a Civil Partnerships Bill, which would grant legal recognition to same-sex unions. He will push the case at a meeting with the new federal Attorney-General, Robert McClelland, on Friday.

"I think that's an important courtesy to extend to the Federal Government, given there has been a change of government, and the opportunity now to progress an important piece of law reform for people in the ACT," he said.
Anti-gay factions have already voiced threats over the action. It will be interesting to see if quashing gay recognition is a priority of the new government.
UPDATE
The Age is reporting that the federal government will not override the ACT's decision to provide civil unions.
Flirting With A Westboro Man
Jim Burroway
November 18th, 2007
Charles Firth is an Australian comedian living in the US. He appears on the ABC's (Australian Brocasting Company) The Chaser's War On Everything in a recurring segment called "Firth In America." In this segment, he discovers the allure of a "Westboro Boi."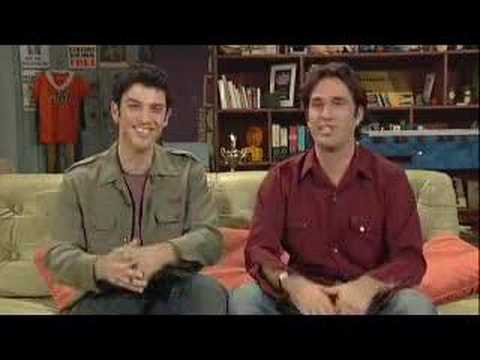 Paul Cameron Down Under
Jim Burroway
July 8th, 2006
The bogus "research" of discredited psychologist Paul Cameron has been enormously influential in the U.S. for some twenty-five years. But it's easy to overlook the high esteem with which he is held by those overseas are also willing to leverage his shoddy and disreputable work to bolster their anti-gay agenda.
The Sydney Star Observer reports that his dubious research has shown up in a report submitted by the Australian Christian Lobby to the New South Wales Adoption Act Review, which is considering the issue of adoption by gay and lesbian parents. Citing Cameron, the submission (PDF: 144KB/11 pages) claims that:
…a major American study arrived at these conclusions:

"children of homosexuals will;
– be more frequently subject to parental instability (of residence and sexual partners);
– have poor peer and adult relationships.
– Be more apt to become homosexual;
– be unstable (have emotional problems and difficulty forming lasting bonds) with reduced interest in natality, and;
– be sexually precosious and promiscuous."
It's quite a stretch of the imagination to claim that anything Paul Cameron writes consitutes "a major American study" — certainly not when considering his many run-ins with American professional societies and his own well-documented aversion to the truth When apprised of Cameron's history, a spokesperson for the Australian Christian Lobby said he was unaware of Cameron's history and promised to look into it.
As well he should. The Australian Christian Lobby certainly would be the first to have egg on their faces because of this, and unfortunately they probably won't be the last. Despite the mission of prominent Christian organizations to uphold The Truth, they are too often eager to turn to one who has absolutely no regard for it.